Sony PlayStation 5 is the gaming console "everyone" has been waiting for. It will be officially launched on November 19, but many will probably have to wait a while longer: Demand has taken Sony and retailers a bit to bed, and even those who have pre-ordered the PS5 a long time ago may have to wait a long time for their copy. Sony has also decided that the sale will take place online, for reasons of infection control. Thus, you should be lucky enough to hit the nail on the head in a PS5 before Christmas!
However, LB Tech has managed to obtain a test copy. So the question is whether the PS5 is really worth the wait, or whether you might as well try to get an Xbox Series X instead? Let's test!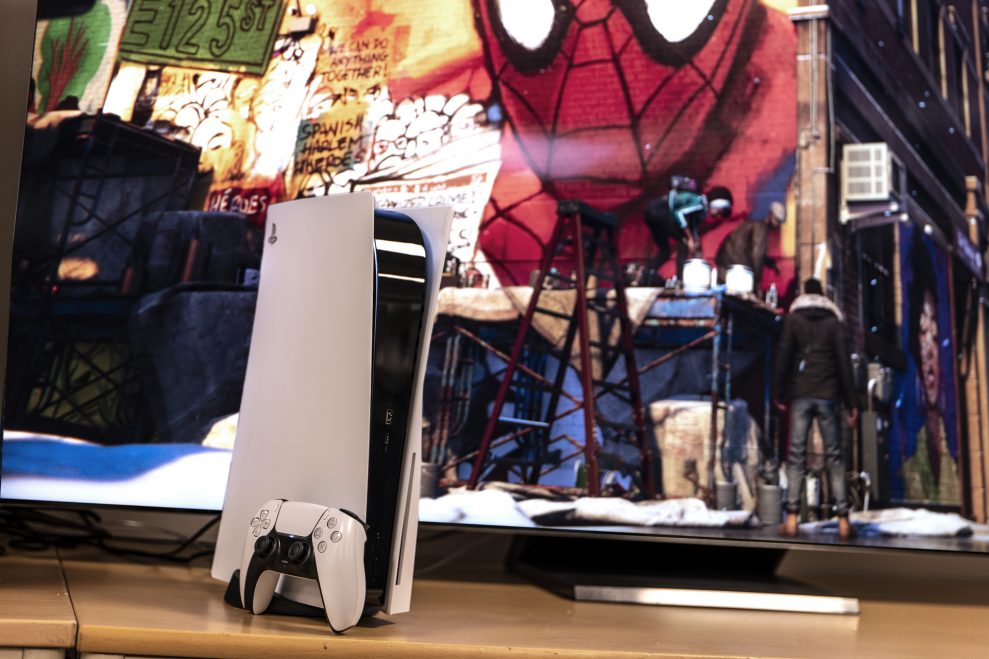 Sharp graphics with "ray-tracing" and dazzling contrast
PlayStation 5 is packed with features and hardware that promise to take the gaming experience to a new level. Ray tracing or beam tracking as it is called in Norwegian, is a feature we know from the rawest gaming PCs and graphics processors. In short, a method in 3D graphics that is used to create more vivid – almost photo-realistic – images. It creates captivating effects, such as sunlight being reflected more naturally via a surface, and more realistic shadow effects.
PlayStation 5 is also capable of displaying 8K video at up to 30 frames per second, alternatively 4K resolution at up to 60 frames per second. With upscale 4K graphics, it can handle up to 120 frames per second. Such higher frame rates / framerates typically result in faster and more precise movements and faster response, which are the alpha and omega of competitive shooting and racing games. Performance at this level has long been reserved for dedicated gaming PCs with expensive graphics cards, but now it's becoming possible in the world of consoles!
Connectivity: PlayStation 5 has only 1 HDMI output, and therefore lacks the ability to output the audio and video signals separately (to surround systems or the like). Thus, the console must be connected directly to the TV and the sound output via HDMI eARC. Alternatively, you can send the AV signals through an HDMI 2.1 compatible receiver / amplifier. (Photo: Geir Nordby)
Sony PS5 Design: Huge!
The PS5 has a design that differs greatly from the competition as well as previous PlayStation vintages. Compared to the monolithic Xbox Series X, the PS5 has more futuristic, graceful lines. As you can see in the pictures it is also HUGE! Game consoles have traditionally been a compact alternative to PCs, but the PS5 is a real monster. With its 39 centimeters, it becomes a real eye-catcher in the living room. Alternatively, you can lay it horizontally and store it away in a shelf.
The reason for the size is not only that Sony has stuffed the console full of potent hardware, but also wanted to ensure adequate cooling. The predecessor PS4 is notorious for a lot of heat and associated fan noise. The PS5 has a more advanced cooling system with a combination of fan and liquid metal that circulates and removes heat from the processor. It seems to work well, because we never experienced that the PS5 got particularly hot or got annoying fan noise.
If we are to name a "winner" purely in terms of design, we prefer the Xbox's more compact and tight design as the more practical of the two. But many will probably also prefer the PS5's more curved lines. The taste is like butt!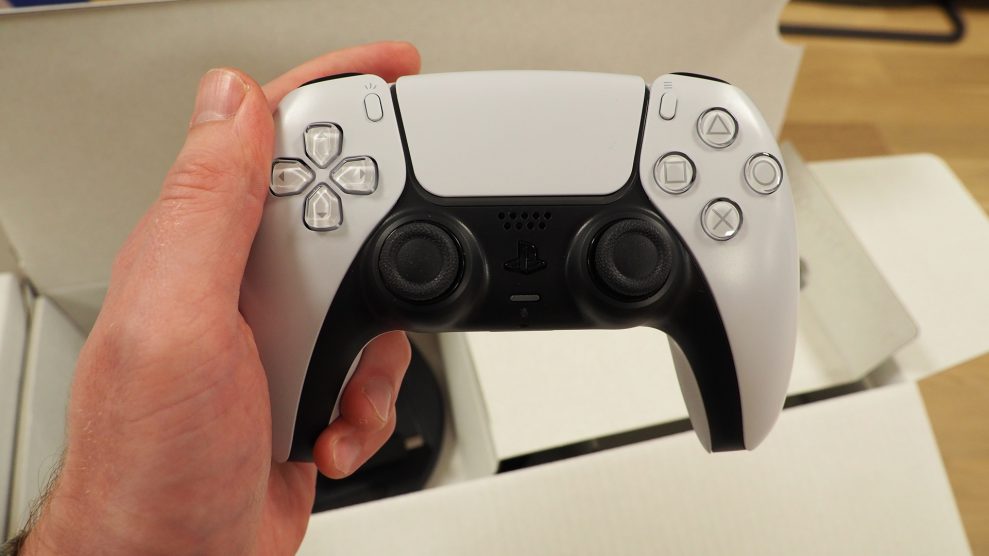 From DualShock to DualSense: New wireless controller
The new DualSense controller that comes with the PS5 differs significantly from the old DualShock models, and has been given a number of new features. One of the innovations with DualSense is so-called haptic feedback, which means that the control can vibrate more precisely, varied and far more powerfully than before. In addition, the trigger buttons on the underside have become so-called adaptive, with a varying level of resistance. Built-in gyro allows you to turn and turn the control to perform various game movements. As if that wasn't enough, the control also has a built-in speaker, microphone and touch panel. Sony has also made sure that it is easy to charge via USB-C, with a stated battery life of 8 hours.
It is entirely possible to use older PS4 DualShock controllers for PS5 as well, but only with older game titles. For new PS5 titles, however, only DualSense is enough, and here an extra control will cost you 799 kroner. Overall, however, we think the new DualSense controller seems far more exciting and than the Xbox variant, as it opens up for more innovative features.
Ease of use and features
Once the Playstation 5 is firmly placed in the base, it is easy to connect using the supplied cables. If you already have a Playstation account, it's easy to log in and start playing. At first start-up, we are taken through a setup menu that also helps to optimize the TV picture, where you can adjust the calibration of the HDR brightness to your particular TV. Smart!
The new menu system will probably otherwise seem familiar to former Playstation users, and feels both fast and efficient to navigate in. We immediately found ourselves more at ease here than in the Xbox menus, which in comparison seemed more confusing at first. But of course it's a lot about getting used to it.
When it comes to apps and features, you can easily download well-known streaming apps like Netflix, Apple TV and Disney + to the content menu. Everything can be controlled via the DualSense control, but if you who plan to use the PS5 a lot as a media and disc player, it can be nice to add the so-called PS5 Media Remote remote control.
PS5 also has a built-in 4K Blu-ray player, for you who want to watch feature films in the best available quality! This is the only difference between the top model and the cheaper PS5 Digital Edition (NOK 4,799) that comes without a disk drive.
A bit disappointing is that the PS5 does not support the HDR format Dolby Vision, as found on the Xbox Series X. Here there is also no support for Dolby Atmos sound, neither via games nor built-in apps. Sony, however, offers its own "Tempest 3D Audio" via its own headphones, but we have not tested these yet.
Lightning fast!
We were impressed with the loading speed of the Xbox Series X, but the PS5 is definitely not slowing down, either. Especially game titles that are optimized for the new console (eg Spiderman: Miles Morales) load lightning fast: here it only takes a few seconds from you start from the main menu until you are in Spidey's world. Although we have not been able to compare directly with identical games, the PS5 works slightly faster than the Xbox Series X in some cases. This may be due to the modern SSD hard drive (M.2 NVMe SSD) which is supposed to be up to twice as fast as the one found in Microsoft Xbox Series X.
However, the PS5 does not support the so-called Quick Resume that the Xbox is equipped with, where you can jump directly between opened games. Here you must instead exit one of the games before starting a new one, which will take longer. The PS5 also has to settle for a little less storage capacity than the Xbox Series X (825 GB total / 667GB available vs. 1 TB total / 800 GB available on Xbox), but should be able to expand over time. This will require you to turn up the PS5, unlike the Xbox Series X which has a simple input on the back.
Image quality
The whole point of a modern console is to be able to frolic in new games with gorgeous and advanced graphics. Here, the PS5 is expected to deliver the goods, with support for up to 8K resolution and 120 frames per second, in addition to HDR and ray tracing,  which is the latest craze on the graphics front. But not all at once, then of course! In practice, one has to prioritize between the best possible image quality (4K resolution, detailed graphics) and the best possible performance (lower resolution and / or reduced graphics at 60/120 fps).
We started our test with the pre-installed demo game Astro's Playroom,  which intends to introduce us to the new DualSense control. It may seem like a kid-friendly game to the little ones at first, but is really demanding at times! The combination of gyro sensors and dynamic trigger buttons really puts the concentration to the test. It shakes, chops and tingles as we take the character Astro through the world, and offers many challenging maneuvers. The graphics, on the other hand, are nothing special to cheer about.
We're itching to try a more advanced game that puts the graphics engine to the test, and downloads Spiderman: Miles Morales. It will be a completely different visual experience, with gorgeous so-called "ray-tracing" effects. The rendering of New York City as we swing between the skyscrapers takes a solid step closer to the real world. The downside is that it requires a lot of computing power!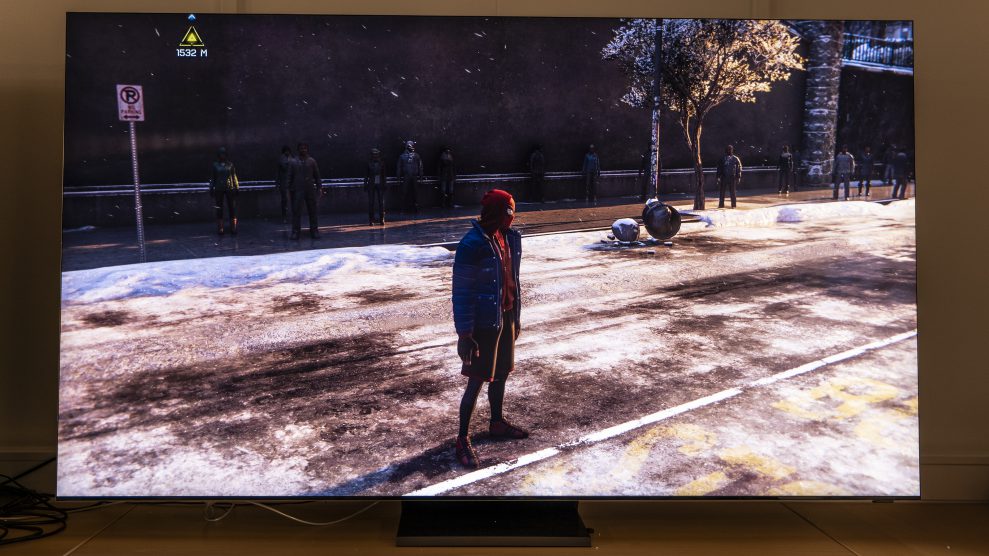 To play Spiderman: Miles Morales with ray tracing, you have to reduce the frame rate to 4K / 30fps, which gives noticeably more staggering and uneven images than upscale 4K / 60p without ray tracing. In fact, we generally preferred the smoother and more responsive 60fps variant, despite a slightly tamer graphics experience. In light of this, we hope that Sony and the game developers for Playstation 5 can come up with some even better custom game titles, which may offer "the best of both worlds".
What kind of TV do I need?
We have been able to test the PS5 together with several of the latest and gaming-friendly TV models on the market, including the Samsung Q80T and LG OLED CX. These models stand out with support for HDMI 2.1, VRR and the ability for up to 120 frames per second (4K / 120p). So is this an absolute MUST to enjoy the PS5?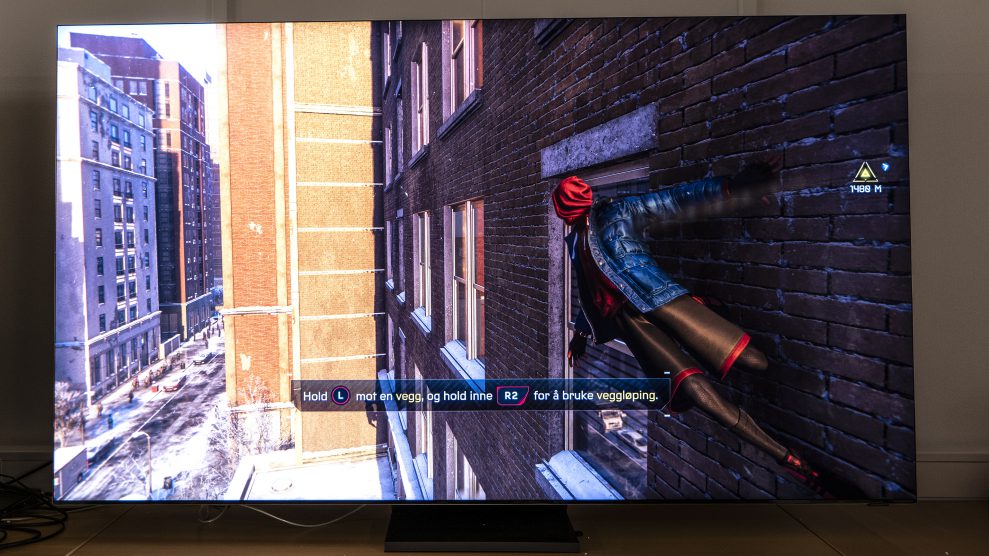 Our preliminary answer is both yes and no. At the time of writing, we have not yet tested the PS5 with any 120fps capable titles. Experience from the test of the Xbox Series X , as well as gaming PC with 120fps, shows that this provides a smoother and more seamless graphics experience on the games that have the opportunity for this. If you are considering purchasing a new TV, we would definitely recommend that you choose one that supports HDMI 2.1 and 4K / 120fps, but it is not an absolute MUST. If you already own an older 4K TV you are very happy with (which only supports HDMI 2.0 / 4K / 60p), you will get a good picture and gaming experience with this as well.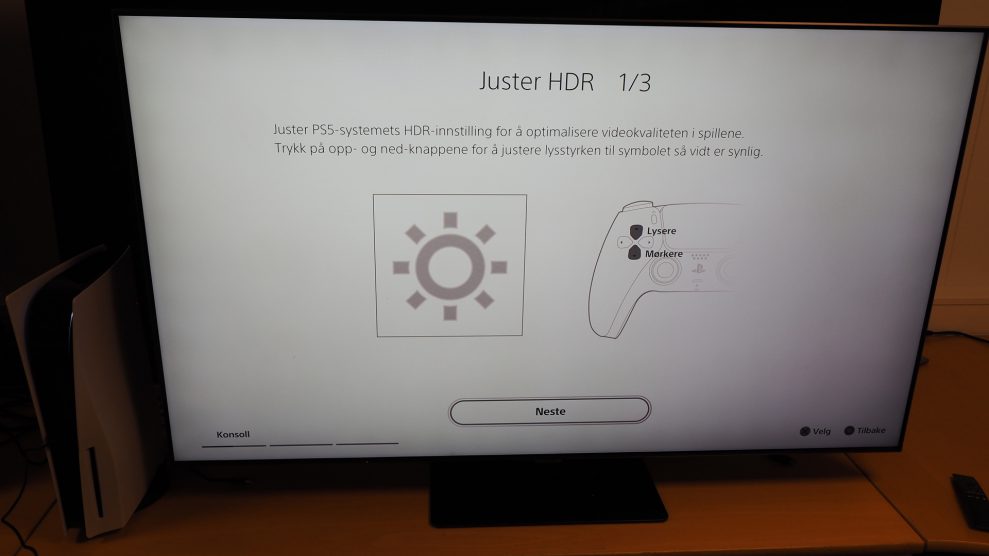 On the other hand, we would definitely recommend a TV with the best possible contrast: Many of the new games use HDR (high dynamic range) which provides a significant increase in contrast information and details. Such scenes look absolutely best on a capable TV with plenty of contrast and precise light control – preferably an OLED TV or LCD with direct LED backlighting. An "ordinary" LCD TV with simpler edge lighting will not provide the same contrast and depth effect, and some of the gain will be lost.
Conclusion
So far we have only been able to get a first impression of Sony PlayStation 5. But the first impression is promising! Those who already have a modern TV with 4K resolution and HDR, can enjoy gorgeous, razor-sharp and effective graphics. It doesn't take forever to load either: the PS5 starts a new game before you know it, and the wait from older consoles is a thing of the past.
We're also impressed with the new DualSense controller, where Sony has been really creative with its control and motion capabilities. Here it will be exciting to see what other game manufacturers can think of in terms of features.
So is the PlayStation 5 a better console than the Xbox Series X? It is too early to say. Much will depend on what original game titles Sony and Microsoft can keep up with in the coming year, and the extent to which game developers manage to optimize them for each console. We look forward to testing more "next-gen" titles!
We keep PlayStation 5 on the test bench as part of our "reference rig" so that we can regularly check new features and compatibility against new TV models. Do not hesitate to ask us if you have any questions related to TV and gaming!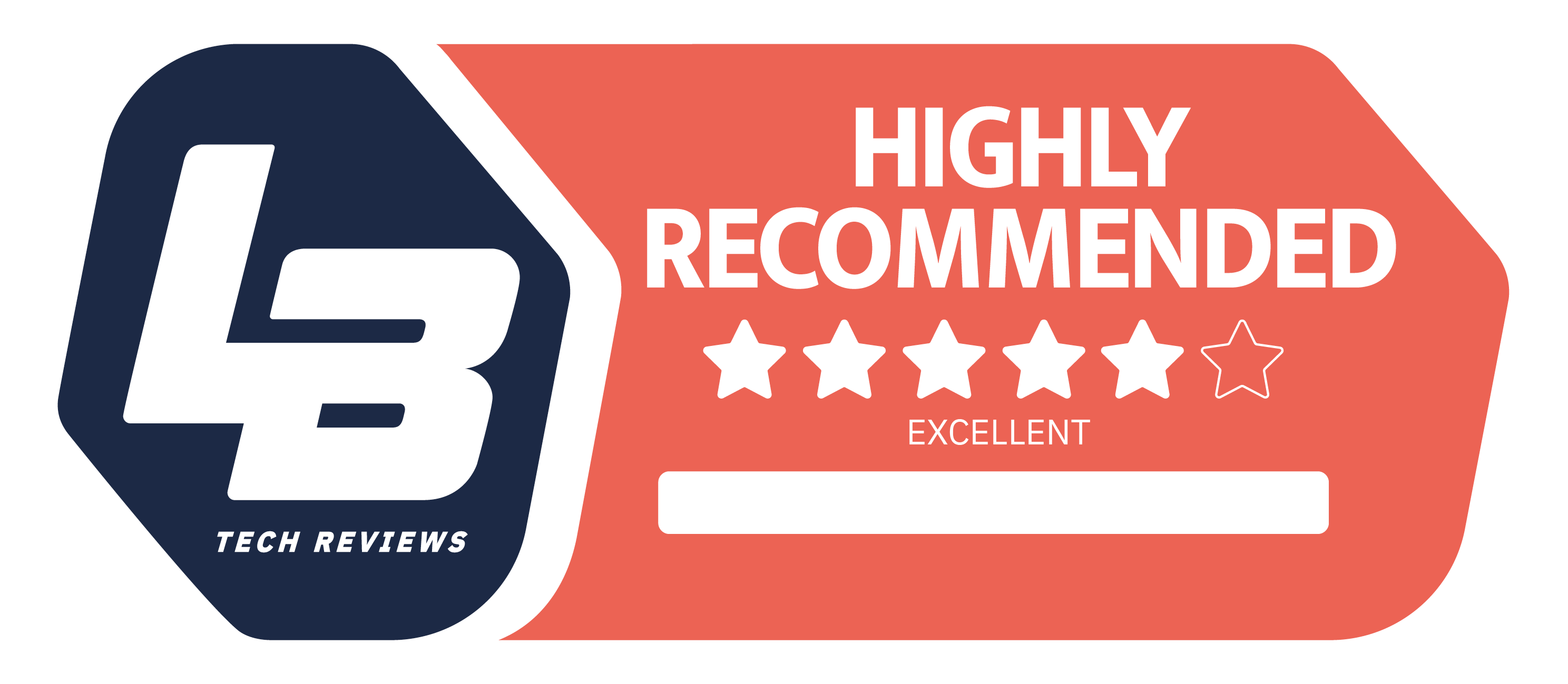 High End
PlayStation 5 is a powerful machine that reproduces both new and older games with razor sharp and great graphics. The games load lightning fast, and the innovative hand control contributes to an engaging gaming experience.
There are still some decent "next-gen" game titles missing that really show what the PS5 is good for. The storage space could have been even larger, and the included HDMI cable is relatively short.