John Hvidlykke
Published

2022-07-27 - 1:00 pm
The fastest smartphone right now. Period. The screen is great too.
It's really, really expensive. Not expandable with microSD card.
Specifications
Display: 6.8″ AMOLED 2448 x 1080 @165 Hz, HDR10+, 800 brightness (1200 brightness max), 111% DCI-P3, Gorilla Glass Victus
CPU: 3.2 GHz Qualcomm Snapdragon 8+ Gen 1
GPU: Adreno 730
Memory: 18 GB RAM / 512 GB storage
Operating system: Android 12
Cameras: 50 Mp / 13 Mp 120 degree wide angle / 12 Mp selfie camera
Connections: 2 x USB-C, headphone (3.5mm stereo mini jack)
Wireless: 5G, Bluetooth 5.2, Wi-Fi 6E, NFC
Audio: Dirac HD Sound, aptX HD, aptX, A2DP
Battery: 2 x 3,000 mAh, 65 W charger
Colours: Storm White
Dimensions and weight: 77 x 173 x 10.3 mm / 239 g
Web: asus.com
Geekbench 5: 1.311 (single-core), 4.168 (multi-core) AnTuTu 9: 1.114.991 PCMark Work 3.0: 17.316 Futuremark Wild Life: (max out) Futuremark Wild Life Extreme: 2.795 GFXBench T-Rex: 8.032 frames PCMark battery test: 13:08 hours
Benchmarks
Price 1349
Product page
Asus is not among the major mobile phone manufacturers. But when it comes to specialised gaming phones, they've found a niche where they can compete.
The Asus ROG Phone 6 Pro is the company's fifth(!) gaming smartphone. It looks like any other mobile phone in 2022: a large black glass screen with rounded edges. The back, however, differs by having a grey-white metallic colour and a small secondary display. It has buttons we're used to, but no more. The trigger buttons for games are virtual and are triggered by a combination of ultrasonic and pressure sensors.
At 6.8 inches, the ROG Phone 6 Pro takes up a lot of space in your pocket. And it's hard to get a good, secure grip on the phone in your hand – and impossible to reach across more than half the screen with your thumb. Fortunately, there's a one-handed mode. But the big, expensive phone is made to be held with two hands.
The Asus ROG Phone 6 Pro has two slots for Nano SIM cards, but no option for microSD cards. With 512GB of built-in storage, however, this is unlikely to be a major problem. There are, on the other hand, two USB-C ports: one at the bottom, as usual, and one in the middle of one of the longer side.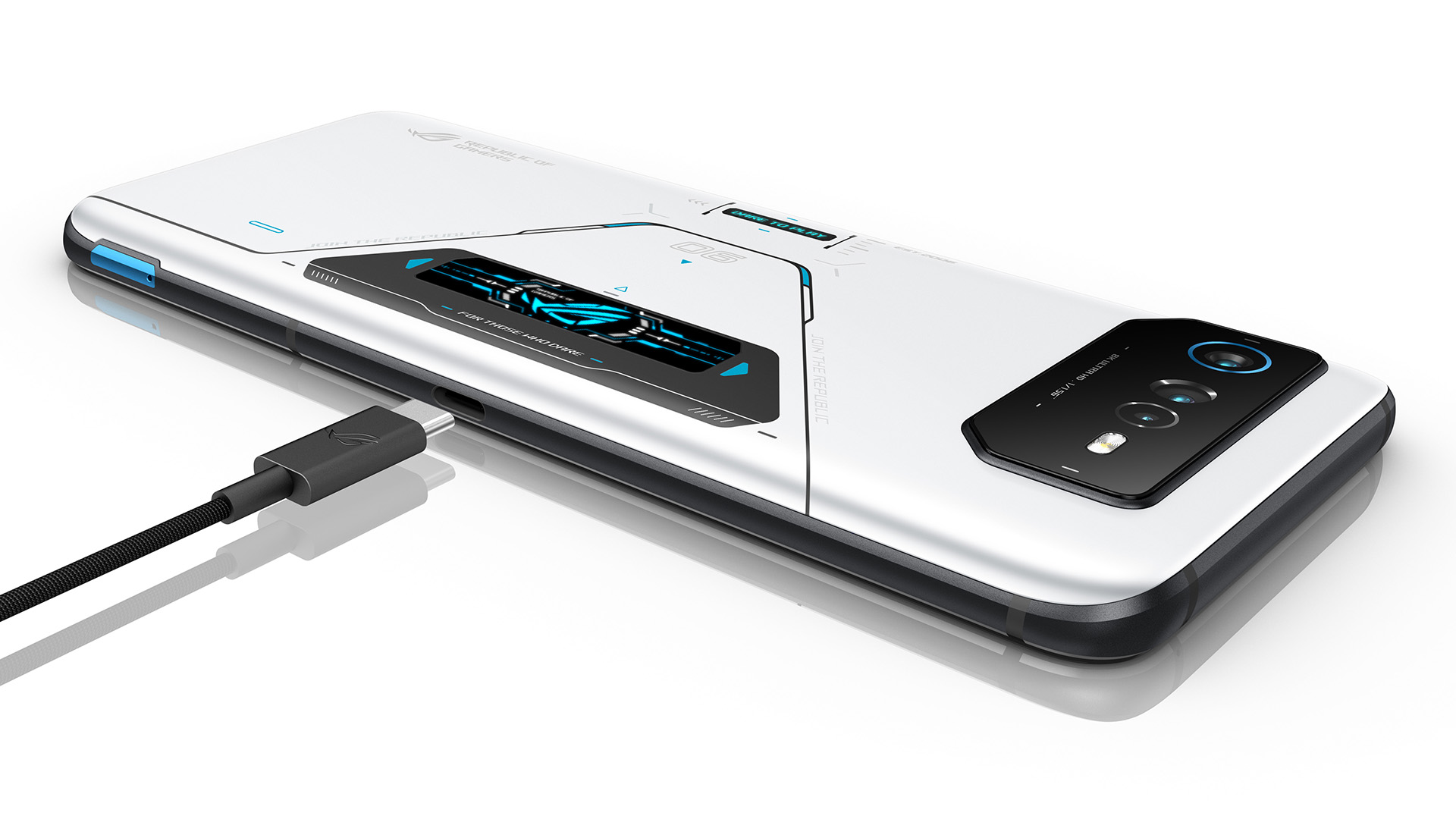 Great screen
Asus themselves say that the screen on the ROG Phone 6 Pro is their best yet. And I believe them. A large and colourful (151% sRGB) AMOLED display at 6.8 inches. The screen has a resolution of 2448 x 1080 pixels and is of course fast: 165 Hz refresh rate.
Cameras are OK
The cameras haven't grown significantly in resolution over the previous two models, but 50 megapixels in the main sensor should be enough for most things. For wide-angle shots, there's a 13-megapixel sensor that doubles as a macro lens. However, despite the phone's size and price, there's no space or budget for a telephoto lens. But the two rear cameras and the selfie camera take quite excellent pictures. However, that's not what the ROG Phone 6 was primarily designed for.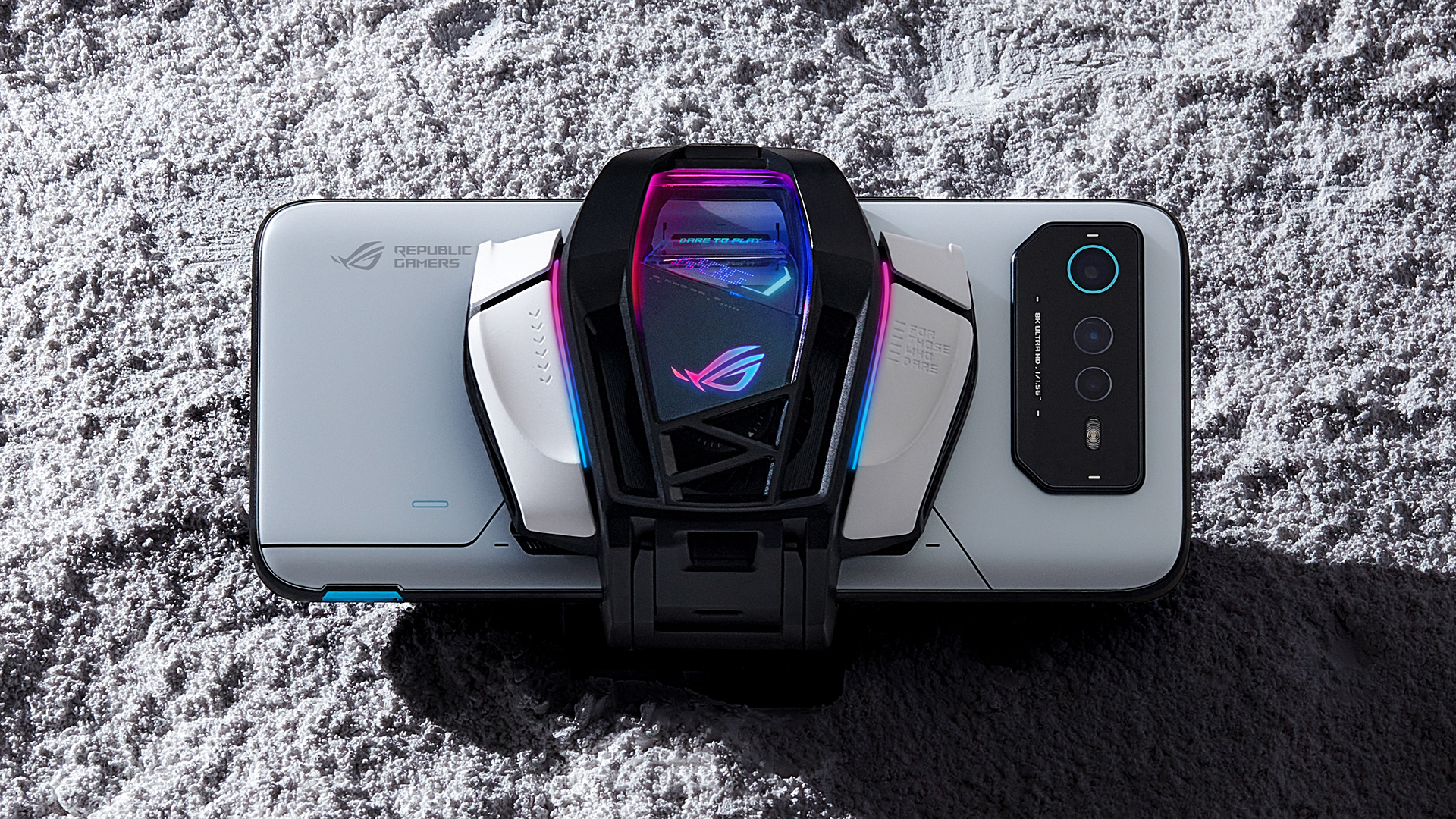 External cooler – when the heat is on
Heat is a problem for all kinds of gaming devices. Because the fast processor and graphics card (which in the mobile phone is integrated into the processor) use lots of power. Getting rid of excess heat can be hard enough in a computer. But it's much harder in a mobile phone, where there's no room for cooling fins and fans. That's why most mobiles lose their breath after a few minutes of gaming. It's called "throttling", where the processor slows down when it gets too hot to avoid burning out.
Asus has found a radical solution to this problem. The AeroActive Cooler 6 is an external fan that snaps onto the back of the phone and gets power from the middle USB port. The cooler contains not only a fan, but also a Peltier element, which is an electronic component that moves heat from one side to the other when power is applied to the element. The cooler can be powered by your phone's batteries, but if you need to play hard, you'll need to plug in the USB charger. In addition to cooling, the AeroActive Cooler also gives the phone physical trigger buttons for gaming.
The cameras are fine, but photos aren't what you buy the ROG Phone 6 for. (Photo: John Alex Hvidlykke, L&B)
Extras
For those who want to step it up a notch, there's an extensive range of accessories to extend the gaming experience. These include gamepad grips and a docking station with HDMI output.
Benchmarks
The Asus ROG Phone 6 Pro is the first smartphone we've tested with the brand new Qualcomm Snapdragon 8+ Gen 1 processor. A new processor generation usually means a performance leap. But what a leap!
The pure computing power, measured with Geekbench 5, lands at 1,311 in single-core and 4,168 in multi-core. That's nice, but not a record, as the iPhone 13 Pro Max is faster.
But that's about it. On all other metrics, the ROG Phone 6 sweeps the competition off the table and wipes the floor with them!
In the AnTuTu 9 graphics test, the ROG Phone 6 extends the limits by having a score of over a million. Specifically, 1,114,991. Like the other benchmarks, the measurement was performed with the external cooler installed. Without the cooler, the result was slightly lower – but still far above anything we've seen so far.
On GFXBench 5.0, Asus ends up with 8,032 frames in the T-Rex test. That's over twice as much as the iPhone 13 Pro Max and OnePlus 10 Pro. We will have to abandon the 3DMark Wild Life test for comparing top mobiles, as the ROG Phone broke the scale.
The PCMark Work 3.0 office software test also ended with a record of 17,316. Samsung Galaxy Z Flip 3 and Xiaomi 12 Pro both come close. But not close enough.
The battery test also ends successfully for the Asus phone, which has two built-in batteries of 3,000 mAh each. Just over 13 hours! Since the battery capacity is not higher than usual for supermobiles, it testifies that the Snapdragon 8+ Gen 1 is not only fast, but also energy efficient.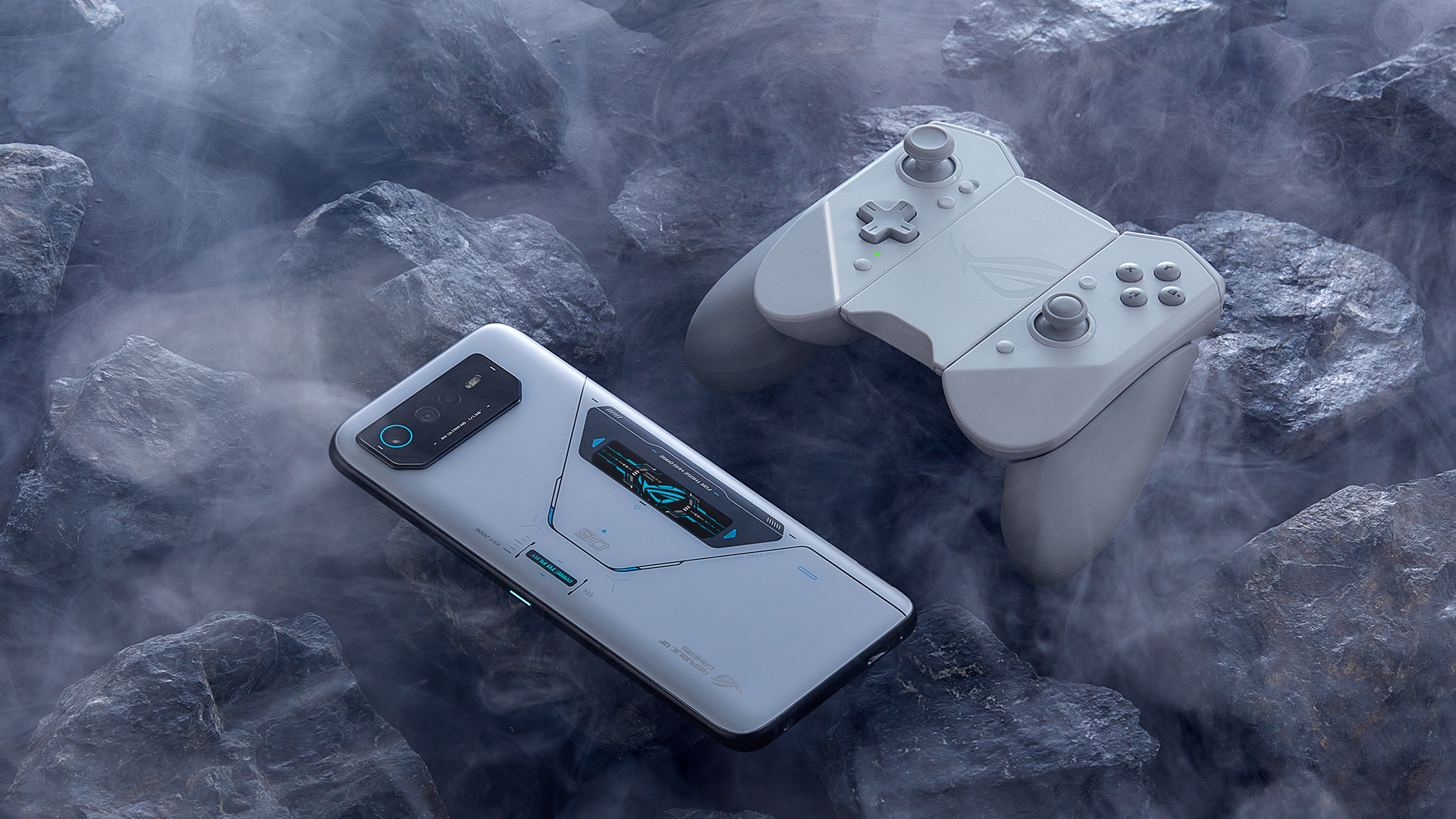 Conclusion
The Asus ROG Phone 6 Pro is by far the fastest performer on the market right now. In virtually every way, it's faster than every other phone at the time of writing. These kinds of victories rarely last, and when other phones with Snapdragon 8+ Gen 1 start to appear (the next one is already in testing), there will definitely be new competition for the top spots. What will set the ROG Phone 6 apart from the crowd for a long time, however, is the external cooling, AeroActive Cooler 6, which ensures that the top speed can be maintained for more than a few minutes at a time. The excellent display completes the picture of a top-class dedicated gaming phone. The ROG Phone 6 is not for everyone. But if you want the coolest hardware right now, and you're prepared to pay almost as much for the phone as you would for a mid-range PC, then there's no question.