Porsche is a name that sounds familiar to any sports car enthusiast. The classic 911 with its aerodynamic silhouette and boxer engine in the rear, is for many the true symbol of a classic sports car. That tradition is still maintained with the current generation. But lately, Porsche has moved more into the mainstream market with SUVs such as the Cayenne, Macan, and the grand touring sedan Panamera. Now they want to conquer the electric car market with Porsche Taycan!
The new "electric supercar" from Porsche is aimed at those who want Tesla-like performance combined with German premium feel and comfort. Porsche is not known for doing anything halfway, and Taycan has already been named "the world's best car" by some in the automotive press.
Our question, however, is: How good does it sound?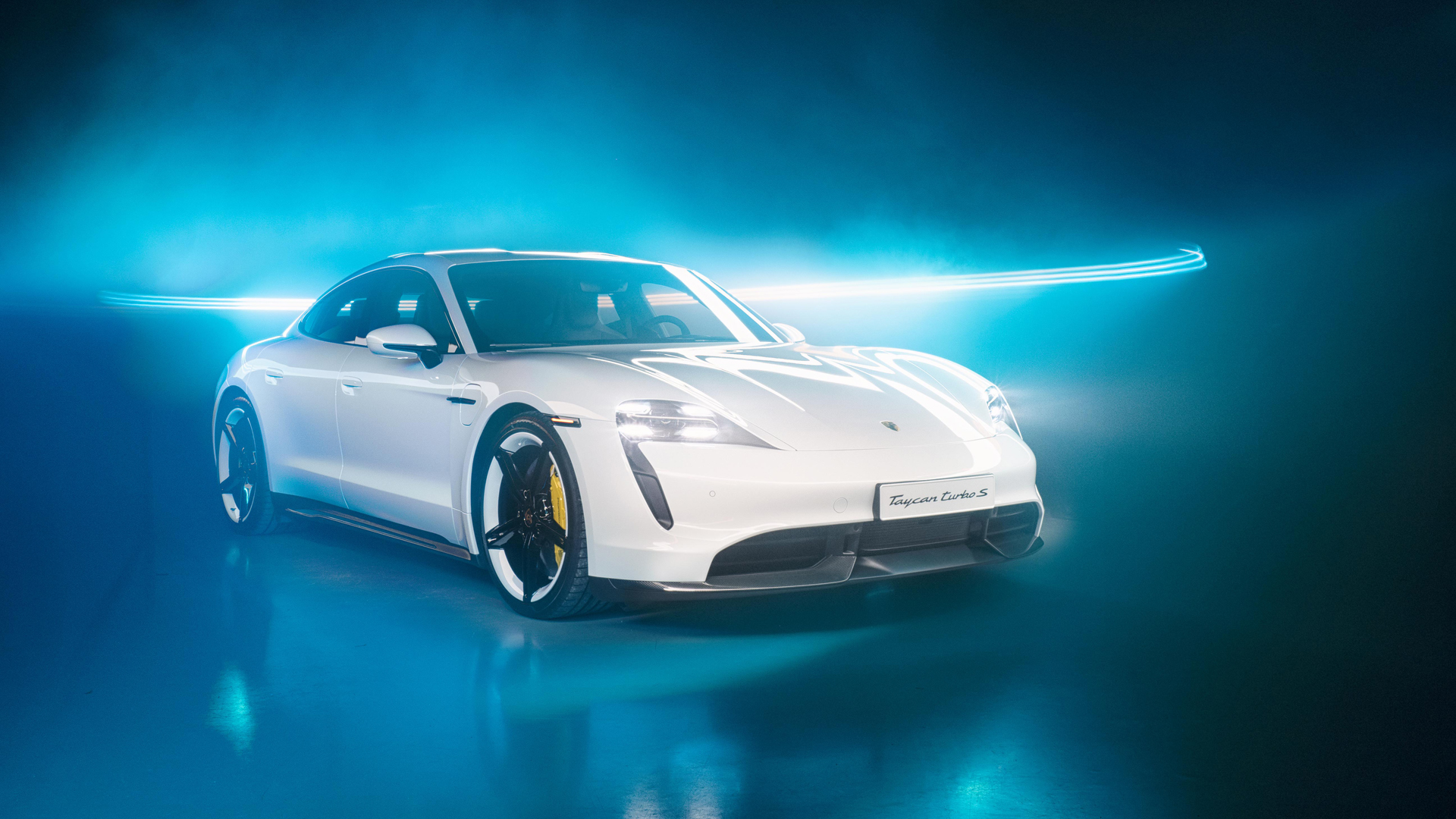 In a potent driving machine like the Taycan, slightly higher demands are placed on the sound system than ordinary passenger cars. Greater speed characteristics simply mean that the system must have a little more power to break through and be heard! Fortunately, Porsche seems to have understood this, because the Taycan can be equipped with two fairly potent sound systems, which have plenty of decibels at their disposal.
Bose or Burmester?
When you pack a Taycan, you can choose different motorization and battery packs (4S, Turbo and Turbo S) and of course a whole lot of accessories. Porsche's extensive price list offers many curious options: How about a set of carbon wheels for 77,000 kroner or ceramic brakes for 95,000?
For the 4S version, it is possible to settle for a standard, unmarked system (Sound Package Plus with 10 speakers and a total of 150W). According to the Norwegian Porsche importer, however, the vast majority of customers choose an upgraded variant. It should only be missing in a premium car!
The Bose system will probably therefore be the starting point for many. Bose needs no further introduction: the American manufacturer is one of the world's largest brand names in sound. Perhaps best known for its noise-canceling headphones, but also an experienced car stereo supplier.
The system delivered to Taycan consists of a total of 14 speakers, including a dedicated subwoofer down in the "spare wheel well" at the rear. It also has Bose's patented sound processing, with Centerpoint 2 providing virtual surround sound, and SoundTrue enhancing sound quality from compressed audio formats.
Burmester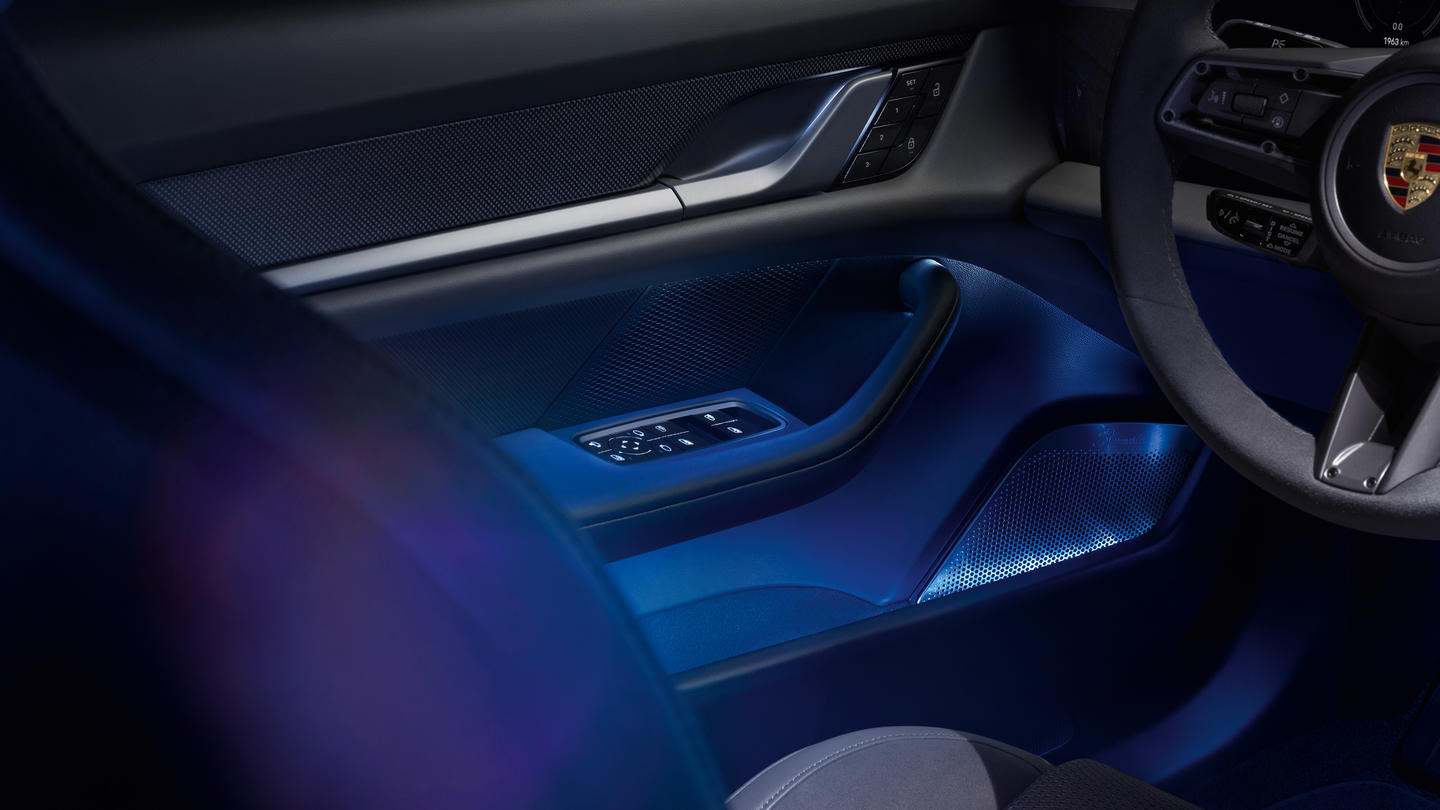 If you put another 4300 £ on the table,  you can take the step up to the high-end option from Burmester. The German high-end producer, founded by musician and engineer Dieter Burmester in 1977, is a name that should ring familiar to discerning hi-fi enthusiasts.
Burmester specializes in complete music systems in the elite class, and is known for its massive amplifiers and speakers for home use. In recent times, they have also taken the step into the world of car sound: They debuted with the super sports car Bugatti Veyron, and have later become a regular supplier to Mercedes and Porsche.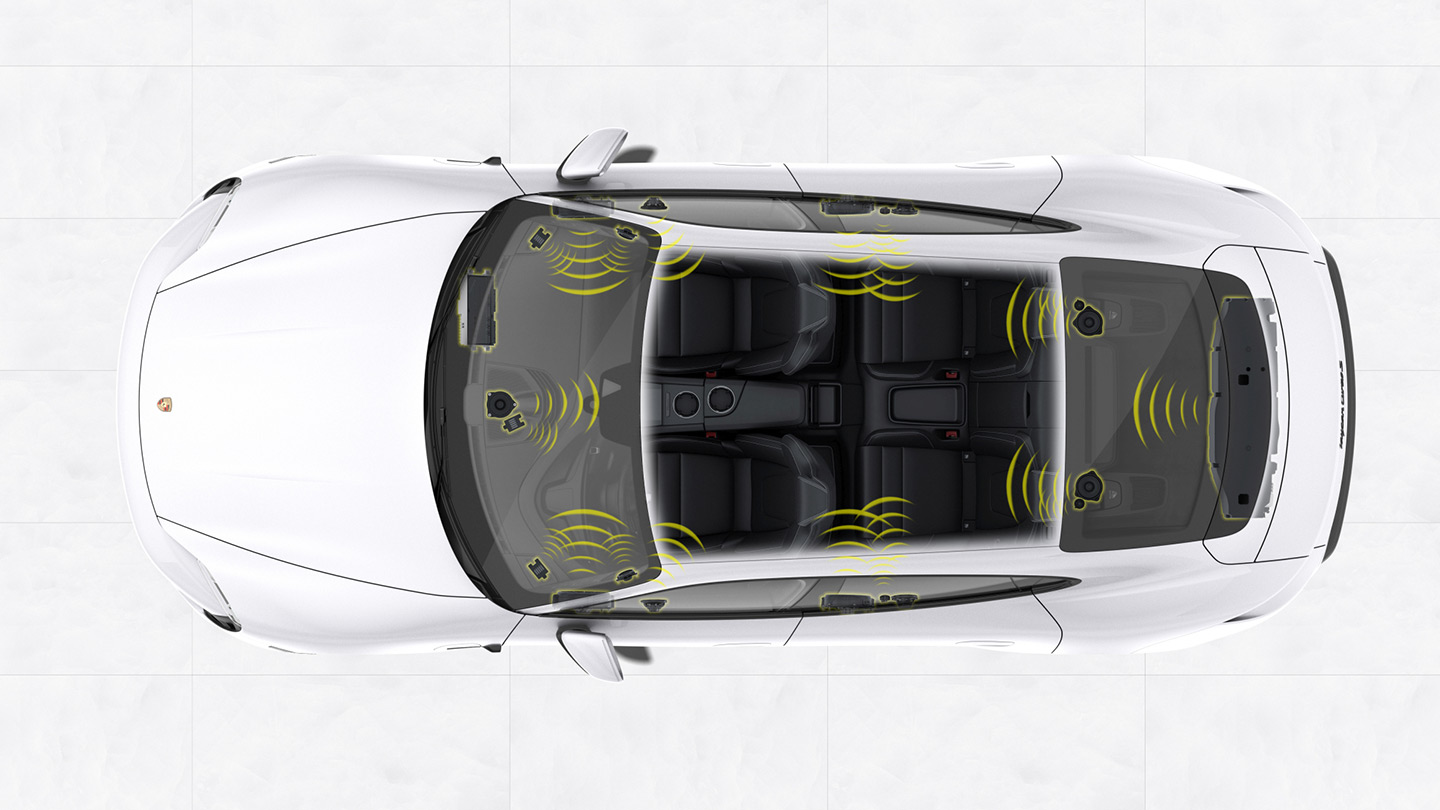 The sound system that is delivered to Taycan has a lot in common with the Panamera, but is of course fine-tuned for this cabin. We are talking about as many as 21 individual speaker drivers and a total of 1455 watts amplifier power! This includes a powerful 10 "subwoofer under the floor in the trunk, which is powered by a dedicated class D amplifier of 400 watts.
The increased number of speaker drivers is partly due to the fact that Burmester uses two-way speakers with separate treble and midrange diaphragms. Component quality is consistently high, with cast metal parts and high-efficiency neodymium magnets. Both the A-pillars and the center channel in the dashboard are equipped with the patented AMT (Air Motion Transformer) metal foil tweeters, which we know from Burmester's home speakers. This is definitely a more "audiophile" configuration than Bose, which mostly uses simpler full-tone elements around the cabin.
Artificial engine sound
An electric car like the Taycan is basically completely silent. However, Porsche has added the option of artificial engine sound both inside and out (Porsche Electric Sport Sound). The outside part warns pedestrians, while the inside part is more about keeping the driver sharp.
The idea of artificial engine sound may seem a bit strange, and has previously been used with varying degrees of success in various car models. In Taycan's case, Porsche seems to have succeeded relatively well. The engine sound is a recording of the actual electric car engines, only with the highest frequencies filtered out. Thus, it sounds as lifelike as it may sound in the electric car context.
We think it was nice to have the engine sound activated during active driving in "sport mode", but otherwise we preferred to turn it off, and rather concentrate on the sound from the system.
Extreme driving characteristics
We in the LB Techreviews editorial staff are not motoring journalists per se, so we must be careful about stating how Taycan performs purely in terms of car technology. But it is definitely a driving machine!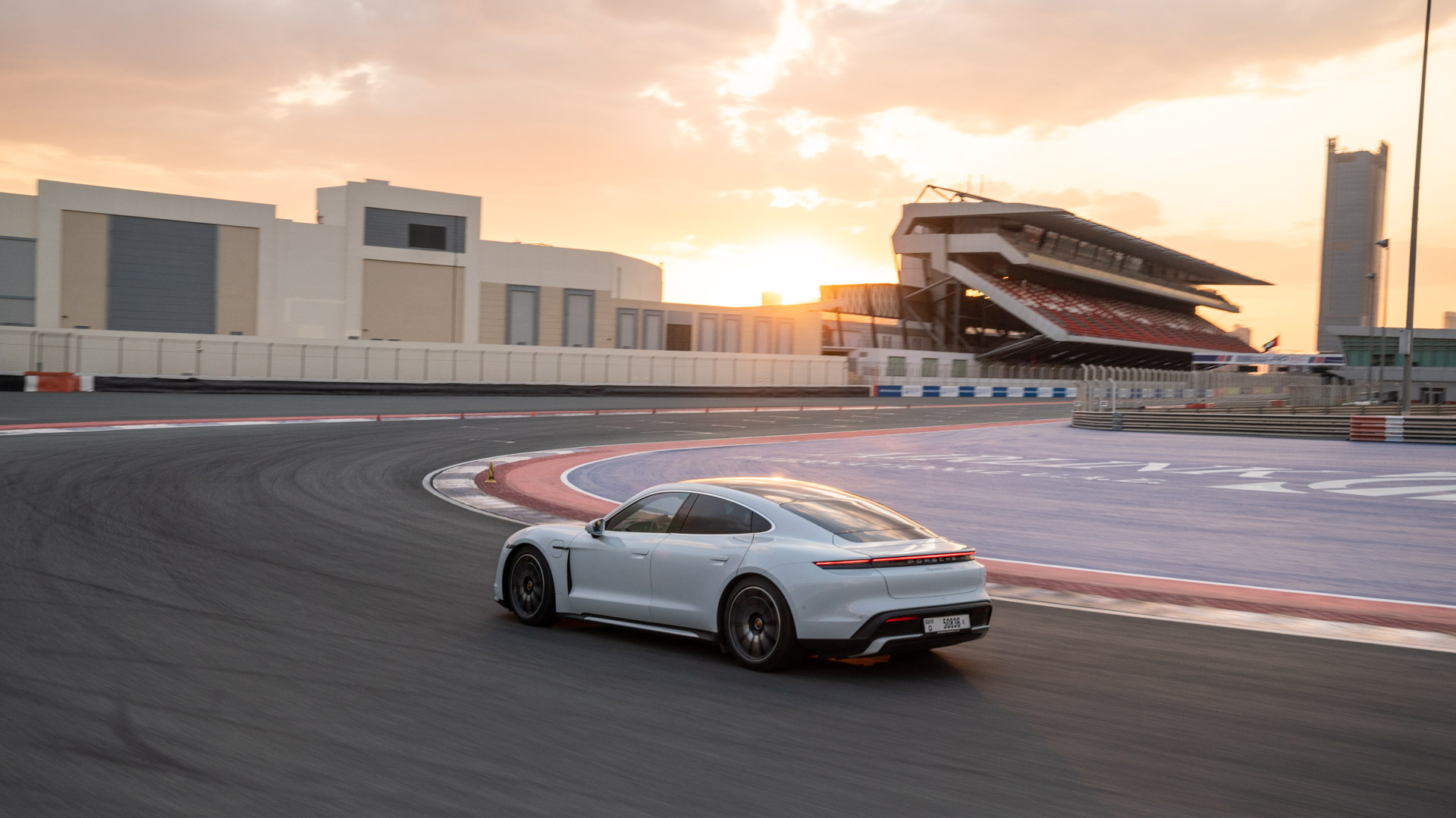 Even the more moderate 4S version has an impressive acceleration, and takes off like an airplane. The Turbo version, on the other hand, is a pure rocket! With the seat belts tightened and the cleat in place, we felt a bit like the SpaceX astronauts as they left the earth's surface. We hardly dare to think about how the even stronger Turbo S version will feel…
There is also nothing to complain about the driving characteristics: Porsche has succeeded in making the roughly 2.3-tonne vehicle feel like a real sports car. Although we did not come close to testing the G-forces on busy Norwegian roads, it seems to have an extreme grip during normal driving.
Driver environment
The Taycan cockpit feels compact, and you sit low and tightly wrapped in the leather-covered bucket seats. However, the driving environment in Taycan offers a steep learning curve: Although we received a crash course from an experienced Porsche product specialist, it took some time to become familiar with all the features!
Smartphone users can enjoy a total of 4 (2 front and 2 rear) USB-C connectors in the passenger compartment. Here you can both charge your mobile and use it as a music source. Apple CarPlay is also supported.
Taycan has 3 full touch screens to deal with (an extra for the front passenger as an option) and a whole lot of buttons. It can feel a bit chaotic compared to Tesla, where everything is gathered on one screen. But this is something you get used to after a while behind the wheel.
Good noise reduction
The Taycan is experienced as a very solid and well-knit car. Even at highway speeds, there is hardly a hint of vibration. Porsche has also done a thorough job of shielding the cabin from wind noise. Just like with the Audi e-tron, it provides a quiet and comfortable driving experience.
We notice, however, that Taycan has significantly more prominent tire noise than we experienced with the Audi. Our test car had 21-inch Mission E design rims with 305-width low-profile tires on the rear wheels, and then it is difficult to avoid some tire noise. But you have to put up with a bit, this is after all a performance electric car!
The sound of Bose
We started testing with a 4S equipped with Bose Soundsystem. Porsche tells us that this is the most popular system, and we can easily understand why: The sound is immediately distinct, clear and rich, with solid accompaniment from the subwoofer in the trunk. We play a little assorted list pop and radio, and it all sounds very nice and tidy. The facility seems to have plenty of power, and we'll be playing pretty loud before it starts to sound tiring. More than good enough for most people, is our first impression.
The Bose system also has a fun feature in the form of simulated surround sound. Normally we sneeze at such "gimmicks" as it usually hurts more than good for the sound quality. In Bose's case, however, we were pleasantly surprised: the surround effect is not particularly intrusive, but makes the sound image much larger, and almost goes outside the compact cabin. In fact, we preferred this setting to many music choices.
As we challenge the Bose system with more demanding music, such as acoustic, classical and folk singing, it turns out that there are some "holes" in some places. The midrange is a bit slim at times, and means that some singing voices and instruments lack a bit of body. In addition, it is a bit limited with details at the top of the frequency range, which makes drum whips and string instruments sound a bit flat. That said, we are generally quite happy with Bose, which, for example, compares well with the premium system from Bang & Olufsen (Audi e-Tron).
The sound of Burmester
After parking the 4S, we switch to a Turbo version with Burmester on board. It will be a slightly different world, and then we are not just talking about acceleration…! After first finding peace behind the wheel of this potent space rocket of a car, we were able to take in all the listening impressions.
The first impression is that Burmester has a significantly larger, more open and airy sound image than Bose. Here is also a far more lush midrange and more fine-grained treble resolution, which means that both voices and instruments have a far more distinct, full-bodied reproduction. This is not something you necessarily notice so much when listening to radio and Spotify at a moderate sound level. On the other hand, it makes a big difference when we pull the volume knob to the right!
With high-resolution music files streamed from Tidal, including challenging test songs from the Sound & Vision archive at high volume (and by that we mean LOUD!), The Burmester system turns out to be a completely different beast than Bose. Gustav Holst's The planets sound divinely good, in fact better than I can remember hearing it from a home hi-fi facility…! The fanfares and drum beats go through marrow and bone. And even at deafening sound levels, there is no hint of unnote from the treble. The special AMT tweeters play incredibly clean, and as you know can withstand very high sound levels before they turn.
When we tested the B&O system in the e-tron recently, we were generally very happy outside the bass. A potent car stereo must have proper bass! Fortunately, Burmester has not spared the effort in this case. The bass is primarily very cash and tight, but slams and rumbles when it really matters. Thus, it creates a proper foundation for the music experience.
Although the Taycan compartment is relatively quiet, it requires a certain noise level to break through the road noise from the wide tires – especially out on the highway. Precisely for this reason, it is good that the Burmester plant has plenty of power surplus. We could play pig loud without the sound becoming tiring to listen to. Perfect for long trips on the German Autobahn…!
Limited 3D effect
Burmester advertises with so-called Auro 3D sound processing, which will give a more three-dimensional surround effect to ordinary stereo sound recordings. In practice, however, we experienced that this did not give much "extra" on top of the already very airy sound experience. By and large, we preferred the more front-facing Pure mode. That said, it is conceivable that the passengers in the back seat will appreciate the 3D effect more.
Conclusion
When you order a Porsche Taycan, you can choose between two very potent sound systems beyond standard. After testing both the Bose and Burmester variants along Norwegian motorways, we must say we are very satisfied with both alternatives – in their own way. The Bose system actually provides impressively good sound for the price: with a large sound image and rich bass, this is an excellent choice for the average listener. But if you have discerning ears and like to hear the full and complete truth of classical and acoustic music, you will definitely get big gains by choosing Burmester. The combination of sophistication and rawness, airy overtones and solid bass reproduction, makes Burmester a hit in our ears. Put another way: If you want a sound system that matches Taycan's potent driving characteristics, it pays to choose German!
Note! Porsche informs that both Bose and Burmester occupy some luggage space – due to the subwoofers in the trunk, there is no opportunity to lower the floor to the bottom.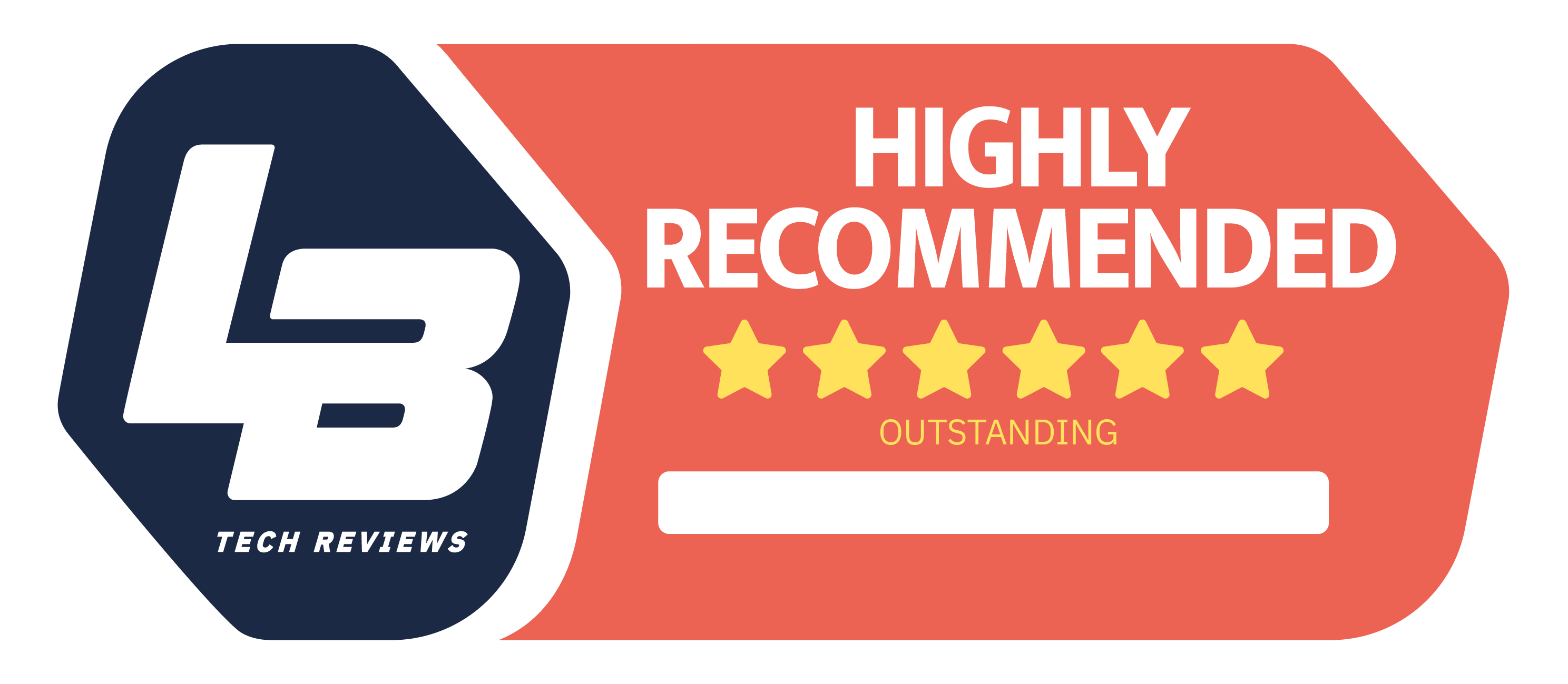 Porsche Taycan with Burmester Sound System
High End
We think
Burmester delivers a magnificent soundscape with refined details throughout the frequency range. Lots of power and really deep bass. A perfect match for Taycan!
The 3D sound does not sound particularly convincing: we prefer more neutral sound settings.