The push from the rear wheels causes a surprising understeer, but it helps to get off the gas. Then the BMW straightens up and all you have to do is point the steering wheel in the direction of the end of the turn, and any hint of drama disappears. The car feels like, well, a BMW, with safe and predictable driving characteristics.
It's not as sporty as many associate with a BMW, but has an SUV ever been?
Coming from a 3- or 5-Series, neither an X3 nor an X5 is anywhere near sporty. X5 M Competition excluded. For 625 hp in a two-ton SUV, the feeling of happiness shakes extremely, and empties the tank as fast as the cart moves.
But I do not sit in either an X3 or an X5, although it may feel that way, but in the new all-electric iX3. Which for confusion looks like an X3.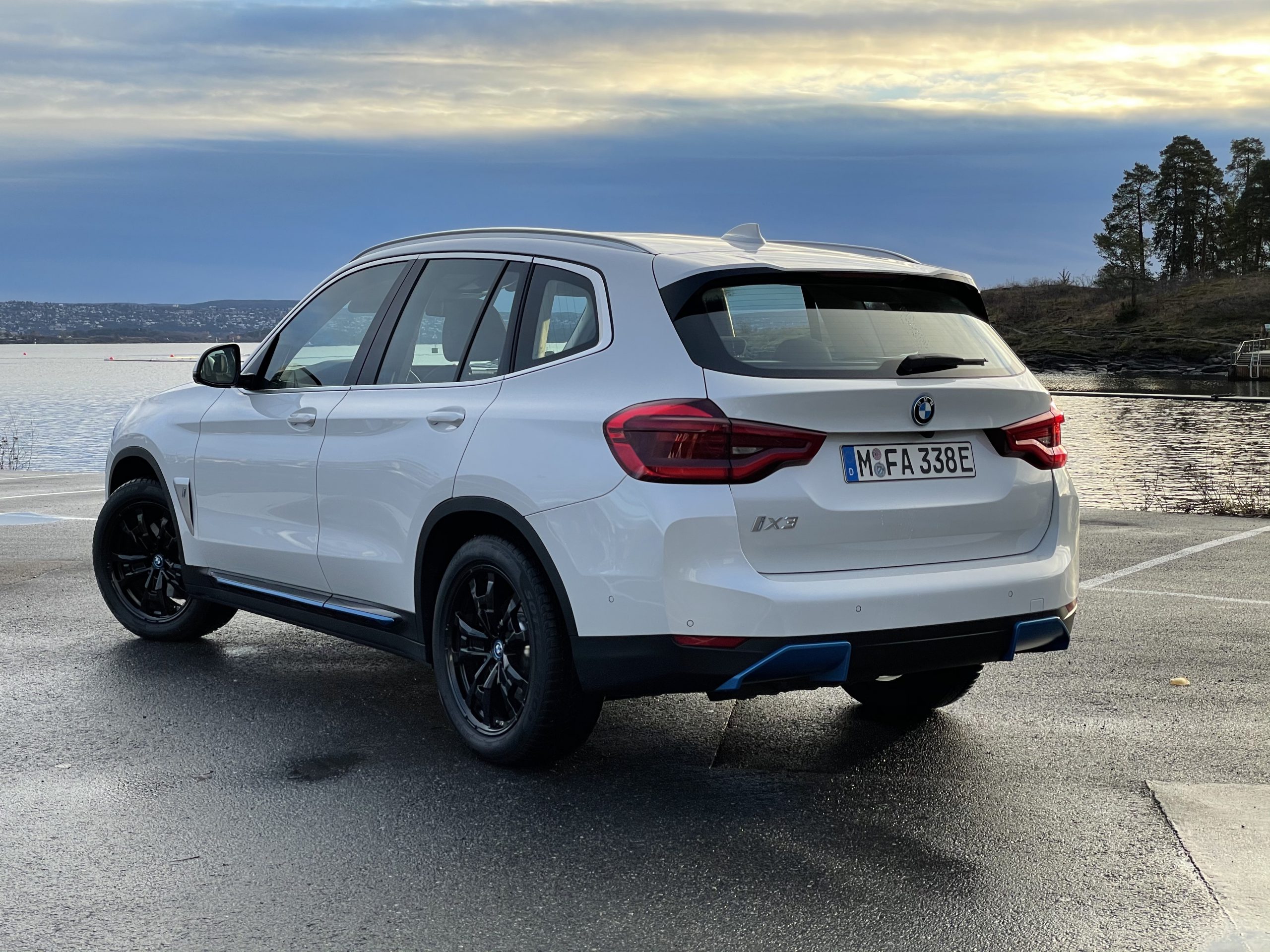 This is because they are based on the same platform. That is, the one that can also be delivered with a petrol or diesel engine, or as a hybrid. The electric version is therefore the limitations of a fossil car platform, where an internal combustion engine must be in front, and a transmission tunnel runs through the entire cabin to the differential behind.
BMW is not alone in building electricity on a fossil platform. Mercedes-Benz does it at EQC and Audi with e-tron. While a Porsche Taycan and Jaguar i-Pace are packed completely differently, since they are made on an electric platform.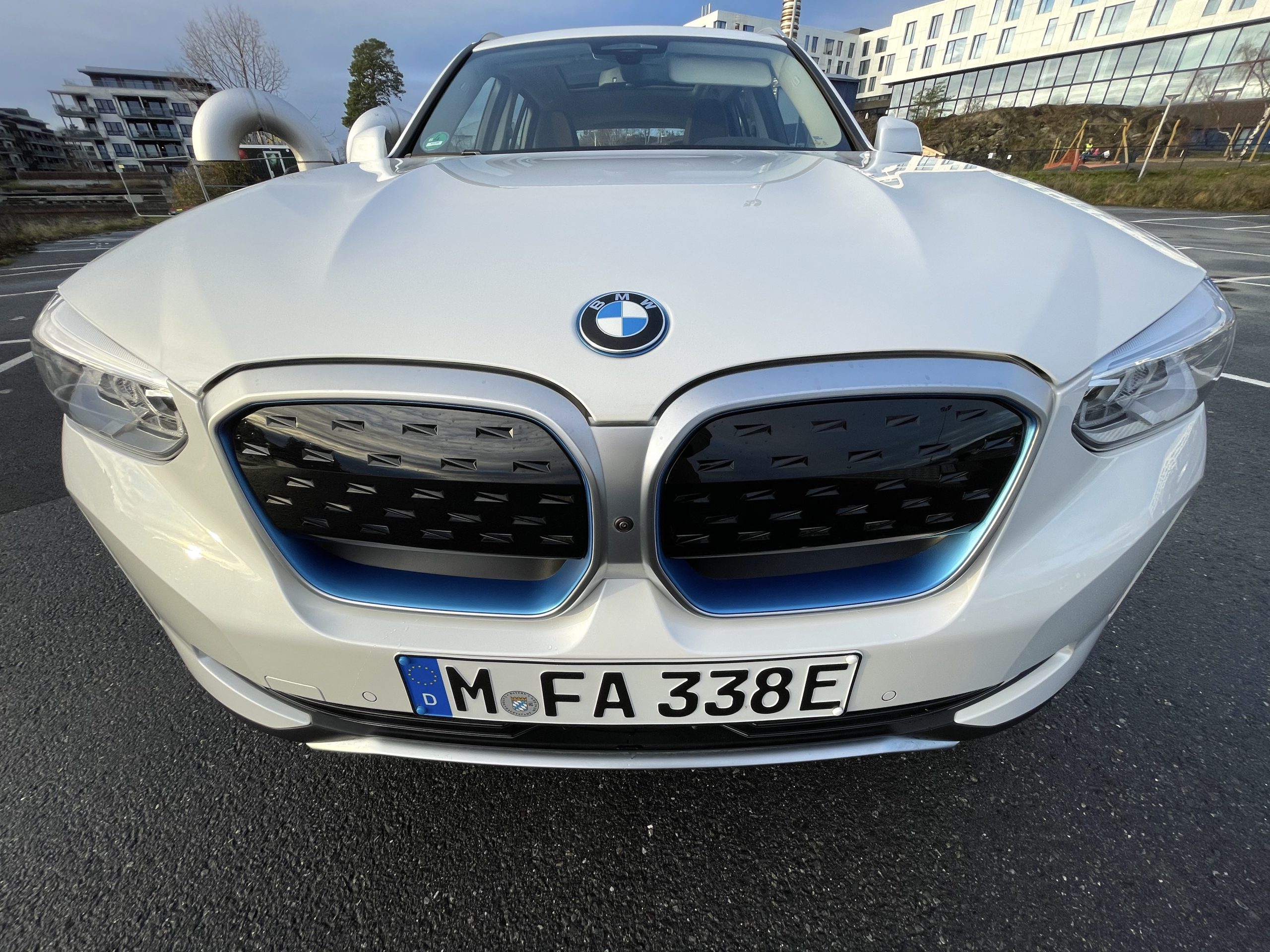 The E-tron and i-Pace are two of the closest competitors to the new BMW iX3. As we have spent a few hours on the country road with, and the short answer to the question everyone is wondering is; it is very nice to drive and the comfort, driving characteristics and interior space are in line with what you get in an X3.
But it lacks one thing that for some is a significant shortcoming.
Does not come with four-wheel drive
Under the long hood there is nothing to see. A huge plastic cover covers the entire width under the hood, and there we have two of the disadvantages of the iX3: There is no frunk where you can lay cables, let alone a small weekend bag – and, the iX3 does not have four-wheel drive and never comes with it .
At the same time, it is important to be aware that many people are already driving around in cars that have four-wheel drive only when it is really tight. 95 percent of the time, the propulsion takes place with two-wheel drive, and then the other pair of wheels is engaged when the car's brain notices that it is missing a bit for the drive wheels.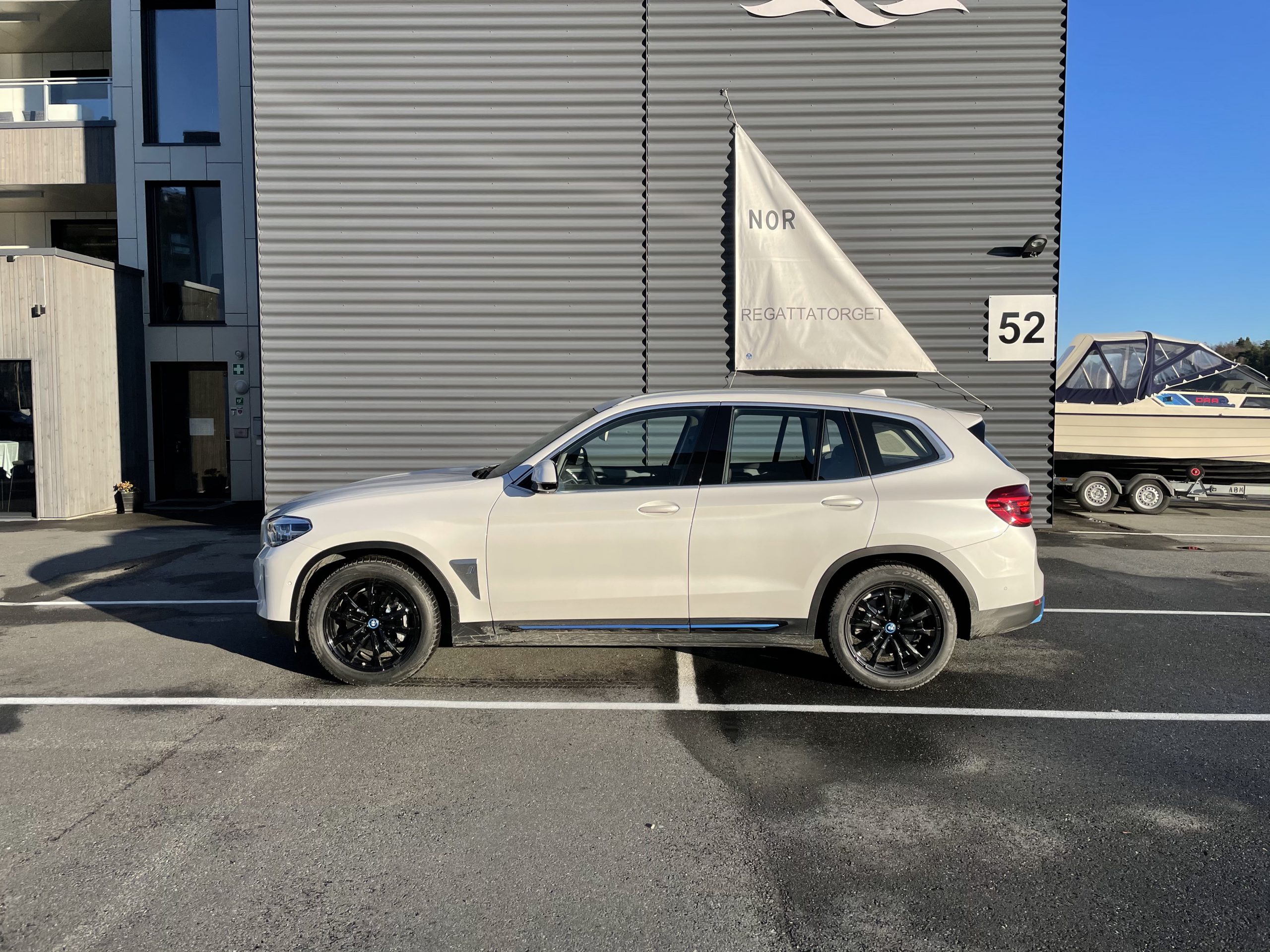 If you live in such a way that you are going up a really steep hill on winter roads, or have a cabin that is so remote that the road is rarely or never plowed in the winter, you obviously need four-wheel drive. But not to drive themselves to work, or the kids in training.
It can pull the trailer. Of course. But up to 750 kg, just like i-Pace, that is. In comparison, a Polestar 2 can take 1500 kilos, and an e-tron or EQC pulls 1800 kilos.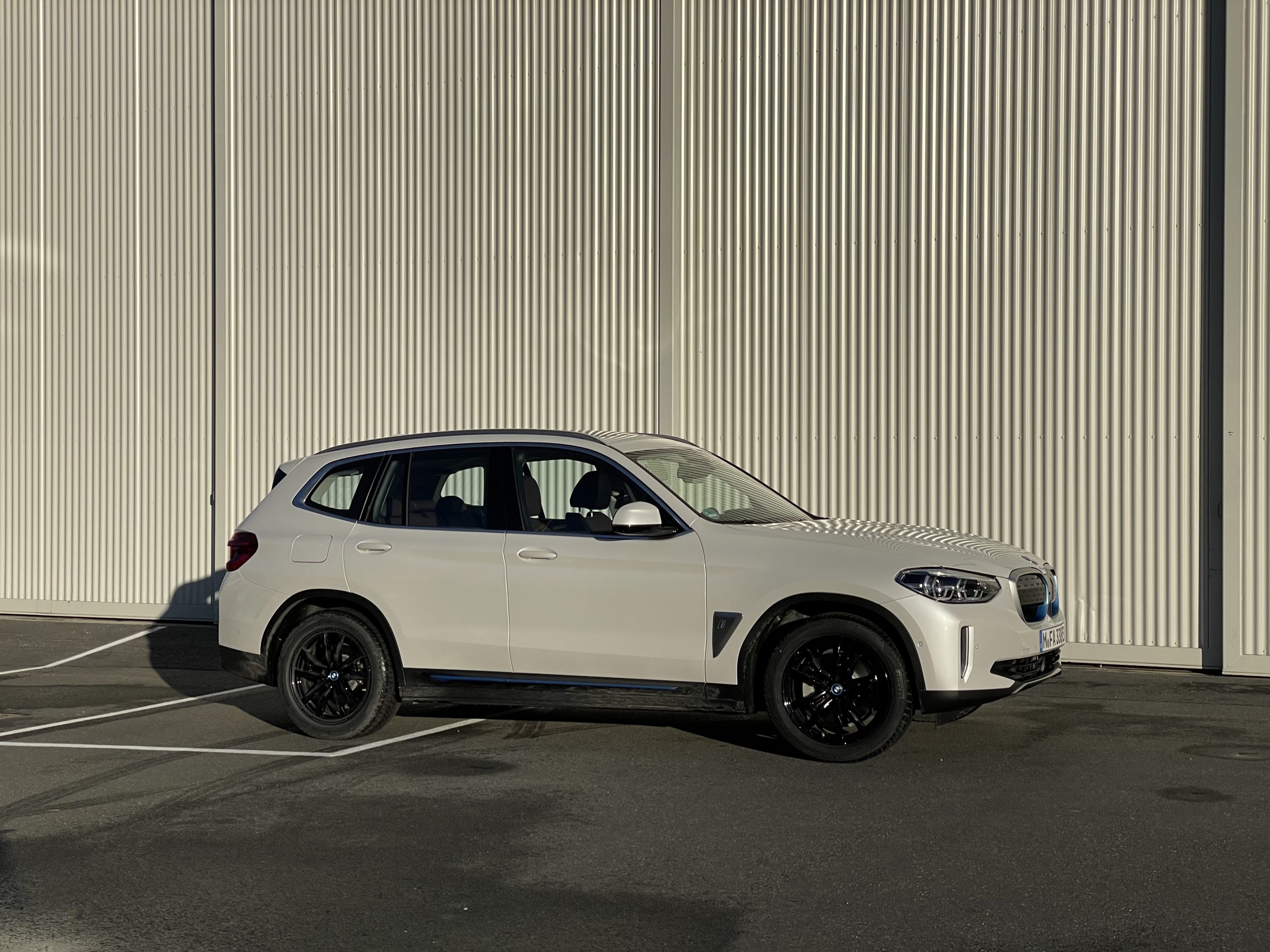 Fast charging and range
The battery capacity of 74 kWt net, gives the 2.2-tonne BMW a range according to the WLTP standard, of 460 km. We have not tested it, but we noticed that the estimated range increased by between 10 and 150 km when we switched from sports to eco, with the buttons on the center console. BMW states consumption at 19.5 – 18.5 kWt per 100 km. I got between 19 and 21, but with a lot of stops / starts and a lot of accelerations.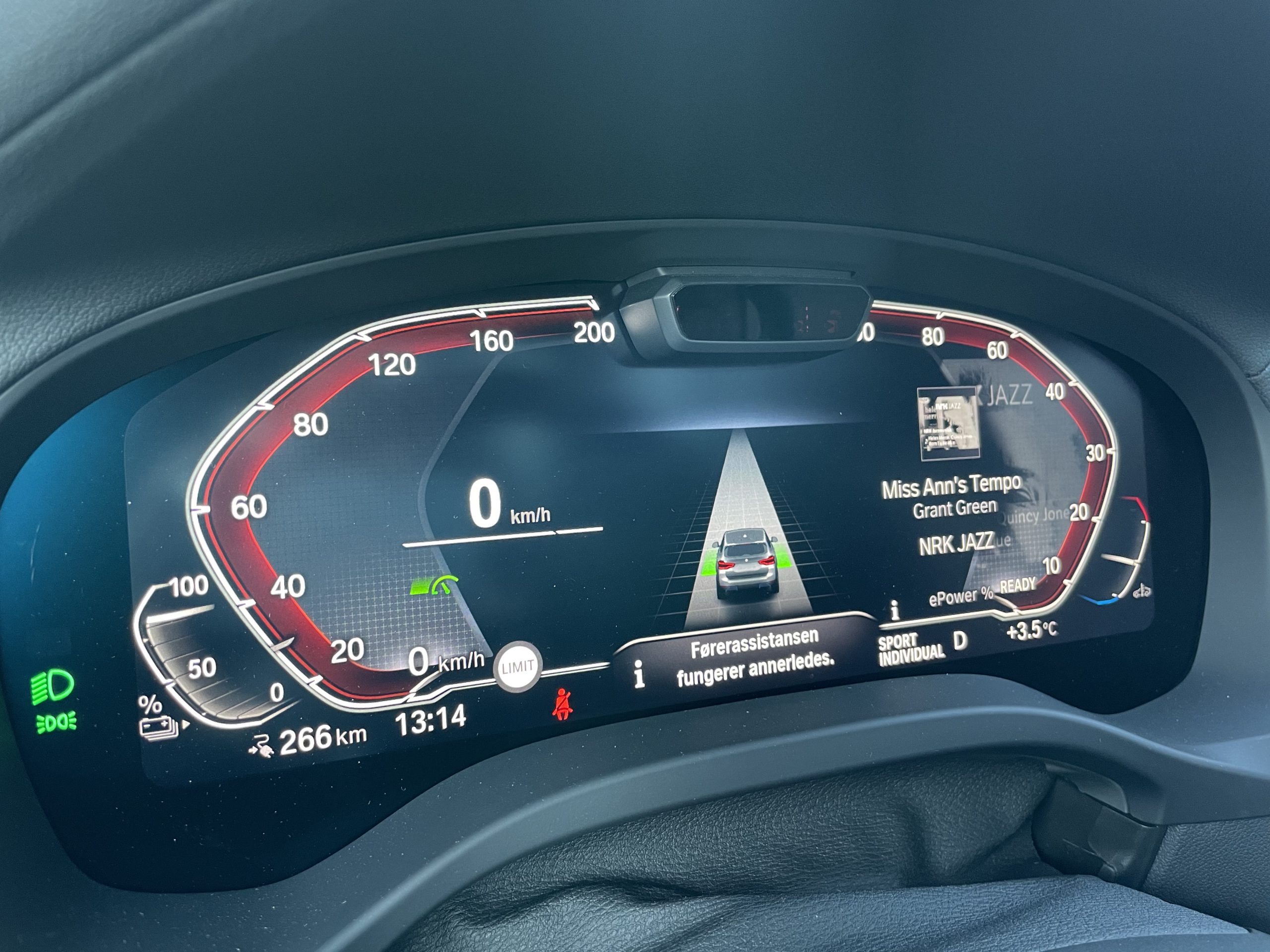 It can be fast charged with up to 150 kW, and uses standard CSS charging connectors. One can get 100 km range with just 10 minutes of charging, according to BMW. Which also says that they have created a new charging profile that gives most of the charging effect at the beginning of the charging cycle.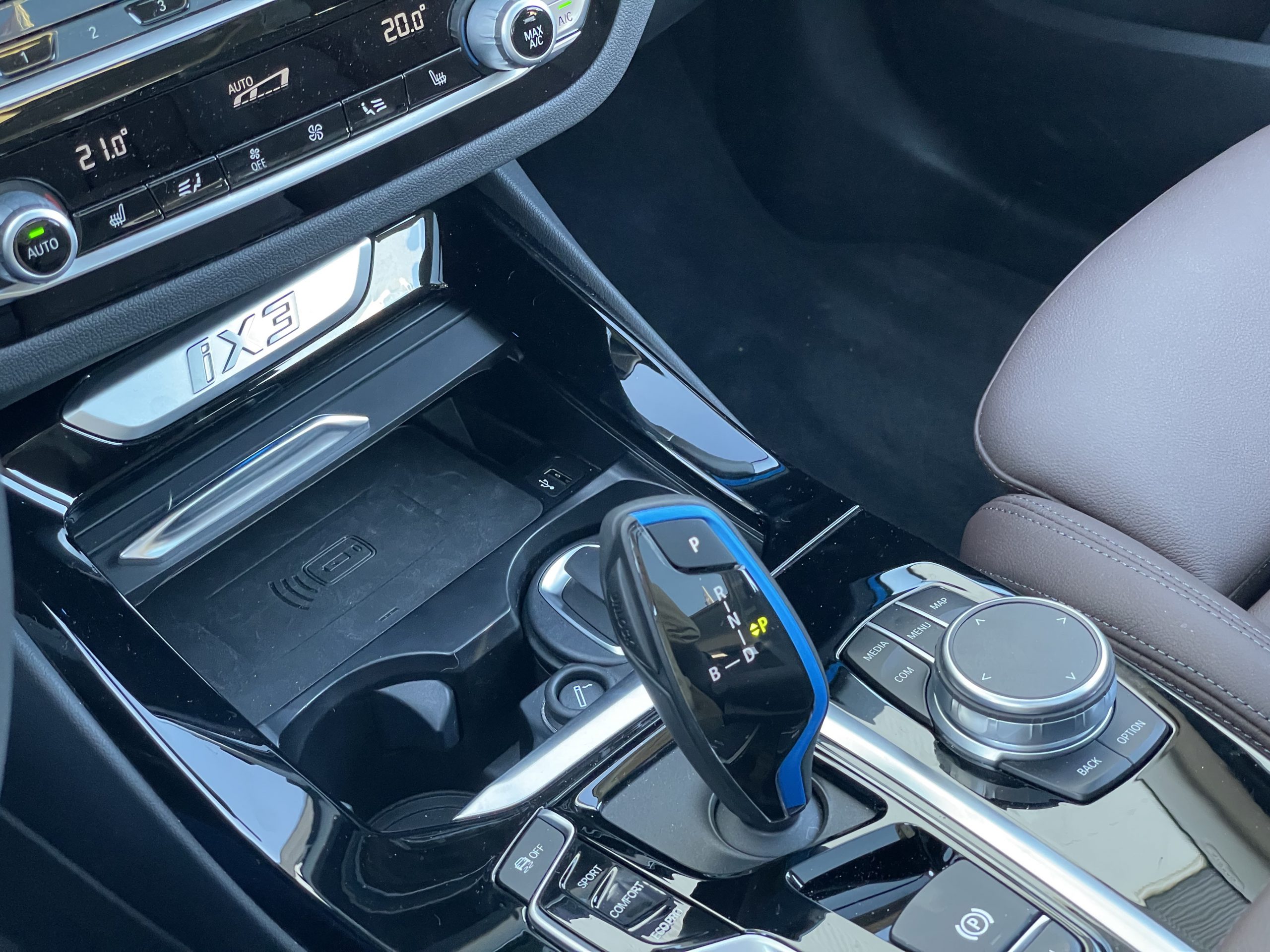 BMW is concerned with communicating sustainability and energy efficiency, and the iX3 is equipped with batteries where the cobalt content is reduced by 2/3, and externally, several aerodynamic grips will help to make the large car glide more easily through the air at speed.
The car will also in its lifetime – from conception to recycling – have a 30-63 percent lower CO2 footprint than an X3 20d, according to BMW.
Most electric cars have some form of regeneration, where you can send some energy back when you release the accelerator pedal to brake. In the iX3, regeneration has taken a step further. They call it adaptive recovery, and it works by selecting adaptive recovery from the on-screen menu, then the car adjusts speed to the car in front, while all braking with the electric motor sends energy back to the battery.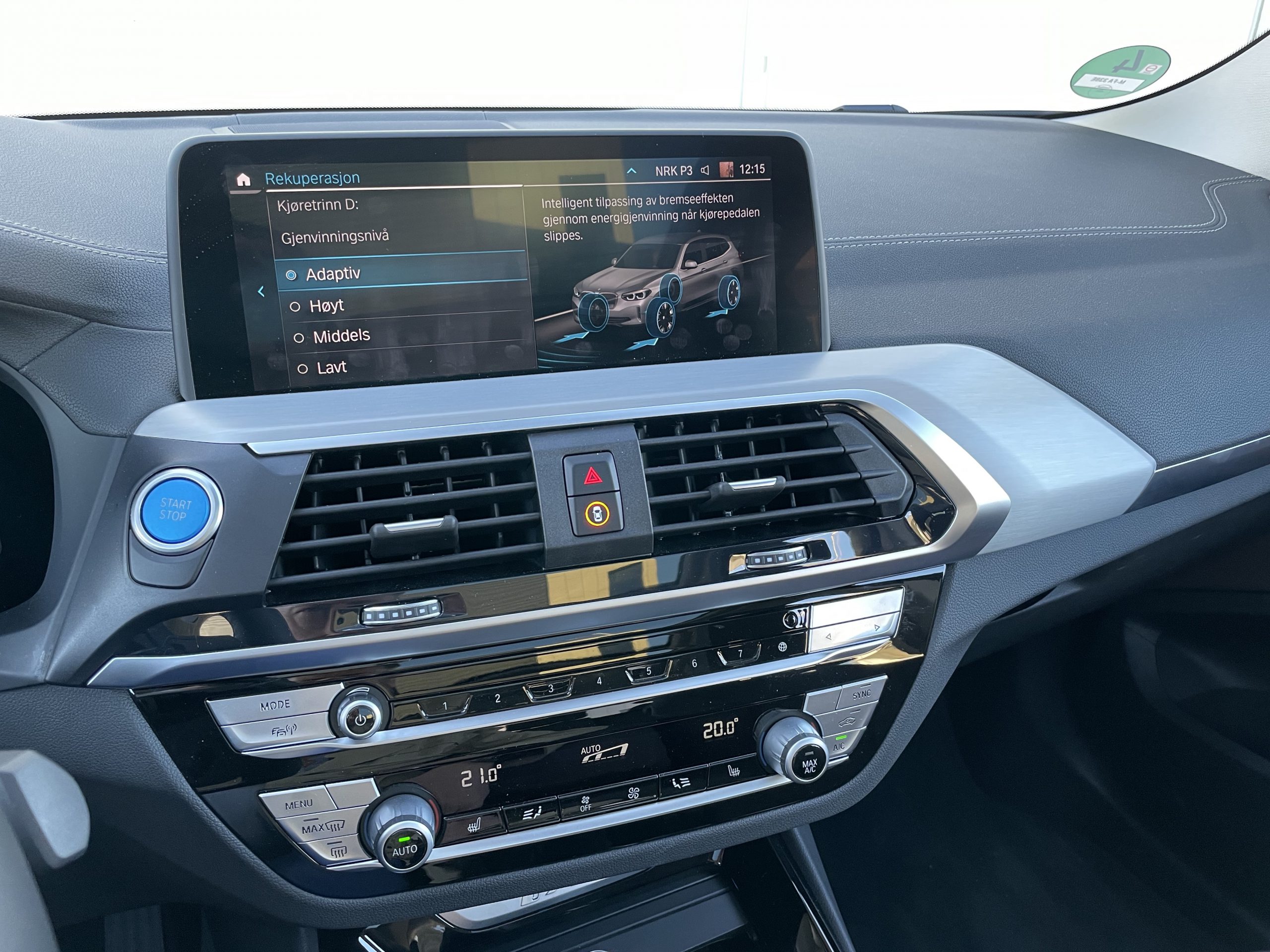 Up to 25 percent of the range can come from the recovery, according to BMW itself.
It can also be driven like a 'regular' electric car, with one-pedal driving. Just tilt the gear lever to B.
On the road
There are many other setting options in the on-screen menus, such as the Sport, Comfort and Eco Pro driving programs. It is also possible to adapt the driving programs individually – Individual – and as expected, the Eco program is by far the most energy-friendly and it also provides the longest mileage.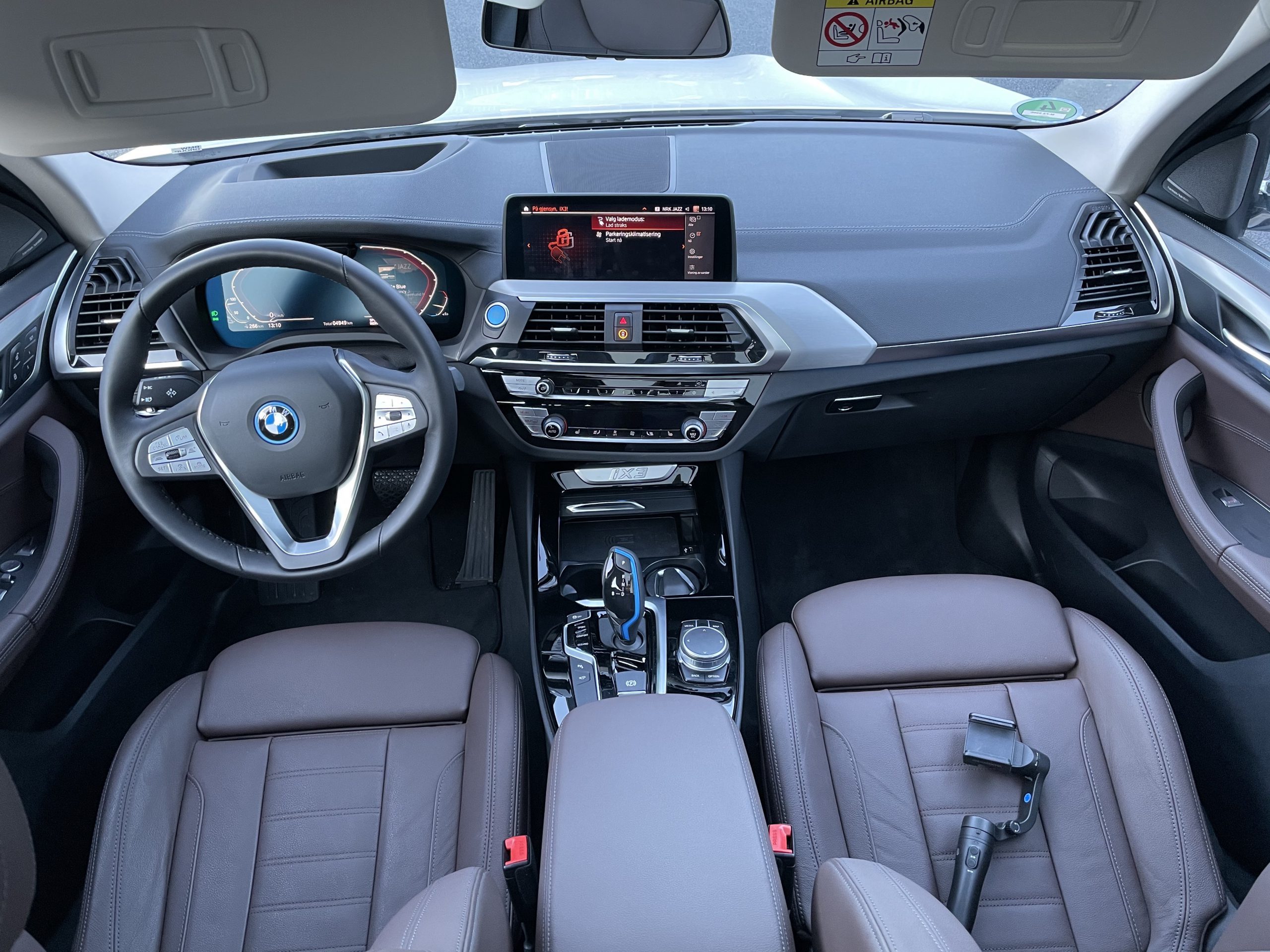 But is more fun with sports. Especially when you have chosen sports on the layout of everything, steering, suspension and engine, then the car becomes stiffer and the steering quicker, without the car losing much of the driving comfort or agility.
However, the sports mode does not make it an M-sport BMW, but rather a little more sportiness in the cup without it tasting particularly strong for that reason. The feeling of control is a bit vague, and not as direct as you might think, even in sports.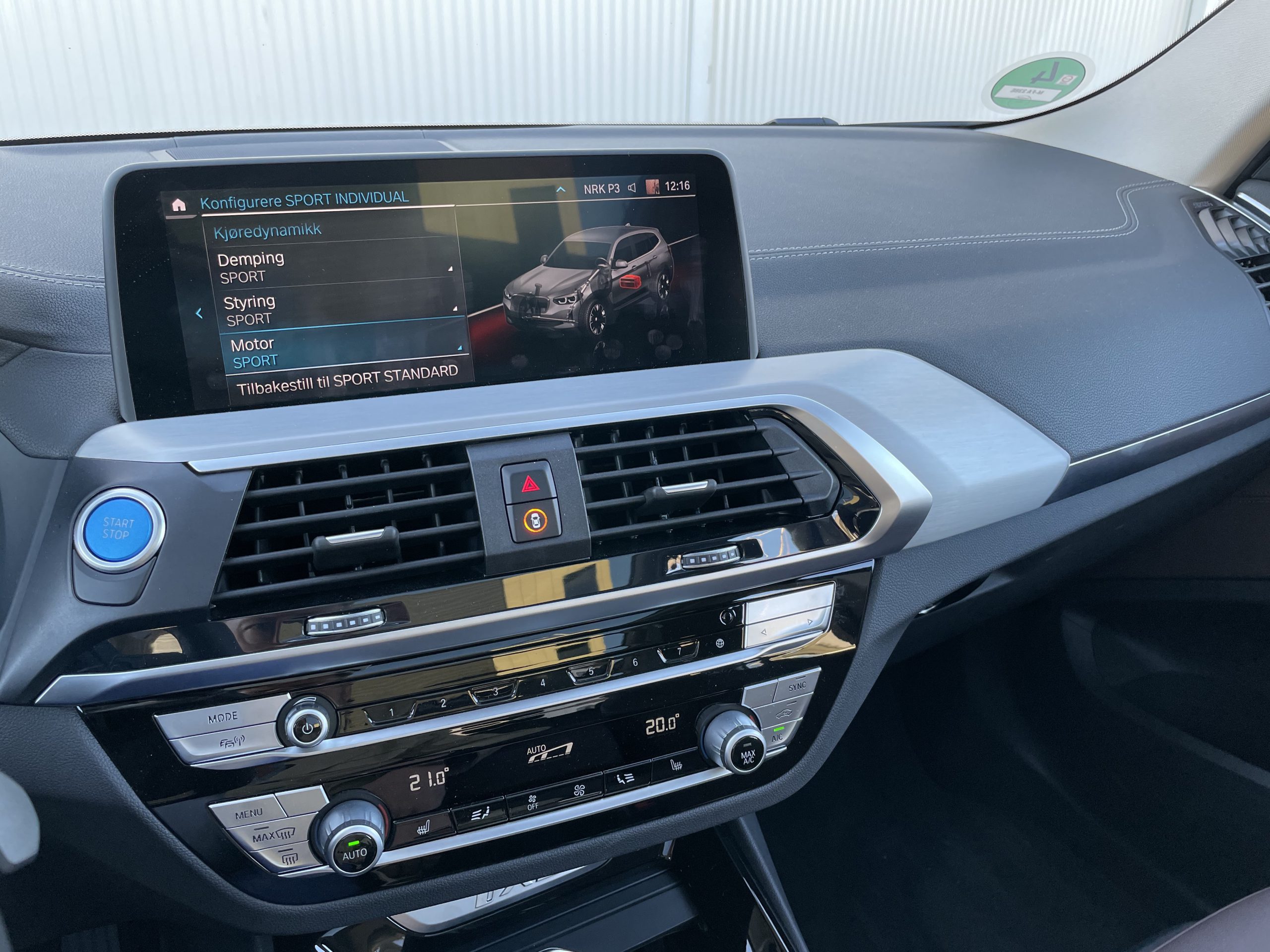 Regardless of the driving program, the damper setup is more comfort-oriented than sports, and I would recommend Eco on perhaps especially long trips to achieve maximum range.
Center of gravity is 7.5 cm lower than in an X3, but it does not give a noticeable effect on the driving feeling.
So the iX3 is actually not as sporty as many imagine a BMW to be. It is still beautiful to drive, with a 43/57 percent weight distribution, which makes it agile and relatively fast even on winding small roads, where it is quickly recognized that BMW's chassis engineers are still in the elite series. BMW states a standstill of 100 km / h for 6.8 seconds, which lasts a lot for a family car, and 80-120 km / h goes away in 2.5 s, while the top speed is limited to 180 km / h.
Comfort
Inside, the interior is mostly the same as in an X3. Which gives a trustworthy impression of premium quality. The leather upholstered seats are spacious and comfortable. In front you can place most things electrically, also the location and amount of lumbar support, and the side rails on the backrest can be adjusted in width, for more enveloping support for the upper body.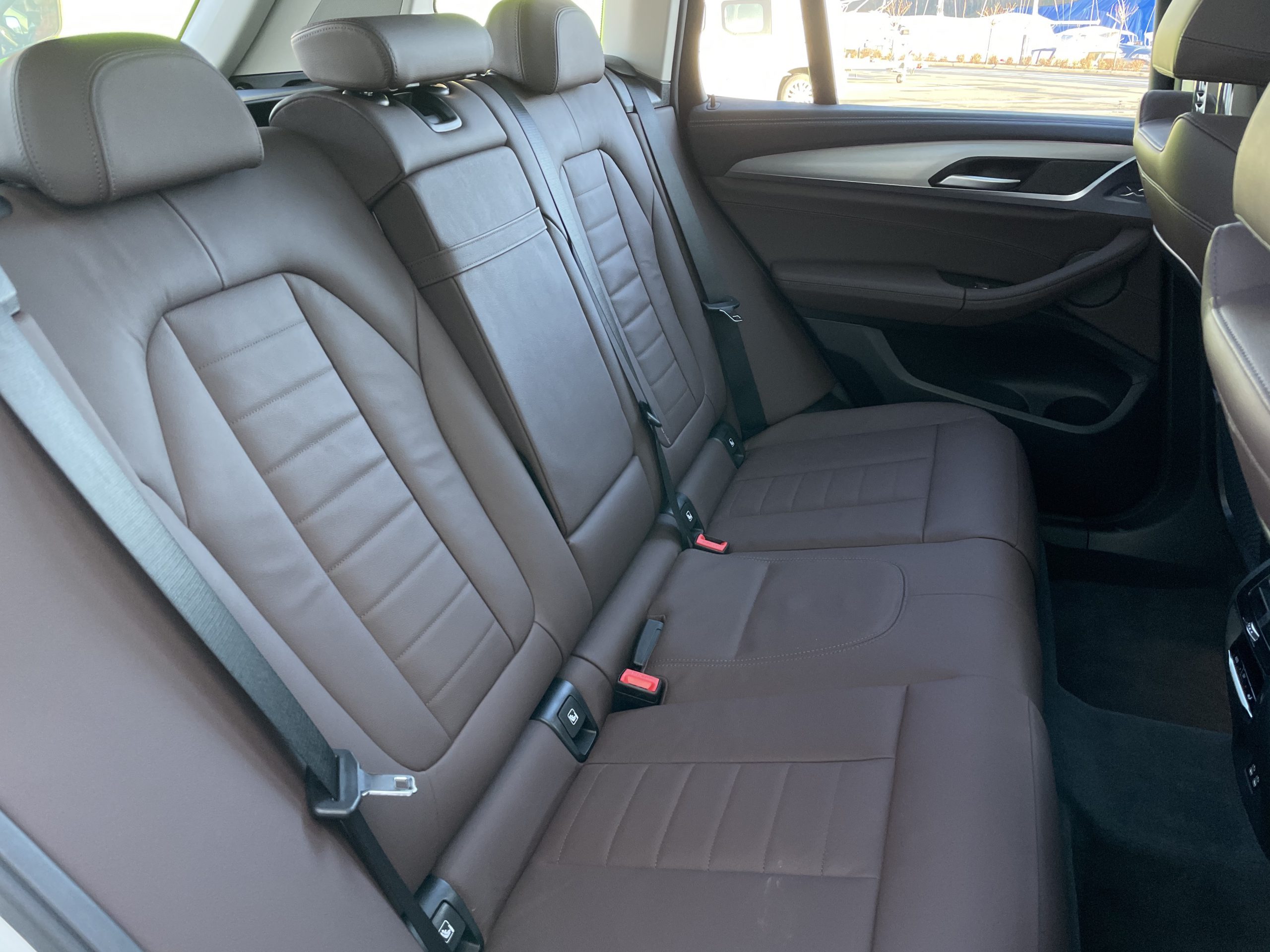 The back seat is good in length, and especially the height, but a little cramped in width for three adults. And, the transmission tunnel from the X3 platform, steals a lot of legroom for the passage in the middle.
The three-part rear seat back can be folded down in its entirety, and the middle one can be folded down so that there is room for a ski bag. By the way, the rear seat backrest can be tilted slightly backwards, for a more comfortable resting position, but the seats cannot be pushed forward to gain a little more luggage space.
It hardly matters to most people, since the luggage volume is 510 liters with the seat back up, and 1560 liters with the seats folded down. Again, 40 liters less than an X3 with an internal combustion engine. It's about the same size as the i-Pace, but slightly smaller than the e-tron. But more than enough for most families of four.
Entertainment
Of course there are no engine noises here. The cabin is a quiet place to be, with moderate tire noise, even with the winter tires our test car was on. But you can actually add some engine sound – both outside and inside, so-called Iconic Sounds, from the on-screen menu. Then you get engine sound adapted to the driving program. In sports, it sounds as if you have a well-damped row six under the hood. Fiffig.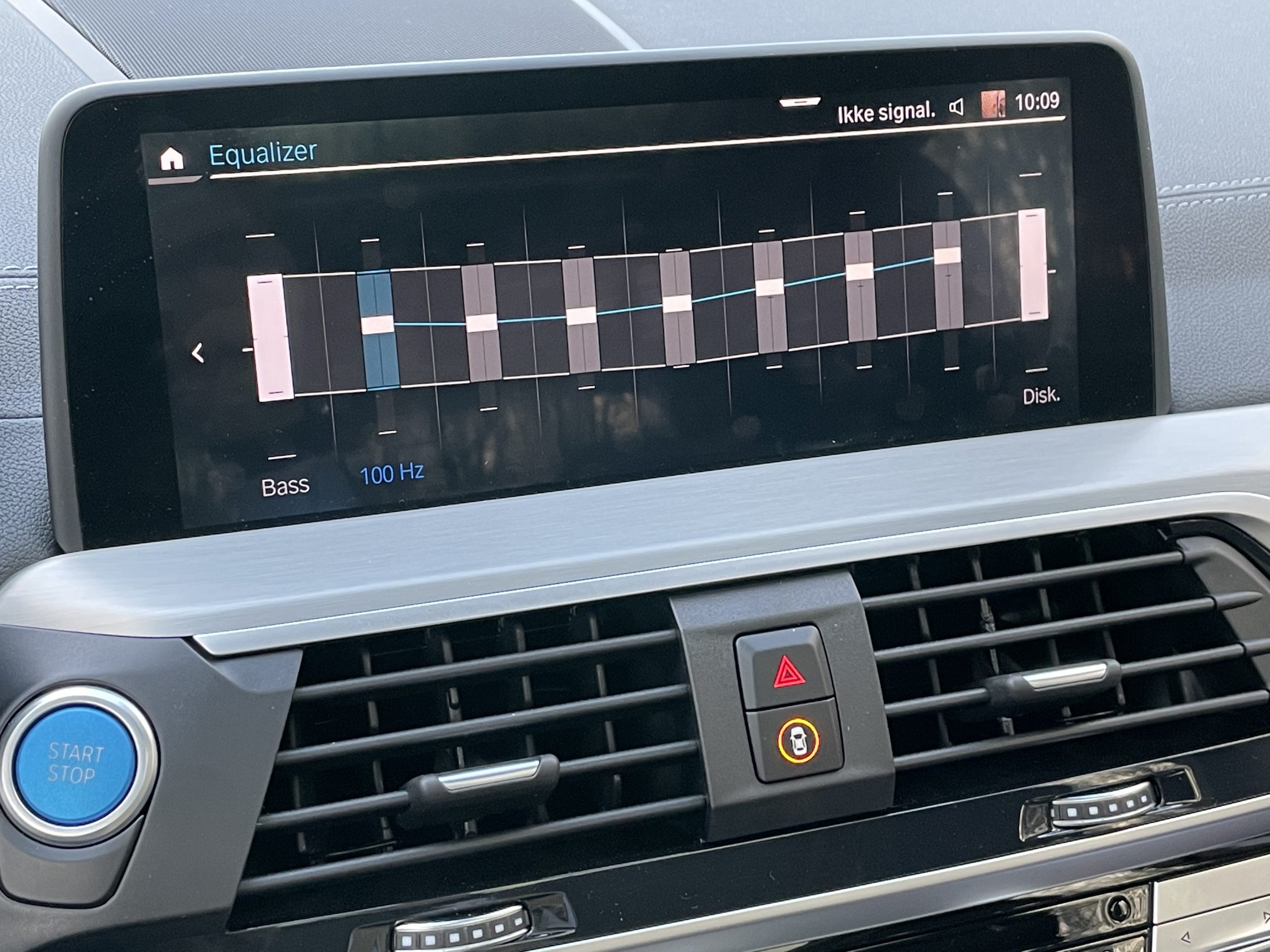 The iX3 also has remote software update online, and one can use the BMW Connected Store to add features. Like the upcoming M-sport adaptive damper setup, remote control automatic and route recorder
The system is like so many BMWs, from Harman Kardon with subwoofers, two-way front and rear speakers, and a center speaker in the middle of the dashboard. Harman Kardon Surroound Sound System. uses Dolby Pro-Logic 8 to create a spacious surround effect in the iX3.
Which, when you get the phone in via Apple CarPlay, and adjust the equalizer to your own preferences, plays very well. The sound is powerful and rich, with clear reproduction of speech on the radio, and good dynamic contrast and resolution of music. It does not have the same power or transparency in the sound that you get from a Bowers & Wilkins system at BMW, but the system plays convincingly and creates an engaging atmosphere in an iX3.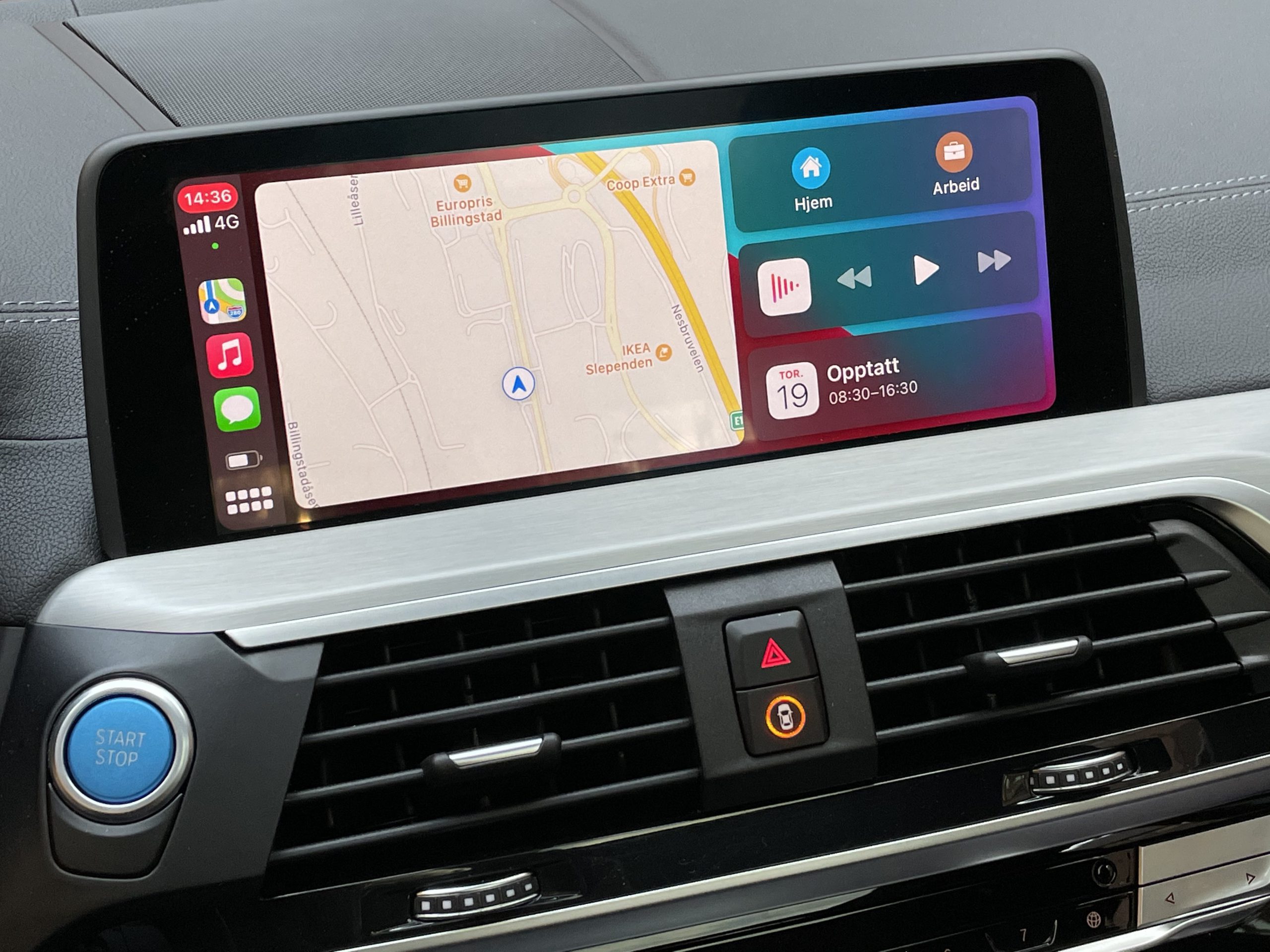 Equipment packages
The Harman system is standard in all versions of the iX3, except for the entry-level model iX3 Charged, which starts at NOK 572,000.
It is still well equipped with 19-inch rims, seats in artificial leather, with seat heating and memory on the driver's side, leather-wrapped steering wheel, panoramic glass, parking assistant with reversing camera, Live Cockpit with navigation, three-zone air conditioning, adaptive damper, LED lights and Bluetooth mobile connection, to name a few.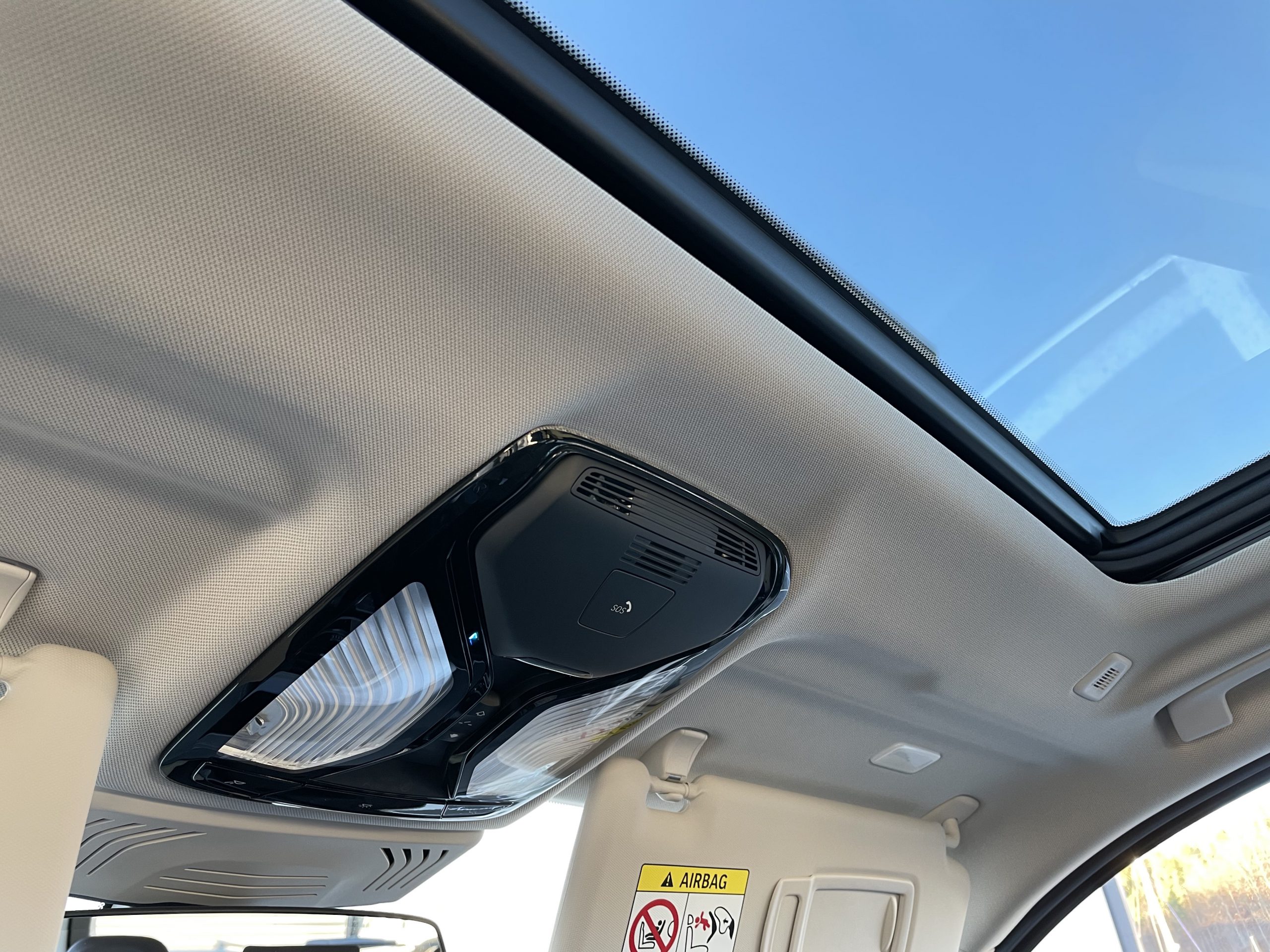 If you choose Charged Plus, you get Harman Kardon Surround, 20-inch alloy wheels, gesture control which is non-contact adjustment of the sound volume, among other things, sports seats in leather, adaptive LED lights, acoustic glass in front and Iconic Sounds which makes artificial engine sound.
But it is probably the Fully Charged Edition campaign model one should choose. You get an electrically fold-out towbar, sun-damped windows, black roof cover and a few other moldings and roof rails.
It is actually a great car for the money. Then you get a spacious SUV with electric drive, with the same quality as you know from other BMWs, and very good driving characteristics. But it is questionable whether it is enough for the Nordic customer when the iX3 can not be delivered with four-wheel drive.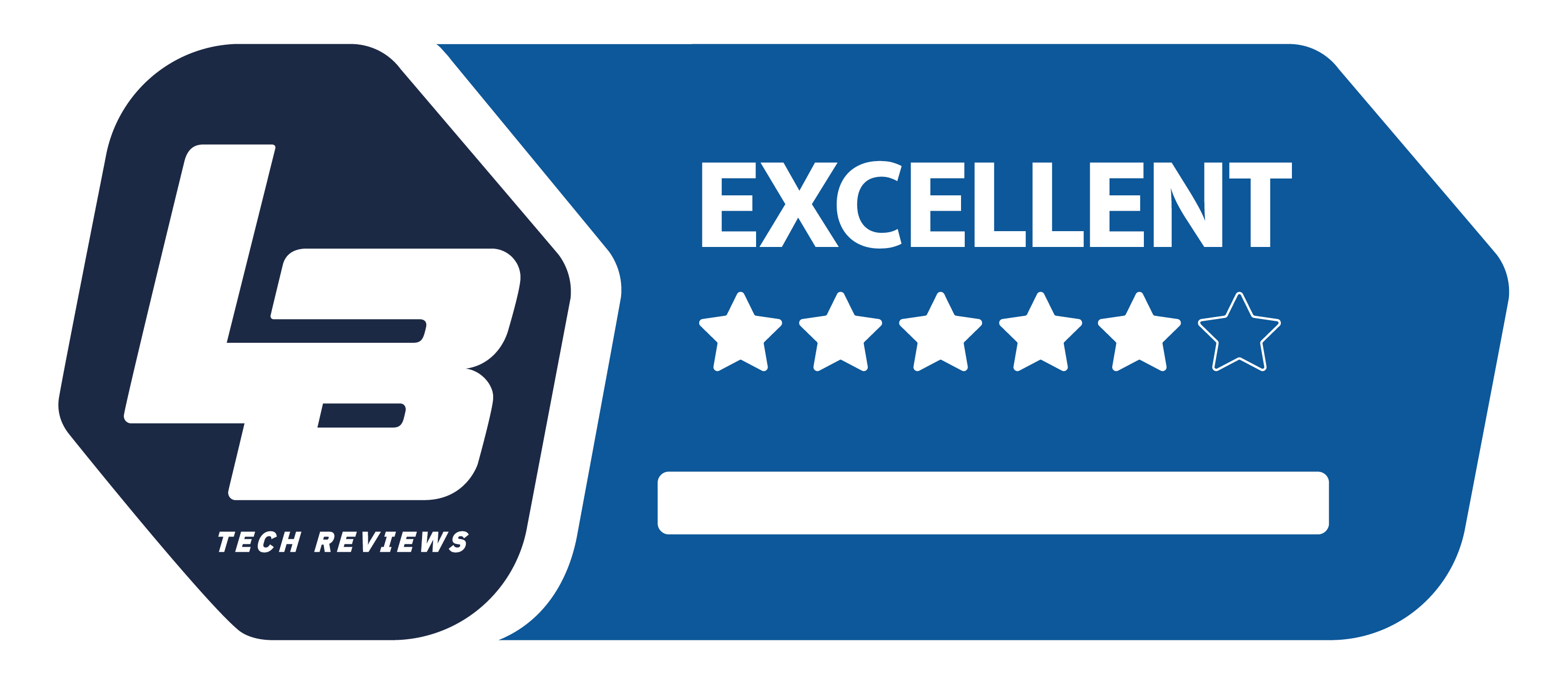 Premium
We think
Beautiful driving comfort with ample speed resources. Plenty of space and very good infotainment with exemplary ease of use, and very good surround system. Smart regeneration.
Not available with four-wheel drive. Moderate trailer weight. Do not have frunk.