Audun Hage
Published

2021-11-17 - 7:00 am
The Sony Z9J provides impressively high-contrast and colorful images, and stands out as one of the best we've seen from a traditional LCD.
The Sony screen (still) lacks support for 8K video from YouTube, which limits access to razor-sharp content.
Specifications
Size/type: 75″ LCD
Resolution: 7680 x 4320 (8K Ultra HD)
Operating system: Android 10 / Google TV
Inputs: 4 HDMI (3 pcs 2.1), 3 USB
Outputs: Optical digital audio output
HDR: HDR10, HLG, Dolby Vision
Other: Acoustic Multi-Audio speakers
Alternative panel sizes: 85″
Web: sony.co.uk
Sony has been presenting a host of gorgeous TV screens to us video enthusiasts recently: the OLED flagship A90J is among the models that have impressed us the most so far. Now the turn has come for the Bravia Z9J, which is the best Sony can deliver on the LCD front this year.
Z9J is part of Sony's exclusive Master series, and is only available in large screen sizes of 75″ and 85″. In addition to a razor-sharp 8K-resolution LCD panel, it uses Sony's intelligent Cognitive XR video processor and the latest Google user interface. Combined with potent built-in speakers, we are promised a TV experience out of the ordinary!
Sony Bravia XR-75Z9J – Design
The Bravia Z9J has many similarities with last year's top model ZH8. We're talking about a pretty powerful, industrial behemoth of a TV.
The Sony screen definitely makes a bigger figure than a sleek OLED TV like the A90J. It is also significantly thicker in size than, for example, Samsung's QN900A with MiniLED technology. This is because Sony uses a conventional LED backlight on its top model, which takes up significantly more space.
The Sony screen has a rather massive appearance, but the build quality is impeccable. (Photo: Audun Hage)
Sony has nevertheless spced up the design with some nice details: The included feet can be set either wide or narrow, to be able to fit on different shelves. The screen can also be raised a notch to make room for a soundbar. Wall mounting is of course also possible via standard VESA mounting. In that case you should, however, ensure a solid anchorage, as the 75 and 85 inches weigh 46 and 62 kilos respectively!
Ease of use and features
On the control front, the Z9J comes with Sony's premium remote control. It has a brushed faceplate, fits well in the hand and is also equipped with backlit keys. The buttons provide good tactile feedback when we press them – much better than the slightly dull standard rubbers found on the cheaper models from Sony.
The Android user interface has also received a facelift, and comes here in the new version known as Google TV. The menu system has become more clear, and the app selection is impeccable.
Sony have also updated this year's model with better connectivity options. The Z9J has four HDMI inputs, three of which now support the 2.1 standard. With a bandwidth of 48Gbps, it can receive video signals up to 8K/60p, or 4K/120p. Thus, this is also a suitable TV for modern game consoles such as PS5 and Xbox Series X.
On the other hand, it is disappointing that Sony – despite being a Google TV – still does not fully support the important AV1 video codec. This is required to play 8K videos from YouTube, and this was something we were looking for on the predecessor ZH8 from 2020. This year's model does have support for AV1 in 4K resolution: On the other hand, the 8K support – ironically – still is still absent on Z9J .
YouTube is still one of the few sources of real 8K content. Therefore, it is a bit surprising that this year's model is not ready from the start: Here it is worthwhile that competitors such as LG and Samsung supported AV1 with 8K content already on last year's models. What's up, Sony?
Image quality
Regardless of whether the source material has a high or low resolution, the Sony screen is fortunately equipped with a powerful video processor, which makes most of the video content look really nice. We already have positive experience with the Sony XR image processor from models like the A90J and A80J, and it really comes into its own on a big screen like this. Sony's image processing has acquired certain "cognitive" properties when it analyzes and optimizes the image signal.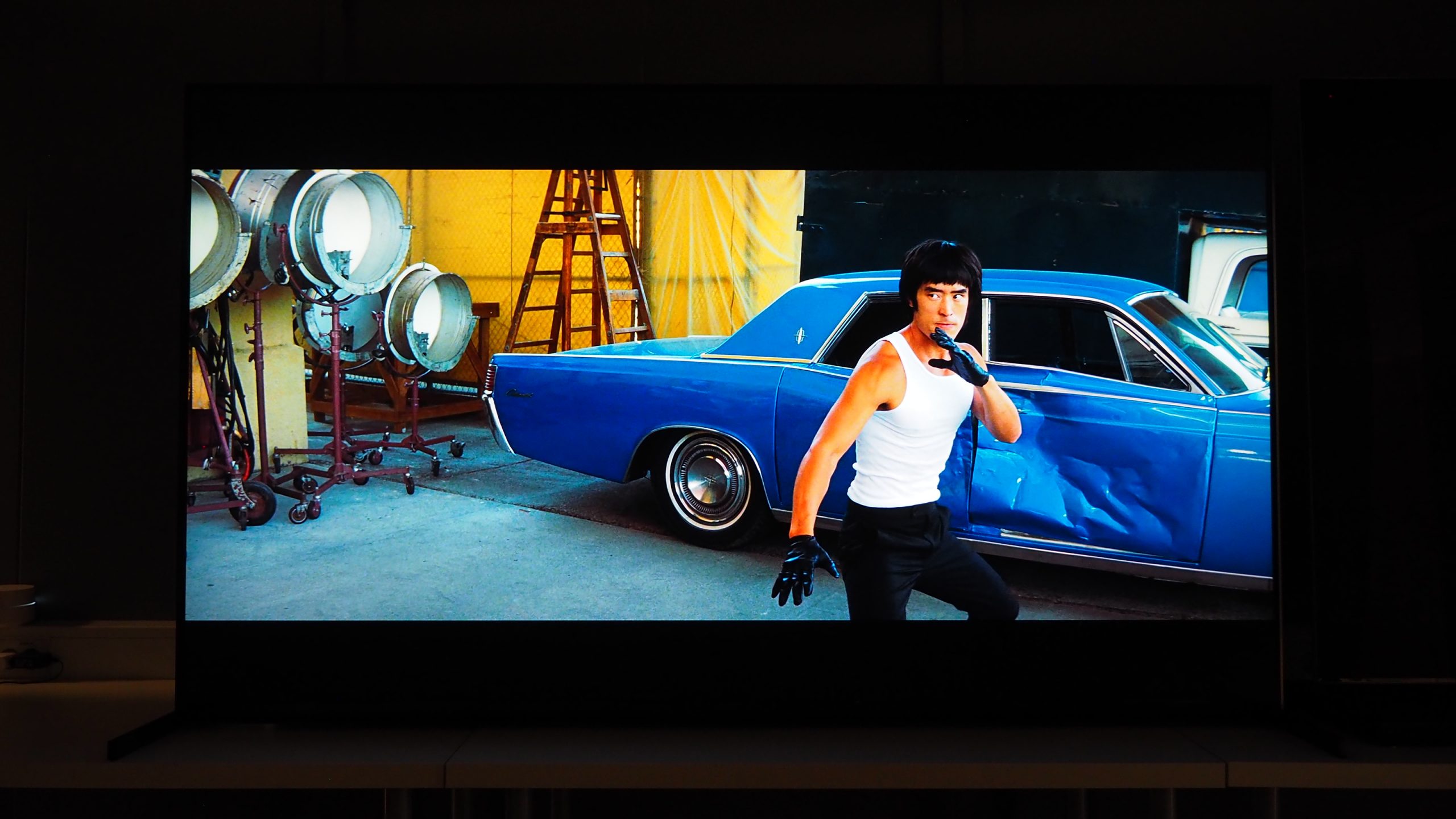 A feature film like Once Upon a Time … in Hollywood (Netflix, 4K UHD) looks really amazing on the Sony Z9J. The Tarantino movie takes us back to Hollywood in the 60's, and it almost feels like having a little bit of sunny California into the living room! The Sony screen literally light the room up, and the colorful scenes get an impressive vivid brightness and contrast, without it overpowering and feeling exaggerated. The close-ups of Rick Dalton (Leonardo DiCaprio) and his stuntman Cliff Booth (Brad Pitt) are really razor sharp, without it feeling exaggerated or unnatural. The Bravia Z9J is always true to the original, without indulging in artificial sharpness or oversaturation of the colors.
Of course, we also had to check out the gangster favorite The Irishman, coded in the Dolby Vision HDR format. This film by Martin Scorsese has a slightly gloomier color scheme than Tarantino's Hollywood epic, which can make it look a bit pale and washed out on less capable screens. But not here! The Sony Z9J presents the movie with a beautiful, colorful picture full of nuances. The shades of red are especially impressive, where Jimmy Hoffa's suit and tie have very realistic tones. The sharpness and richness of detail is superb, where we can glimpse small details such as weaves and seams on Robert De Niro's silk shirts.
The motion sharpness is also among the best we've seen: the Sony screen reproduces 24 Hz feature films with a true-to-life film character that is very true to the original, without the image breaking up and feeling choppy.
Good light control
No doubt: The overall picture quality of the Sony Z9J is definitely in the high-end class. In addition, the dazzling brightness (around 2000 nits!) contributes to the image looking excellent in bright surroundings. That said, it has some limitations when it comes to black level and details in dark scenes.
The LCD screen is equipped with LED backlight which provides relatively good light control. The Sony screen manages to bring out details from dark scenes, and can reproduce strong HDR scenes without the light bleeding into the dark areas. That said, the Z9J obviously can't quite measure up to the light precision from OLED.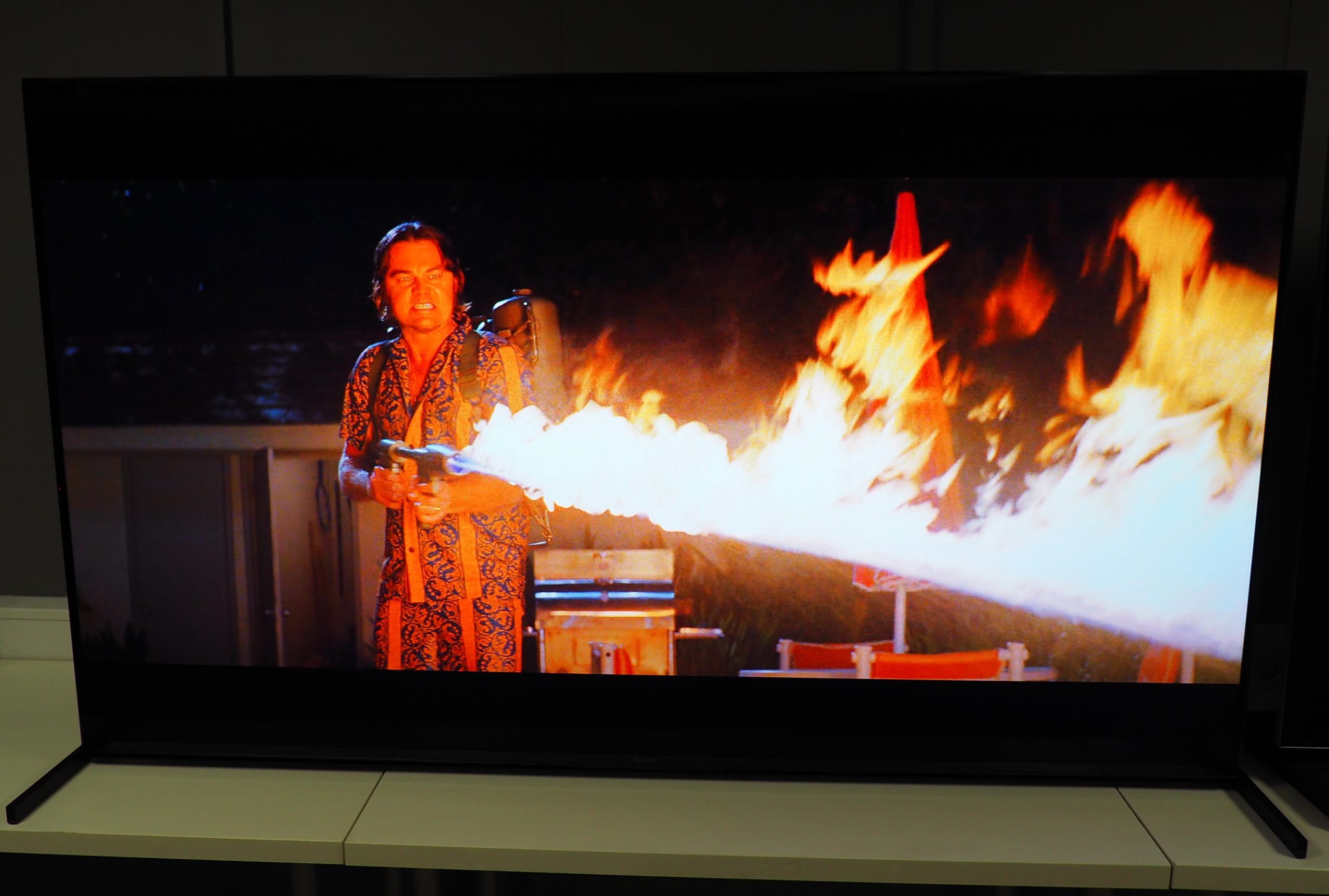 Sony's own A90J OLED TV, for example, has an even deeper, darker black level that comes more to its right in a dark movie room. A competitor such as the Samsung QN900A also has a finer mesh and precise light distribution, thanks to its many zones with MiniLED lights.
Sony has chosen the more traditional solution with larger LEDs, which must distribute the light on fewer individual zones. It can cause small shadow effects (halos) around light objects on a dark background. That said, the Sony Z9J is definitely among the most accurate LCD monitors we have seen of this type. Here, for example, there is no noticeable light bleeding around the subtitles, as you have to endure on LCD screens with fewer zones.
Sound quality
Sony is also using its so-called Acoustic Multi-Audio technology on the audio side this year. The Bravia Z9J is equipped with strategically placed speakers below, above and on the side of the TV cabinet. Combined with clever digital sound processing, this should provide a more precise location of the sound effects as they appear in the action.
We have previously been impressed by Sony's Acoustic Surface technology from their OLED TVs, where the sound comes straight out of the screen. And the Sony screen actually gives a similar impression here as well: The voice of the Dua Lipe is well anchored in the center of the image, while the audience noise comes in from the sides. The overall sound quality is also very good, with excellent clarity and speech intelligibility. There is also good fullness in the sound effects, thanks to the extra subwoofer on the back.
The Sony monitor also has a bonus feature that allows us to use the monitor's built-in speakers as the center speaker in a larger setup. There are separate speaker connectors on the back that you can connect to the output of your surround receiver.
Conclusion
Sony is known for putting extra effort into its top models, and the Z9J is no disappointment: The image quality is masterful, with nuanced color reproduction and captivating detail. The Sony screen is also a real light cannon, capable of making HDR content look really lively! On the other hand, it disappoints us a bit that Sony (still) has not been able to support YouTube video in 8K resolution.
At the same time, there is no doubt that this is a TV for the particularly interested and demanding enthusiasts, being also a quite expensive sceen, especially when competitors such as Samsung may tempt with a slimmer and more modern 8K MiniLED TV. We should also not forget that Sony's own 83-inch XR-83A90J, with all its OLED qualities, is also in the same price range as the Z9J.
Which Bravia TV is the best ultimately comes down to one's own needs. If you favor bottomless black levels and pitch black levels for dark movie nights, OLED clearly has its advantages. If, on the other hand, you are looking for a sharp, colorful TV with lots of brightness, the Sony Z9J is a very potent candidate!