Audun Hage
Published

2021-12-08 - 8:00 am
Philips OLED856 offers excellent image quality with superb contrast and smooth motion. The Ambilight add an extra spakle to the image experience.
The Philips display has a slightly limited brightness compared to the most powerful Mini-LED displays.
Specifications
Size/type: 65″ 4K OLED
Resolution: 3840 x 2160 (4K Ultra HD)
Panel frequency: 100/120 Hz
Operating system: Android 10
Inputs: 4 x HDMI (2 x 2.1), 3 x USB
Outputs: Optical digital audio out, HDMI eARC
HDR: HDR10+, HLG, Dolby Vision
Other screen sizes: 55″
Other: Dolby Atmos, P5 AI Perfect Picture Engine, 4-sided Ambilight
Dimensions: 145 x 90 x 30 cm
Web: philips.co.uk
Philips has a tradition of offering a fine mix of picture quality, sound and modern design on their TV models. We saw good examples of this in 2020 with several beautiful and colourful TVs. Now the 2021 models are fully available in stores, and Philips looks set to continue on the same track, albeit with some clear improvements.
The new OLED856 is among the more expensive OLED models from Philips this year. It is equipped with the 5th generation of the video processor P5, which promises even sharper image processing.
OLED856 also has broad support for important audio and video formats, and has also received a long-awaited HDMI 2.1 update. In addition, it now boasts four-sided Ambilight light, which is another well-known Philips spcialty.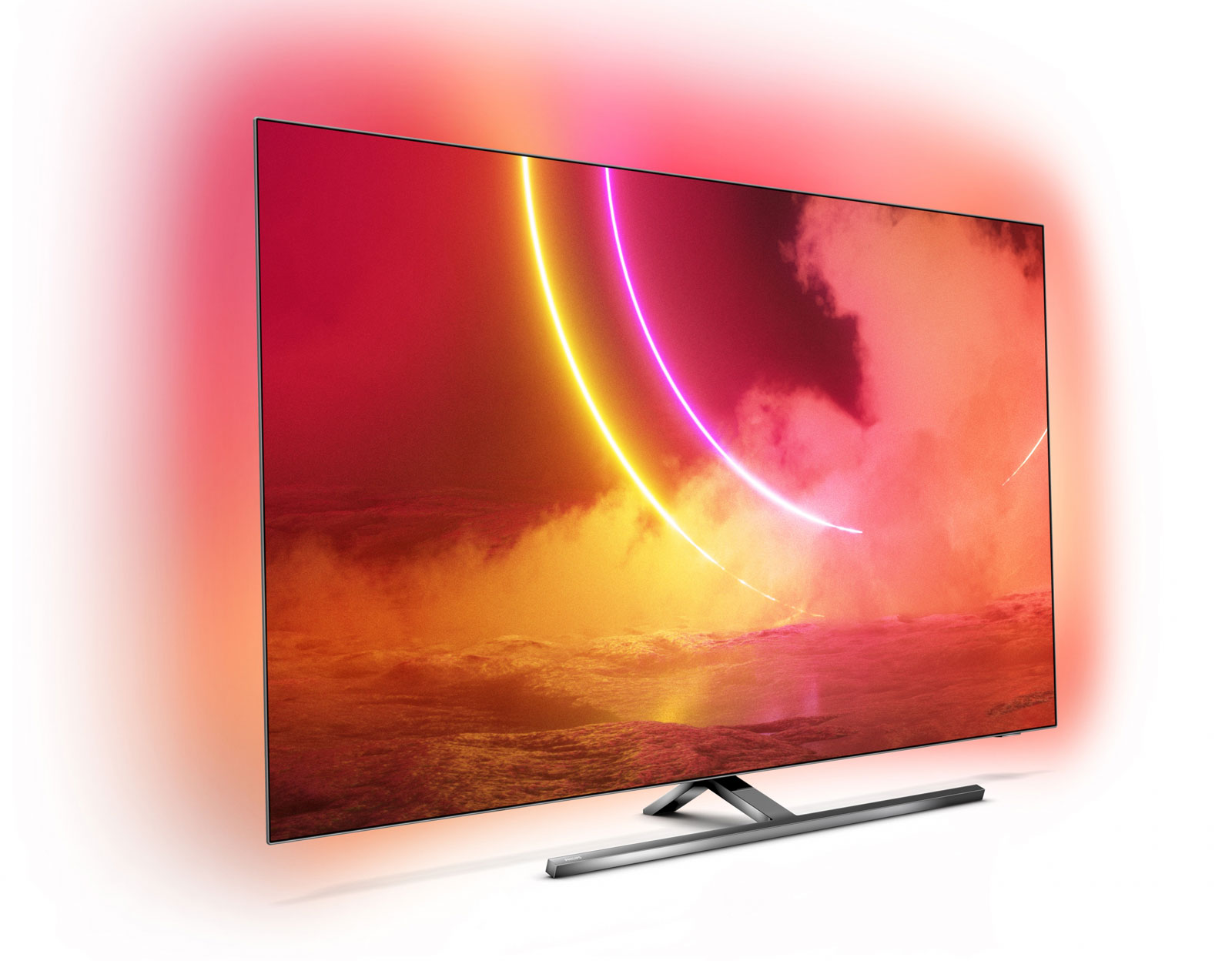 Slim and luxurious design
Philips OLED856 has a sleek and sleek design. The upper part of the screen is only a few millimeters thick and emphasizes that we are dealing with a state-of-the-art OLED panel. Down towards the center, the screen gets a little thicker to make room for electronics and speakers.
The screen has got a new T-shaped foot in mirror-gloss chrome. It is hinged so that you can turn the TV slightly to the right or left, which is convenient if you have more than one seating area, if the TV is in a corner or similar. Philips has also made concealed wiring down through the base possible. We recommend using this, otherwise the Ambilight light can cast an ugly light on loose wires…
NOTE: OLED856 has much in common with another Philips model, OLED806. The two models are more or less identical in terms of features and image quality. The main differences lie in the design: While the OLED856 has a centrally mounted foot, the OLED806 has two small silver-colored feet on the sides.
OLED856 is only available in screen sizes of 55 and 65 inches, while OLED806 is also available in 48 and 77 inch versions.
Ambient light on the back
Ambilight is an original feature exclusive to Philips TVs. Using small LEDs on the back of the TV, the back wall is illuminated with colors that match the action on the screen. It provides an evocative backlight that moves some of the experience from the screen and into the room. Ambilight can provide an captivating picture experience, but can also be experienced as more comfortable to rest your eyes on.
We recently tested the LCD screen PUS8506, and there is no doubt that Ambilight there gave a noticeable boost to the experience. Compared to that model, OLED856 has an extra row of LEDs on the underside and can thus spread the light both up, down and to the sides. It gives a greater visual effect, especially if you plan to wall mount the TV.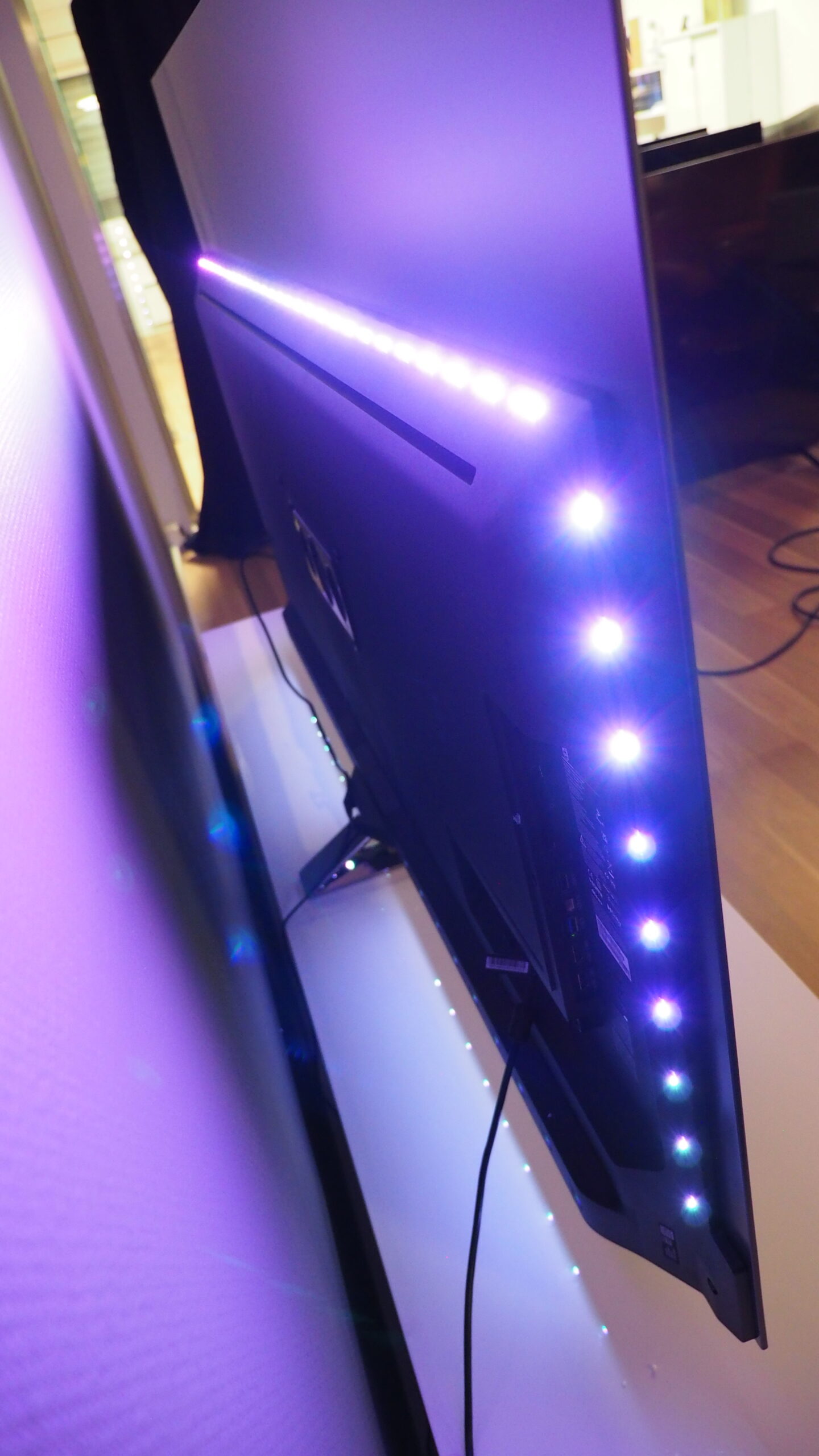 Ease of use and features
Philips OLED856 comes with a new version of the Android interface, 10.0. This version has become faster and more TV-friendly: Both live TV channels and streaming services such as Netflix, Disney+ and HBO Max are quickly accessible via the start menu – provided you have a subscription, of course.
You then automatically get recommendations of movies and series based on what you have seen in the past, across the various streaming services. Voice control via Google Assistant is also possible via a built-in microphone in the remote control.
OLED856 supports the HDR formats Dolby Vision and HDR10+. Both of these video standards contain a stream of dynamic metadata that enables greater variation in contrast. That way, you can be sure that all compatible content – whether it comes from Netflix, Amazon, HBO Max or others – can be viewed to its full potential. Philips, along with Panasonic and TCL, are the only ones offering almost all HDR formats.
HDMI 2.1 on two of the inputs
Support for the latest HDMI 2.1 features were missing on the 2020 models, which is why it's gratifying that Philips has now got it right! Admittedly only on two out of four inputs as opposed to e.g. LG OLED65C1, which supports it on all four.
In any case, there is now support for eARC (high definition audio return channel) as well the long awaited gaming features like VRR FreeSync and G-Sync. The latter regulates the screen frequency continuously (48-120 Hz) to ensure a more seamless gaming experience. OLED856 also supports games with Dolby Vision HDR format up to 60 Hz.
The Philips screen has also been given a separate gaming setting with lower delay (input lag), which we measured at around 15 milliseconds – approx. half of last year's model OLED805. You can also choose to play with Ambilight activated, so the light changes quickly and dynamically to add extra spice to the gaming experience.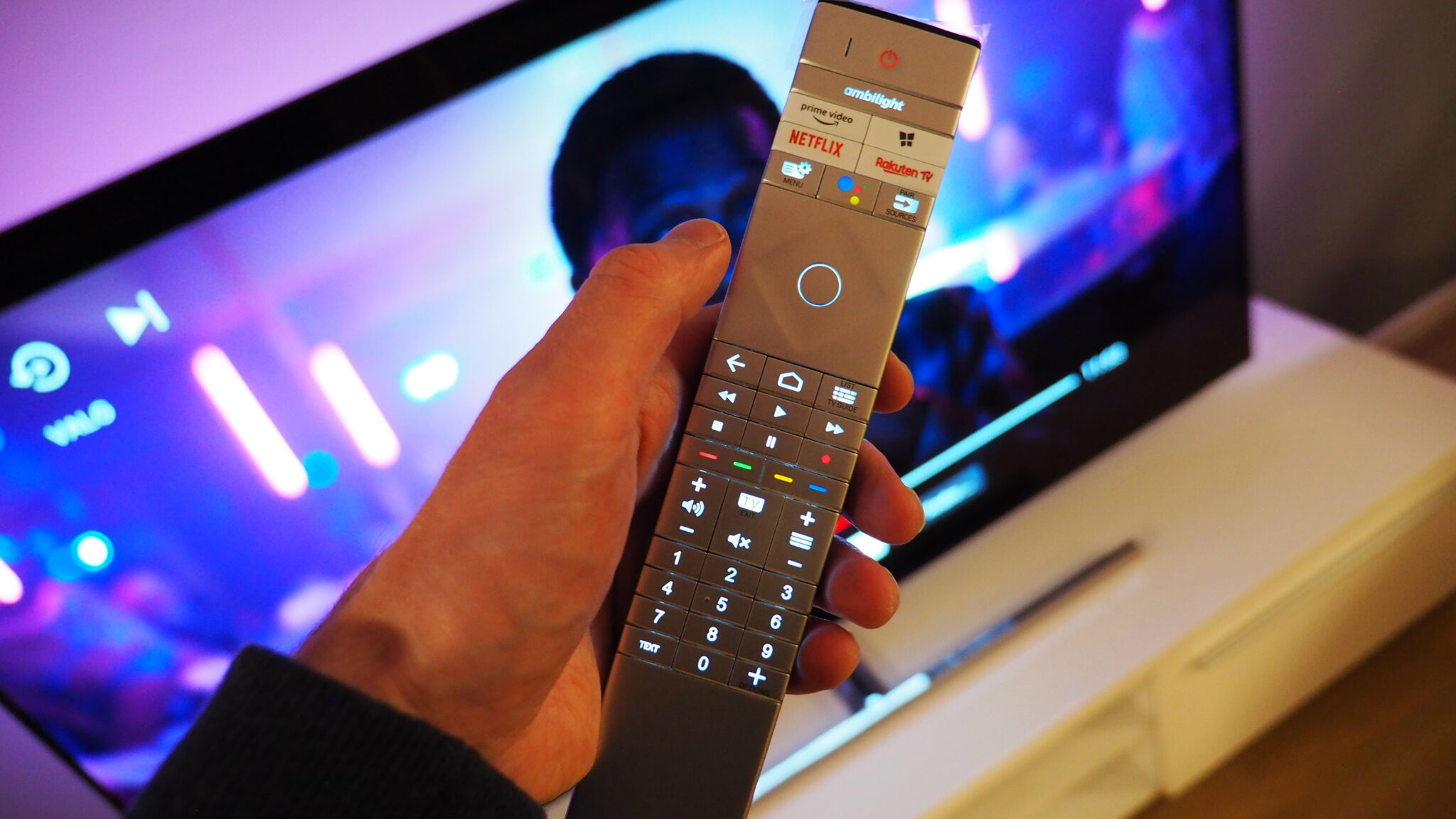 Image quality
This Philips model has an OLED panel from South Korean LG Display of the same kind that most other TV manufacturers use. As far as we can judge, it is a standard panel and not the newer Evo variant used on high-end models like the LG G1. On the other hand, the video processor and other electronics have been updated compared to last year's model.
Our first impression is that the Philips display has all the known and beloved OLED qualities. We are immediately reminded of the importance of a proper black level: Because every single pixel in the panel can be turned on and off individually, there is no need for backlighting and it contributes to a superb contrast. All colors and shades of gray can be pictured on a completely black background, and it gives a fabulous depth to the image.
The question is whether the Philips OLED856 can offer anything extra, beyond what we have already seen from other OLED competitors. The answer is yes, and it's mainly thanks to two features: the P5 processor and the Ambilight.
During the test period, we compared the Philips monitor with the competitor Sony A80J, and there are undoubtedly more similarities than differences between the two. Both TVs have excellent black level and contrast, exactly as one would expect from OLED. However, we note that the Philips monitor has a slight advantage on motion sharpness.
Philips is not known for cutting corners when it comes to image processing, and the powerful P5 AI video processor manages to highlight contrast and detail, and make the movements smoother without feeling excessive.
OLED856 also comes with several good picture settings from the factory. Here you can choose everything from the super-neutral Filmmaker Mode, where all superfluous processing is turned off, to Lively, where the P5 AI processor puts full throttle on the image processing. The Sony model does not give us as many choices and seems to be more geared towards movie watching.
Philips also has an ace up its sleeve in the form of Ambilight. The color light on the back of the screen definitely gives a bolder experience of movies and series – not to mention music videos and nature shows. You will not get a similar experience with Sony or other manufacturers unless you resort to external solutions such as HDMI Sync Box and Ambient Light Strip, and even then it will not be as good as the integrated solution that Philips offers.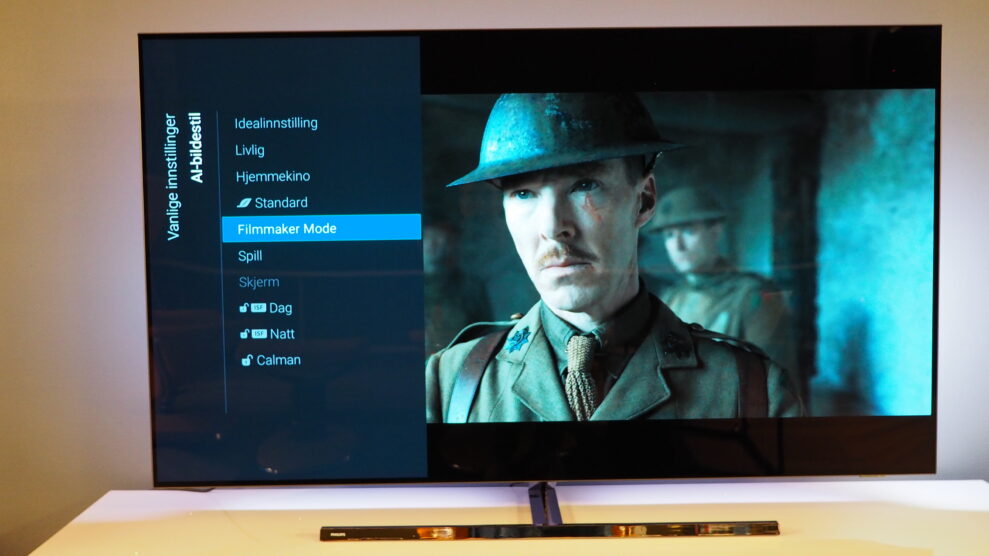 A note on brightness
OLED screens are known for providing a bottomless black level and something near infinite contrast. On the other hand, the brightness is still somewhat limited compared to the strongest LCD screens. This can be a factor when choosing the right TV for your particular room and area of ​​use.
A typical OLED screen can provide up to 700-800 nits on a small portion of the screen (10 percent), but can only handle 100-200 nits on the entire screen. In comparison, a bright LED-LCD screen can handle up to 1000 nits on the entire screen.
Like most OLED TVs, the Philips screen has superb contrast in dark scenes, where bright HDR effects like sunlight, flames and explosions really glows. On the other hand, it can seem a bit tame when we watch varied TV content in a fully lit room.
Especially compared to new Mini-LED screens like Samsung QN95A, LG QNED99 and others. You may miss a little extra brightness on certain types of content. OLED is thus better suited for TV and film fun in the evening than for e.g. winter sports during the day.
Sound quality
OLED856 has to do without the expensive Bowers & Wilkins soundbar with Atmos surround sound, which is found on big brother OLED936. Here, instead, there are more ordinary, undermounted speakers – but fortunately the built-in system sounds surprisingly good. The TV can play loud and clear with good speech reproduction. There is also a separate subwoofer on the back, which contributes to nice and rich sound.
Many will probably still prefer to add a separate soundbar sooner or later. Then it's nice to know that the Philips monitor supports Dolby Atmos audio processing and can output the audio via the HDMI eARC output. We checked the sound with a JBL Bar 5.0 MultiBeam and got confirmation that the Philips screen sends Dolby Atmos audio signals from built-in apps like Netflix.
In contrast, we had trouble retrieving the same Atmos audio from external video sources. We tested with an Apple TV 4K, which sent the correct Dolby Vision video signals to the TV, but for some reason the TV failed to transmit Dolby Atmos/Dolby Digital+ audio signals to the soundbar. Even after several deep dives into the audio settings, it was not possible to get the Atmos sound out via Apple TV and HDMI – although it worked fine with the internal apps.
We also note that some Philips users have reported similar audio issues when using OLED856/OLED806 with external video sources and audio systems. We therefore hope that Philips solves the problem with a firmware update soon!
OLED856 looks really good on modern HDR video content. With Dolby Vision support, it can serve the latest series from Netflix, Disney + and HBO Max in the best quality. Furthermore, there is no doubt that Ambilight contributes to a more lively picture experience. Here from the Netflix series True Story. (Photo: Audun Hage)
Conclusion
Philips OLED856 is an OLED TV with many fine qualities. The design is sleek with a dark chrome-plated foot that can even be swiveled. The Android interface ensures good usability, and the remote control has backlit buttons.
The picture quality is impeccable with superb contrast and nuanced colours, which we are used to from OLED – although it is probably best suited for watching TV in the evening rather than in a lighted room. Philips also spices up the image experience with colorful Ambilight lights on all four sides.
Last but not least, the OLED856 has been updated with more HDMI features that make it a more gaming-friendly TV than its predecessors. Definitely worth a recommendation!