Audun Hage
Published

2021-01-21 - 8:00 am
The Panasonic HX800E has a very natural and balanced image quality, created to enjoy movies and series as they were meant to be seen.
The Panasonic monitor does not support all the latest HDMI 2.1 features, and lacks some popular apps such as Disney +.
Specifications
Size/type: 65″4K LCD
Resolution: 3840×2160 (4K Ultra HD)
Operating system: My Home Screen 5.0
Inputs: 3 HDMI (2.0), 2 USB
Outputs: Optical digital audio output
HDR: Dolby Vision, HDR10 +, HLG
Other: Dolby Atmos, HCX video processor
Web: panasonic.com
Panasonic is a brand we may primarily associate with discerning OLED screens, but sometimes they surprise with an affordable variant as well: The model series we are testing here, HX800, is a successor to the popular GX800. The predecessor was known for delivering very high performance at the price, with excellent image quality and wide support for various video formats. The HX800 seems to be following in the same footsteps – the question is whether it is still keeping up with the competition?
Multiple versions
The HX800 series comes in a variety of screen sizes and design variants. In addition to the 65 "version we have tested, there are also more compact 40", 50 "and 58" variants available. In addition to the base model, there are HX810, HX820 and HX830 which are similar on the image side, with small differences when it comes to the base and appearance: For example, the HX820 (sold at Power in this country) is completely black while the other models are in a shiny brushed metal finish .
Design
Panasonic TVs are often a little thicker and more solidly built than some Korean models, but in the case of the HX800 series, they have achieved a very sleek design. The screen itself is just over an inch thick on large parts of the panel. It also has a very slim frame, with a brushed metal underside and a flat or curved base at the very bottom. The latter can be a mirror-gloss, chrome-plated or matt design depending on the model. The curved variant is nice to look at, but makes it a little difficult to put a soundbar right in front of the screen. We also note that the screen surface is of the mirror-gloss type that easily creates reflections from the surrounding environment, and at the same time is sensitive to fingerprints.
Ease of use and features
The Panasonic HX800E uses Panasonic's own MyHomeScreen (5.0) user interface, which has a very simple, clear layout. The menu system feels modern and personal, in the sense that you get recommended content on the home screen. You also get quick access to the various adjustment options that the Panasonic monitor is equipped with.
The HX800 uses Panasonic's well-known standard plastic remote control, with large and clear buttons. It is still IR-based - we would ideally have wanted a less directional Bluetooth variant. (Photo: Audun Hage)
Panasonic certainly has to make do with a fairly spartan app selection on its platform. Netflix and YouTube are of course in place, but in these streaming days, many will probably miss services such as Disney +, HBO Nordic and Apple TV+. The best solution to this will therefore be an external media player.
Panasonic HX800, on the other hand, boasts broad support for various video and audio formats: It supports both Dolby Vision and HDR10 +, and not least Dolby Atmos on the audio side. Here, Panasonic has the advantage over competitors such as Samsung and LG, which do not support everything at once. This has only become more important lately as Apple and Disney offer lots of content in Dolby format, while Amazon Prime sticks to HDR10+.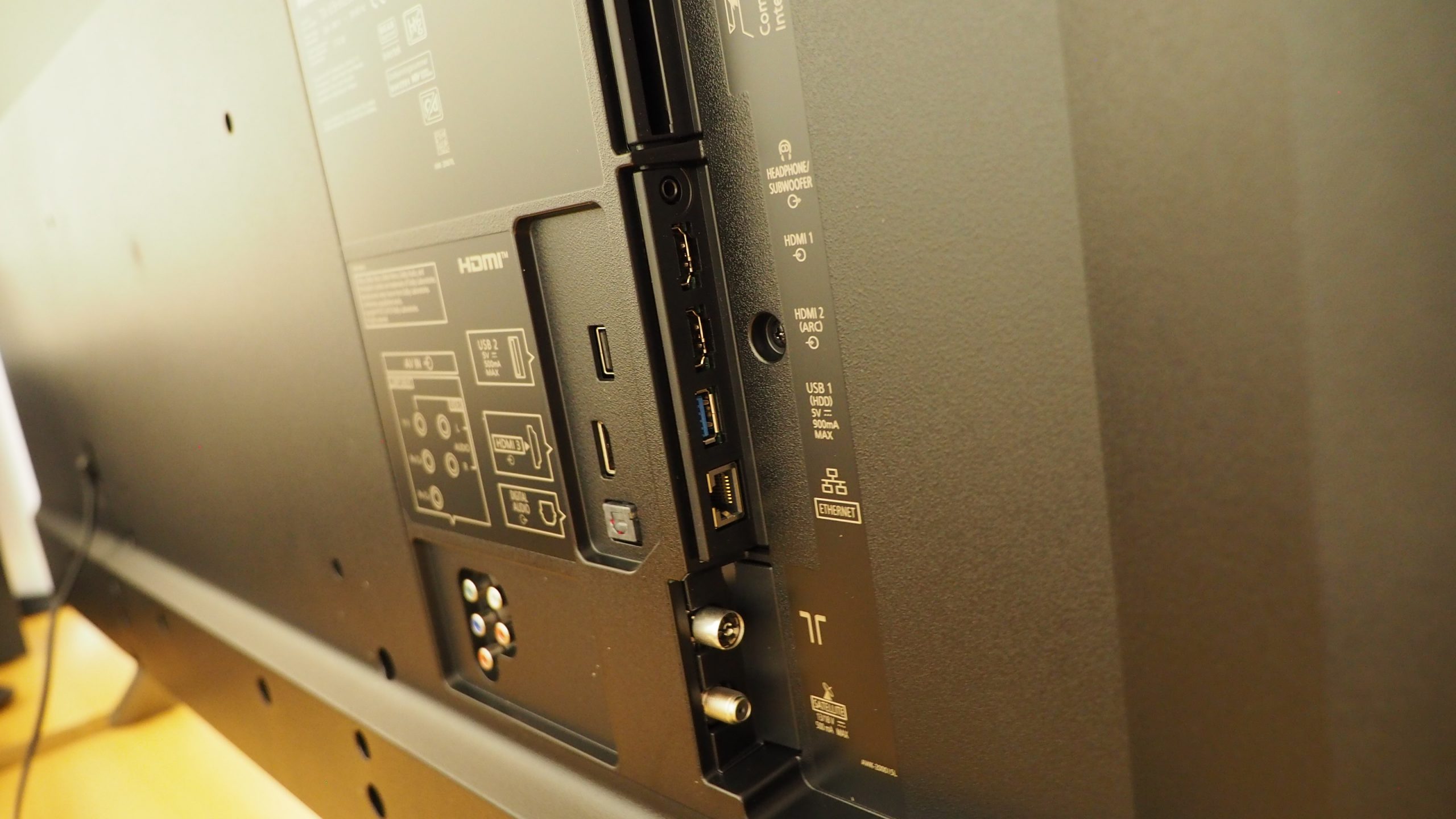 In terms of connectivity, Panasonic boasts 3 HDMI inputs, but unfortunately none of them support the latest version 2.1 features. This means that gaming-relevant features such as 4K/120fps and VRR (variable refresh rate) are missing in action. This does not spell disaster for most, but can be a great miss if you are looking for the optimal TV for game consoles such as Xbox Series X or Playstation 5. On the positive side, the HX800 has a very low input lag, which we measured at just over 10 milliseconds !
Image quality
On the image side, the Panasonic HX800 uses a 4K Edge LED panel. You will not any rear-mounted "Full Array" backlight, but rather a simpler edge-mounted variant. This does not provide the same accurate light control as more expensive LCD monitors, not to mention OLED monitors. On the other hand, the HX800 boasts a potent "image engine" under the hood – HCX – which is identical to the one we find in much more expensive top models from Panasonic. Maybe it can be an affordable combination?
Sharp and colorful: The Panasonic screen's good format support means that the latest and most movie series can be viewed in the best HDR quality. Here from the Netflix series Bridgerton. (Photo: Audun Hage)
Although most TV producers will probably claim that their image is more lifelike than the competition's, it was Panasonic that introduced the philosophy of "director's intent". It is simply a matter of reproducing video content that is as true to the original as possible, and here the Japanese are among the best in the class.
The first impression is that the HX800, just like its predecessor GX800, does a lot of things right.
To begin with, it has an impressively strong and clear, but at the same time natural color reproduction. The Ferrari cars in Formula 1 get exactly the intense red color they should have, instead of slipping into magenta. Green grass looks organic and real, not to mention that skin tones get just the right, natural glow. The gaze immediately finds peace, as this is a picture that looks believable. Which is more than we can say about many of the competitors…
The Panasonic screen also has nice panel uniformity, with even light distribution over the entire screen surface. The viewing angle is also good, where the HX800 retains even colors and good contrast even when sitting out to the side.
This model does not have the super correct "Filmmaker Mode" that some more expensive Panasonic monitors are equipped with, but this is not a big deal: the HX800 has Panasonic's own Cinema and True Cinema mode (with and without interpolation) which works in a rather similar fashion. If you choose one of these, you can expect a very natural and vivid image.
The HX800 is also very good when it comes to movement. The so-called interpolation (motion smoothing that inserts extra image frames) gives a super-smooth image without breaks, without the whole thing looking artificial or "soap opera" -like. The Panasonic screen also has an excellent image mode for sports, where this feature ensures good motion sharpness when the action speeds up.
The only area where the HX800 falls a little short is in terms of contrast and black level. Here, the Panasonic screen is beaten by tough competitors from Sony (XH90), LG (Nano90) and Samsung (Q80T). These use LCD panel with direct LED backlight and local dimming, which provides greater potential contrast. We compared with, among others, the Samsung QE65Q80T that we had available, and there is no doubt that the Samsung screen has noticeably more depth in the darkest parts, as well as more dynamics in the brightest scenes. This is not as prominent in all contexts, but evident on modern video content in HDR quality. This only underlines that the competition in the price range has intensified: it would have been exciting to see what Panasonic could accomplish with direct LED backlight!
Sound quality
On the audio side, the HX800 uses a fairly common stereo speaker system mounted on the underside of the screen. The sound is clean and clear, with good fullness in the voice reproduction. But the thought strikes us immediately, that those who value image quality at this level, probably also want a sound reproduction that is in style. Therefore, a separate soundbar should be on the wish list immediately.
Conclusion
Loyal Panasonic fans get exactly what they expect with the HX800: This affordable model serves a sharp and color-neutral image that is easy to get comfortable with. In addition, you get broad support for various video formats, so you can watch your favorite series in the best available format. At the same time, the HX800 has to settle with a slightly obscure contrast and black level. It also has to do without HDMI 2.1 connections, which can be disappointing for gaming enthusiasts. A pity, as the performance is otherwise excellent!