Audun Hage
Published

2020-11-01 - 6:55 am
Sparkling good contrast, superb image sharpness, plus very good connection options make LG's small putt OLED a safe choice for those looking for a small but brilliant TV.
The OLED screen is still relatively dim compared to the best LCD screens. The 48 "version does not cost much less than the larger 55" model.
Specifications
Size / type: 48 "4K OLED
Resolution: 3840×2160 (4K Ultra HD)
Operating System: LG WebOS (5.0)
Inputs: 4 HDMI (2.1), 3 USB
Outputs: Optical digital audio output, HDMI eARC
HDR: Dolby Vision, HDR10, HLG
Other: A9 gen3 video processor
Other screen sizes: 55 ", 65", 77 "
LG offers a wide range of OLED screens, but these have long been limited to 55, 65 and 77 inches, plus 88 "if we include the latest 8K models. Among all these, the C-Series has been among the most sought after, with a sensible balance between specifications, performance and price. Therefore, it is no surprise that this particular series is the first to come out with a 48 "model! The LG OLED48CX has a lot in common with the other models, including the OLED65CX which we have tested before.
Design
When it comes to appearance, the LG OLED48CX appears as a pure miniature copy of those of the other models in the CX series. The jam-thin OLED panel measures only about 6 millimeters at its thinnest. However, the TV as a whole is characterized by the electronics part (connections, power supply and speakers, etc.) taking up more space. The TV will therefore protrude approximately 5 centimeters from the wall if you wall-mount it. For table mounting, the LG screen is neat and stable on the included base: This has the same design as on the larger models, and is about as wide as the TV. We think LG could have chosen a narrower foot on a small model like this.
The LG screen is just over a meter (107 cm) wide, 61.8 centimeters high and weighs only 15.9 kilos. This is the first time the potent OLED image quality comes in such a small package. (Photo: LG)
Ease of use and features
The LG OLED65CX comes with the latest version of LG's operating system WebOS (5.0), which is based on the Magic Remote remote control. It has a mouse pointer that makes it easy to click through the menus. The graphical user interface feels modern, clear and easy to operate – in fact, better than Android in our opinion.
The app selection is very good: In addition to Netflix, you get access to HBO Nordic, Amazon Prime, Rakuten, Apple TV + and not least Disney +. The TV also supports AirPlay and Homekit, so it can display content from Apple iOS devices and be part of a Homekit-controlled smart home.
Unlike Sony, the LG screen is more or less "tailored" for gaming and modern video sources. OLED48CX boasts of supporting HDMI 2.1 – not just on one, but all four inputs! It provides very good connection options: Here you are free to connect everything from state-of-the-art game consoles to packed gaming PCs at each input. Here, LG is clearly in front of the Sony screen, which is only equipped with the older HDMI 2.0 standard.
The LG screen is also packed with gaming-friendly features such as AMD FreeSync and Nvidia G-Sync, which ensure smooth and clean reproduction of various types of computer graphics. Both Playstation 5 and Xbox Series X will be able to display 4K video at up to 120 frames per second, and then it's nice to have a TV that supports this. The LG screen also has an excellent low input layer (delay on the input), which we measured at about 12 milliseconds.
Image quality
This is our first encounter with a 48-inch OLED TV, and we were naturally excited about how this compact crab behaves in practice! The picture experience is about as expected from an OLED in a smaller format, but also offers some surprises.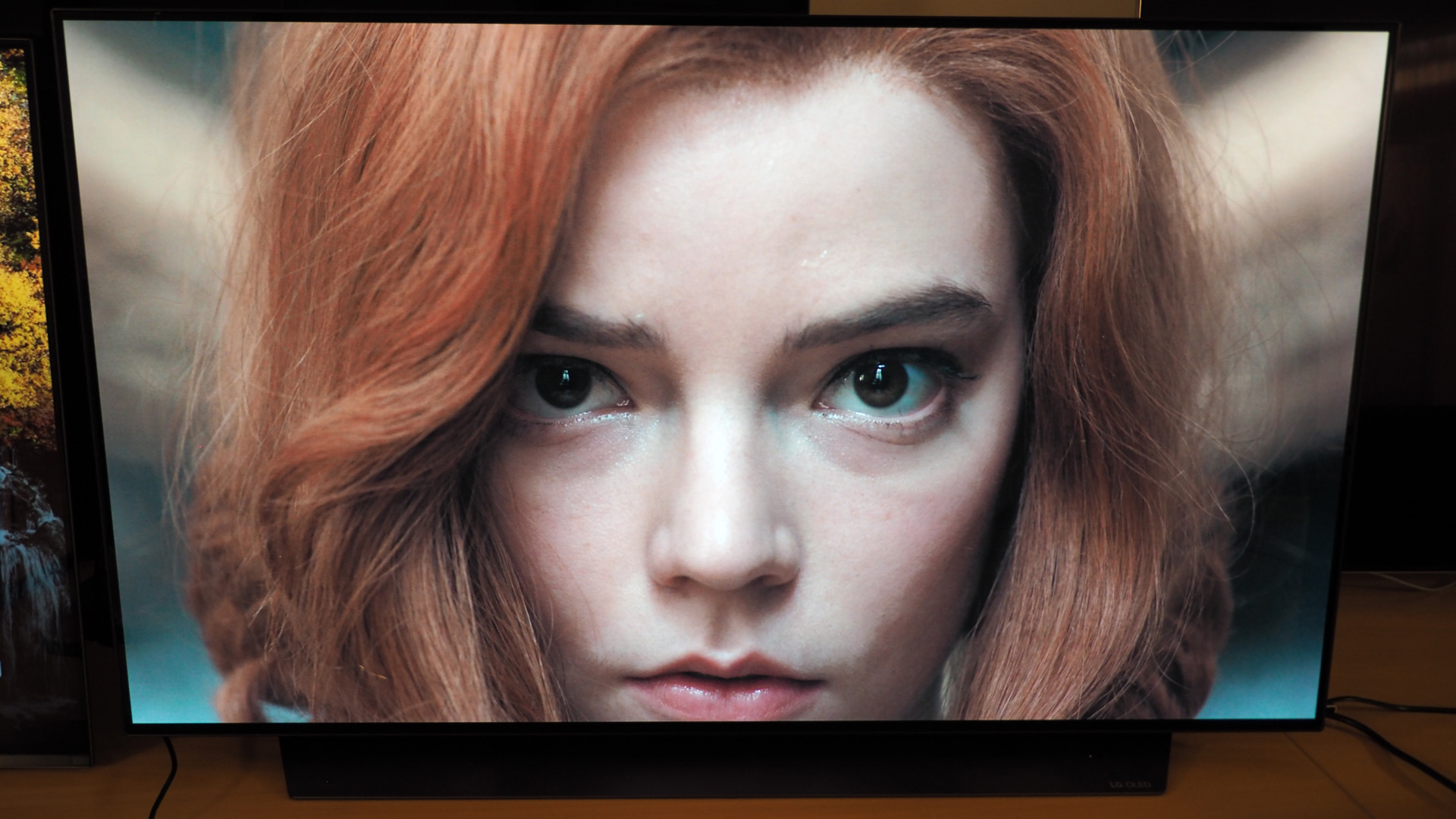 The first thing we take inward is of course the image sharpness. The 48-inch has a significantly higher pixel density (PPI) than a corresponding 55 "or 65" with 4K resolution, and it gives an image that simply looks raw sharp! The image is crystal clear, seamless and packed with information: Here you can sit quite close to the screen without seeing a hint of pixel structure, which makes the screen suitable as a PC or gaming monitor.
Note that 48 inches is quite large in a monitor context: You should provide a certain seating distance (about 1 meter) to be able to take in the whole picture at once, without having to move your gaze or turn your head…
When it comes to overall picture quality, the LG screen has all the well-known and beloved OLED qualities in order. The black level is almost bottomless, and the ability to turn off and on each small pixel individually, gives a very contrast-rich image. Without the need for backlighting, the light distribution is also significantly smoother than typical LCD screens. This is characterized by the fact that we can look at the screen obliquely from the side without the color reproduction or the grayscale being affected by the viewing angle. This is a big advantage whether the TV is small or large, as it allows more flexible placements and seating positions.
Just like with the other LG models, we preferred the picture setting "Cinema Home" as our favorite picture mode for most video content. This is a nice setting that suits most things, with beautiful, neutral colors and smooth movements. The disadvantage of the cinema setting is that it is not particularly bright. Those who watch a lot of TV in daylight will probably therefore prefer the standard or dynamic setting. But these are not particularly strong either, and you should therefore have the option of sun protection and dim lighting to get the best possible images out of the screen. Then you get in return super gorgeous pictures in the high-end class!
Excellent gaming screen
At the time of this test, we did not yet have access to the latest game consoles Xbox Series X or Playstation 5. However, we got to check the performance of a relatively capable PC, with Nvidia GTX 1080 graphics card and games like Forza Horizon 4! OLED48CX immediately gave a very good impression, with an excellent smooth response and little delay, which makes it excellent for gaming.
One thing is to enjoy modern games with the contrast and black level of the OLED: the LG screen also excels with very good sharpness and smooth movements. The low delay combined with the capacity for high frame rates (up to 120fps / 120hz) makes this a very responsive gaming monitor. We also verified that the LG OLED48CX supports and renders 4K graphics at up to 120 frames per second, which is quite noticeable in a fast-paced car game! The LG screen has visibly better motion sharpness than its competitor from Sony, which has to settle for 60 fps at the same resolution. This will definitely be an advantage on game titles that support this.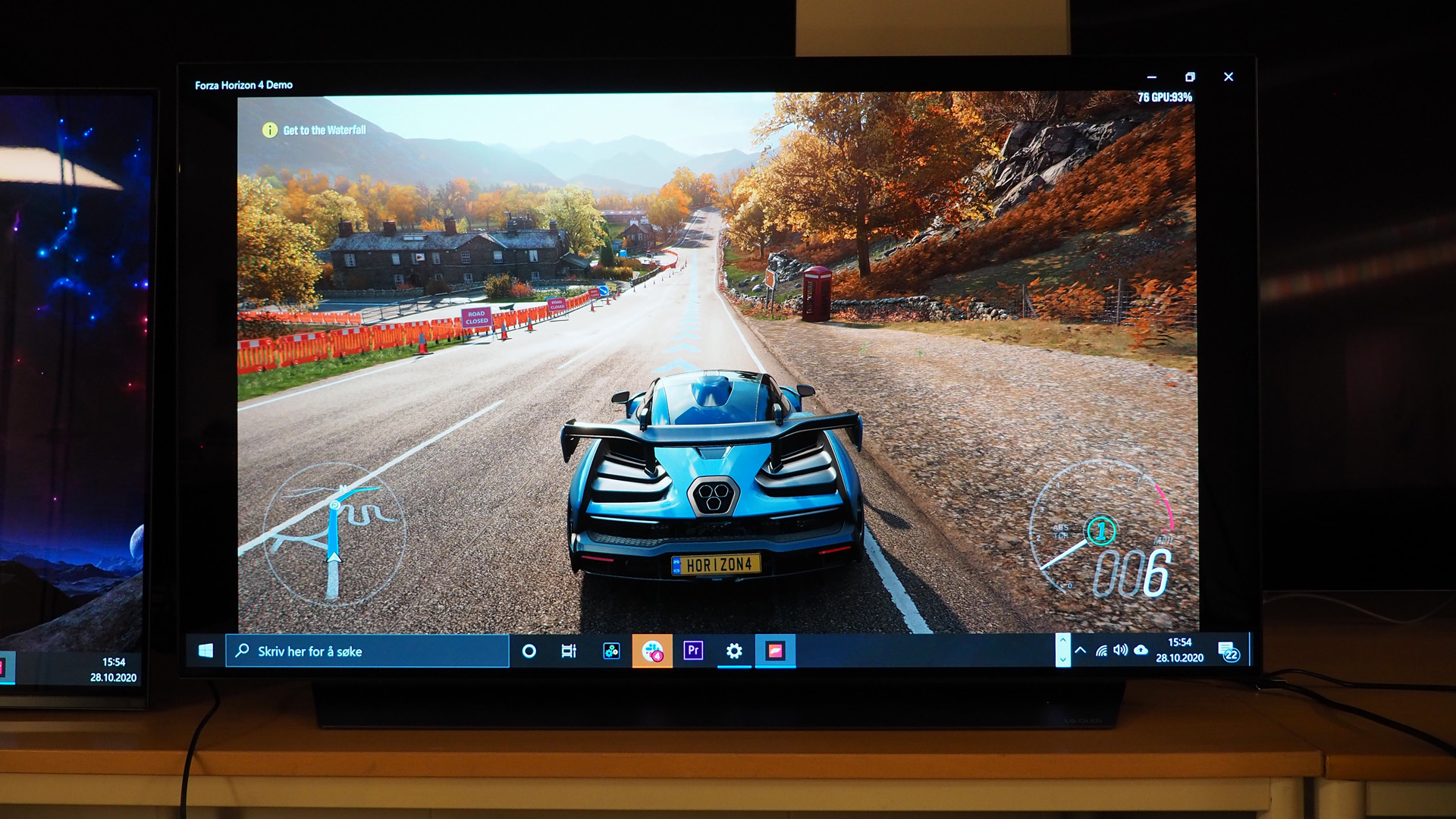 On the Forza Horizon 4, we could immediately determine that the LG screen's higher and variable frame rates (up to 120 fps) resulted in a smoother and sharper gaming experience. As long as you have the hardware in order, this is definitely preferable! (Photo: Audun Hage)
Sound quality
Compared to Sony's advanced integrated speakers, the LG OLED48CX has to do with a relatively standard sound system: Here you only get stereo speakers without any extra subwoofer on the back. These sound rather slender, laid-back and sad compared to Sony: the voices sound hollow, and never really "come out". We guess most people will be tempted to expand with a separate sound solution. The LG screen supports HDMI eARC, so it will be a narrow matter to upgrade with an Atmos-compatible soundboard.
Conclusion
The CX series from LG is already one of our favorites when it comes to image quality and technical features: With the introduction of the new 48 "variant, the same performance becomes available in a more interior-friendly and less space-consuming format. The LG OLED48CX is not dramatically much cheaper than the big brother of 55 ", and in principle we recommend going for the larger variant. But for those of you who have special preferences, are looking for the ultimate "gaming monitor" or just want the best TV in the least possible space, the LG screen is a safe recommendation!
Also in this test
Sony KD-48A9
Small but tough
Sony's smallest OLED TV impresses with razor-sharp picture quality, plus clear sound from the built-in speakers. Could this be the perfect bedroom TV?
Sony KD-48A9 provides a beautiful picture and sound experience, with great contrast, deep black level and smooth movements. Plus for strong and clear sound from the built-in (and invisible) speakers.
The screen is a bit thicker than most OLED screens. The KD-48A9 also lacks some of the HDMI 2.1 features, which can be disappointing for gaming enthusiasts.