For those of us who test and compare many TVs throughout the year, the G-series from LG is one of the most anticipated. This is the flagship series with the very latest cutting-edge technology, which LG always gives a little extra love when it comes to technical performance and design.
Yes, there are more affordable OLED displays out there in the form of the A or B series, and let's not forget that the C series is a firm favourite among gamers and other enthusiasts. But for those of you looking for the very best, it's worth taking a look at LG's new top-of-the-range G-class model.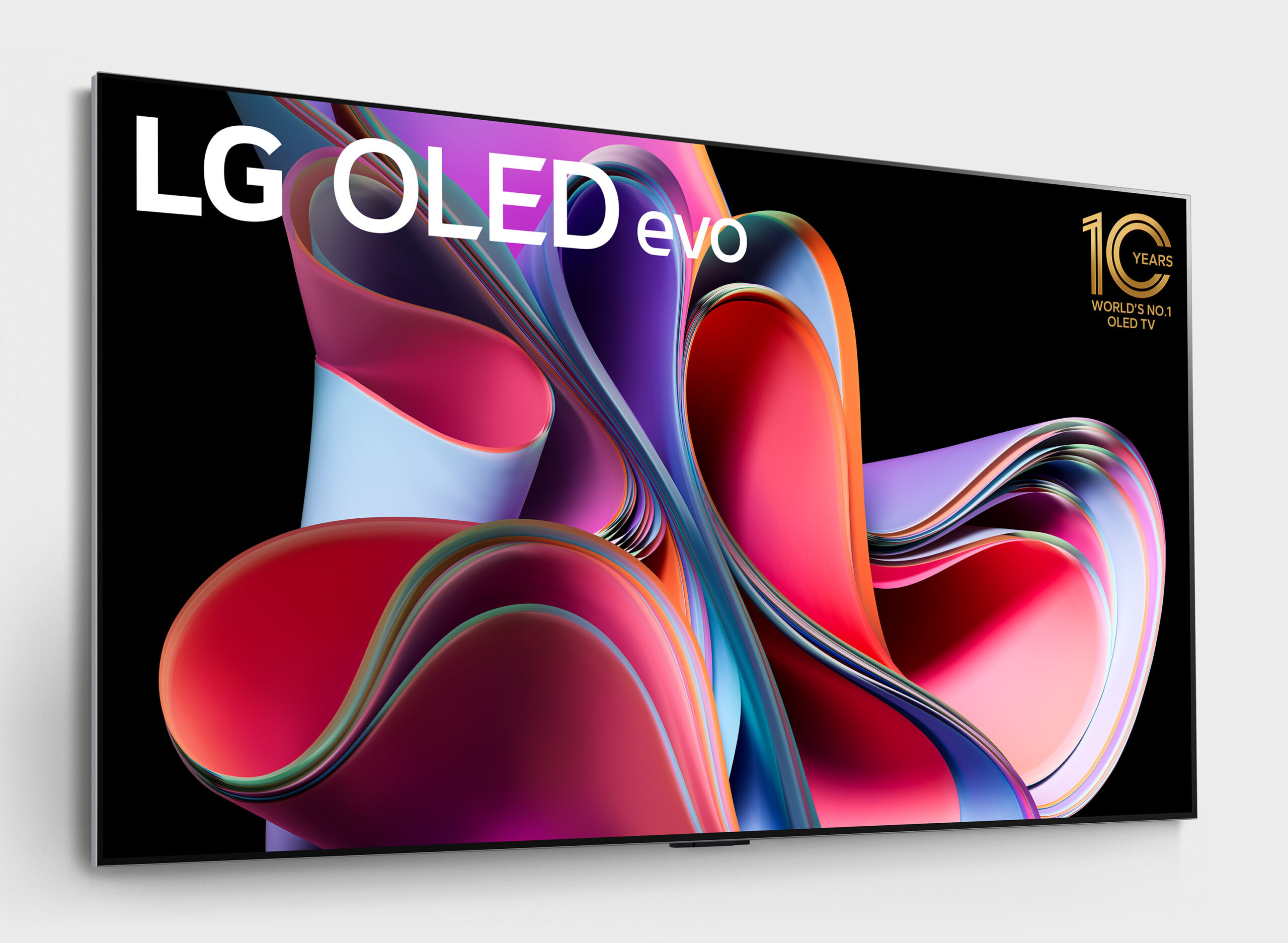 LG OLED G3 with state-of-the-art MLA OLED technology
As usual, this year's top model OLED65G3 boasts some exclusive features. It has a slimmer and more wall-hugging design than its smaller siblings, but the most important innovation is inside – the brand new "MLA" OLED panel that promises to push the LG display to new heights in terms of performance.
MLA stands for Micro Lens Array and is an evolution of the Evo OLED panels we remember from last year. In short, it's a screen filter made up of tiny convex lenses (we're talking micrometre size, with about 5,000 lenses per pixel) that help get even more light out of the OLED panel. And not just a little bit, no – LG claims up to a 60% increase in brightness!
LG has also developed their own image processing algorithm (Brightness Booster Max), which helps to adjust the brightness from scene to scene. And the top-of-the-range G3 is the first to utilise all of this.
LG OLED G3 – design
The other special feature of the G3 – also called 'Gallery OLED' – is that it's customised to be mounted on a wall. The back is completely flat, with dedicated slots for cables and wall mounts that allow the screen to be hung close to the wall. There's a matching wall mount included in the box, which thankfully can be pulled out when you need to access the cables.
Admittedly, not much has changed on the design front since last year's G2 model. The LG screen still has a slim brushed steel frame, with the image extending almost all the way to the edges – but only almost. We can still see a thin black border around the image.
It's worth mentioning that arch rival Samsung's Neo QLED and OLED models let the image go all the way to the edge, giving an even more seamless visual effect.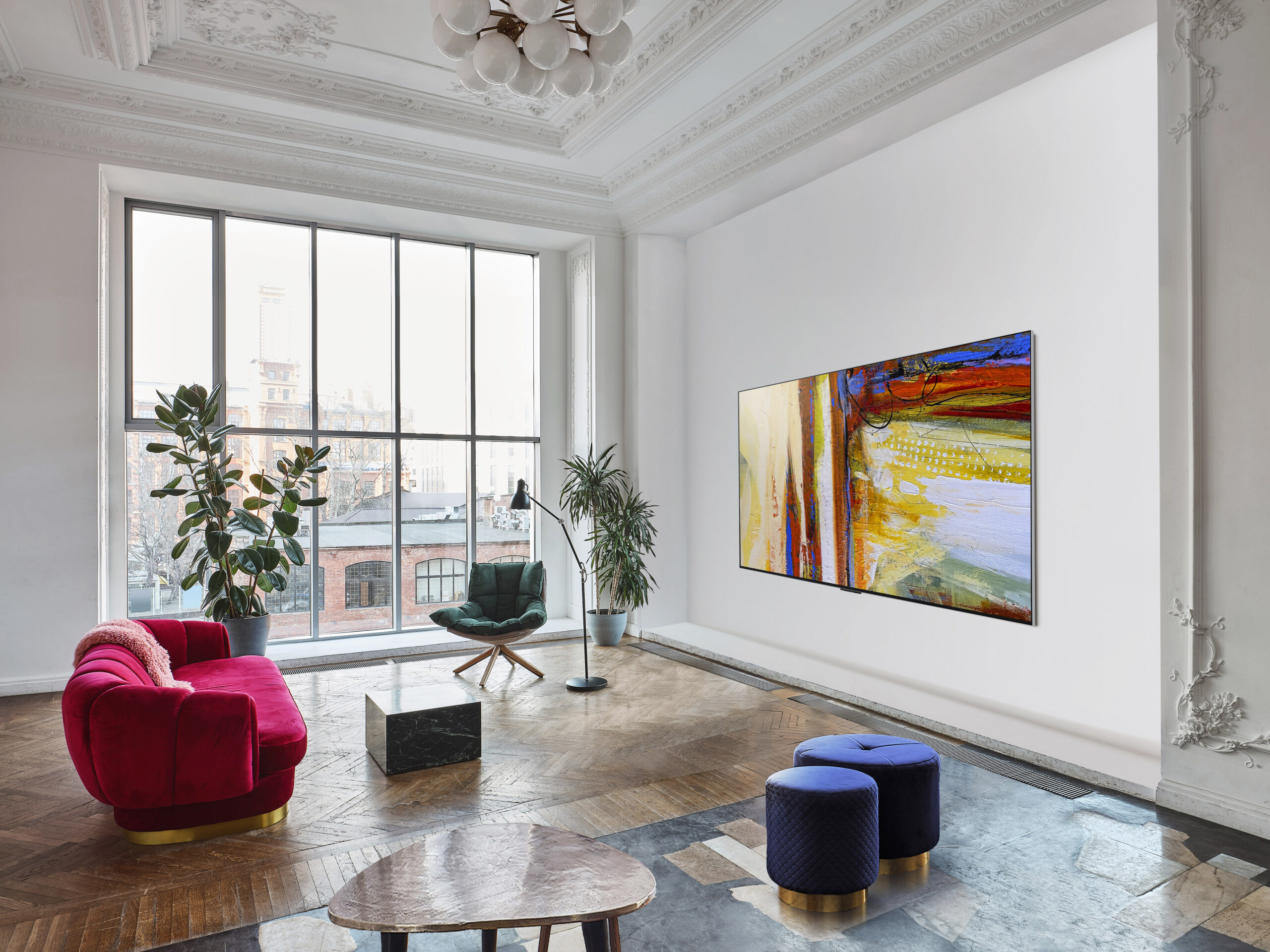 Wall bracket included – but base is optional
Many will probably also see it as a disadvantage that there is no table base included in the package. You'll want to hang the TV directly on the wall as soon as you receive it, and we know from experience that it can be a good idea to test-mount it before drilling holes in the wall.
Alternatively, it is of course possible to order a table stand as an optional extra. If you want to buy the original table stand for the G3 series (model code SR-G3WU65), you should expect to pay around €160.
LG lent us one of these for the test. It tilts the screen backwards by about 4 degrees and can be swivelled to change the orientation of the screen.
Ease of use and features
Of course, the OLED G3 also comes with WebOS 23 installed, which is the latest version of LG's smart user interface. If you're an LG owner, you'll immediately recognise the remote control, which is the latest generation Magic Remote with pointing function.
The TV is easy to set up via the remote or via LG's own ThinQ app. The webOS menu system offers personalised user profiles where you can customise the home screen and get recommendations based on your viewing preferences. It also gives you access to a wide selection of the most popular apps and streaming services.
LG has made sure to give the many sub-menus a facelift, so you can navigate around the different settings more quickly. For example, there's a side menu with relevant quick settings for picture and sound without taking up the whole screen. We like that.
If you're a keen gamer, you'll appreciate the Game Optimiser game menu. It provides a full overview of the input signals while allowing you to optimise the picture settings for different types of games. The G3 also supports VRR, AMD FreeSync and Nvidia G-Sync for the best possible synchronisation with consoles and PC graphics cards. We also measured input lag of just under 10 milliseconds in gaming mode.
The LG OLED G3 also has an "Always on" standby feature, where the TV screen can display different types of information when it's switched off. Such as the time, weather forecast and mood images. At the same time, it is quickly ready to use from standby.
The Magic Remote works well, but it's made of plastic like the other LG models. In our opinion, the G-Class deserved a more exclusive premium variant.
Great connectivity options
LG has long been among the best in its class at offering comprehensive connectivity. The G3 boasts four fully HDMI 2.1-compatible inputs, all of which have high enough bandwidth for 4K/120Hz video signals.
This means you can connect, for example, a TV receiver, a games console and an Apple TV to the LG display and still have room for a soundbar via the HDMI eARC (audio return) connector. It's worth noting that many of its competitors (including several of this year's new models) still have to make do with just two.
If we wanted more, LG might consider moving all the physical connectors to a separate box. If you want something like that, you'll have to wait for another top model – the OLED M3, which will have fully wireless video transmission.
Picture quality: Glowing brightness!
LG's OLED displays have always been known for their pitch-black black levels, but they've also become progressively brighter over the years. Last year's top-of-the-range G2 Evo saw a clear improvement in this area, but this year it seems LG has pulled out all the stops.
With LG boasting strong improvements in brightness, we started the test by calibrating the screen and checking how the claims held up in practice. And sure enough: Brightness has taken a huge step in the right direction – without seeming to have any negative side effects on image quality.
Note! To get the best possible performance from the LG display, it's first necessary to switch off the power saving and eco functions – if you don't, the OLED panel will reduce the brightest brightness and some of the fun is gone. These settings can be found at the bottom of the General menu under "Energy Saving".
Calibration of the LG OLED G3 (Photo: Audun Hage)
We measured the LG OLED65G3 to a total of 1384 nits (10% window) in Dolby Vision HDR mode and 613 and 418 nits in the 25% and 50% test window, respectively. We've achieved similar figures from OLED displays in the past, but this has typically been in dynamic picture mode with a very blue tinge to the whites.
The fact that the G3 manages this brightness, while maintaining a neutral D65 white point and only slight colour deviations, is therefore downright impressive.
The LG display also has a very neutral and nuanced colour reproduction, with the Filmmaker mode in particular impressing. With a deviation (delta E) of 1.1 in the grey scale and 1.5 in the colours, the G3 model delivers super-precise colours.
At the same time, the OLED G3 manages to maintain the good contrast we associate with OLED, measured at 425,000:1 with a checkerboard pattern (ANSI checkerboard). It also achieves a total of 208 nits in full-screen white, which means it's able to reproduce, for example, skiing and other content with a lot of white in it without appearing dim.
(All calibration done by Gorm Sørensen, Procal)
So what is the experience of the increased brightness like in practice?
Good measurement results are of course important, but does it also give a better picture experience? The answer is definitely yes in this case. The G3 display has a very pleasant and effortless picture, which also looks very nice in well-lit environments.
We also had a 2022 OLED screen (Panasonic LZ1500E) available for the occasion, and it's clear how the G3 model from LG manages to produce an even brighter and more contrasting image.
The extra brightness is especially useful for films and series in HDR format. Daylight scenes with a lot of sun or other high-light effects have a noticeably stronger intensity to them.
With the 5th season of the Netflix series Formula 1: Drive to survive, we can watch the TV screen in daylight without missing any brightness along the way, while still leaving enough surplus to reproduce the brightest effects from sunshine and glowing brakes. The golf documentary Full Swing also looks excellent, with a very bright, clear and high-contrast shot of the green.
The war film All Quiet on the Western Front also looks very cinema-like, with bottomless black levels in the dark scenes. The aforementioned Filmmaker mode serves up a picture with very neutral colour tones, showing the image as the producers intended, with no extra spice in the form of exaggerated colours or smoothed movements.
Should you still prefer slightly smoother motion with motion smoothing (interpolation) enabled, you can also choose the Cinema Home option.
Another highlight? We've previously criticised OLED screens for having a rather mirror-like front glass, which can cause distracting reflections of the surroundings. So it's pleasing to see that the 2023 model with MLA panel now has a less light-reflective surface. It's not super matte, but it makes a noticeable difference – enough so that we can watch films during the day without seeing ourselves in the mirror every time there's a dark scene.
In other words, the LG G3 is an OLED display that stands up to both evening viewing and daylight, even better than before.
Sound quality
The LG G3 has a sleek design, with no dedicated soundbar or expensive speaker solution like you'll find on some of its competitors. The G3 still delivers decent sound from the in-built speakers, with clear and crisp voice reproduction coming through clearly from the screen. Bass reproduction is full enough to provide good reproduction of music and sound effects.
In fact, there's even a virtual "surround sound" effect on films and series: the LG screen has built-in sound processing (AI Sound Pro) which, among other things, gives Dolby Atmos content an extra boost.
It can't compete with TV screens that have in-built speakers for this – such as the Philips OLED937 or Panasonic LZ2000 – but it's still a step up from standard sound.
LG probably reckons that many people who buy a TV in this class will still want to connect a separate soundbar or sound system. Of course, the G3 supports Dolby Atmos via the HDMI eARC connector, and if you connect a compatible LG soundbar (for example, the S95QR), you can utilise the screen speakers in combination with the soundbar – so-called WOW Orchestra.
Conclusion
LG has made sure to give its very best 4K OLED model, the G3, a real upgrade this year. As usual, the top-of-the-range model is aimed at the more discerning, with advanced image processing, a wealth of refinements and connectivity options, plus a bespoke wall-mounting design.
OLED displays are renowned for their high-contrast picture quality, and with the G3 you get even more of the good stuff. Picture quality has received a clear boost this year, with significantly higher brightness and greater contrast 'punch'. What's most impressive, though, is that it manages to do all this while maintaining a neutral colour balance. LG has also (finally!) listened to our complaints and reduced the glare from the glossy OLED panel.
These improvements make the LG screen even more suitable for varied TV use, while still giving you a glowing cinema experience. We think LG could have perhaps included a table stand at this price, but other than that, the G3 deserves a definite recommendation!
Note: As the LG OLED G3 is the first we're testing among this year's OLED models, it's still too early to say exactly how well it performs against competing 2023 flagship models like the Samsung S95C, Panasonic MZ2000, Philips OLED908 and others. But for now, we can confidently say that the style is set, the standard is set, and the competition will be fierce!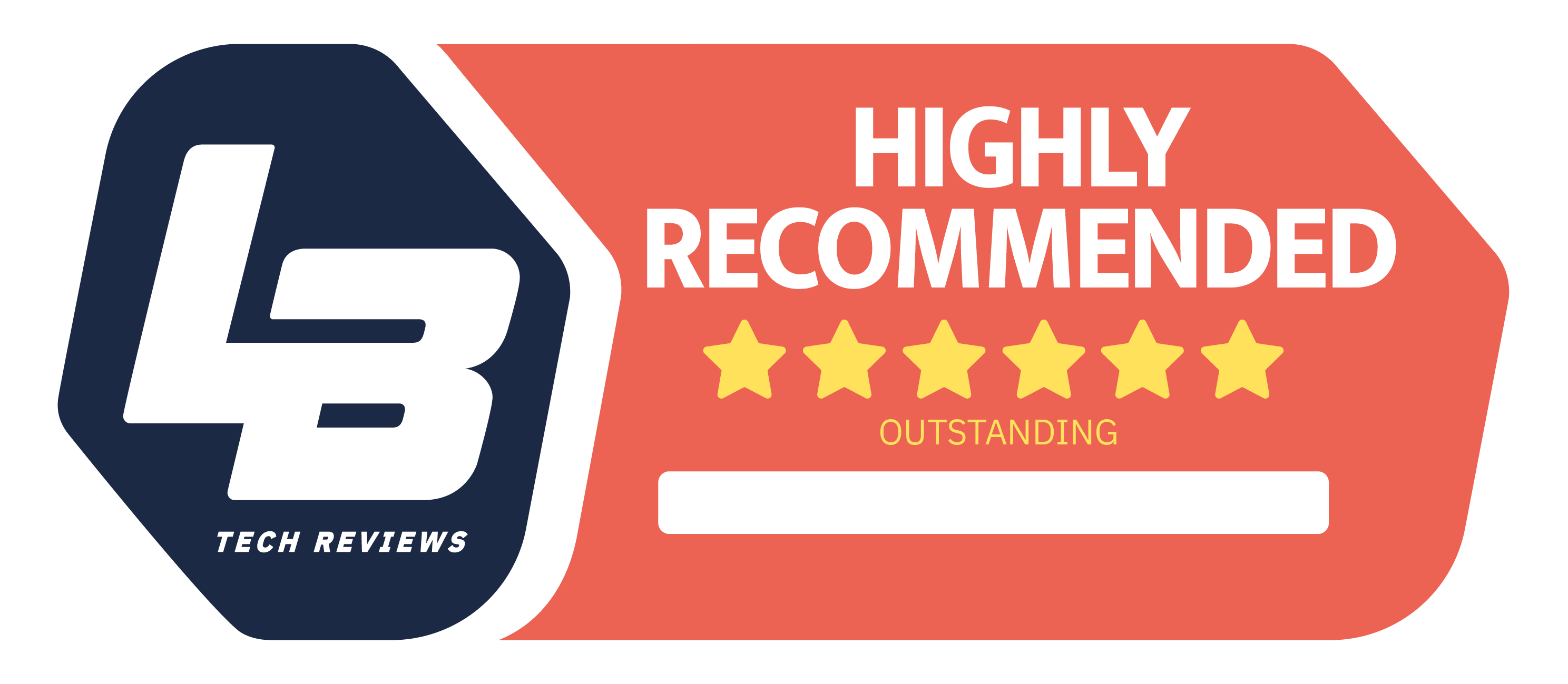 High End
We think
The LG OLED G3 has an upgraded display panel with impressive contrast and brightness, making this a great all-round TV. Plus, a slim design with integrated wall mount.
While wall mounts are included in the box, you'll need to pay extra for a table mount base.