Lasse Svendsen
Published

2021-08-11 - 8:00 am
Serious impact in the bass, nice lighting effects and easy operation. Splash-proof, with built-in karaoke mixer.
Never plays loud enough, especially not outdoors. Limited dynamics, and a slight too woolly sound.
Specifications
Type: Wireless speaker
Wireless: Bluetooth 5.0
Connections: USB, AUX, 2 x microphone
Woofer: 25 cm
Midrange: 13.3 cm
Tweeter: 2.5 cm
Power: 1500 W
Max sound pressure: N/A
Frequency range: not specified
Dimensions/weight: 88.4 x 46.3 x 45.5 cm/26.5 kg
Weatherproof: Splashproof
Other: App control, remote control, karaoke mode
WEB: samsung.co.uk
Samsung's largest party speaker looks like it would be able to compete with a concert venue for sound volume. With a full 1500 W of power, one would think that would be the case as well, but as we shall see, it is a claim that does not hold up.
The floor-standing MX-T70 is among the largest party speakers in today's market. The JBL Partybox 1000 and Sony MHC-V73D are some of the closest competitors in this class, and like them, the Samsung speaker combines flashing LED lights with large speaker units, and karaoke!
It is, in other words, the stage is set for a party and joy with a large party speaker.
The Samsung speaker does not have a CD or DVD player, with HDMI output, like the Sony speaker has. It also does not have a radio, but then it is a more pure party speaker.
It also has connection for other audio sources, and microphone mixer on the back. Where you will also find a practical carrying handle and USB charging of the mobile. Which also has its natural place in a mobile holder on top of the speaker.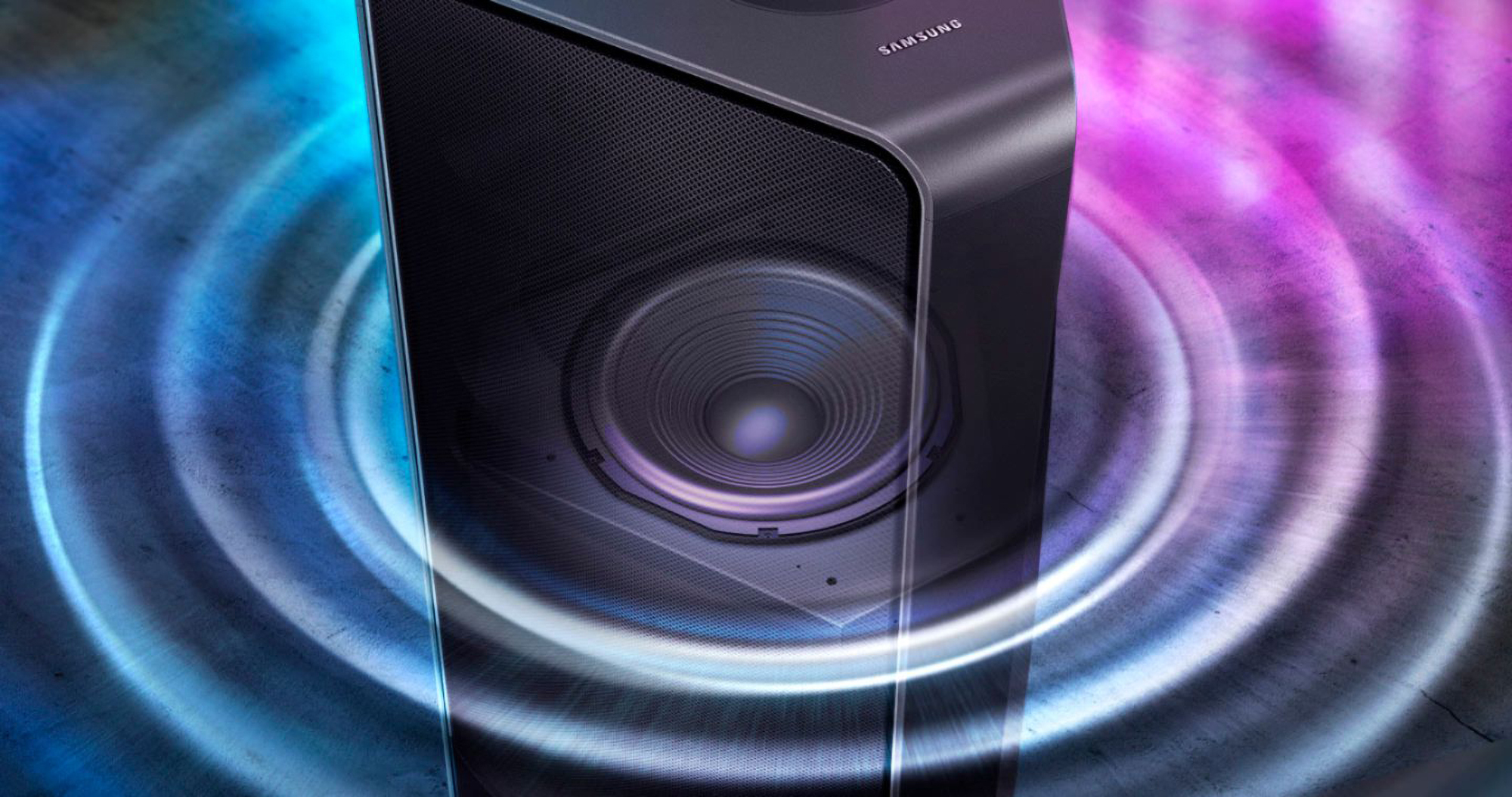 Karaoke
There you will also find a rubberized control panel, from wich you control the music. And you can switch from Bluetooth to one of the inputs on the back. And all this can be controlled from a remote control or via the Giga Party app, where you can select lighting effects and change the sound image to one of several modes. Of course, you also control the music in the app, and a number of DJ effects.
Since it lacks a DVD player, you can not sing along to karaoke DVDs on a screen, but you can mix the vocals from two microphones, over the music that is playing. It's fun too, especially when darkness falls and the light show from the speakers mixes with the music.
The speaker can be connected wirelessly with several, either the MX-T70 or the smaller MX-T50, and up to 10 pieces can be connected for even more intense sound pressure.
Two users can be connected via Bluetooth. at the same time, and alternate between playing music.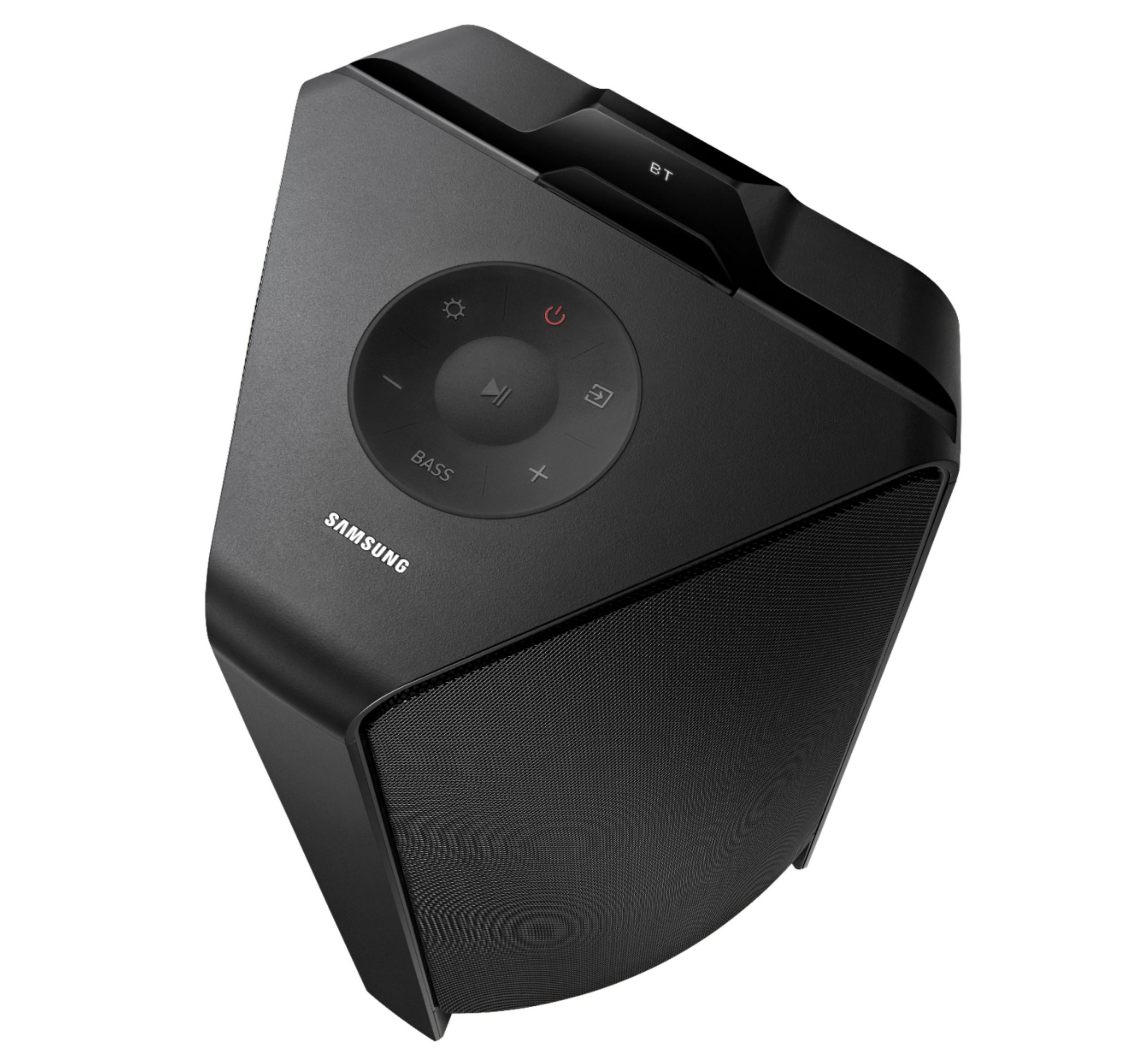 Loud but with poor dynamics
Samsung has succeeded well with the design, which is so elegant that the speaker easily fits into different environments. The light show can be turned off if you just want to hear music without all the effects, and you just want to lie in the hammock and enjoy your favorite playlist.
Inside, you find a 25 cm upwards-firing woofer, and above it, there is a midrange and a tweeter on each side. But how Samsung can claim that the speaker delivers 1500 W power is a mystery. Samsung says nothing about how they have come up with the figure of 1500 watts, but even if they mean PMPO (peak momentary power output), the power supply in the speaker is in no way way powerful enough to handle it.
So if you buy the Samsung speaker because it says 1500 W on the box, you are simply being fooled.
You also notice this when you turn up the volume. The speaker plays powerfully, and there are huge amounts of bass here, of the type you really feel on the body. It plays more than loud enough for there to be a real party atmosphere, and one should be quite uninterested in not wanting to throw oneself on the dance floor.
That way, the Samsung speaker works perfectly.
But it does not manage to bring out any of the nuances in the music. Compared to the Sony MHC-V73D, it lacks air and dynamics, and vocals sound a bit stuffy. The treble is far too subdued for cymbals to help drive the rhythm of the music forward, and you soon reach the limit of how loud you can play.
Side by side, the Sony speaker drowned out the Samsung speaker, and it disappointed us a bit. Not because we believed in the claim of 1500 W, but we at least hoped that it would give the Sony speaker a good match for the money.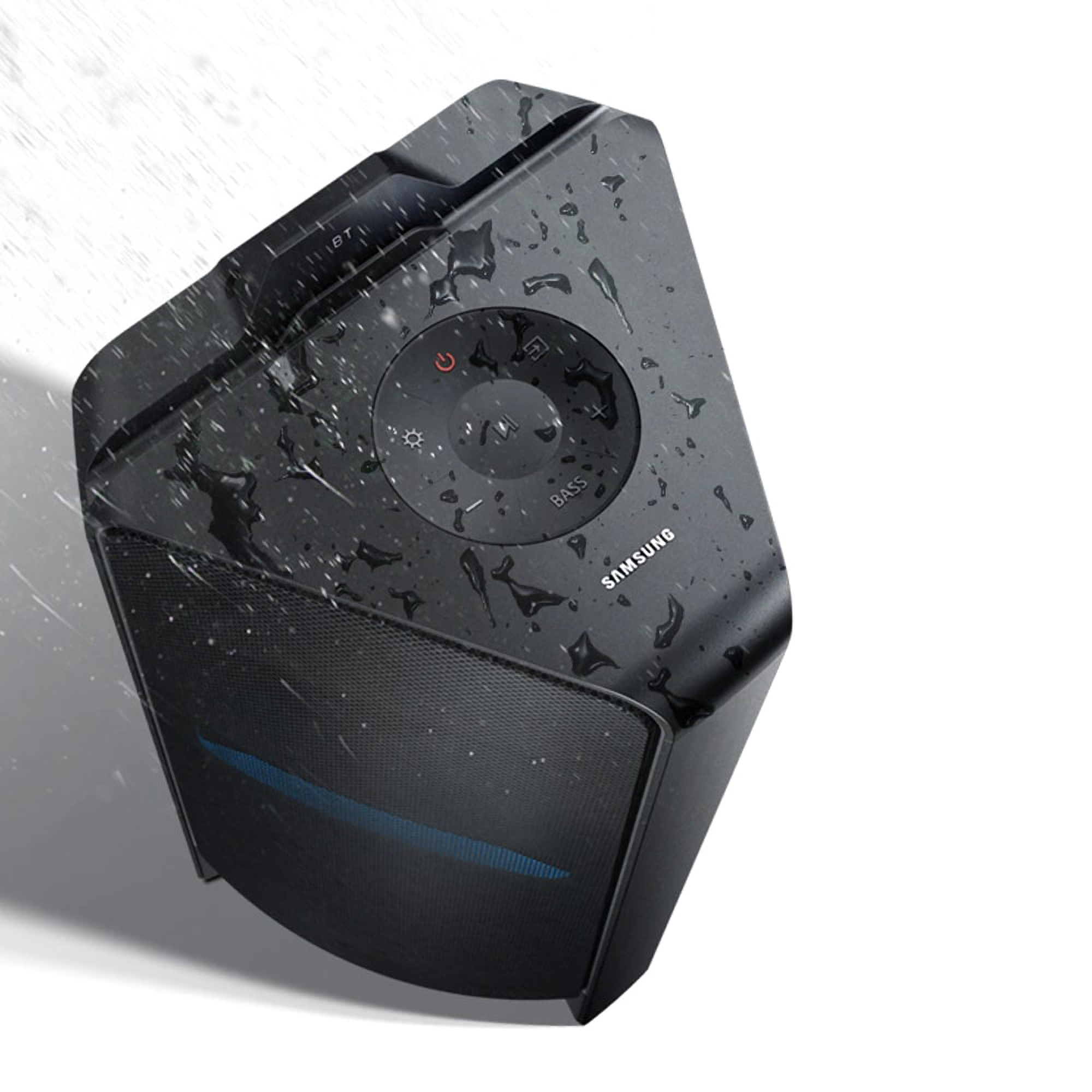 Conclusion
We have seen lower prices on the Samsung MX-T70D than the RRP, and we recommend that you search for the lowest possible price (always). For at the recommended full price, you will find better sound and more options elsewhere. But if the price is right, the Samsung speaker can be a really good buy. But we had expected more from a speaker with the advertised features, at least at full price.