Lasse Svendsen
Published

2021-01-04 - 6:00 am
Hugely potent bass reproduction, with good balance all the way up to the well-resolved treble. Plays with authority and exuberant playfulness. Nicely executed cabinet.
They need a lot of space to perform well.
Specifications
Type: Two-way floor-standing speaker
Woofer: 17 cm g-weave cone
Tweeter: 19 mm Sonomex dome
Sensitivity: 89 dB
Impedance: 8 ohm
Frequency range: 27 Hz – 25 kHz
Dimensions / weight: 101.5 x 19.2 x 21.9 cm / 23 kg
Finish: Black, white, walnut, oak
It does not show on the outside, but these slim speakers keep a little secret inside, which is suitable for astonishing fresh listeners.
Truth be told, I'm a little amazed myself every time I hear a PMC speaker, even though I've heard many of their speakers before. There is something special about the way they play bass, which you do not usually experience with other speakers.
Even the smallest bookshelf models have extra weight in the bass, and as we all know, it is very rare for a small speaker to say anything with a substance below 50 Hz.
But PMC's speakers do.
They are among only a few manufacturers that still use the transmission line principle. In other words, an internal channel that gives low-frequency tones a longer travel distance out of the speakers than a bass reflex port does. When this principle works, the speaker can handle lower frequencies than if it were equipped with a regular bass port.
PCM uses transmission line on all speakers, even the smallest, but the effect is greater on the larger speakers.
Like these. Twenty5 24i, the middle of three floor-standing models in the upgraded Twenty5 i-series. Where a new crossover and a new Sonomex tweeter have given the speaker a solution to our appeal with the previous series: An easy-going and relaxed treble, which masked some of the harmonics of instruments.
The new tweeter does not do that at all.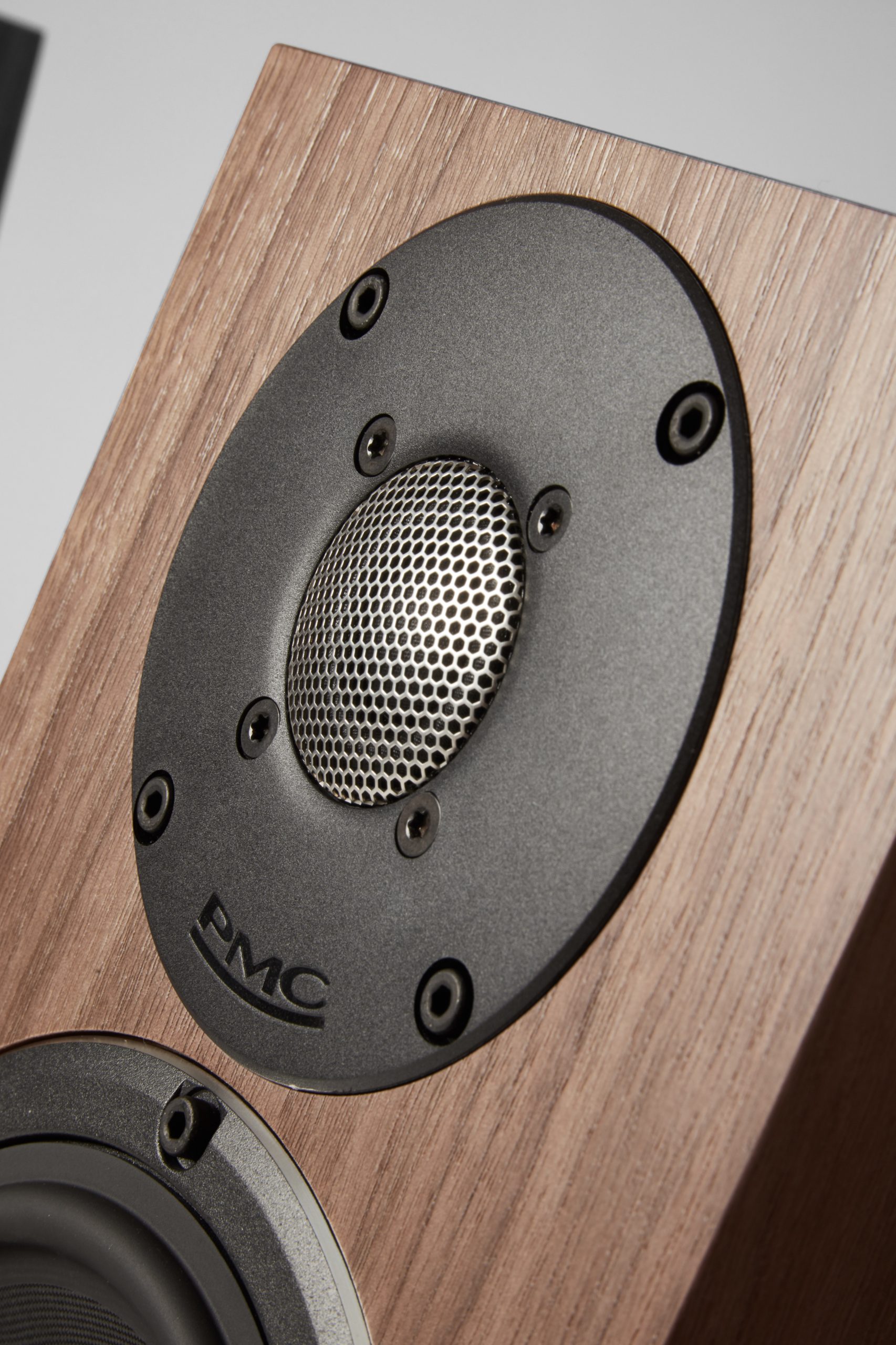 The new element has been developed in collaboration with SEAS in Norway, and has a 19 mm woven cap-shaped diaphragm, mounted in a 34 mm ring which in practice behaves like an extra diaphragm around the tweeter, and moves more air for higher efficiency.
We know the woofer from previous tests, it is built around a composite diaphragm with, among other things, fiberglass, which can withstand the pressure created in the internal transmission line.
TRANSMISION LINE – ATL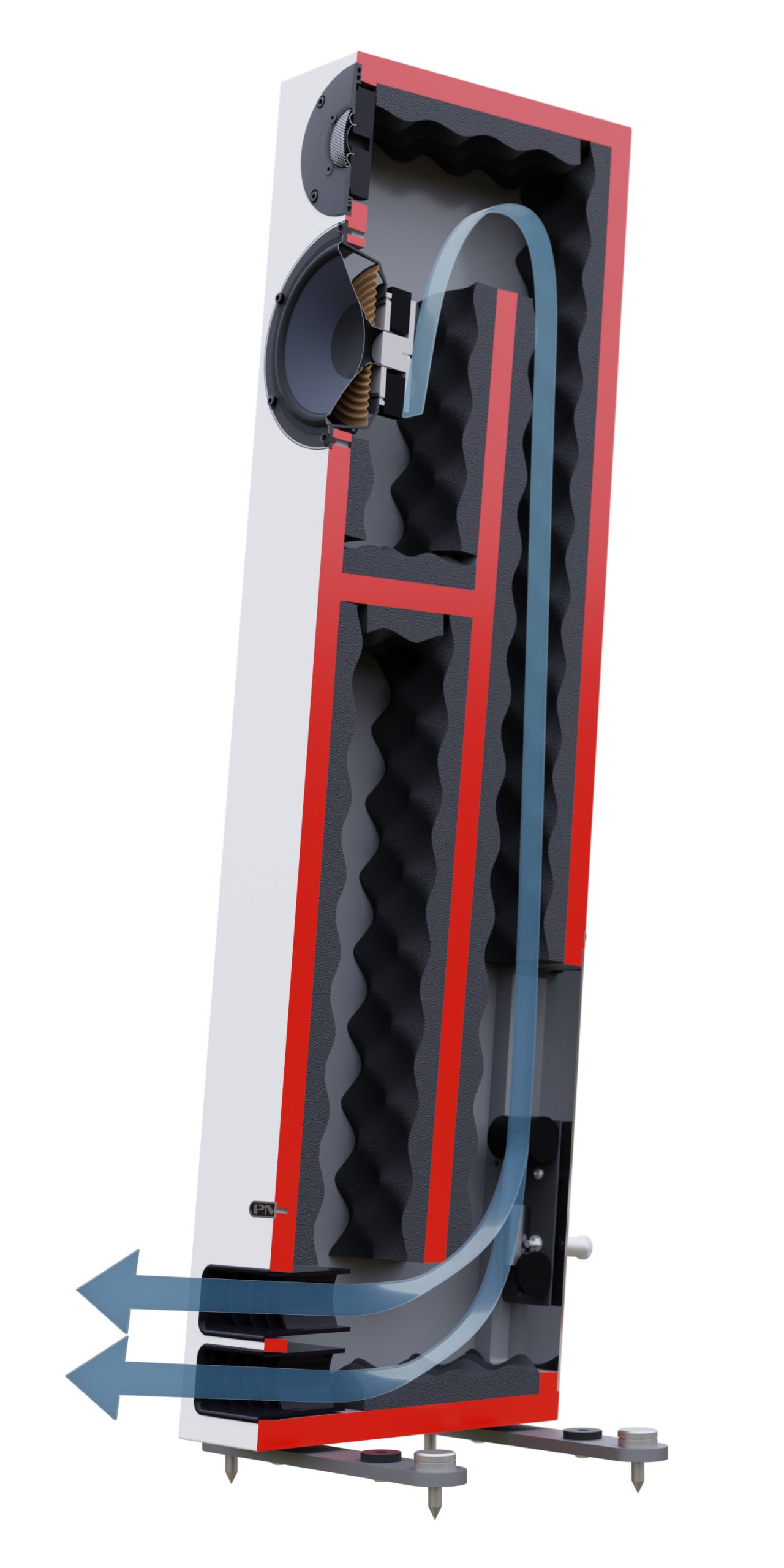 PMC calls it the Advanced Transmission Line – see illustration – which is their variant of the internal channel that characterizes the principle transmission line. The inner channel extends almost the entire height of the cabinet, and opens into two ports at the front, with PMC's Laminair valves. Which releases low frequencies out of the cabinet, with less turbulence and resonances, than a normal opening does.
This gives cleaner and better defined bass, PMC claims, and you must admit is a correct description.
This way of doing it, gives a little more range down in frequency, and fuller bass response than you can achieve with a simple bass sport.
For the Twenty5 24i, this means that they are effective down to below 30 Hz, quite unheard of for a two-way speaker with a 17 cm bass driver.
A bonus with the ATL principle is that the bass is perceived as very balanced and is clearly included in the soundscape, even when playing low. At the same time, it is never exaggerated, woolly, or poorly defined when you turn up the volume.
LOCATION IN THE ROOM.
The speakers are delivered with a set of large steel studs that are screwed into the new steel outriggers, which are mounted on the underside with damping in between.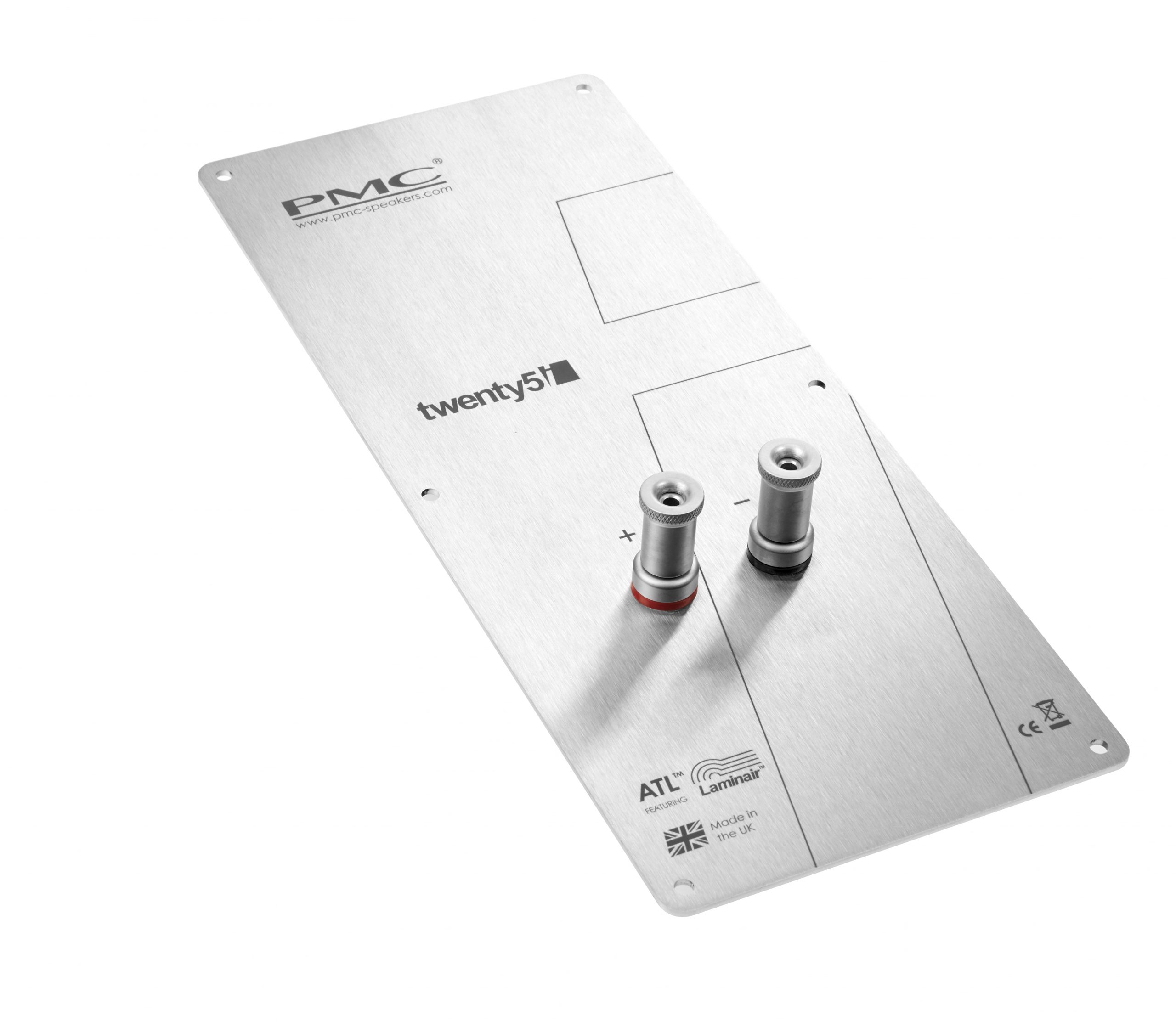 The input terminals on the back are mounted directly on a back plate in antimagnetic steel, which houses the crossover filter on the inside. The crossover frequency is 1.7 kHz, and the crossover uses a glass fiber circuit board with copper-plated lanes and selected filter components.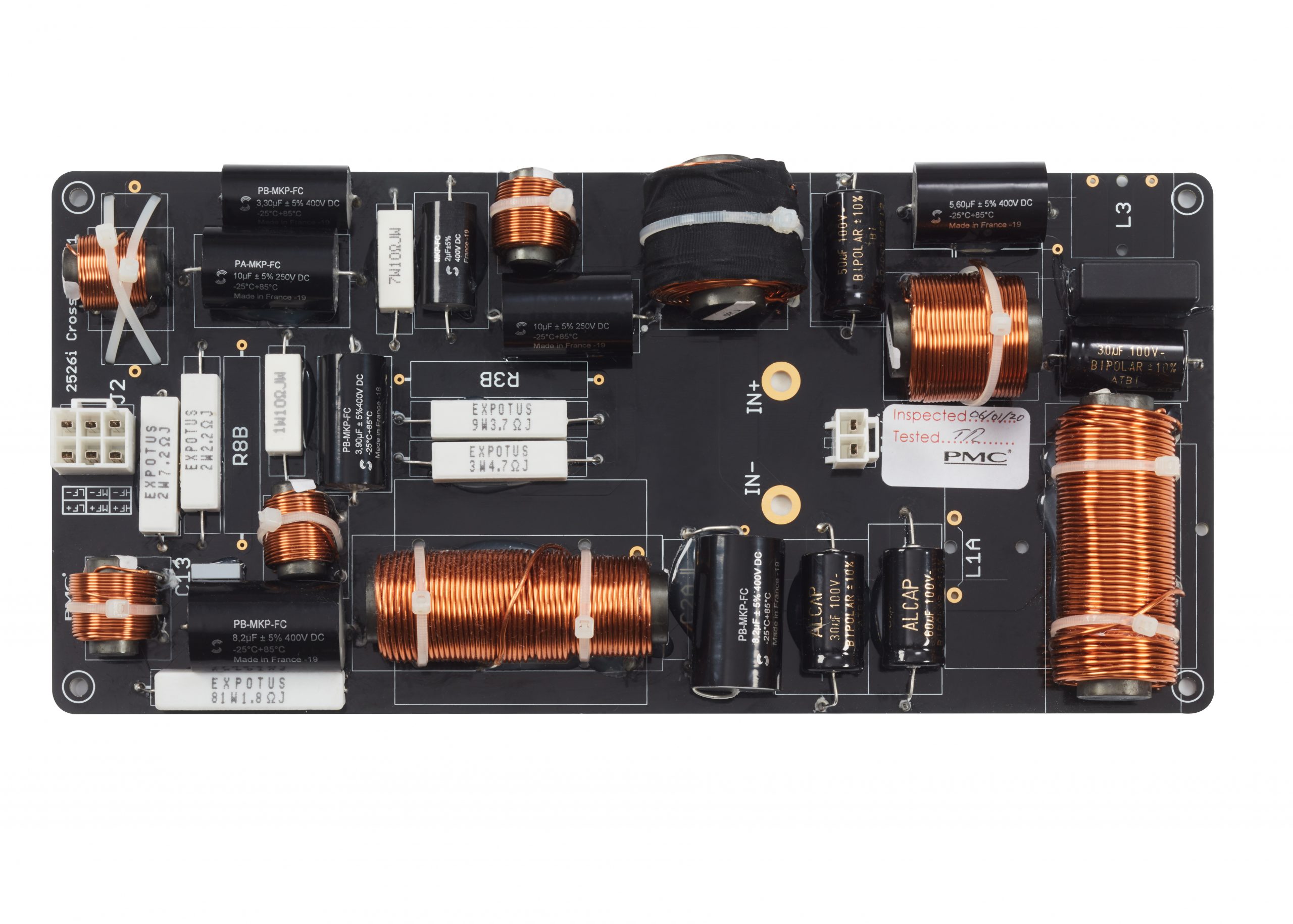 They are not very large, but the sloping cabinet means that they still take up some space in the room. You can, if you want, place them quite close to the back wall, since the bass is ventilated out of the cabinet in front, but not too close. It also pays to angle them a little inwards, but not too much.
PLAYS WITH AUTHORITY AND FINESSE
When we tested the slightly smaller Twenty5 23 a few years ago, we found that the speakers had a slightly too relaxed treble, which gave a darker sound than necessary. The rest was absolutely great, with a bass to die for – which gave us subwoofer associations.
The same goes for the larger Twenty5 24i, which has solved our issues with the treble splendidly. With the new tweeter, the speaker is far better focused from midrange to treble. It plays with better focus, and audibly greater detail than the old 23 model managed.
The new tweeter is far better balanced with the midrange, and now you can fully hear the overtones ringing freely from Keith Jarrett's piano. Vowels are more clearly defined, there is more texture in cymbals, brass and drums, and thank goodness, the bass is so massively present that drums, double basses and pipe organs are felt physically.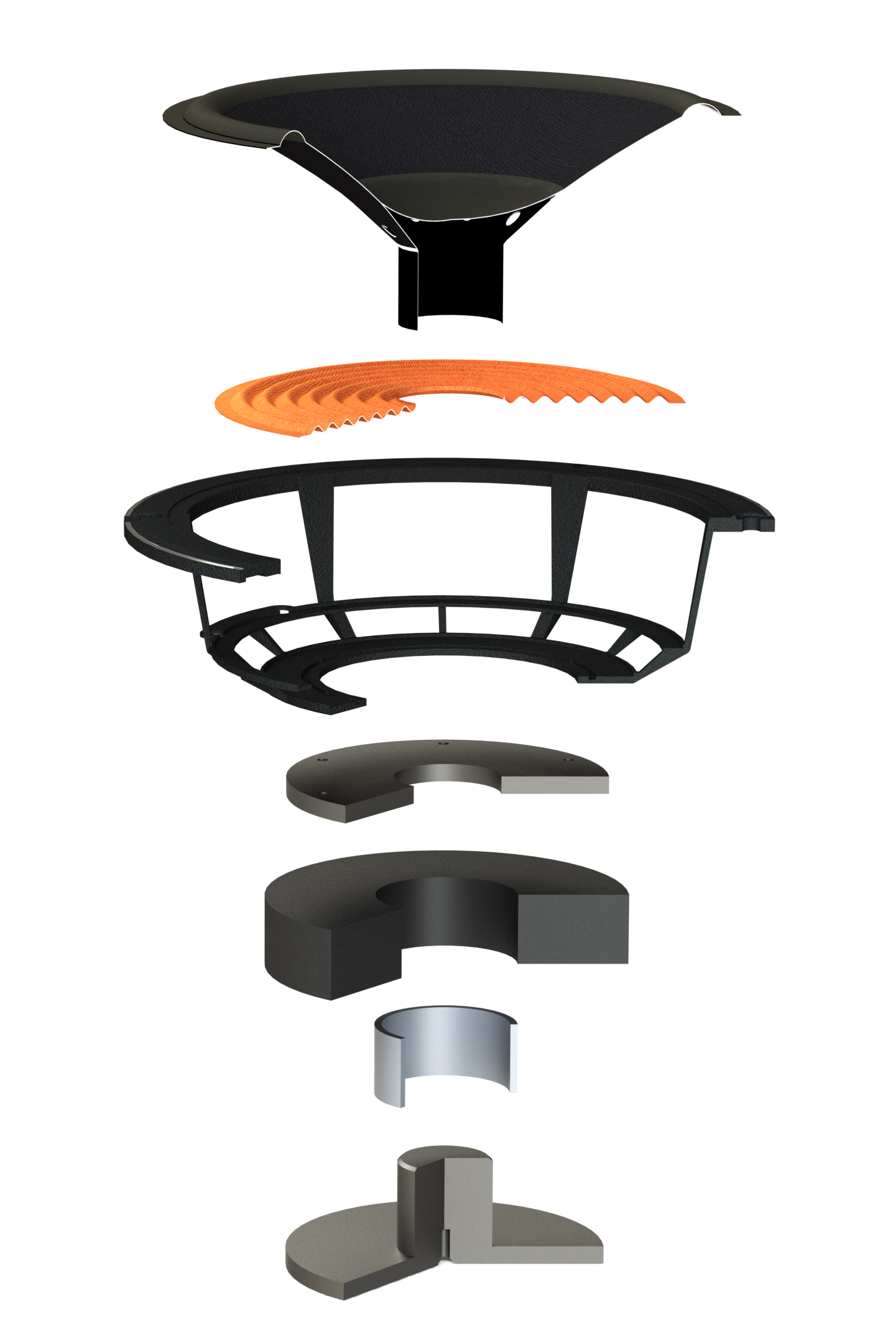 Gary Peacock's bass on Ketih Jarret's Standards Live, or Pick Wither's drums on Dire Straits' Love Over Gold has rarely sounded more well defined than here. You can hear the skin the fingers pulling the strings, and the vibrations from the big drum on the Telegraph Road are felt rather than just heard.
But it's not just the bass that is heavenly good. The new tweeter has given Nancy Wilson and Tony Bennet's vocals more substance, more body and soul. Trio jazz or orchestra recording? It does not matter, the stereo perspective from the PMC speakers is rock solid, and even if you play loud, it is comfortable to listen to the speakers.
If I am going to nitpick, then it must be that I could have wished for a little more energy in the upper midrange. My impression is that it can be just slightly withdrawn, and it can give the piano piano's upper octaves a little less timbre.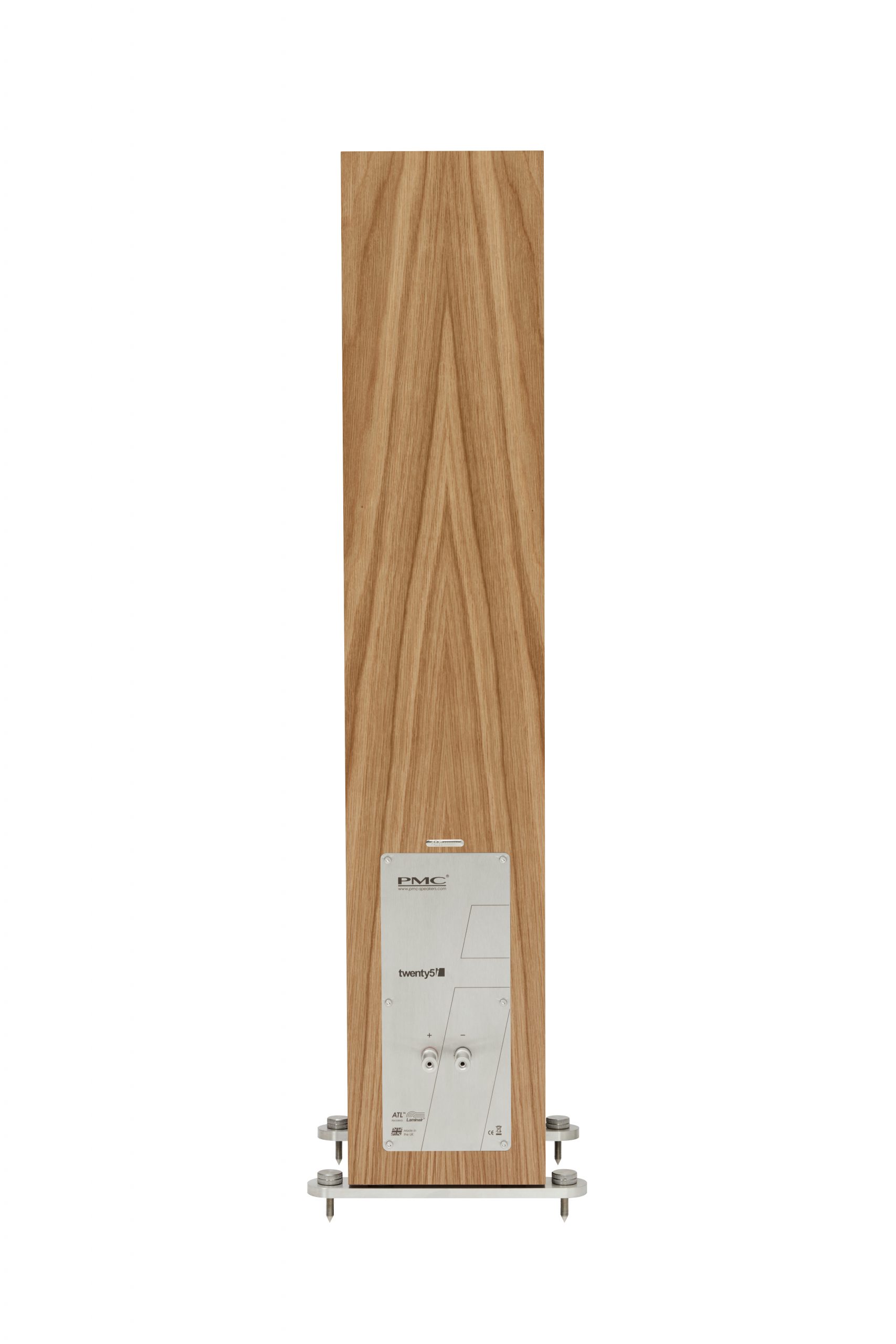 COMPETITORS
There are no other speakers in this class that can deliver such deep bass with as much authority as the PMC speakers. KEF R11, which costs about the same, has no chance, although they have many other qualities that make them interesting. The sleek Piega Premium 701 has a more airy treble, but a clearly limited bass foundation, and Sonus faber Sonetto V, which has even more elaborate cabinets, also fails to reach as deep in frequency.
CONCLUSION
PMC Twentyt5 24i, is a uniquely successful design, which does things that are not natural for slim two-way two-way speakers. The solid and extremely well-defined bass, the almost seamless balance in the sound, and the noticeably better resolved treble have made this a speaker we would definitely recommend close contact with. They require some space in the room, but are relatively easy to operate for an amplifier, and very easy to like for the listener. Regardsless of musical taste.
DEEP BASS FROM SMALL CABINETS
There are several ways to squeeze extra bass out of speakers. The transmission line is not the most common, but the most efficient.
A transmission line is not quite like a bass reflex port, which is the most common way to compensate for missing bass.
Bass reflex is not only used in small speakers, it is also found in large speakers, and works so that an open port in front or behind the speaker adds a little extra depth in the bass region. It joins with bass, where the bass element must give up.
But where the bass reflex may add half an octave to the bass, the transmission line can add a full octave. The disadvantage of this principle is that the effect of the transmission line varies with the volume. And that the cabinet volume must be rather big for it to have any effect.
To get deeper bass, the transmission line must have a quarter wavelength, which means that it must be 4.3 m long to get the bass down to 20 Hz. This is not very feasible in a slim floor-standing speaker.
PMC has worked for a long time to perfect the transmission line. They have refined the attenuation, adapted it to the volume of the speaker, and worked to attenuate turbulence. This has made the bass even more linear, regardless of how high or low you play.
PMC calls it Advanced Transmission Line – ATL – and here the cabinet is cushioned with a material that absorbs all frequencies except the deepest. Thus, only the deep bass is led through the cabinet, and you achieve increased range in the bass, reduced distortion at low frequencies, and not least audible bass even when playing low. Also, an ATL does not have to be as long as a traditional transmission line.
In Twenty5 24i, they have taken it one step further. When so much air is to flow out through a gate or funnel, turbulence is created which affects the sound quality of the bass. Many have tried to solve this in the past, with rounded edges, asymmetrical shapes and damping material.
PMC calls the solution Laminair, and it is taken from Formula 1 cars, where aerodynamics are extremely important. PMC believes that Laminair removes turbulence and provides a cleaner, tighter and better defined deep bass than a regular door.