Lasse Svendsen
Published

2022-11-23 - 9:00 am
Brimming with playfulness. Sparkling with dynamics and warmth, it plays bass with an authority not associated with small speakers. As close to perfect as you can get for the money.
Relatively limited deep bass.
Specifications
Type: 2-vejs kompakthøjttaler
Bas: 20 cm C-CAM RST II
Diskant: 25 mm C-CAM
Følsomhed: 87,5 dB
Impedans: 8 ohm
Frekvensrespons: 35 Hz – 35 kHz
Delefrekvens: 2300 Hz
Maks belastning: 120 w
Anbefalet forstærkereffekt: 40-120 w
Mål/vægt: 37,5 x 23 x 33,2 cm/9,4 kg
Andet: Limited Edition grøn mat lakering
Web: monitoraudio.com
Of course, a 50th anniversary is something to celebrate, and Monitor Audio does it with style. They could do like many others who celebrate themselves, and make something insanely expensive that no one would afford – or make a signature series, with a brass plaque affixed, to the applause of, well, no one.
Instead, they've opted for a far more sober, and – if I may disclose it already – very successful solution.
Using the Monitor Audio Silver 100 7G (seventh generation) as a starting point, they've created a special version to celebrate their 50 years as a speaker manufacturer. Technically, it is identical to the Silver 100 7G, which is available in different colours and wood-finish versions.
The Silver 100 7G Limited Edition stands out with a gorgeous silk and green lacquer finish, gold-coloured diaphragm on the 20 cm C-CAM midwoofer, and a gold-plated plate on the back showing which of the 999 pairs produced you have acquired.
It costs a little extra to make a relatively small run of a speaker model, so the green anniversary edition adds at little to the price of a regular pair of Silver 100 7Gs.
Whether it's worth it depends entirely on the eye that beholds, because as suggested earlier, there's no sonic advantage to opting for a set of Silver 100 7G Limited Edition 50s.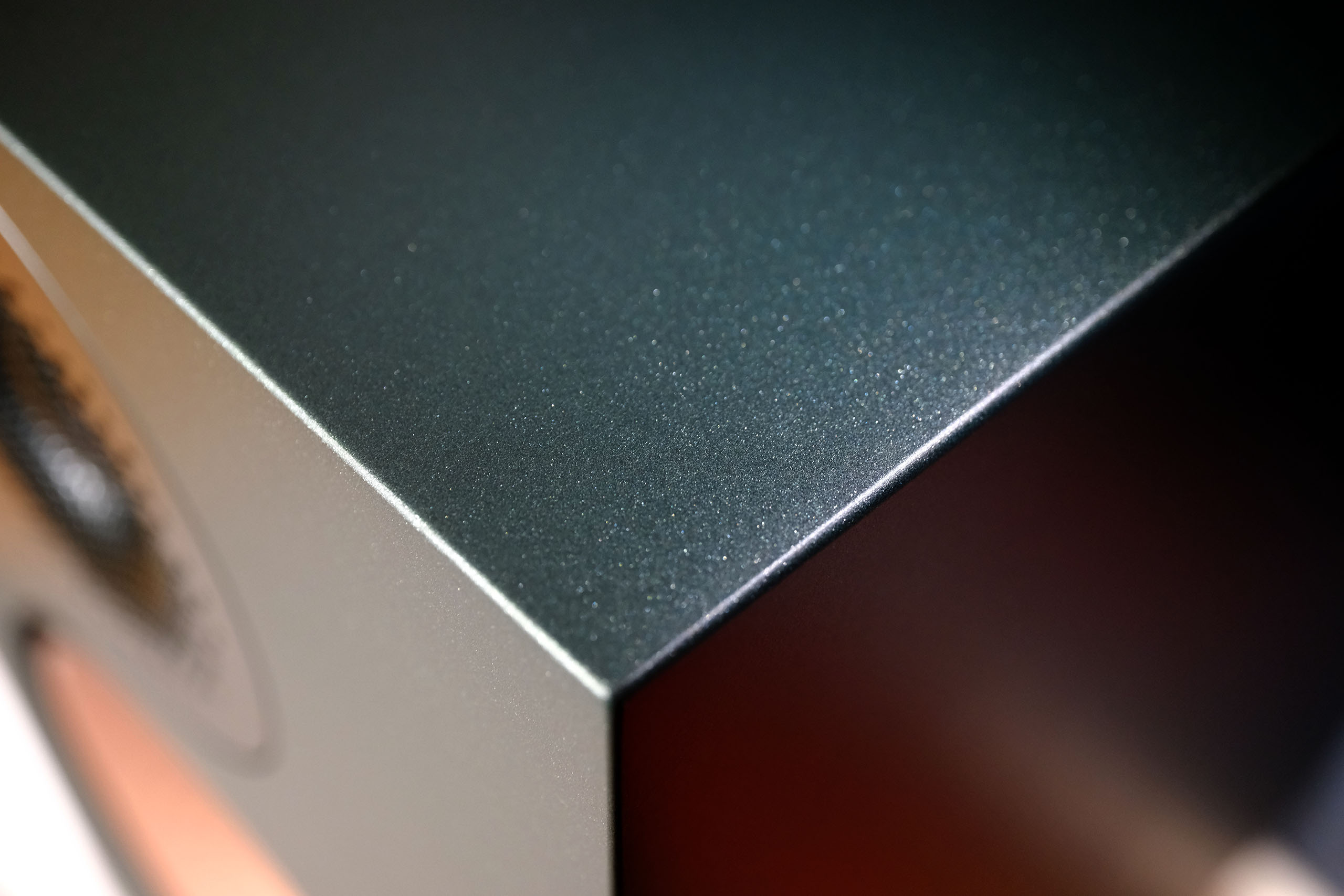 How they are made
But wow, do they look good in contrast with the bluish-green wall I put them up against in the first phase of the test. The speakers are by no means among the smallest bookshelf speakers we've tested. With a height of just over 37 cm and a depth of over 33 cm, they take up a lot of shelf space. My suggestion is to put them on a pair of stands or on a table. Preferably with three IsoAcoustics mute feet under each pair, to dampen resonances and clean up the bass.
You usually do well with the rubber feet the speakers come with, and if you're placing them close to the back wall, you can dampen the excessive bass with foam plugs gently pushed into the bass reflex port on the back.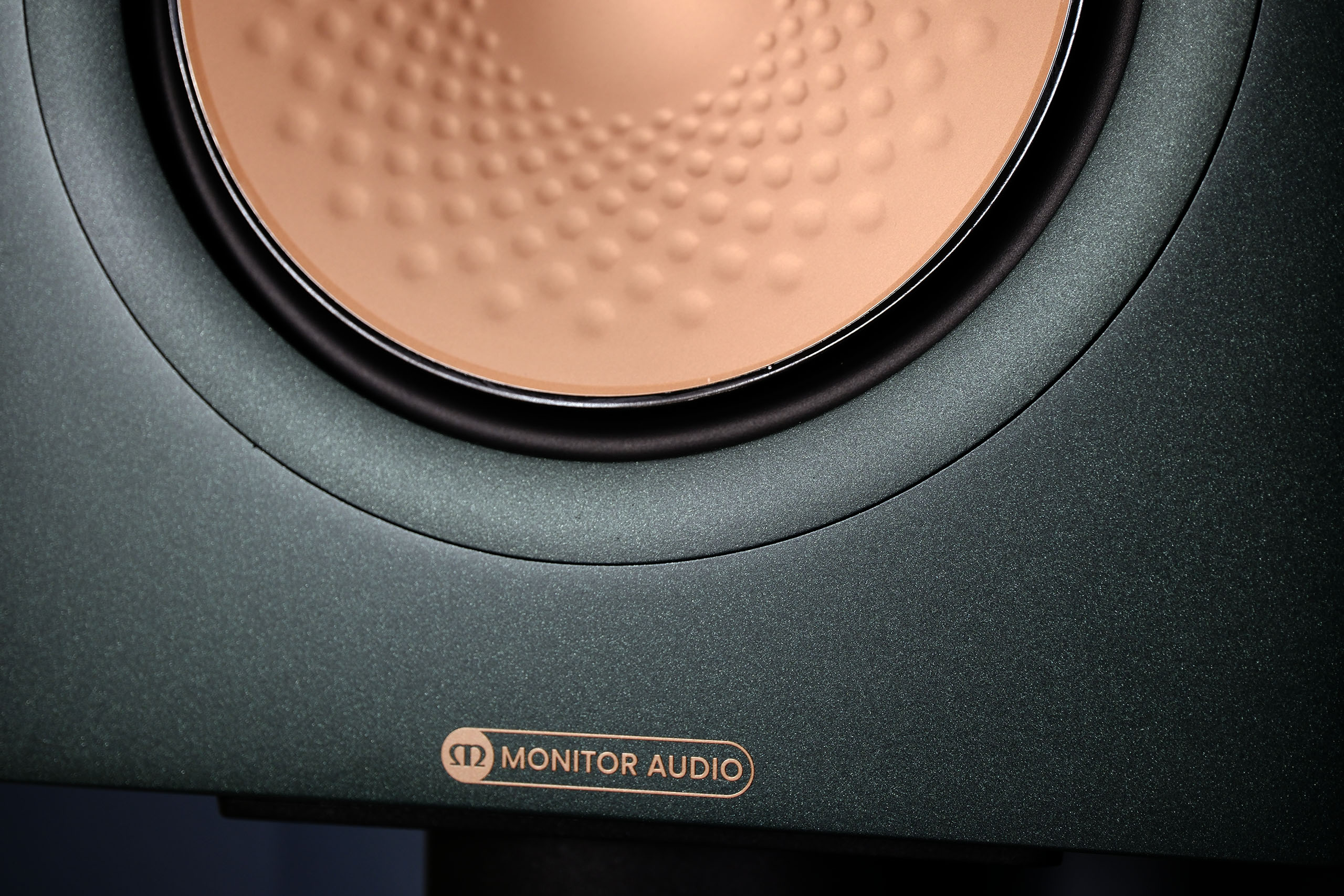 Speaking of the latest, i.e. seventh generation of Silver speakers, the green speakers contain Monitor Audio's most modern drivers. Here is 20 cm midwoofer with Monitor Audio's second-generation Rigid Surface Technology – RST II. It's characterised by the small indented pits in the aluminium alloy of the cone. The purpose is to stiffen the diaphragm without adding weight, and prevent it from breaking up and distorting.
The tweeter below the grille above features Monitor Audio's Uniform Dispersion Waveguide II. It has been upgraded with a compression ring that dampens distortion and increases the unit's sensitivity. Monitor Audio has also improved the magnet structure, created a new grill design in a hexagonal pattern, and inserted a vented rear chamber that releases unwanted energy behind the diaphragm, providing a smoother frequency response.
A new third-order crossover is also included here.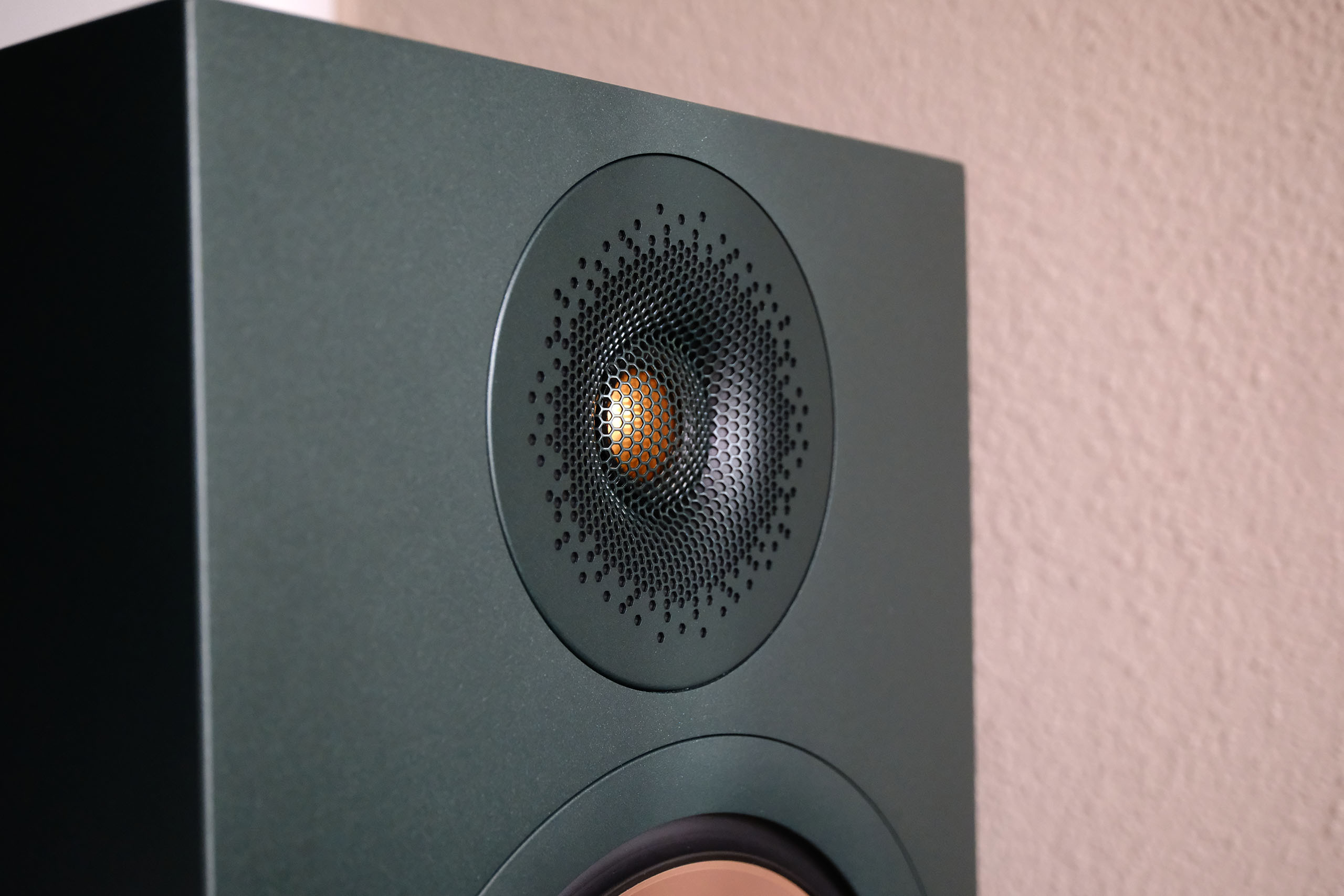 Will shake you up
Previous generations of speakers from Monitor Audio have often won our reviews. With few exceptions, they've always made very listenable and well-performing speakers. This is clearly the best generation to date, as the compact Silver 100 7G blows the competition away with bass response you wouldn't think possible from a compact speaker.
The relatively inexpensive NAD AMP1, a small streaming amplifier with Chromecast and Bluetooth, delivers 40 watts of power per channel and had no trouble with the Silver 100 7G.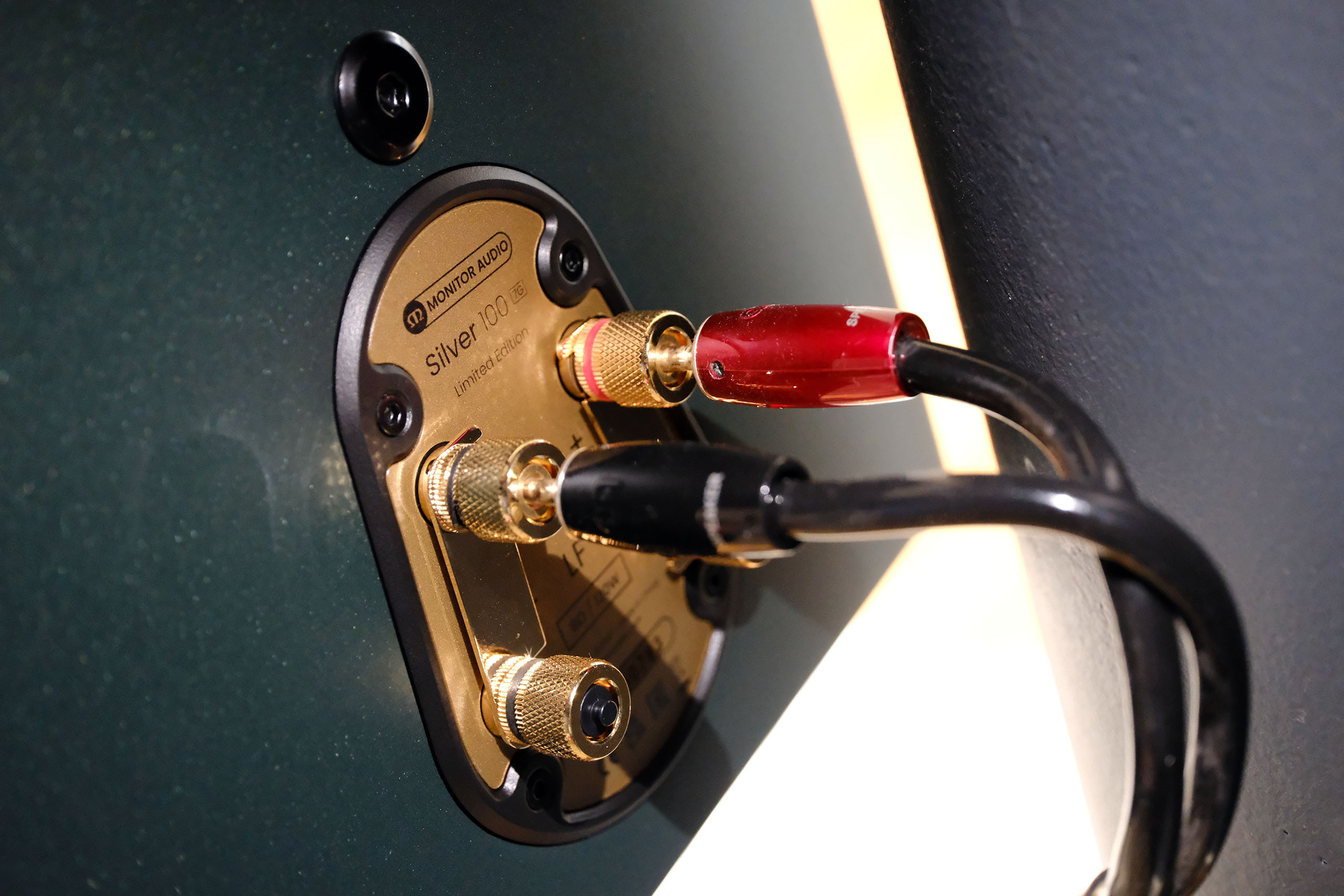 With it, I could play Marius Neset's Happy from the album of the same name as loud as I wanted. The bass at the beginning of Happy sounds like it's being played on a much larger speaker. The rim shots on the drums are well defined and the soundstage is big, airy and warm. Not as slender as on some previous Monitor Audio speakers have been.
With the six times more expensive Hegel H190, things get even faster. The bass goes much deeper – you don't need a subwoofer, and the soundstage opens up even more. The speakers suddenly have the ability to bring out nuance and detail in the soundstage, and when I switch to Thomas Dybdahl and Beharie's Treat Me So Bad, the soundstage has even more depth. These little speakers don't exactly play small.
I experienced the same thing with Bruce Springsteen and Sam Moore's Soul Days, where the vocal reproduction of the speakers was so realistic and defined that I thought of speakers in a completely different price range. The horns on the track are reproduced with infectious energy, there is never a sharp note coming out of the speakers, and the bass reproduction has exemplary authority.
It seems that these little speakers have almost no limitations. That's rare, especially in this price range.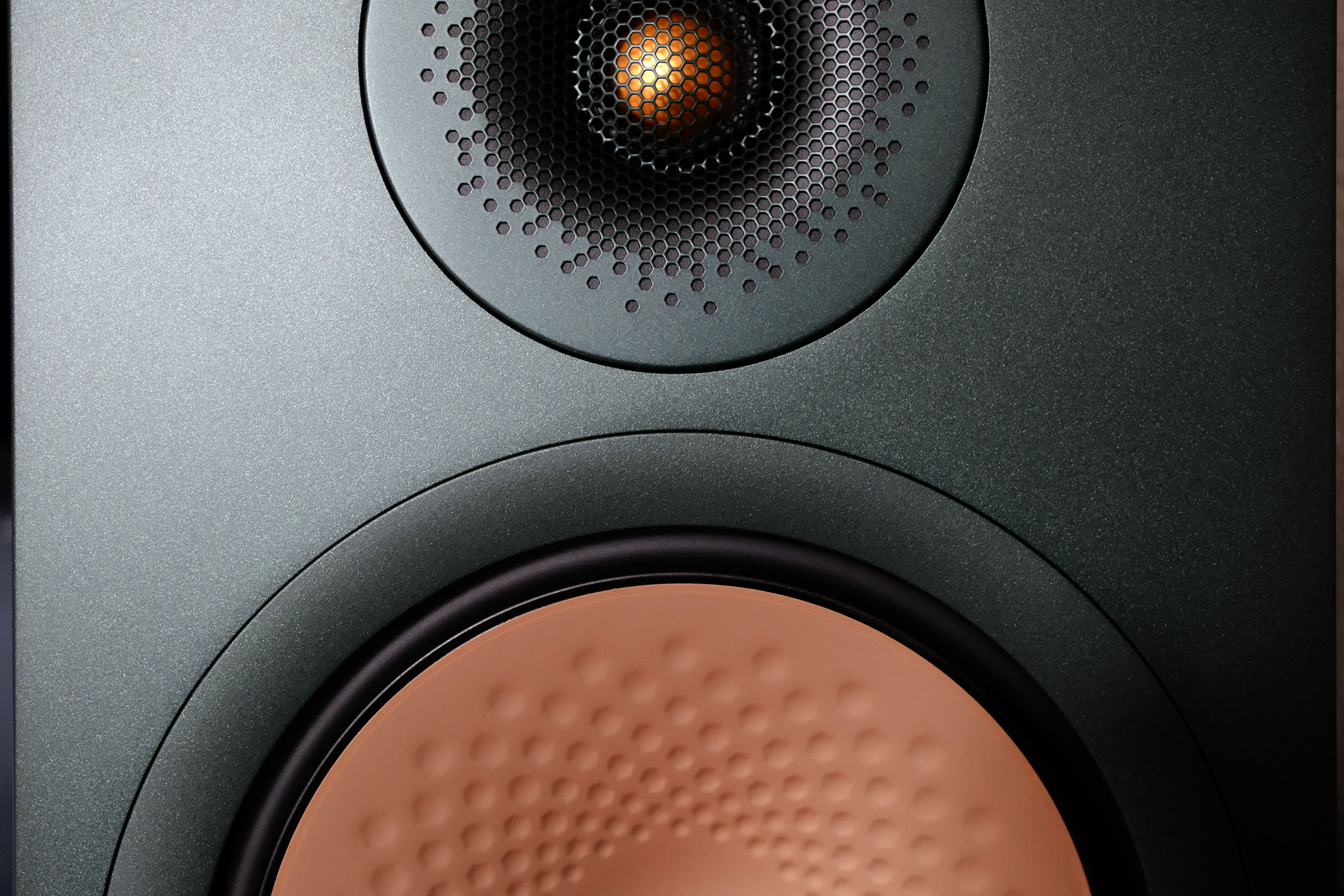 For the fun of it, I hooked up one of our reference amps from an even higher price range: the Yamaha A-S3200. A truly magnificent design that opened up the speakers even more, and told me how much is really hidden in those little speakers. Which cost a sixth of the amplifier. With the A-S3200 connected, the bass stretched even further down in frequency, showing that Monitor Audio has succeeded quite excellently with the speakers.
Alternatives
The slightly smaller JBL L52 Classic is a good alternative, with a retro look that appeals as much to the emotions as to the ears. There you get a fond bass and sparkling dynamics, but not the same sophistication as in the Silver 100 7G. You get that with the Audiovector QR1, but they don't have the same authority in the bass. The little Lumina II speakers from Sonus Faber do, though. One of our favourite pairs in this class, with exquisite tone and masterful balance, but they're not particularly dynamic. And don't play very loud either, for those who think that's important. But eminently distinguished speakers they are.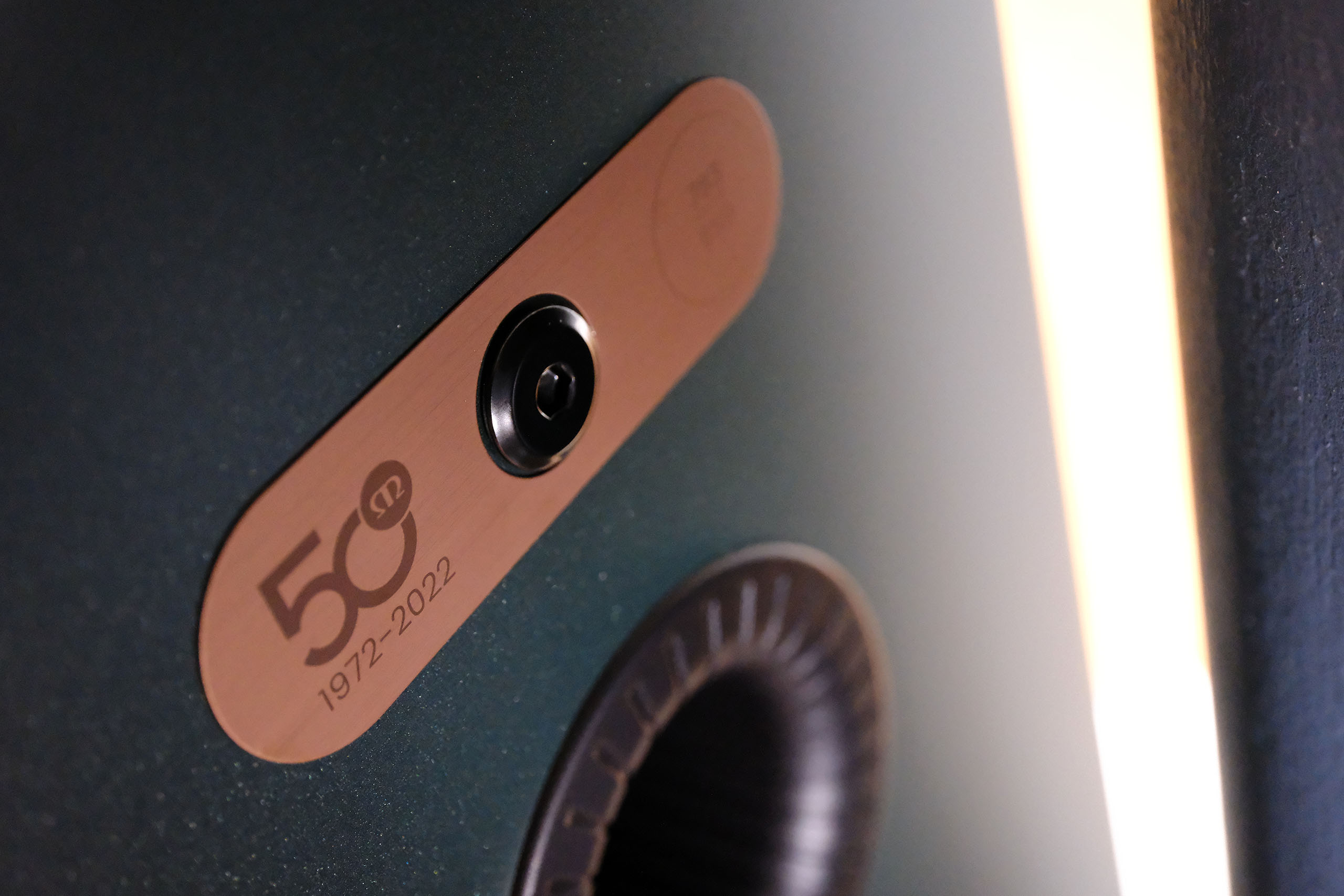 Conclusion
The small Silver 100 7G in Limited Edition costs close to a few hundred more than the unlimited version. You can therefore save money by buying the regular edition, and get exactly the same great sound quality. For this is really an extremely good buy, even the more expensive and very green Limited Edition, which makes the speakers more exclusive. These speakers have far fewer of the drawbacks usually associated with bookshelf speakers in this price range, and are simply a delight to listen to. Every time. There is probably no better sound for the money than in the Monitor Audio Silver 100 7G. Limited Edition or not.