Lasse Svendsen
Published

2021-09-21 - 8:00 am
Weightless and open sound image with extreme precision and level of detail. Crystal clear midrange and beautiful sound.
A hassle to set up properly. Does not play very loud, and lacks proper deep pass.
Specifications
Type: Two-way floor-standing speaker
Woofer: Ribbon element
Tweeter: Ribbon element
Sensitivity: 86 dB
Impedance: 4 ohms
Frequency response: 50 Hz – 24 kHz (-3 dB), 26 hz -6 dB
Dimensions / weight: 122 x 37 x 2.5 cm / 22.6 kg
Other: Black or. gray, beige fabric, natural, black oak, el. cherry lists
Web: magnepan-europe.com
They look more like cubicle walls rather than speakers. Magnepan's Little Ribbon Speaker are the flattest speakers we have tested, and at the same time some of the most exciting we have heard in this price range.
The reason they are so flat, one inch thick only, is that they do not use ordinary speaker drivers, such as the ones you will usually see in a box-shaped speakers.
Magnepan does not actually use ordinary, dynamic elements at all. Instead, they have focused entirely on ribbon elements. That apart from the fact that they also set the air in motion when power is applied, operate completely different from conventional dynamic drivers.
As always when a speaker manufacturer chooses to go their own way, it is about wanting to create a speaker that has fewer compromises, and often better sound than regular speakers.
Roughly speaking, the most common speaker designs can be divided into two categories: those that use standard dynamic speaker elements, and those that do not. In the first category we find the vast majority of manufacturers. It does not matter if they are called Dynaudio or Klipsch, they use, like almost all other, dynamic elements with diaphragm, voice coil, magnet and suspension in different variants.
Magnepan falls into the second category.
Their speakers may look like electrostatic speakers, but the ribbon elements in the LRS here, do not need a power supply to put enough voltage on the diaphragm – as on a pair of Quads, but do just fine without.
Pole piece, membrane and magnets
The basic principle of a band element is to combine a thin membrane, preferably in aluminum, with a pole piece and magnets, in a construction where the power supply from the amplifier, triggers the magnetic field that causes the thin membrane or foil to move.
Such a band construction is not so efficient at low frequencies, since the diaphragm moves much less than the diaphragm on a dynamic speaker element.
So to get enough bass out of a band speaker, you need a large diaphragm area.
Some challenges
So have the bass element on the LRS, which covers most of the surface from top to bottom, and is flanked by a thin vertical, ribbon tweeter next to it. That is, Magnepan actually calls it quasi-ribbon element, because LRS uses a mylar film as a membrane instead of the conductive aluminum foil in a 'real' ribbon speaker.
Regardless of the membrane material, the element is completely free-standing mounted in a frame, and radiates both forwards and backwards. It presents a couple of challenges for anyone who falls in love with the sound of a ribbon speaker.

Placement
They can not be hung on the wall. In fact, they are a bit picky in regards to placement, and the accompanying manual describes well the steps that are needed to get the most out of the speakers.
Among other things, they should be placed some distance away from the back wall. They should also be angled inwards, but not so much that the treble element comes closer than the bass element. The speakers are delivered as mirrored pairs, and Magnepan recommends placing them with the high frequency ribbons away from the centre.
I found that Magnepan's manual was instructive and easy to understand, but a little extra experimentation with both placement and angle did wonders for the sound.
The speakers can also be tilted forward if you sit very low and think that there is a strange balance in the sound image.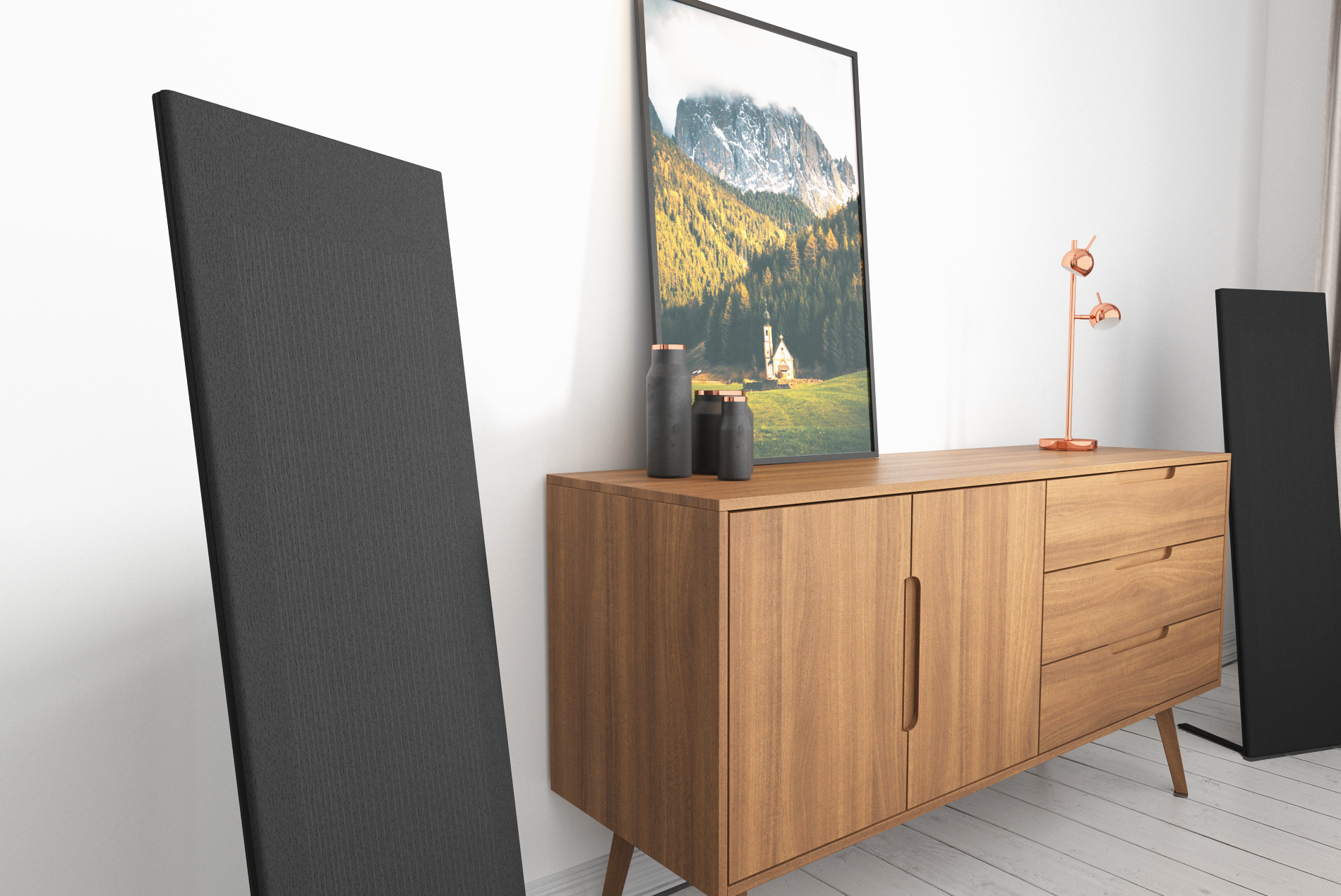 Outlandish connections
The speakers are not supplied with standard cable terminals. You need a small Allen key and a few tiny screws, a fair amount of patience to make a stable connection with a set of banana plugs. And fastening the tiny screw with the hopeless Allen key.
One more thing. It comes with two resistors. 1 and 2 ohms, which can be mounted into two identical terminals located under the binding posts. The two resistors should be mounted if you think the treble is too dull. They lift the treble resp. 1 and 4 decibels, which can work well if you have a very dampend room.
But I must admit that I would have preferred a couple of more solid terminals, and a toggle switch instead of the included resistors.
There is also a 3 A glass fuse where to prevent an amplifier out of control from frying the treble element.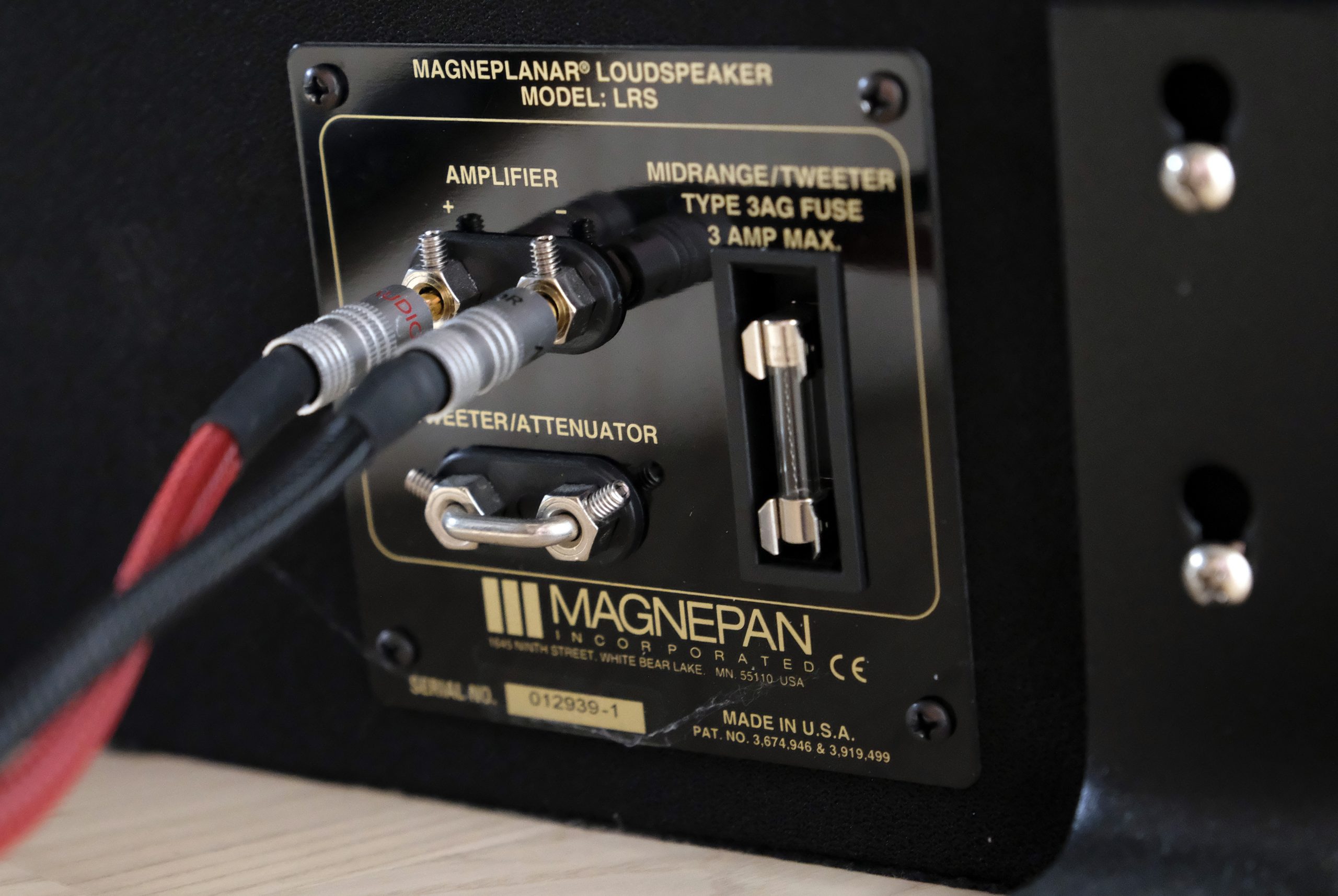 Weightless and focused
The Magnepan speakers are relatively small to be ribbon speakers. As such, they do not have the same weight in the bass as the larger 3.7i or 30.7, and after 50 Hz they roll off abruptly in the bass. This is one of the reasons why optimal placement is important, it is only then that you can get the bass in the right balance with the rest.
So they do not go as deep as a pair of floor-standing Dali Oberon, nor as high. But they have none of the box speakers' tone or color at all. Instead, you are presented with a transparent, relatively neutral to warm sound image, with excellent focus and close to zero coloring or emphasis.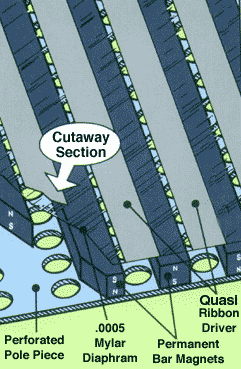 Voices are what LRS excels particularly at.
Nina Simone's Little Girl Blue, sounded grippingly beautiful and the vocals on the old recording, so close and real that I was a little moved. The vocal sound was big, warm, light and focused, the sound from the piano very powerful. On Brad Mehldau's Live in Tokyo, the Magnepan speakers managed to recreate some of the great sound in the Sumida Triphony Hall. Just enough to get the nice concert feel, where depth is so important.
Of course, the very lowest octave on the piano was not presented with the same weight and dynamics as a pair of PMC Twenty5 24i or Dynaudio Special Forty, but the speakers' 'diction', or precision in the bass, is little to complain about.
The snare drum on Al Jarreau's Cold Duck, hit like a bullet in the room, and the speakers gained more than enough weight behind both the bass and the larger drums. Here again, the vocal reproduction was brilliant, and I could play loud enough without distortion, so that it was a hefty experience with proper swing.
You do not notice anything to the treble until it is suddenly there. That's a good thing. But I could have preferred a little more weight in the bass, something you can of course fix with a KEF KC62, or another compact subwoofer.
The Magnepan speakers are relatively easy to drive. You need an amplifier with a little torque. For example. a Hegel H95 or an Electrocompaniet ECI 80D. But of course there is even better sound with a Hegel H190 or an ECI 6DX II, which has better control over the speakers' 4 ohm load impedance.
Conclusion
Magnepan LRS is an unusual speaker in every way. If you succeed in making them work well in the room, you get some musical experiences that are difficult to find in this price range. Let go, they do not play so loud, nor deep, but the music sounds weightless, focused and so natural that it is difficult to fall in love with box speakers afterwards. Add a small sub and you have a full-fledged facility that knocks on the door of the high-end, without spending obscene amounts of money.