Audun Hage
Published

2021-10-15 - 7:00 am
LG Eclair offers Dolby Atmos and DTS:X surround sound from a tiny soundboard and compact wireless subwoofer, which is suitable for places where ordinary soundboards will not fit.
The sound is not particularly engaging, and many will benefit from choosing a larger soundbar.
Specifications
HDMI: (2.1) 1 in / 1 out (eARC)
Digital input: Optical, USB-A
Network: No.
Wireless: Bluetooth
Voice control: No
Analog input: No.
Subwoofer: Yes, wireless
Audio formats: Dolby Atmos, DTS: X
Dimensions: 29.1 x 5.9 x 12.6 cm (W x H x D)
Colour: Black or white fabric
Web: lg.com
A soundbar is a practical and easy way to improve the TV sound, but the big black bar is not very interior-friendly. A long and heavy, angular plank in black metal rarely goes well with the posh furniture. But there are some exceptions! LG has launced a cute looking soundbar that takes up very little space. It has been named Eclair, which is a French expression for small and delicious, cream-filled cakes. Does that mean we can expect creamy sounds in a small package?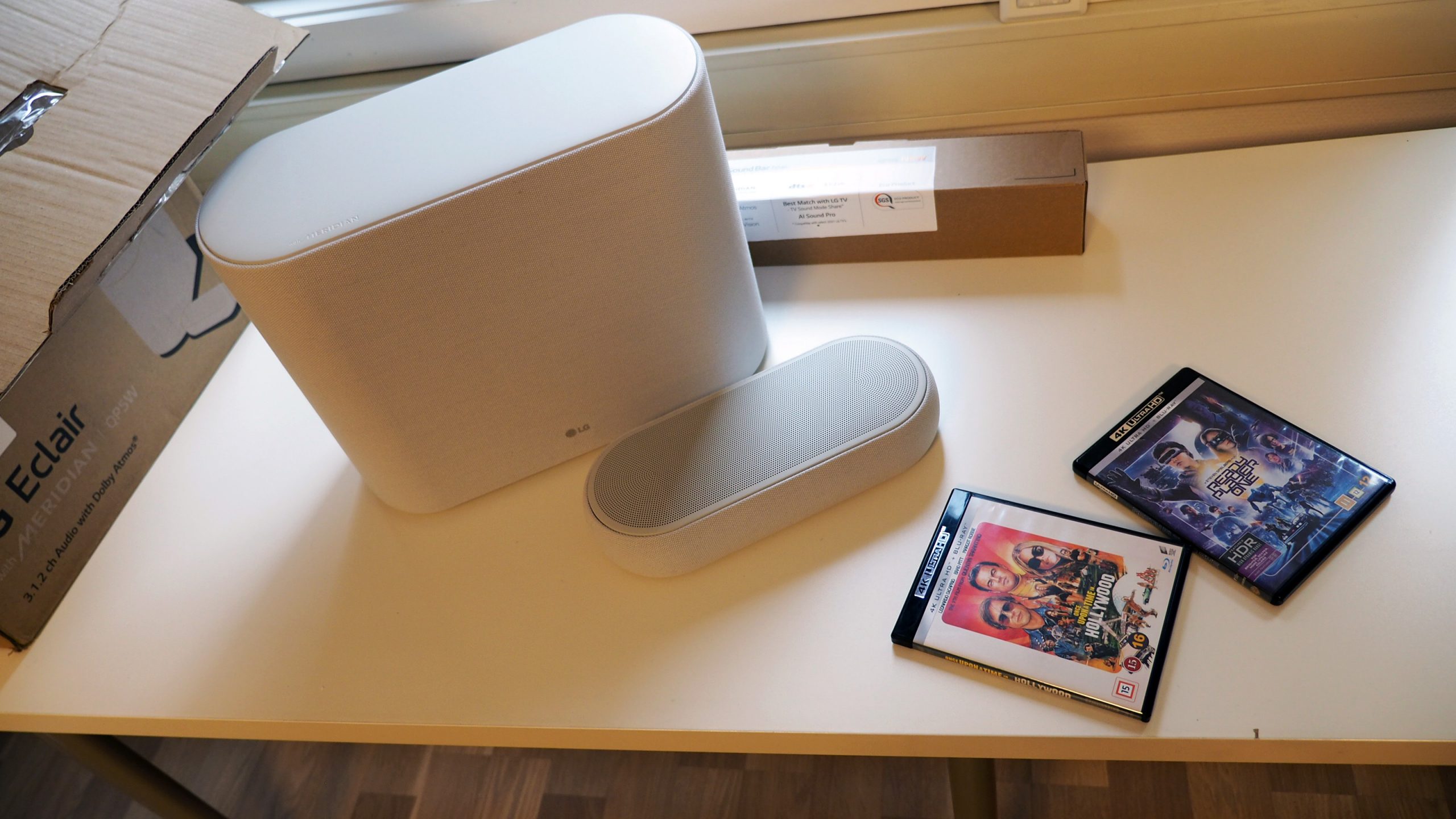 LG Eclair: Tiny soundbar with Atmos sound
Eclair has to be the smallest soundbar we have laid our hands on: barely 30 centimeters wide and 6 centimeters high. In fact, it is so small that it can easily be confused with a compact portable speaker! The tiny bar comes with black or white fabric cover, and has an oval design that makes it visually appealing and eye-friendly. To help with the heavy work, it also has a compact, wireless subwoofer in matching design.
Our immediate first impression is that this will be a great sound package for smart and compact design TVs, such as Samsung The Frame or LG's own Gallery OLED.
The connection options are sufficient: There is both HDMI in and out, so you can connect a video source – for example a game console – and pass on the image on to the TV. In addition, there is HDMI eARC (audio return channel) that picks up the sound directly from the TV. Then you also get better sound from the TV's own apps, such as YouTube, Netflix and more.
However, the LG bar has somewhat limited options for music playback. It has to do without Wi-Fi or network access, and one must therefore look far for services such as Spotify, Airplay and the like. On the other hand, the soundbar supports wireless connection via Bluetooth, so you can play music from your mobile.
The tiny LG Eclair has HDMI in/out, USB, Bluetooth and optical input, but no Wi-FI/Ethernet. (Photo: Audun Hage)
Easy to set up – but somewhat hard to use
The LG Eclair is refreshingly easy to set up the first time. We unpacked the speaker and subwoofer, put them in place by the TV and connected to the sound system via HDMI eARC. In just a few minutes we had activated the sound. We were also able to quickly verify support for Dolby Atmos via Netflix.
However, the operation could have been better: Eclair comes with its own remote control, and the bar is equipped with some small LEDs that tell the status and sound level. But it is not easy to decipher what the various symbols mean. We would have preferred a full-fledged display – if there had been room for it.
When you want to make advanced settings, LG directs us to use their Soundbar App via mobile. But since Eclair does not have Wi-Fi, it must instead connect via Bluetooth. This makes it difficult to adjust the sound at the same time while watching TV, for example. Doh!
That said, Eclair works perfectly for everyday use, where you normally only use the TV's remote control to control the volume.
Note! When the soundbar is as compact as this one, it can be tempting to put it inside a shelf or hide it away in a bookcase. However, you should avoid covering the top of the speaker because of the so-called "height speakers" which are directed towards the ceiling.
Sound quality
So to the most important thing, namely the sound experience in practice! LG has packed the Eclair with full 3D sound, with support for widespread audio formats such as Dolby Atmos and DTS:X. As if that were not enough, they have received help from the sound engineers at English Meridian in the development of the speakers. Eclair user is a so-called 3.1.2 configuration with its own "height channels" on top, as you normally only find on thoroughbred Atmos bars.
With specifications like this, expectations are raised for a pretty hefty sound experience. Unfortunately, they are not completely met.
When we play our usual test scenes from The Irishman, it should normally sound strong and clear when DeNiro and Pesci discuss their next assassination. In LG's case, however, it sounds quite woolly and confined: the gangster masters mumble, and the sound never really comes out. In addition, we get a rather diffuse feeling of the background music and sound effects.
Eclair also sounds a bit strained at high volume. It sounds quite sharp when we challenge it with the exchanges of shots from Fast Money. The wireless subwoofer does its best to back up with deep bass tones, but only partially succeeds. The sound image is characterized by the subwoofer being slightly out of sync with the soundbar. Explosions and rifle shots do not sound as coherent as we are used to, and they get a slightly hollow sound character.
Nor is the reproduction of music particularly engaging. Our concert recordings with Dua Lipa get a slightly annoying coloring of the voice, where it also sounds a bit stuffy and toned down. The guitar strumming and bass also do not feel very precise. The projections from the subwoofer could have been firmer, and the timing better.
Conclusion
LG Eclair is a small and good-looking soundbar that can be squeezed in where other soundbars are too large. This can be a nice and fun upgrade to really small TVs (32-43″) and to small rooms where you do not need massive sound pressure anyway.
Unfortunately, our impression is that LG (in search of a compact soundbar) may have pressed the "shrink" button a little too hard. Something the soundscape also bears the mark of. Because beyond the great design, Eclair does not quite succeed in engaging in either music or TV sound.
Most soundbars are about as wide as a TV, but there is a reason for that. In order to provide good dispersion and separation between the channels, a certain distance between the speakers is normally also required. With many small speakers close together, Eclair simply sounds a bit diffuse compared to the best soundbars in the class.
If you are looking for a compact soundboard, we have better experience with the Polk Magnifi Mini, and not least the Sonos Beam which has just received an Atmos upgrade.