John Hvidlykke
Published

2020-09-26 - 9:30 am
Elegant speakers with such high WAF that they are not referred to the master bedroom in the basement. Great and pleasant sound.
You can buy multi-room speakers for all rooms in the house for the same amount. Or a set of traditional speakers with better sound.
Specifications
Equipment: 8 "subwoofer, 2 x 4" bass / midrange, 25 mm dome treble
Construction principle: Bass reflex, 3-way, active
Frequency range: (not stated)
Built-in amplifier power: 2 x 200 W
Connections: Bluetooth 4.2, Wi-Fi 802ac, AirPlay, Chromecast
Music services: Google, Spotify Connect
Audio formats: HE-AAC, LC-AAC, MP3, Vorbis, WAV (LPCM), FLAC, Opus
Dimensions and weight: Ø 34.7 x 116 cm / 19 kg
Colors: Black or gray upholstery fabric
Web: harmankardon.com
Most smart speakers with multi-room function are discreet small sizes that can be discreetly placed on a shelf from which they can spread background music or answer questions such as "What is the name of the capital of Argentina?" to impress innocent guests.
That category does not fall into the Harman Kardon Citation Tower. The more than one meter high trunks of cones require their place in the living room and attract natural attention. But not in the same way as a pair of traditional speakers of the same size.
The sleek, cone-shaped cabinets are fabric-covered and fall into the decor with an elegance that gives associations to Bang & Olufsen. Which is right on the grain, since the fabric that covers most of the cabinet is supplied by Danish Kvadrat, which also supplies fabric for e.g. B&O.
The top of the speakers is made of plastic, and on the right you will find an OLED panel with touch function, where you can control both music playback and speaker setup. The panel is sharp and well-disposed, and most features are where you would expect to find them.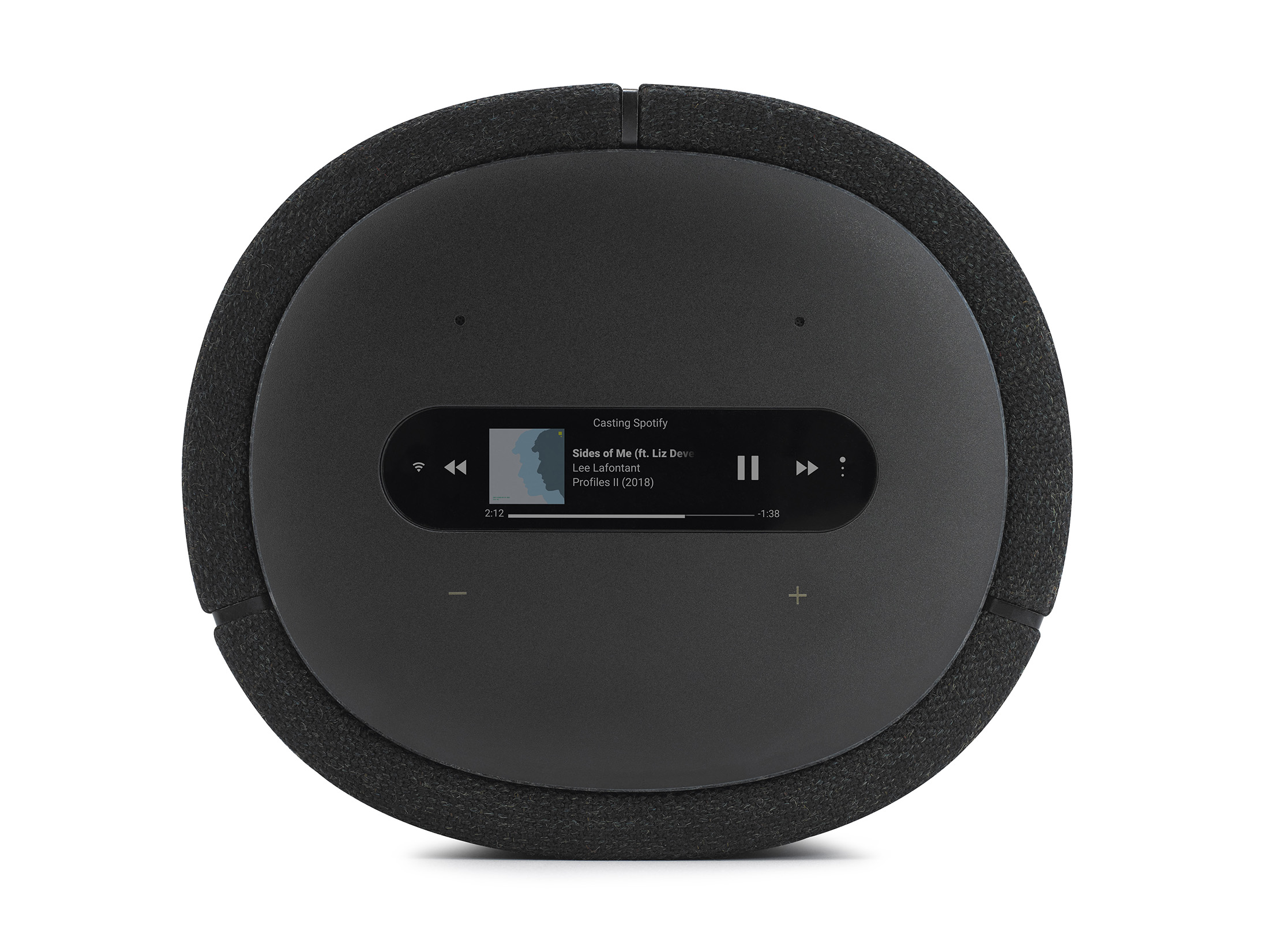 No room correction
Several smart speakers, including Sonos and Dynaudio Music, have built-in room correction to help on unodes in the bass when the speaker is placed in a less ideal location. When we first spoke with Harman about testing the Citation Tower, there was a prospect that space correction would come as well. This did not happen in the end, so you have to settle for regular bass adjustment in the setup menu.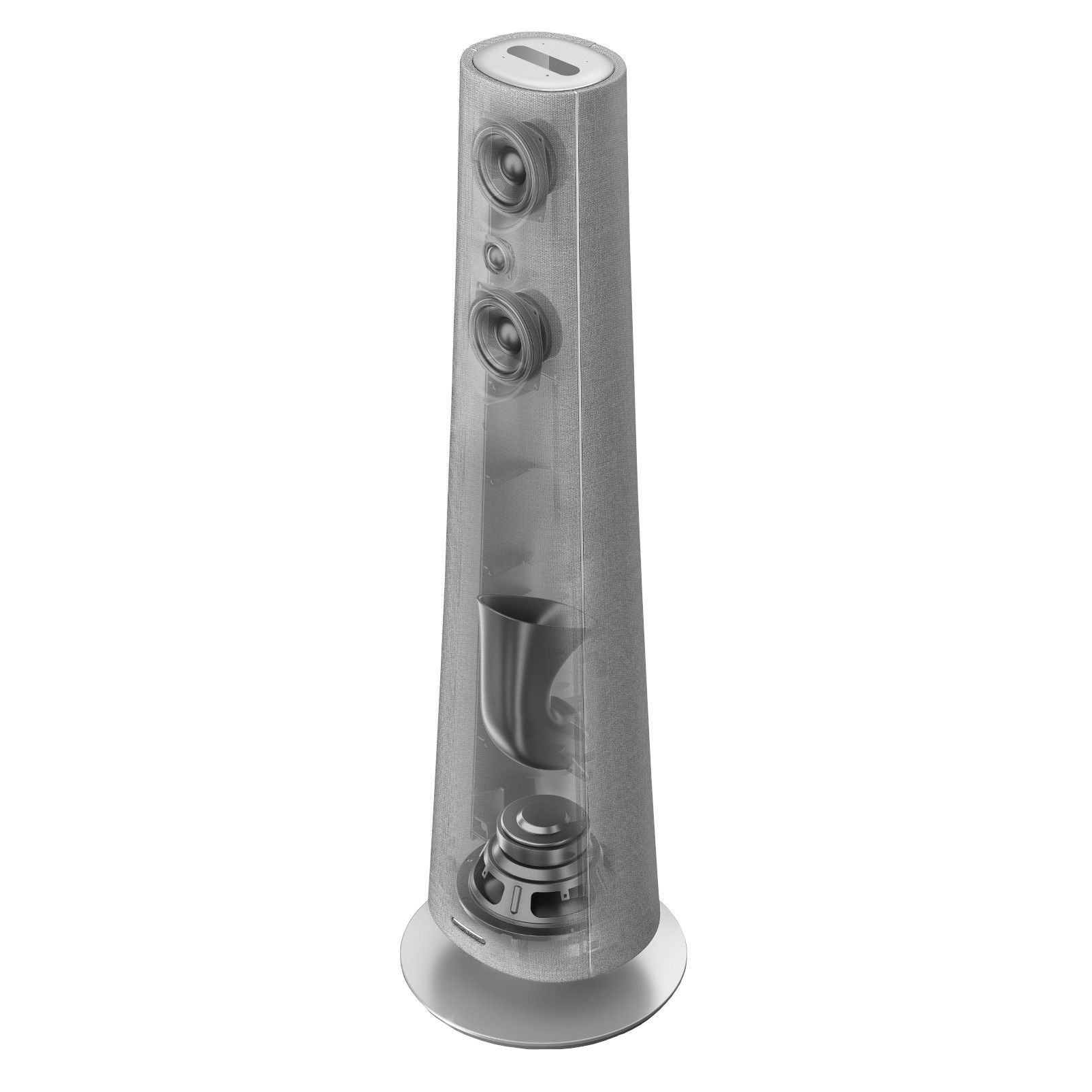 Behind the fabric are four speaker units: a dome tweeter, two 4-inch bass / midrange units and a downward-facing 8-inch bass unit that acts as a subwoofer. What areas the units each cover is not stated. Like the frequency range of the entire structure, and whether active or passive division is used, must be left uncertain. Only an amplifier power of 2 x 200 watts is stated.
Info for radio nerds
The fact that basic data is not disclosed is not uncommon in lifestyle speakers, where that kind of thing is supposed to be less important than design and convenience. On the other hand, you can read several lines in the data sheet about which frequencies the Bluetooth and Wi-Fi connection works at and with which modulation types. Something that is probably at least as uninteresting to buyers as the audio-related data.
Harman Kardon has chosen Google Home as its multi-room and smart platform. In the advertising material, you can read that with Citation Tower you have access to over 300 streaming services. It is only correct in the sense that via Chromecast, AirPlay (not AirPlay 2) and Bluetooth you can play any of the music on the system from a connected device. The services can therefore not be accessed directly from the towers.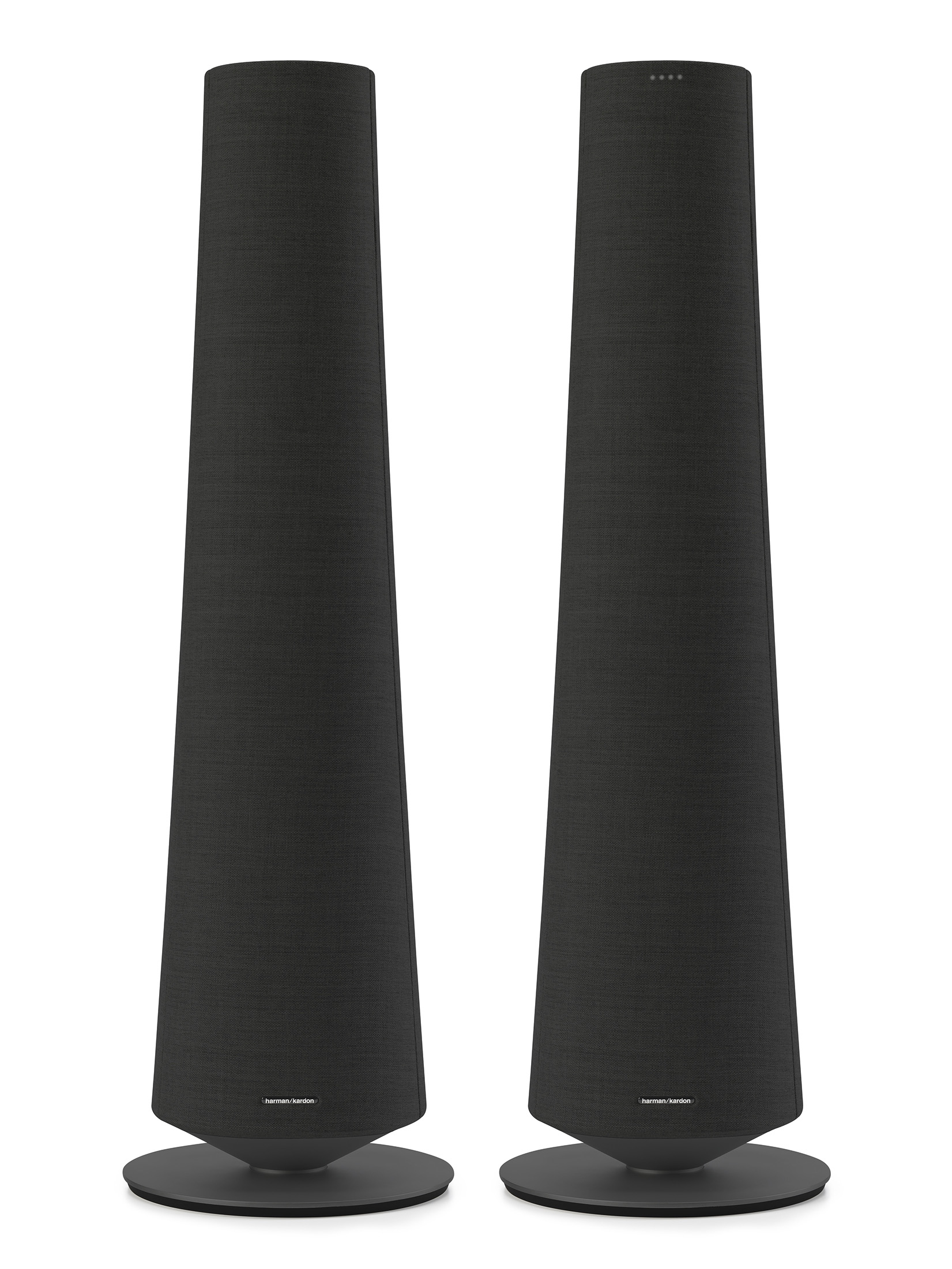 Easy setup
The setup is simple. And even more so if you already have Google Home. It only takes a few minutes before the Citation Tower is incorporated into the household units.
On the physical level, the setup is a little more demanding, as the towers should have the same attention as a conventional set of floor-standing speakers. That is, they are best located some distance from the back wall and corners.
Physical connections are kept to a minimum: there are none. No optical input, analog minijack or HDMI. If you want to use Citation Tower for audio from the TV, it has to be done via Bluetooth, which most newer Smart TVs allow. But here it is rarely possible to fine-tune the synchronization of the sound.
The solution that Harman Kardon recommends when it comes to TV sound through the speakers, is therefore to acquire a Citation MultiBeam soundbar, which has all the physical inputs, and then incorporate the speakers in a wireless surround system, possibly. along with a wireless subwoofer and rear speakers from the same series. Something that brings the total system price up in a very expensive rent.
Harman Kardon Citation Tower: Sound quality
Citation Tower are the biggest smart and multi-room speakers we have had our fingers in, and they manage to put themselves in respect in a way that few of their competitors can. Not only visually, where they take up more space than the alternating stand speakers that usually occupy the place of honor in my living room, but also acoustically.
Most multi-room speakers appear in the singular; either as pure mono speakers or with the speaker units placed so close together that the stereo perspective becomes either very narrow or very diffuse. Citation Tower plays like a "real" speaker, and once you have sat down in the good chair, in the middle between the speakers, the stereo perspective is completely in place.
And what you hear is pleasant. Citation Tower will never make your listening experience unpleasant. Not even when the program is on wall-to-wall heavy-spade on "Pestilence and Plague" with Judas Priest. The bass is round and full without being deep in the basement, and the soundscape slopes towards the heat. Not in the sense that the sound is dark or stuffy. And the treble is still well resolved. It just sounds nice.
The slightly laid-back character is probably due to a slightly subdued midrange that makes voices – and instruments with a basic tone in the same area – seem less intrusive.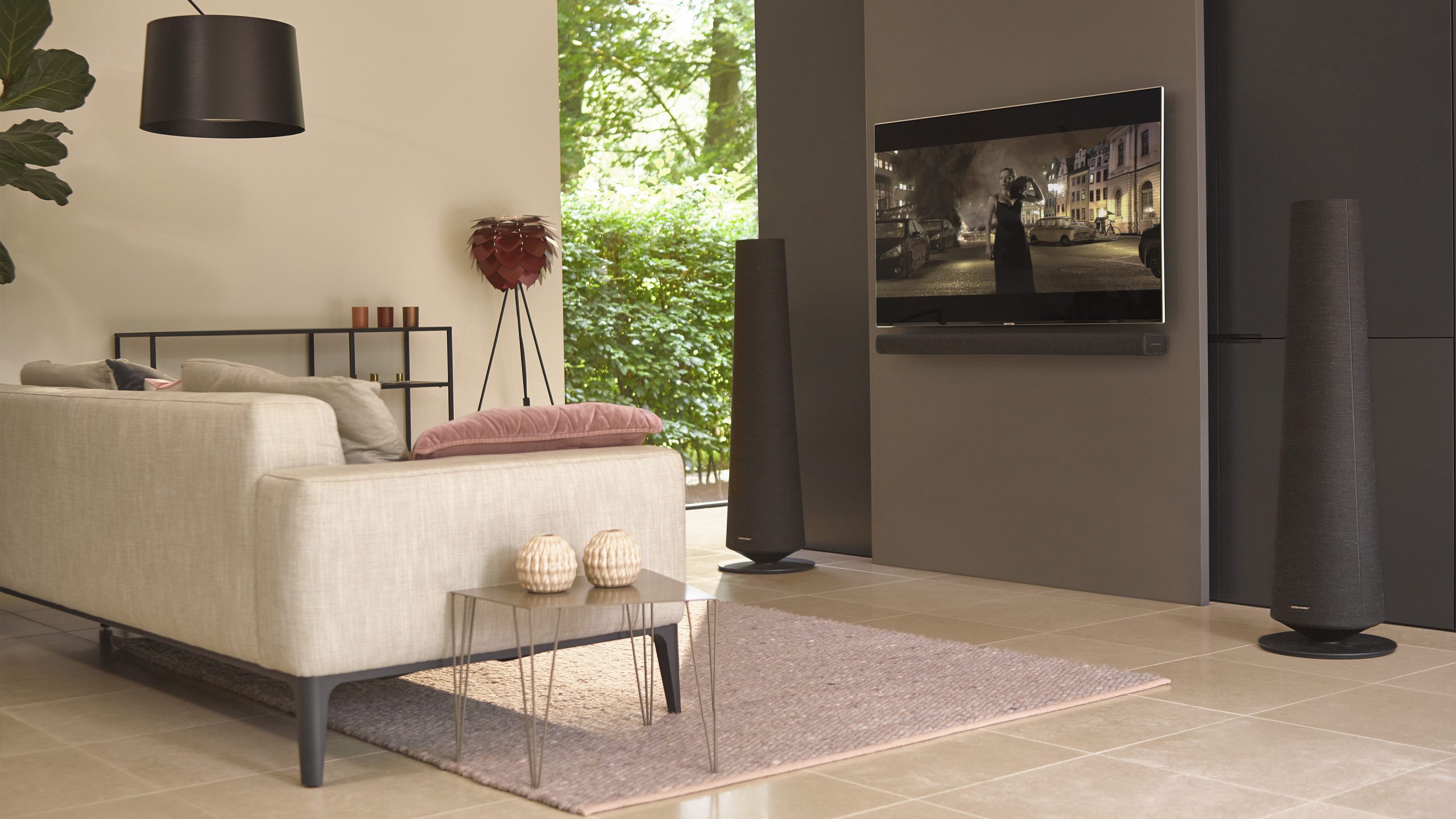 Easy living
The sound image is behind the speakers, and there is a pretty good sense of space (something that ordinary small smart and multi-room speakers can not perform). The space on my arsenal of test classics (here I promised the editor-in-chief not to mention "I'm Confessin '" from Jazz at the Pawnshop!) Is not as clearly defined as on more conventional active speakers like the Dynaudio Xeo 20, but it's still good enough to give the feeling of listening to real hi-fi.
With 200 watts per. side in the back, there are forces to play through – even when the dinner party out in the wee hours develops into a party. Again, we are in a class where you will not find anything similar with more common lifestyle and convenience speakers.
The only multi-room speakers we can compare are Devialet's Phantom series. One can get a single Gold Phantom for what a set of Citation Tower costs. And if I stood with such an amount earmarked for the purchase of high-tech multi-room sound, the choice would probably fall on it, as it is more precise and delivers jaw-dropping much slap for the penny. Even if it would be a monolingual solution.
Conclusion
Harman Kardon Citation Tower is an interesting middle ground between traditional stereo speakers and multi-room smart speakers. They have the convenience and design from the lifestyle products, but also have higher ambitions on the sound side.
The WAF-friendly towers fortunately avoid falling between two chairs – without, however, sitting in the saddle on either side. Considered smart speakers, the set is expensive and space consuming. And considered as active hi-fi speakers, they face stiff competition from more purebred of the kind.
On the other hand, the noble design may pave the way for listing good sound into common areas in the home. And that's always a good thing.