John Hvidlykke
Published

2020-03-04 - 7:21 pm
It sounds like a much larger speaker. USB port for playing files. HD audio.
Voice control is missing for the time being. The app is outdated. No digital inputs.
Specifications
Equipment: 3.5 "bass, ¾" softdome treble
Built-in amplifier: 2-channel, class D (power not specified)
Connections: Ethernet, analog (stereo minijack), USB storage media
Control: HEOS multiroom app for iOS and Android
Wireless: Wi-Fi 802.11n, Bluetooth, AirPlay 2
Streaming: Spotify, Tidal, TuneIn, Napster, Deezer, etc.
Audio formats: MP3, AAC, ALAC, WMA, WAV, FLAC / FLAC HD, DSD (2.8 / 5.6 MHz)
Voice control: no. Google Assistant and Amazon Alexa will come later via update.
Dimensions / weight: 12.0 x 18.7 x 12.0 cm (WxHxD), 1.7 kg.
Web: denon.com
Denon home is the new name for multi-room speakers from Sound United, which is the parent company of Denon and Marantz. They replace the previous speaker series HEOS, which we have tested several of over the years.
Denon Home 150 is the smallest of the three models in the series so far. A tiny speaker that can fit anywhere you want some music, and the price makes it obvious to put it in the children's, guest or bathroom. Another option is to combine a couple of them into one stereo set. It is also a direct competitor to the Sonos One SL.
While the two larger models are stereo speakers that can give at least some kind of feeling of space, the Home 150 is a pure mono speaker. It is equipped with a 3.5-inch bass / midrange unit and a 19 mm dome tweeter.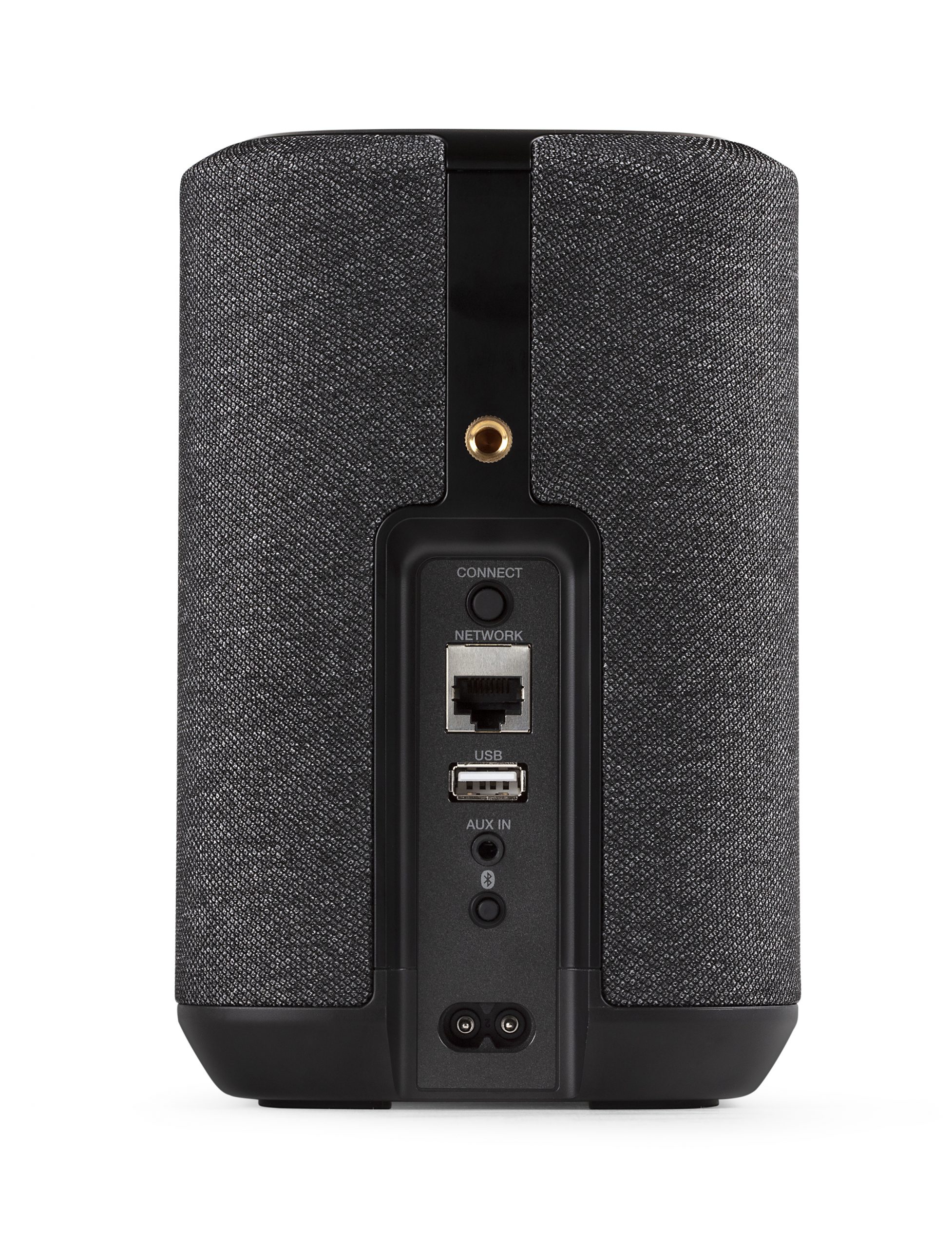 As we are unfortunately used to with multi-room speakers, the amplifier power is not something that is talked about loudly, but each unit has its own class D amplifier. The maximum sound pressure should be just over 93 dB. Not enough to dance, but plenty to wake even the most morning-weary teenager from a safe distance.
Handles most HD audio formats
The Denon Home speakers play practically all the power services you could wish for. Including Tidal HiFi. Thanks to a USB port on the back, you can play music files directly from USB devices. This also applies even if the USB drive is on another HEOS device in the network. In addition, wirelessly via AirPlay 2 and Bluetooth. Like the larger models, Home plays all relevant file formats in both normal and HD resolution. Excluding MQA files.
Setup and operation is done from the HEOS mobile app. And fortunately, the app supports a number of different setup methods, so it is possible to get the speaker online when the automation does not work.
The app needs an update
The HEOS app itself does its job. You can play from all streaming services and files on the devices you want. But it would be a lie to say that it is easy. For example, it is not possible to add more rooms to a playback that is already running. Here you must first build a group and then choose music. In general, the HEOS interface might need an overhaul.
The same applies to firmware in Denon Home 150. When you change pieces of music on a stereo pair, the music immediately changes in the right channel, while the previous melody continues in the left channel for a few more seconds. The same applies if you fast forward or rewind a number. Denon's European headquarters are aware of the bug and promise that it will be fixed in the next firmware update, which will be released via the HEOS app.
We hope that the software people in the same sling will have time to activate the built-in microphone that will be used for voice control, but which has been deactivated for the time being.
The sound quality
Denon Home 150 is the series' smallest and cheapest, so we did not expect the great experiences, but it has actually managed to get a lot of good sound into it.
If we start from the bottom, the Home 150 plays bass like a much larger speaker. This can be done with good DSP programming, and here Denon has been good. That kind of thing is only possible to a certain extent, when the raw material is a 3.5 "unit in a cabinet of a few liters. But as long as the level does not exceed the lively conversational strength, the Home 150 plays bass like a four times larger tripod speaker.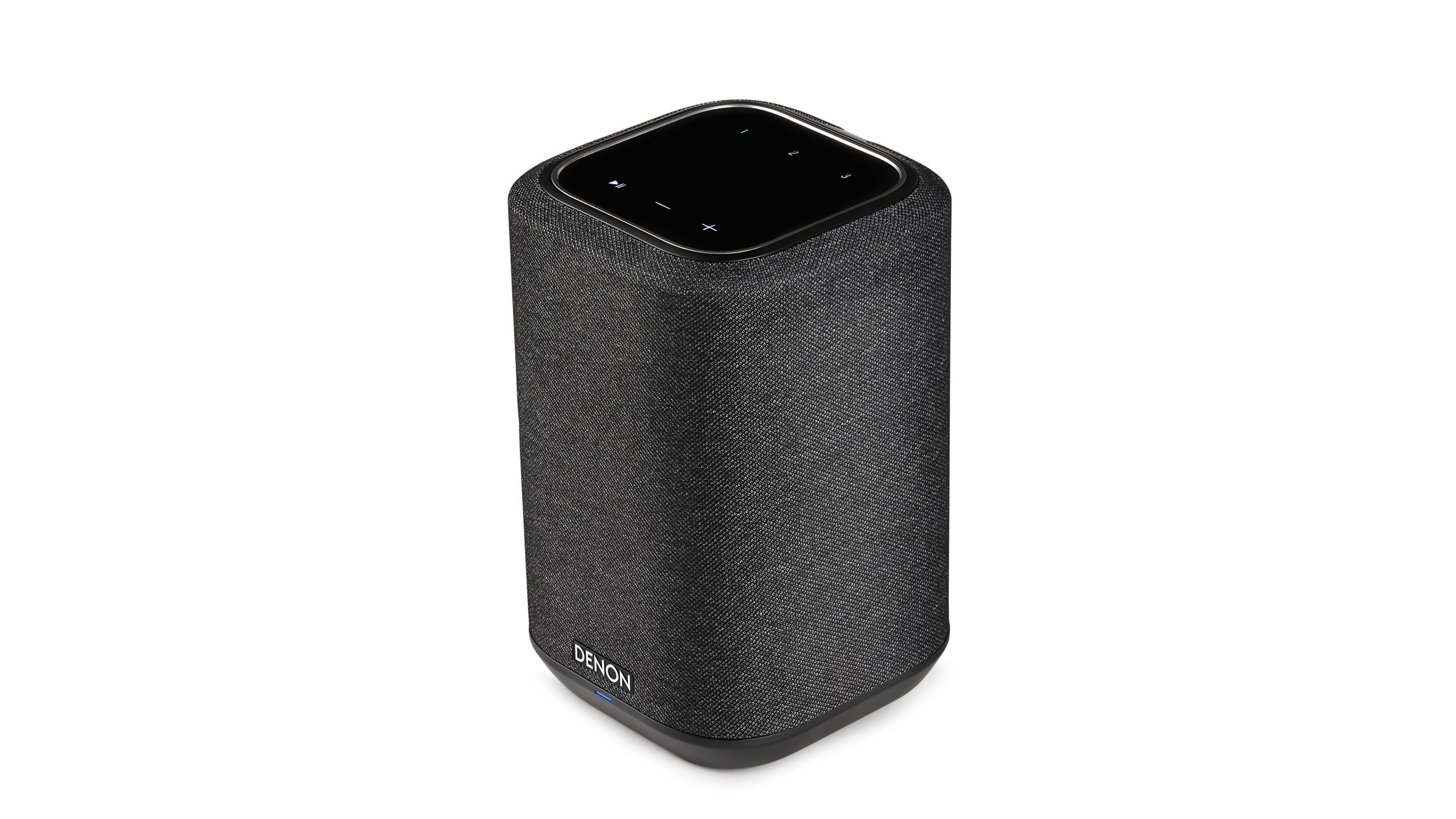 Although small, the Denon Home 150 tastes a bit like a proper speaker. (Photo: Denon)
The midrange and treble range are also mastered better than immediately expected. Voices are reproduced nicely nuanced, and in choral singing you can separate the individual singers. If you do not spend time on choral music, you can also enjoy getting Billie Eilish's voice right in the room on No Time to Die.
To hear what they can do under the best conditions, two Home 150s were set up as stereo pairs, and enthroned on the tester's own monitor speakers (they seemed quite small there!). And they passed the test with flying colors.
Subject to the fact that the two speakers did not always come as quickly from the start, they gave a very nice stereo perspective once the music was playing. And you could sense both the breadth and depth of good recordings. That is, as long as the enthusiasm was not allowed to push the force regulation too far to the right. Because then the bass disappeared, and the sound was pressed and box-like.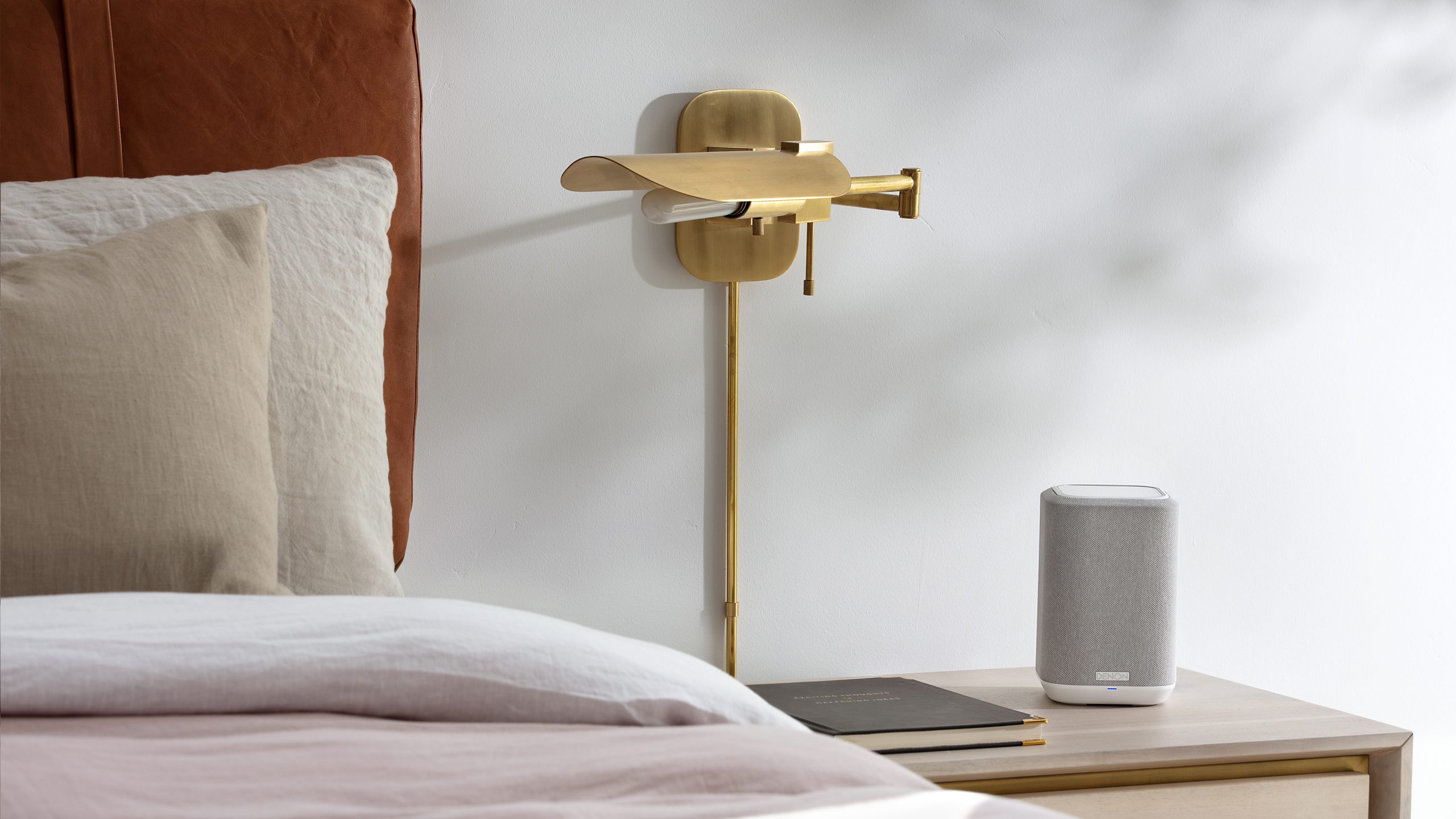 Denon Home 150 invites to be placed in all rooms of the house. (Photo: Denon)
Conclusion
Denon Home 150 is a small and relatively inexpensive speaker, which is likely to be purchased in bulk and placed around the house by owners of HEOS multi-room systems. There it does a nice job, and it does not hurt that the Home 150 is actually quite pretty to look at. Unlike its predecessors. In terms of sound, it does really well, and if you set two up as a stereo pair in the living room, they will do their best to fulfill the role as a stereo system.
But any multi-room speaker today must inevitably look out of place compared to Sonos. In terms of sound, the Denon Home 150 performs brilliantly, compared to the Sonos One SL, but the HEOS app needs a proper update. And at the same time, Google's both Sonos and Denon are breathing heavily in the neck with their smart speakers. Which makes it necessary to open for microphone and voice control as soon as possible.