Bang & Olufsen's products enjoy a status like few others. Whether it's a pocket speaker or a giant TV, you can count on design and build quality in a class of their own. And usually at a matching price level!
Thus also the Beosound Level, which is a portable, battery-powered speaker slightly larger than an A4 sheet. It can stand on the table, hang on a wall or be laid flat on the back. Beosound Level is available in two versions: One in gray aluminum and with a black front in black furniture fabric. And a golden version, where the front is made of oak slats. We tested the gold/wood version. It is slight more expensive than the fabric version, but the 10 percent extra on the price feels justified when you open the box and are greeted by the scent of fresh wood.
As as safe in the old days
The design at Beosound Level can only be called classic in the best sense of the word. It looks like something that could have stood in a home in the 1970s. To be more precis, the oak version reminds me of the ITT Schaub-Lorenz speakers that stood in my childhood home in the first half of the 1970s. So here Bang & Olufsen hits a nerve with at least this middle-aged reviewer.
The aforementioned ITT stereo also plays a special role in this test. Back at then, I had expected to take it over from my parents. But since they did not want to replace their stereo, I had to buy one myself. And the thorough research before the purchase ended up with a lifelong interest that led to a profession. So it is really precisely because of this stereo that you can read this test today.
But back to the present…
The Beosound Level is operated in B&O manner with a touch panel extending along the top of the speaker (if it is positioned upright on the table). Here you can change tracks, turn up and down the volume and choose between preset music sources – you also do this involuntarily when you just try to move the speaker or lift it by the handle.
There are a total of five speaker units on the front of the only 5.6 cm deep cabinet: Two 4-inch woofers, two 20 mm dome tweeters and a full-range unit that overlaps the frequency domains of ​​the other driver. The woofers and the full-range are each powered by a 30-watt Class D amplifier, while the two tweeters share a single 15-watt amplifier. Correct: The two tweeters play in mono, but are connected in opposite phase. That way of connecting things is not something you encounter every day in hi-fi, but it gives a "spatial" feeling.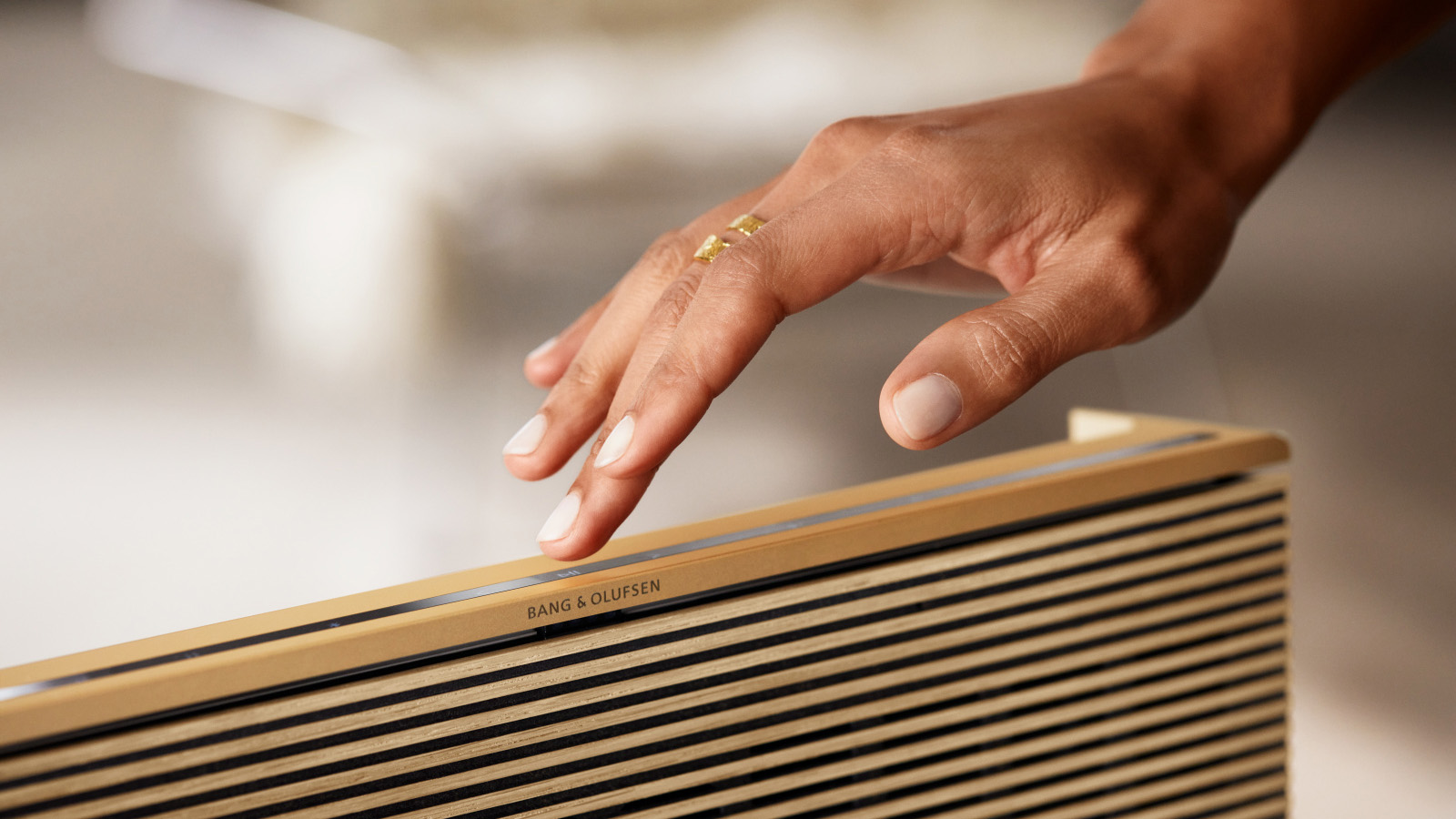 Google Assistant
Bang & Olufsen has previously had voice control with Amazon Alexa, which does not work in Scandinavia, but has now switched to Google Assistant. It's the perfect choice, and it's easy to incorporate Beosound Level into a multi-room and smart-home system.
Spotify Connect is built-in, while other streaming services can be played from your mobile or bar via Chromecast, AirPlay or Bluetooth.
The charging is done with a special magnetic charging plug that can rotate freely and which clicks into place. MacBook users will feel right at home here. Only, everything is just even more luxurious and exclusive. Even the USB-C cable is thick and soft, and protected with fabric. This is overdoung things, but overdoing them in a trustworthy way.
The charging port can also be used if the Beosound Level is to be hung on a wall. However, this requires a special wall bracket that also includes a charger.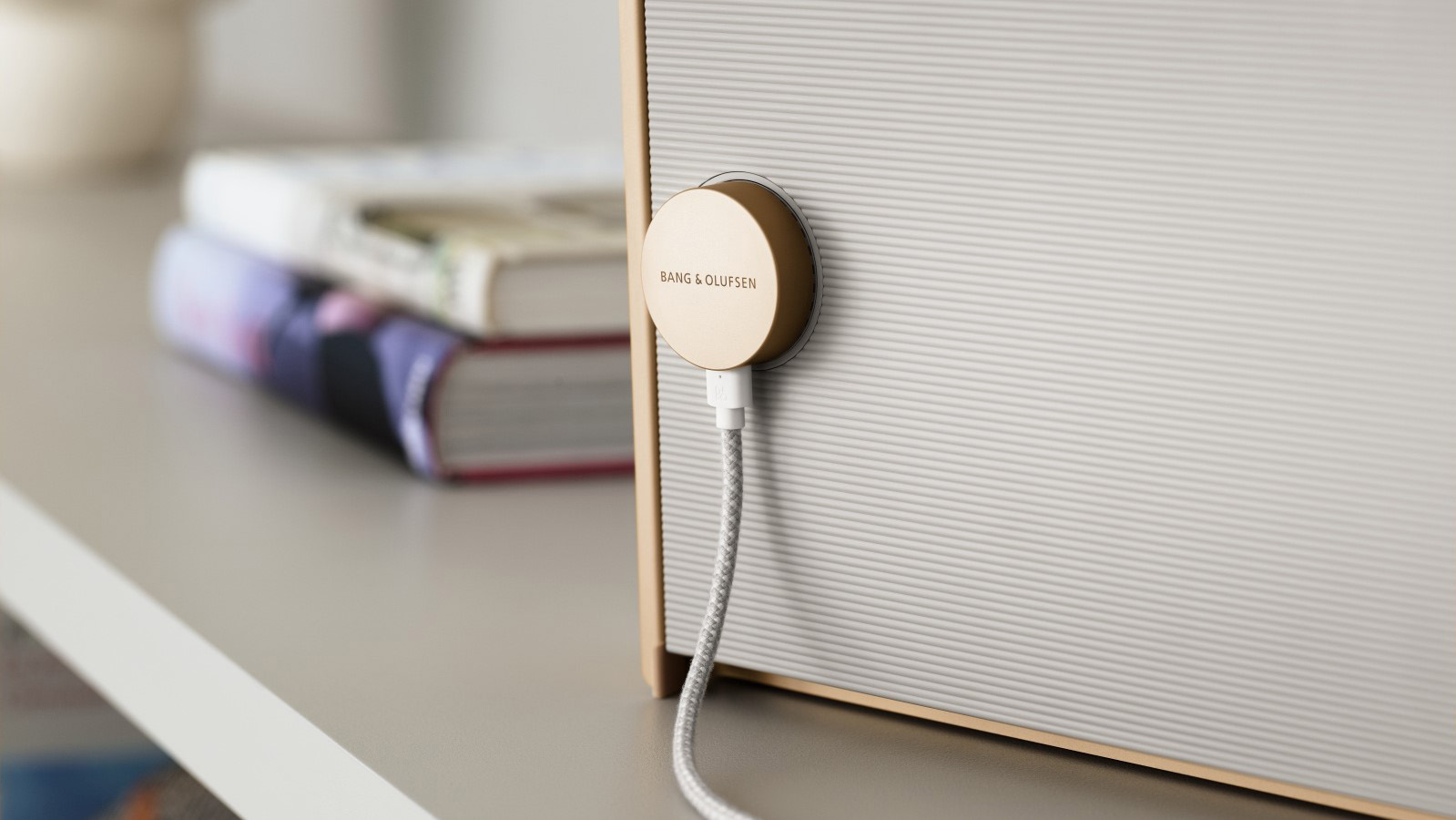 Adapting to the surroundings
The Bang & Olufsen app provides access to customize the frequency response. Not via something as boring and convenient as an equalizer; that would be way too simple. Instead, you can choose between the profiles Lounge, Party, Speech, Night and Optimal (which must mean that the first four are not optimal). Alternatively, you can navigate in a compass between the extremes warm (muted treble), bright (muted bass), energetic (highlighted bass and treble) and relaxed (muted bass and treble).
Beosound Level adapts the sound to the surroundings. When you raise it, lay it down or hang it on the wall with the wall bracket, the sound is muted for a moment, then return, adapted to the location. Both the frequency response and the sound distribution are adjusted. By playing with frequency response and phase conditions for the five speaker units, a fairly flat spread is achieved in the room – even when the speaker lies flat on its back and plays up towards the ceiling.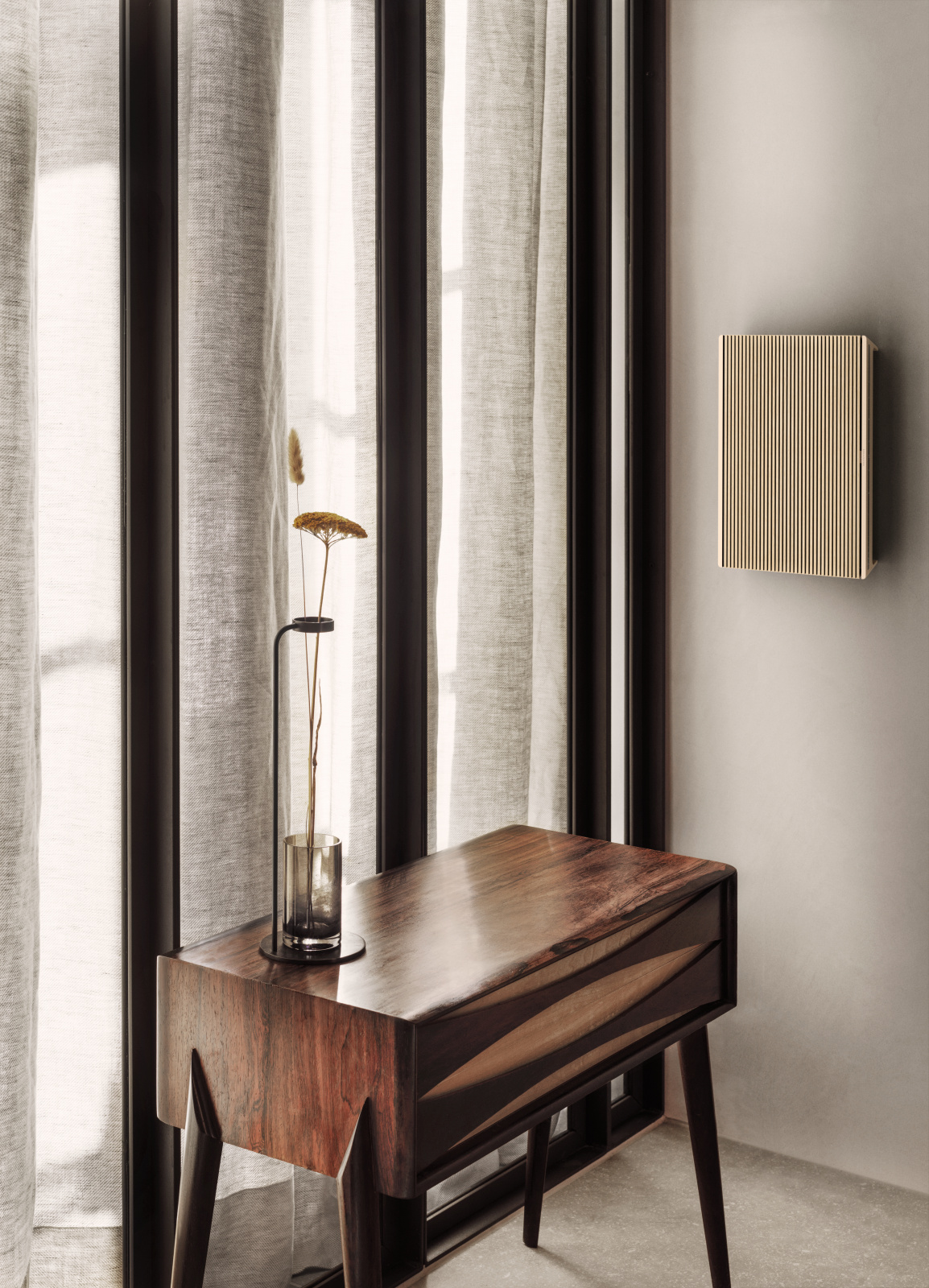 First green B&O product
Bang & Olufsen has never made use-and-throw-away products, but the future has been thought into the design of Beosound Level in a new way. First, less durable components can be replaced or upgraded. This applies to the battery that is hidden behind a hatch and can be replaced by the user. And that applies to the active electronics, which can be replaced with something up-to-date, when no one in the future even remembers what Bluetooth, Chromecast or AirPlay 2 were.
And when the time comes to put the speaker to its final resting place, it can be disassembled into its components with a single screwdriver. All screws are the same and no glue is used in the assembly.
The sound quality
It is actually quite impressive how much sound Bang & Olufsen has managed to squeeze into such a slim speaker. As long as you do not have to play decidedly loud, the sound is warm and rich, and you can hardly believe that it comes from a light, portable speaker.
There is pretty good power in the low end. It certainly helps a lot that a speaker that you carry around is typically placed close to where you are staying – e.g. right next to the table. But Beosound Level can still fill the living room with music.
Also the other tonal areas are covered nicely and quite charming. Beosound Level is easy to listen to. With the app's sound settings in neutral mode, most come though, but without sharp edges that can attract unnecessary attention.
We are not up to the same level as Naim Mu-so 2 or Bowers & Wilkins Formation Wedge, both of which both play cleaner and do so in stereo. And even at a lower price. But they can not be lifted and carried around easily. And to set the mood in the kitchen or on the terrace, Beosound Level does the job excellently.
If we have to put our hi-fi hat – and we do, when the price corresponds to the cheapest active stereo speakers – then Beosound Level is most comfrortable with "light" material. Like solo singing, pop music and easy listening jazz. When the music becomes complex or dynamic, the speaker falls short. It still does not get uncomfortable to listen to, but the dynamics are lost.
Although we have tested lots of table speakers, only a few wireless speakers of this kind exists in this price range. The only equally expensive portable speaker we've tested was the Beosound 1, which caters to a different audience. Not least because it is only portable by name.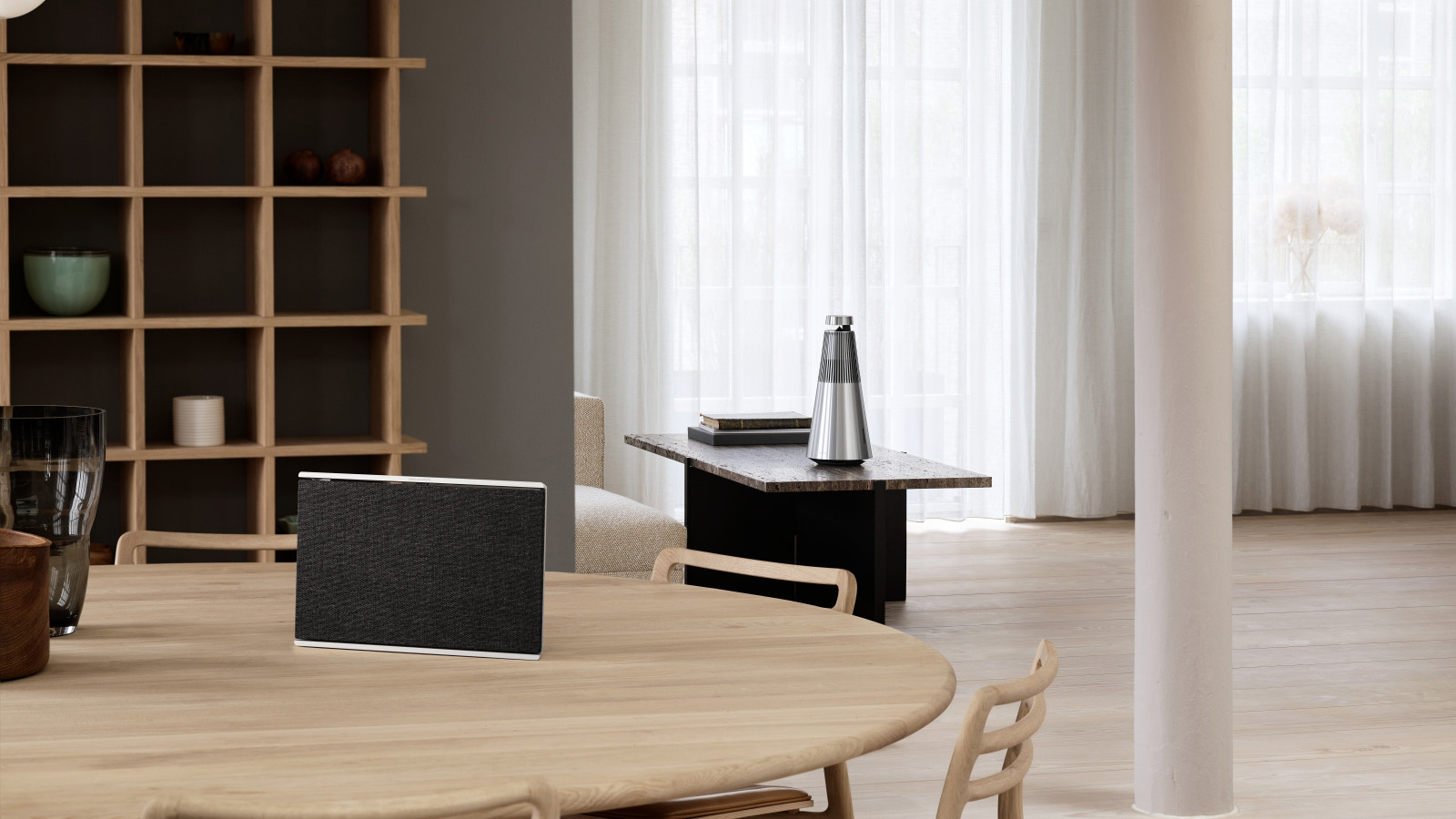 Conclusion
Beosound Level is a speaker that is easy to like. The design is thorough and luxurious. If you are either old enough to be nostalgic – or young enough to cultivate a retro style. The sound is pleasant and warm, and if you have several Bang & Olufsen speakers, they will play well together.
Whether portability and adaptation to different working positions should be a factor or a gimmick is an individual matter. Personally, I'm sure I would place the speaker in a fixed place where it could be connected to the charger permanently.
You can buy a set of active wireless stereo speakers with better sound for what a Beosound Level costs. But it has to be compared with other wireless table speakers, and here the price is not particularly more hefty than the competitors' top models, which do not at the same time offer portable operation on batteries.
The green ideas are sympathetic, but it will take several years before they can make a difference. And it will at that time depend on whether you, one generation into the future, will be able to buy upgrade parts.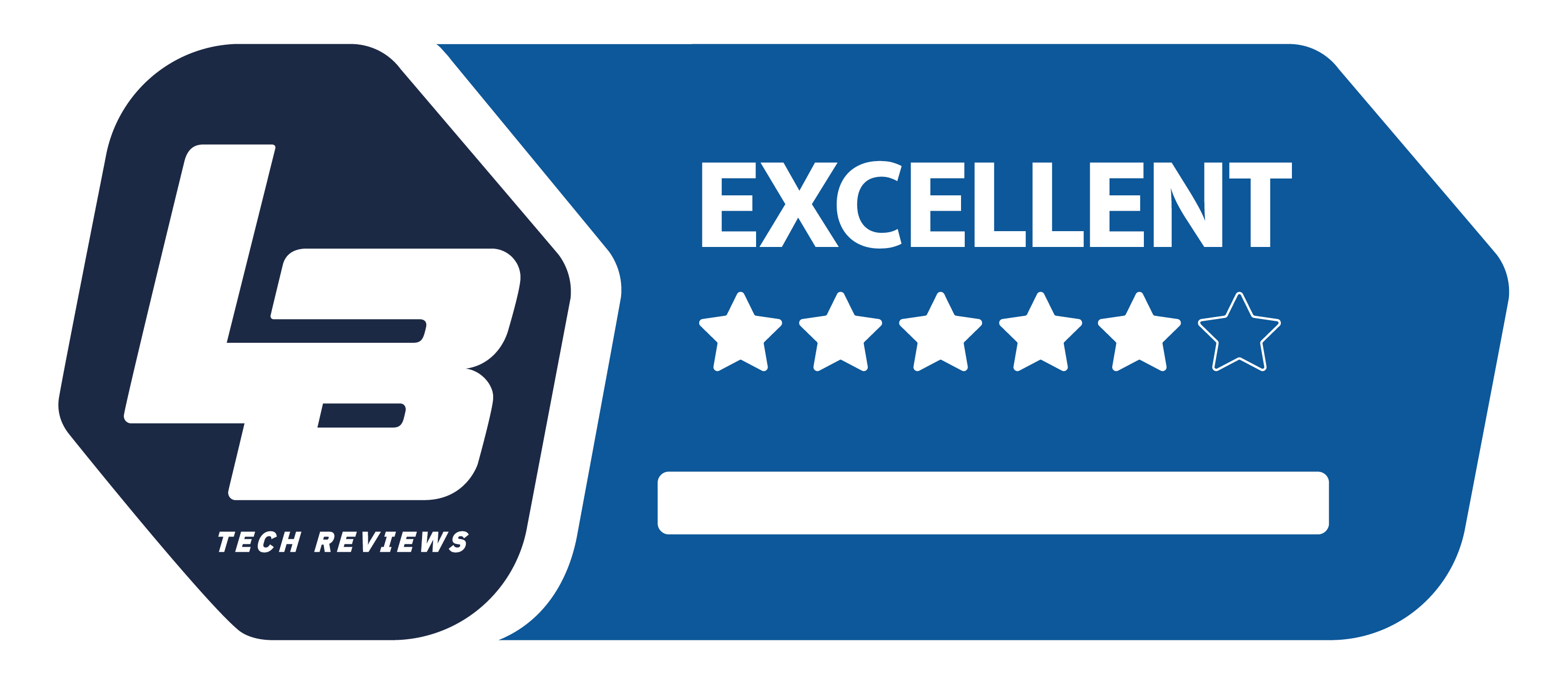 Premium
We think
The retro design is nearly unbearbly sleek. Impressively large and full sound. Sustainable construction. Adjusts the sound according to the location.
The sound is pleasant, but not very accurate. Only quasi-spatial correction. We have only encountered one more expensive portable speaker ever - and it was also from B&O.