Sony has gone all out with more of everything in its disco system MHC-V71D, which also has younger brothers and one big brother. It is the largest and heaviest apparatus in the test, which fortunately has wheels for transportation. However, one should be a little careful, as the lamps in the corners and the top can easily be damaged if one knocks into something. The cabinet, however, is made of solid wood and the speaker lattice is made of metal. Like the Philips' system, it is only for indoor use, as few batteries can run it. However, the top is spray watertight so that it can withstand spills from a drink.
In addition to being able to stream music from your mobile phone, there are inputs for USB flash drives, external input, FM radio and two microphone inputs for karaoke as well as a guitar input. It is unusual that it also has a DVD player and can be connected to a TV with HDMI. There's even a soccer mode! As usual, Sony has gone all out with all the features imaginable, and then some. How about playing DJ by waving your hands over the control Panel? or use it as a bongo drum? Most impressive, however, is the 360-Strobe light show, which really lights up an entire room. It can also be controlled through the Music Center app or from the special DJ app Fiestable.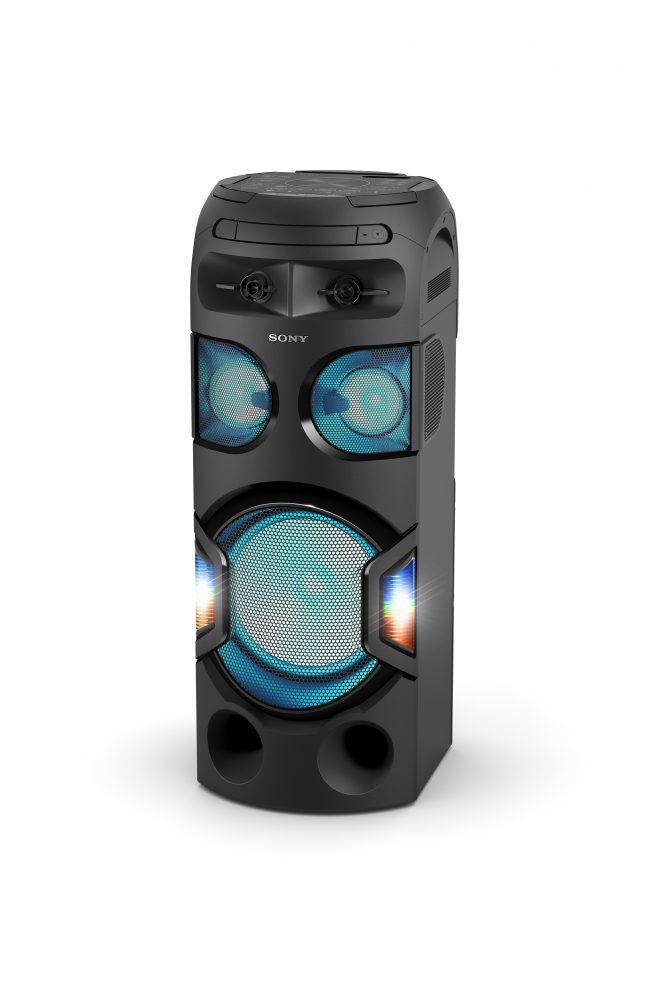 Sound pressure and bass
Sony has not been forced to discover new tricks to bring about a heavy sound. They have instead simply installed large speaker drivers that can pump air. The result is sound pressure that cannot be recommended in a regular flat, and bass that for once can be felt on your body. But above all, the system never feels stressed no matter how much one pushes it. It just sounds great, even when playing electronic dance music at dangerously high volume. During the night, you can even slow down and play quieter tunes, but still get a sound quality that you won'tt be ashamed of.
Conclusion
If you are going all-in on a party system, you can't fail with the Sony MHC-V71D. It has all the music sources you need, and then some, and it can even be connected to the TV since it has a DVD player. It is full of cool features such as playing DJ with gesture control, karaoke with two microphones, and you can actually use the cabinet as a drum. The light show was the most impressive in the test with the 360-degree strobe lighting. But above all it has decent volume resources, and bass that can be felt in your body – everything without sounding bad, no matter how you push it. It has quite simply the highest party factor of all the loudspeakers!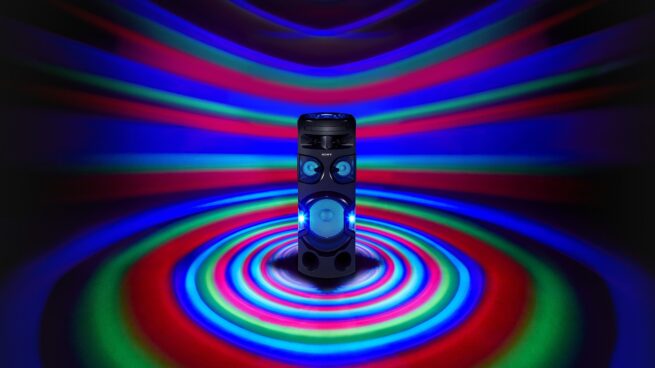 Premium
We think
Full app control. Impressive light show.
Requires caution when transporting. Overwhelming number of buttons.