Geir Nordby
Published

2022-06-06 - 8:00 am
A wealth of features easily accessible from a clear touch screen, plus an app that hits the spot. Delicious, creamy coffee and beautiful milk froth. Cup preheating and the option to fill an entire jug.
The touch screen scrolls slowly and you have to press much harder than on a mobile phone. We don't quite see the point of the playlist function.
Specifications
Touch screen: Yes
Wireless connectivity: Wi-Fi
App control: Home Connect, Android/iOS
Size, water tank: 2.6 l
Size, milk container: 0.5 l
Beans/ground: Yes/yes
Number of coffee types, preset: 20
Own recipes: Yes, unique and customizable
Multiple profiles: Yes
Cup preheating: Yes
Single or double sprout: double
Preparation of whole jug: Yes
Power: 1500 W
Dimensions and weight: 35.2 x 38 x 46.7 cm / 10.6 kg
Web: siemens-home.bsh-group.com
The Siemens EQ.700 is a sleek, elegant coffee machine mainly in chrome-plated steel, and the colleagues in the office took a liking to it immediately. Its only exterior drawback is that the milk container is located on the left side, which increases the width and also limits where it can be placed, allowing you to still reach the water container.
The machine has important features like pre-heating the cup, and it can also brew a whole pot at a time, so you don't have to dig out the old Moccamaster if you have guests coming over.
You can set the machine to run its usual cycle of small, occasional rinses, or you want a cup left under the spout so it's ready to brew a cup of coffee from the app whenever you feel like it. That way, you don't get spillage in the cup, but in return, the coffee in the first cup isn't as hot either.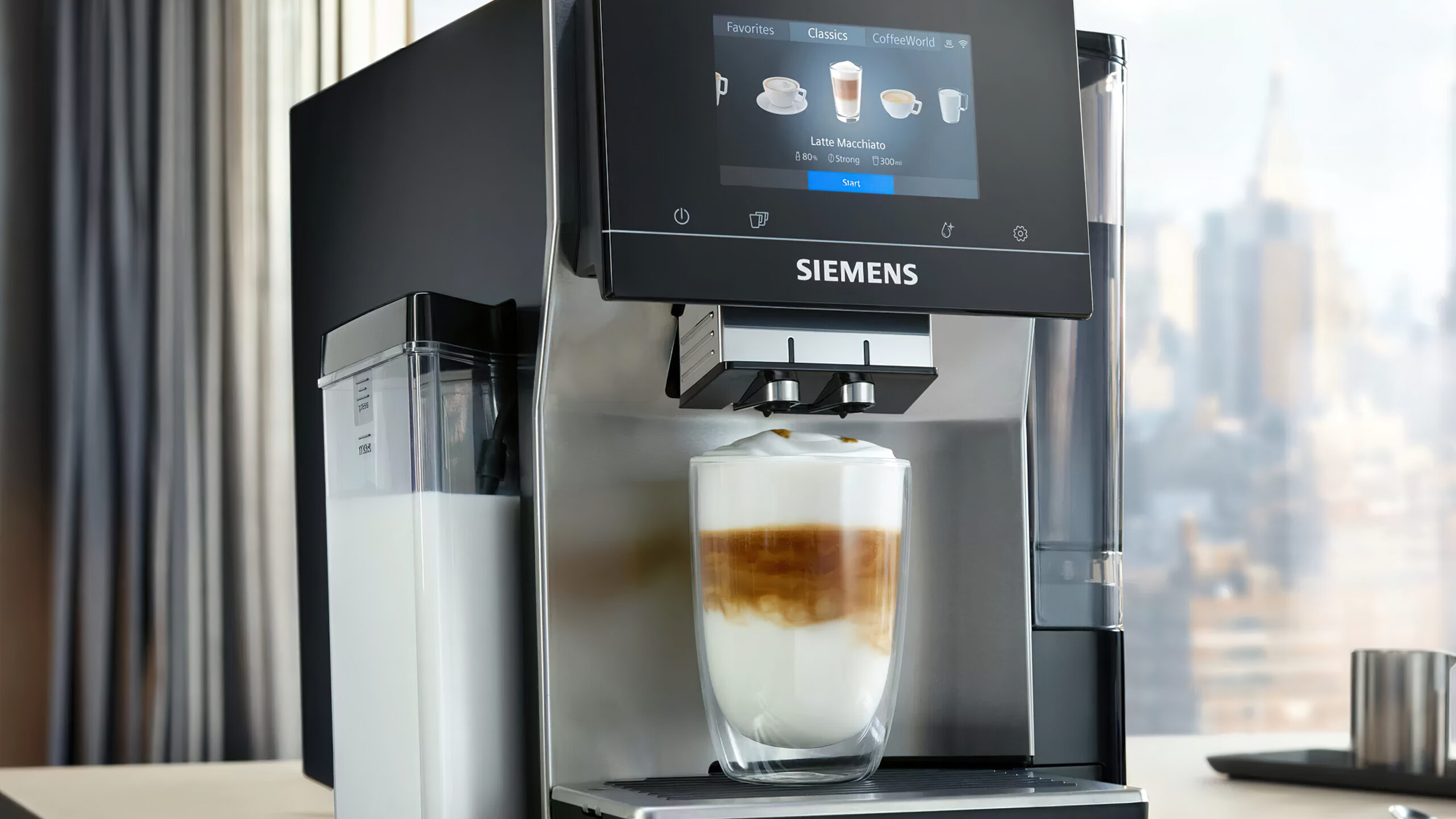 Many types of coffee
The Siemens EQ.700 offers a wide range of coffee types and pre-selections. In the main menu under Classics, there are eight types plus options for milk froth, hot milk, hot water and brewing in a coffee pot. Most of them can be adjusted in strength and quantity to taste, and you can also save different user profiles.
Among the eight are espresso, espresso doppio, regular or large coffee, cappuccino and latte. If you're missing something, like flat white or ristretto, you can find these and 12 other types under the CoffeeWorld tab. In total, there are 20 types of coffee.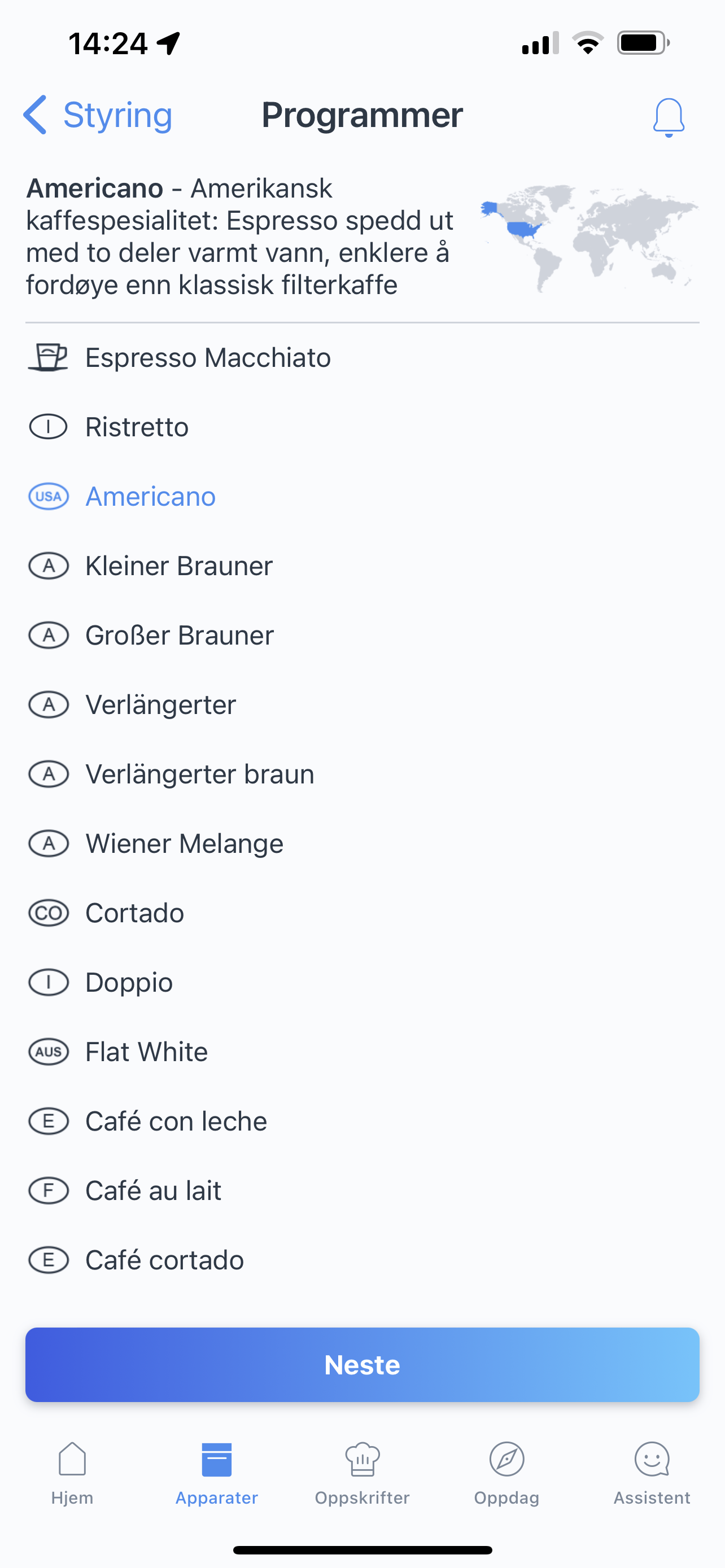 Sluggish touch screen
In a way, I like the touch screen on the Siemens machine. It gives a really good overview and leaves guests in no doubt about how to make the cup of coffee they want.
The only problem is that it's sluggish when swiping, and you occasionally have to press quite hard to activate the desired function. Even the cheapest smartphones have better touch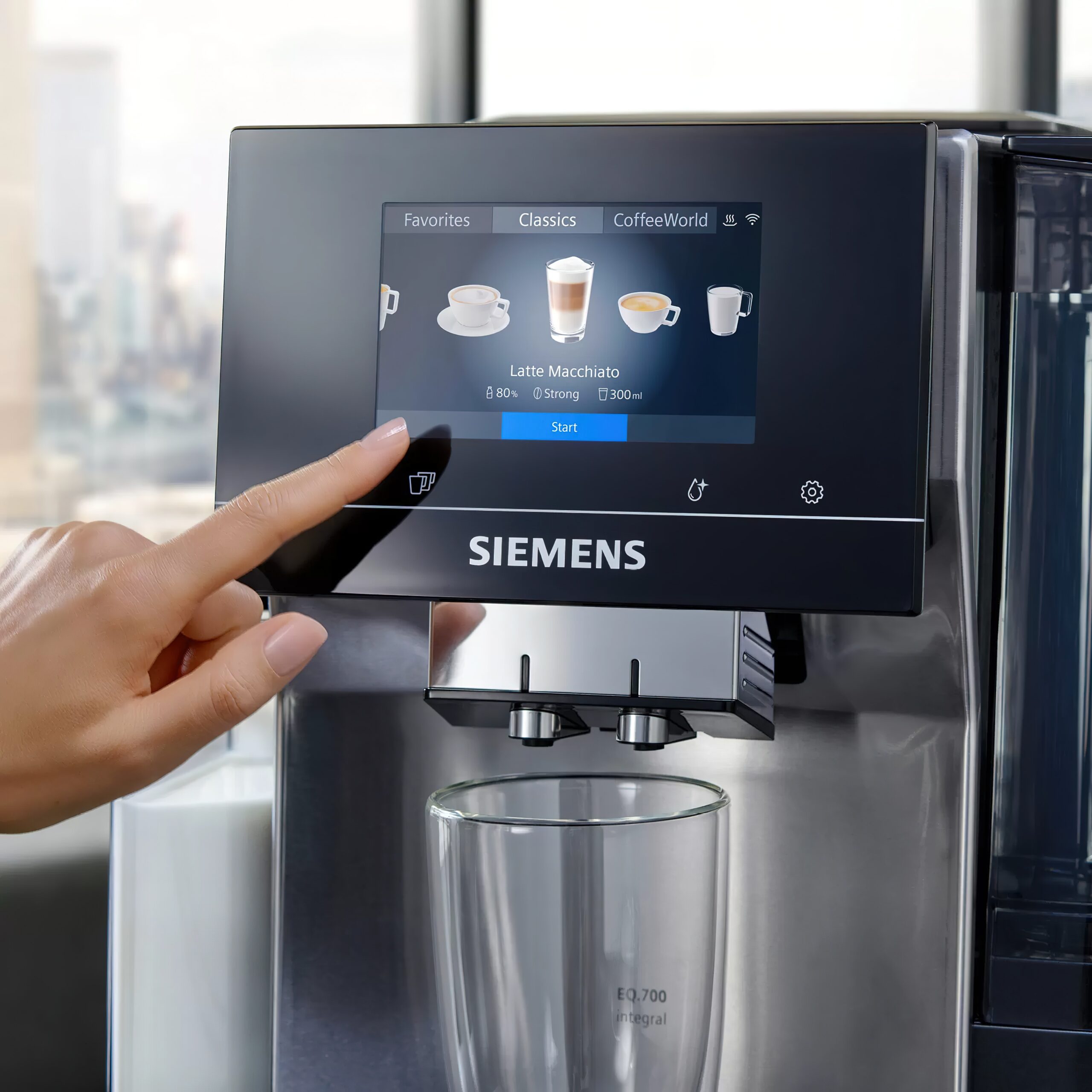 Smart app
The app lets you control the machine remotely; just activate the feature – and suffer a warning that people standing face-up under the spout for no particular reason could get seriously hurt while you're blissfully unaware trying to make yourself a good cup of coffee. I wonder if that ever happens in real life.
There's also a warning when you select preheat for the cup, as it gets very hot. Something toddler parents, on the other hand, need to be aware of!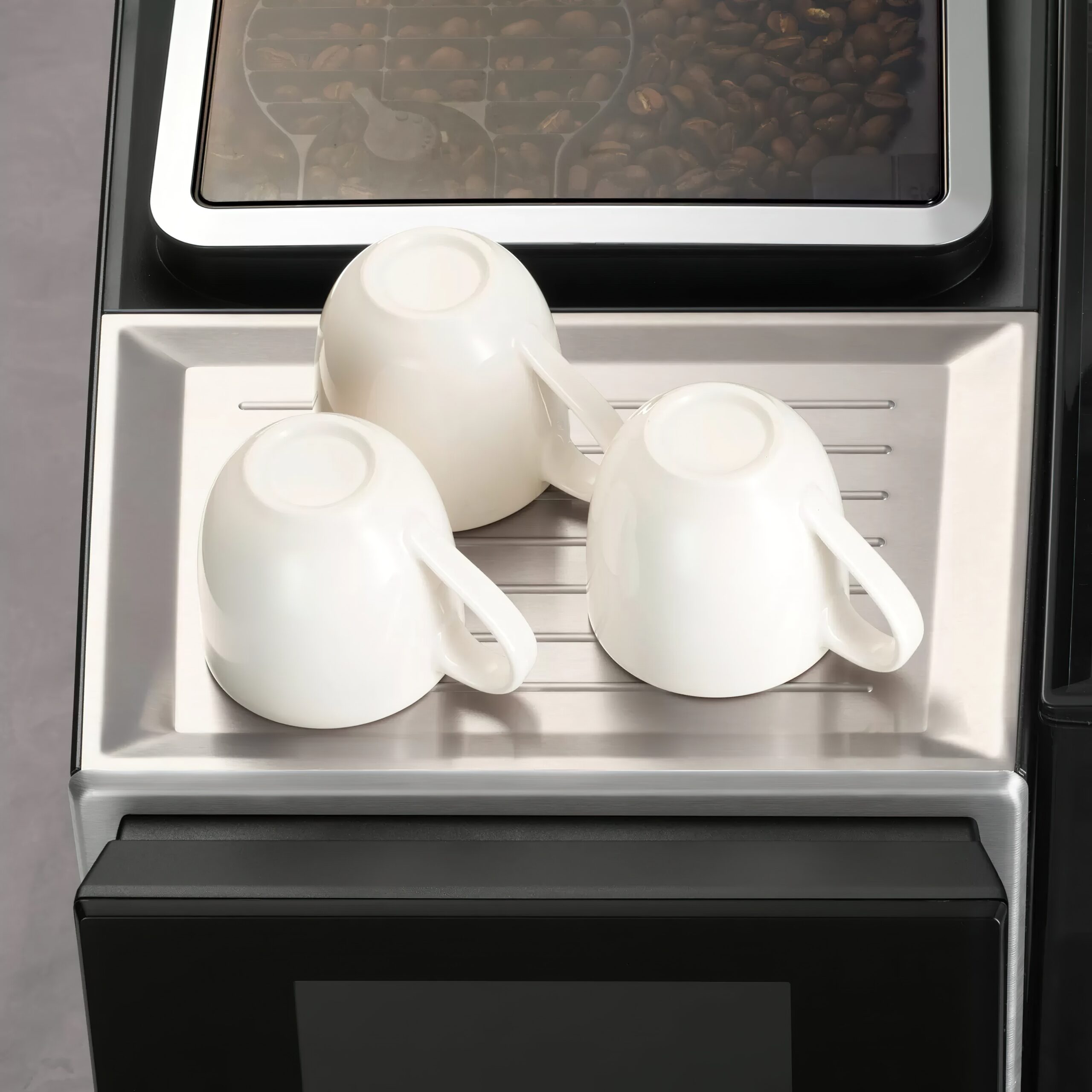 The app gives a really good overview of all the functions, and you can make many settings, such as whether to pour the milk in first or last. The Siemens machine can also be voice-controlled with Amazon Alexa.
You can also create a so-called playlist. A brew list where you can select several different cups of coffee one after the other in a specific order. The idea is to be able to make several cups of coffee for a number of people, first taking orders and then programming the machine to brew coffee without having to press anything other than "continue" between each cup.
I can see the idea, but not really the utility of it. The work of making the playlist has to be done anyway, and it actually gives less of an overview of which cup is which than brewing each cup individually. It's not any faster, either.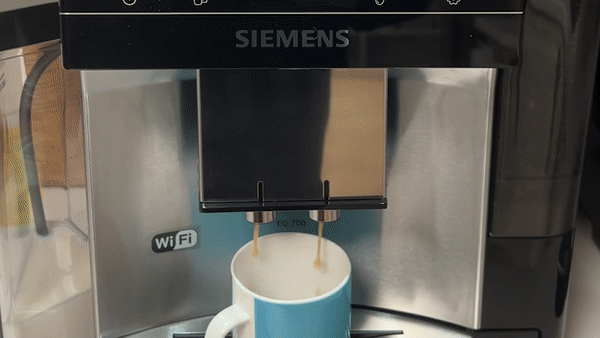 Tastes great!
The Siemens machine makes a relly good coffee. Maybe the milk froth on the cappuccino is not quite as airy as on a professional machine. But it's very close. And the Siemens machine gets points with, among other things, preheating the cups.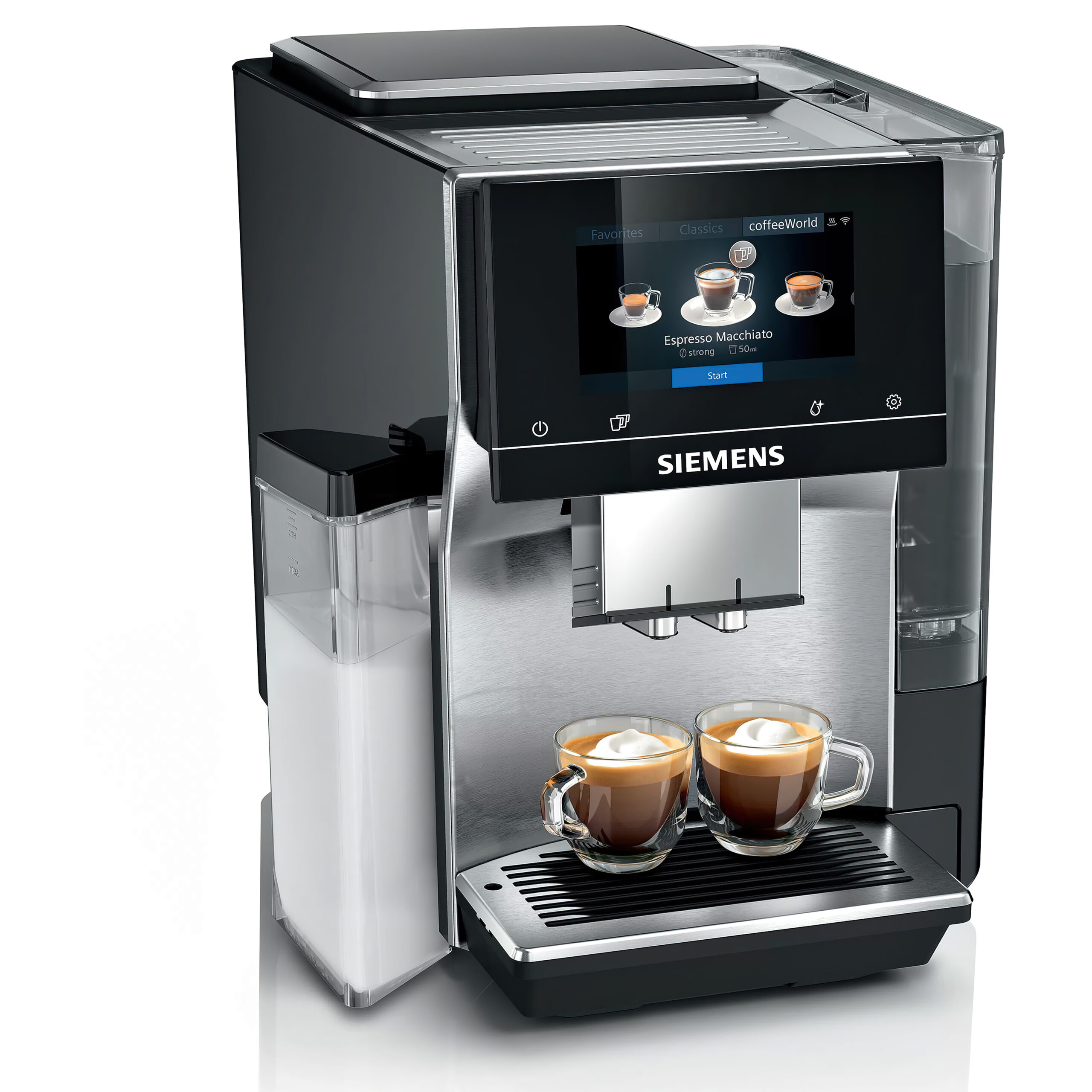 Conclusion
The Siemens EQ.700 – with the even more cryptic nickname TQ707R03 – is an excellent coffee machine. Here you get a number of useful features, good usability and delicious coffee from a machine that also looks really nice.
The touch screen gives a good overview, but we wish it was more responsive. The screen is really the only thing stopping this machine from getting top marks. It gets our recommendations, but has to settle for five stars.