Åsa Warme
Published

2021-12-17 - 8:12 am
Two-factor approval is nice from a safety consideration. The image is really good in both light and dark, and the sound is experienced as stable.
No app support for Nordic languages. To get the most out of your video doorbell, you will have to buy a subscription.
Specifications
Type: Doorbell with video function
Works with: iOS and Android
Connection: Wi-Fi 2.4 and 5 GHz
Power: Rechargeable batteries
Resolution: 1080p (1920 x 1080)
Storage: In the cloud (subscription required)
Sound: Microphone and speakers
Picture angle: 160° diagonally
Dimensions: 11.4 x 4.9 x 2.2 cm
Web: ring.com
Installing and getting started with Ring Video Doorbell 4 is easy and convenient. In the Ring app, there are informative videos that step by step review how to do. Mounting is done using a couple of supplied screws, and you do not really need any cables, just a working Wi-Fi network that can reach where you mount the bell. And it works with both 2.4 and 5 GHz.
I live in an older apartment building with thick walls, which in some cases makes the connection unstable, but here I experienced no problems with either sound or image. Ring Video Doorbell 4 can be connected to existing wires or an AC adapter, but can also be powered by rechargeable batteries that are easy to remove and charge.
Call Video Doorbell 4 in use
Of course, it's in the app that it's all happening. Unfortunately, it is not available in the Scandinavian languages, and that drags the character down a bit for us Swedes.
There are different options for tailoring how the doorbell handles a ring, depending on which setting you choose. Of course, it can be used as a regular doorbell (without sound and image), if that's what you want. In that case, you should buy a chime too (a speaker so you can hear it ringing on the door).
It is also in the app that you limit what is to be displayed and possibly recorded on video. Since the shots are taken at 160 degrees, it may be a good idea to limit the field of view for the sake of privacy.
Either way, it still makes sense to only record what happens on your own property or right outside your own front door if you live in an apartment (talk to your landlord first).
The camera on Ring 4 is really good and since the stairwell in our house is always lit, I locked my husband inside the bathroom with the doorbell to do a dark test. The picture is really good, so no one will be able to sneak past unnoticed, even when it is pitch dark.
The bell works with Google Assistant, Amazon Alexa and Samsung Smart Things, but requires e.g. a Homebridge to work with Apple HomeKit.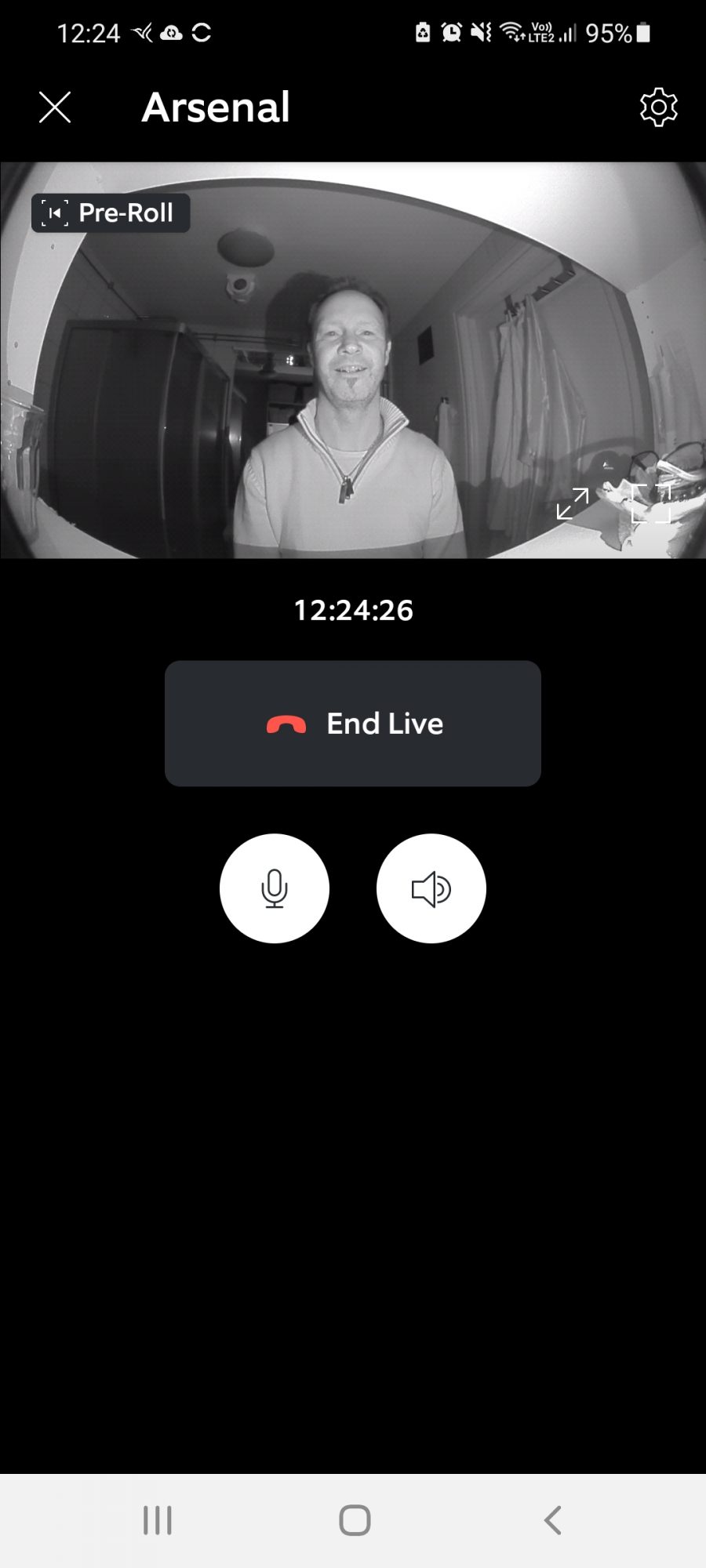 Security
With Ring 4, the security concept has been taken a small step further. On the one hand, there is a locking screw at the bottom of the bell (special tools are included in the box), which means that you can not just peel off the cover and do mischief – or steal it if that is what you want.
In addition, it requires two-factor authentication to add more users to the app, which means that people with too much free time can not just hack in and take over your bell (at least it is not so easy).
This may not seem super important if it's just a bell with video function at the front door, but since Ring offers a wealth of products that you can connect to the same system – e.g. indoor cameras – it is nice to know that no unauthorized person can access the material.
Subscription
You must have a subscription to be able to store video sequences in the cloud and watch them afterwards. Otherwise, you can only see what is happening outside the door in real time. Since a doorbell is mostlys about reacting in real-time to visitors, a subscription is not essential.
What is stored in the magic cloud will most likely be stored outside of Europe. Ring is Amrican and is connected to Amazon Web Services (AWS), which means they cannot fully meet our data protection requirements. It must then be up to the individual to decide whether it is important or not – but you should at least know this before you buy and install Ring 4.
Conclusion
Call Video Doorbell 4 is super easy to install and use, and there are good and informative videos in the app. The system can be expanded with both indoor and outdoor cameras, lighting and more.
That it works with Google Assistant and Amazon Alexa, increases flexibility. The picture is spotless in both light and dark, and the sound we can not complain about either.