Geir Nordby
Published

2021-01-17 - 6:00 am
Relatively easy installation. Stable connection, immediate response in the app, sharp image quality. Does not need a separate cloud subscription. Works with several voltage standards, also 8V.
Relatively expensive investment. Does not work with Google Home. 8V bell transformer can occasionally cause transformer noise.
Specifications
Type: smart doorbell
Wireless: Wi-Fi (2.4 GHz)
Camera resolution: Full HD 1080p HDR, portrait mode
Field of view: 140 degrees
Video storage: Cloud storage + microSD
Works with: Netatmo Security app, Apple HomeKit
Current: 8-24V AC, minimum 8 VA. Works only with wired bell
Guaranteed to operate in temperature: -10 ° C to 40 ° C
Weather resistance: IPX4
Web: netatmo.com
The advantage of a smart bell is obvious: you can see who is calling directly on your mobile, even if you are not at home or for other reasons unable to open the door. If you also have a smart door lock, you can easily let in the parcel courier even when you are at another address. This way you do not have to inconvenience your neighbors when receiving packages.
Smart bells can also serve as digital testimony, by storing movements in front of the camera for later identification. For example, in the event of a burglary. Most bells require a subscription to a cloud service for this feature.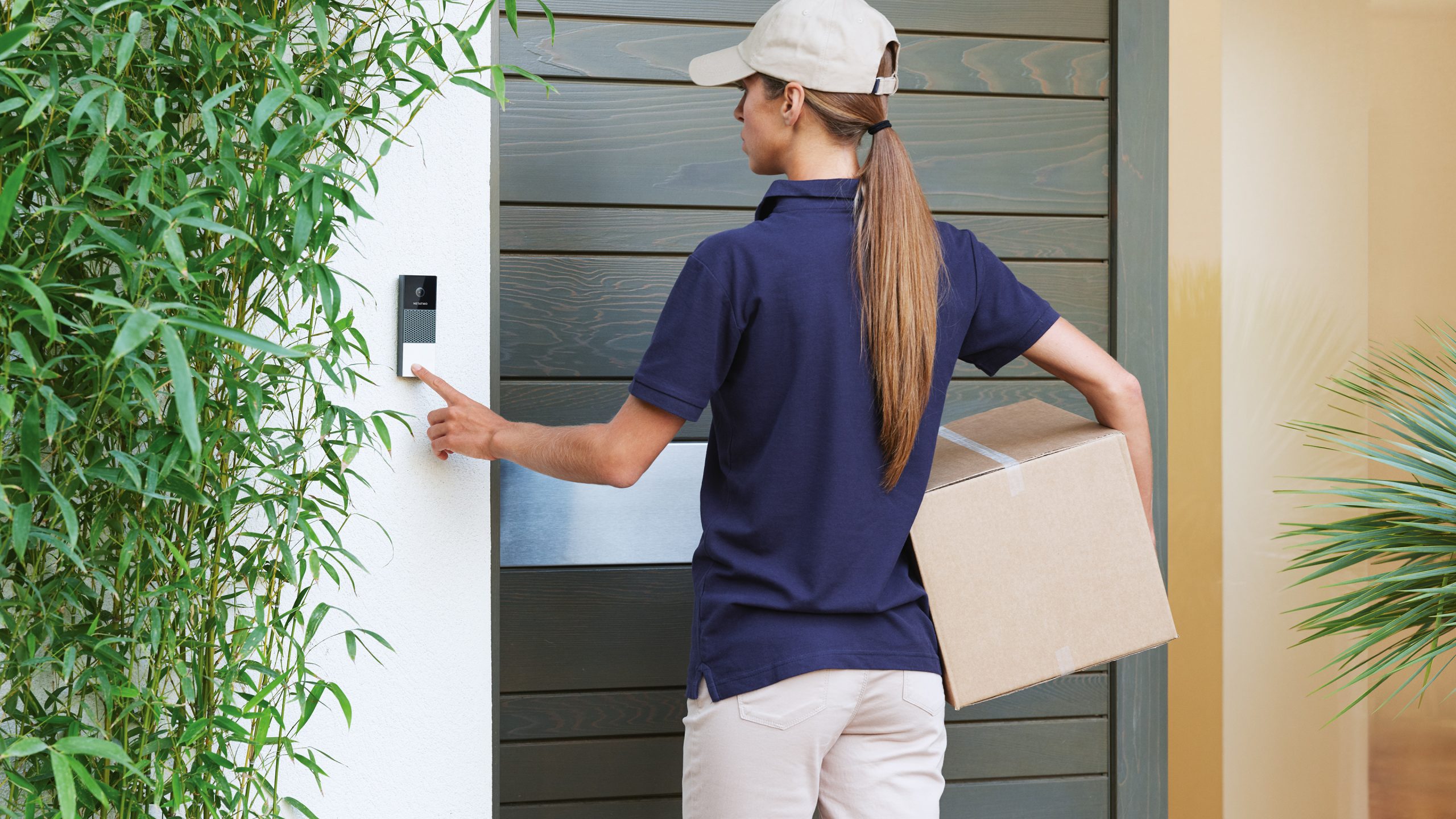 Does not need cloud
And this is where the Netatmo Smart Video Doorbell stands out from the rest. It has a relatively high purchase price, but where competitors require a monthly subscription for cloud storage, Netatmo has a pre-installed microSD card of 32 GB that stores video of movements outside. Should the card become full, the oldest videos will be overwritten, so you always have the last days of activity saved. You can choose in the app whether videos should be automatically deleted after a week, a month, a year or never.
The bell is attached to the wall with a special screw, which requires the included special screwdriver to disassemble, so that it becomes difficult for any thieves to unscrew the bell and remove their tracks.
As an added security, the bell can be connected to a cloud service such as iCloud or Dropbox, or you can also configure it against a separate ftp server, should you have access to one. You can select the quality of the recording, according to how much storage space you have: Low, Medium, High or Excellent. The latter provides full 1080p resolution.
Runs on net power
Netatmo Smart Video Doorbell does not run on battery and must have power. This makes it recommendable for users who already have a wired doorbell. The bell supports voltages, from 8V up to 24V, so it works almost no matter where in the world you are.
Please note that in Europe we mostly use 8V and 1A, which is the absolute minimum of what is supported by the Netatmo doorbell. This means that the power supply to your existing bell will work, but may also overload when someone calls, and I myself therefore experience a slight hum in the power supply every time someone calls or the camera detects movement outside. This is not dangerous, but it is sometimes audible when I am in the immediate vicinity of the call transformer. But the hum goes away quickly, as the transformer core gets "recharged" again.
But at least the Netatmo watch supports 8V, which you can not say for the main competitor, Google Nest Hello, that requires a minimum of 12V. This will mean having to replace the entire bell transformer, and the selection among 12V transformers is limited in most of Europe.
Installation
The installation itself was a relatively simple affair. Remember to remove the fuse during installation to avoid being zapped. Remove the lid of the bell transformer inside and connect an supplied power adapter in parallel with the bell on the inside (not the button on the outside of the door). Then remove the bell button on the outside of the door and replace it with the Netatmo. Screws and wall plugs are included in the box, if you need to drill in the wall. Fortunately, I myself have wood panels, and only needed to use ordinary wood screws.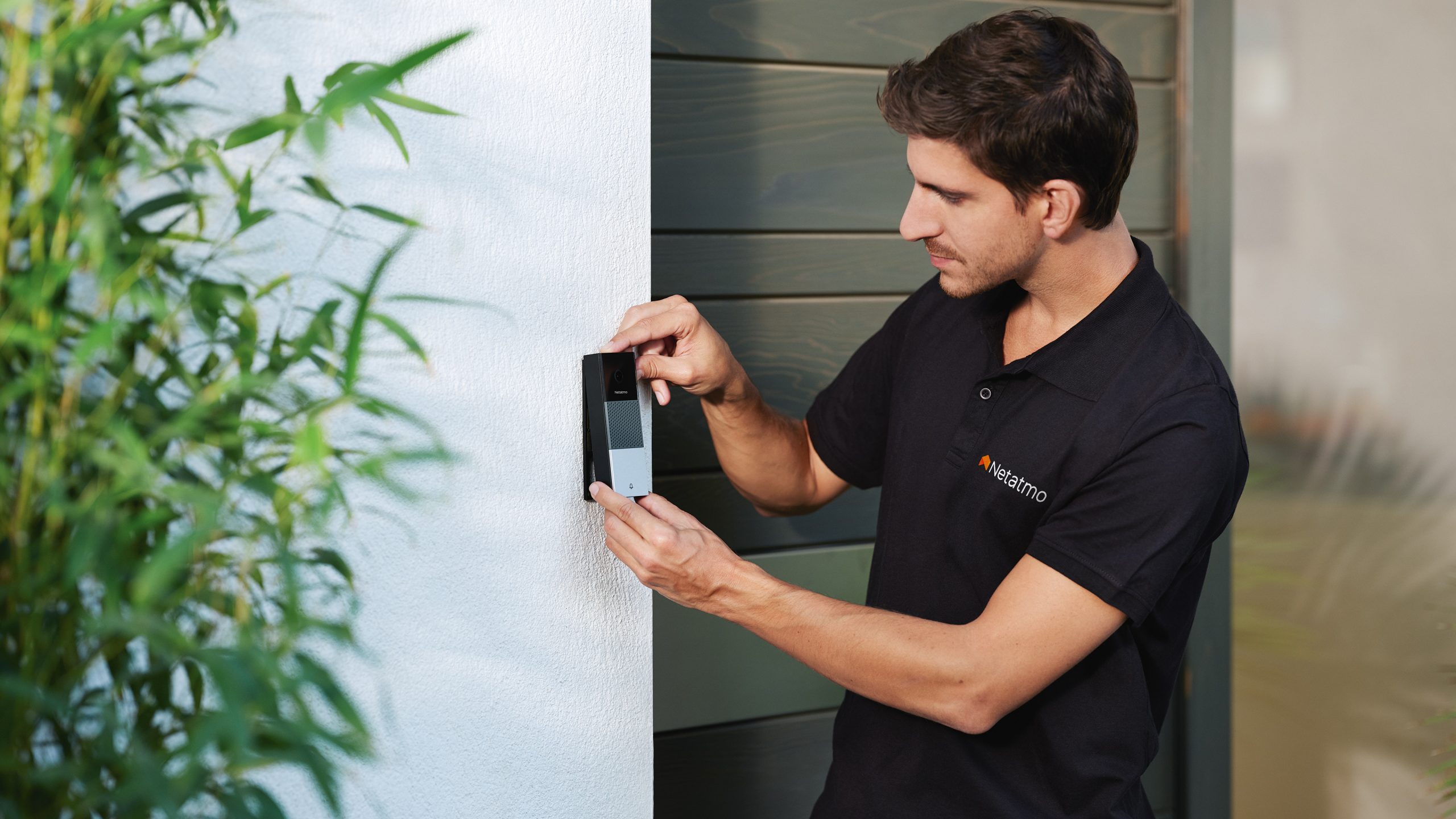 The perfect angler
An angled wedge is also included, in case you need to have the doorbell angled to provide optimal field of view in front of the door. For example, if the door is placed in a corner. If the camera is pointing straight ahead, you can also get a lot of false alarms if you live in a place where there is a lot of traffic of people back and forth in front of the door. You will get a message on your mobile phone every time the camera detects human movement. It may  also be against privacy if the camera is angled so that people passing it can be recognized.
When the bell is connected, a green LED flashes before becoming steady green. Then it lights up white and you can download the app and connect it to the wireless home network from there. Note that only 5 GHz is not supported, only 2.4 GHz. The bell can also be placed in the HomeKit smart home on the iPhone.
Netatmo Smart Video Doorbell in use
When the doorbell is up and running, you will get a nice feeling from the extra security, provided by the doorbell. When it rings, an alarm sounds on the mobile, and the video feed comes up so you can see who it is. You can communicate with the person through the built-in microphone and speaker, with good clarity in the conversation.
I have already received a delivery while I was at work, and after realizing that the visitor was not a dubious gangster, I could easily open the garage door remotely where he could leave the package. I have also refrained from opening for people I suspect wanted to save my soul (yes, one can get a little paranoid). Then it's also a nice to be able to see, whether the visit is for me, the wife or the children.
In the beginning, there were some false alarms, where the cell phone rang and showed me a video every time someone passed the house. But I fixed it easily by marking where in the picture you want it to react to movements. Which in my case meant excluding the sidewalk across the street.
Image quality
The image quality that comes up on the mobile screen is very good. Not quite on par with an action camera like GoPro, but more than adequate. The camera also has night vision, which means that you recognize people even when it is dark in the evening. Though, in black and white.
Recording quality in the cloud set to Low gives a resolution of 288 x 512 pixels and a highly compressed video stream of about 1 MB per minute. Enough to recognize someone right in front of the bell, but far from top quality. Video quality High gives 1080 x 1920 pixels and slightly higher compression than Excellent, but still clearly sufficient for this use. The file now uses 15 MB of storage space per minute of recording, which means just over 300 minutes if you have 5 GB of cloud storage. Which means several months of use, before old files have to be deleted.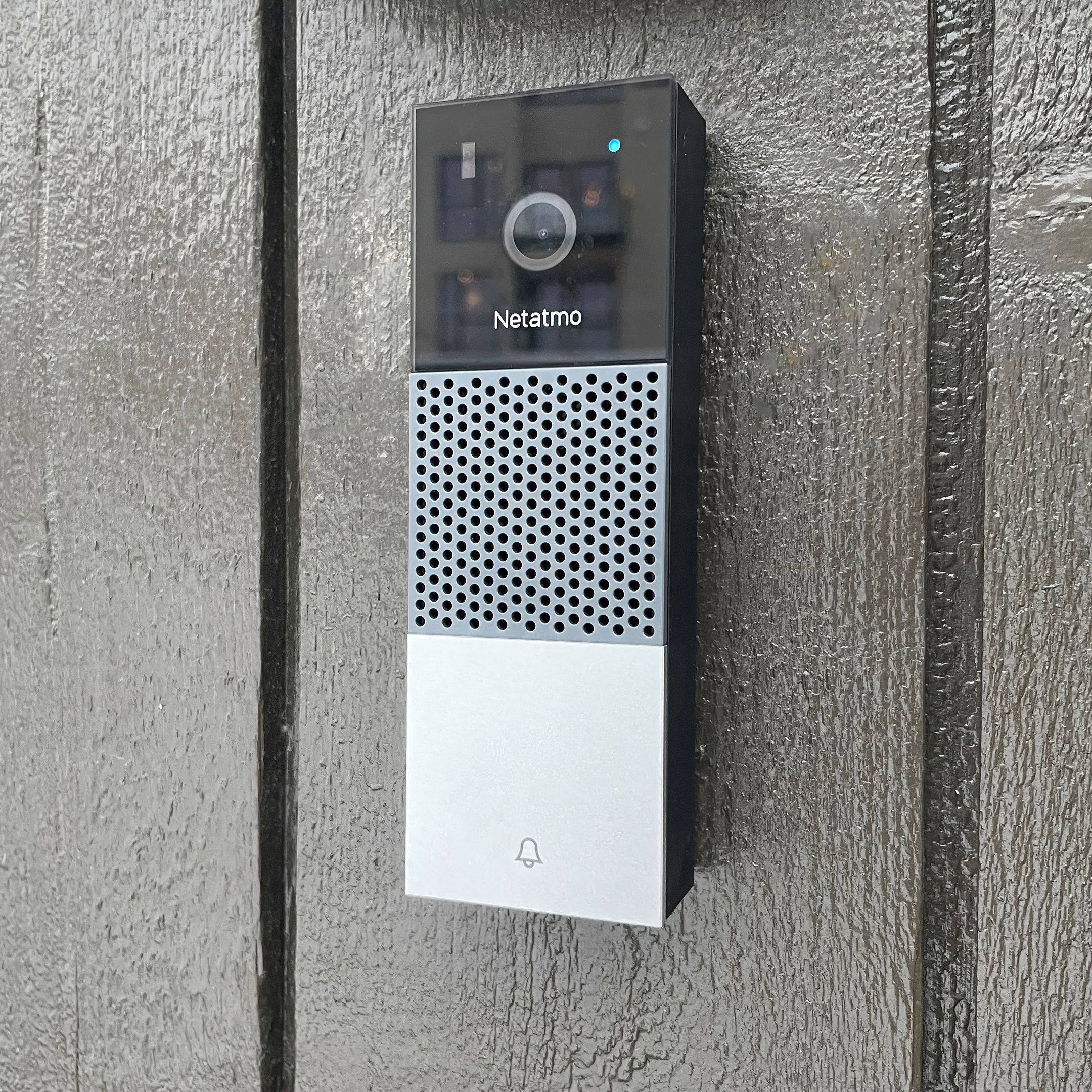 Conclusion
Netatmo Smart Video Doorbell works like other smart bells: shows video of those who call, directly on the mobile. And besides, people sneaking around near the front door.
The bell only works wired, and is relatively easy to connect if you have a wired bell already. It is among the few smart doorbells that work in this country without having to replace the transformer with one with a larger capacity. In this way, Netatmo is almost without competition in its field.
What gives it an even bigger edge is that you do not need a separate cloud subscription to get the full benefit. If you need more insurance than the pre-installed microSD card, you can configure the camera for cloud services such as iCloud or Dropbox, or even your own FTP server.
The quality is otherwise good, also the video quality, and even if there are some false alarms on random passers-by, it certainly does its good. The purchase price is relatively high, but then you also avoid running expenses next door.
Please note that the bell is only guaranteed down to minus 10 degrees. So far it has not gone on strike for us in 12 minus, we will report when the winter is over, about how well it copes with the Nordic climate.