Lasse Svendsen
Published

2021-07-19 - 9:00 am
Works surprisingly well, and alleviates allergy problems well. Smart control with app, and comfortable indoor climate after a few days.
Costs a lot and new filters are expensive. Somewhat noisy at maximum fan speed.
Specifications
Type: Air purifier
Connections: Wi-Fi
Filter: Glass HEPA 13, activated carbon
Timer: 15 min – nine hours
Noise: Max 63 dB
Screen: Yes
App control: Dyson Link
Remote control: Yes
Dimensions: 105.4 x 11.7 x 20.6 cm
Weight: 4.98 kg
Voice cobtrol: Siri, Alexa, Google Assistant
Web: dyson.co.uk
A light cooling breeze may be absolutely necessary to get through the day, when the temperature rises seriously in the summer. Then you find the fan from last year.
If you do not have a fan, you should act fairly quickly, because table and floor fans have a tired tendency to be sold out, when summer temperatures threaten to blow up the thermometer. A handy table fan, or a more powerful floor-standing variant, is not terribly expensive. But there's one thing they do not do.
They do not purify the air.
This makes Dyson's very efficient floor fan, Pure Cool, which cools you down and at the same time cleans the air in the room of dust, bacteria and pollen. At least they say so themselves.
And since it's summer, we obviously had to try. With two allergy sufferers in the house, it was also interesting to find out if Dyson's air purifier could improve the indoor climate and alleviate the ailments.
The floor-standing Pure Cool Tower, as it is called, is the most advanced of Dyson's air purifiers. It is also available as a pure fan, ie without air purification, at about half the price, and there are similar combinations of fan and air purifier from other manufacturers as well.
Here it is appropriate to note that not all of them can clean the air in large rooms, let alone an entire house. So check before you buy, whether the air purifier is only suitable for the bedroom, or small rooms. Or if it manages to clean the air in a large living room.
Quiet air purification
That's exactly what Dyson states that the Pure Cool Tower does easily, so I put it in the living room, mounted the carbon and HEPA filter in the socket, and connected.
According to Dyson, the two filters must be able to purify 290 liters of air in a 27 sqm room, per second (!). Since the living room is about 30 sqm, it should take a few minutes to clean the air. The filters should remove dust down to 0.1 micrometer size – accoring to an official test that has been done (EN1822, test standard for HEPA filters), and 99.95 percent of the particles in the room. Still according to Dyson.
Like sweet music in the ears of an allergy sufferer, but the filters also work on ordinary house dust, dandruff, skin residues, and other small particles, and Dyson also believes that the air purifier helps the indoor climate of pet owners.
App control
The one meter tall unit is easily controlled with the included remote control. It attaches to the top of the fan magically (magnetically), displays and controls all basic functions and is the one you end up using on a daily basis. When operating the air purifier with the remote control, you see the selections on a small circular screen at the top of the base under the fan.
But of course there is also an app for that, which for us techno nerds is much more fun than a simple remote control.
Here you can control the air purifier in exactly the same way as with the remote control. But in addition you also get an overview of how much debris and fast the filters have captured, and you can read the air quality in the room, where particle sizes such as PM2.5, PM10 and any amount of nitrogen dioxide from e.g. cars (NO₂) are displayed in real time. The app also shows the humidity and temperature in the room. The same app can also control and view data from other connected Dyson devices.
Voice control
If you have smart products with voice control, such as Apple's Siri, Google Assistant or Amazon's Alexa, you can control the Dyson fan with a selected voice command.
The easiest way is to choose Auto, and let the Dyson fan take care of the rest. But you can choose to control the fan speed manually, from practically silent to quite audible at 63 decibels. I would not go as far as to say that it is noisy when it is at full speed, but you can not exactly enjoy the peace and quiet with the fan at max. The quietest – except when it's off – is in night mode. Then the screen is also dimmed, and you can hardly hear the fan running.
If desired, it can also stop automatically after a selected time of 15 minutes, up to nine hours.
It can also be set so that it gyrates up to 350 degrees while running. If you do not want the airflow directly in the face, it can be turned away, and there is a diffused mode where the fan blows backwards.
Air cooling
What it does not do is heat the room. For that you have to choose another fan. For example, Dyson's Pure Hot & Cool, which cools the air in the same way as the Pure Cool Tower, but can also heat the air in cold conditions.
If you do not need an extra heat source, the air dores the job amiably. In addition to cooling the room when it is very hot, it actually manages to make the indoor climate more breathable for an allergy sufferer. After a couple of days, the air felt fresher and a little cooler. Much like when you open the front door on a fresh autumn day, and can draw in the clear air without feeling that it is full of pollen.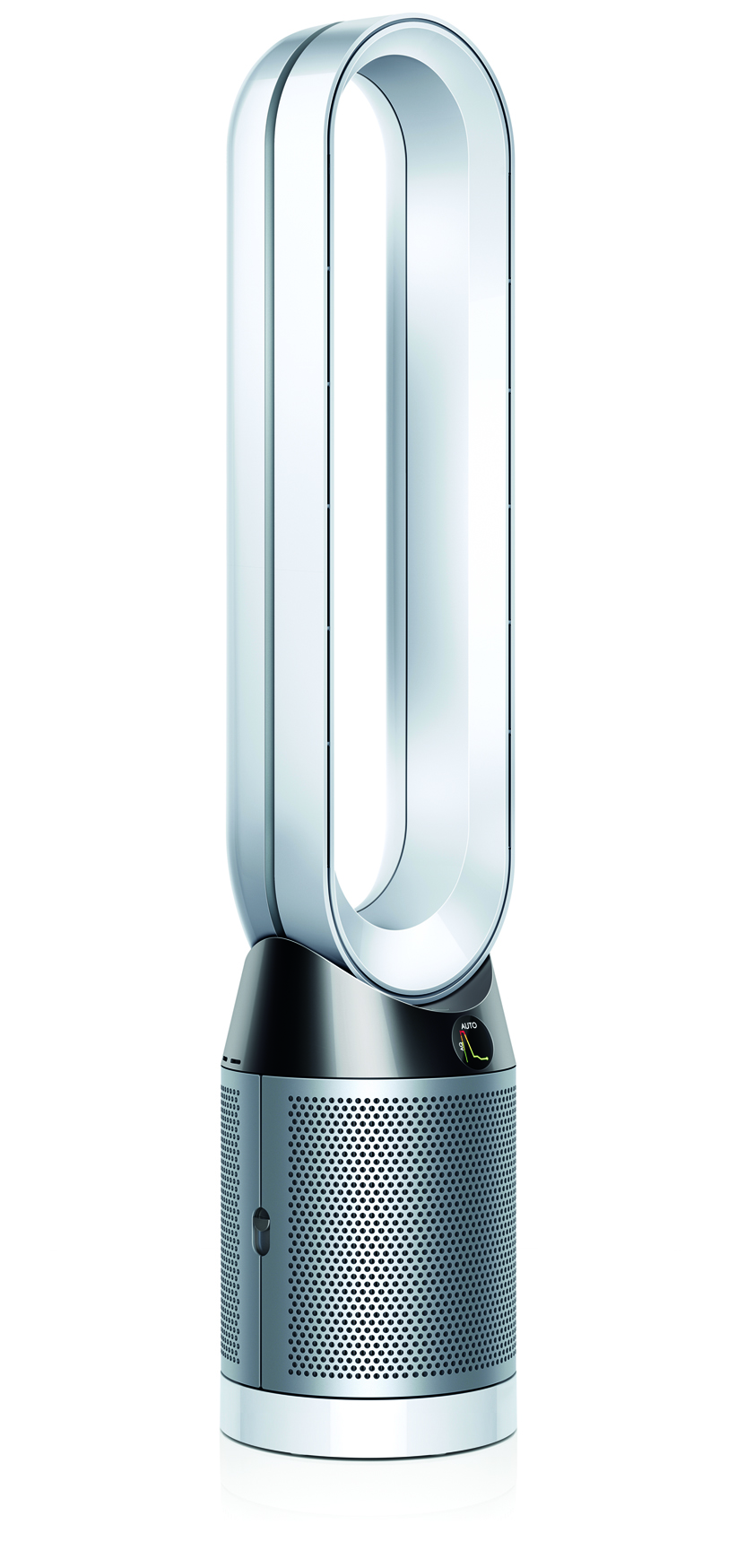 Although expensive, Dyson's floor standing air purifier is a revelation for allergy sufferers. Who will quickly feel that their breathing will become easier, and the ailments in the spring will be less. For others, who may live in such a way that industry or car traffic leaves pollutants in the air, the air purifier can be as smart as for the allergy sufferer. I did not find out how often you have to change filters, but when it eventually becomes necessary, it costs a little.
Conclusion
GBP 65 for a set of HEPA and carbon filters is expensive, but you may accept this when you discover how well Dyson Pure Cool actually works. There is a cheaper table variant with the same features, but it uses the same expensive filters. So if you are not intimidated by the price, Dyson Pure Cool is a well-thought-out product in a design that fits in most homes, and which will please allergy sufferers in particular.