Peter Gotschalk
Published

2022-06-27 - 8:00 am
Make it easy for those without gardeling skills to grow plants and vegetables.
Does not actually incorporate any smart technology.
Specifications
Type: Smart garden
Water tank: 4 l
Dimensions and weight: 60.4 x 39.6 x 18.4 cm / 2.4 kg
Power consumption: 13 W
I'm the type who definitely doesn't have green fingers. That's why I mainly stick to palm trees and cacti when it comes to greening up my home. And the idea of growing vegetables and lettuce at home simply never occurred to me.
But then a piece of news dropped in my inbox about a smart garden, the Click & Grow Smart Garden 9 Pro, which should make it possible for even the most unfit to grow things. I had to try it, I thought, and a few days later the parcel delivery man arrived with a large box containing what I can best describe as a 1980s-style balcony box.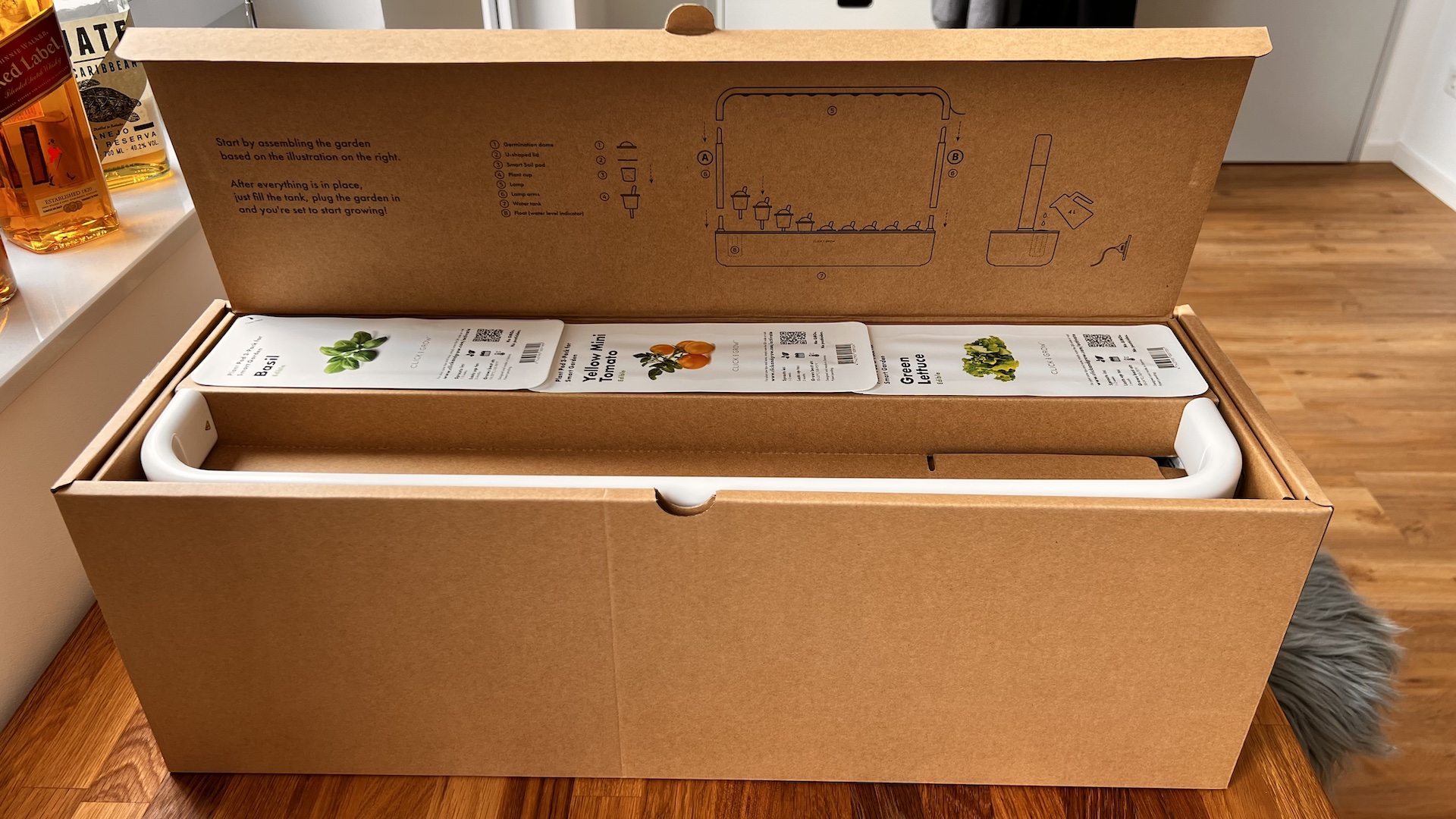 Plants water themselves
The Smart Garden 9 Pro basically consists of a large water container shaped like a flower box with a capacity of 4 litres of water. In addition, there's a grow light bar that shines down on the plants. And the latter comes in the form of capsules, which are placed in a frame with nine holes and thus room for nine capsules.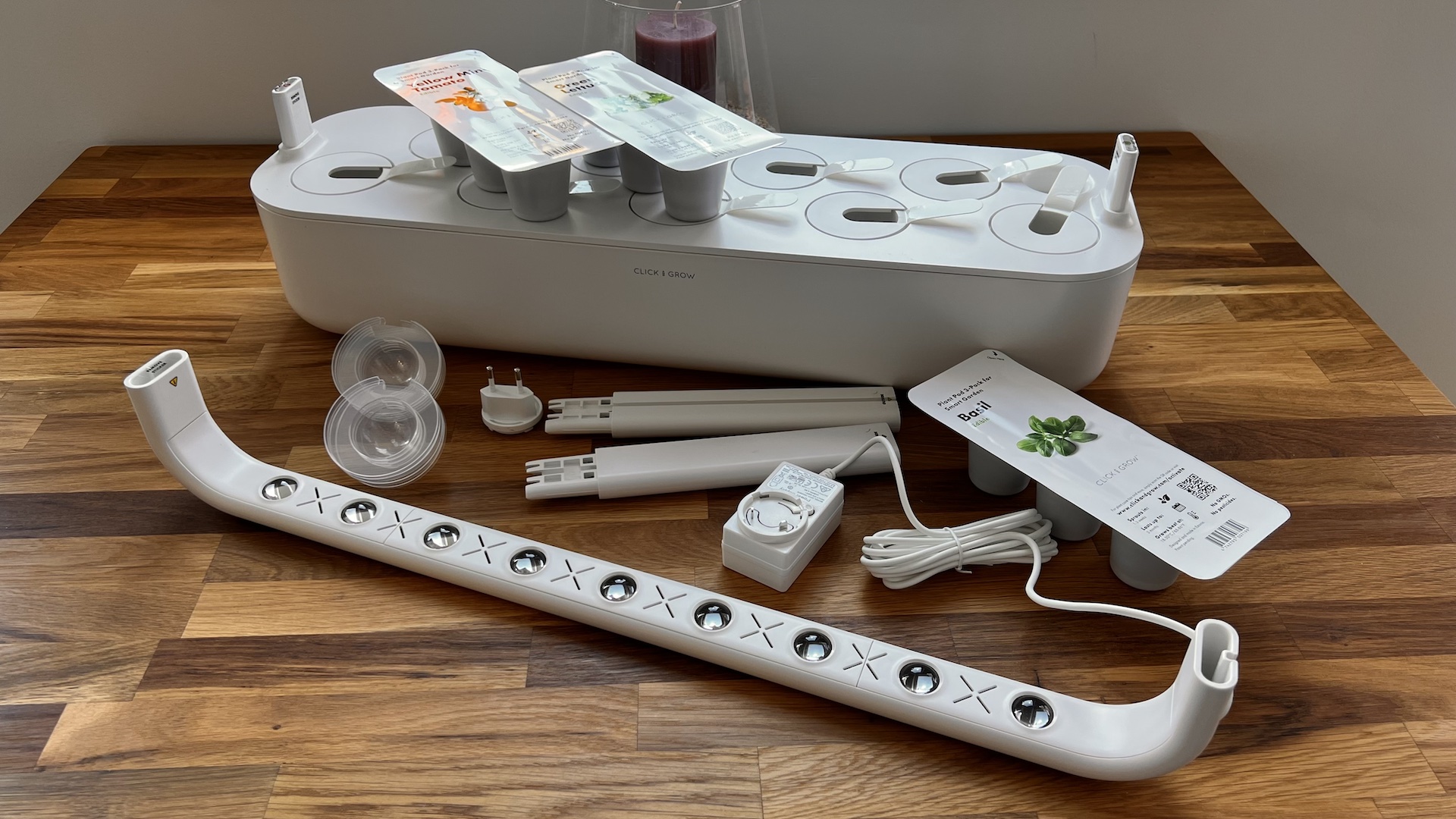 Each capsule is equipped with a small tube that draws water from the container itself, so you don't have to remember to water the plants yourself. Just add water to the container about once a month, depending on the weather, and the rest will take care of itself. The grow lights stay on for 16 hours and turn off automatically for eight hours, but you can also turn the lights on and off manually by running your hand along the lamp bar.
My Smart Garden 9 Pro came with three capsules of green lettuce, three capsules of yellow mini tomatoes and three capsules of basil. But new capsules can of course be bought separately, and there are plenty of options to choose from, such as yellow chilli, wild strawberries, coriander and much, much more. A pack of three capsules typically costs between €10 and €13, so once you've bought the smart garden itself, growing your own vegetables is a cheap hobby. Even though the price per seed is actually excessive.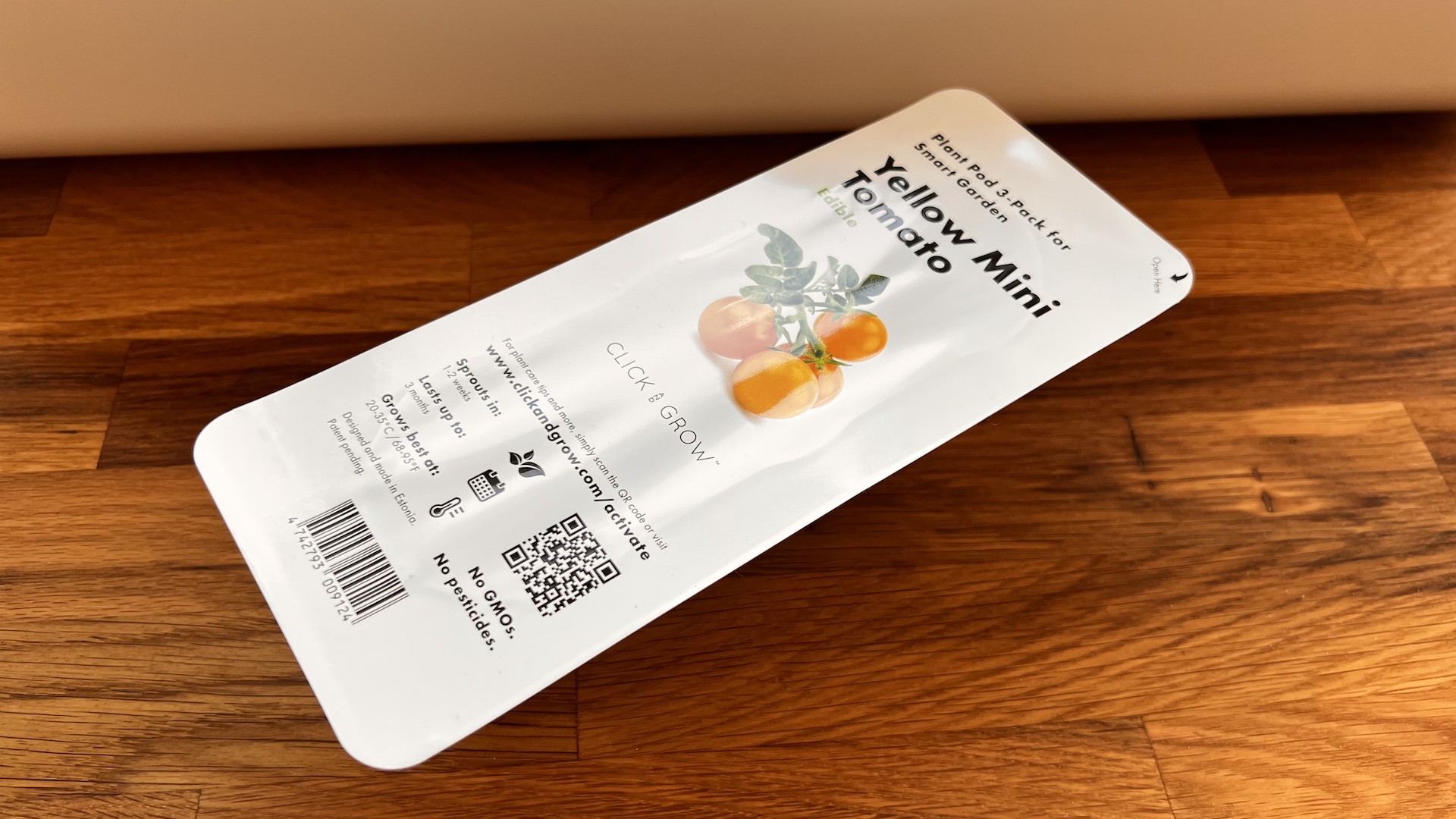 Depending on which vegetables you plant, it can take a while to start seeing results. I fitted my seed capsules on 1 June and let the plants grow for 14 days before writing the actual test, and as you can see from the photos, there is a big difference in how much the different plants have grown. The tomatoes in the middle need much more time than the lettuce and basil, and in one of the capsules the tomato seeds haven't even sprouted yet. Why, I don't know.
Not particularly smart
So, er… what's the smart thing about the Smart Garden 9 Pro? Does the balcony box automatically recognise the seed pods when they are fitted? Is there an app that can give me an accurate status of each plant and its progress or lack thereof? Can I control the water intake for each plant separately or adjust the lighting so that one type of plant gets more light than the others? Can I check the status of my smart garden and plants from my mobile while on the go? Um… no, no, no and no.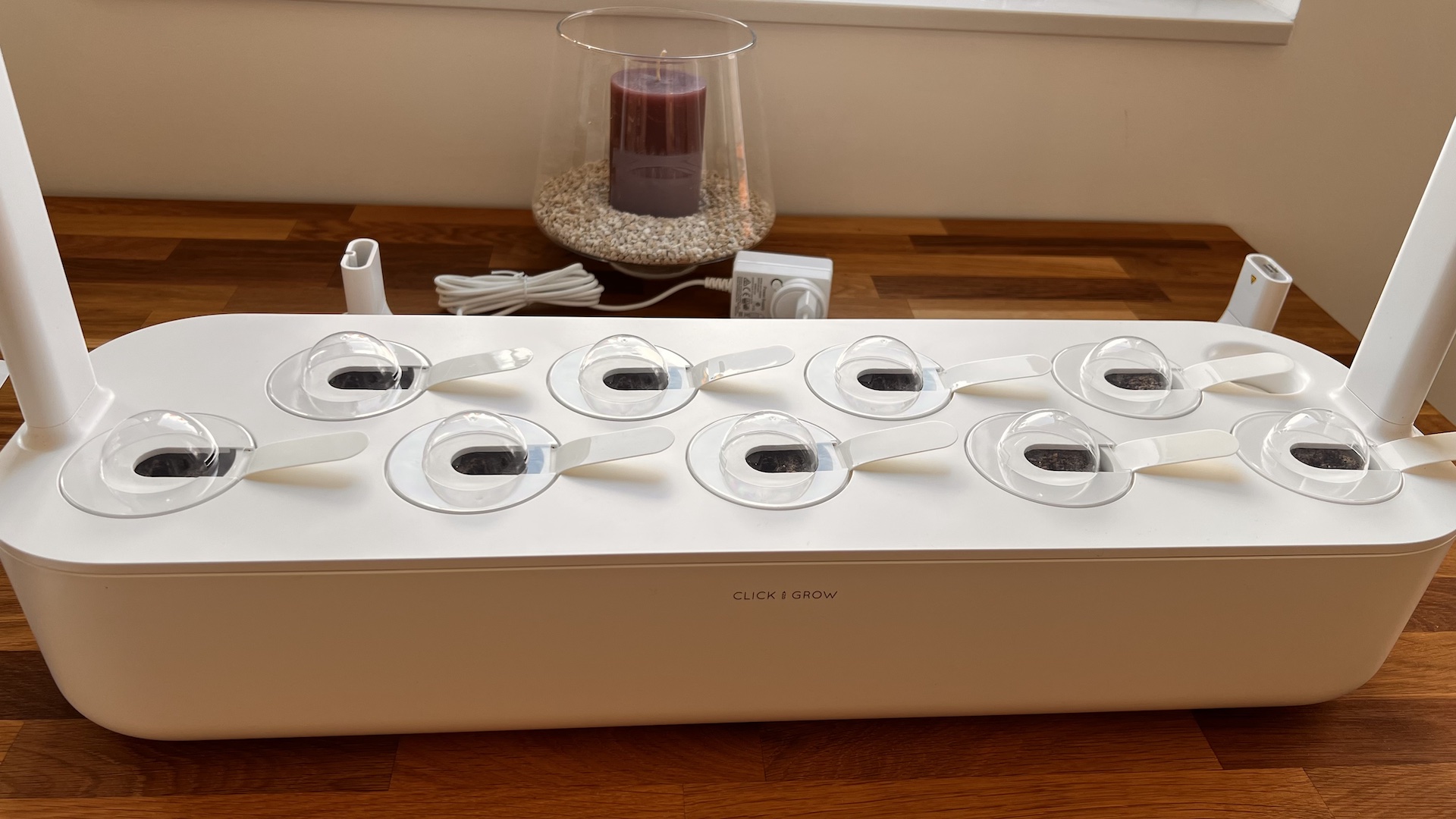 The fact is, the Smart Garden 9 Pro isn't actually very smart. Yes, there's an app called Click & Grow that lets you connect your phone to the balcony box via Bluetooth, but the only thing you can really control via the app are the grow lights. You can turn them on or off, as well as adjust the schedule for when the lights turn on and off automatically.
In addition, the app provides an overview of your smart garden, but you have to manually specify which vegetables you have planted. Clicking on a particular vegetable gives you general information about the plant – when it can be harvested, is it edible, what temperature does it prefer, etc – but otherwise the app just keeps track of how many days have passed since you planted the seeds.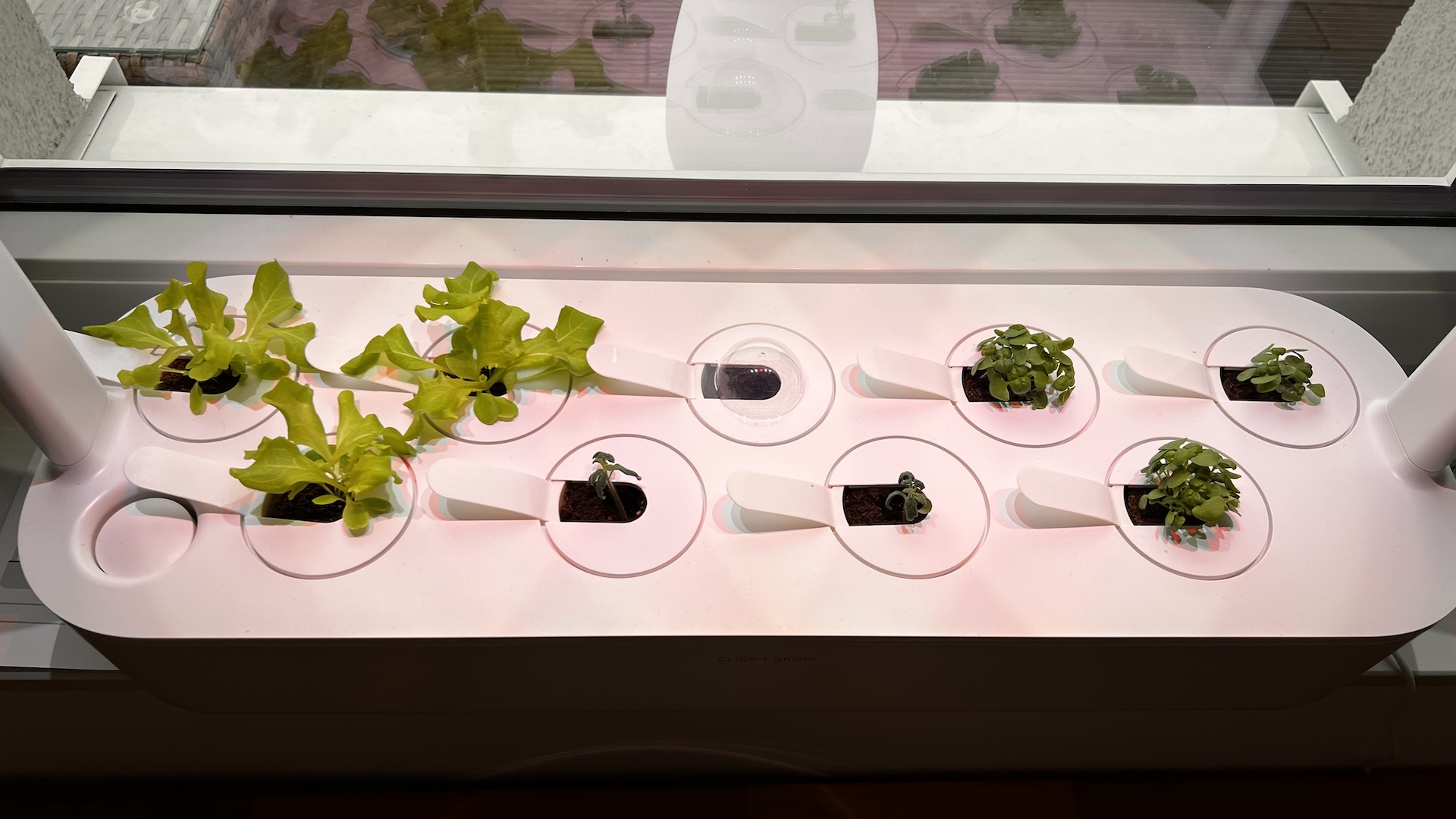 And that, my friends, is not exactly smart technology.
Conclusion
Admittedly, I expect to get a lot of pleasure out of my Click & Grow Smart Garden 9 Pro. The mere fact that you get your seeds in little capsules that draw water from the tank themselves means I don't have to worry about watering the plants. And the grow light helps the vegetables grow faster, so you don't have to wait months to enjoy your plants.
But smart in the true sense of the word, the product isn't really. I would go so far as to say that the product name leans towards being false marketing.
The Click & Grow app provides an overview of your smart garden, but you have to manually specify which vegetables you have planted. Clicking on a given vegetable gives you general information about the plant. (Photo: Peter Gotschalk)
Therefore, I can't recommend the Smart Garden 9 Pro as such, but I do admit that the "smart" garden can definitely help you get started growing your own vegetables if you're not the type to be born with green fingers.