Geir Nordby
Published

2020-10-12 - 11:00 am
Very stable (for the most part), respectable speeds. Nice price.
Not all gadgets thrive equally well on the network, especially some from Google we struggled with. This can be resolved with a future update. Maximum speed is not noticeably better than Wi-Fi 5.
Specifications
Processor: 1.5 GHz quad-core
Protocol: 802.11b / g / n / ax 2.4GHz / 5GHz – 1024QAM
Speed: 2.4GHz 600 Mbit / s / 5GHz 1200 Mbit / s
Infrastructure: MU-MIMO (Multiple User, Multiple Input, Multiple Output)
Antennas (router): 4
Antennas (node): 4
Connections: 2 x gigabit Ethernet (router), 1 x gigabit Ethernet (node)
Voice control: No.
Color: black
Web: netgear.com
If you want the simplest possible home network with good coverage everywhere, then the chances are high that you should have a mesh network. And if it is to be as stable and fast as possible, then Wi-Fi 6 is the new wine. We will now finally get gigabit speeds in a real environment! In addition to being even faster than before, it should also be backward compatible with older network products.
Wi-Fi 6, also known as AX, has been expensive until recently, but now Netgear has come up with one of the market's most affordable Wi-Fi 6 mesh networks. Namely the Nighthawk MK63 and MK62, where the last digit says how many extra nodes, or satellites, are included in the package, in addition to the router. These are wireless extensions of the main router, which you place where you need good coverage in the home. It improves the wi-fi experience considerably in a house where you normally have several areas with poor coverage. If you need to increase the coverage to even more nooks and crannies, just buy more loose nodes.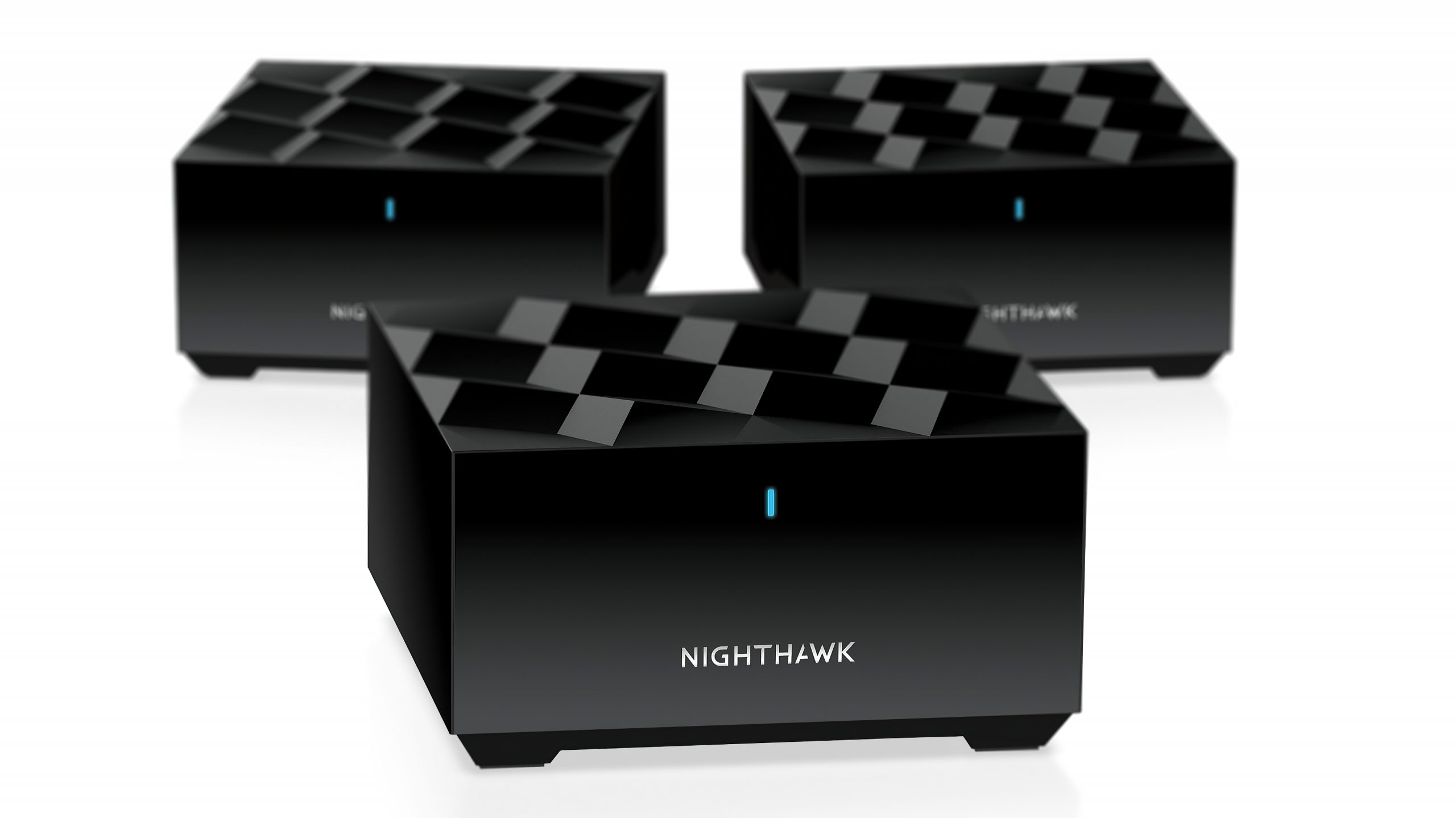 Nighthawk MK63 is affordable Wi-Fi 6 Mesh
When Netgear showed me its Nighthawk mesh products at the CES show in Las Vegas in January, it tingled a little extra in my stomach when I thought that now I was going to have speeds on the network!
If, on the other hand, you look more closely at the product description on Netgear's website, the Nighthawk MK63 and MK62 networks are intended to provide internet speeds "over 100 Mbit / s". It is well below what I expected and ten times lower than the gigabit I had hoped for.
The combined speed of the entire network is admittedly much higher, but really nothing more than a high-quality Wi-Fi 5 network is capable of.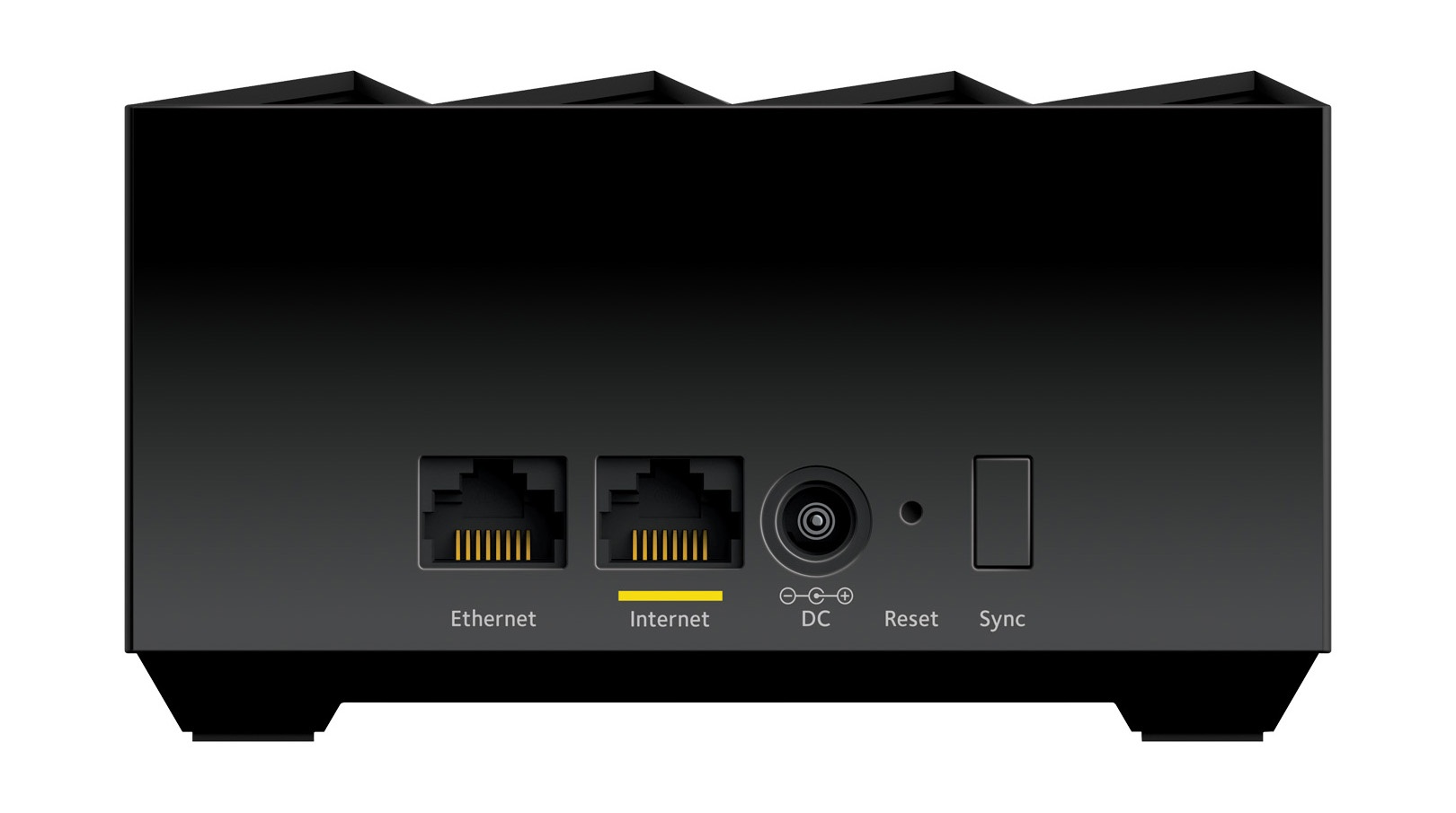 Connection
I have here received the largest package for testing, MK63, to test in a detached house on three floors. On a daily basis, I then have the main router on the top floor, and a node on each of the floors below. In terms of stability, it is certainly an advantage that the router only has to talk to one node at a time, which then passes the information on to the next. If the router was on the middle floor, with a node above and below, the router would have to talk back and forth to both nodes at the same time. This could potentially create a slower and less stable network.
Connecting the Nighthawk MK63 is easy. Download the Nighthawk mobile app, connect the main router to your home exchange or to your existing router (you may need to set the Nighthawk to AP mode in the settings), restart the home network and scan the QR code under the Nighthawk router. Then put the two nodes on power where you want them, and scan the QR code on these as well. Vipps, then you have a mesh network. Like that more or less.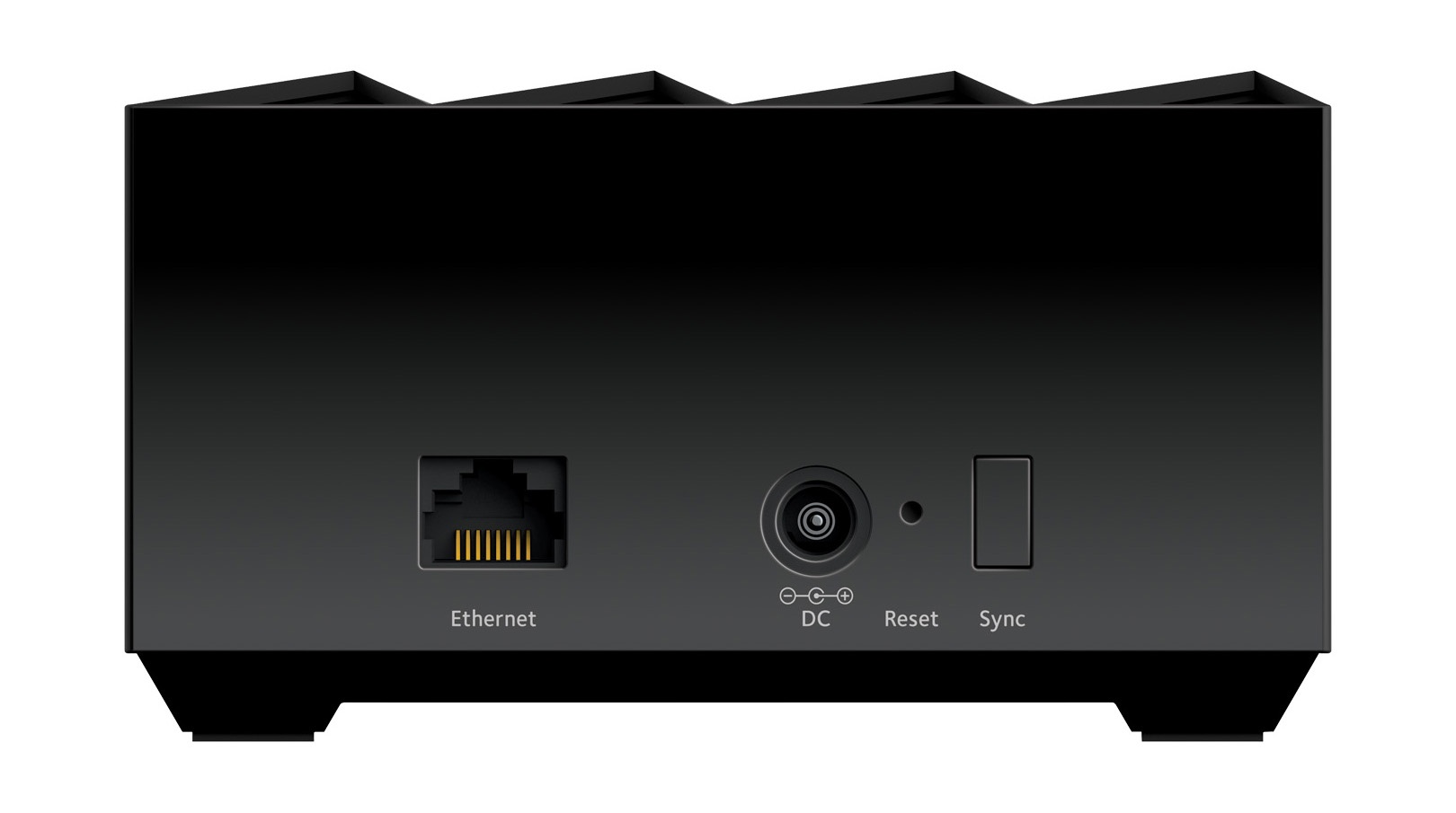 Ethernet connection
Unlike many other mesh networks, the Nighthawk nodes have an ethernet connection, so that products that lack wi-fi can also join the network. Alternatively, if you have a PC in the same room as one of the nodes, this can be connected with a cable for faster internet speeds.
Settings
If you feel like fine-tuning your network, do so through your browser. Here you choose whether the router should be just a router or an access point (AP mode). Select this if the network is unstable when connected to another router in the house. Here you also select the password, whether you want to set up a guest network, whether you want to broadcast on another channel or whether you want to amplify or weaken the signals.
For example, it is not always an advantage to send at full power, if the nodes are too close to each other and create interference. But relax, it usually works just fine if you never touch these settings.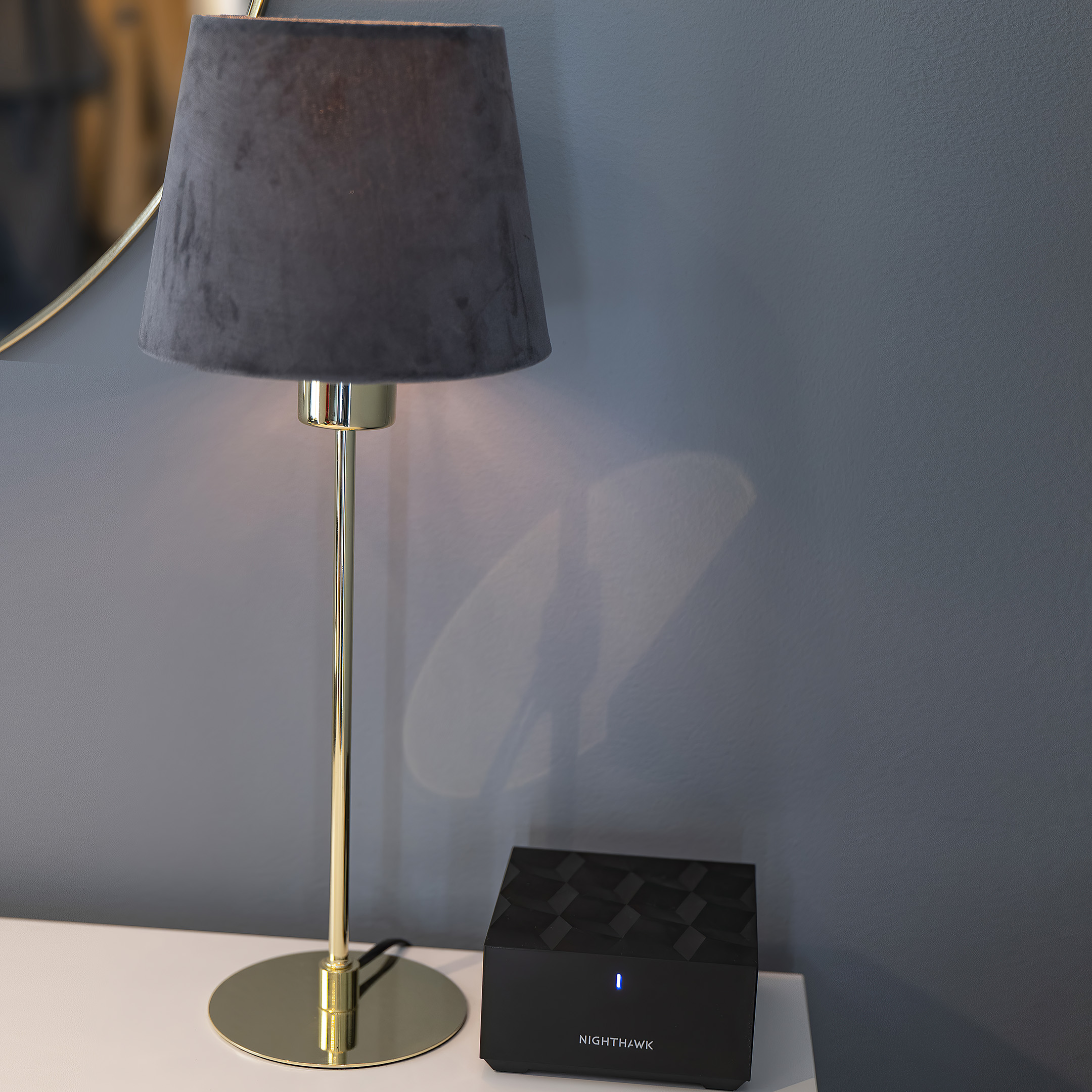 Unstable first impression
With the original firmware, life with the Nighthawk MK63 was anything but a dance on roses. Products would rarely connect, and they were never particularly stable. Getting the many Google Home speakers to connect, not to mention working normally with the Home app on your mobile, was almost impossible to forget. The same with a pair of Chromecast dongles that are connected at the back of their respective stupid old-fashioned TVs. I had to restart the home network almost daily, and I was very ready to give two thumbs down to the whole thing.
My laptop could not even see the new network, before I installed a new driver for the network card, so even if AX networks should be backward compatible with AC and earlier, you may have to update some products.
The solution
After updating the firmware to the latest version, things got far better. Suddenly I got the surveillance camera (Arlo Q) up and running, the robot vacuum cleaner (iRobot Roomba 980) has worked like a clock since, and I can control the garage door and sunshades without any problems. PC and mobile online is now also far more stable than in the beginning, and my Wi-Fi 6-compatible iPhone 11 Pro Max has a nice stable speed (approx. 100-200 Mbit / s) in close proximity to each of the nodes, and significantly closer to the Nighthawk router (500 Mbps). I get about the same speeds on my PC with Wi-Fi 6 cards.
Everything from streaming, whether it is film, music or games – and regardless of resolution – works smoothly on the new mesh network. No problem.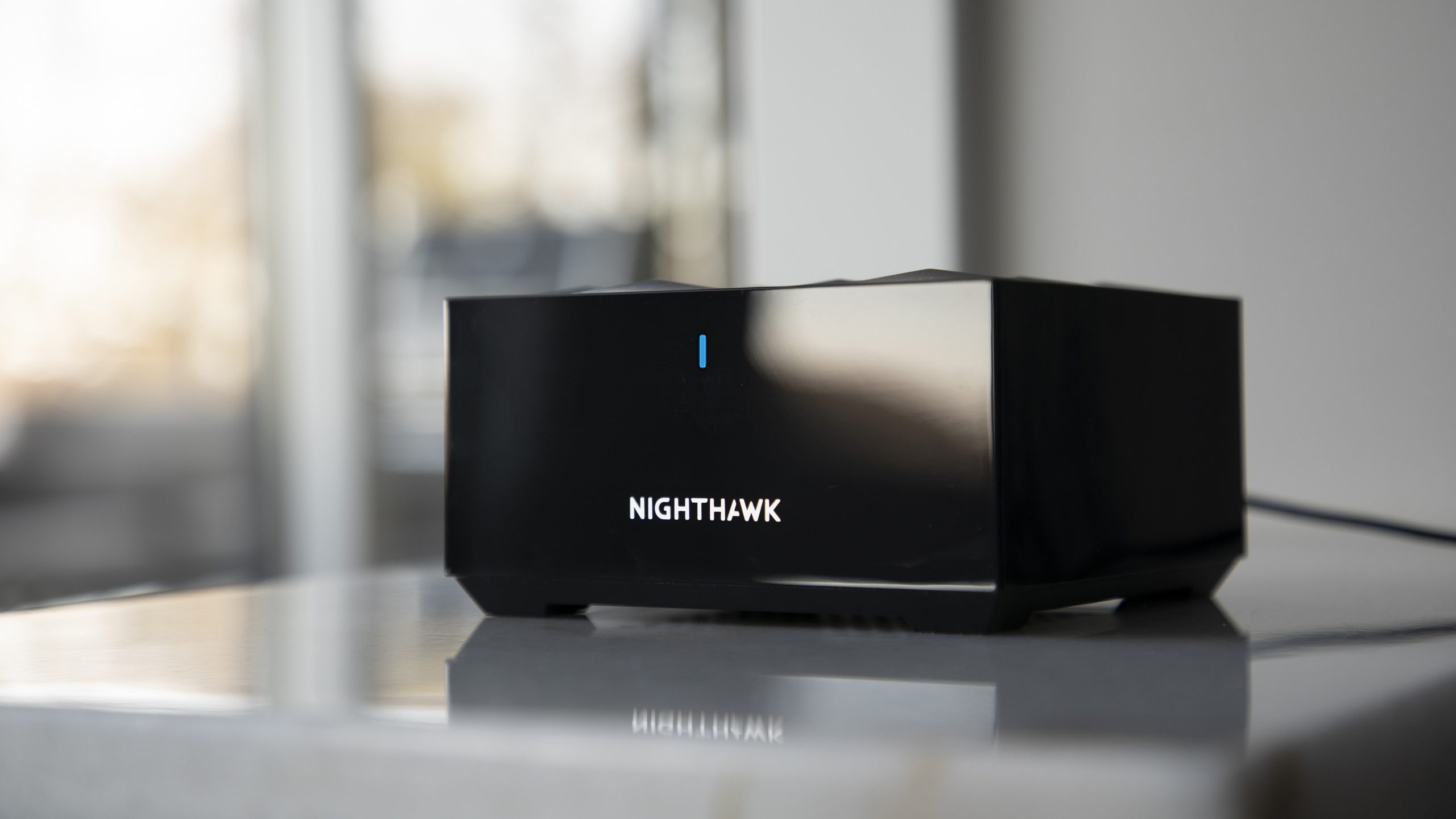 Still some Google issues
Most of my Google gadgets also suddenly got stable operation. I still have issues with a previous generation Chromecast, which I do not get in touch with no matter how many times I do the setup over and over again. I have also had problems with the 1st generation Google Home Mini. The speaker problems were solved by connecting it to a wi-f extension (TP-Link RE200), which took the baton further from the Netgear network. It has never cheated since.
2.4 and 5 GHz cannot be split
I have no idea why there are problems with some Google products, they support both 2.4 and 5 GHz. One theory I have is that they do not see the 5 GHz band to the new network and thus connect at 2.4 GHz. There is no possibility of splitting the two bands, even in advanced wi-fi settings on the router. I have also not found any way to force my iPhone to 2.4 GHz, so most likely they are sitting on separate bands, without the opportunity to communicate with each other.
I also have a 1st generation Google Home Mini speaker, which refuses to stay stable on the Nighthawk network. I solved this with a cheap Wi-Fi extension (TP-Link RE200) which took the baton further from the Netgear network. With the speaker connected to the extension, it has never cheated since.
Mostly stable network
After stopping dealing with the Chromecast that does not work, the home network has been stable ever since I updated the firmware on the Netgear Nighthawk MK63. Admittedly, the speed is not experienced better than the Google Nest Wifi network I had before.
But I experience the stability as better now, with the latest firmware. Except with the aforementioned Google products, which not surprisingly worked far more stably in the Google network. But other products are more stable now, and I have not had to restart the network for a long time. And it is quite unusual, because almost no matter where I have lived or what kind of network I have had, a restart on the home network has been something you have to cover at least once a month.
Not as fast as more expensive Wi-Fi 6
As I said, I experienced speeds equivalent to a good AC network. But then with higher stability, which is important if you have many products connected to the home network. I have also recently had the more expensive Netgear Orbi RBK752 mesh network, which is faster than the Nighthawk MK63.
In a mesh network, the nodes are the weakest link, these always give slower speeds than the main router, so here too. The nodes of the Nighthawk MK63 provide about half the speed of the nodes of the Orbi network. The router, on the other hand, has about the same speed from both.
Conclusion
I am very pleased with the stability of one of the market's most affordable Wi-Fi 6 mesh networks. The speed is also good on the Netgear Nighthawk MK63, but not much better than the best Wi-Fi 5 networks in my experience. In other words, do not expect to see the network speedometer slam up to 1 Gbit / s on wireless. On the other hand, the network will to a greater extent handle more connected gadgets.
If you absolutely must have the roughest speeds, mesh may not be the way to go, this is first and foremost convenience for people who do not want to manually connect from router to router depending on which room they are in, but just want a network that works throughout the house. And for this purpose, the Nighthawk MK63 works well.
Not all products are equally happy with this network, among other things we had some problems with some Google gadgets we could well have been without. We hope this improves with the next firmware update.
Connected to the node with ethernet cable, and with the router in the room next door, the speed was higher than with wi-fi connected to the router in the room next door. (screenshot from Speedtest)