Lasse Svendsen
Published

2020-09-05 - 5:40 pm
Very good readability, extensive format support, massive storage capacity, large screen with good brightness.
Very slow responses significantly reduce usability.
Specifications
Operating system: Linux 3.10.65
Screen: 10.3 "E-Ink Carta 1404 x 1872 (227 ppi)
Processor: 1 GHz dual core
Memory / Storage: 1 GB / 32 GB
Connection: USB-C
Wireless: Wifi, Bluetooth
Dimensions / weight: 249 x 172 x 7.7 mm / 300 grams
Battery: 2000 mAh, 30 days service life
Book formats: ACSM, CBR, CBZ, CHM, DJVU, DOC, DOCX, EPUB, EPUB (DRM), FB2, FB2.ZIP, HTM, HTML, MOBI, PDF, PDF (DRM), PRC, RTF, TXT
You can use the tablet as a tablet. I do it myself, but despite very good readability, a little too much light and contrast on the iPad for it to be comfortable to read ebooks in bed.
Then a tablet is a better solution. The readability is more similar to that on paper, the contrast is not so strong, and even with backlit screens, the light is not annoying. Not even in the dark. The market leader Amazon Kindle has also made it cheaper to buy a tablet than a tablet, and for book lovers, the tablet is clearly the best solution.
But the Kindle is not without competition. The tablets with the resounding name Pocketbook are absolutely good alternatives, and they are also available with larger screens than Amazon delivers on a Kindle.
Screen
The Pocketbook InkPad X has practically the same screen as the latest iPad. As much as 10.3 inches with a reading surface, based on an E Ink Carta screen with 227 ppi resolution, and adjustable backlight.
It provides a very nice reading experience, and you can quickly change both the amount of light and the color temperature with a swipe up, down or sideways on the screen. The tablet is also equipped with Bluetooth for wireless headphones, and Wifi for downloading ebooks.
The InkPad X supports many more eBook formats than a Kindle does, including retailers' EPUB format, but it cannot immediately use the Kindle proprietary format. You can also use audiobooks on InkPad X, and play music, look at illustrations, read comics – in black and white of course – and it has support for text to speech.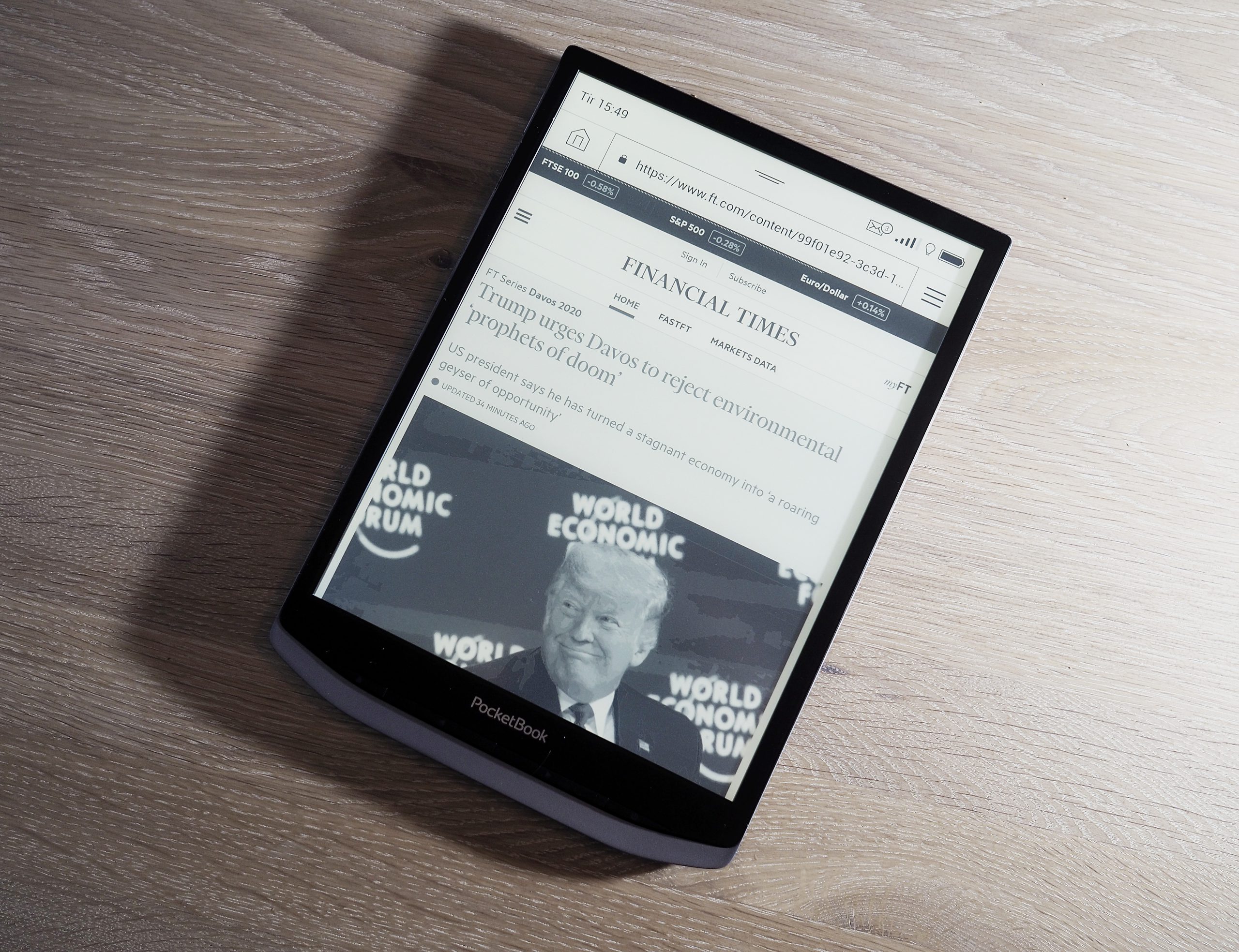 Ease of use
The tablet also has a calculator, browser, chess and Sudoku, translator, and support for Dropbox from which you can download ebooks and files. Books can also be purchased and with 32 GB of storage, you have room for an entire library, up to 15,000 books.
It comes with a USB charging cable, and a USB to mini-jack adapter for headphones, but no cover. The battery should last up to 30 days before you have to charge, so you hardly need to bring a charger on holiday.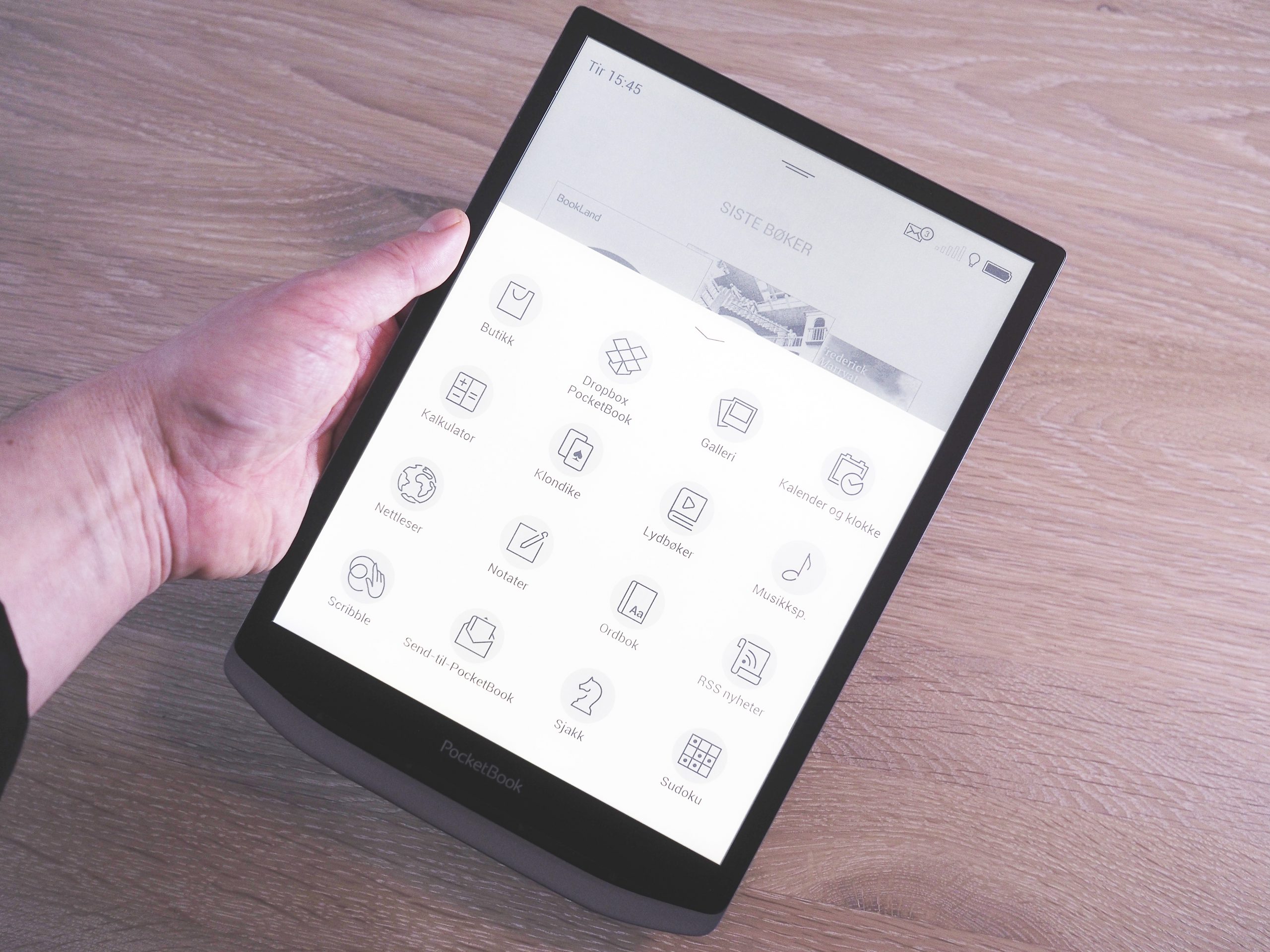 There are only four buttons on the InkPad X, the rest of the operation takes place on the very nice screen. Text looks very book-like, but with only 4-bit grayscale, illustrations look very murky. It would have been to live with, if it were not for: The extremely slow responses. Simple pointing commands usually take several seconds to execute. Press, wait, and then the screen flickers a little, two to three seconds later the task is completed. It happens so often that the user-friendliness gets ironed out. It is usually fine to browse ebooks, but even here the screen may freeze for a few milliseconds, flicker a bit, before changing from negative to positive display.
Conclusion
The large, sharp and bright screen is fantastic to read on. There is something special about a screen over 10 inches, and if you are used to 6-inch, this is a revelation. The tablet supports almost all formats, the battery life is impeccable, and despite its size, it fits well in the hand. Unfortunately, it is so slow that usability is significantly handicapped, and until Pocketbook comes up with an update that solves the slow responses, we are waiting with some recommendation.