Lasse Svendsen
Published

2021-10-25 - 8:00 am
Lightning fast mobile with enhanced cameras and bright OLED screen. Dual storage capacity on the base model, weatherproof and solidly built.
Charger is optional. Missing telecamera and 120 Hz screen update.
Specifications
Operating system: iOS 15
Screen: 6.1″ Super Retina XDR OLED (2532 x 1170), 120 Hz, 460 ppi
Processor: A15 Bionic hexacore 3.23 GHz, 5 nm
Memory: 4 GB RAM
Storage: 128, 256, 512 GB
Cameras: 13 mm 12 Mp f/2.4, 26 mm 12 Mp f/1.6
Front camera: 23 mm 12 Mp f/2.2
Video: 4K/60 fps, 10 bit HDR, ProRes, Dolby Vision HDR, 1080 HD, 240 fps
Wireless: 5G, 4G LTE, Wi-Fi 6, Bluetooth 5.0, NFC, GPS, GLONASS, etc.
Battery life: 3240 mAh, 19 hours standby
Dimensions/weight: 145.7 x 71.5 x 7.65 mm/173 g
Other: Wireless charging. Starlight, midnight, pink, blue el. red finish, IP68 water resistance.
Web: apple.com
Geekbench 5: 1656 (Single-Core), 4373 (Multi-Core) Geekbench 5 Compute: 10420 Antutu 8: 641147 3DMark Wild Life: 7310 (43,8 fps avg.) Basemark Web 3.0: 938
Benchmarks
Price 875
Product page
The new iPhone 13 may not look like a significant upgrade compared to the iPhone 12. However, that is only partially true. Because with a few exceptions, the iPhone 13 is closer to a light version of 13 Pro.
The performance in our highly theoretical tests, e.g. Geekbench, is almost identical to the 13 and 13 Pro model. And better than on an iPhone 12.
If you choose an iPhone 13 instead of a 13 Pro, you get the same phenomenal 6.1-inch OLED screen, which is among the brightest we have tested, but with one clear flaw compared to the Pro models:
It does not have ProMotion with 120 Hz refresh rate, which we will return to immediately.
It also does not have 13 Pro's three cameras and lacks the 77 mm telephoto lens that sits on both 13 Pro models. The two cameras that sit on the back of the iPhone 13 are not as bright either, but preserved, they are bright enough. And they are also upgraded in a few areas compared to the 12.
Quick overview
Inside, both this and the Pro editions have got Apple's new A15 processor. The battery capacity has also been improved on the regular 13 model, which also finally comes with 128 GB of storage in the base model. An iPhone 12 started with a modest 64 GB.
Of course, there is money to be saved by choosing 13 instead of 13 Pro, but then you miss a little more things than tele and 120 Hz ProMotion. Here you do not get the Lidar scanner, which i.a. helps the camera focus better in limited light. The mobile also does not support Apple's ProRes and ProRaw formats for video and still images, and it has a maximum of 512 GB of storage, up to 1 TB on 13 Pro.
But along with the 13 Pro, it has perhaps the best 4K quality we have seen to date on video from any mobile.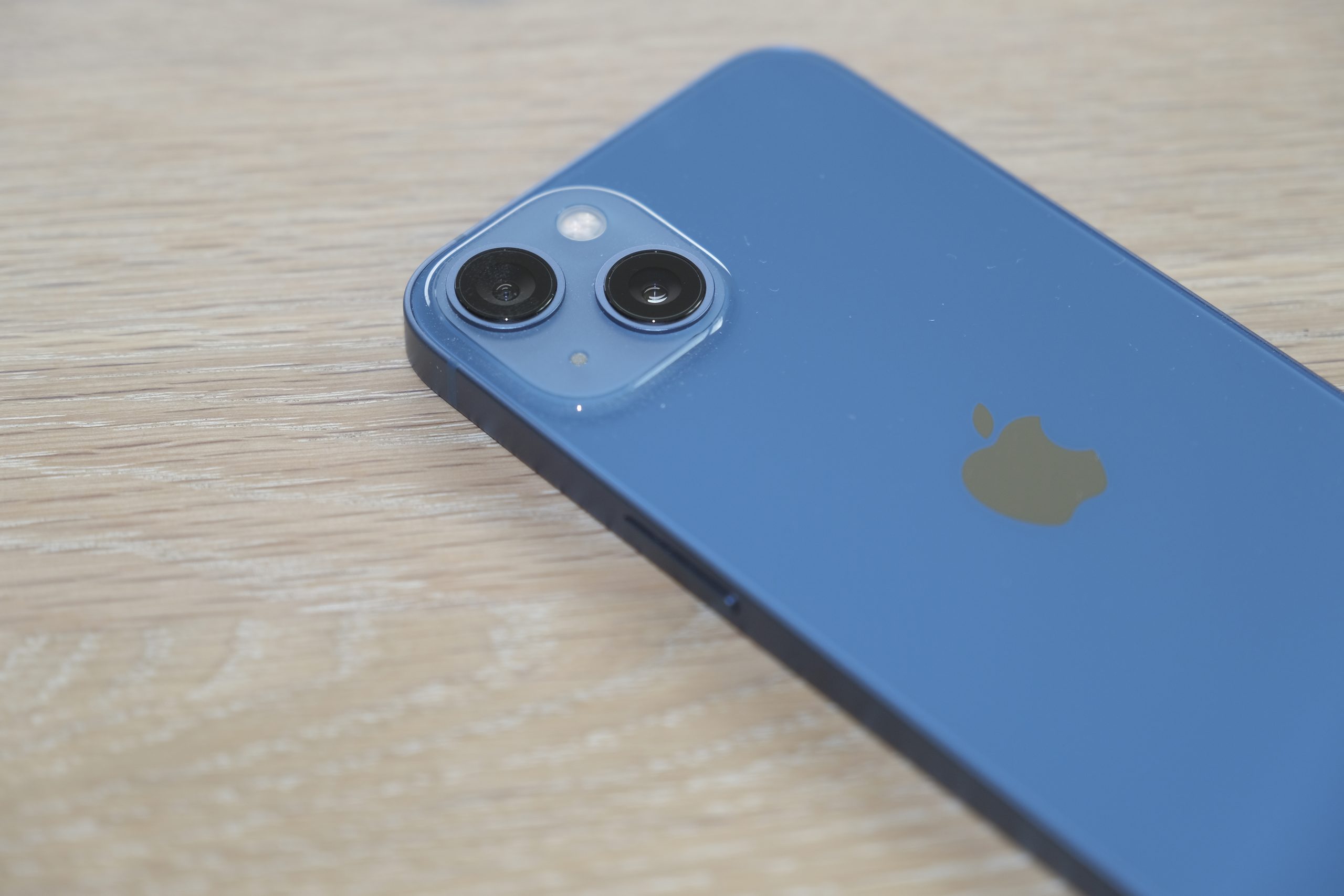 Cameras
The two rear cameras are both 12 Mp. The 26 mm wide image sensor with image stabilization has 2 x zoom, is 1.7 µm large and has a brightness of f/1.6, while the wider ultra-wide angle of 13 mm has a brightness of 2.4. For comparison, the brightness is resp. f/1.5 at 26 mm on 13 Pro and f/1.8 at 13 mm.
But then, 77 mm tele is not available on iPhone 13. Neither does the macro with 2 cm near limit.
The front camera with 12 Mp f/2.2 and FaceID login is the same as on the 13 Pro.
Otherwise, the camera also supports 60 fps 4K video, Dolby Vision HDR (High Dynamic Range – which expands the image dynamics) and Photographic Styles.
With Photographic Styles, you can tap the screen in camera mode and increase the contrast, add more color saturation, change the color temperature, and adjust the tone range. There are also eight filter effects that can be selected, either before or after taking the picture.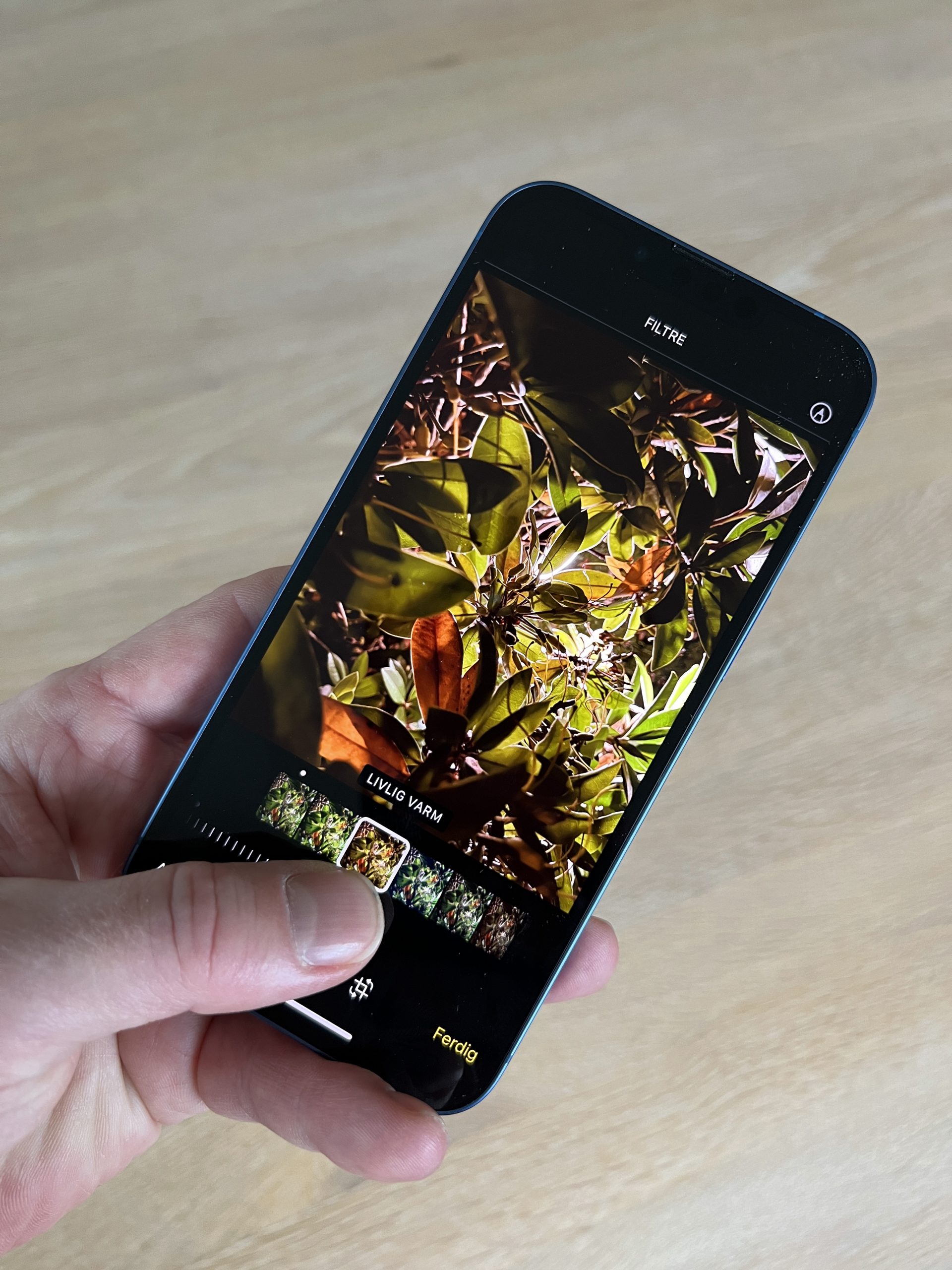 The images can be stored in HEIF format, which provides a milder compression of the images.
The iPhone 13 also has the same Cinematic Mode that we find in the 13 Pro. Just as Cinematic Mode simulates a narrower depth of field, you can choose at any time during or after shooting which area of ​​the shot should be sharp.
It works as intended, but only in 1080p and is unfortunately not without artifacts. It is to be hoped that Apple will solve at least some of them in an upcoming update of iOS 15, and we would like Cinematic Mode to be used in 4K as well.
Screen and design
The OLED screen is the same on both, but here the brightness is a maximum of 800 nits. However, it is capable of as much as 1200 nits on images and video in HDR.
You will probably not notice that the screen lacks ProMotion, unless you are an avid gamer, where a faster refresh rate is really important. What you may notice most is that text and images do not flow as smoothly and softly across the screen when scrolling down a web page as they do on the Pro models.
As with the 13 Pro, the incision has become smaller on the iPhone 13.
The design is pretty similar on both. The form factor is the same, but the iPhone 13 is lighter, as the phone is made of an aluminium alloy like the one used by the aerospace industry, while the 13 Pro is made of 316L steel.
Both are waterproof and can withstand 30 minutes at a depth of six meters according to the IP68 standard. The glass is protected against damage with ceramic crystals – Ceramic Shield – built into the glass and double ionized to make it more scratch resistant.
Performance and battery life
The new A15 processor in the iPhone 13 is faster than in an iPhone 12, and in the Geekbench 5 the score is close to the performance of a 13 Pro.
Our tests showed a score of 1656 (Single-Core) and 4373 (Multi-Core) with the iPhone 13, while the equivalent for the 13 Pro was 1732 and 4709.
In the Compute test, which also tests the graphics performance, the score for the iPhone 13 is lower – 10420 against 14270 for the 13 Pro – something that may be due to the 13 model having fewer GPU cores.
However, it is not certain that it is so easy to see the difference in performance in practical use.
RAW files, whether video or still images, are so far reserved for the Pro models, and this is usually where you need a powerful GPU and processor performance. As long as the iPhone 13 does not support ProRes or ProRaw, there is not much else that can challenge the performance of the A15 processor to the same degree.
The battery is actually larger in the iPhone 13, but the standby time is still a bit lower. You get three hours less for binging downloaded TV series compared to 13 Pro.
No charger for iPhone 13 is included either. Only a Lightning-to-USB cable, so a charger may be purchased separately. Alternatively, you can buy Apple's magnetic MagSafe charger, which attaches to the back of the phone, or a mobile cover with MagSafe.
Image quality
The two cameras on the new iPhone 13 have the same focal length as before, but now the wide angle has image stabilization, and the image sensor has got Dual Pixel autofocus, not unlike the one we know from Canon's EOS cameras.
Otherwise, there are no technical changes of a significant nature, and the picture quality is highly comparable to the picture quality of an iPhone 12.
But smarter image processing has given the iPhone 13 better color reproduction. Skin tones look better, the cameras expose with greater precision, and the phone's autofocus is both faster and more accurate. Pictures taken in the dark are not as properly exposed as on the iPhone 13 Pro, but the cameras more often strike a correct white balance than the iPhone 12 does.
However, the differences are not great, and even the most avid amateur photographers go a long way with the picture and video quality of an iPhone 13.
It is first and foremost those who really need RAW files for finishing and 77 mm tele who should go for 13 Pro – or 13 Pro Max instead.
Conclusion
For most, the iPhone 13 is the best choice among Apple's new iPhone generation. You lose faster screen update and telephoto focal length compared to 13 Pro, but the rest is for all practical purposes just as good on an iPhone 13. Since most people share their photos on social media, it is greatly exaggerated how good image quality you actually need, because the compression on providers' platforms robs your images of resolution, dynamics, and color depth. If, on the other hand, you print images in larger formats, you should go for one of the 13 Pro variants. This also applies to those who actively use the mobile as a camcorder and need ProRes for finishing. For pretty much everyone else, the iPhone 13 is the right choice.