The Garmin Epix is a premium multisport watch in titanium, and my test sample has sapphire crystal glass. As soon as I open the box, I'm completely hooked – the watch is stylish with attitude, without standing out too much. It fits perfectly on the wrist, the weight is fine and it seems sturdy.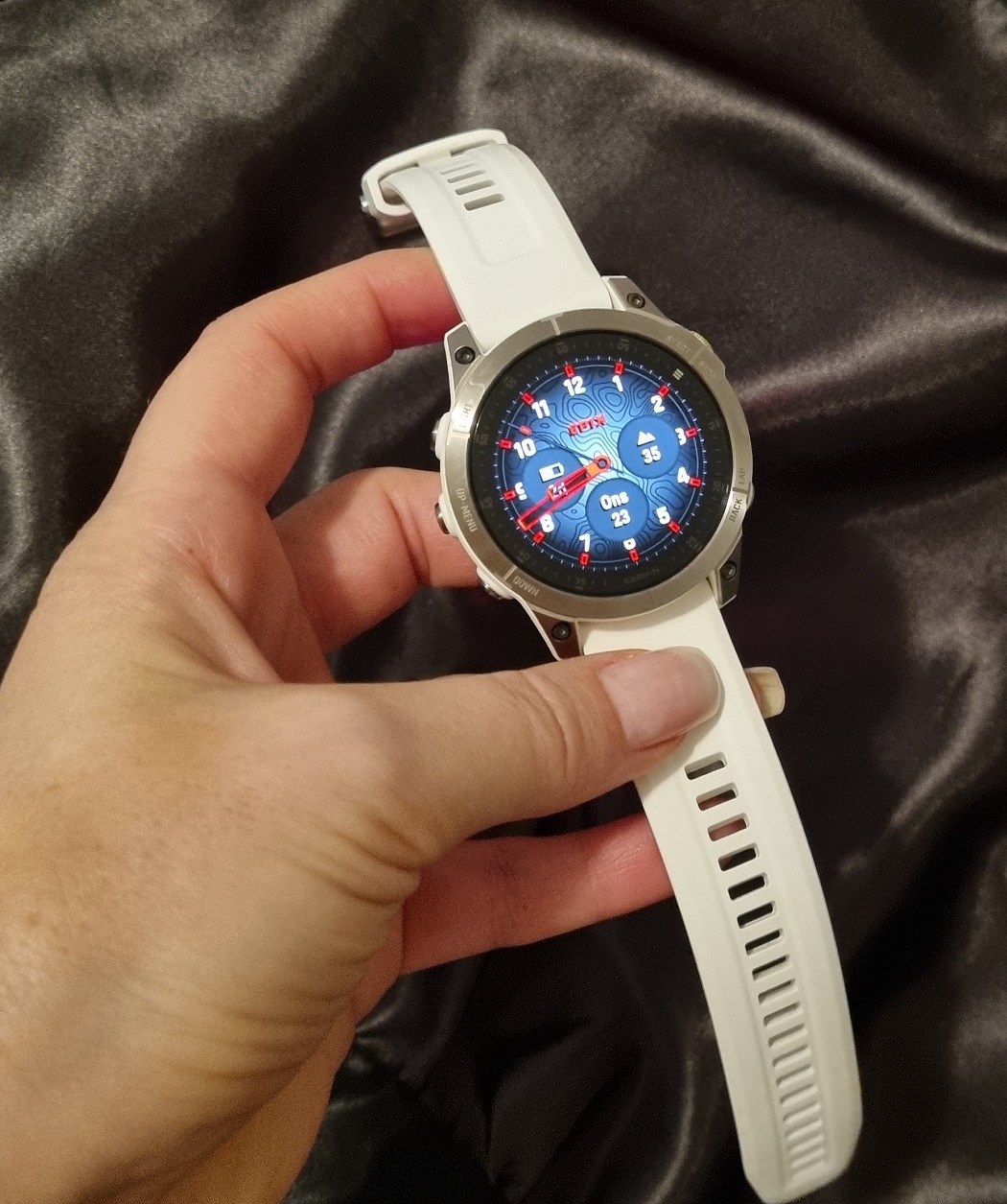 The watch is controlled with a combination of touch screen and buttons on the side, where you can find your own way. There are five buttons, and the bezel is engraved with which button does what. The idea is probably a good one, but it takes a special angle and good eyesight to see what it says. This is also where I find the watch's first weak point – the glass bezel.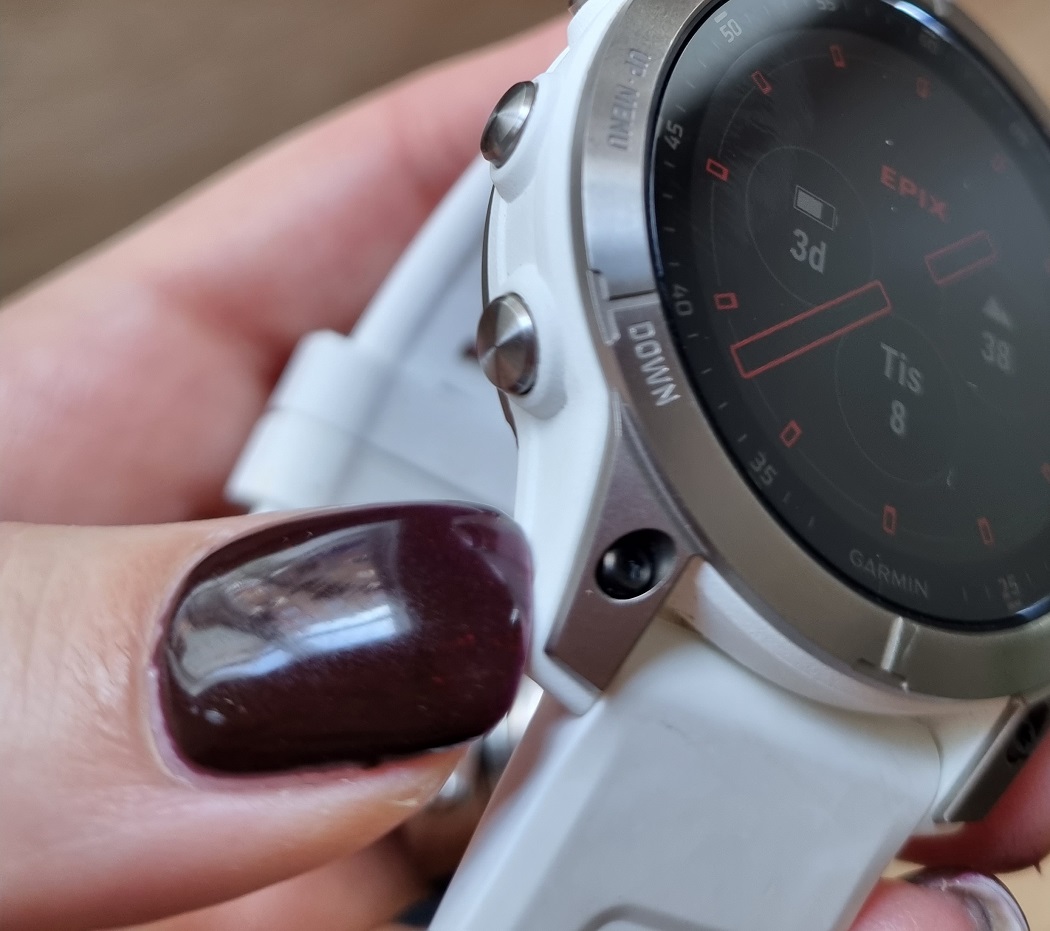 Since I think it's a damn nice watch, I also use it for everyday wear, which means I don't just wear workout clothes with the watch. But for some reason Garmin didn't sand the edges properly, so they're a bit sharp.
I began to suspect something was wrong the first time I put on my winter coat and the clock slipped over the lining. Nothing happened, but if you make the same movement day in and day out, there's a good chance the lining will tear, so be a little careful if you have clothes you're worried about.
And while we're on the subject of weak points, I'll mention point number two: The price. This is a really expensive watch.
Garmin Connect-app
Of course, you can use the Garmin Epix without connecting it to your mobile phone, but to get the most out of your investment, including statistics, charts and other information, I definitely recommend downloading the Garmin Connect app, creating a profile and connecting the two devices.
The app is clear and easy to use, and you can tell that Garmin has been doing this a long time and has everything under control.
Diverse choice
The Epix is part of Garmin's Outdoor segment, and includes an altimeter for altitude data, a barometer for weather forecasts and a three-axis electronic compass. If climbing is what gets your adrenaline pumping, you can also use the ClimbPro climb planner to view your current and upcoming climbs in real time, including incline, distance and ascent, as well as descent and flat sections.
If you have a hard time deciding and are active with a little bit of everything, you don't have to change your watch all the time just because you suddenly have to swing the golf clubs. The app contains 42,000 golf courses as well as a number of other more or less useful golf functions.
After interval training on a bike, I can see the length of the training session, calorie consumption, maximum and average heart rate ...
Golf is of course a game of equipment, but I have a strong suspicion that I personally will not be a better golfer with Epix on my wrist, although I might look (even) better. I'll probably get better results on the golf course if I choose to spend the amount on golf lessons instead.
If running is what you're passionate about, there are a number of things you can check up on, such as measuring stride length and steps per minute in real time. "Along with compatible accessories," you can also measure ground contact time and balance, which means you'll know how long at a time your foot is in contact with the ground during your run. You can also get help predicting competition times.
In the Epix, Garmin has really tried to include as much as possible, and it works brilliantly even for those who don't throw themselves into long and challenging rides.
You'll find profiles (some preset, some not) for strength training, trampolining, skateboarding, skiing, surfing and running, among others. If you need inspiration for strength training or yoga, you can get workout animations on the display. And if you're into HIIT training, there's time-keeping for Tabata and more.
In other words, there's no excuse not to be active!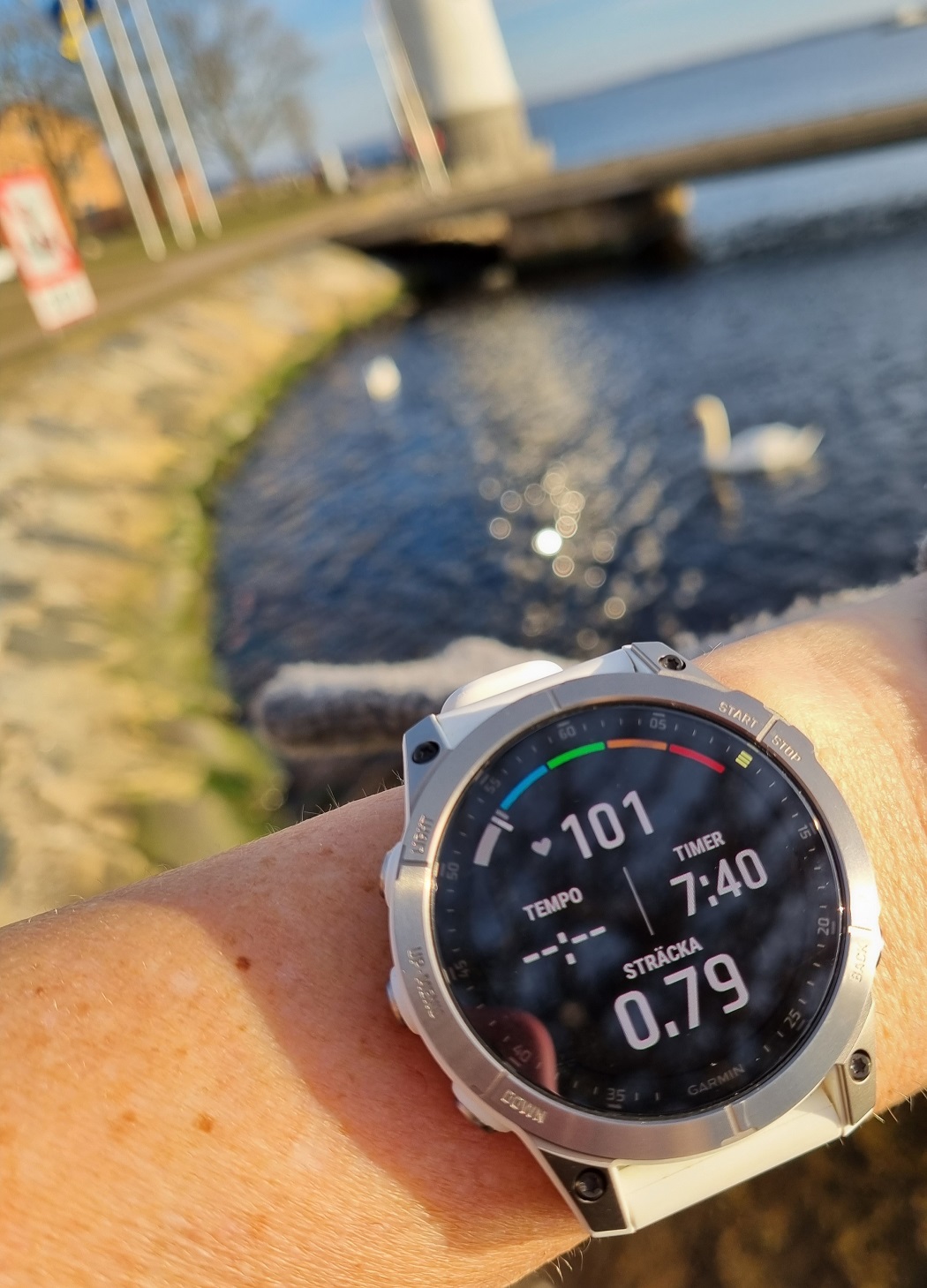 Training with Garmin Epix
I used the watch during interval training on a bike indoors, and it showed the same value as the system's own heart rate monitor, which was attached around my chest. After the session, I could get a lot of interesting information just by scrolling through the menus on the watch.
In the past, it's been my impression that some Garmin watches took a little too long to find the GPS signal, but not here. And the clear AMOLED display is clear and uncluttered, even in daylight and sunshine. A big plus when you want to focus on training and just take a quick look at the watch now and then to see your status.
Without good sleep, you won't get the most out of exercise and everyday life will be a challenge. So good, quality sleep is essential. Garmin Epix not only helps you keep track of how long you sleep, but also of the quality of your sleep (Photo: Åsa Warme Hallén)
Your personal health
Garmin Epix is a watch that you can use around the clock without getting uncomfortable. It may attract glances, but not in any negative way. Rather, Garmin has managed to make a slightly larger watch that still has style. And to get all the benefits of the watch, you should wear it around the clock.
The watch helps you to keep track of your health and is a good tool for becoming aware of how your body works and what it needs. Check your heart rate and breathing, become aware of your sleep patterns and keep track of when it's good to exercise intensively and when it's time to take it easy.
Epix also has one of my favourite features, Find My Phone, which for me personally falls under the health category as I avoid unnecessary heart palpitations when I've misplaced my phone!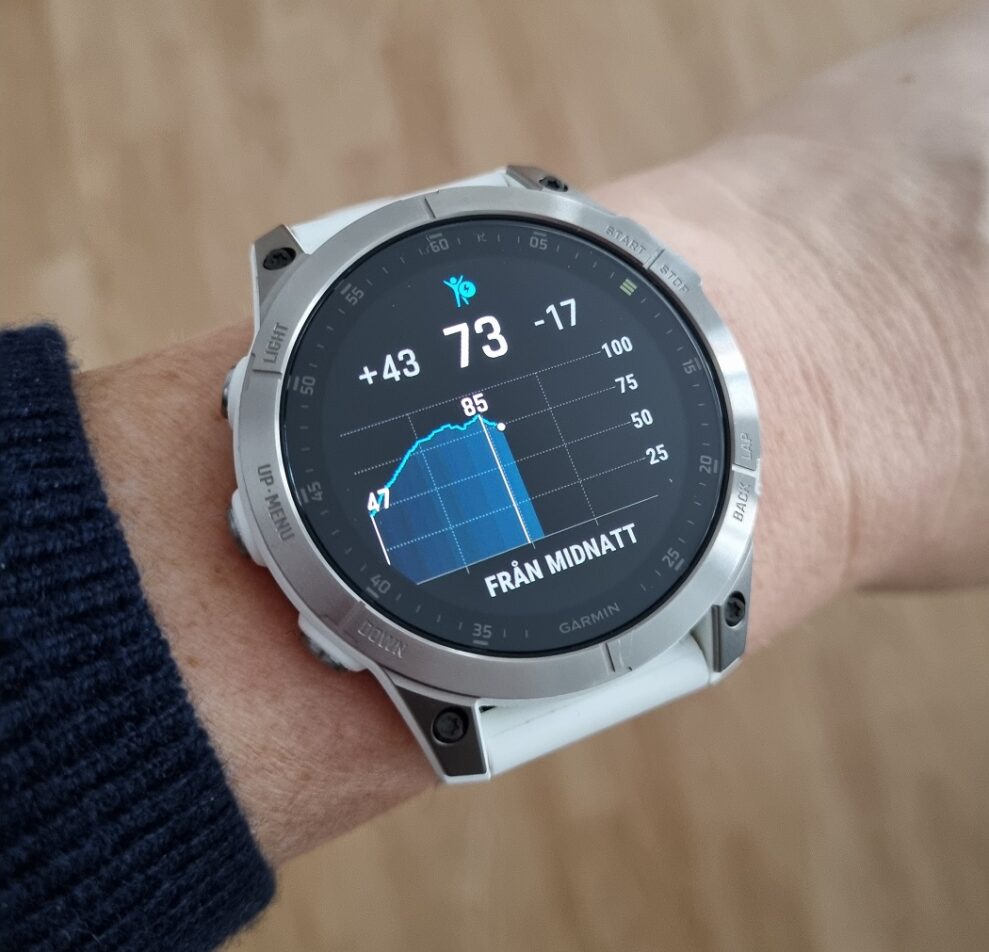 Conclusion
I really like the Garmin Epix. It has ( almost ) everything you need in a really luxurious package, without being too flashy. The material selection is nice and it's a superb training watch. You just had to have it at that price!
You can also pay with the Epix thanks to Garmin Pay, run Spotify and get notifications directly on the watch. But with just the price in mind, I'm putting eSIM on my wish list for the future, so I can be (if possible) completely satisfied.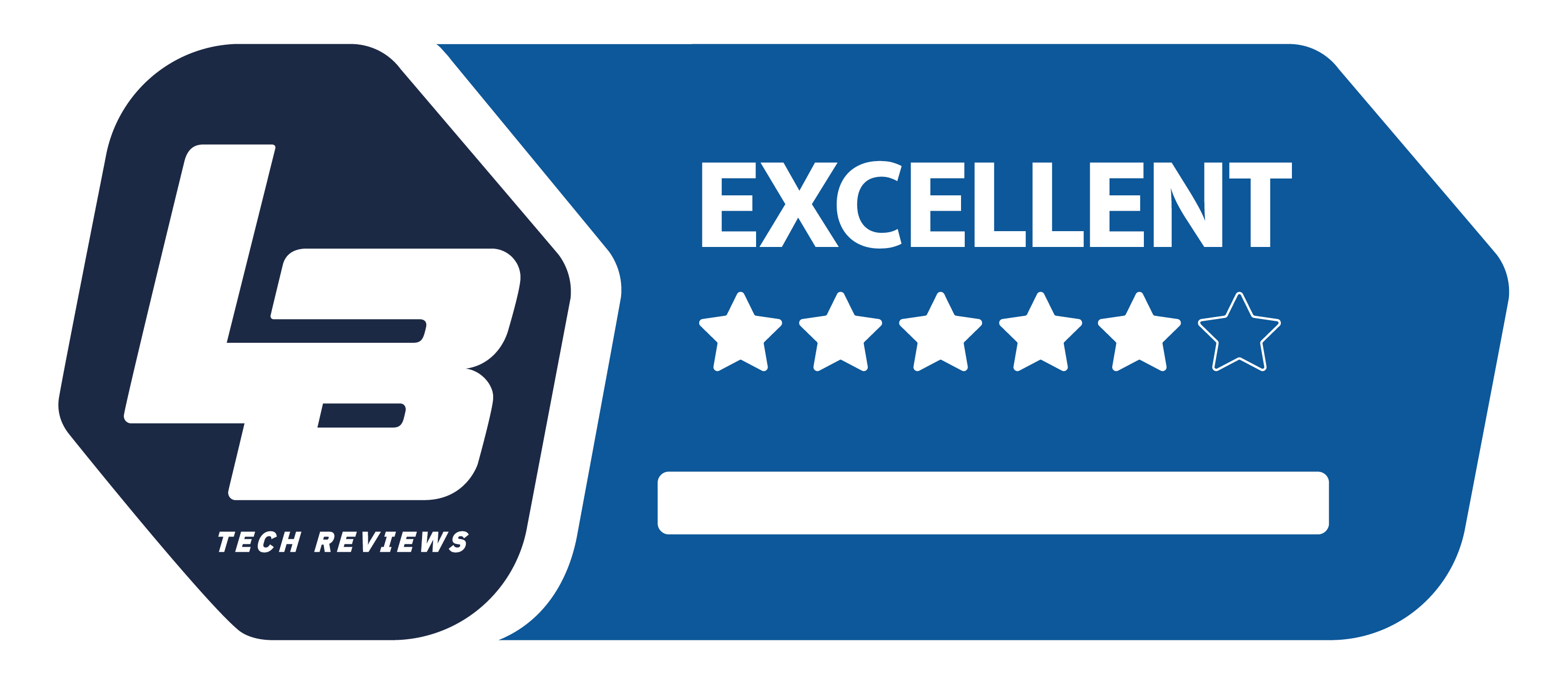 High End
We think
Attractive and robust watch for the adventurous who like a little different forms of training. The included Garmin Connect app elevates the experience even further.
The price is quite high and eSIM should have been included. Slightly sharp edges that risk tearing a silk blouse or the lining of a jacket.