Lasse Svendsen
Published

2022-11-13 - 8:00 am
Even faster, with a better camera and more features.
Charger is optional. Lacks telephoto lens. Price has been increased.
Specifications
Operating system: iOS 16
Display: 6.1" Super Retina XDR OLED, 2532 x 1170, 460 ppi
Processor: A15 Bionic hexacore, 5 nm
Memory: 6 GB RAM / 128, 256, 512 GB
Cameras: 13mm 12 Mp f12.4, 26mm 12 Mp f1.5 IS
Front camera: 23mm 12 Mp, f1.9
Video: 4K/60-24p, Dolby Vision HDR 4K/60fps
Wireless: 5G, 4G LTE, Wi-Fi 6, Bluetooth 5.3, NFC, GPS, satellite SOS
Battery life: 3279 mAh. Video up to 20 hours
Dimensions/weight: 146.7 x 71.5 x 7.8 mm/172 g
Other: Wireless charging, blue, black, purple, starlight. Product RED, IP68 water protection, dual eSIM, collision detector.
Web: apple.com
Geekbench 5: 1738 (Single-Core), 4675 (Multi-Core) Geekbench 5 Compute: 12380 Antutu 8: 840 423 3DMark Wild Life Extreme: 2747
Benchmarks
Price 1039
Product page
Although the form factor is virtually identical to an iPhone 13, or iPhone 12 for that matter, the iPhone 14 has received enough upgrades that it can be called a new model. But not much more than that, either. At the same time, the price has gone up – by so much that it can hardly be called an entry-level model, despite the iPhone 14 being the most affordable of all new iPhone models in the 14 generation.
It lacks the lovely 48-megapixel camera found in 14 Pro models. It also doesn't have 77mm telephoto, or the option of professional video in 10-bit Apple ProRes, RAW images or Apple's ProMotion OLED display with 120Hz refresh rate. Or Dynamic Island, which turns the notch – the black area at the top of the screen – into an area that can be used for something active.
But iPhone 14 does have upgraded front and rear cameras with 12 megapixels and larger pixels that capture more light.
Like the other 14-generation models, iPhone 14 also has a built-in crash detector. It works in much the same way as the detector in an Apple Watch, using the accelerometer in the phone to detect sudden impacts of up to 256g. If you have an accident, or simply fall over on a bike, the phone detects that there has been a collision and notifies 911.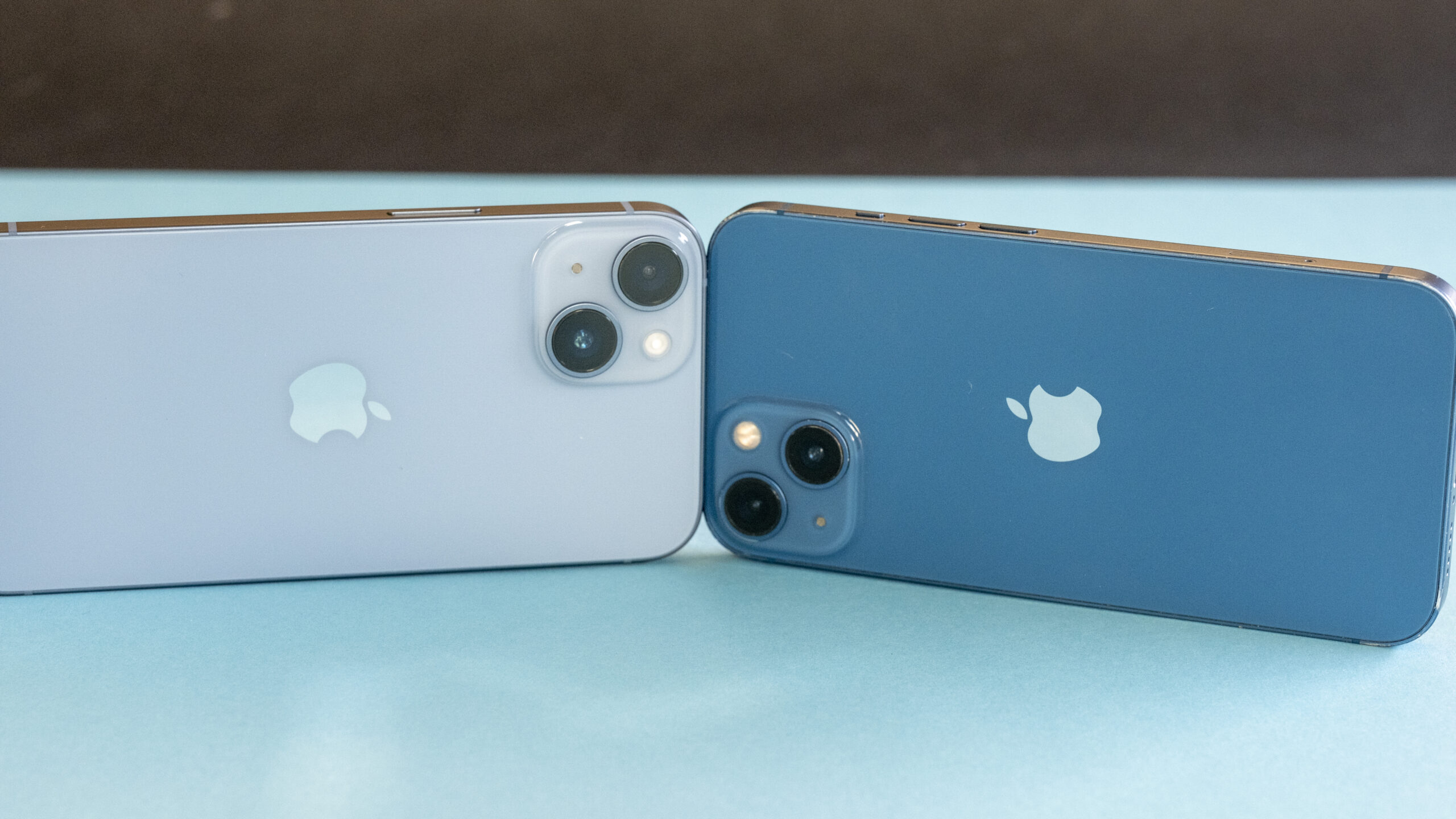 Same processor as before
iPhone 14 does not have the Pro version's new A16 processor, but the previous generation's A15 Bionic processors. Nevertheless, the performance is still slightly better than on its predecessor.
The obligatory performance test in Geekbench 5 showed that the iPhone 14 scores 1,738 points in the Single-Core test and 4,675 in the Multi-Core test. In comparison, iPhone 13 scored 1,656 (Single-Core) and 4,373 points (Multi-Core). That's not a lot, but fully on par with the performance of an iPhone 13.
The 6.1-inch OLED display still lacks the 120Hz refresh rate that would make scrolling, gaming and action sequences smoother and less choppy, but the screen delivers a very good brightness of 800 nits. Or up to 1200 nits for HDR images and video.
Nevertheless, the iPhone 14 comes across as more polished and faster than the iPhone 13. Apps load without hesitation. Saving changes to photos or video with simple editing steps is quick and smooth.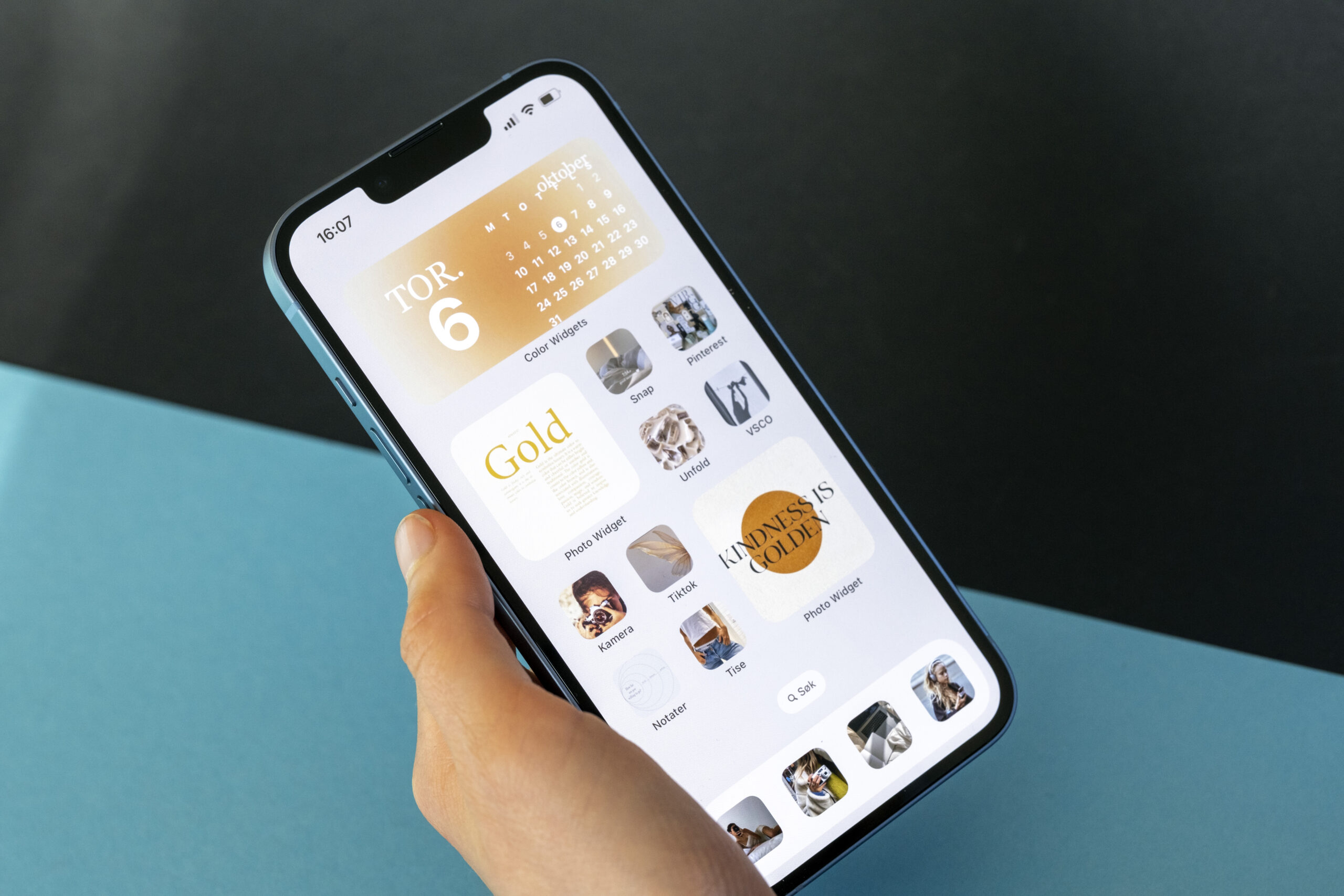 It's lighter and somehow more practical than a 14 Pro. The front and back glass are glued to an aluminium alloy core, keeping the weight down to 174 grams. As before, the phone is waterproof for up to 30 minutes at a depth of six metres, and as with all 14th-generation phones, it's delightfully simple to repair and replace the glass.
The battery lasts as long as the battery in an iPhone 13, but battery life is slightly lower compared to the 14 Pro. As usual, there's no charger included in the box, and Apple insists on the Lightning to USB cable. A bit odd, since all other recent Apple products have long since rejected Lightning in favor of USB-C.
The phone can be charged with Apple's magnetic Magsafe charger, which attaches magnetically to the back of the phone, or on a mobile cover with MagSafe.
Cameras and image quality
As before, there are two cameras. Tele is only available in the Pro models, and the new 14 Pro and Pro Max, as mentioned, have Apple's new 48MP camera as the main camera.
Here you get a 12 Mp 26mm f1.5 wide-angle with image stabilisation and 2x zoom, and with larger 1.9 µm pixels, which at least in theory can capture more light with less image noise. The even wider 13mm, 12MP ultra-wide-angle camera has the same 2.4 brightness as before. The front camera has also been upgraded with a focal length of 23 mm with 12 Mp, f1.9 and autofocus.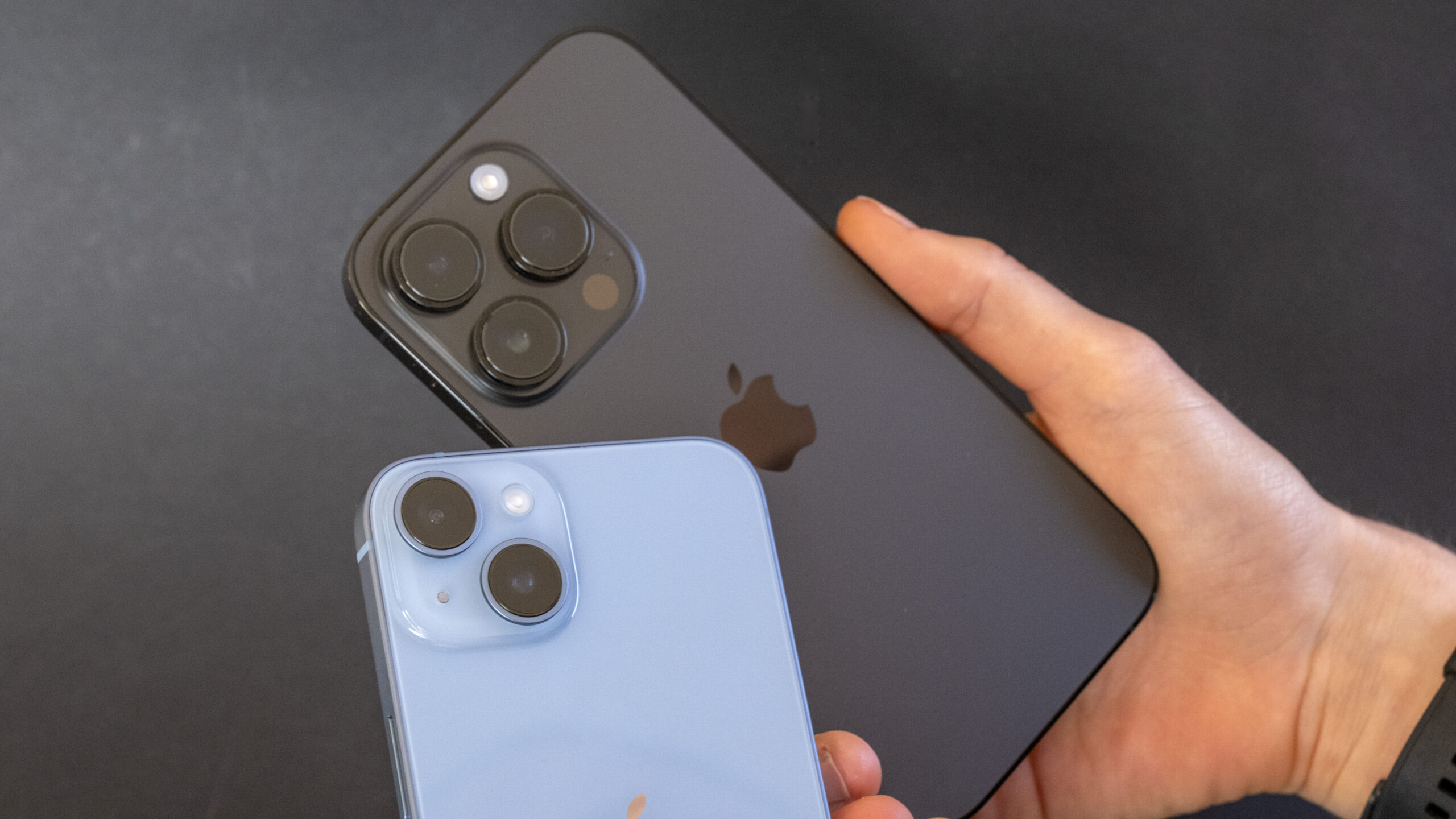 Although iPhone 14 lacks support for Apple's ProRes and ProRaw formats for video and still images, it can still record video at up to 60 fps and 4K resolution. It also supports Dolby Vision HDR. That's High Dynamic Range for better dynamics, and it has Apple's very nice Action Mode. Which is software-based image stabilisation, where the image becomes more stable when you play back the recording.
Cinematic Mode, which debuted on iPhone 13, has finally been upgraded from 1080 HD to 4K/30p.
As always in a new generation iPhone, image processing has been fine-tuned. Slightly better image chip, and upgraded Photonic Engine, as the processing is called, results in less noise in images taken in low light. Detail reproduction is slightly sharper, and colour reproduction is smoother. Skin tones in particular have been boosted with smoother transitions and more natural tone in images.
Video recording in 4K is much better than before, but Action Mode doesn't work as well in low light as in bright daylight. Cinematic Mode makes shooting more fun because you can control the depth of focus in the shot in a way that makes video footage look more professional. The depth of field can be changed afterwards, so you have full control over the expression of the footage.
Conclusion
The iPhone 14 can't be called a major upgrade, but for some, better cameras are always a reason to switch phones. For most others, with either an iPhone 13 or iPhone 12, there's not much else to be gained, unless you find that the SOS feature, for example, is yet another reason to switch to the iPhone 14. Which is a little faster, a little better and a lot more expensive than its predecessor. So still a very good phone, which is still faster than the competition, but unfortunately a lot more expensive.