Geir Nordby
Published

2020-01-15 - 12:35 pm
Brilliant, true-to-life colours right out of the box. Especially with extended colour space. Good HDR tone mapping.
Non-motorized optics and hence no lens memory settings makes the projector unsuitable for screens wider than 16:9. Faded black level gives flat images in dark scenes.
Specifications
Technology: DLP
Resolution: 3840 x 2160 (1080p panel with pixel shifting)
Panel contrast: not provided
Dynamic contrast: 100,000:1
Brightness: 1,800 ANSI Lumens
Light source life: 10,000 hours (economic), 4,000 hours (normal)
HDR: Yes (HDR10/HLG)
Optical lens adjustment: Yes
Distance to 100" 16:9: 3.02 – 4.82 m (Throw Ratio 1.36 – 2.18)
Web: www.benq.eu
While TVs with 4K resolution have become commonplace and with 8K entering the market, it remains a costly affair to get a 4K projector. The 4K panels are so expensive that the projector quickly reaches €5,000 and upwards. Then we're talking about a very dear home theatre experience.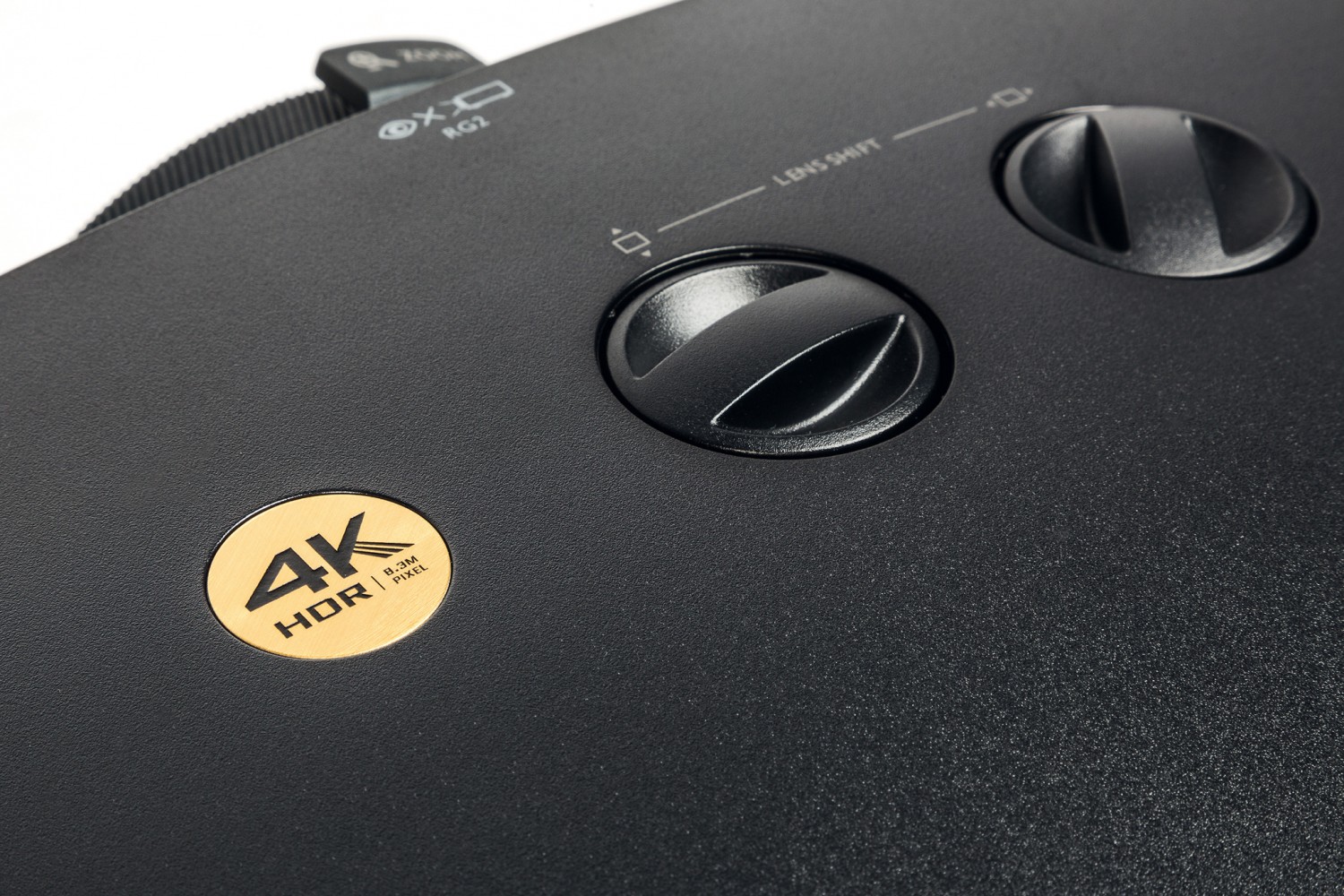 4K for the people
However, BenQ has taken upon itself the task of bringing 4K resolution to the "majority" by contriving to produce four times more pixels out of a standard HD panel. This is achieved by displacement of the pixels, where an optical lens element wobulates the pixels from the panel both vertically and horizontally, so that each pixel in the image panel produces four pixels on the screen. Pretty nifty.
While TVs have the advantage of better contrast between black and white and also provide a far better HDR effect than a projector, there's something special about the big picture you get when it's cast up onto a screen.
The reason a projector can't provide a decent HDR effect is that you can't increase the brightness without also brightening the black level, so you have to compromise somewhere in between. That doesn't mean it can't look dazzling anyway, not least because of the increased colour space, with deeper and more vibrant colours.
Impressively sharp images
It's easy to see that the BenQ W5700 has higher than HD resolution. Everything is more fine-meshed. However, the fact that it contrives a 4K image from a 1080p image panel becomes apparent if you use it as your PC monitor because the text will not be as defined as if it were true 4K. This is because the pixels overlap and make the image more dense. There is a feature called 4K Pixel Enhancer, but it produces sharp edges around the objects on the screen. Though I switch it off, if you're going to use it at all, then I recommend setting it at level 3 of the available 15.
Very good colour
Out of the box colours are really good. In Cinema Mode, colours appear neutral and true and I didn't experience any particular need for calibration on our white DreamScreen. Though there are never any downsides to getting the projector calibrated precisely for your screen.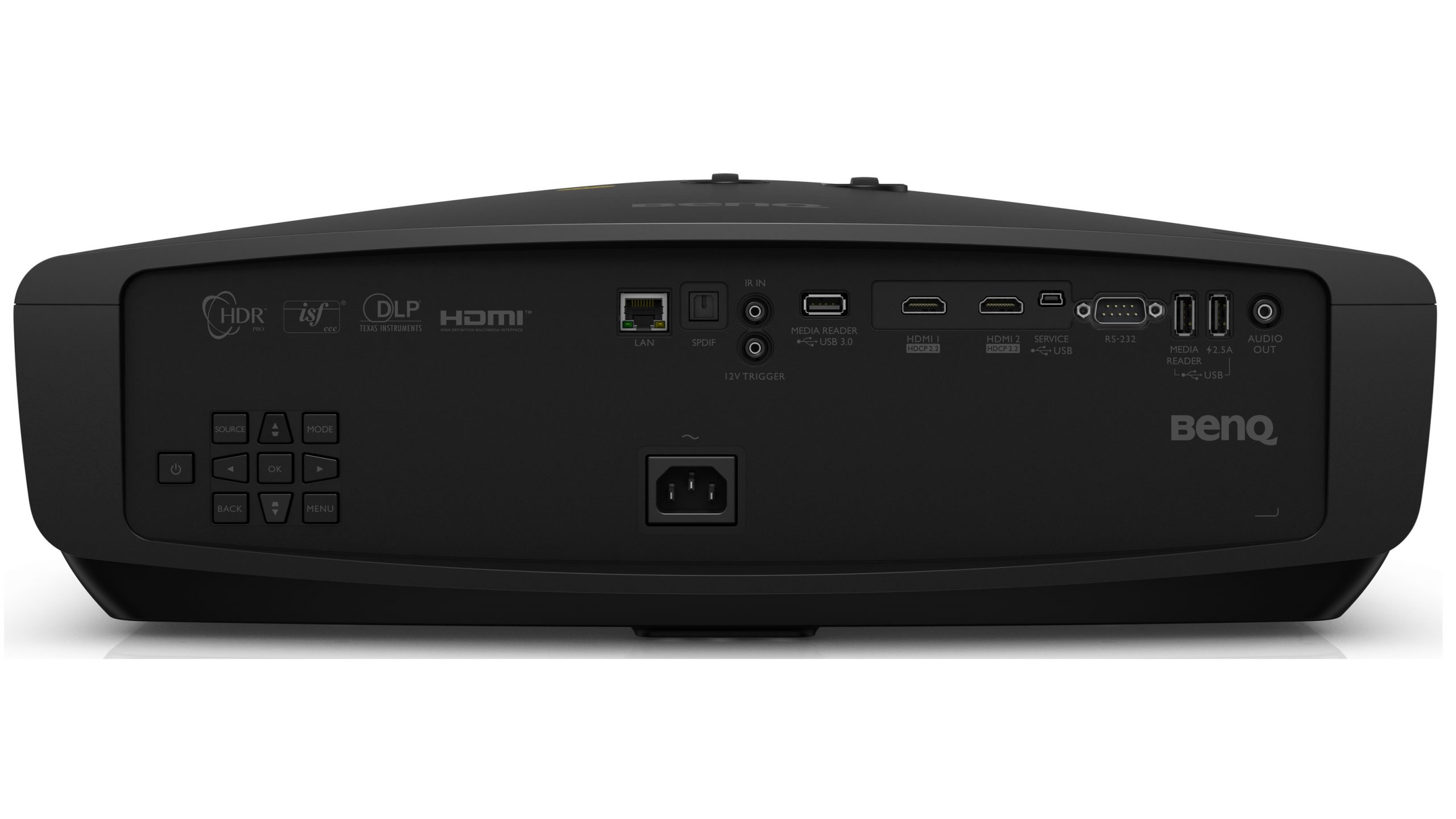 The HDR effects on 4K Blu-ray are not, as expected, all that. But I like the straightforward tone mapping of the projector, which transforms the details in the HDR content down to the visible dynamic range. You can choose between increased brightness in the image or more visible HDR effects to create more depth in the image. I like to have it somewhere in the middle, so I get some HDR impressions but still not too dark a picture.
And if HDR effects aren't particularly impressive, the increased colour space adds something quite different.
The opening scene of Alien: Covenant begins in a bright room, where Guy Pearce has a conversation with the robot David, played by Michael Fassbender. With standard colours, the light is perceived as white. But turn on Wide Color Gamut and it becomes apparent that there is a blue tint in the light. The eyes of the characters on the screen also have more vivid colours, overall the whole picture looks more lifelike and credible. And, true 4K or not, the picture looks really sharp and high-res.
Straightforward contrast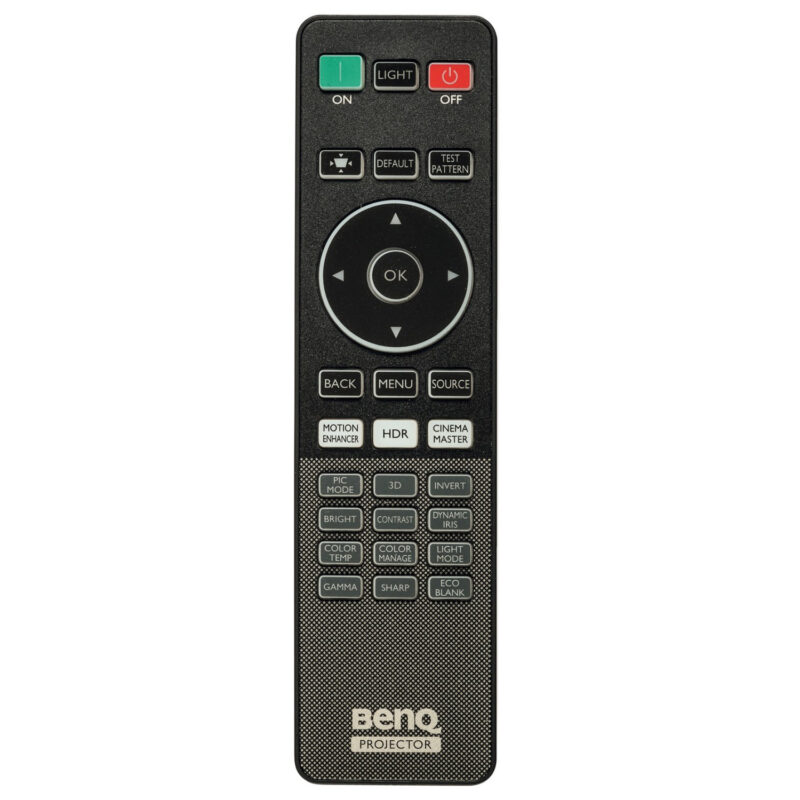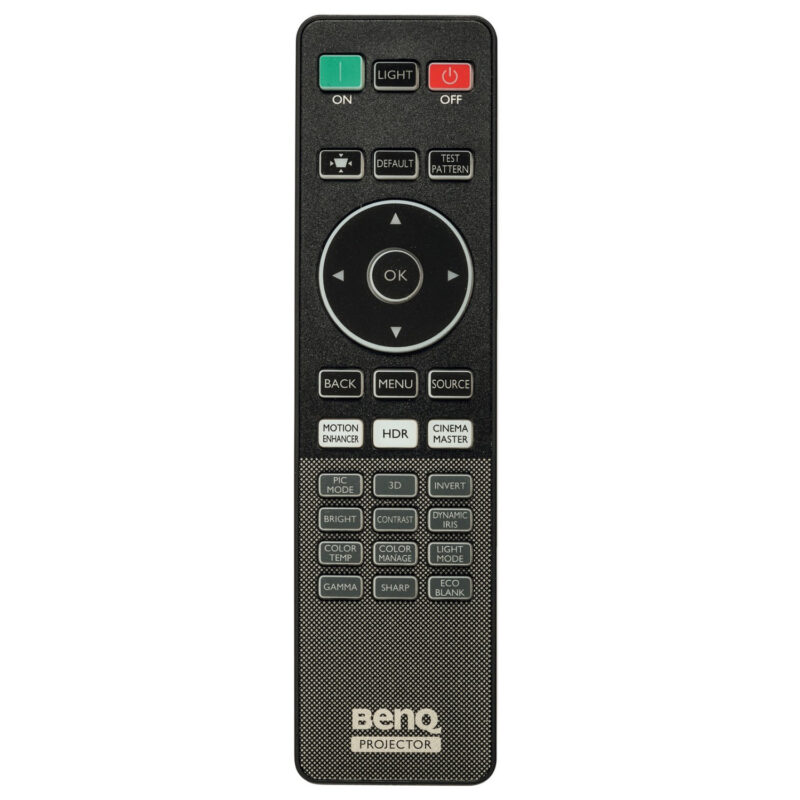 The same can be seen in Ready Player One, a film with lots of digital effects and occasional spectacular colours. The projector delivers a very lifelike reproduction of the image. Once again, the HDR effects aren't anything to write home about — especially if you're used to big, bright TVs. But it does at least give something extra versus content without HDR. And, again, colours are admirably vivid.
Images maintain a substantial impact in light versus shadow in scenes with both bright and dark areas simultaneously. Admittedly, you won't get the same impression of three-dimensionality as with more expensive projectors from Sony and JVC, but it's still good. It gives a real cinema feel.
Faded black level
Since this is a DLP projector, the black level is quite bright. You can resolve this with a dynamic iris, but after pulling the contrast up where I want it (95) and the brightness of the black (Brightness) to where I want (45), the tension between bright and dark is such that the iris works non-stop. The slightest change of light in a scene causes the iris to kick in. It's clearly audible and not particularly fast. A scene can cut to a dark background long before you perceive that the iris makes the image darker. Personally, I found this a bit annoying. But I didn't want to switch it off either, so I ended up resetting the contrast and brightness to 50 on each. Then the iris became less hyperactive and more helpful than irritating.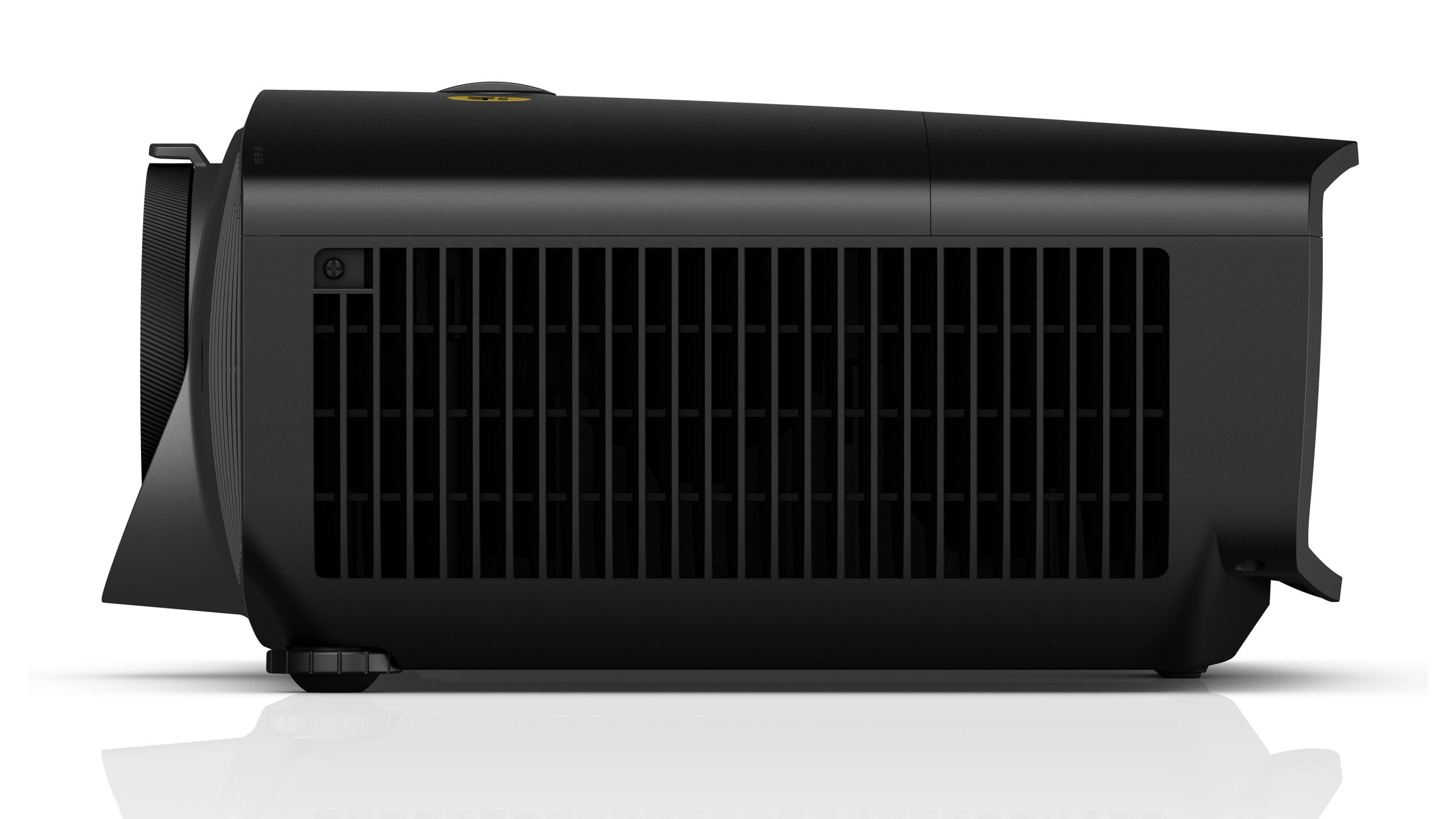 Settings
The menu system is transparent enough. All basic functions are easy to access and the remote control also has direct keys for the main settings. By the way, if you're looking for a feature but can't find it, it's probably under the tab called Cinema Master. There you'll find features like colour enhancement, 4K pixel sharpness, skin colour and Motion Enhancer. The latter provides smooth movements with interpolation, but if you must use it, set it to Low, otherwise it just looks artificial.
I'm not particularly enthused about trying to increase sharpness, as this produces hard, white edges around objects. Even though this happens to a lesser extent than I feared, it's best to refrain for the best picture possible.
All of the colour enhancements, including BrilliantColour, are best avoided. Wide Color Gamut, on the other hand, is something completely different. This should be turned on so that movie content with increased colour space (DCI-P3 / BT.2020) gets much deeper and more vibrant colours.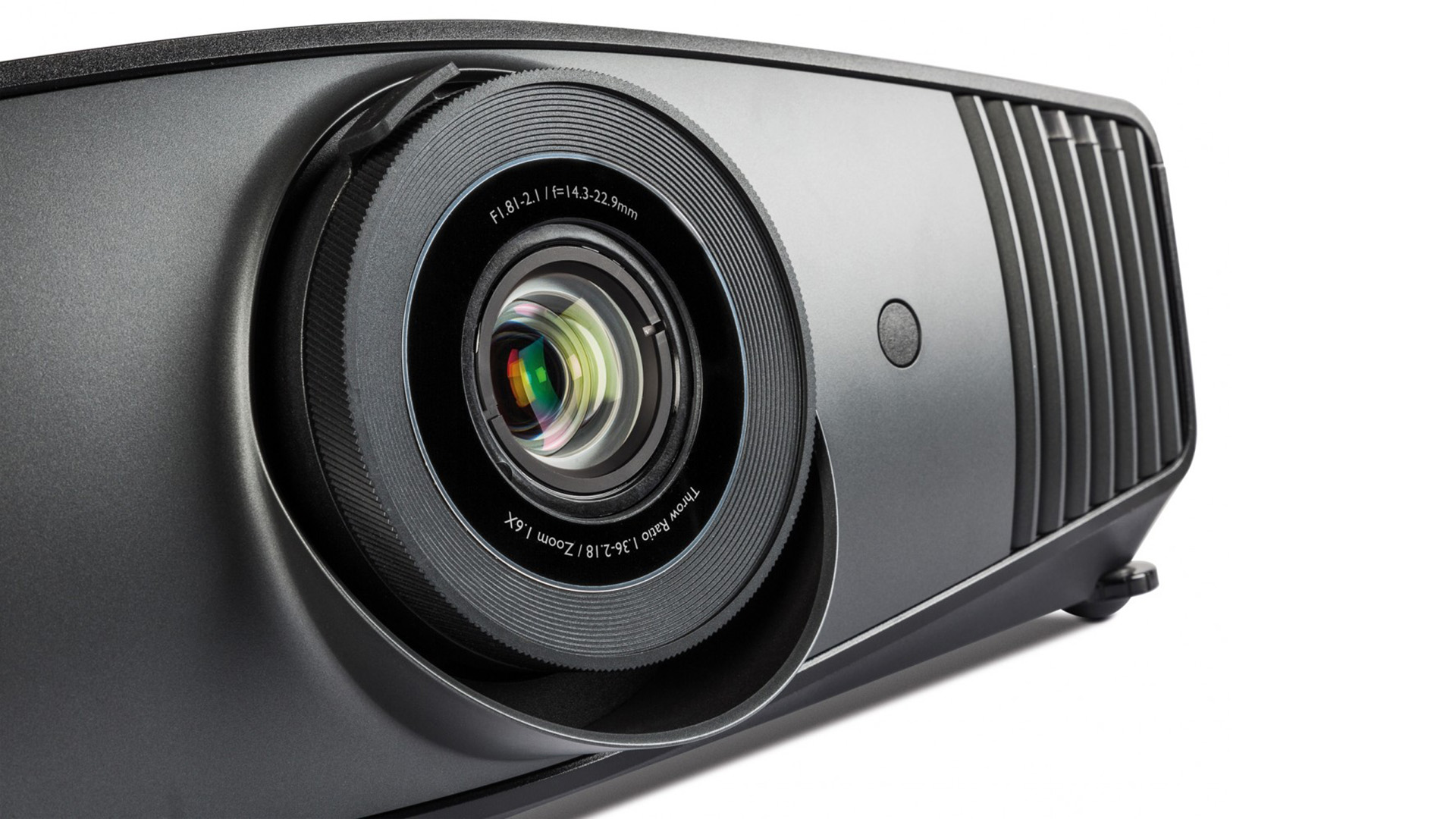 Non-motorized optics
Something that inevitably pulls down the rating is that the W5700 wholly lacks motorization of the optics. This means that zoom, sharpness and lens adjustment must be done manually. If you have a 16:9 screen, this won't cause any heartache because it only needs to be done when you connect the projector for the first time. However, if you have a wider screen, you'll find you need to constantly zoom the image out and in, depending on whether the content you're watching is 16:9 or 2.35:1, and every time you zoom, sharpness and lens adjustment have to be redone. If the optics were motorized, different settings could be stored in the memory and you could switch between settings with a button on the remote control.
It is tempting to say that W5700 is useless with a wide screen.
Overall impression
Overall, the W5700 is a good projector and the 4K pixel shifting doesn't get in the way of the image experience. Instead, it helps to paint a more detail-rich image than a 1080p HD projector can manage. The movie-watching experience is good and underlines how cool it can be with a great picture.
There could be even more oomph in the picture and the projector is not quite bright and contrasted enough to handle being blown up on our plus 140-inch screen in 2.35:1 wide format. It tends to flatness when compared to the very best. But on a 100-inch 16:9 screen, the projector is in its natural element and with better light output.
Rainbow effect
Finally, I have to talk about the rainbow effect, which all 1-chip DLP projectors have, where you can sometimes experience rapid RGB colour flashing. Some projectors have more than others, and although W5700 isn't among the worst nor is it among the best. It falls somewhere in the middle.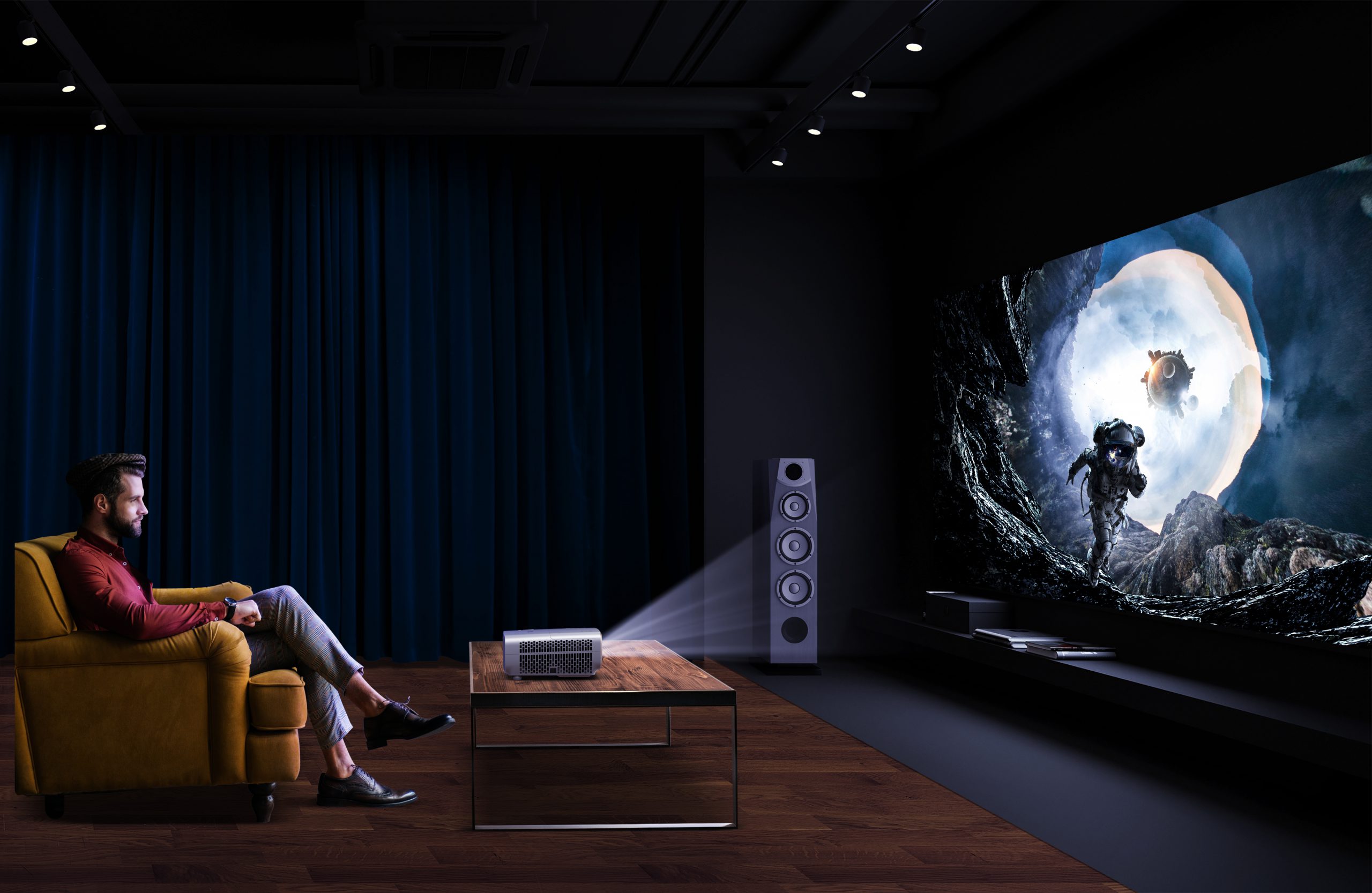 Conclusion
The debate whether projectors with pixel shifting have true 4K resolution or not is unlikely to be laid to rest just yet. If you ask BenQ, the W5700 with its 1080p panel nevertheless offers true 4K resolution, because it matches the number of pixels you can see on the screen.
True or not, BenQ W5700 is a terrific projector, with good colour calibration right out of the box and with a sharpness on video that's very reminiscent of 4K Ultra HD.
Turn on Wide Color Gamut and you get really great colours from HDR content. Though the HDR effect is restricted as a result of limited brightness.
One point of complaint is the faded black level in dark scenes, which applies to all 1-chip DLP projectors, but where a better dynamic iris would have enhanced the experience.
What is worse is that the optics are not motorized, which virtually excludes anyone with a screen wider than 16:9.