Lasse Svendsen
Published

2021-06-15 - 10:00 am
Faster and with support for better picture and sound quality, like Dolby Atmos. The Siri remote control is a big step forward, and many will benefit from the color calibration of the TV. HomeKit users will love Apple TV 4.
No more than 64 GB storage and does not support download. Some features require multiple Apple products.
Specifications
Type: 4K media player
Connection: HDMI 2.1, Gb Ethernet
Wireless: Bluetooth 5.0, Wi-Fi 6
Processor: 64-bit A12 Bionic
Resolution: 3840 x 2160 4K UHD 4: 2: 0, 4: 2: 2
Video formats: MPEG-4, H.264, H.265, HEVC, Dolby Vision, HLG, HDR10
Audio formats: AAC, HE-AAC, MP3, Apple Lossless, AIFF, WAV, Dolby Digital 5.1 / 7.1
Dolby Atmos
Voice control: Siri
Battery life: Up to 20 hours
Charging cable: Lightning for USB-C
Dimensions, weight: 35 x 98 x 98 mm, 63 grams
Other: 32 el. 64 GB storage, Siri remote control, Lightning-to-USB cable
Web: apple.com
You may be wondering what to do with an Apple TV, if you already own a smart TV with the same apps on it. Netflix, HBO and other streaming apps are largely integrated into most recent TVs' smart menus, but the best way to access Apple's universe is through an Apple TV.
The small black box can be easily hidden away and has some advantages that you do not find in the TV, especially if you have an iPhone or iPad, not to mention Airpods Pro or Max.
But for many, the new remote control will be the very best reason for buying an Apple TV 4K. The previous remote control came with the previous edition of Apple TV 4K, in 2017 (!), And we are many who have cursed the tiny trackpad. Although it can be calibrated so that you do not have to move your finger so fast or slow to navigate the screen, you often miss the icons.
It has become much better on the new aluminium-colored remote control, which has a trackpad with four-way buttons in the outer ring, and one in the middle, like the older iPods with hard drives. It also has a separate button on the side for voice control with Siri, very convenient when searching for something in the apps on the Apple TV.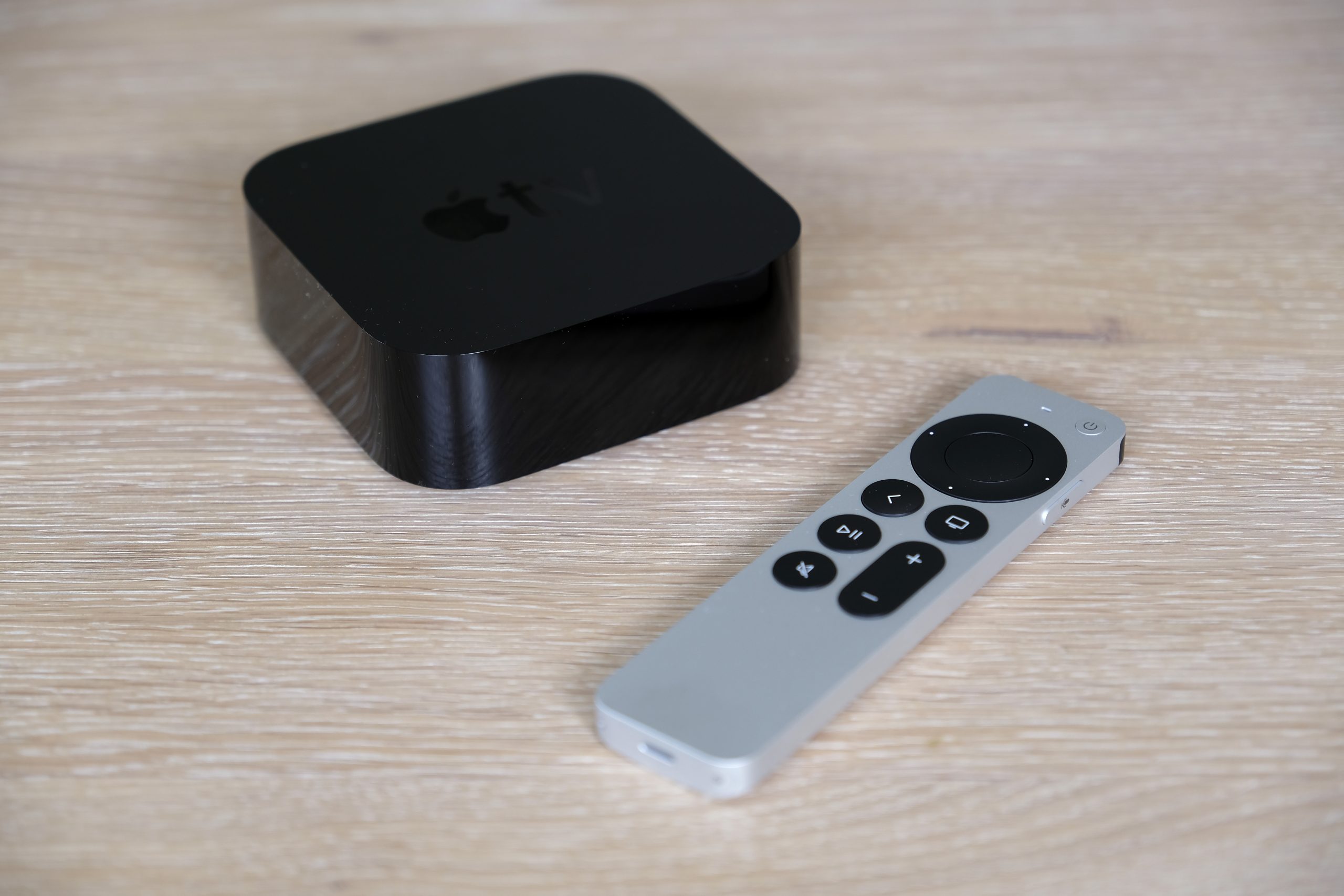 Siri Remote
The new remote control also has a power switch, which also turns the TV on and off, and otherwise it has a mute button, volume control, back button, a control panel button on the right of the screen, and pause and rewind. function.
There is little doubt that the new remote control is a step forward. It is thicker than the black, and the trackpad is better calibrated. The buttons make it faster to use, and you no longer miss the apps in the same way as before. It's much easier to rewind, press pause, just roll your finger along the ring to rewind to the scene you want to watch, and press play again.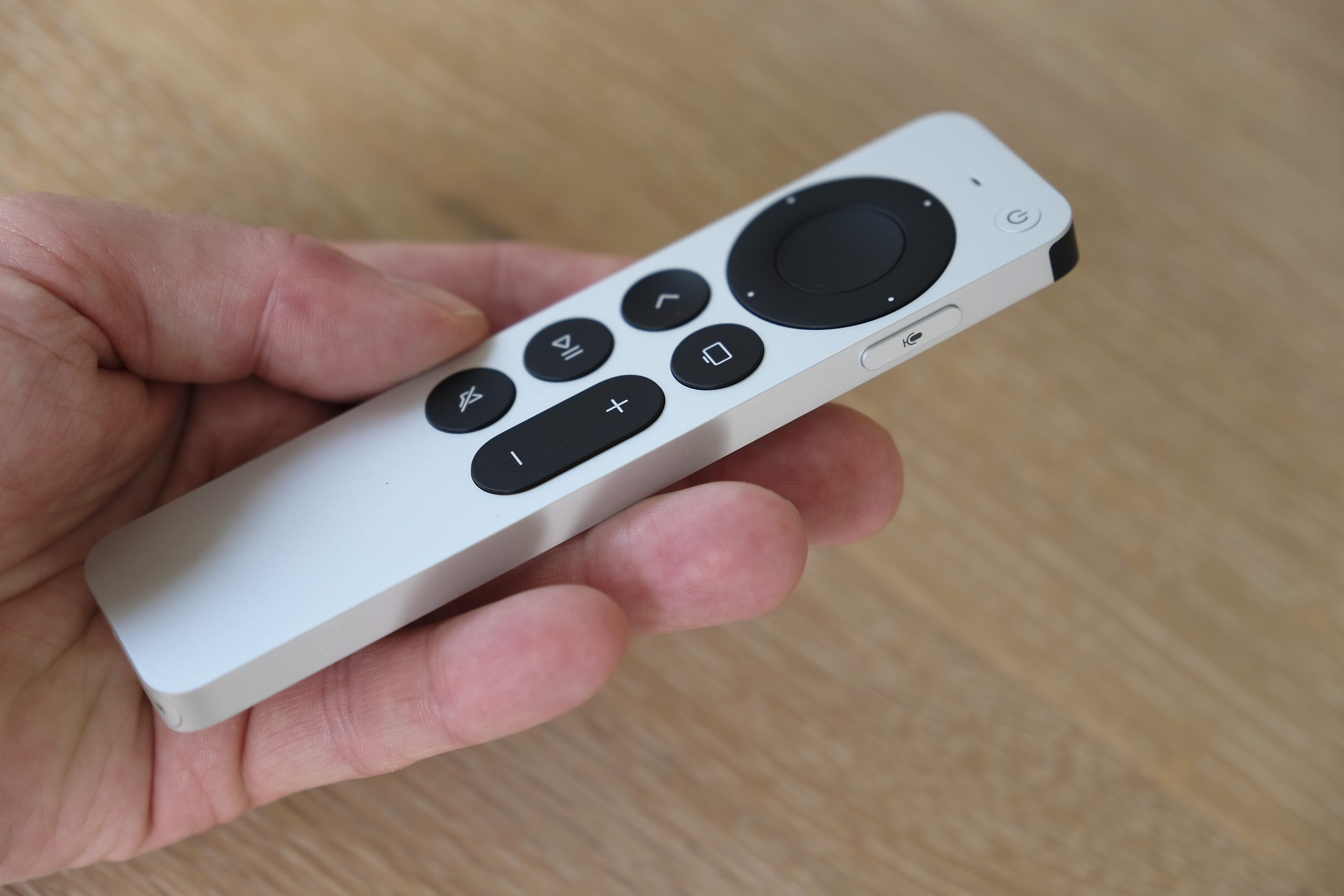 The voice control button is located on the side. Photo: Lasse Svendsen
The remote control can also be purchased separately, if you want to upgrade the previous generation Apple TV 4K or Apple TV HD, and get a better user experience. Alternatively, you can use the remote control app for Apple TV on iPhone, and the mobile keyboard to search for content, or enter passwords.
By the way, a Lightning-to-USB cable is included for charging the remote control.
Dolby Vision and Dolby Atmos
The design of the Apple TV box has not changed. But it has got a faster A12 Bionic processor, which for example loads apps lightning fast, it supports Dolby Vision – on TVs that support it – and a higher frame rate of 60 fps in HDR, which you may not notice as well. Unless you choose content from FOX Sports, NBCUniversal, Paramount +, Red Bull TV or Canal +, which are among the few that have HDR at 60 fps.
It also supports Dolby Digital 5.1 and Plus 7.1 audio.
It will also support Spatial Audio with Dolby Atmos, in an update of tvOS coming this fall. Once you've plugged in an Airpods Pro, AirPods Max or a newer Beats headphone or earbud, well.
And, it can stream audio to Apple's HomePod, for those who have acquired one or two of Apple's small wireless speakers.
It also supports HDMI 2.1 with higher bandwidth, and Wi-Fi 6 which is potentially much faster than Wi-Fi 5. It can also be connected directly to the router at home, via Ethernet.
Apple Arcade and Fitness+
Besides all the TV apps, it can also be used as a gaming console for all the games available in Apple Arcade. Which otherwise requires a separate subscription. Then you can use a gaming controller – Playstation, Xbox or SteelSeries – instead of the remote control, which of course is a much better solution.
The Apple TV can also be connected to Apple's HomeKit universe, which integrates smart devices into the home, such as the camera on the doorbell – and all devices that are integrated can be controlled from the remote control in the on-screen control center. Then you have a full overview in one place.
If you like to work out, you can subscribe to Apple Fitness+, which you run through Apple TV, and then it logs data from an Apple Watch that appears on the screen live, while doing the exercises the trainers show you.
One small thing that most people may not have realized, but which is very cool, is the ability to use an Apple TV 4K as a slide show, for all the pictures you have lying around on a Mac or iPhone.
Color calibration
But the feature most people really need, and also found on the previous Apple TV 4K, is color balance adjustment. This is especially true for anyone who has not changed the factory settings on the TV since it was new.
The color calibration is a bit like professional calibration, but here you use an iPhone as a colorimeter. Scroll to color balance in the Tools menu, and keep your phone close to your Apple TV and TV. Press start on the mobile and follow the instructions on the screen. Then a calibration process starts on the screen which takes about 30 seconds. Then you can look before and after, and choose what you like best. Most likely you will choose after. Then the color balance, contrast and sharpness will be better on all content you watch on an Apple TV.
I tried the color adjustment on an OLED TV from LG, and an LCD LED TV from Panasonic, but there was not much difference before and after the adjustment. Much because both TVs had already undergone extensive adjustments of color, contrast, white balance and sharpness. But on a TV with factory settings, the difference before and after is partly significant.
Note that the color calibration only works on the input you have connected the Apple TV to.
Conclusion
The new edition of Apple TV 4K is far from a revolution. Those who have the predecessor from 2017, hardly need to replace it, but they migh want to buy the new Siri remote control. Which is the biggest advancement with the new Apple TV 4K. We are looking forward to Spatial Audio, but it is unfortunately not for everyone, since you must have headphones or speakers that support Spatial Audio and Dolby Atmos. You also do not see much of better picture quality, although there is support for Dolby Vision, HLG and HDR10 here, but it helps to let the Apple TV box adjust the color balance. It can give you a truly a-ha experience. It still comes with either 32 or 64 GB of storage, and no, you can not download movies or TV shows that you can bring with you in the Apple TV box. For example, to the cottage, or on vacation. But for those who have waited a bit to buy an Apple TV, or have the older HD version, the new Apple TV 4K is a very good choice. Especially for those who are already well into the Apple universe.