Lasse Svendsen
Published

2020-09-05 - 7:45 am
Masterfully open sound image with a neutral touch and fine-meshed sophistication. Build in a class of its own.
100 W has its limitations. No DAC in the preamplifier.
Specifications
Yamaha M-5000
Type: Stereo power amplifier
Power: 2 x 100 w 8 ohms
Technology: Transistor balanced symmetrical mono circuit
Connections: 1 x unbalanced, 1 x balanced input
Frequency response: +0, -3 dB, 5 Hz – 100,000 Hz
Dynamics: 0.97 dB (8 ohms)
THD: 0.035%
Signal / noise: 110 dB
Other: Illuminated Vu-meter, wired remote control
Dimensions and weight: 43.5 x 18 x 46.4 cm / 26.9 kg
Yamaha C-5000
Type: Stereo preamplifier
Technology: Transistor balanced symmetrical mono circuit
Connections: 6 x unbalanced, 4 x balanced inputs, ball / unbalanced-out
Turntable input: MM / MC
DAC: No.
Frequency response: +0, -3 dB, 10 Hz – 100,000 Hz
Dynamics: N / A
THD: 0.01 / 0.02%
Signal / noise: 110 dB
Other: Bass / treble, headphone output, remote control
Dimensions and weight: 43.5 x 14.2 x 45.1 cm / 19.1 kg
Web: yamaha.com
For many, serious is high-end, whether English, American, German or Norwegian. Few people think of Japan as a country where high-end producers are flourishing. But that is only partially true. Japan has a long tradition of exotic amplifiers in particular, and they came from the most unlikely manufacturers.
For most people, Yamaha is synonymous with pianos or home theater receivers. What many do not know is that they have a long history of high-end hi-fi, which in its time was no match for American or European high-end hi-fi.
Suffice it to mention the Yamaha NS-1000, the speaker from the 70's that recently came in a new and modernized version, the NS-5000.
When we tested them in 2018, it struck us that Yamaha did not actually make any amplifiers in the same class as the speakers. The otherwise brilliant A-S3000 was the closest you came, but an integrated amplifier for a fraction of the price of the speakers? Hardly.
So when Yamaha released the news of the 5000 series, the pieces fell into place. With the C-5000 preamp, the M-5000 power amplifier, and the GT-5000 turntable, Yamaha finally had a serious high-end system.
It started, among other things, with the power amplifier B-1 in the 70's. As with the C1 preamplifier, Yamaha started a long line of transistor-based high-end amplifiers. Later came delights such as the C- and M-70, B-5, the mono stage BX-1, B- and C2x, and a number of other really serious high-end amplifiers.
It all ended with Yamaha's CX and MX-10000 series in the late 80's. By then, Japan had established itself well as a country with high-end hi-fi. Where manufacturers such as Luxman, Accuphase, Denon, Sony, Technics and Onkyo were all well respected both in North America and in Europe.
5000 series
The new amplifier set, which we are testing as a unit and not separately, sounds absolutely beautiful. Just so it is said. The sound from the two amplifiers is on a completely different level than Yamaha's home theater receivers. Although they are never that good, this is in a different class.
Then I also mean the quality. Because if there is something the Japanese are better at than most, it is the love of detail and quality even on the small things. Anyone who has owned a Luxman, Accuphase or Air Tight amplifier knows this. For example.
The black lacquered wooden sides are so perfect that they almost look like black glass. The switches on the front of the preamplifier all have the same, confidence-inspiring, muted click. Even the underside of the chrome-plated brass feet, which can be fitted with felt pads or studs, is of a quality even American high-end manufacturers do not get.
The preamplifier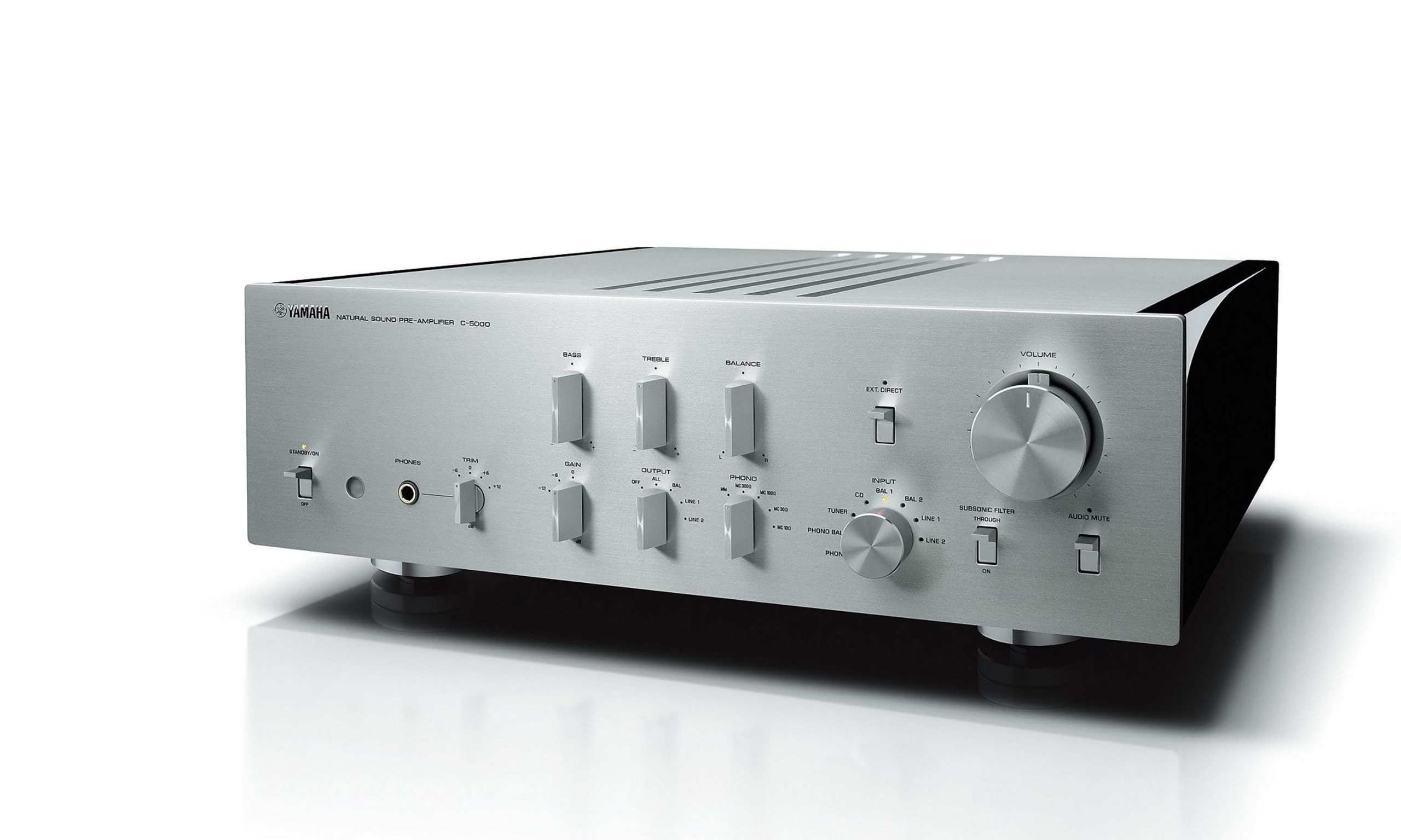 If you turn the preamplifier, you see the 10 inputs with gilded contact surfaces, neatly drawn in line along the back plate. Which also houses inputs for remote control, and trigger connection for switch. The four balanced inputs have a switch for phase reversal, and bypass with level adjustment of – 6 dB.
If you remove the thick top plate with the five milled cooling openings, the C-5000 is packed with components. Two toroidal transformers, one for each channel, supply the capacitor batteries with power, to two symmetrically constructed channels.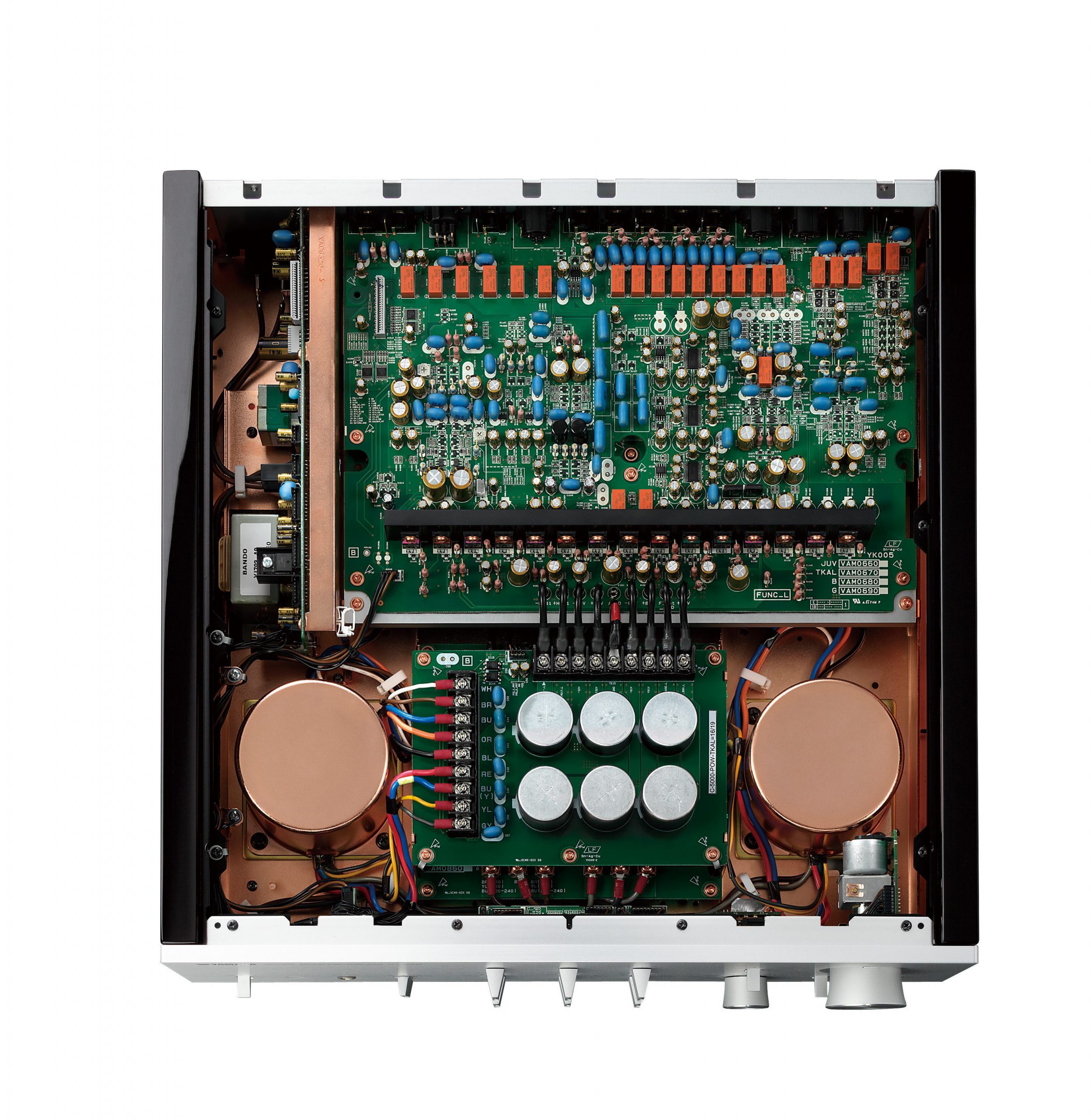 The turntable input is separated from the line inputs by a so-called floating circuit design, where they do not divide ground, and can be used with either moving coil or moving magnet pickups. For motorcycles, there is selectable load resistance in four steps, 10, 30, 100 or 300 ohms.
You can also choose whether you want to connect the turntable to the balanced or unbalanced input of the RIAA stage.
The amplifier also has bass and treble adjustment, ± 9 dB at 300 Hz for bass, and ± 9 dB at 3500 Hz for treble. There is also a subfilter for the turntable input, which cuts the bass three decibels at 15 Hz. Convenient if you get a little rumbling in the bass when playing vinyl records.
It is also possible to disconnect the sound from another source, e.g. a surround processor, outside the volume control, with the switch marked EXT Direct.
There is also a headphone output, with 35 mW power per channel, and level adjustment. The outputs of e.g. a connected home theater amplifier can be turned off if you use the amplifier setup in a home theater setup – and want to play only in stereo.
The power amplifier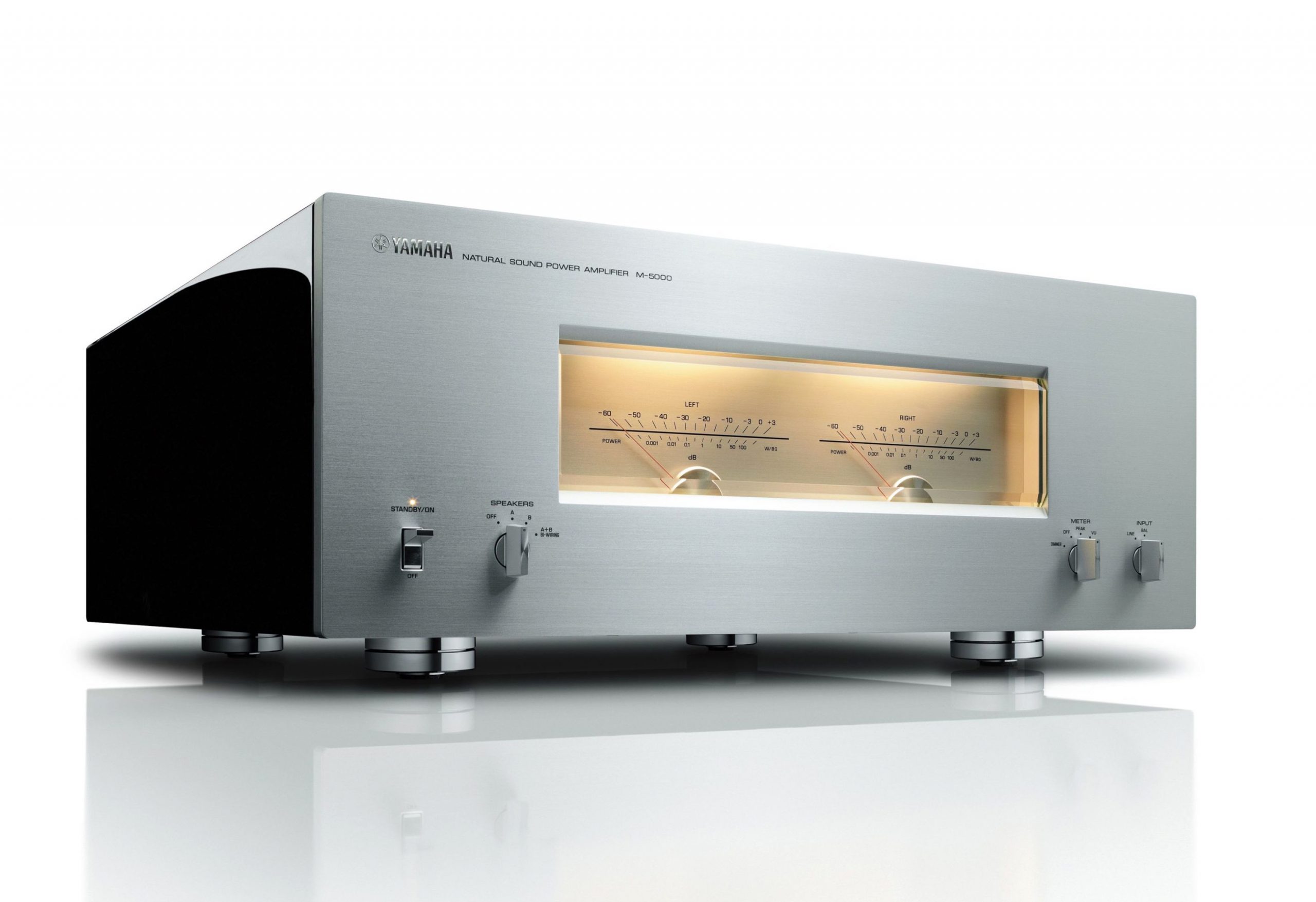 The almost 30 kg heavy power amplifier M-5000, is also built as two separate mono stages, with symmetrical circuits. It also has analog level meters that show the applied power in watts and dB. The soft, warm yellow lighting can be switched off, as can the display. Which can also be set to only display the top level – peak.
The amplifier has two sets of speaker outputs, which are selectable from the front. And on the back, it has some of the most solid speaker terminals we've seen.
If you do not like the silver-gray retro style, the amplifier set can also be delivered in silk matte, black anodised cabinets.
Yamaha states the power to 100 w per channel in 8 ohms, and 200w in 4 ohms, with a dynamic ceiling height of 0.97 dB. In itself not very impressive in this class, but who cares, when the sound is so organic and naturally effortless that specifications just become an academic concept.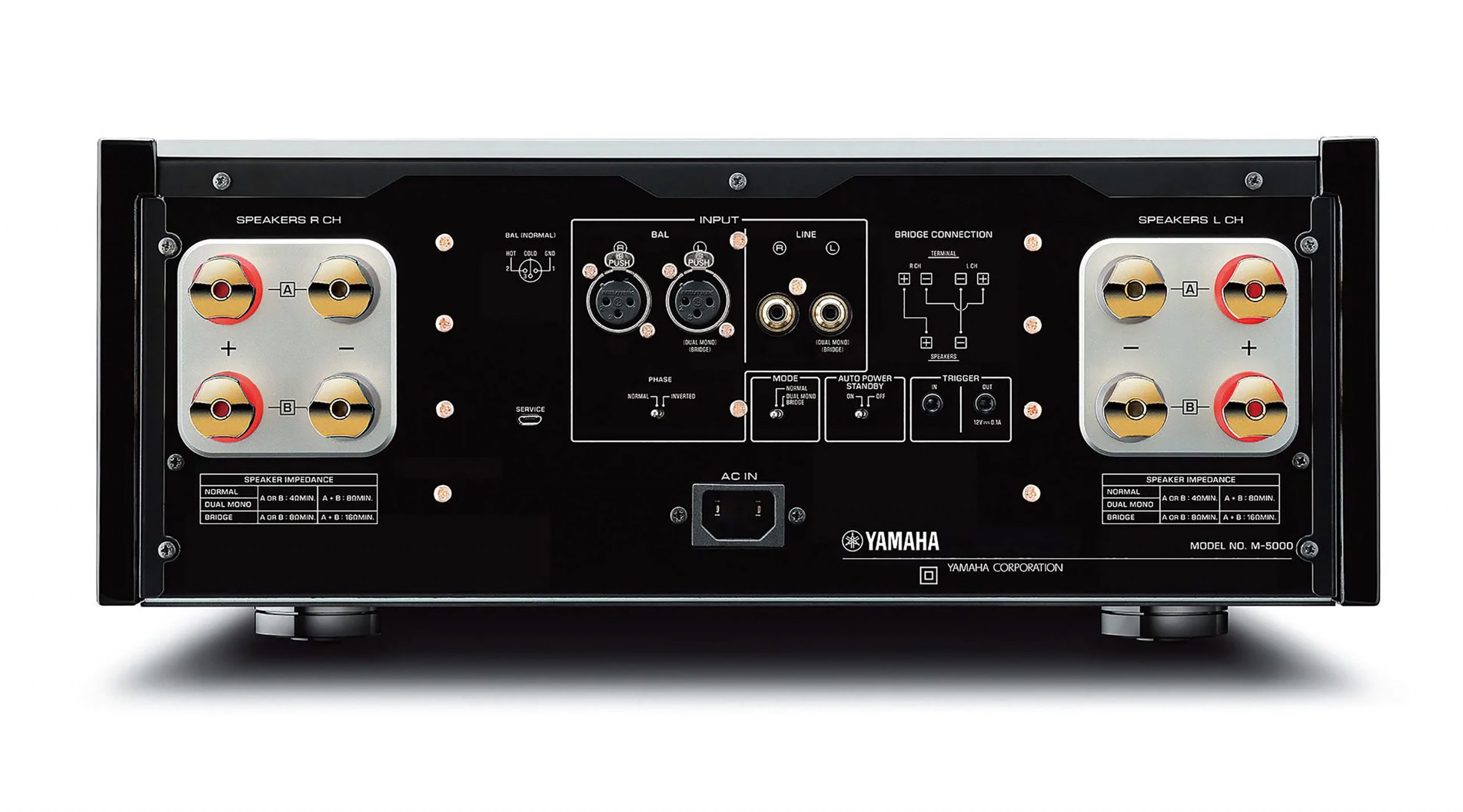 Mighty and musical
Fittingly, the Yamaha retro amplifiers found the tone literally, with Klipsch's legendary Cornwall speakers. The easy-to-drive speakers thrived with the Yamaha amplifiers, and our reference monitors – Dynaudio Contour 20, flourished when connected to the M-5000.
There was something that happened to the synergy, which was not so easy to put your finger on, to begin with. After a few weeks, I think I can conclude that the Yamaha set is just so successful in construction and sound, that most speakers will fit perfectly. Perhaps with the exception of the most heavy-duty speakers, with sensitivity far down in the 80s, and fluctuating impedance curves.
It's not endless with power in the M-5000. The comparison with a McIntosh MC-462 of 450 W, is raw party in the American's favor, but only in terms of muscle.
You also get more muscle with the Gryphon or Ayre, but the Yamaha set matches the competitors in the same price range, at the level of detail, focus and sophistication. Listening to the ECM productions with Keith Jarrett, either solo as in the Cologne concert, or as a trio on Still Live, is a blessed experience. The Yamaha amps can be perceived as slim, but that's only until Jack DeJohnette steps in with a drum solo, and you feel the big drum massaging your stomach.
A McIntosh MC301 has significantly more power, but sounds warmer and a little fatter, without quite the same focus. Ayre KX-5 and VX-5 cost almost the same, but lack a turntable input, and a combination of Audio-Research LS28 and VT80, sounds even more fine-grained and refined, but has neither turntable input, nor the same amount of power.
The bass from the Yamaha set is tight, rather than bold, and the midrange is open, rather than full. To my ears, it seems as if Yamaha has strived for a neutral sound balance, something they succeed well with, but I could have wished for more dynamic contrast. And then I like a little fatter bass dynamics.
On e.g. Bob Dylan's No Mercy, I miss a bit of the melody, but not the depth. Because there are lots of them here. The soundscape is fine-meshed and deep, with a rock-solid stereo perspective, also at Mozart's violin concerto on 2L, with Marianne Thorsen and the Trondheim soloists.
What you do not get
The amplifier set from Yamaha may not match everyone's needs. There is no digital converter in the preamplifier. Not within miles. Yamaha does not make a separate one once. Some will call for more and more flexible adjustment options on the turntable input, while others may want a CD-5000. Which also does not exist.
The power amplifier's only real limitation in my opinion, is that despite 100 watts potent power, one must be more careful with the matching of speakers. It does not drive the most heavy-duty speakers to nachspiel volume, but you world how great it sounds.
Conclusion
It's gratifying to hear such a complete amplifier set on speakers you know. Yamaha has created one of the most attractive amplifier combinations out there, and vinyl enthusiasts can enjoy a good phono step. The quality goes beyond most in this price range, and the sound quality matches the best in the class. Just be careful with the choice of speakers, then the 5000 set from Yamaha will provide musical enjoyment at a level many do not associate with Japanese hi-fi.