Lasse Svendsen
Published

2020-09-04 - 11:55 am
Suberb sound and build quality in an unusually practical and usable CD and network player. Supports high definition audio from CD and streaming.
Slow on the trigger, convoluted app control, the headphone output does not drive all headphones.
Specifications
Type: SACD / CD player
DAC: AK4497 32-bit PCM / DSD
Outputs: Balanced / unbalanced, optical / coaxial
Inputs: Optical / coaxial, USB, Ethernet
Headphone output: 32 ohms, 110 mV class AA
Wireless: Wi-fi, Bluetooth, Airplay 2, Chromecast Audio
Streaming services: Spotify Connect, Tidal, Deezer
Format support: AAC, AIFF, ALAC, DSD, FLAC, MP3, WAV
Other: Remote control
Color: Silver gray or black
Dimensions / weight: 43 x 98 x 40.7 cm / 12.2 kg
Sometimes it's nice to have moderate expectations. Like when you visit a new restaurant for the first time. Or travel to a place you have never been before. Everything is new and exciting, and it is easy to be pleasantly surprised.
That's about how it was with Technics SL-G700 CD player. Which, let me be quick to say, is much more than a CD player. It is a combination of many things, CD and SACD player, network player, digital converter and preamplifier. It is rarely a recipe for success.
Although Naim succeeded beyond all expectations with Uniti Star, which also has a power amplifier on the inside, it is not a given that such multiplayer combinations will be just as successful.
The Technics SL-G700 can be added to the list of products that have succeeded in combining several things, and with the exception of some operational advances, the Technics player is a wonderfully successful product.
Ok, the built-in headphone jack sounds decent at best, and does not power the most heavy-duty hi-fi headphones.
But the sound quality, the build quality as well, and all the features gathered in one place, make the player almost a bargain for music lovers with a frequently played CD collection.
You can also play SACDs, and thus keep the music collection alive with a player who has updated technology, in combination with both wired and wireless streaming. It has Bluetooth built-in, for convenience, but also wireless streaming over wi-fi. And, it supports both AirPlay2 with or without multiroom, Chromecast Audio, and streaming via the w-fi router over Ethernet cable.
The downside is that you have to switch between the remote control and the app to control playback, and although the remote control is a textbook example of simple operation, you can not say the same about the Technics app. The initial setup is relatively straight forward. It took me less than five minutes from the time the player was connected, before I could stream music from Tidal across the system, via the Technics player.
So far so good. The Technics app was once pretty good, now I recommend that they scrap it and make a new one. From scratch. Feel free to steal Linn or Naim's solution and create a real tablet version of the new app. Put all the primary functions on one screen and integrate the streaming apps, tuneIn web radio and connected music libraries (NAS) over the network. It has a USB input on the front for playing music on e.g. a memory stick, and connection for a hard disk (NAS) with music via USB on the back.
Discrete circuits
The player weighs over 12 kilos and is built like an armored car. The back has both balanced and unbalanced outputs. You can control the volume if you choose to use the player as a preamplifier, together with a pair of active speakers, or connected to a power amplifier. Alternatively, you can lock the volume control and send out a fixed line signal, if the player is to be integrated in a system.
If you unscrew the top plate, you may see the encapsulated CD mechanism first. On one side is a shielded, hybrid power supply, on the other side a discreetly constructed analog part, with a 32-bit digital converter, which handles all formats.
The circuits are built as two mono channels, the digital clock is actually battery-powered so that noise does not creep in with the signal, and Technics believes they have managed to lower the noise level all the way from the power supply, via the DAC to the outputs.
There is more. The headphone output has your own class AA amplifier, with Technics JENO circuit, which will reduce noise and distortion. The player also has support for MQA decoding which we find on MQA CDs, and which we know from the audio files in Tidal Hi-Fi Masters.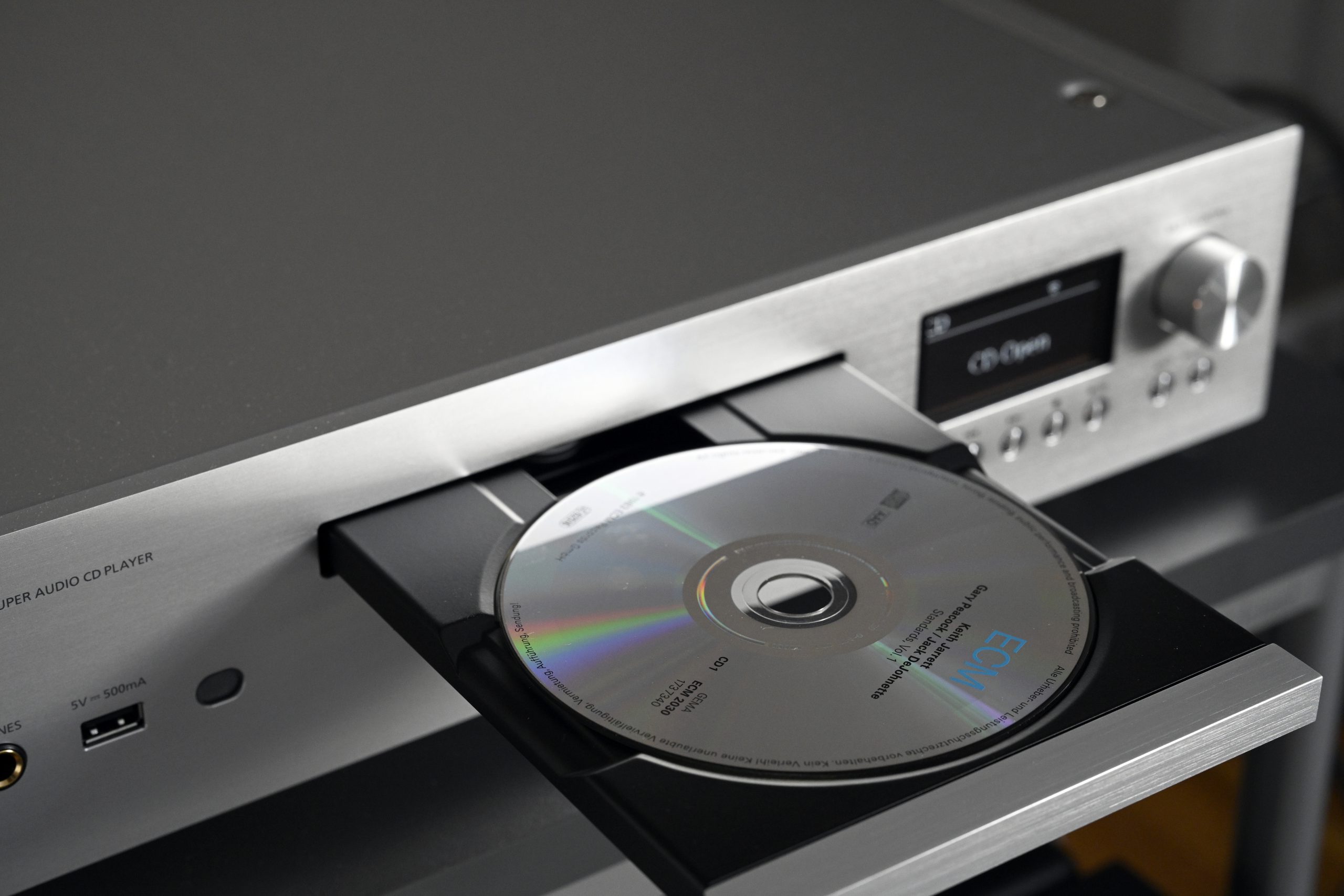 Re-Master
You can turn off all antennas and network activities when playing CDs. One press of the Direct button fixes it. If you click into the setup menu, you will find, among other things, three filter options with three different curves that you can set to taste. Filter 1 is the normal setting.
There is also a Re-Master function, which is a digital signal processing of the signal on a CD, which can convert 16-bit / 44.1 kHz data to 32 bit / 192 kHz for high-resolution signal processing. It also works with MP3 files, where the difference is more audible, but otherwise the player sounds great without remastering.
Because it does. Put on a CD and just enjoy the warm, open and dissolved sound that flows out into the living room. There is more resolved sound in players like the McIntosh MCD600, but compared to e.g. Hegel Mohican, the Technics player sounds fuller more warmer timbres.
The piano sound is powerful and nuanced at the same time, whether I play Jarrett or Andsnes, and percussion sounds sparklingly dynamic. I experience the treble as a bit laid back, but in the comfortable way. I do not experience that anything is masked, and guitars and strings, for example, are sharply focused right down to the level of detail.
The Technics player is an excellent music communicator, and I'm not sure if there are many CD players in this price range that sound significantly better than this one. Different maybe, but hardly better.
As a network player, you have to switch from remote control to app control, cumbersome of course, but it works and sounds excellent. Masters album or not, streaming over the network from the Tidal app via a Northeast Ethernet cable, sounds so fresh and dynamic that I do not quite understand the point of having a separate network player – in addition to a CD player.
The Technics SL-G700 combines both superbly in terms of sound, although the operation can be improved.
Conclusion
Network player and CD player in one is not a solution that suits everyone. But for those who need to replace their aging CD player and want to stream music, the SL-G700 is a no brainer. There are not many such practical players out there, and not at all many with the same qualities as this one. Maybe not with the same sound quality, which stands at six, but unfortunately the ease of use pulls down the final sum at the bottom of the sheet this time.