Geir Nordby
Published

2022-06-25 - 8:03 am
Lots of air and detail. Plenty of connections, including five HDMI inputs. Great streaming solution with HEOS.
We're missing a bit of punch.
Specifications
Output power: 2 x 75 W into 8 ohms
Damping factor: (not specified)
Inputs: 3 x line RCA, phono RCA, coaxial, optical, 5 x HDMI, USB-A (front)
Outputs: Pre out (RCA), 2 x subwoofer (RCA), HDMI (ARC), headphones (6.3 mm)
Network: Wi-Fi, Ethernet
Streaming: HEOS, AirPlay 2, Spotify Connect, Bluetooth, DAB+
Dimensions and weight: 10.5 x 44 x 37.8 cm / 7.9 kg
Colour: Black, silver gold
Web: marantz.com
The Marantz NR1200 is a full-sized network amplifier with more connectivity and features than any other in its class, including five (!) HDMI inputs and an HDMI output with audio return. This is where you connect your TV, so you can include your stereo in your TV entertainment.
There are also a couple of digital inputs, optical and coaxial, as well as a USB input on the front, so you can stream audio files from USB memory. Analogue inputs are also available, of course, including for turntables with MM pickup.
If you want to connect an extra power amp, you can do so with the preamp output. There are also outputs for two subwoofers, and what if the amplifier also has a DAB+ receiver! And a headphone output!
Music streaming can be done with AirPlay 2, or you can download the HEOS app. Spotify is also built in.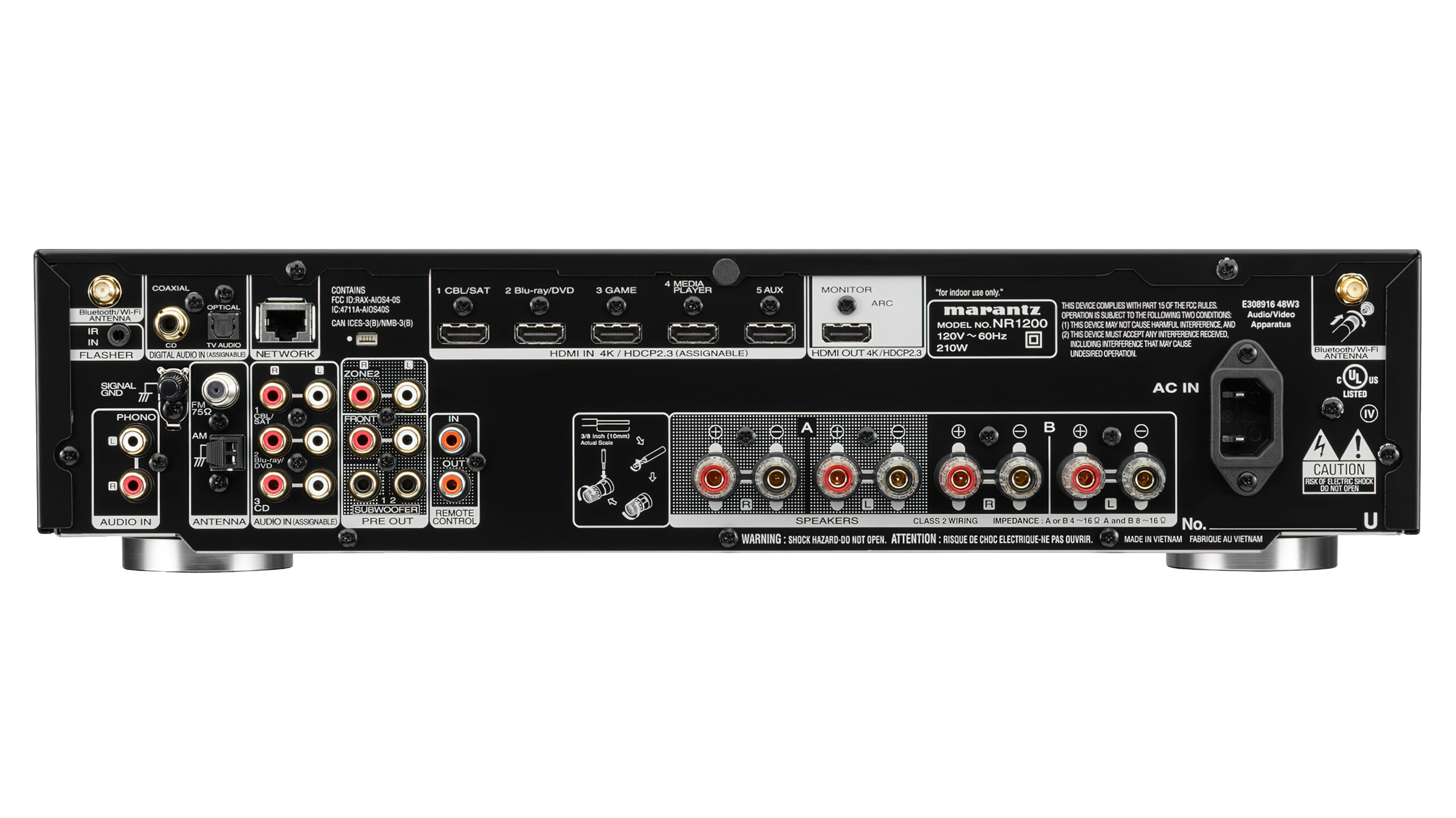 Developed by Marantz and Denon, HEOS is a competitor to the Sonos system. It brings all your streaming services together in one app and lets you make playlists across services. Smart. If you want high-resolution sound, however, you should download BubbleUPnP or Mconnect for your mobile, as DLNA is the only option next to downloaded music files.
Another thing I miss about HEOS is the ability to sort my Tidal songs by chronology, i.e. by when they were added. But you can only get alphabetical order by song title. With a few hundred tracks, it gets a bit tedious to navigate.
The sound of the Marantz NR1200
The NR1200 has a very nice sound; just listen to Olivia Rodrigo's voice on "Drivers License". Really nice timbre in the voice here, while the synth bass fills out the lower register. The piano also has a big and delicious sound. Sivert Høyem's baritone voice sounds great in the Madrugada ballad "Ecstasy". Especially in the midrange it sounds really distinguished. All in all, Marantz has full control over the tone quality.
Pressure and dynamics, on the other hand, are not the amplifier's strongest points. For although there is good depth in the bass, I miss some punch in the rhythms. Compared to the Bluesound Powernode, the Marantz amp is just too cautious for my taste. It doesn't have much more to offer in the power department than the much cheaper NAD Amp1, although the tonal quality is better on the Marantz.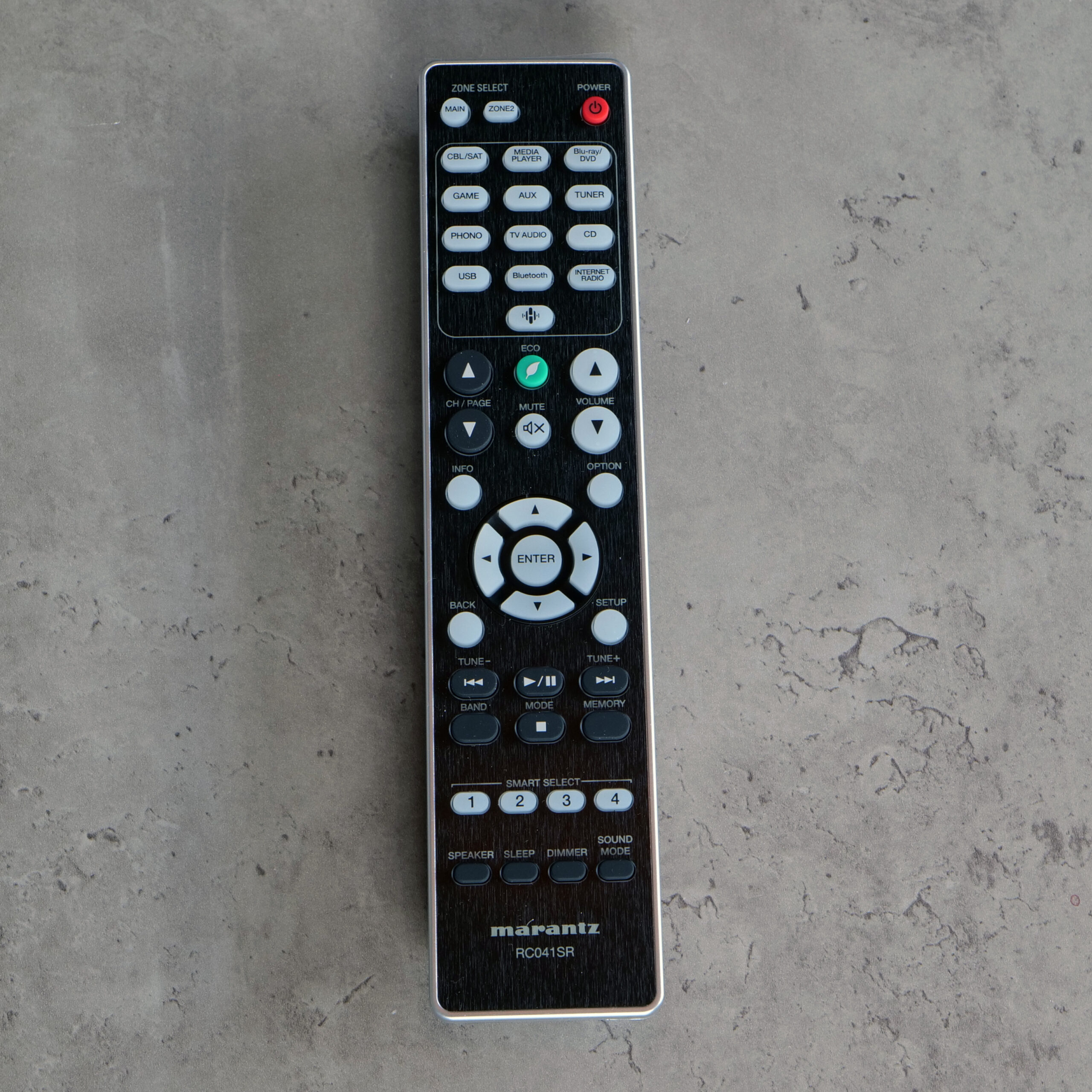 Conclusion
The Marantz NR1200 is a stereo receiver for those who want to connect a lot of audio sources and also want DAB+ radio. Connectivity-wise, no one in this class can match it, and usability is also good with HEOS streaming. Although it's not quite at Sonos level.
The sound quality is very good, and acoustic instruments and great singing voices sound especially great. If sound quality is more important than raw power, the NR1200 is everything you could dream of in this class.
Also in this test
Bluesound Powernode (N330)
Improved giant slayer
The tiny Powernode streaming amp from Bluesound has got even better and is definitely the strongest in its class.
More powerful than the others in the class, can play loud and powerful with excellent sound quality. Streams in HD quality, supports high-resolution MQA files.
However, it does not have inexhaustible powers either.
Cabasse Stream Amp
Steady Frenchman
Cabasse Stream Amp is not a new product, but it performs well in the modern streaming world.
Airy and detailed sound, big and detailed deep bass. Wide sound image.
Lacks some dynamics and can sound too polished.
Sonos Amp
Has become too expensive
The Sonos Amp is powerful enough to drive decent speakers. But the price has gone up too much lately.
Very user friendly. HDMI input. Powerful enough to drive serious speakers.
Lacks a little dynamism and raw power. Room correction does not work with third party speakers. Has increased too much in price.
NAD Amp1
All you need
The NAD Amp1 is small in size, but makes up for it with good, rich sound.
Pleasant warm sound with a fine sound bottom. Streaming with Chromecast is super easy. Extra plus for turntable input!
Could have had a tighter grip on the speakers, especially when turning up the volume.
Harman Kardon Citation Amp
Big amp in small package
The Citation Amp can stream just about anything, and it does so with better and bigger sound than most in its class. Watch out, Sonos!
Powerful and immersive sound. Easy to use. Supports most of what you need.
A USB DAC input would have made it the perfect desktop amp.