Geir Nordby
Published

2022-06-25 - 8:00 am
Airy and detailed sound, big and detailed deep bass. Wide sound image.
Lacks some dynamics and can sound too polished.
Specifications
Output power: 2 x 50 W, 4 x 25 W in 4-8 ohms
Damping factor: (not specified)
Inputs: 2 x line RCA, mini coaxial, optical, USB-A (front)
Outputs: pre out (RCA), subwoofer (RCA)
Network: Wi-Fi, Ethernet
Streaming: Cabasse Stream, Bluetooth
Dimensions and weight: 9.1 x 21.8 x 19 cm / 1.9 kg
Color: Black
Web: cabasse.com
Cabasse Stream Amp came out a few years ago, but we haven't gotten around to testing it until now. And since it's still current, it now has to try its hand against a pretty tight field.
The Stream Amp doesn't have Chromecast or AirPlay, but is locked to Cabasse's own Stream app. The latter supports services like Spotify, Deezer and Tidal, and it also has both analogue and digital connections.
With speaker outputs for four speakers, the amp is ideal for in-wall projects or other situations where you need to drive multiple speakers. It then goes from 2 x 50 watts to 4 x 25 watts, but since you then have four speakers to fill the room, you can come a long way with that. If you need more power, there's both a preamp output for a power amp and a subwoofer output.
A small remote control is included for volume control and source selection. Pressing the mute button fades out the sound instead of abruptly cutting it off. We like that!
Connecting is hassle-free. Download the Cabasse app and it finds the amp without a fuss. Then it's just streaming away.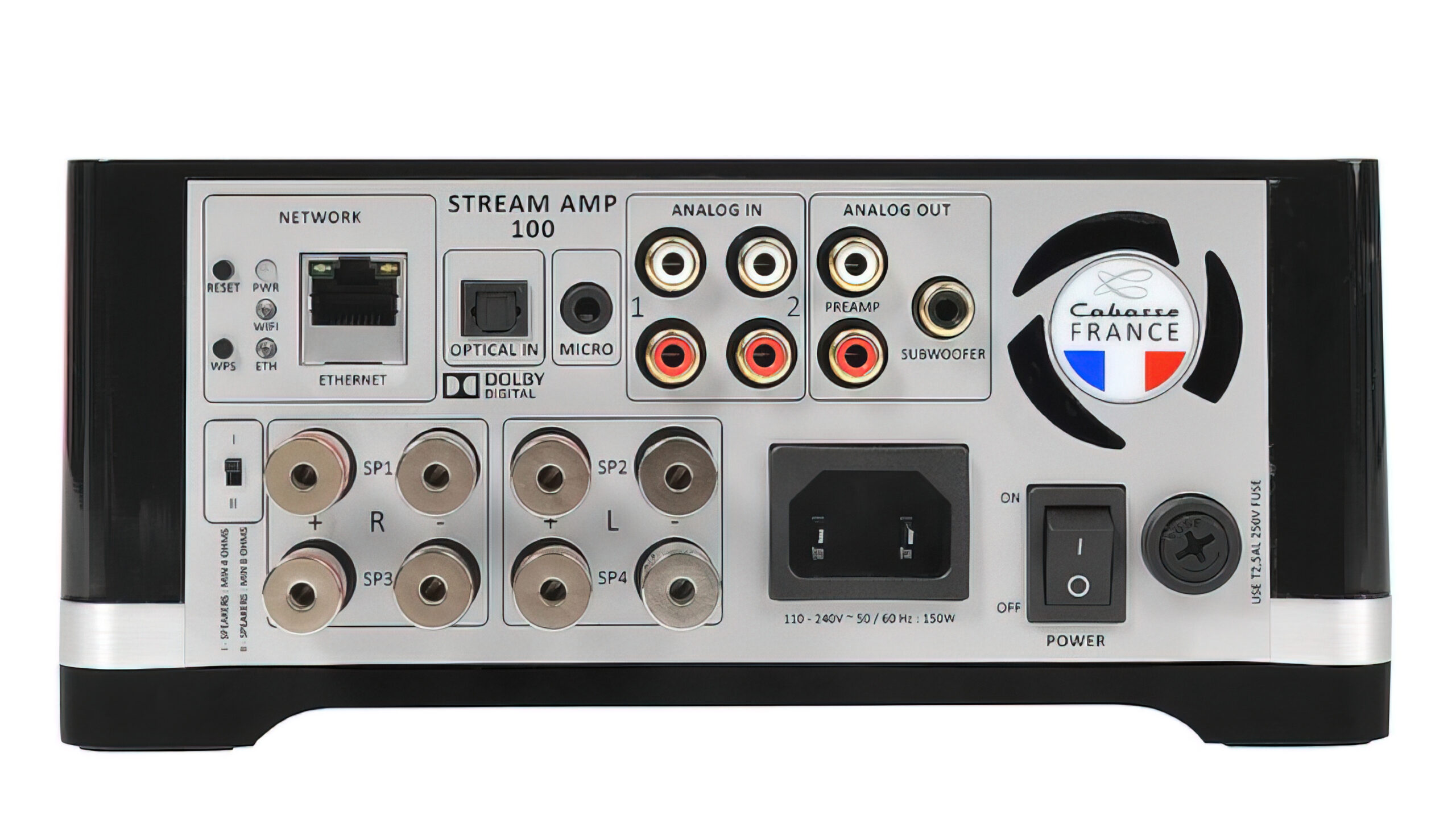 The sound of the Cabasse Stream Amp
There's surprisingly good control over the deep bass on Bea Miller's industrial-pop number "Playground" from the animated TV series Arcane. The distorted bass tones come across crisply with plenty of detail, and not only are Bea's vocals airy and clear; the second voice she's laid underneath also stands out clearly, giving the track the dark mood it deserves. Significantly better than, say, the Sonos Amp.
Tom Waits stands out with his amazing rusty vocal chords in "Day After Tomorrow". The soundstage is wide, and Cabasse maintains the tone of the acoustic guitar while placing the notes of the undistorted electric guitar well to the right, slightly back in the soundstage.
The only thing I miss is a bit more aggression and dynamics. The amp can handle being turned up quite a bit; that's not the problem. But there's a bit of bite and ferocity missing when the bass drum pounds away or the timpani in "Confutatis" from Sigurd Islandsmoen's Requiem kick in. It gets a bit cautious.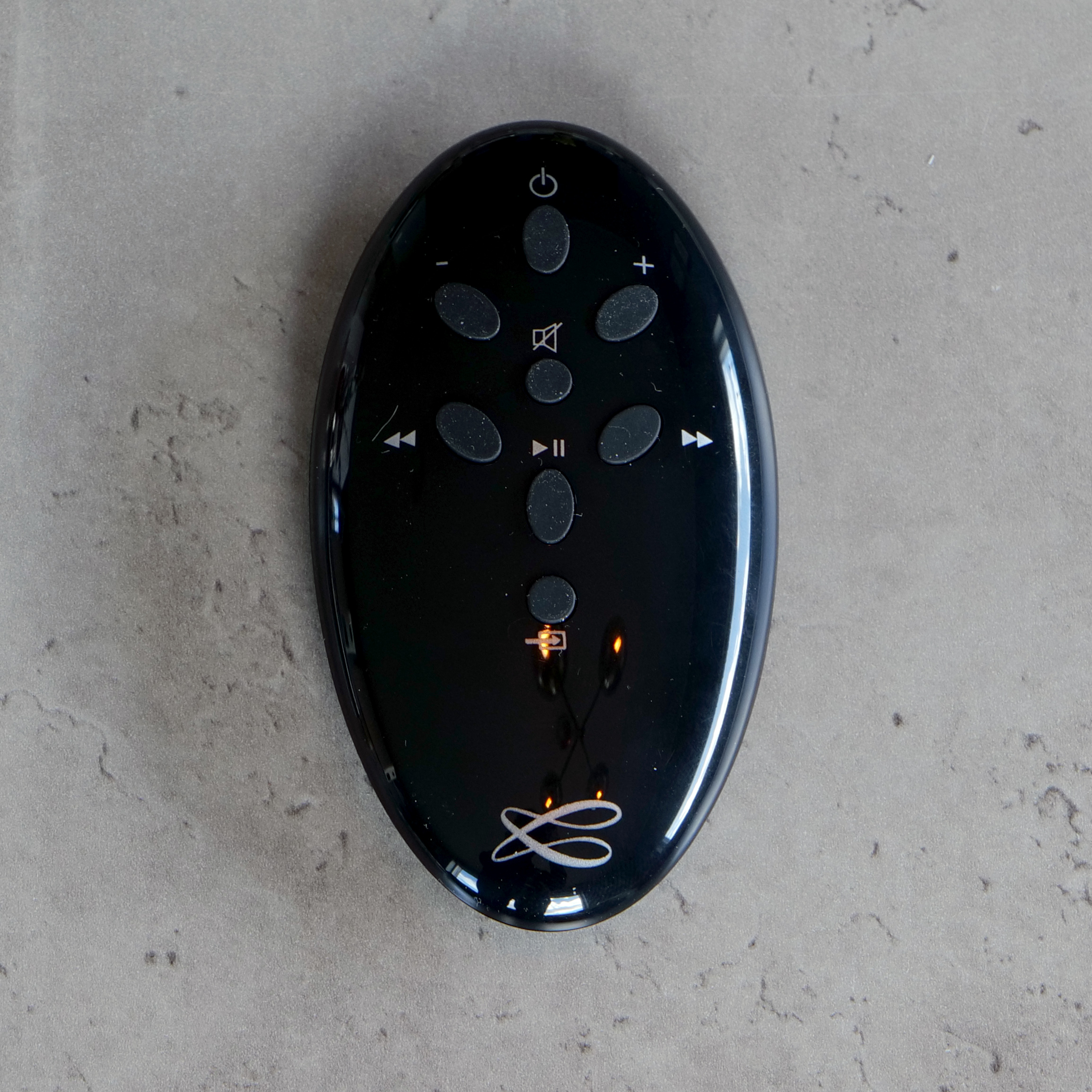 Conclusion
The Cabasse Stream Amp is a good streaming amp that sounds nice and airy, and also has a deep, nice sound in the bass. It plays really well and also has enough power to drive a couple of decent speakers.
The amp could have done with a bit more aggression and dynamics; it all gets a bit `polished'. At the same time, it would seem more future-proof if it had Chromecast or AirPlay 2 in addition to its own interface. Fortunately, it also has Bluetooth and digital inputs.
Also in this test
Marantz NR1200
A host of features
None in its class has the same connectivity options as the Marantz NR1200. It also sounds really good.
Lots of air and detail. Plenty of connections, including five HDMI inputs. Great streaming solution with HEOS.
We're missing a bit of punch.
Bluesound Powernode (N330)
Improved giant slayer
The tiny Powernode streaming amp from Bluesound has got even better and is definitely the strongest in its class.
More powerful than the others in the class, can play loud and powerful with excellent sound quality. Streams in HD quality, supports high-resolution MQA files.
However, it does not have inexhaustible powers either.
Sonos Amp
Has become too expensive
The Sonos Amp is powerful enough to drive decent speakers. But the price has gone up too much lately.
Very user friendly. HDMI input. Powerful enough to drive serious speakers.
Lacks a little dynamism and raw power. Room correction does not work with third party speakers. Has increased too much in price.
NAD Amp1
All you need
The NAD Amp1 is small in size, but makes up for it with good, rich sound.
Pleasant warm sound with a fine sound bottom. Streaming with Chromecast is super easy. Extra plus for turntable input!
Could have had a tighter grip on the speakers, especially when turning up the volume.
Harman Kardon Citation Amp
Big amp in small package
The Citation Amp can stream just about anything, and it does so with better and bigger sound than most in its class. Watch out, Sonos!
Powerful and immersive sound. Easy to use. Supports most of what you need.
A USB DAC input would have made it the perfect desktop amp.