Geir Nordby
Published

2022-06-25 - 8:01 am
More powerful than the others in the class, can play loud and powerful with excellent sound quality. Streams in HD quality, supports high-resolution MQA files.
However, it does not have inexhaustible powers either.
Specifications
Output power: 2 x 80 W into 8 ohms
Damping factor: (not specified)
Inputs: 2 x 3.5 mm in (optical/analog), USB-A,
Outputs: HDMI (Arc), subwoofer, headphones (3.5 mm)
Network: Wi-Fi, Ethernet
Streaming: BluOS, AirPlay 2, Spotify Connect, Bluetooth (aptX HD)
Dimensions and weight: 7 x 22 x 19 cm / 1.78 kg
Colour: Black, white
Web: bluesound.com
Externally, the new Powernode looks like its predecessor: a black or white plastic box with rounded corners and a control panel on top. The panel is more advanced than before, as there is now a touch field for controlling volume, as well as five presets that can be programmed with internet radio stations or playlists.
It would have been the icing on the cake if the touch panel included a display so you could see what was behind the buttons.
Otherwise, most operation is via the Bluesound mobile app, and usability is on par with Sonos. Bluesound also has several options for high-resolution audio, if you're interested in that. In addition, the Powernode can be controlled with Google Assistant and Amazon Alexa.
You can buy a separate remote, but if you connect the TV via the HDMI jack, you can use the TV's remote to adjust the sound up and down.
On the back, the Bluesound Powernode has a USB port and two combined analogue/digital inputs. But frankly, you get a long way with the streaming functions plus the TV via HDMI.
If you want surround sound, the amp can be part of a multi-channel system (up to 5.1 channels) along with, say, a Bluesound soundbar or separate speakers. If you have an older Powernode, it can also be set up to drive the rear speakers.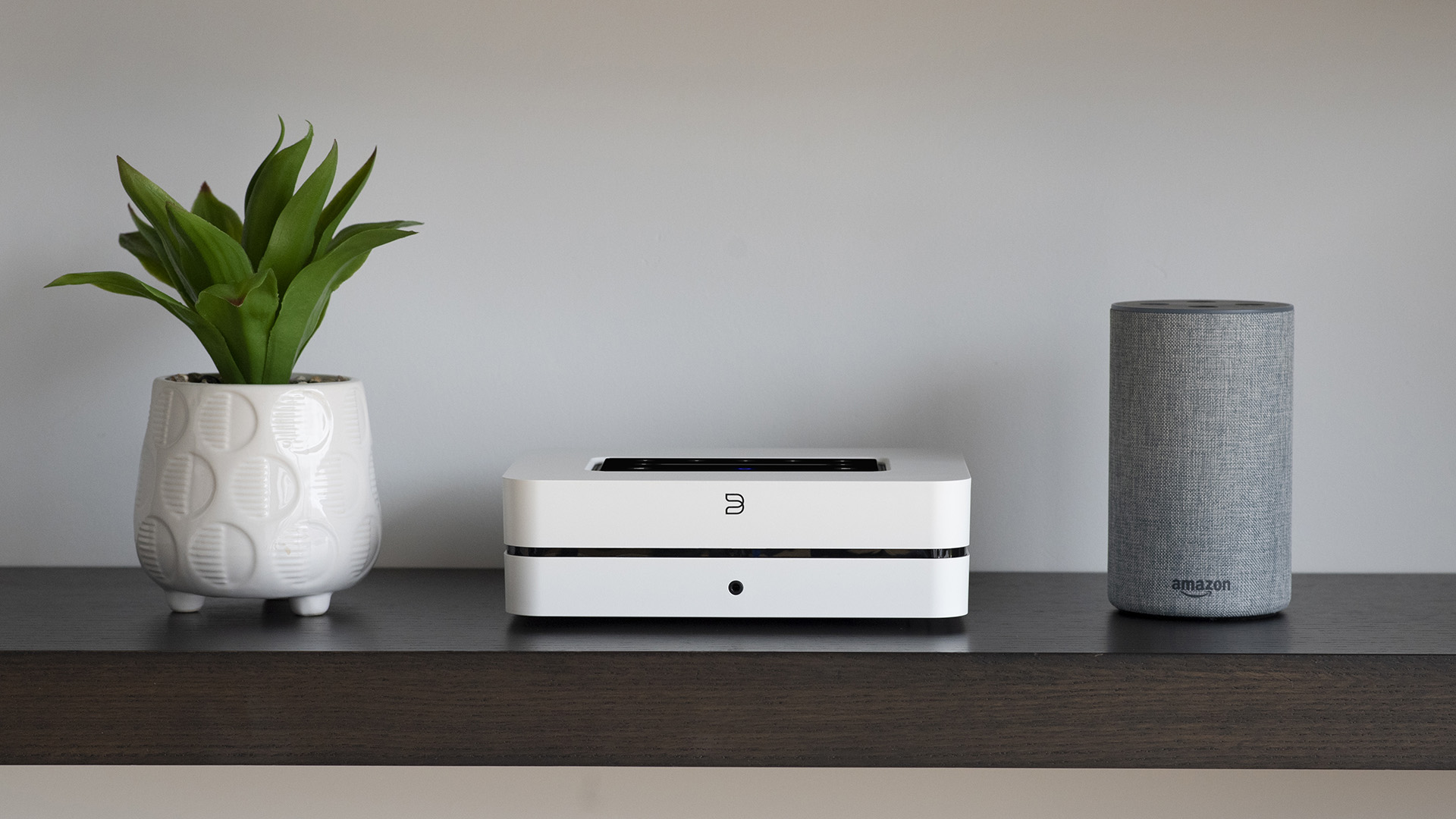 The sound of Bluesound Powernode
It's easy to underestimate the Bluesound Powernode. The little lunchbox of an amplifier weighs only 1.8 kg and looks like a toy. But with a couple of decent speakers hooked up, it gets serious.
The balance of the soundstage is distinctly uncoloured, but the sound is anything but flat and dull. The bass is stable and energetic, and there's good midrange punch on the violins in Mozart's Piano Concerto No. 21. The resolution upwards is good too, this is really good!
Pop music has good pressure – just listen to the bass rhythms on Ariana Grande's "Break Up With Your Girlfriend". It's fierce, it's cool, it's delicious.
Powernode reproduces the space in which the recording takes place well, whether it's a live recording or audio put together in a studio. It's very transparent and you can place instruments and voices on stage.
When pushed to the limit, the amp loses the ability to separate out the small details, but then it's also miles ahead of the others in the test in terms of sound pressure. And when it does get strained, it does so in a civilised way without sounding ugly.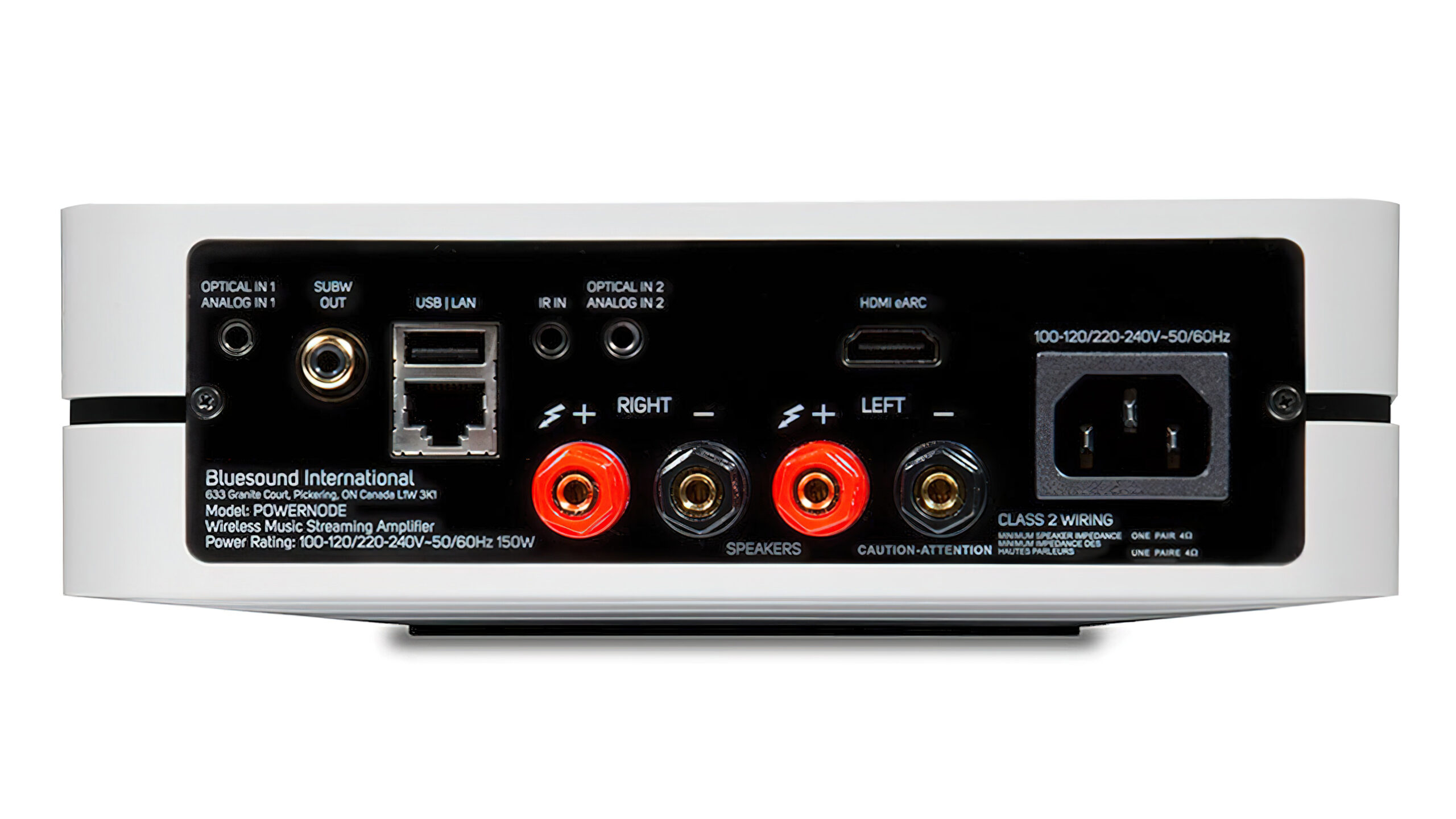 Conclusion
The Bluesound Powernode (N330) is even better than its predecessor, and although the price has gone up since we last tested it, it stands out so strongly from the field that this is quickly forgiven.
It's clearly worth the extra price compared to the Sonos Amp and its peers, and is the amp in the price range that yours truly would choose if the format were small. Perhaps in any case, because it doesn't stand up to bigger amps either.
When we tested it alone last year, Powernode gave it five stars. Now, after pitting it against the rest of the field, it's clear that it should get full marks. Best in test!
Also in this test
Marantz NR1200
A host of features
None in its class has the same connectivity options as the Marantz NR1200. It also sounds really good.
Lots of air and detail. Plenty of connections, including five HDMI inputs. Great streaming solution with HEOS.
We're missing a bit of punch.
Cabasse Stream Amp
Steady Frenchman
Cabasse Stream Amp is not a new product, but it performs well in the modern streaming world.
Airy and detailed sound, big and detailed deep bass. Wide sound image.
Lacks some dynamics and can sound too polished.
Sonos Amp
Has become too expensive
The Sonos Amp is powerful enough to drive decent speakers. But the price has gone up too much lately.
Very user friendly. HDMI input. Powerful enough to drive serious speakers.
Lacks a little dynamism and raw power. Room correction does not work with third party speakers. Has increased too much in price.
NAD Amp1
All you need
The NAD Amp1 is small in size, but makes up for it with good, rich sound.
Pleasant warm sound with a fine sound bottom. Streaming with Chromecast is super easy. Extra plus for turntable input!
Could have had a tighter grip on the speakers, especially when turning up the volume.
Harman Kardon Citation Amp
Big amp in small package
The Citation Amp can stream just about anything, and it does so with better and bigger sound than most in its class. Watch out, Sonos!
Powerful and immersive sound. Easy to use. Supports most of what you need.
A USB DAC input would have made it the perfect desktop amp.