No matter what kind of speakers you have, they deserve a proper amplifier, and that demand naturally increases as the speakers come up in price and quality. When you round 3000 bucks and maybe a little higher, the best amplifiers are so good that you will not miss anything. They can operate most of the speakers, and with a very good sounding result.
If you have fallen in love with a speaker pair for a hundred thousand, you do not need to put as much in the amplifier. Although they will naturally give even more of everything if they get an even cleaner signal, the golden mean is exactly where we find the Primare I35.
An amplifier in this class will be able to operate even ihuga high-end speakers without major problems, so that the speakers can dictate the majority of your hi-fi budget. On the other hand, if you suddenly want to scale down to cheaper speakers, then this amplifier is an equally good match with speakers for 20,000 kroner and lower. For hi-fi enthusiasts, this is therefore a very reasonable price range.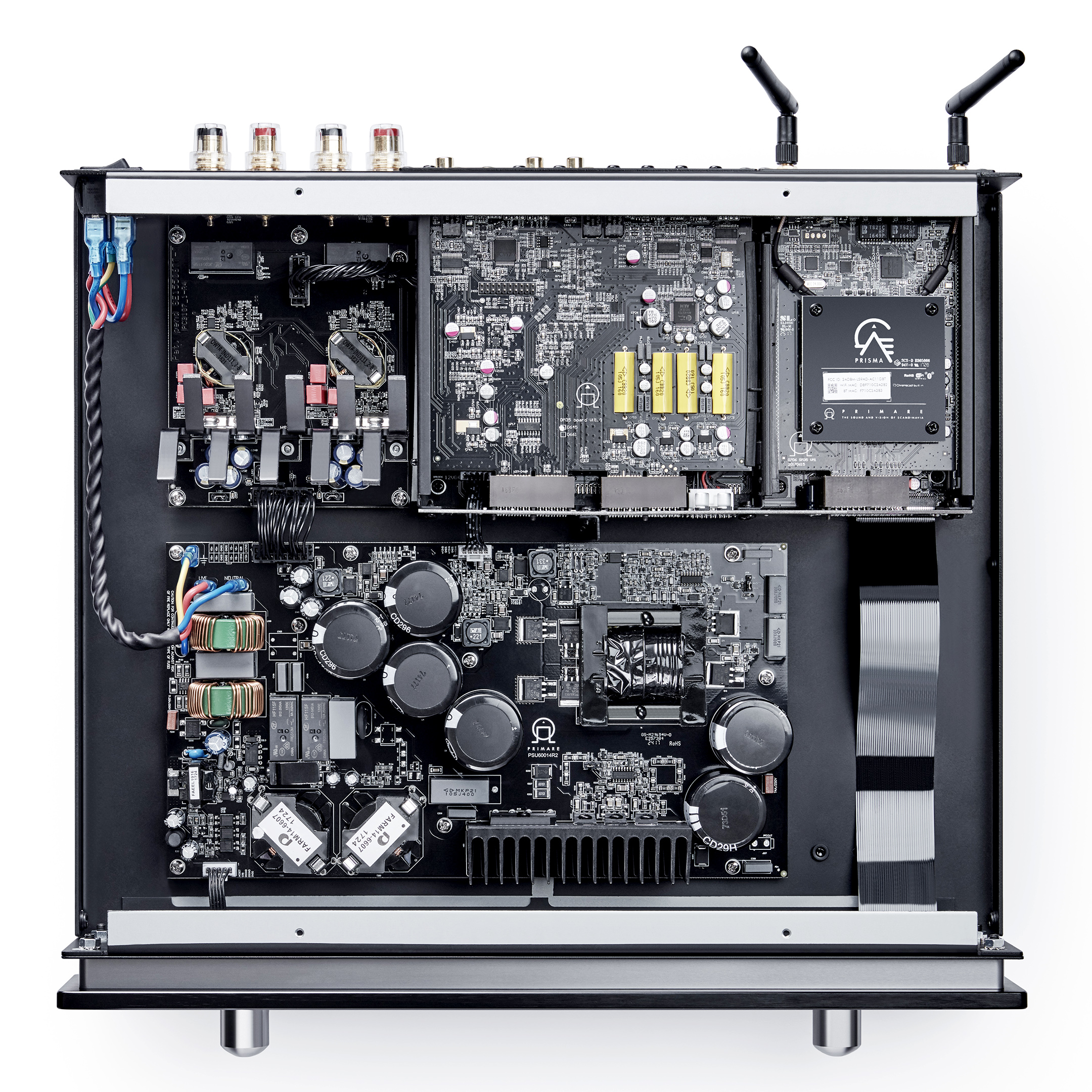 MODULAR AMPLIFIER
The integrated I35 from Swedish Primare is a small stroke of genius of an amplifier. First, it is built like a real amplifier from scratch. Built around Primare's own Class D amplifier technology they call UFDP 2, which according to its own claim amplifies the music signal completely linearly over the entire audible frequency range. With "fast, clean and smooth sound", which should bring the music to life. It also has two balanced analog inputs, so you get the cleanest possible handling of the analog audio signal – for example from a CD player.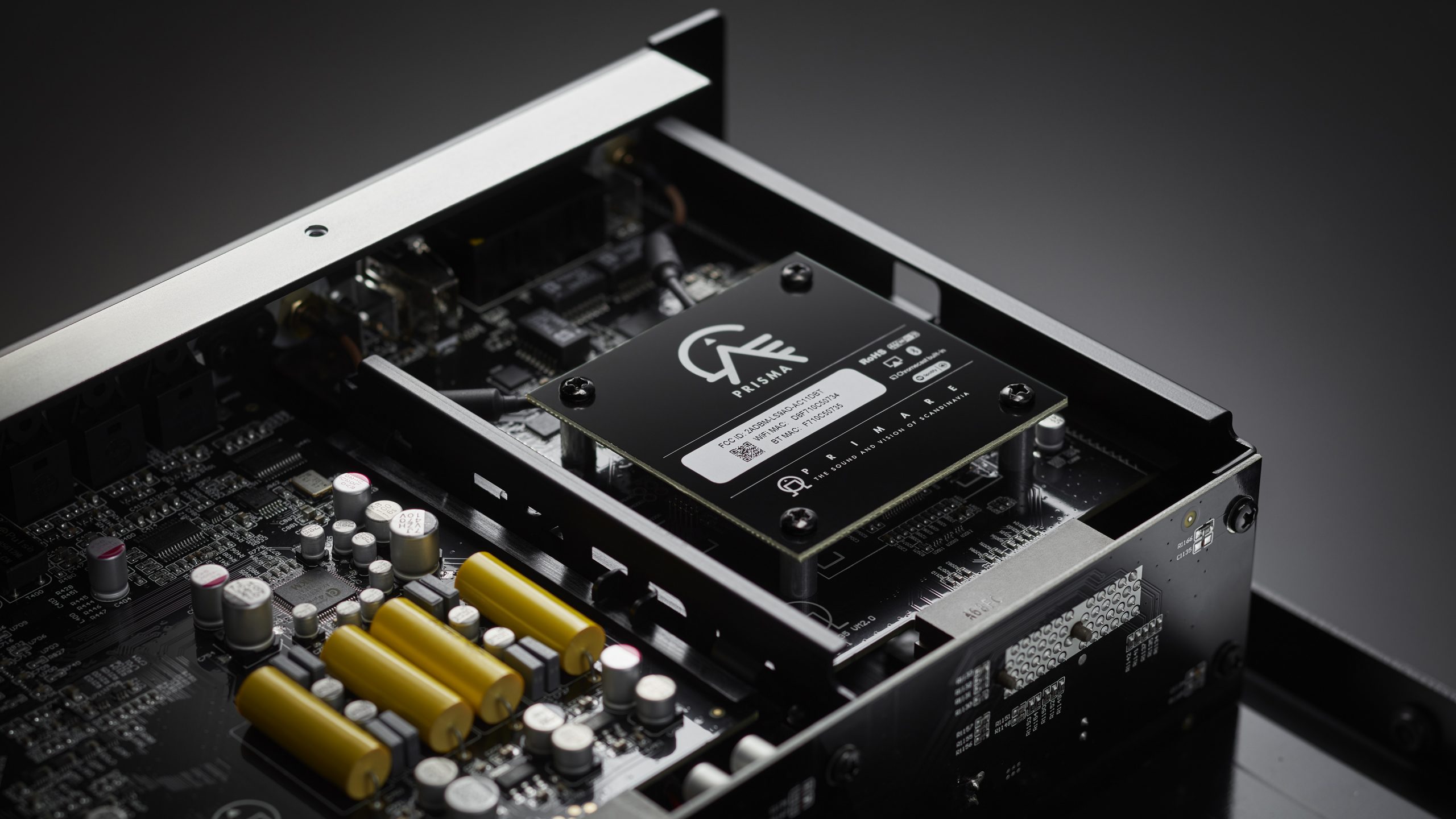 You can buy the I35 as a pure amplifier, then it has what you need of analog inputs. But this is where the stroke of genius comes in, because it is also possible to plug in a digital converter (DAC), and there is even a separate power module. And it is the fully equipped variant we are testing here, with both DAC and streaming, which actually does not increase the price by more than 8,000 kroner. If you ask me, it's like an all-in-one amplifier it comes into its own. Then it is called I35 Prisma.
AIRPLAY AND CHROMECAST
Primare has not been lazy when it comes to which formats and services they support. I35 Prisma can be connected to both wi-fi and wired network, and then it streams most. Here you will find both Airplay for Apple users and Chromecast for everyone else. Roon users can also connect wirelessly with Chromecast and get 24-bit / 96 kHz digital signal quality. Worth knowing for Tidal users, where Master releases will then be sent as either 88.2 or 96 kHz, no matter what resolution they have (in MQA).
There is also a Spotify Connect function, and by 2021 Primare hopes to implement similar support for Tidal. That is Tidal Connect, which allows you to use the Tidal app on your mobile and move the music playback directly to the Primare amplifier. In that case, it probably means a software decoding of the content in Master quality, which will then be limited to 96 kHz.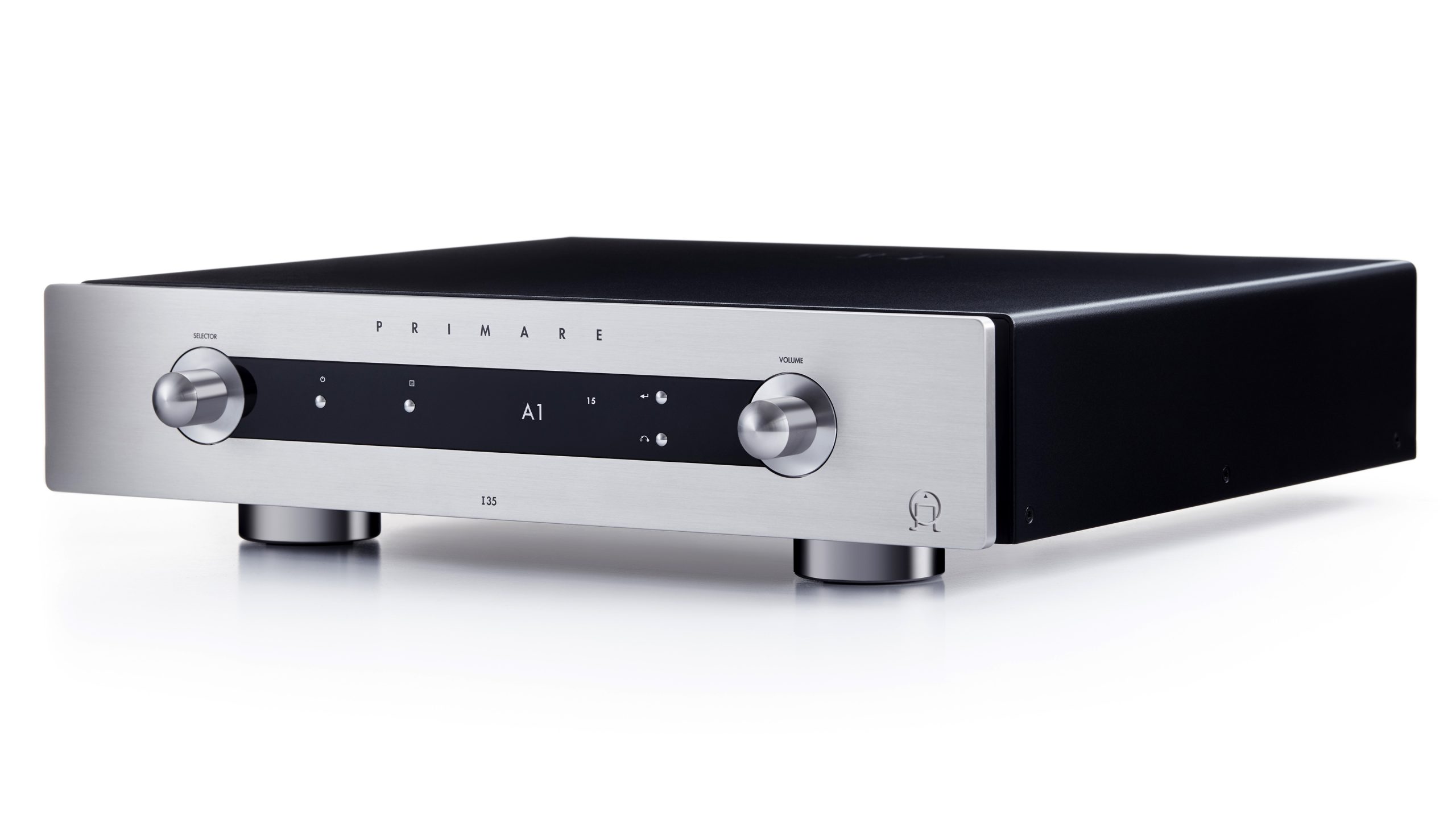 MORE POWER OPTIONS – AND ROON READY
I35 Prisma also has built-in DLNA support, so you can use third-party apps such as Mconnect or BubbleUPnP on your mobile. In the future, we are also promised support for Airplay 2, which means that the amplifier can be part of a HomeKit smart home.
But many hi-fi enthusiasts will probably still be most interested in having a Roon Ready certification on the way. Then you can play music in the Roon player on your PC or Mac, and send the sound directly to the Primare amplifier. If both it and the PC are connected to the same network.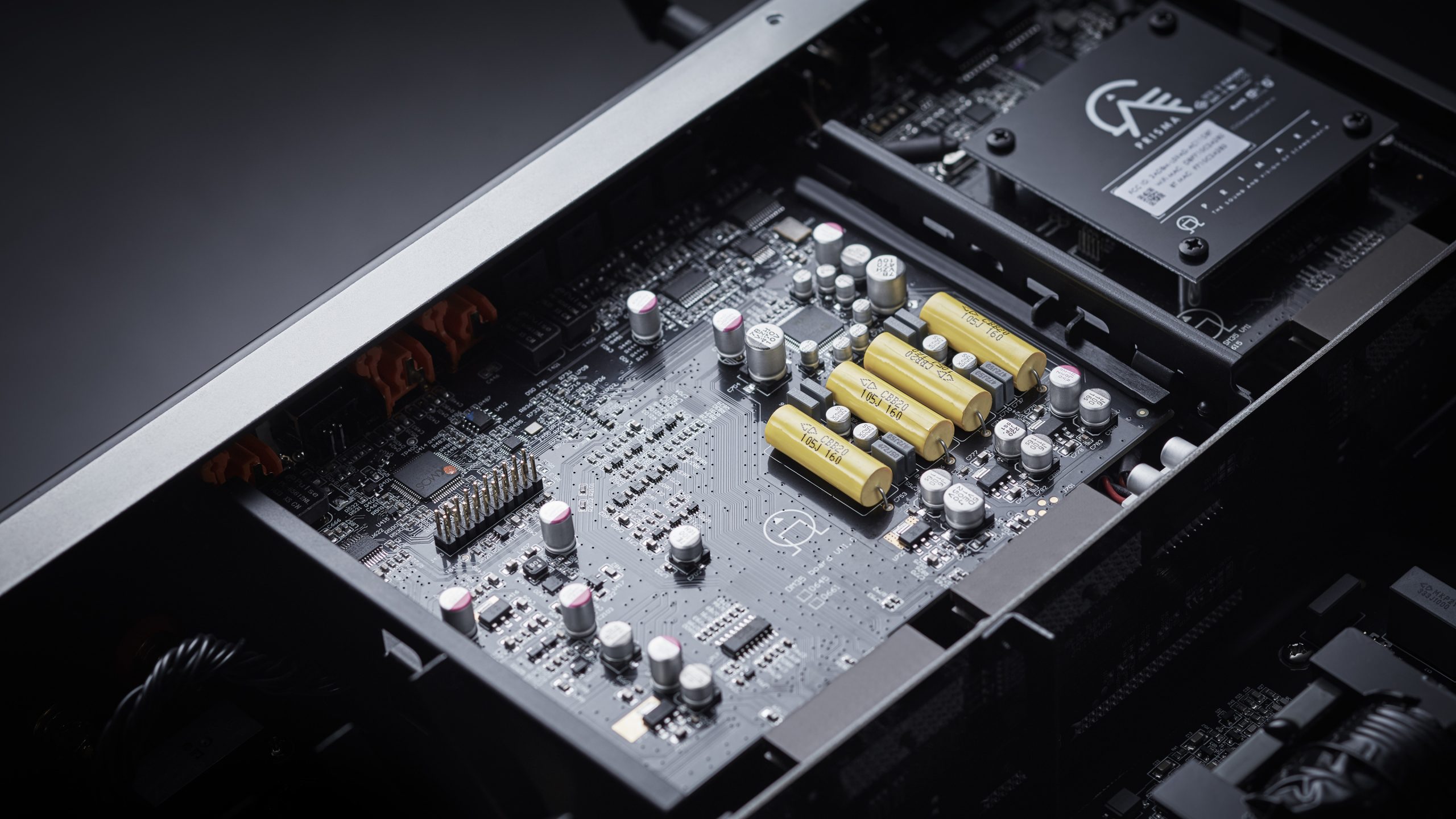 DAC PARTS
Otherwise, there are plenty of digital inputs in the DAC module. Both optical and coaxial. And also a separate USB-DAC input (USB-B), where you can connect to the computer so that the amplifier takes over as a sound card. Though, if you are looking for a desktop amplifier, the smaller Primare I15 Prisma is a far more practical and affordable amplifier.
SETUP
When we enter the menu, there are several options. You can deactivate unused inputs, and all inputs can be named as you wish. The sound level can also be trimmed. If you have some audio sources with a lower or higher output signal, these can be adjusted to be the same. This way you do not have to turn up and down the volume based on which input you have selected at any given time.
You can also choose whether each individual input should have a variable or fixed sound level. Fixed means that the amplifier acts as a pure power amplifier, if you want to use it to power the front speakers in a surround system, for example.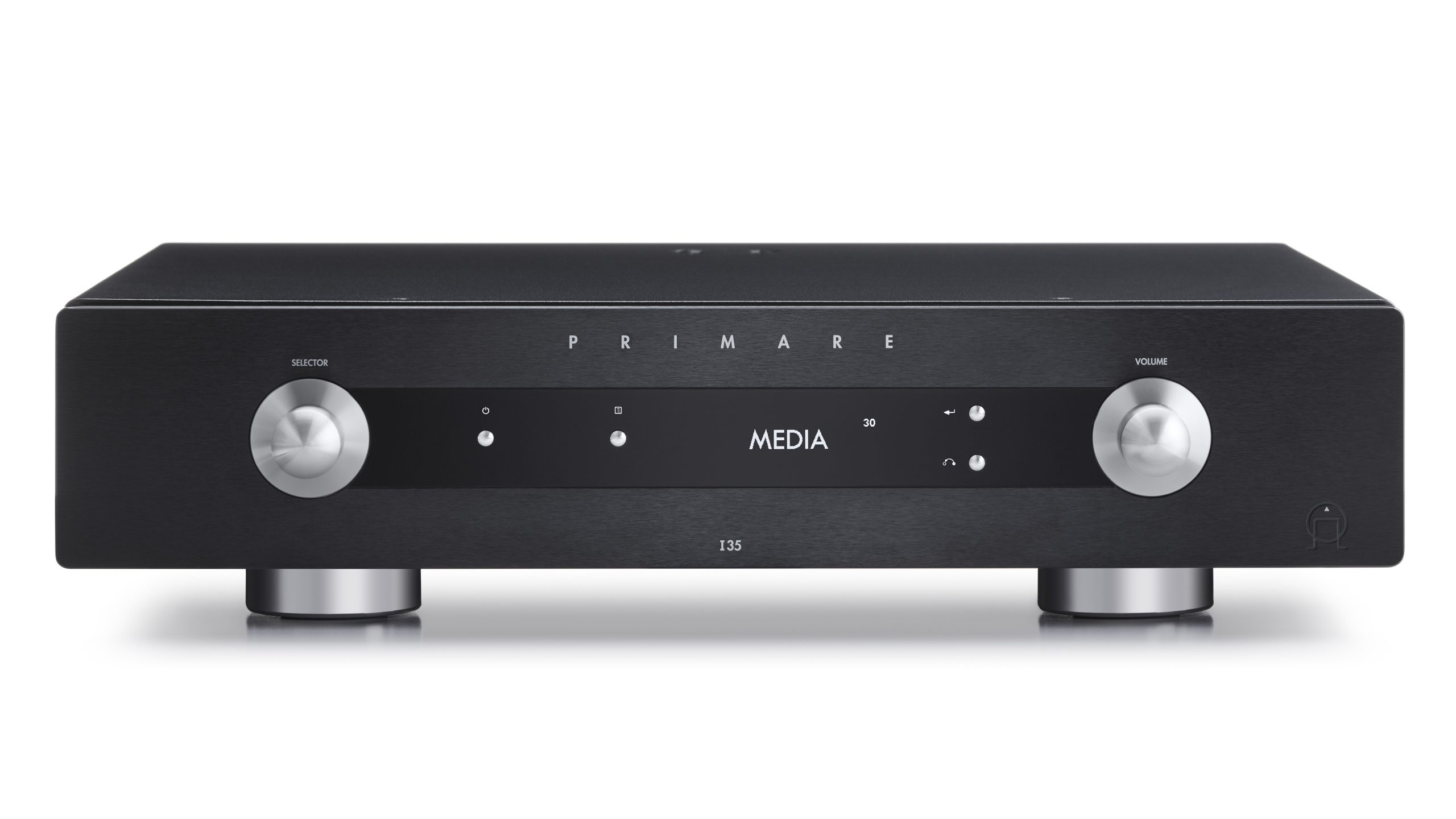 TIGHT AND WELL-RESOLVED SOUND
I35 Prisma is really a pleasure to have in the hi-fi system. First of all, I really like the tight and well-defined sound, when I stream music from Roon via the USB input. It allows the speakers to dictate the audio signature in the setup, be it the compact speakers B&W 705 S2 Signature (test coming) or the floor-standing 702 S2 Signature . The latter has a great and resilient deep bass, which really fills the room with conviction given a good enough amplifier. And the Primare I35 Prisma fits like a glove with these speakers.
The amplifier does little more than amplify the signal from the audio source. This means that the voice of Tori Amos on A Nightingale Sang in Berkeley Square from the TV series Good Omens appears with the magic intact. I can listen to that singing voice all day. The primary amplifier places her in the middle of the action, brings out the vibrato with countless details, while the sound of the piano is very believable. It all comes with a touch that not all amplifiers can delete.
Nathaniel Rateliff also crawls smoothly under the skin with his new song Redemption . His search for peace of mind is conveyed through the speakers as just that, with the guitar as the prominent instrument next to Rateliff's sore vocals.
SONUS FABER
The primary amplifier is not afraid to drive even more expensive speakers. The now discontinued Sonus faber Olympica III gets the amplifying power they need, and much of the magic in the warm midrange emerges. They get more weight and stability in the bass with the Hegel H390 , and my own (long overdue) AVI S21 MI Laboratory Series amplifiers have a little more warmth and commitment in the midrange. But Primare is fearless, and before you start switching back and forth to listen for the small details, it certainly sounds like it should. Just a little less energetic in the bass than I know these speakers are capable of getting more powerful cases connected.
Something I notice is Primare's ability to sound the same regardless of sound level. The soundscape is exactly the same, whether you play low or high, and not everyone can brag about that.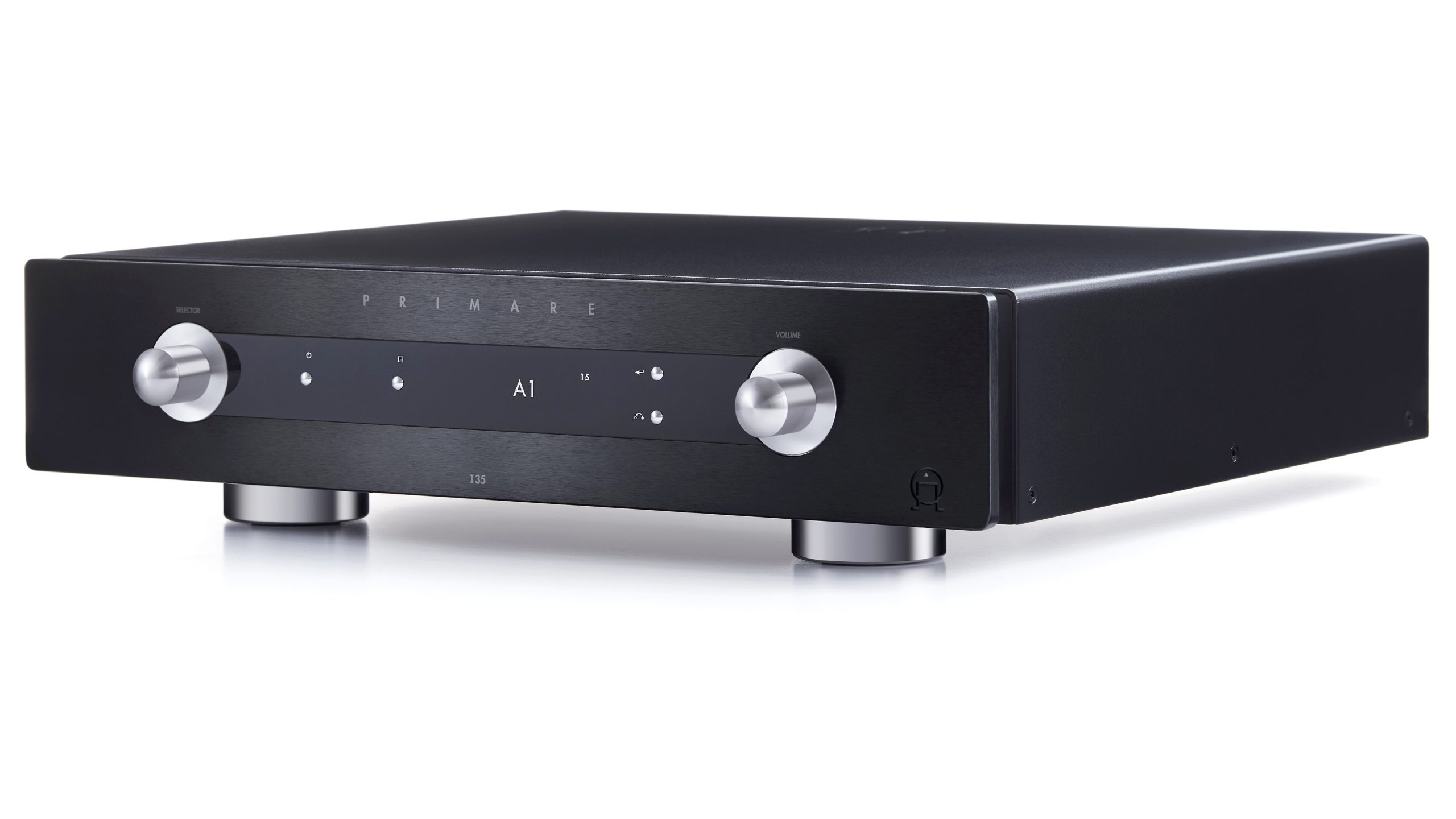 SOME LIMITATIONS
With the tight reproduction of the sound, I had thought it would be a perfect match with the party-tuned JBL 4349. 8 ohm impedance and 91 dB sensitivity should have made them easy to operate, and they should say yes thanks to Primare's tight fist.
But just have I feel the amplifier falls a little short. The speakers become a little tough to drive as you raise the volume of the party music, and then you need something even more powerful to put in the last gear. The Hegel H390 does a significantly better job here, and it gets even better with the McIntosh MA7000 (which must now be said to be vintage ). It is then also in a different class than the Primare amplifier.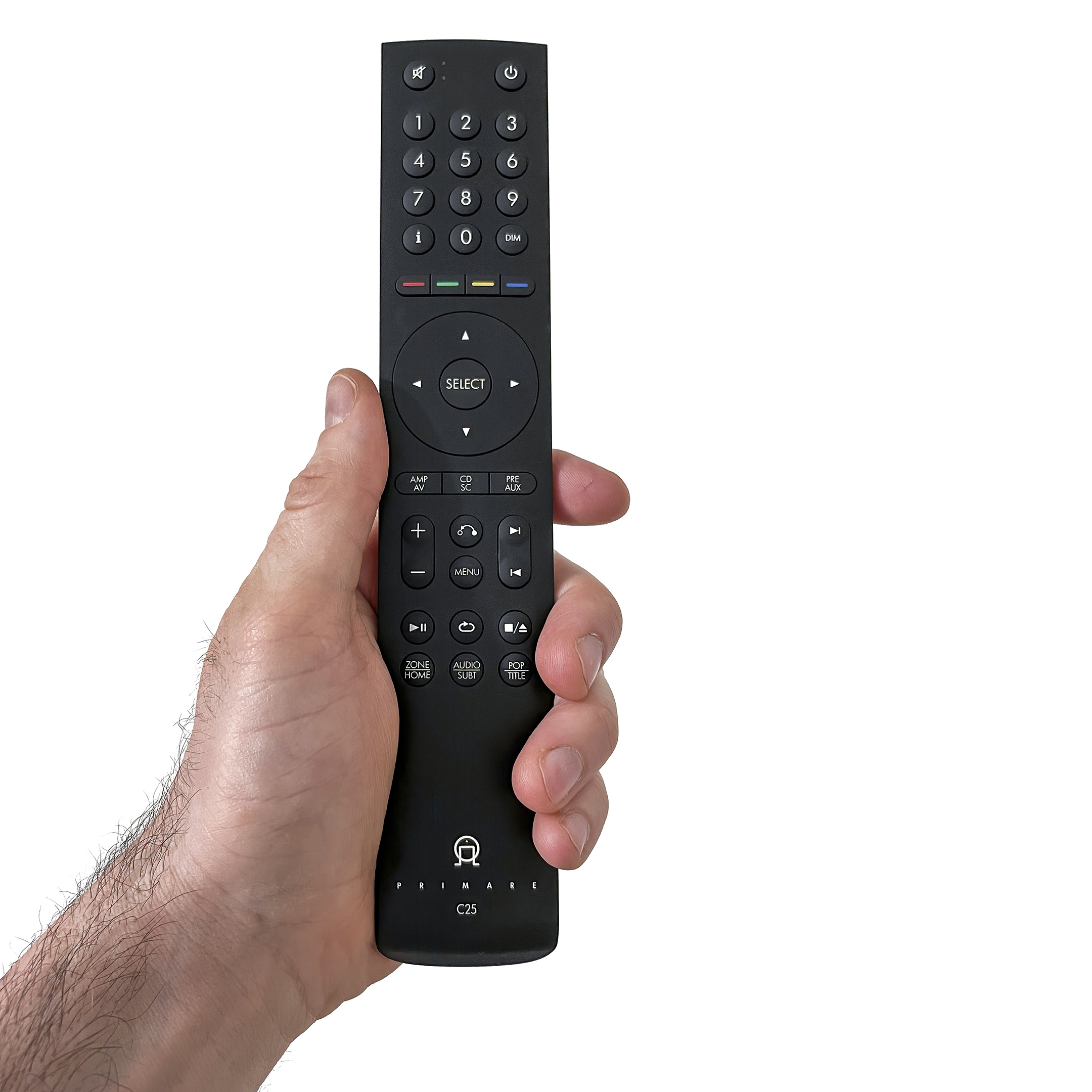 Closer is enough to compare with Electrocompaniet ECI 6DX MKII . It sounds quite different from the Primare I35 Prisma. The ECI has a fuller bass reproduction when playing with normal listening level. And even though it is specified at 120 watts against the I35's 150, the Electrocompaniet will also keep up in the decibel levels. But they both have the property that you expect a little more when it starts to get hot around the ears.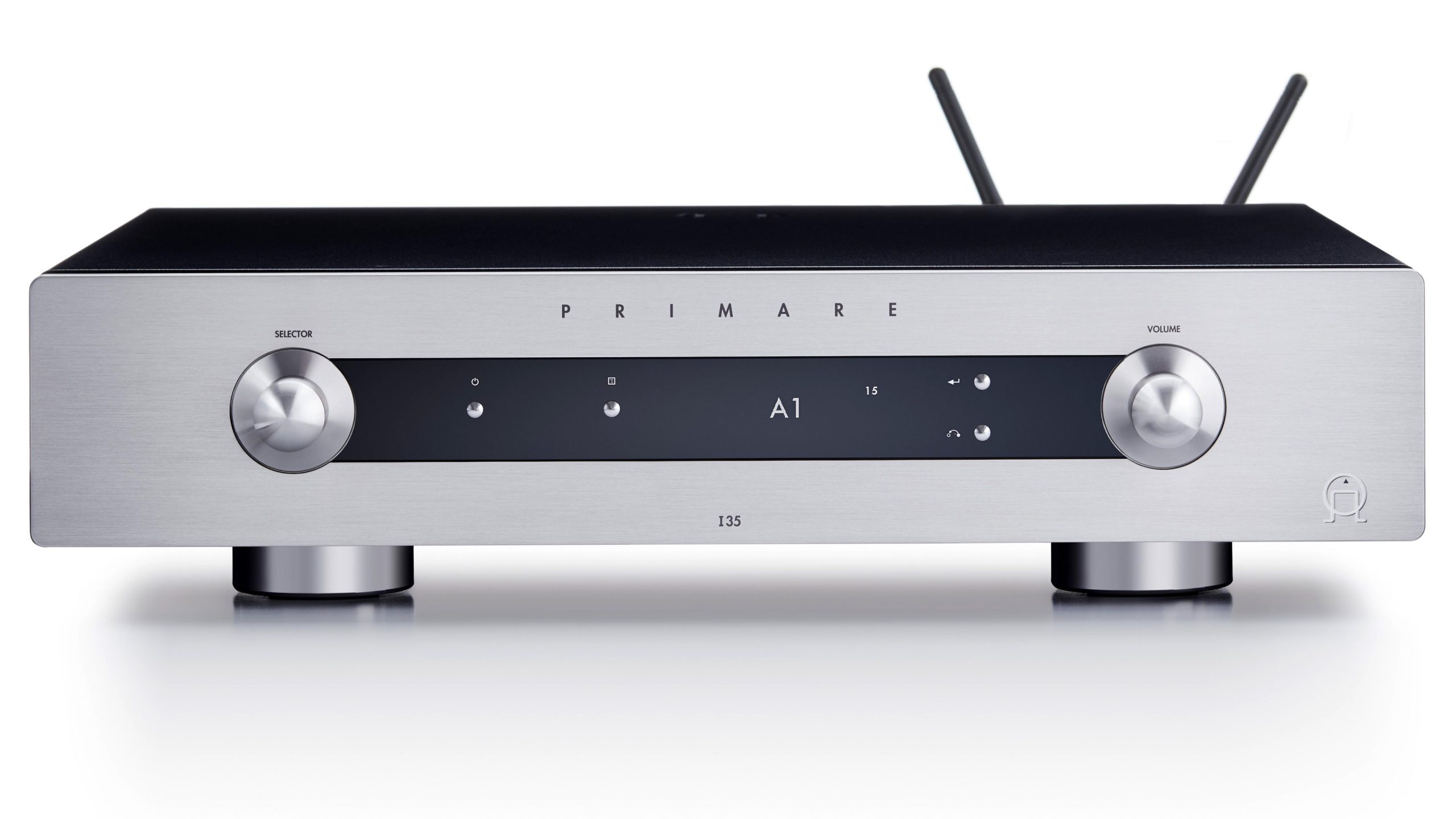 CONCLUSION
Primare I35 Prisma is a gem of an amplifier. As a network player, it can stream almost anything, both audio formats and music services. And as an amplifier, it sounds brilliant.
Its biggest advantage is that it tells the truth. It sounds both neutral and tight, and lets the speakers determine the final sound signature. The amplifier keeps the sound image whether you play low or high. It will work with the vast majority of speakers, the magic of the music flows out anyway.
The only complaint is that the deep bass could have been even better controlled, and when something sounds so good, you want to go on a few more notches. Although the amplifier for most purposes is more than powerful enough, we had not said no thanks to a little more.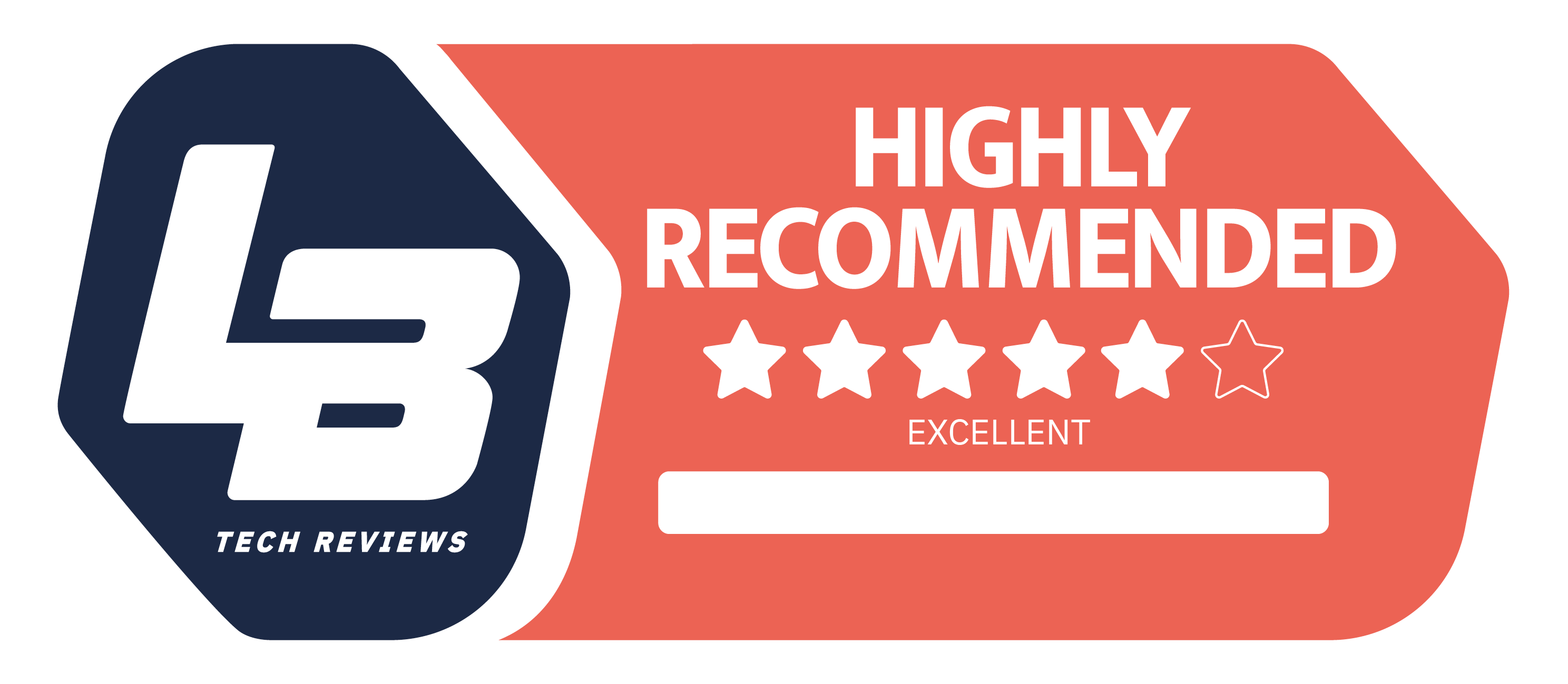 Premium
We think
Well-behaved and tight sound, without blemishes. Pursues most things with conviction. Fully equipped with everything you could want.
At this price, there are even more powerful amplifiers, but perhaps not when you bring the equipment.