Ever since the monster Hegel H590, costing nearly ten thousand euro, knocked us for six, we've been waiting for Hegel to make a junior sibling with equally explosive sound. But without the same explosive price tag. Because the H590 lies in a price range where most people would sooner consider a separate pre-amp and power amplifier. But at half the price, there are fewer reasons to hesitate! This is precisely where we find the new, integrated H390.
In many ways, the price range here marks the sweet spot for integrated amplifiers, since there's enough budget wiggle room to pack in high quality components in almost every instance. Which is probably why there's such fierce competition in this area. The Naim Supernait 3 (full analog) and Uniti Nova (with streaming), the Devialet Expert 140 Pro and Norma Revo IPA-140 are just a few that spring to mind. They're all brilliant, not to say amazing, amplifiers.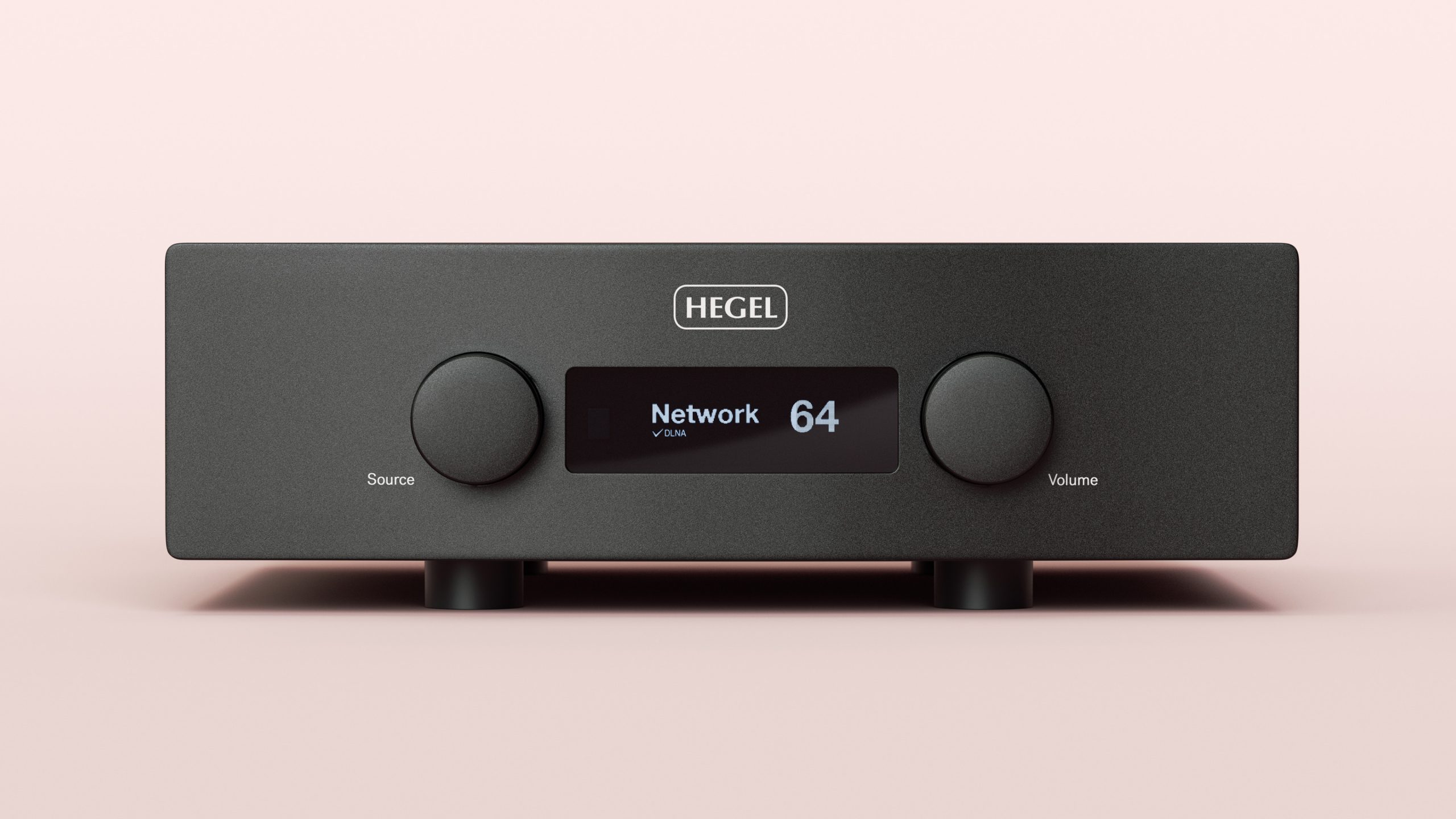 H390: Better integrated than separated
In this price range, I'd much rather choose an integrated amplifier than divide the pre-amp and power amp into separate components. As the latter doubles the cost of several important components such as cabinet, stand and – not least – power supply. The best integrated amplifiers have become so good these days that it's only when you get past the H590 in price that I would personally start to consider separate components.
Like its big brother, the H390 is a true dual mono construction, which means that the left and right amplifier channels are completely separated from each other, each with its own power supply. This provides better stereo separation, completely free of crosstalk between the channels. This type of construction is often also better at managing the increased electricity demands of very dynamic pieces of music.
The H390 shares many similarities with the H590 and fewer similarities with its predecessor, the H360. Other than the 250 watt amplifier power and the size. Firstly, none of the circuit boards are the same as in the H360; everything has been improved according to the manufacturers themselves. Not least in the digital part, with more powerful and better processing of the audio signals.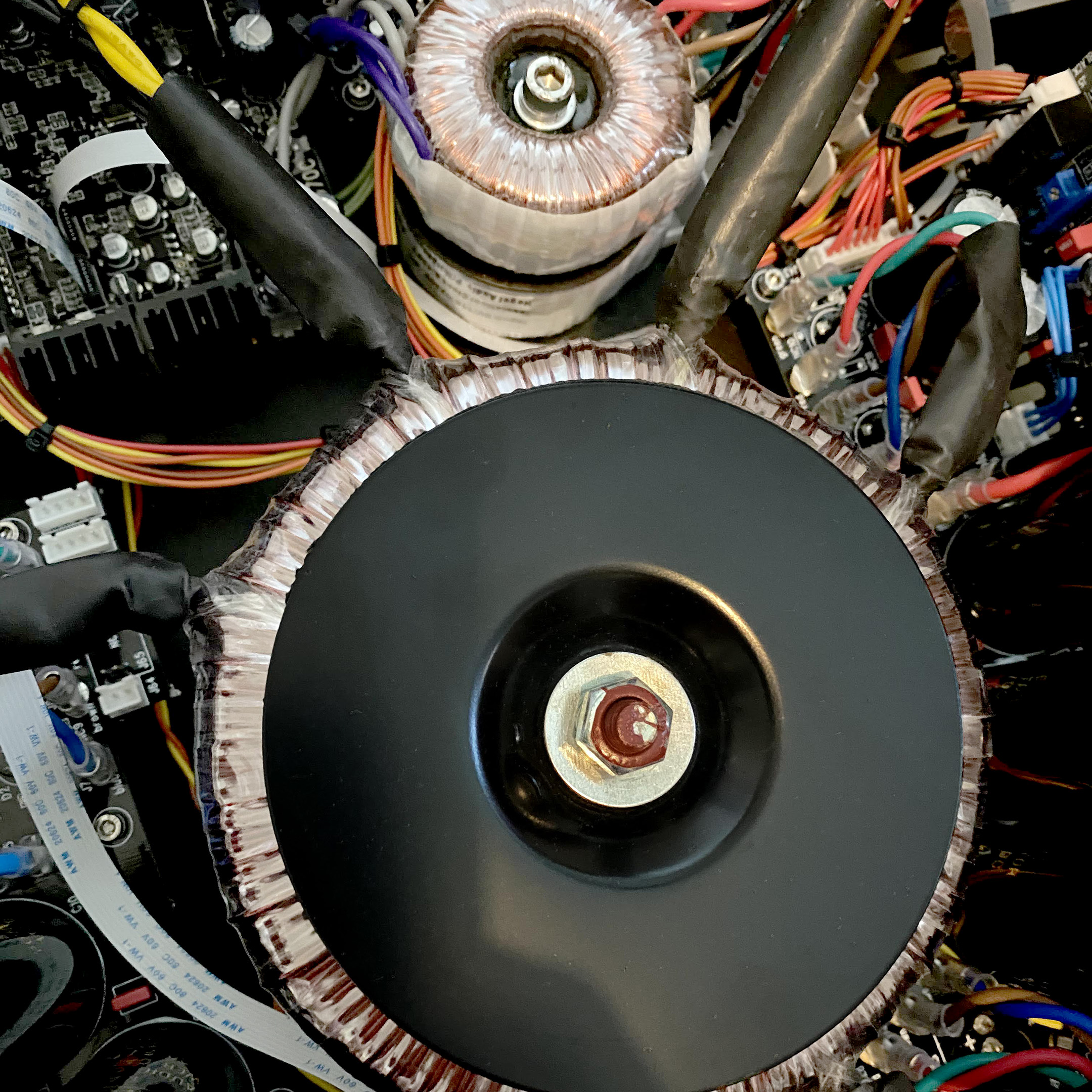 MQA
MQA fans can rejoice that the H390 fully decodes the MQA audio format. For example, if you use Tidal, select the H390 in the playback program and you can play the music at up to 384 kHz resolution.
All digital inputs now go through the USB input signal processor. This means that MQA and DSD are now also supported via SPDIF and we are also promised a further reduction of the dreaded jitter noise.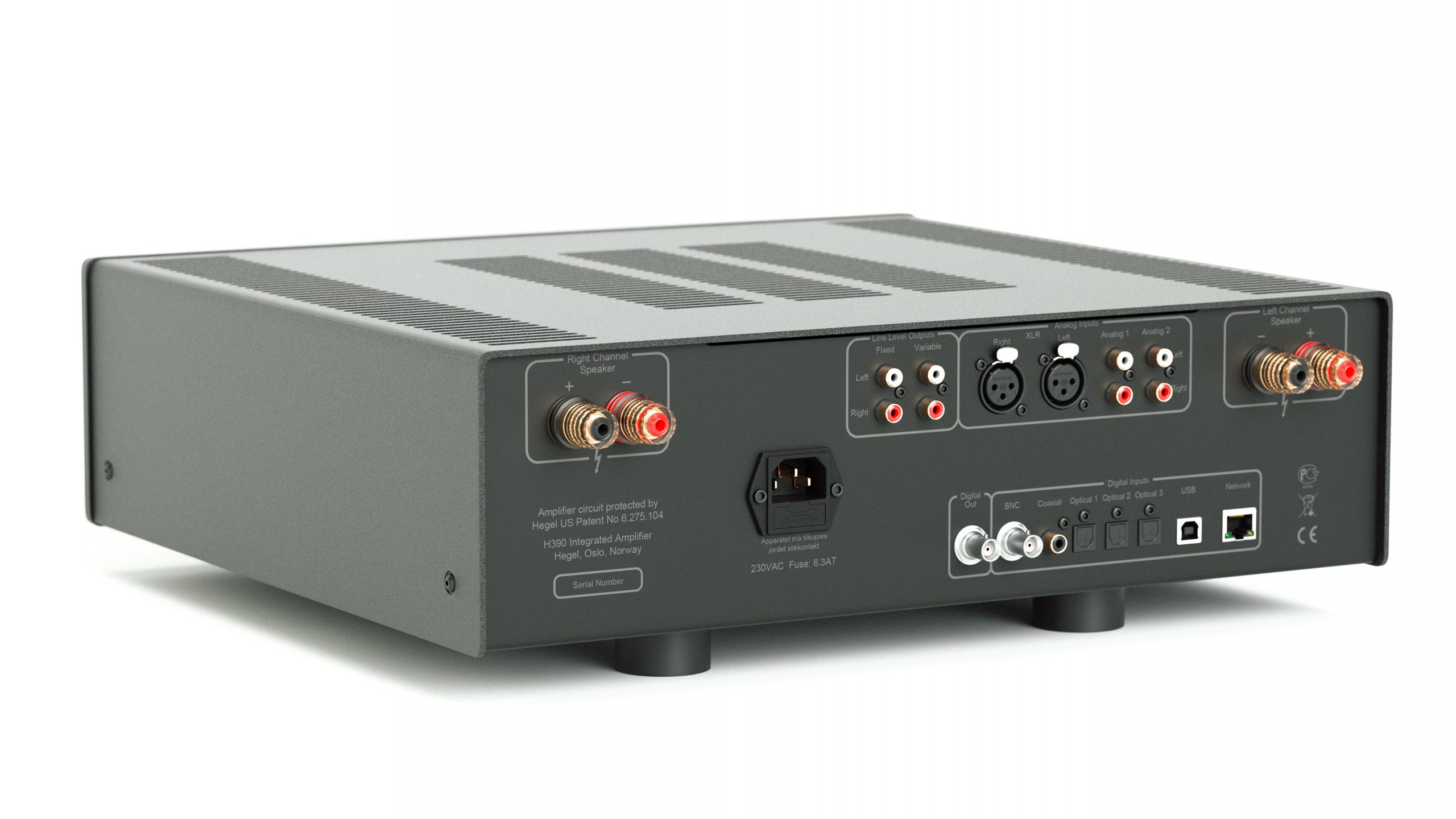 Downclocking
Hegel has found that by reducing the clock frequency (downclocking or underclocking) in certain circuits when possible, noise in the digital processing is reduced. Computing power load is reduced, which Hegel claims provides both measurable and audible improvements in sound quality.
Improved interface
The interface has received several improvements. If you connect your H390 to the network (only possible by cable) you will now be able to update the amplifier directly via the internet. You can now also see the IP address directly in the amp menu. With this you can set your own settings via your browser.
The amplifier supports AirPlay 2, which allows it to be part of an Apple-based smart home (HomeKit) and it will eventually become Roon Ready. Roon users will be able to stream to it from their Mac and PC without the need for a linking USB cable. This should be ready soon.
In the menu, you can now decide whether the USB input should set the sound level so the amplifier controls the sound, or if you want the audio source (PC) to control the sound level. By the way, the H390 is the first Hegel amplifier that can go into sleep mode if left unused for 15 minutes. In fact, sleep mode is enabled by default, you need to turn it off yourself. Something I promptly did!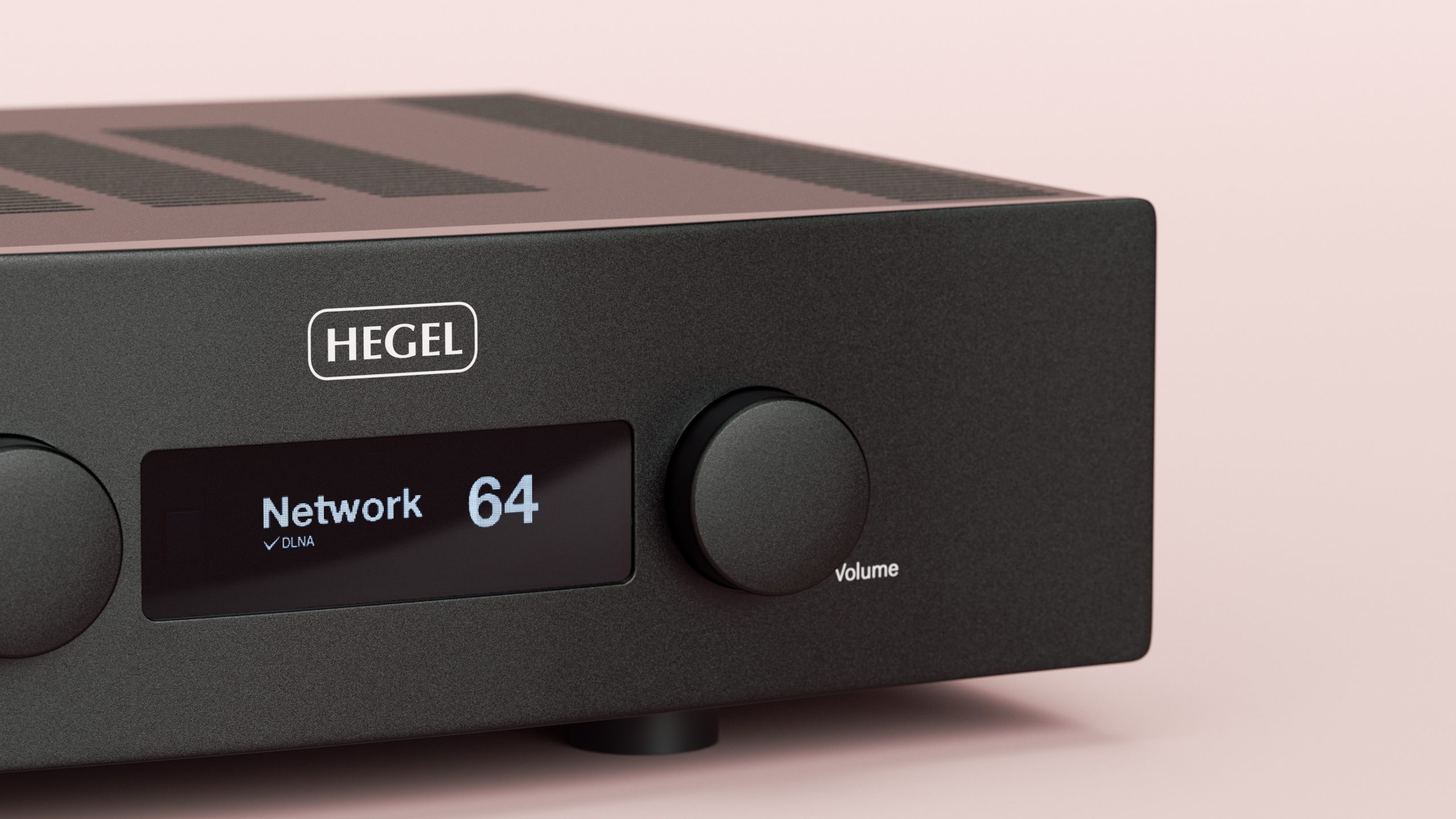 No turntable input for H390
Where most other amplifier manufacturers now include a turntable input, Hegel stands by their conviction that this becomes a source of noise. If you're going to play records, you'll have to buy your own turntable amplifier to connect it to.
Hegel gave the same reason when I asked if it weren't time to include Chromecast, when they have in any case jumped on the Spotify bandwagon (yes, the H390 has built-in Spotify Connect). With Chromecast, the amp could be a passive part of a voice-controlled Google Home, currently the only system you can speak Norwegian to through a smart speaker. But this would require a Bluetooth receiver, which is yet another source of noise. "No, thanks," says Hegel.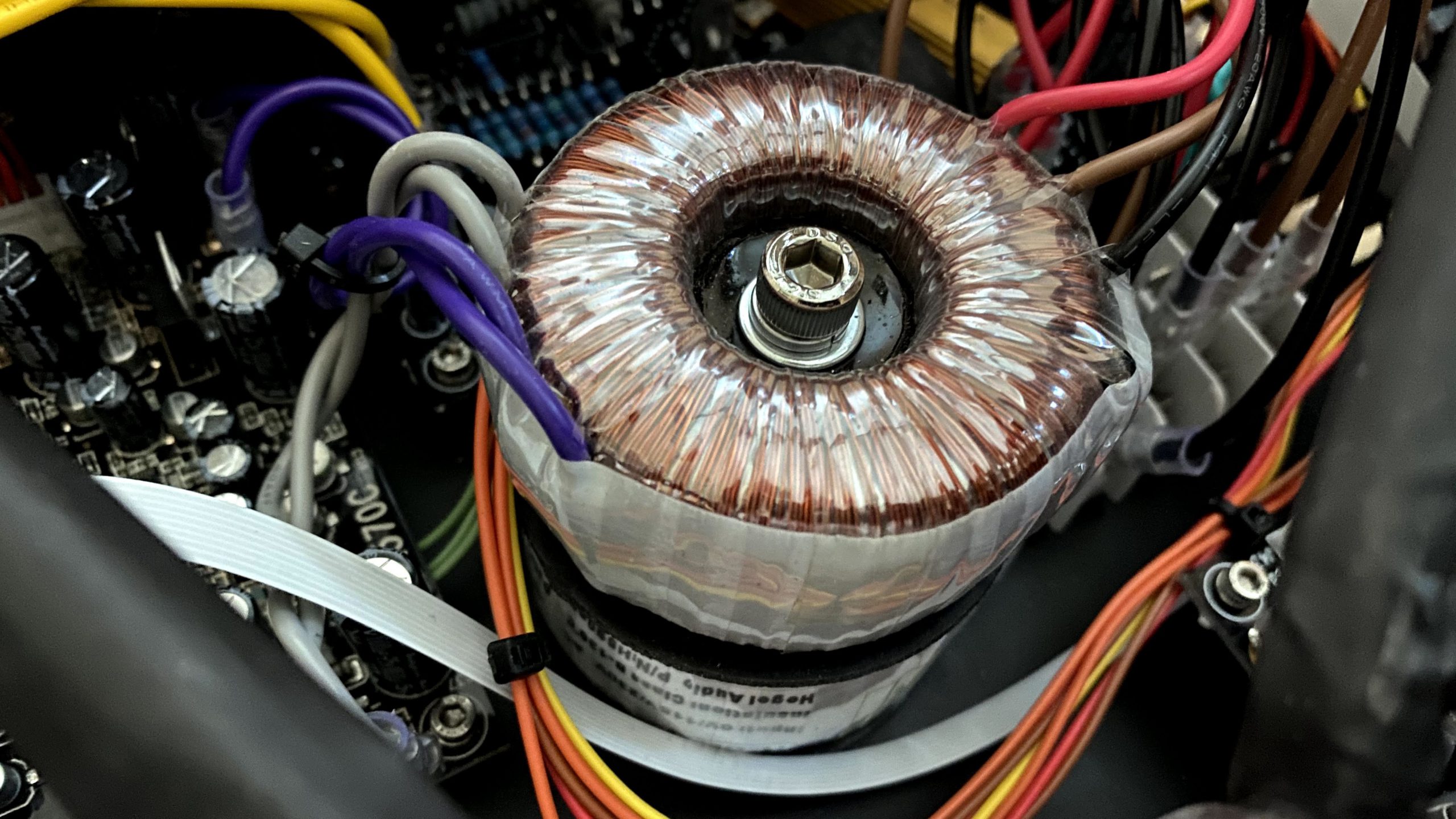 Usability
By not including any active streaming part with a dedicated app, as Naim do with their streaming amplifiers, Hegel relies wholly on third parties. This means that ease of use is largely dictated by these. For example, if you use Roon, the amplifier will be a passive receiver and relay for the sound. The same if you use Spotify. The mobile app controls it all, which is the case whether you're an AirPlay or DLNA user.
What I can say, however, about ease of use is that the display is much better than that of its predecessor, the H360, since this is now an OLED display with far higher resolution. I also like that it displays the resolution of streamed music in the character pane, and you can point the remote control wherever you like in the room, the amplifier will respond anyway.
Sound quality – classical music
Personally, I use Roon most often when I play music. I like the interface, and in some cases I could swear the sound is better than when I play the same music directly from the Tidal app (this seems to be confirmed here).
On Hemsing & Aspaas' violin and piano-based Northern Timbre, released by 2L in 352.8 kHz that can be purchased as original DXD release, there is an astonishingly large sound structure on Ragnhild Hemsing's violin. And that was through a pair of compact speakers, specifically, Dynaudio Evoke 20.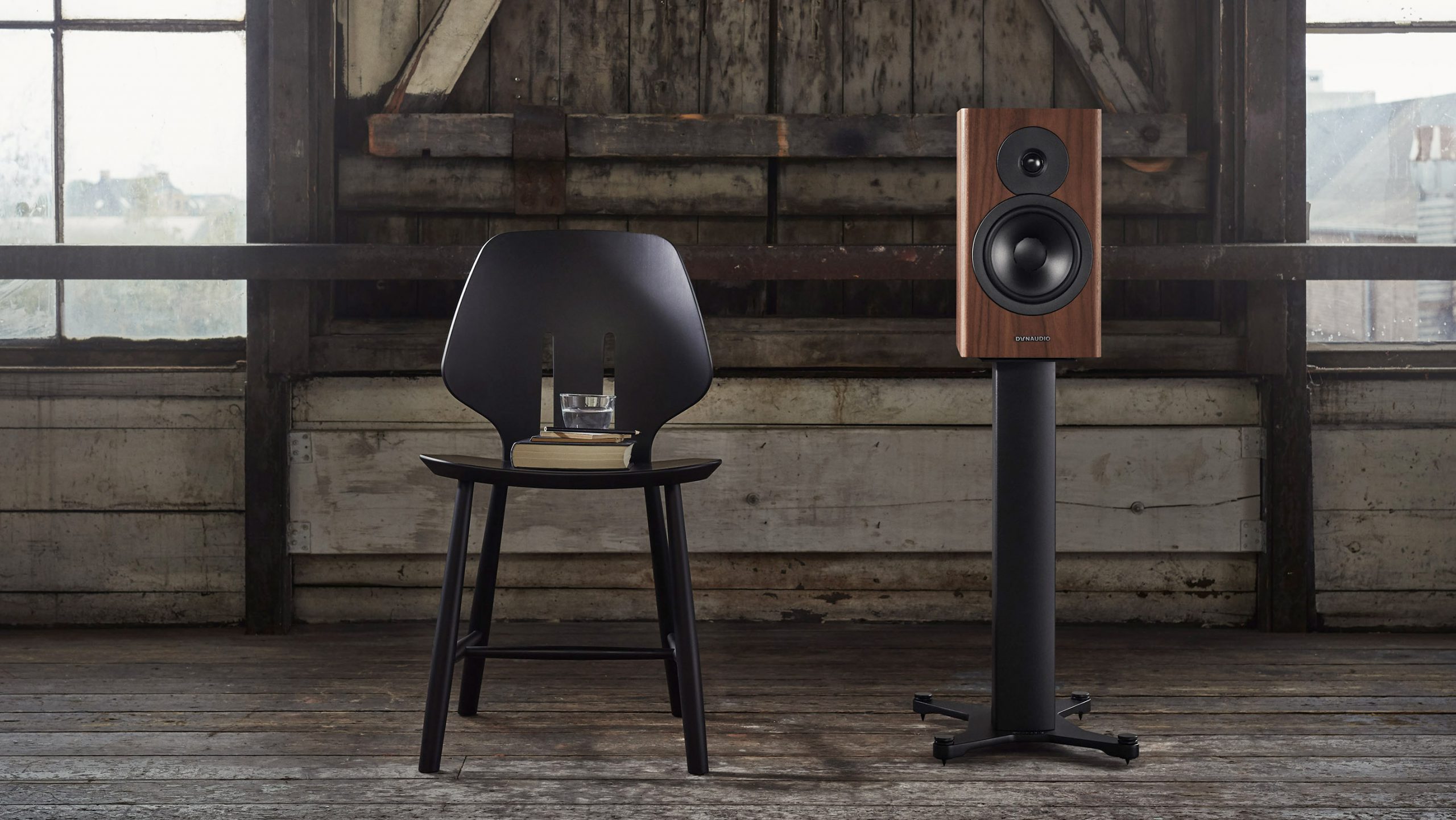 This interpretation of Grieg's Sonata no. 3 in C minor, opus 45 hits home (personally speaking). The space is enormously large, considering that it is rendered by two speakers. Sound layer upon sound layer lie on top of each other, and the grand piano that ranges from deepest bass (or at least as deeply the speakers go, which is surprisingly deep) to the airiest, lightest overtones, fills the room in the most atmospheric way. The H390 has fabulous control, while also being able to withdraw and allow the music to unfold freely. Because there's no swaggering bluster with faux fullness and warmth here.
Don't get me wrong, there's plenty of fire. In fact, I experienced the H390 as more "buttery" in sound than its predecessor. But without compromising on honest rendition. A bad recording will still sound bad, to put it that way.
I experienced the same qualities when the speakers were switched to the floor-standing Audiovector R3 Arreté. Of course, you get a heavier deep bass than with the compact Dynaudios, and the R3 Arreté also shines more in the overtones. And is also perceived as faster, more dynamic in every way than the Evoke 20s. They bring out the same force as the compact speakers, just to an even greater extent.
Electronics
Where its predecessor, the H360, flexed its muscles more, the H390 is at least as powerful, but at the same time utterly effortless in its manner of presenting the music. There is an even greater sense that everything is simply matter of course. As with Röyksopp's Oblique Thrills (Lost Tapes), with a deep and blistering bass supporting an airy electronic soundscape.
Lady Gaga and BLACKPINK's Sour Candy also sounds exceptionally compelling and tough, and thankfully less sharp than most of today's electropop. The rhythms roll like cannonballs, while the voices of Lady Gaga and the South Korean singers stand out clearly from the music. The same goes for Tomine Harket's Dead To Me. Tight and delicious. Luckily, because I have no time for high-end gear you can't have fun with!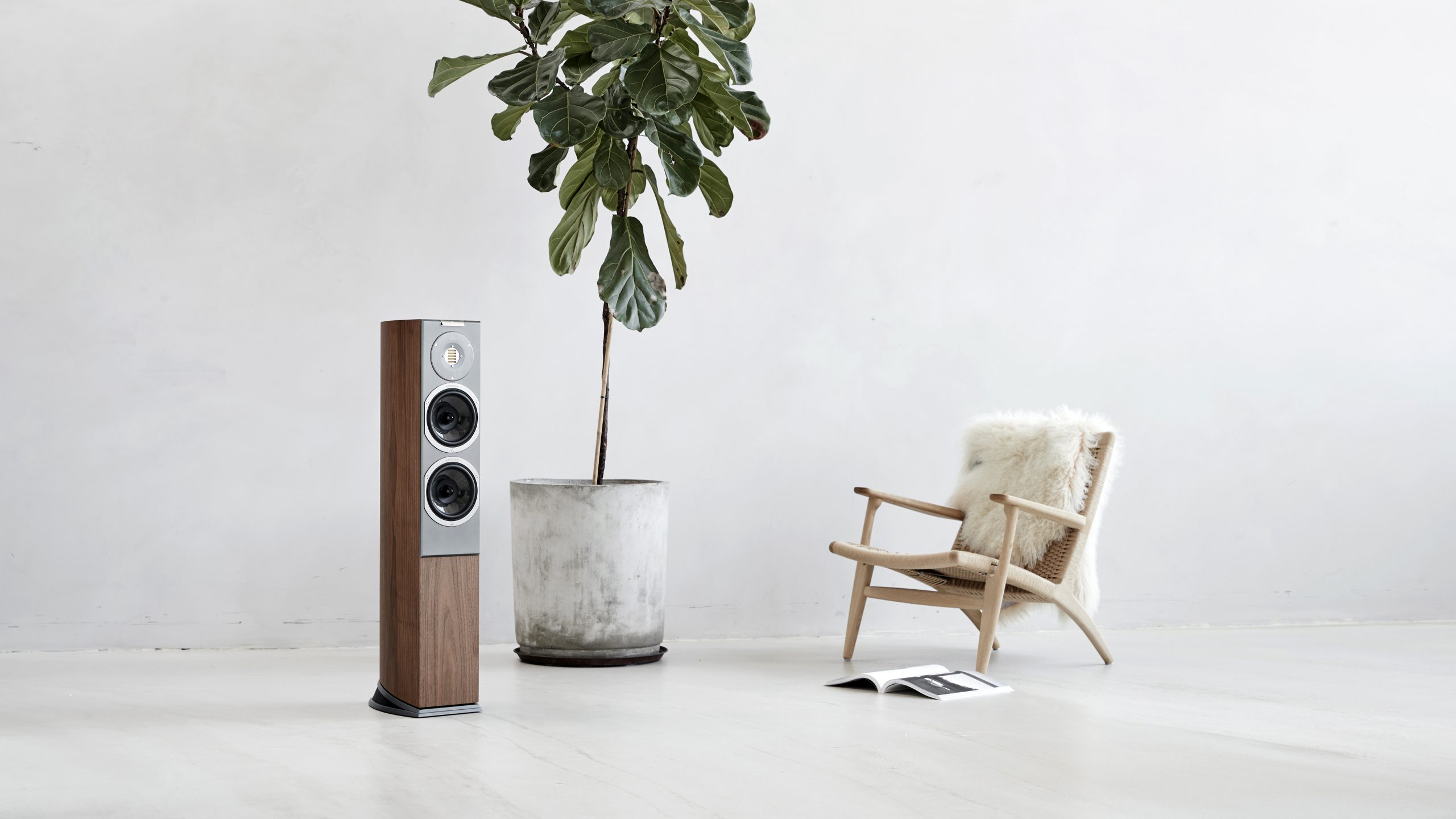 H390 is gunning for big brother
I'm left with the impression that the H390 has almost everything I liked about its big brother, the H590. That's saying something, because I've barely ever heard a better amplifier for under 10,000 euro. It wiped the floor with the McIntosh MA7000 that we still have in the testing studio. I dare say that the H390 would too. There's something special about the dynamics and the power, combined with the vivid mid-range where the singing voices stand out from it all. The SoundEngine 2 technology they both share, which acts as a kind of active noise cancellation for the amplifier circuits, must be awarded much of the credit.
But let there be no doubt: The H590 is still a notch better in every way. Not only does it have an extra gear when it comes to power, it also manages to dissect the soundscape even better. Among other things, it has a better digital component that mines even more gold out of the music track. But the H390 is getting close!
Competitors
The H390 is a really good amplifier. In every way. I can't hear any obvious weaknesses.
When I tested the Naim Supernait 3 I also had the H390 to compare to, and I thought the Supernait 3 rounded the turns a little tighter. It really is lightning fast! It turned out, however, that I had received a prototype from Hegel with a misadjusted bias, which also made it so hot you could fry an egg on it.
The new one I received became less hot, and also sounded better. More lightweight and free, with better resolution. And with better rhythm. Naim still has a slight advantage at low to moderate sound levels, but the H390 has more muscle and explosiveness when playing loudly. Each of the two have their advantages and disadvantages and no doubt they will each have their own fan base.
The Devialet Expert 140 Pro is a high-tech amplifier marvel that, in addition to streaming live from Roon, has SAM speaker correction, which improves the bass response and corrects for biases in the impedance. It has programmable inputs, as well as a built-in RIAA curve for the turntable. It also sounds fabulous, with speed and openness as the greatest strengths. But the H390 has an authority in the sound that the 140 Pro lacks and is also more powerful. If you're not going to use speaker correction, I'd probably choose the Hegel. However, if you have difficult speakers and turntables, it's very possible that the Devialet is the solution.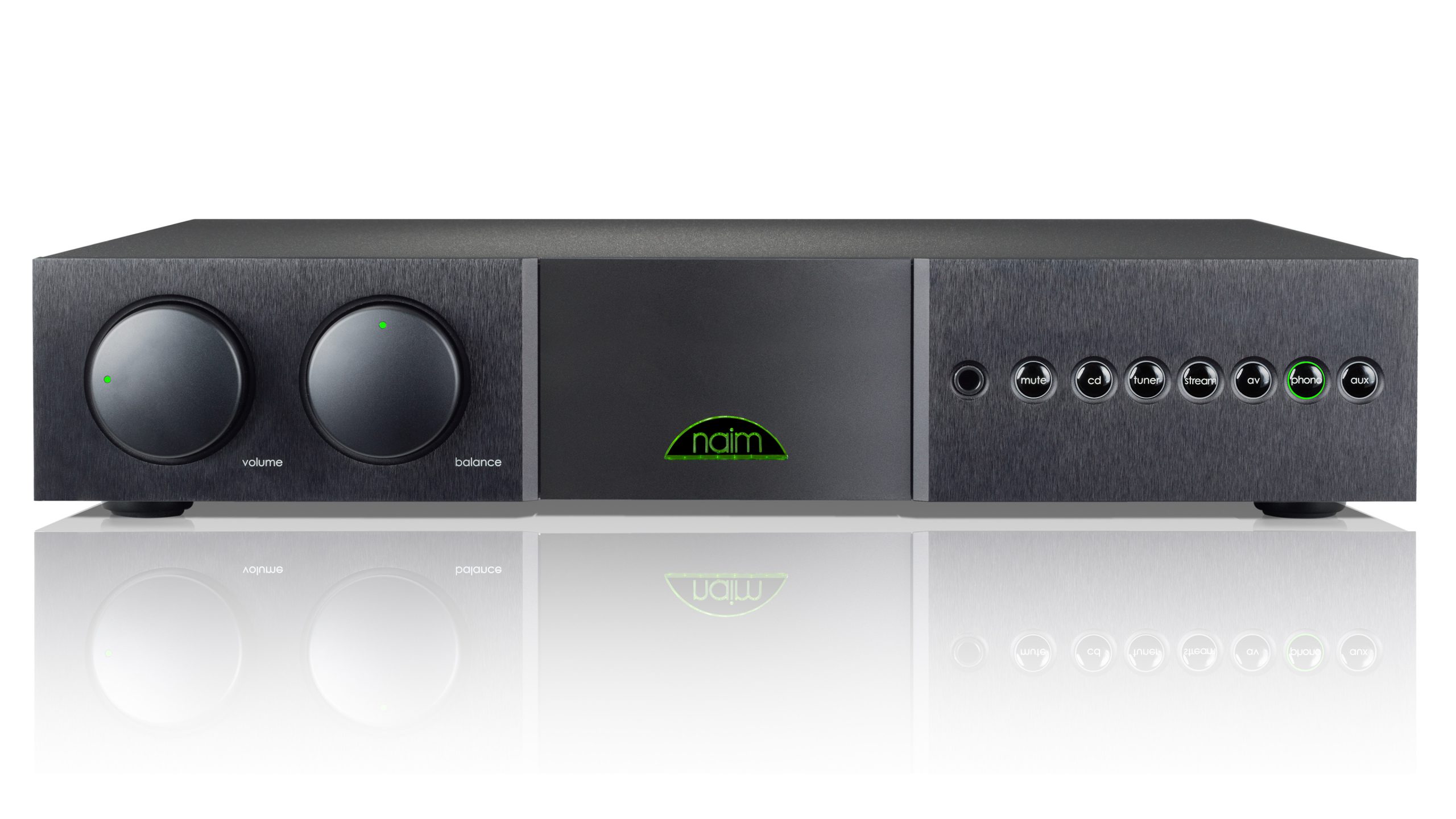 Conclusion
With the H390, Hegel have surpassed themselves once again. It's almost as good as the larger H590 and not much weaker. And for almost half the price!
The H390 combines an agile midrange with authoritative kick in the bass. While there is little to criticise regarding resolution and airiness in the treble area. Here music and dynamics go hand in hand!
The amplifier has everything you need in the way of digital inputs and support for the most common streaming methods, including Spotify, Airplay and, soon, Roon via network. You could point out that it lacks Chromecast and Bluetooth, but Hegel is never going to put these into their products anyway. A turntable input is probably a greater loss, but it would also introduce noise if we take Hegel at their word.
Notwithstanding, if you're going to own an amplifier that can be used for almost everything – including (almost) competing on sound level – the H390 is an obvious candidate for the list.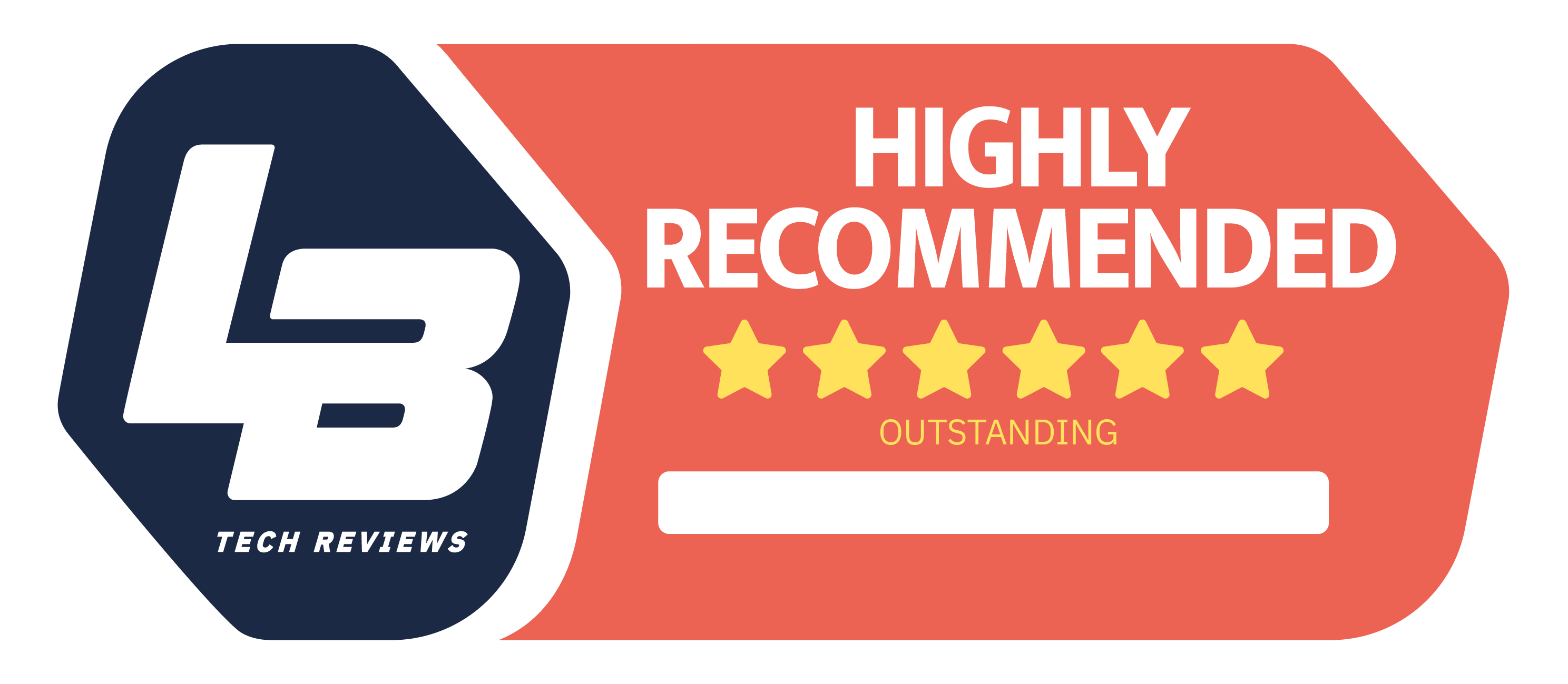 High End
We think
In addition to being massively explosive when it comes to pure firepower, the H390 has a precision and musicality that few can match. It's also very well kitted out, both for audiophiles (Roon, MQA and DSD) and everyday listeners alike (Spotify Connect, AirPlay).
No turntable input.