Lasse Svendsen
Published

2023-02-16 - 9:00 am
Vivid soundscape with analog musicality. Sparkling dynamics and fine app control.
No screen. No remote control or buttons.
Specifications
Type: Music streamer
Services: Tidal Connect. Spotify Connect, Qobuz, Apple Music, netradio
Streaming technology: AirPlay 2, UPnP, Roon Ready, Chromecast
Network: Bluetooth aptX, Wi-Fi 2.5/5 GHz, Ethernet
Inputs: Coaxial RCA, BNC, 2 x optical, 2 x USB-A, Ethernet
Outputs: Coaxial BNC, RCA analog, DIN
Audio formats: DSD, WAV, FLAC, ALAC, AAC, AIFF, OGG and others
DAC: Burr-Brown PCM1791A, 32 -bit / 384 kHz
Control: Naim app iOS and Android
Accessories: Bluetooth and Wi-Fi antennas, DIN cable, BNC/RCA adapter
Dimensions, weight: 43 x 7 x 30 cm, 6.5 kg
Other: Multiroom and Party mode, USB input front and rear
Web: naimaudio.com
Despite having no buttons or screen, the Naim player is one of the best choices in this price range. As a music streamer, it lacks almost nothing else, and even though it's in its fifth year since the launch of the ND5 XS 2 in 2019, it's still better than most in its class.
Behind the matte black chassis hides a well-thought-out technology that contrasts sharply with the subdued exterior. The Naim player supports most file formats apart from MQA files from Tidal, but will play them without MQA decoding or problems of any kind. It also supports high-resolution 24-bit 192 kHz playback from Qobuz, and with four digital inputs on the back it can also act as a DAC for other audio sources.

Streaming can be done over Wi-Fi with the included antenna or wired via the Ethernet input on the back. It also has Bluetooth, and there's a USB input on both the front and rear. The Naim streamer supports both Airplay 2 including multiroom, and Chromecast, and with DLNA/UPnP you can stream high-resolution 32-bit/384 kHz audio from other devices on your network.
There's no doubt that a screen and some basic buttons on the front, like on a Naim NDX, would make the streamer more user-friendly. But it is saved by a really good app with more features than most people need. The app can also control other products, such as a Naim Mu-so speaker in another room.
It takes a few minutes to set up an ND5 XS 2 on the network. We've never had any significant problems controlling Naim products via the app, and right here, where the app is the only thing giving you access to music, it's also crucial that everything works.
Sound quality
Our experiences with other Naim products have always been positive. That's largely because Naim amps and streamers are able to engage us from the first bar, and the ND5 XS 2 is no exception. It has the same exhilarating, dynamic drive that characterises the Naim philosophy.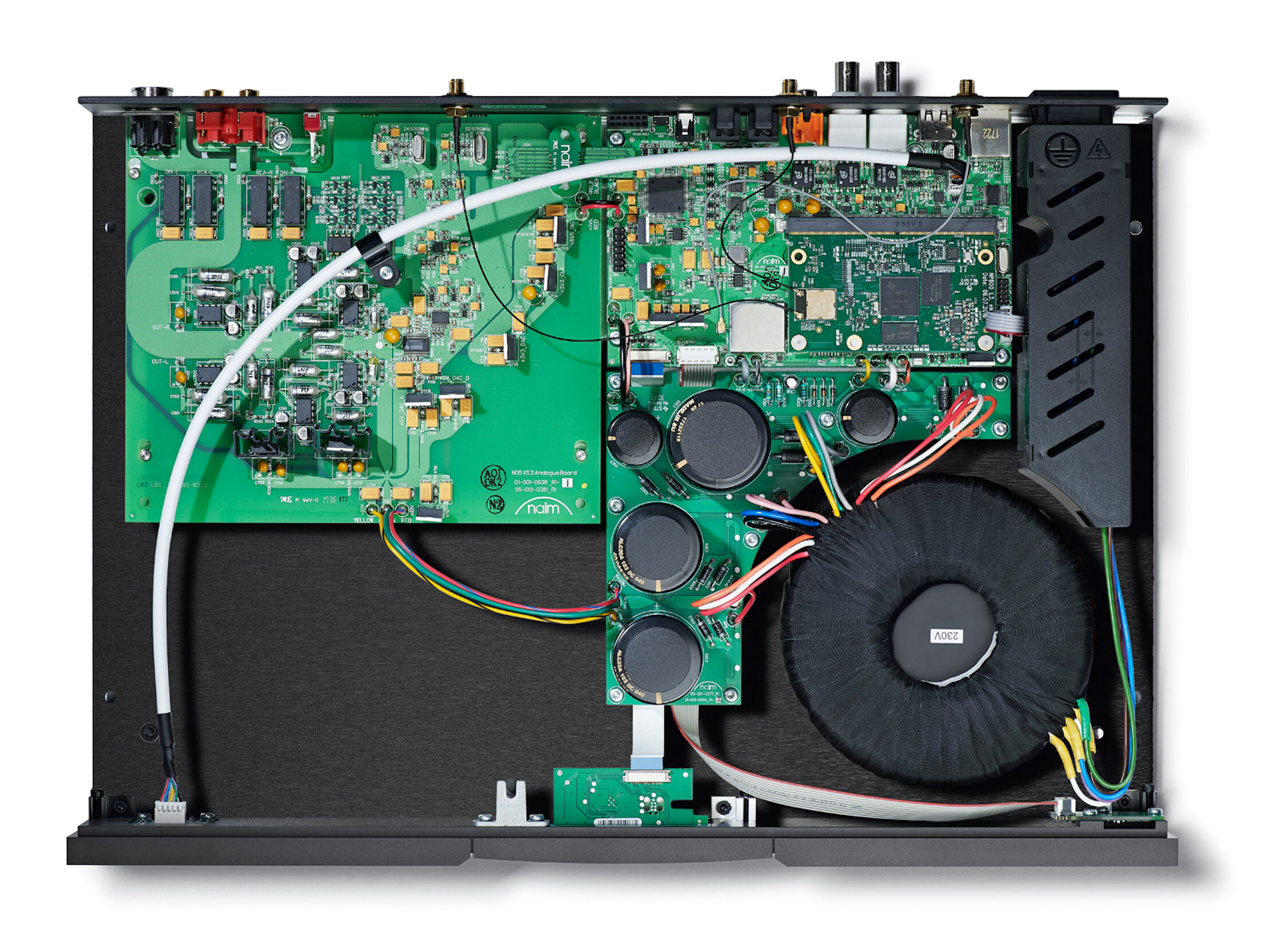 The Naim streamer brings out the piano sound in an exemplary way. The sound is warmer rather than neutral, and there's more power in the dynamics compared to the HiFi Rose.
"A bit more life here, I feel," Geir assesses.
Perhaps a rather typical Naim, which is known for a dynamic and lively sound. The bass on the Sudan Archives Loyal is excellently defined with good heaviness and really good definition.
"Tighter and fuller bass response," says Lasse.
"Very similar to Auralic, but with a notch more weight in the punches," Geir says.
The vocals on Exile don't appear as airy and focused as on the Auralic, but the Naim streamer renders the vocals with a touch more warmth.
"It's almost as if the speakers have moved a little closer together with the Naim," Geir says, pointing out that the Auralic streamer delivers a soundstage with better defined perspective. Here we miss a little openness and better focus, especially from the midrange and upwards, but there is perfect balance in the soundstage. The Naim streamer is perhaps the one here that sounds most 'analogue', some would say musically.
Conclusion
You can't go wrong with an ND5 XS 2. If you can live without a screen and buttons on the front, you get one of the most well played and engaging music streamers in this class. It's far from being the most advanced or best-equipped player out there, and the design seems minimalist at best in all its brushed grey-black appearance. But tap the accomplished Naim app and put some music on, and all the rainbow colours fall into place.