Lasse Svendsen
Published

2020-09-04 - 6:00 pm
Large and open sound image, full of sounds and excellent dynamic control.
Slippery plate, some arm resonances with the included pickup require that you are careful with the placement.
Specifications
Type: Belt driven turntable
Tonearm: 10-inch aluminum w. Cardas cables
Pickup: MoFi Mastertracker MM pickup
Plate: Delrin
Connections: Phono output
RIAA / DAC: No / No
Other: Gray dust cap
Color: Matte black
Dimensions / weight: 50 x 15.2 x 36 cm / 10.5 kg
In the childhood of gramophone records, it seemed as if the record companies were allowed to make record players with their name on them. It was a natural consequence of the companies wanting to sell records. Then people needed gramophones, and as intended, so done.
Today, it is completely unthinkable that the record companies themselves make record players. Warner, Universal or Virgin Records would never dream of starting production of players. After all, the market is well established and there are countless turntable manufacturers.
Some may object that Sony makes turntables, but it is Sony Electronics. Not Sony Music Entertaiment. Two different companies.
In recent times, defined as after the color TV's debut, it is almost only Decca Records – now under Universal, which has made turntables and pickups under its own name. The others do not see the point.
But Mobile Fidelity obviously does. Obviously not happy with the selection, those who, at least in audiophile circles, are best known for their audiophile presses of vinyl records, have had a record player made!
Rather two players. As well as three (!) Pickups, two phono steps – and a plate weight.
They have even created a Mobile Fidelity Electronics, a separate company that was started after they started the development of the first player a little over four years ago. MoFi StudioDeck.
The other player is called UltraDeck, and that's the one we're testing here. It is the most expensive edition. One can not help but see that it is a player with belt drive, which is somewhat similar to a Rega Planar 3, with a straight tone arm and only one button. The one for start and stop.
It's a very easy player to set up and use, and it comes with a very cool smoky dust cover, which is a bit like the old Garrard players' dust cover.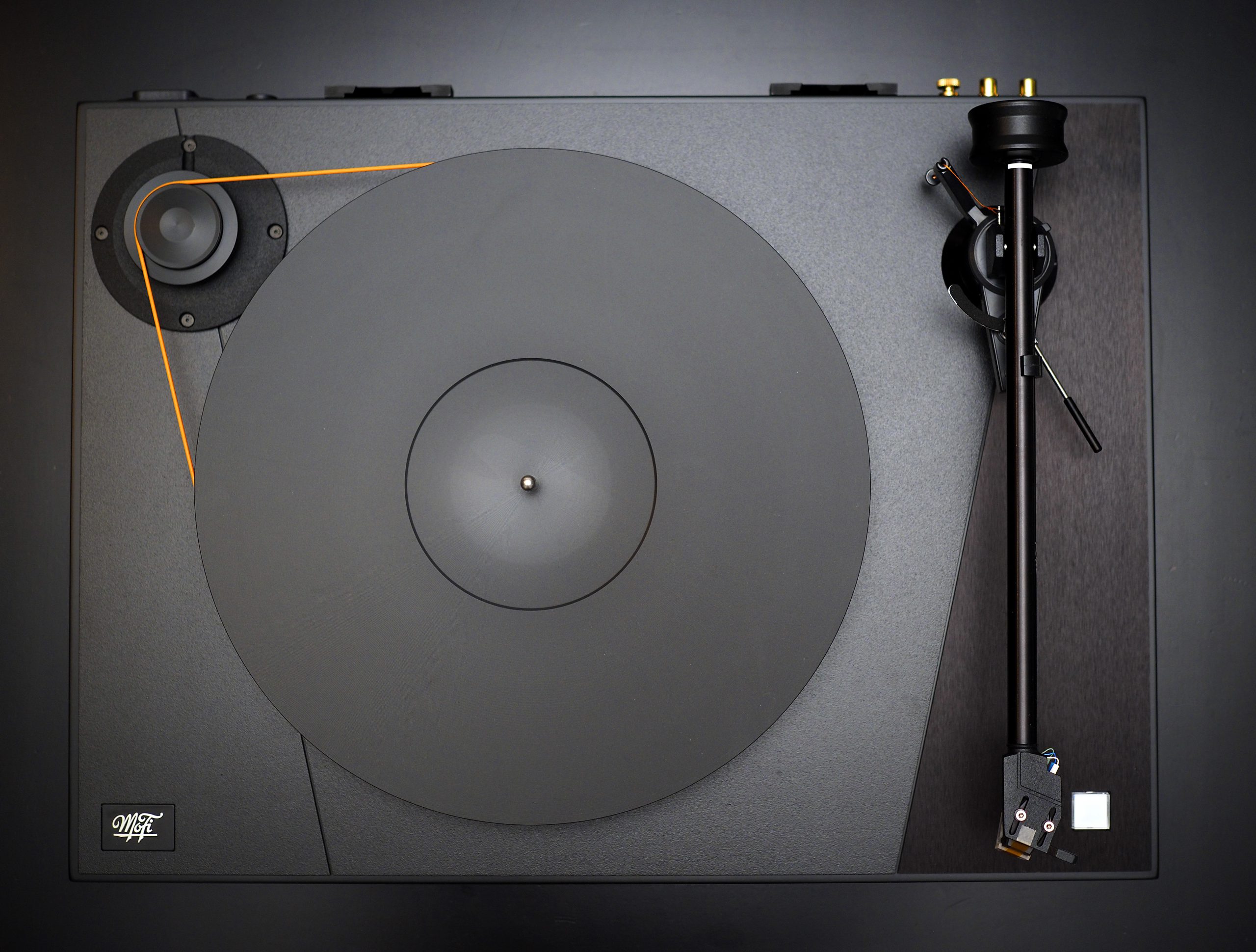 Plug and play
The pickup is delivered fully assembled. All you have to do is step on the counterweight up to the white marking on the armrest, put on the plate and step on the orange drive belt. A grounded signal cable and power cable are included in the box. Both are therefore detachable, which allows for upgrades with even better cables.
Developed in the USA
The player seems very solidly built. It was developed by Allen Perkins who developed the high-end players for Spiral Groove, and the work was led by John Schaffer from Wadia. Two perhaps unknown, but far from insignificant engineers from American high-end industry.
They have worked with different materials and solutions, before landing on a chassis with three aluminum plates in a sandwich with an MDF plate, which they believe provides optimal attenuation of colors and resonances. The chassis rests on four adjustable damping feet developed by Harmonic Resolution Systems, and a cast plate in the plastic Delrin, rotates on an inverted steel bearing with a sapphire-coated sleeve in a bronze alloy.
It is claimed that it reduces noise better and provides a 'sorting' background for the music.
A synchronous motor with bollard in Delrin, is mounted northwest of the disc shaft, and on the opposite side is a 10-inch tone arm. It is made of a light metal alloy, wired inside with wires from Cardas Audio, and mounted in ball bearings.
MasterTracker MM pickup
If you choose the UltraDeck player, it can be delivered with an MM pickup (Moving Magnet) called MasterTracker, just like our test copy. It is built around a lightweight aluminum housing, with coils wound in cleaner copper than the other two MoFi pickups. It also has a sharper grinding, and 3mV output voltage. It works with all turntable inputs for MM pickups.
Phono stage with headphone amplifier
I mentioned that MoFi makes two phono steps. UltraPhono has a built-in – class A – headphone amplifier, and a slightly more expensive RIAA circuit than the slightly simpler StudioPhono. The two phono stages were developed by the legend Tim de Paravicini, who has also had a hand in the development of the pickups, it is said.
The phono steps can be used with either MC (Moving Coil) or MM pickup, and have small switches for adjusting impedance from 75 ohms to 47kOhm. You can also adjust gain in four steps, 40, 46, 60 and 66 decibels.
StudioPhono and UltraPhono also have a mono button and subsonic filter folder, but UltraPhono also has volume control for the headphone output.
The player is a bit sensitive to placement. The moving mass in the form of a tone arm and needle arm does not work 100 percent optimally. Otherwise, there is a little too little cushioning in the arm. When the player is close to the speakers, you can get the characteristic 'nervous' shaking in the bass elements, which disappears when the distance between player and speaker is increased.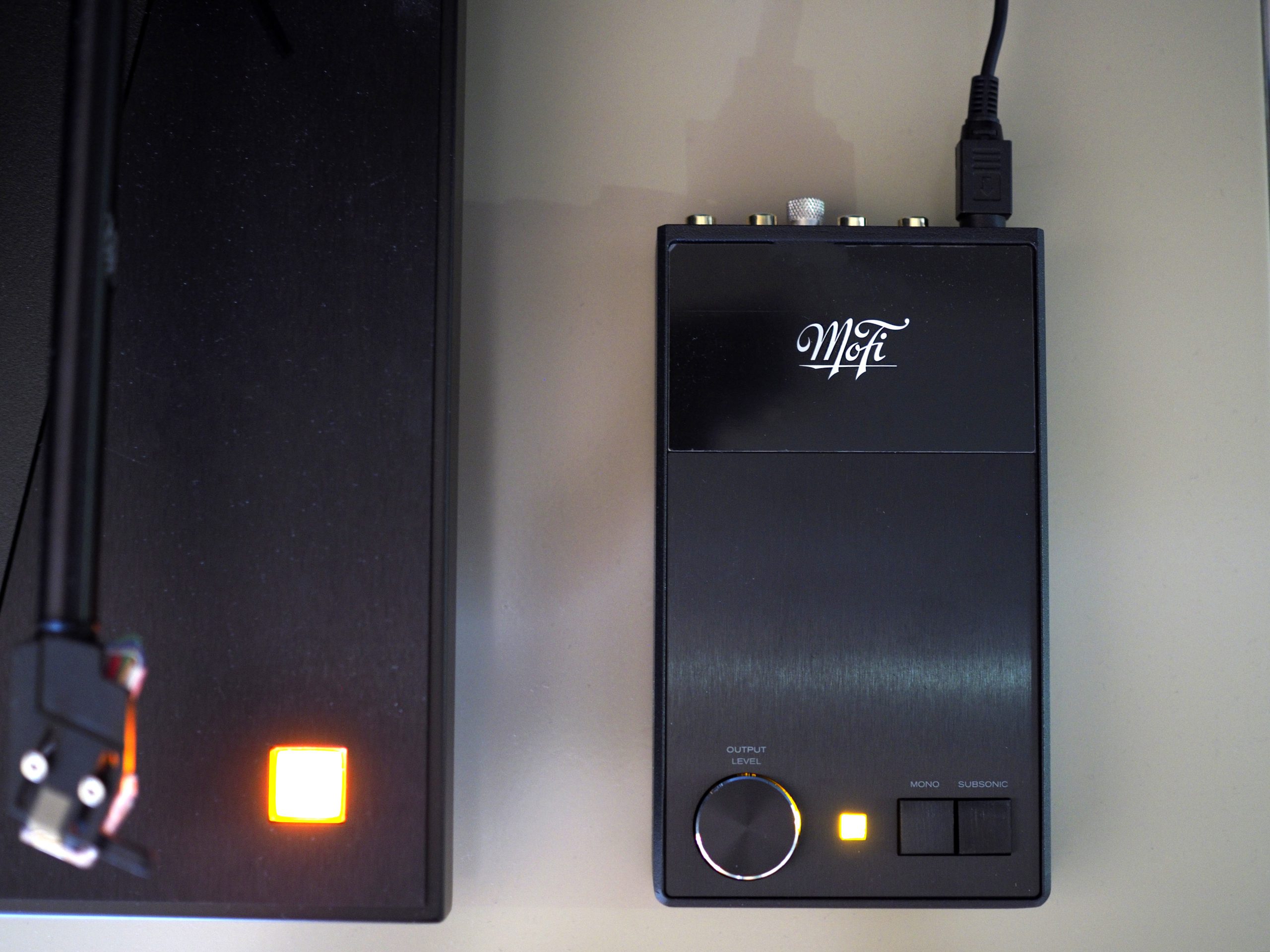 The Sound
UltraDeck + M is the name of the version that comes with the thick version of the Delrin discs, and the MasterTracker pickup.
It is located in the same landscape as a Rega Planar 8 with Ania MC pickup, but it sounds different from the Rega player. As with the motorcycle pickup on the Rega arm, draws slightly finer focused lines in the music, and presents a more fine-meshed level of detail. With Ania MC, it also costs a few extra bucks.
The MoFi player – which we tested with the phono step UltraPhono, among other things, has a slightly softer focus, with warmer timbres and really generous bass.
But it creates a heavenly open soundscape with very good dynamic contrast, also in the bass, and the live records with the Keith Jarrett Trio actually sounded fuller with the Mo-Fi player, than with the Rega player.
Classical music could perhaps benefit from a little more air in the harmonic spectrum, where the Rega excels, but in pop and rock, UltraDeck is actually preferable. It simply has fatter bass. Bruce Springsteen's Western Stars sound bigger, the guitars have more sound base, and the drum beats are as sharply defined here as on a Planar 8.
The player thrives on music with a little speed, then the good dynamic control comes into its own, and on classical music it is more Beethoven than Bach, on rock more Beastie Boys than Beach Boys, and on jazz more Michael Brecker than Melody Gardot.
The soft guitar sound of Pat Metheny sounds beautifully warm and close, the crisp alto saxophone of David Sanborn stands rock-solid in the middle of the soundscape, and Jack DeJohnette's drum solos nailed to the parquet. The vocal sound sounds colorless and lifelike whether it is Chet Baker or Kiri Te Kanawa who sings, and never, never does a sharp unote appear.
I also tested the headphone output from the phono stage, with a pair of Sennheiser HD660S and was mildly pleasantly surprised by the sound quality. The music sounded much more dynamic and the soundscape more open, compared to the headphone output on the Hegel H190. Deleting is not bad.
A little tip
MoFi states a recommended pin pressure between 1.8 and 2.2 grams. I had to use at least 2 grams on some plates that were a little crooked, otherwise the pickup refused to track properly.
I would also recommend using a disc weight on the player. Preferably Mo-Fi Super HeavyWeight, which weighs almost 370 grams, and presses the plates down against the smooth Delrin plate. It straightens skews that help with tracking, and ensures that the plates do not slip around on the plate.
Conclusion
They did not have to do it at all, but we should be glad that Mobile Fidelity wanted to do it. The ultradeck player could flop like a rock on the quayside, but with the good help of people who know what they are doing, the turntable has become a highly successful construction. It not only seems well-built, it is a pleasure to use, plays like a prince and sounds like a king. There are many options in this price range, and therefore it is more than well done that MoFi Electronics has developed a turntable that does not make the slightest shame on their recognized audiophile qualities in another area: Records.