Effective room correction, silky smooth and dynamic sound with it activated, and well equipped with good ease of use.
Not all the world with the power of heavy-duty speakers, the room correction is ingenious, but complex.
Type: Integrated amplifier
Power: 2 x 50 w 8 ohms, 100 w 4 ohms
Technology: Class D
Connections: 4 HDMI in, HDMI out, analog / phono in, analog out, Toslink, coaxial, USB
Turntable input: MM
Headphone output: Yes
DAC: 24-bit / 192 kHz
Network: Wifi, Bluetooth, Ethernet
Streaming: Spotify Connect, Tidal, Qobuz, Roon, AirPlay, TuneIn
Frequency response: Not specified
Dynamics: 106 dB
THD: Not stated
Signal / noise: Not specified
Other: Remote control, app control, Space Optimization room correction
Dimensions and weight: 35 x 10 x 35 cm / 4.1 kg
Web: eksakthifi.no
They are not many, but they exist. The small all-in-one solutions that elegantly combine a small footprint with seriously good sound. And let me add, does not cost a fortune.
Many of us will immediately think of Naim Atom, when a compact plant is to be expanded with flow. But there are similar solutions from NAD, Technics, T + A and Devialet, to name a few.
It is perhaps not so well known that Linn also competes in the same category, as among others Naim, with a compact, integrated power amplifier, which only needs a couple of good speakers to form a full-fledged stereo system.
The family-friendly Majik DSM is a bit like a Naim Atom, and has everything built-in, but differs from almost all current competitors – NAD M10 except – in that it also has space correction built-in – Space Optimization.
But more on that later.
To the uninitiated, the Majik DSM looks like any modern amplifier. With a footprint of 35 x 35 cm, it is not large box, and the absence of cooling fins and large potmeters on the front, hints that this is something other than the conventional, analog, integrated amplifiers most people associate with a stereo system.
That perception is correct – Linn Majik DSM combines a two-channel amplifier, with analog and digital inputs, including HDMI for TV and Playstation / Xbox, streaming over Bluetooth, Wifi or Ethernet, and it includes headphone output and an input for turntables with MM pickup.
In other words, everything most people require from an amplifier with streaming today, and a little more.

User-friendly interface
The space-friendly design makes it easy to assemble a system with Majik DSM in the center. The amplifier can be placed by the TV, which is connected via HDMI with ARC so that you can control the sound with the remote control of the TV.
A pair of compact or floor-standing speakers to taste and budget, completes the system, which can be connected to the house's turntable, should you have a small record collection standing.
Then you have a facility that is easy to use for the whole family. With Bluetooth, anyone can stream music from their mobile phone, and for those who both like music and are concerned with sound quality, lossless music can be streamed in high resolution from Tidal or Qobuz, over Wifi or Ethernet.
Everything can be controlled from an app on the mobile, or with the included remote control.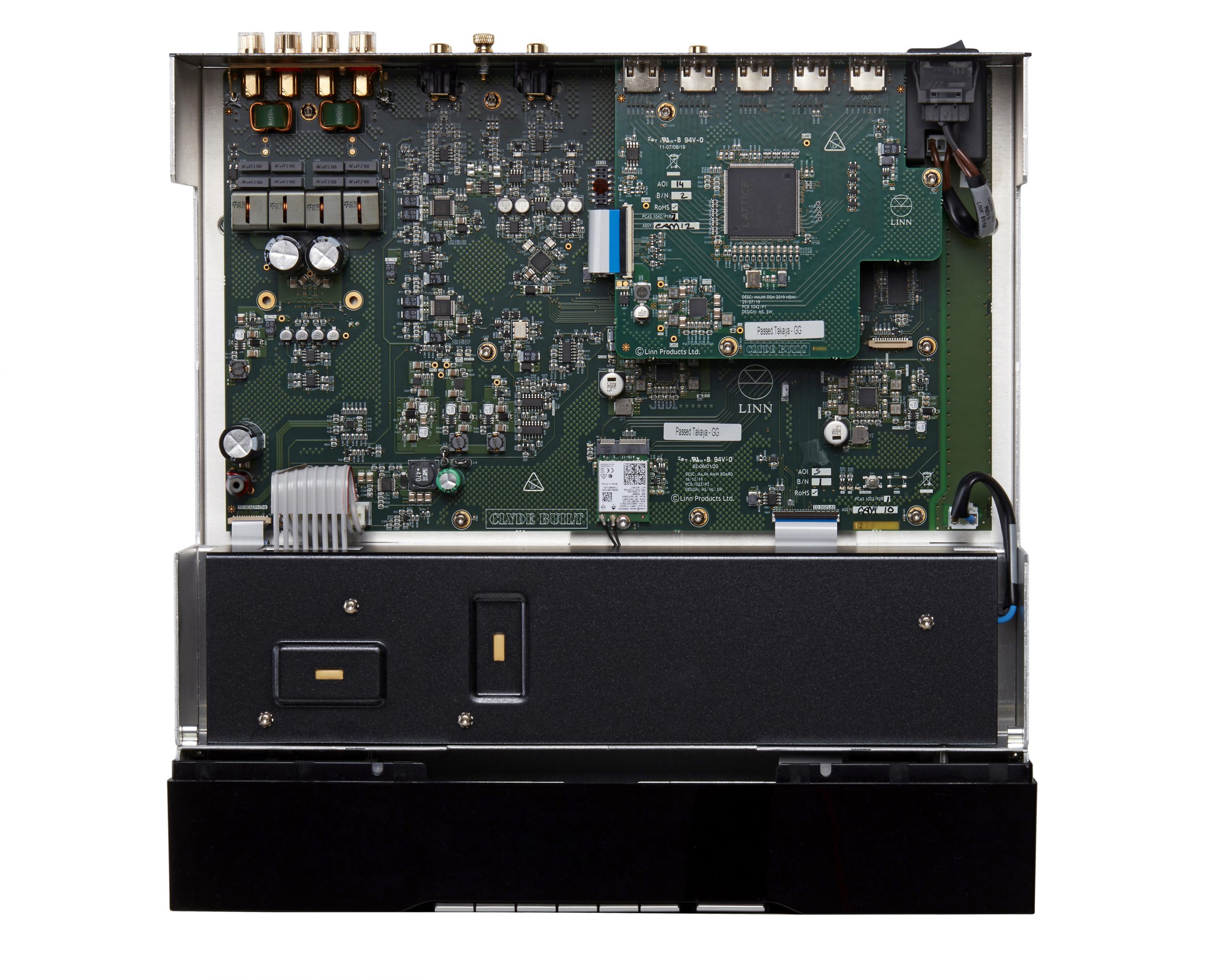 The device itself barely has buttons, but at the top of the edge of the front there are six buttons that can be configured as you wish. This makes it possible for family members to enter their own preferences, and one tap can launch TuneIn and the favorite radio station, or launch a playlist on Spotify.
Majik DMS supports playback via Spotify Connect, Tidal, Qobuz, and it is ready for Roon for those who are advanced streamers. It also has AirPlay support, and AirPlay 2 with multi-room is coming, the same is said about TIdal Connect.
A PC can be connected via a USB input on the back, and the amplifier's digital converter (DAC), supports up to 24-bit audio with 192 kHz sampling.
Space Optimisation
So far, the Majik DSM sounds like a 'any' power amplifier, but it has an ace up its sleeve that can give you better sound than the competition, Space Optimization.
Simply put, it is room correction that is based on the pressure in the room, and the speakers' equipment and location in the room. The room correction does not use data from measuring microphones or measurements of the speakers, which others use, but bases the correction on how the room looks, height, width, types of surfaces, windows and doors location, etc. It is a rather complex process that you do not have to worry about about. A Linn specialist will set up the amplifier and room correction for you. After that, you do not have to worry about anything other than deciding what you want to play.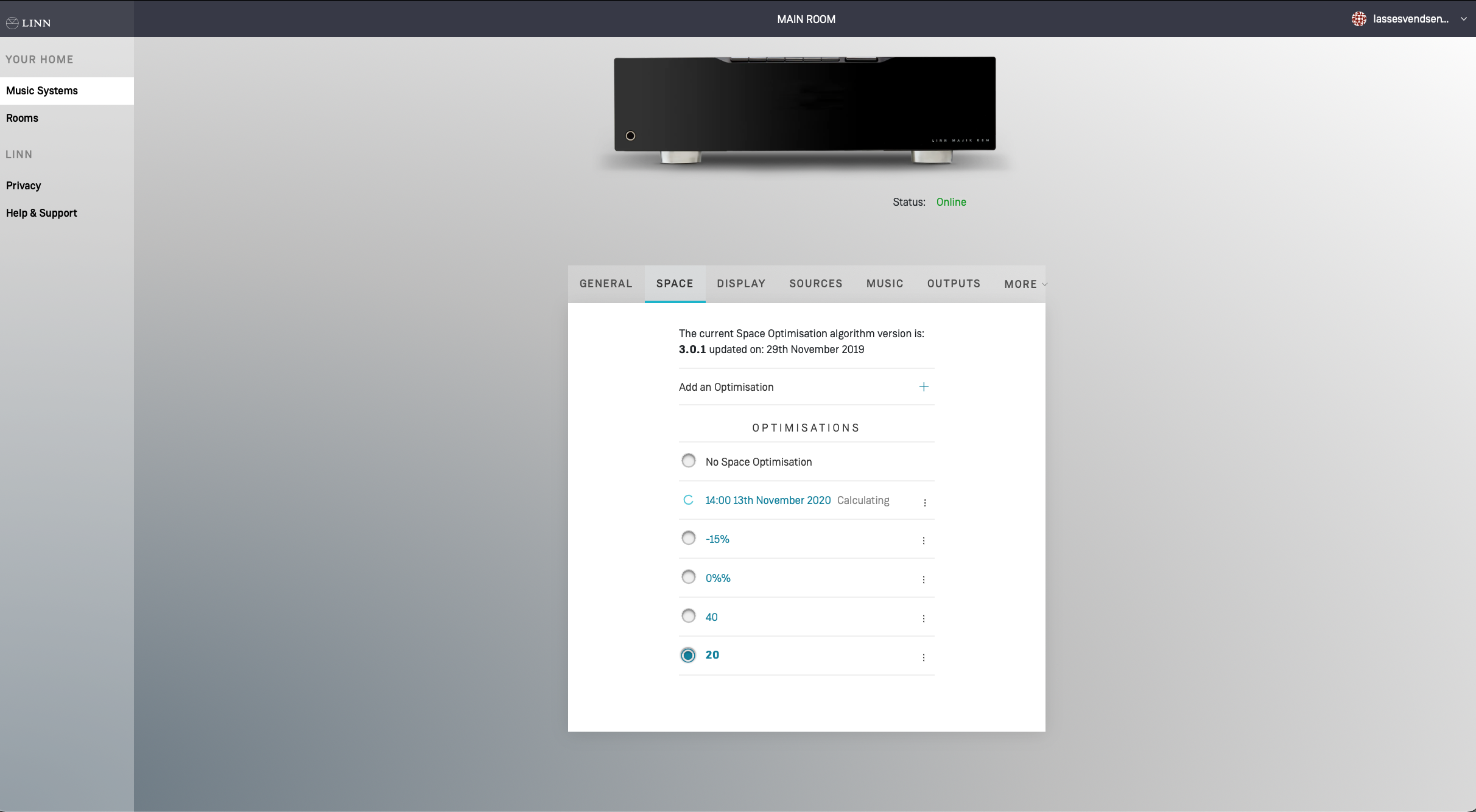 But the process takes place so that the room is measured with data from everything that is of walls, ceilings, etc., and the data is entered in a user profile where you tell about the location of speakers – and what model it is based on a database Linn has made, all the way down to one centimeter precision. The data is uploaded to a server for calculation, and a few minutes later you have a corrected profile for the room.
You can create as many profiles as you want, they can also be changed if you e.g. will have slightly fatter bass, and the user can select a preferred profile at any time and in seconds.
Should you still get out properly to drive, you can contact the Linn store and share access to your profiles online, and then they can make necessary corrections and corrections to the profiles.
This is how you can adapt the sound in almost any room, because Space Optimization takes into account whether you live in a log cabin with wooden floors and small windows, or a studio apartment with plaster walls and large windows.
Watch the test of Linn Klimax DSM for a review of Space Optimization, or the video below.
Space Optimisation Explained from Linn on Vimeo.
It works!
You can use it well without room correction, but it's like driving a car with less fun wheel angles. If you have first chosen a Majik DSM, you should definitely use the room correction.
However, it can present one challenge. Then I do not think about the setup itself, others take care of it, but in Linn's database, I found besides all the speakers they have produced themselves, relatively older models from other manufacturers.
Since we mainly surround ourselves with new models, it became a challenge to find speakers in the warehouse, which could be tested with Linn's Space Optimization.
First out was the Bowers & Wilkins 702 SE Signature, a beautiful speaker that was not in the database, but the 702 S2 did, which has the same equipment, bass sport and height above the floor. It holds in plenty. For Linn, the bass energy from the bass port measures the height above the floor of the lower bass element, and only frequencies below 80 Hz.
Dønn like data for 702 S2 and S2 Signature, meant that there should be no reasons not to use the Signature version.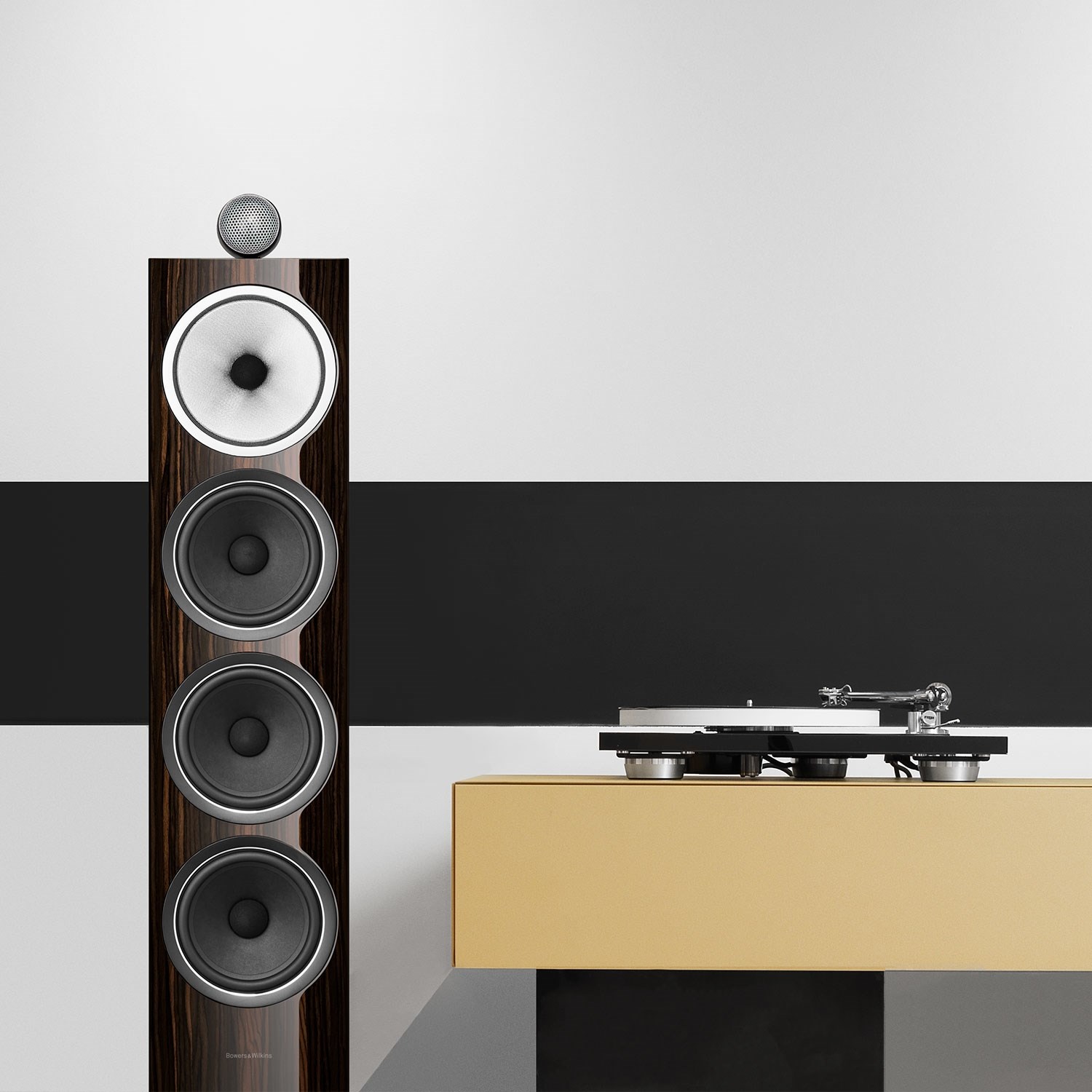 For the record, I also tried speakers from Martin Logan, Audiovector and JBL, with and without Space Optimization, and the conclusion was clear.
On the speakers that were already in Linn's database, there was an audible difference in favor of Space Optimization. In those who did not, the differences were smaller, though still noticeable. Personally, I preferred Space Optimization no matter which speaker was connected.
Except for Martin Logan Electromotion ESL X, which is also not in Linn's database. But the problem was probably that the amplifier's proprietary class D output stage, did not think steep phase angles and low impedances were so fun. The music never splashed with the Martin Logan speakers, which work much better with Devialet's SAM correction.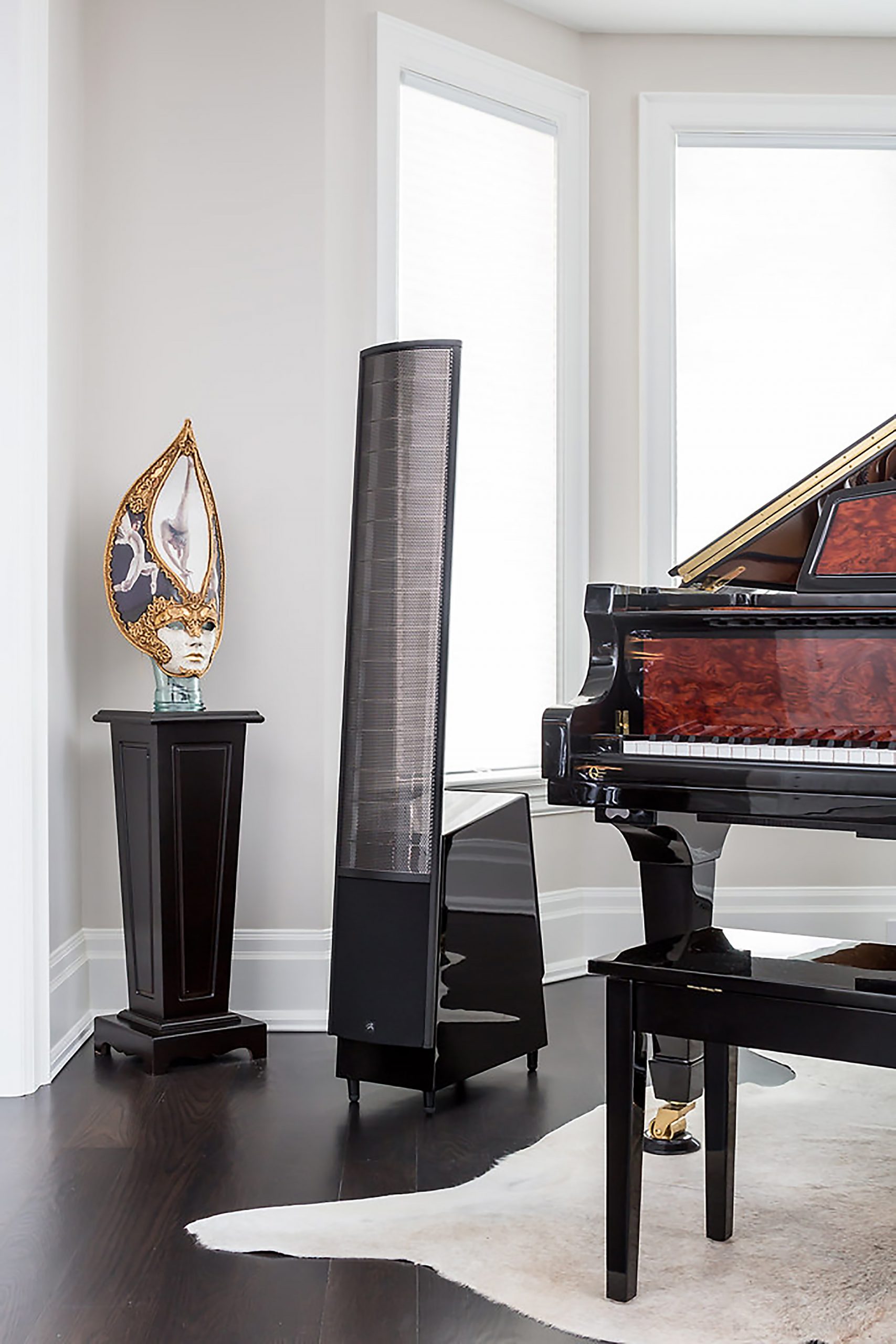 But the splash did it by the Audiovector R1 Arreté, not to mention the JBL L82 Classic. Without room correction, it sounded nice and clean, a little tame in the bass, but very correct. With Space Optimization, the bass lifted, stretched downwards and the dynamic contrast was noticeably better. Not that it was bad in the first place, these are after all two pairs of the liveliest speakers out there.
Strings and vocals appear better in the soundscape with Space Optimization, and the compact amplifier is both playful and serious when needed. You get more depth in the sound with Space Optimization, and the sound image seems bigger with it on.
You can at any time change the settings in the Linn account belonging to Majik DSM, and drag the slider from neutral to more forward sound, but somewhere closer to neutral suited me best in my room.
NAD M10 is a cheaper alternative, which also has room correction. It uses Dirac Live with a measuring microphone and an app, but is not as accurate as Space Optimization. Like the Majik DSM, it is not a powder keg, and both have limited power to power heavy-duty speakers to party volume in a large room.
It also has Naim Atom, which does not have room correction, but plays as if it is twice as powerful as it really is, but neither NAD nor Naim has a built-in turntable input.
Conclusion
The complex room correction should not be a deterrent, on the contrary, it helps to make Linn Majik DSM a very relevant alternative, especially for those who have a slightly demanding room to place speakers in. The room correction is set up by the dealer, and when it is done the whole family can just pick and choose in music to flow over the facility via Majik DSM. It plays well straight out of the box as well, but it is Space Optimization that makes this one of the best power amplifiers in its class. But make sure that your speakers are in Linn's database before Space Optimization, then it works best.