Geir Nordby
Published

2020-09-25 - 10:00 am
Electrocompaniet as it should sound! Hefty, raw, full-bodied. An amplifier that can "do everything".
Lacks some dynamics in the bass on heavy-duty speakers.
Specifications
Output power: 2 x 125 W in 8 Ohm
Damping factor:> 350
Network: Ethernet, wi-fi (2.4 + 5 GHz)
Inputs: 2 optical, 2 coaxial, USB-B, Bluetooth, 1 XLR, 3 RCA incl. HT bypass, 12V trigger
Outputs: variable line / pre out (XLR / RCA), 12V trigger
Digital resolution: 24-bit / 192 kHz
Bluetooth: 4.2, AAC, SBC
Dimensions: 12.8 x 47 x 43 cm (H x W x D)
Weight: 20.5 kg
Color: black
Other: Roon Ready certification coming soon
Web: electrocompaniet.com
Electrocompaniet is first and foremost a high-end manufacturer specializing in large, heavy amplifiers. Although the company has recently shown that they master the art of making multi-room speakers .
With the amplifier ECI 6DX MKII, the manufacturer has taken it all out, where the goal has been to pack as much quality from the more powerful preamplifiers and power amplifiers as possible into a network, integrated cabinet. If you want separate amplifier components, you must find yourself paying both 10,000 and 20,000 pounds, and seen in that light, the price tag on the integrated top model is not a deterrent.
What is new?
The amplifier has been given a new chassis and a completely new front plate, in the style of other MKII products. Now you can finally buy Electrocompaniet products in different price ranges, and they will have a matching look. Since its predecessor, it has also been upgraded to new and better capacitors, which will result in better dynamics and speed. "This individual component can play anything, anywhere, and with any sound source, and make it sound like the music is meant to sound," claims Electrocompaniet.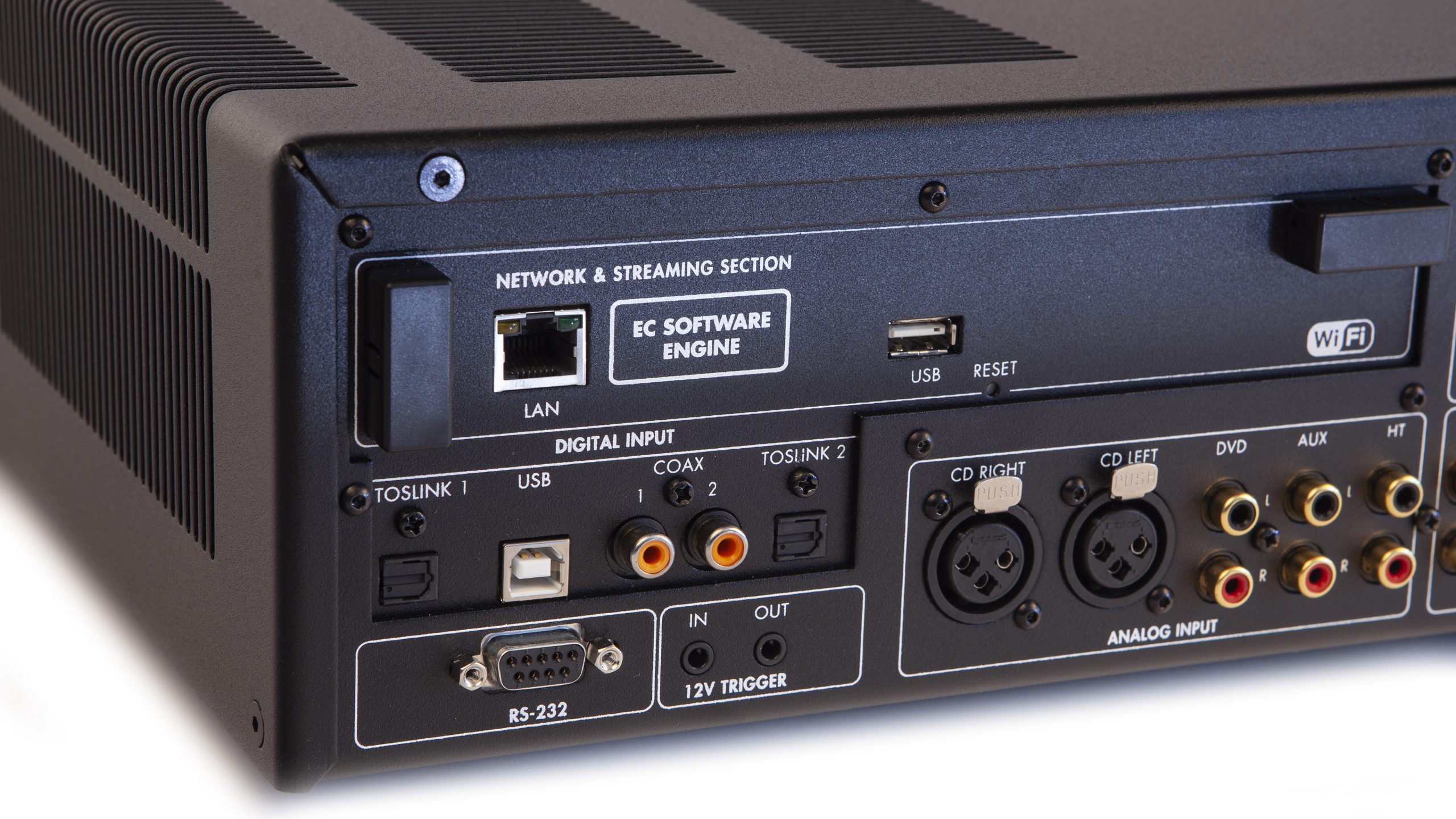 125 watts – and lots of snacks
The power of 2 x 125 watts is enough to power most things, even if, for example, it is only half of what the popular power amplifier AW250R provides. But the integrated has enough power to almost double in 4 ohms (200W) and further in 2 ohms (370W), which suggests that we should deal with a stable amplifier. The weight of just over 20 kilos indicates the same.
Electrocompaniet claims to have shopped components from the top shelf, and the entire signal path is discreetly constructed. No cheap integrated circuits (ICs) to behold, anywhere. Discrete circuits are more expensive, but the sonic result is usually better.
Upgraded streaming
The power section has been upgraded since last. First, the ECI 6DX MKII has a more powerful processor, so that the amplifier can keep up with the multi-room products in the EC Living series. They now share the same power platform, so that the main system in the living room built around this amplifier can play in a system with other EC Living products around the house.
Note, however, that you cannot connect the Sira wireless subwoofer directly to the ECI 6DX MKII, as it requires WiSA support. Like no products in the Classic series do.
The power section and the DAC section are what distinguish the ECI 6DX from the completely analog ECI 6, and which make it 25 percent more expensive. This can play music directly from services such as Tidal, Qobuz and Spotify, and can also receive music wirelessly from iPhone via AirPlay and Android via DLNA / UPnP. Or if you want it even easier, just use Bluetooth. Internet radio is also in place.
I like the app after a little getting used to. Songs and albums, and their own favorites among these are placed a little differently in the app than in Tidal's own app, but you get used to it quickly. Internet radio is also playfully simple, and the fact that the amplifier can play in a system with EC Living is a great bonus. A lucky interface for music playing, simply.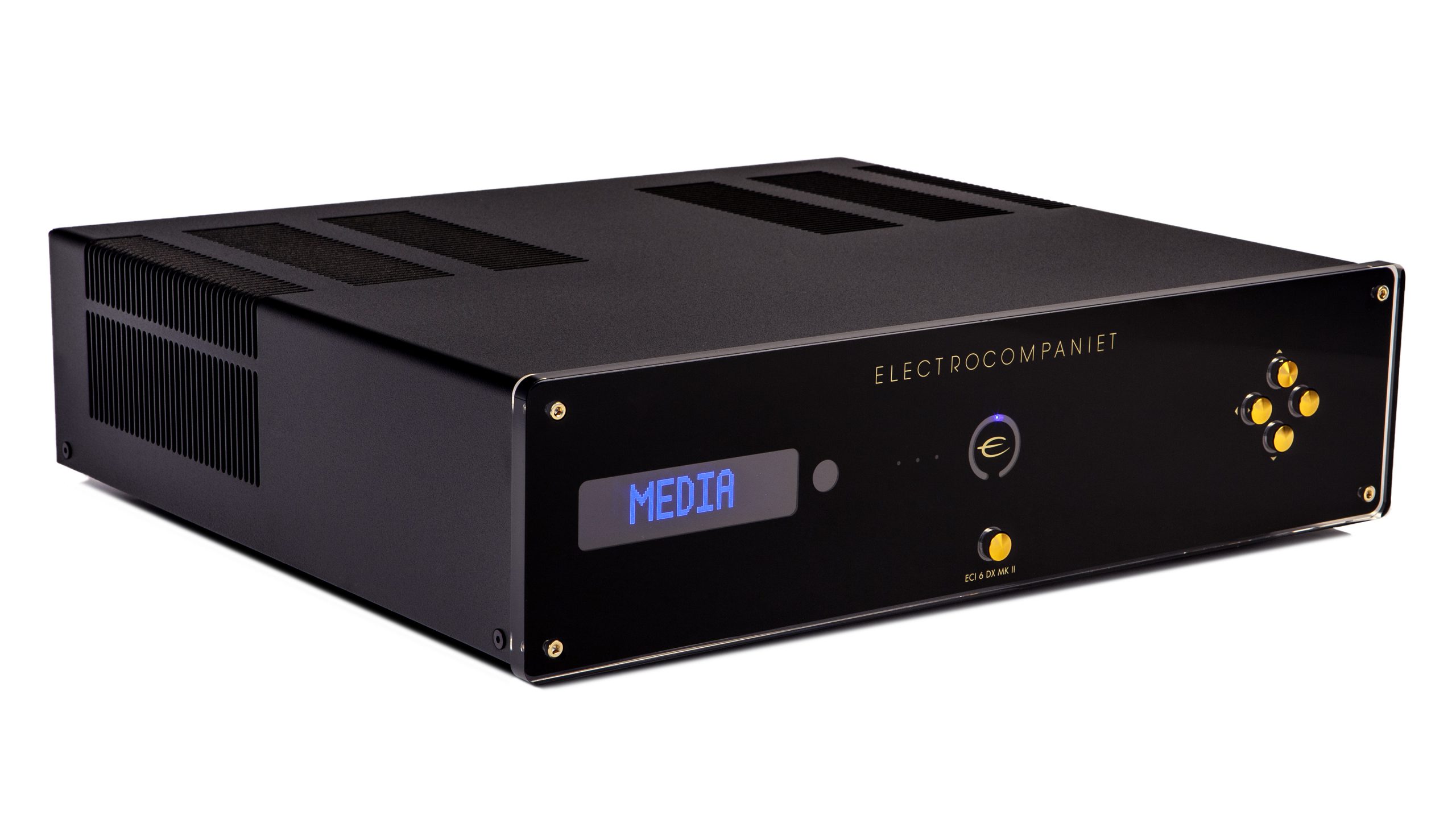 Connections
The USB-B input on the back allows you to use the amplifier as an external sound card for PC and Mac. A variety of file formats are supported, including high-resolution PCM and DSD. Eventually, it is expected that the amplifier will be ready for Roon (Roon Ready), which means that Roon users can stream directly from the PC to the amplifier via the home network, without any USB cable in between.
There are both optical and coaxial digital inputs, in addition to balanced and unbalanced analog inputs. If you want to biampe or maybe drive an active subwoofer, the ECI 6DX MKII has something as rare as a balanced XLR preamp output. In addition to an unbalanced RCA.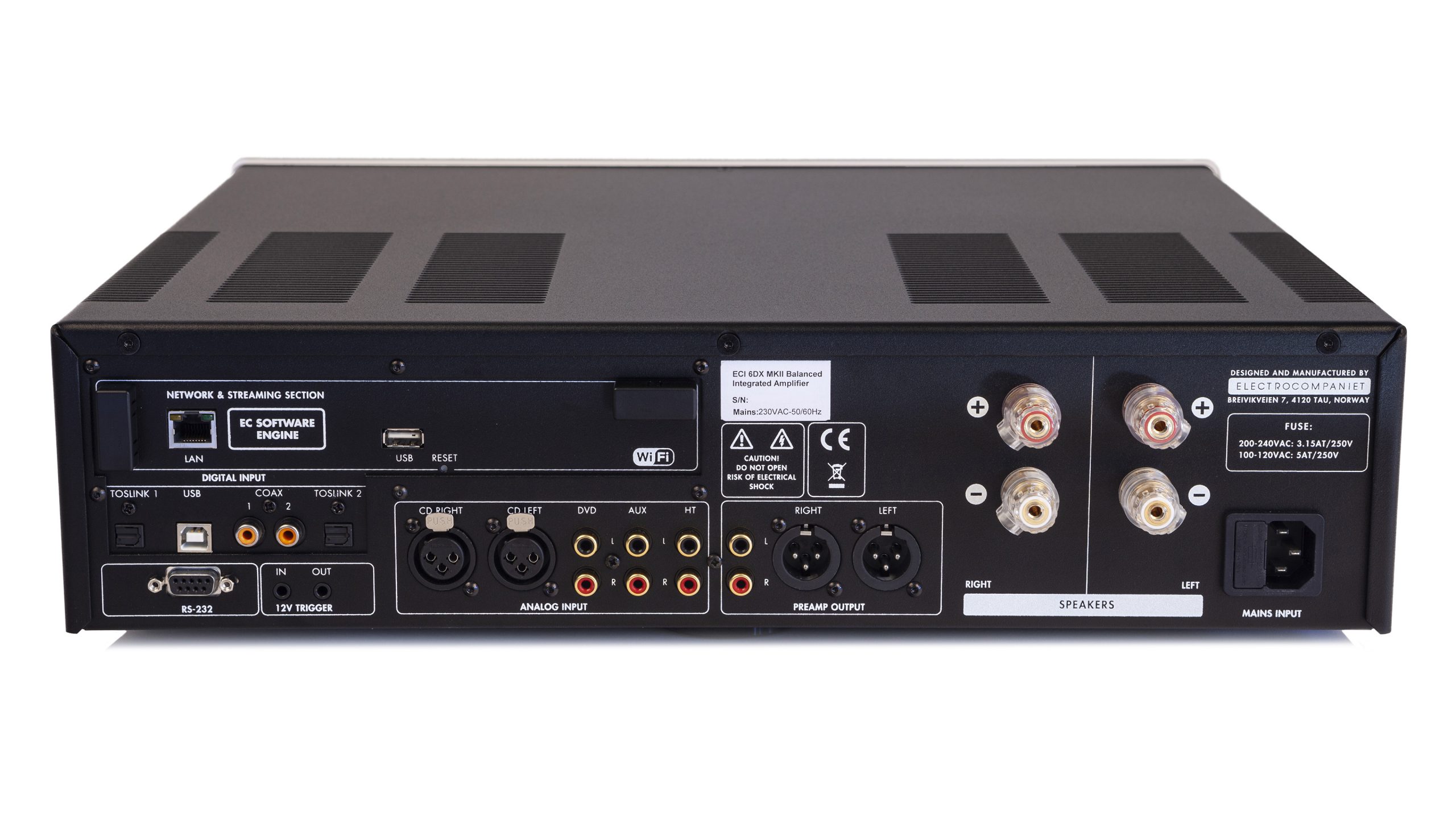 App control
When the amplifier is connected to the home network, it can be controlled with the EC Play app on the mobile. In addition, you can use the browser on any PC, without installing anything. Just enter the amplifier's IP address in the address field.
Music with brask and bram
Where Electrocompaniet's more reasonably integrated ECI 80D forced seductive heat from the otherwise neutral and direct B&W 705 S2 Signature (test coming), it lacked a bit of transient reproduction and speed. This compared to, for example, the Hegel H95 and the more powerful H120 . Here, the ECI 6DX MKII is significantly more specific, even though the sound signature is unmistakably Electrocompaniet. For the uninitiated, it means a rosy, delicious and warm sound. With just the right bold bass, without drowning the details upwards. A perfectly tempered soundscape, on the slightly warm side of neutral.
Turntables by the talented RnB / rap artist Janelle Monáe have hefty bass rhythms, and the ECI 6DX MKII has a much firmer grip than its little brother. Which gives the music an important foundation, and which almost forces my head to nod back and forth in time with the music. Janelle's voice is natural, while the gospel choir surrounds her. The cymbals are airy, the soundscape wide, and the whole a real pleasure to listen to. And, yes, you can play loud if you want. Very high.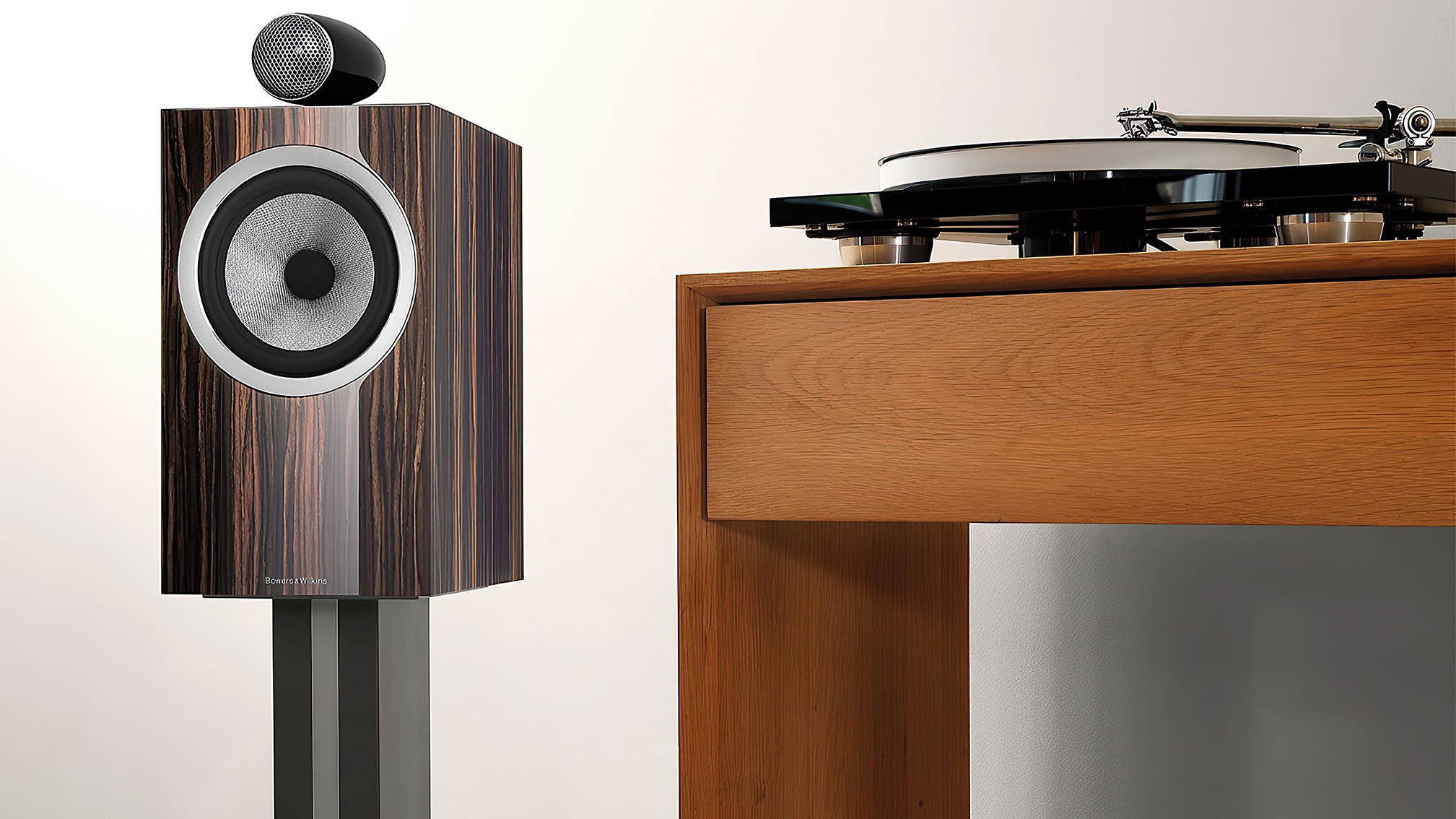 Mozart
We continue with Mozart's Piano Concerto No. 21 in C major. From Tidal in 24-bit / 96 kHz MQA, with Géza Anda on piano accompanied by the chamber orchestra Camerata Salzburg. As he actually sat and conducted from behind the grand piano! A fantastic recording for Deutsche Grammophon made in 1961, and the 1995 master sounds no less fantastic through the EC amplifier. From the low-pitched double bass that lurks at the bottom, to the beautiful, airy violins and flutes, which build up and up. With the brass blowers that fill in the soundscape. When it all calms down so that the piano can take a solo place, it is such a warmth and vitality in the notes that it is as if someone has carried Géza Anda's ghost and his Steinway grand piano into the room. Died in 1976? I begin to doubt… "Only the Steinway piano gives me wings," he has stated. Had he lived to hear this amplifier, he might have added this and.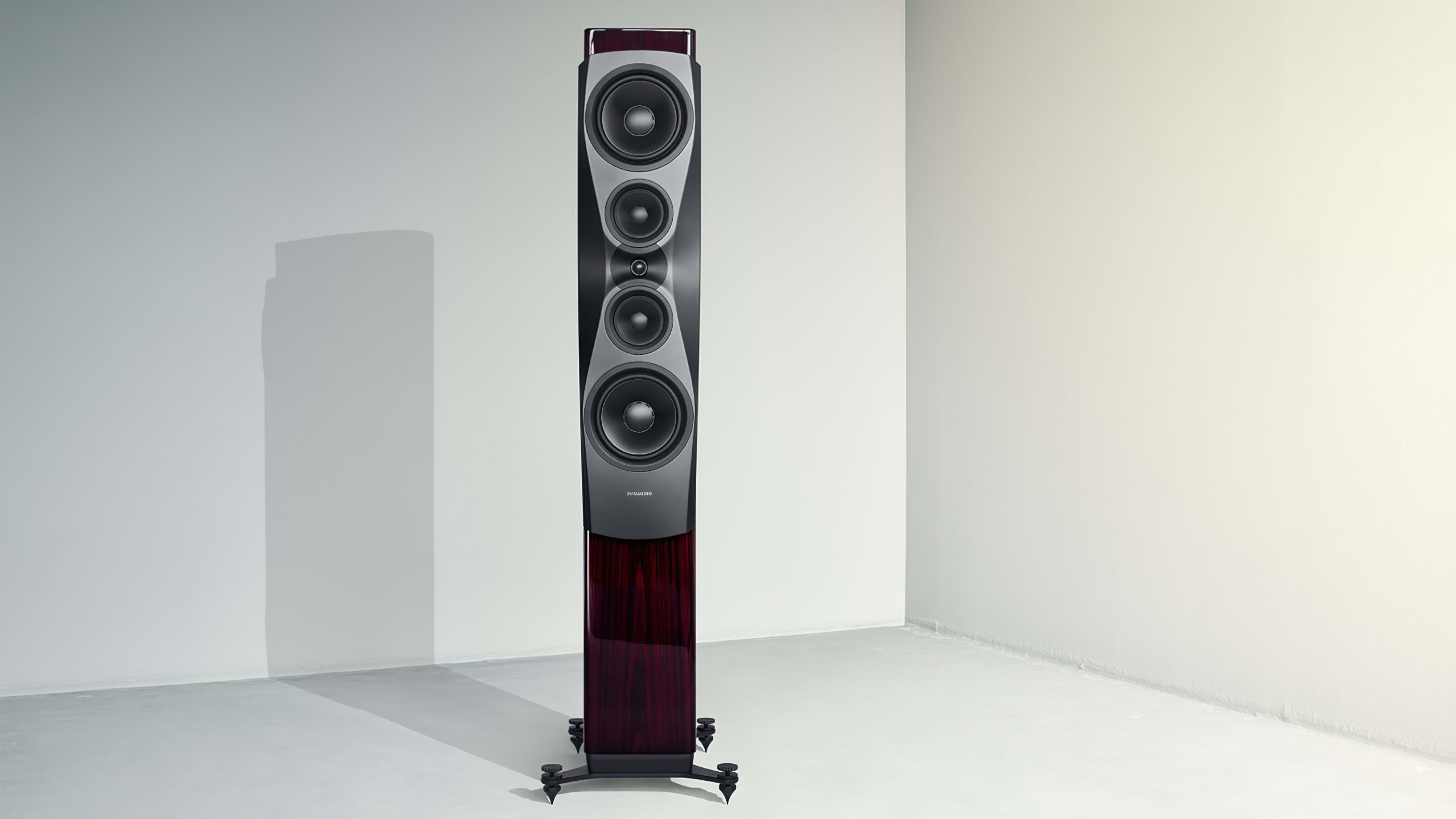 Large and expensive speakers
Ok, so we know the amplifier has a good grip on the compact speakers from Bowers & Wilkins. But it also applies to smaller and cheaper amplifiers, and many who buy this amplifier are probably in the market for slightly larger floor-standing speakers.
Ok, why not just give the amplifier the litmus test once and for all? We have brought in Dynaudio's flagship, Confidence 60 (test coming). Large, massive speakers of almost 70 kilos each. And if you think the height of 163 cm is a deterrent, try the price. 450,000 kroner you have to bring out for a couple! That does not necessarily mean that you have to shell out an equally staggering amount for an amplifier, and thank God for that.
The dynaudios only need a good amplifier to sound fantastic, they are for example very happy with my new used purchase of an amplifier bead, namely AVI S21 MI (Laboratory Series). This cost 20,000 kroner in 2004 and was the editors' favorite amplifier at the same time. A small amplifier with lots of power, and which keeps the speakers in a tight grip regardless of sound level. I can state that the amplifier is as good as I remembered, and it has zero respect for the Dynaudio. I mention it only because it is in a price range that is an even worse match with these speakers, than what Electrocompaniet ECI 6DX MKII is.
The speakers are not exactly easy to drive, with a sensitivity of moderate 87 dB (2.83V / 1 m) and an impedance of 4 ohms. Our McIntosh MA7000 has found itself having to play with the volume wheel at twelve most of the time. The AVI is another notch.
The Electrocompaniet amplifier is no small boy. It does not need to be pulled that far to play with normal sound level, and the speakers reveal the bass foundation in a completely different way than any tripod speaker can only dream of. And most other floor-standing speakers, for that matter.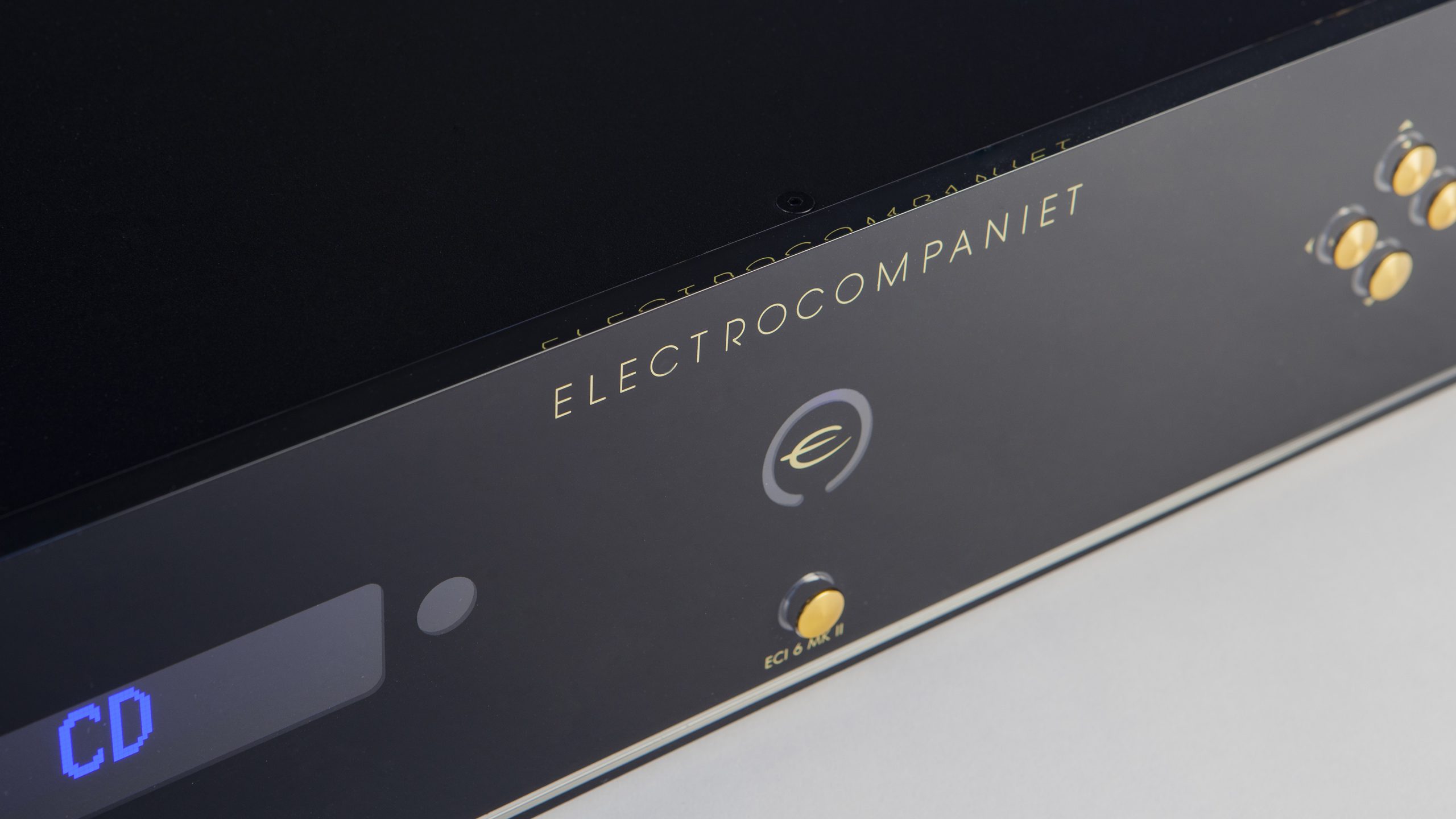 Slightly wide brush
The EC amplifier has beautiful bass tones, something the double bass on Fiona Apple's Fetch the Bolt Cutters is a great example of. The whole song is excellent, and here EC shows what they stand for. The rosy sound suits it extremely well. I have probably heard the crisp percussion even more distinctly and forward in the midrange range, and the amplifier does not have the last word when we speak razor-sharp focus. It paints with a slightly wider brush than both the aforementioned AVI, but also the Hegel H390 (NOK 50,000).
Speed ​​in midrange is not the amplifier's greatest strength, something you hear on classic recordings with castanets, for example. As those who begin track 4 of coloratura soprano Patricia Petibon's classic collection Nouveau Monde . The castanets are significantly more attacked with Hegel and AVI, where Electrocompaniet is more in class with the McIntosh amplifier. McIntosh then has even more power, but is (was!) Also in a different price range.
Breathe
Electrocompaniet is at its ace with acoustic music, but also music where the bass is in the front seat. Rhythmic electronic music rap and RnB are all gourmet meals for ECI 6DX MKII.
I would still like to mention that the amplifier behaves more powerfully than it is. That is, when the music is played with a normal listening level, it is heavy and delicious in the bass, and you can go on a bit over this and be massaged by physics back. But it gives up a little earlier than I expect.
Play up to party level, and the amplifier is short of breath earlier than both Hegelen, but also the AVI amplifier. It gives way and flattens out a little too soon, based on what I feel it promises when playing with a lower sound level. A bit like a V8 engine missing the last gear. It makes me wonder how much more lives in the twice as powerful power amplifier AW250R.
Conclusion
ECI 6DX MKII is the new top model among Electrocompaniet's integrated amplifiers. It knows many digital tricks, and is great to flow with. It can do most things, and regardless of streaming service, you get to play it – in one way or another.
The sound quality is very good as it should be in the high-end class. First and foremost, the amplifier impresses with a seductively warm and rosy soundscape, without compromising on the details. Heat and air at once are not commonplace, but Electrocompaniet balances it all almost perfectly.
The amplifier promises a little more at moderate sound levels than it holds when you really have to gobble up to party levels. The control decreases and especially the bass area goes into compression when you pull in too full jugs. But it can be pushed long before it happens, and this will hardly be a problem for anyone other than the most ardent sound pressure fanatics. Although there are amplifiers – also in the same price range – that work better in that discipline.
Overall, this is a very successful amplifier. You get the famous EC sound, combined with the feeling of quality you expect in this price range. And with modern and updated entrails. You simply do not go wrong with this.