Lasse Svendsen
Published

2021-03-09 - 9:00 am
Wonderful sound and noble warmth in everything it plays. Deep and powerful bass, plenty of power and several digital inputs. Can be equipped with Bluetooth.
Bluetooth - but no network connection. Turntable input only for MM and MC with high output voltage.
Specifications
Type: Integrated amplifier
Power: 2 x 145 W in 8 ohms, 2 x 230 W in 4 ohms
Technology: 6922 valves and MOSFET transistor, class AB
Connections: 4 × unbalanced, balanced XLR, pre-out, direct-in, 2 × optical, coaxial, USB
Turntable input: MM 3.0 mV / 47 kilo-ohm, 200 pF
Headphone output: Yes, 40 ohms
DAC: 32 bit ESS9018
Network: No.
Frequency range: 10 Hz – 150 kHz (-3 dB)
THD: 0.03%
Signal/noise: 110 dB CD, 96 dB MM, 90 dB MC
Color: Silver or black
Dimensions and weight: 43.5 × 16.5 × 37 cm / 15 kg
Other: Remote control, Bluetooth aptX HD module as an option
Web: copland.dk
You almost have to be inside the hi-fi industry to know who Copland is. By that I do not mean the award-winning American composer Aaron Copland, but Danish hi-fi manufacturer Copland. Who is completely unknown to most people, except connoisseurs, who know that Copland makes some of the most well-sounding there is – with vacuum valves ("tubes" for the Americans), without being at the unreachble end of the price scale.
They have been making amplifiers since the mid-80s, but have, despite a presence in over 35 countries, been somewhat overshadowed by companies like Hegel, Dynaudio and Electrocompaniet.
This is a bit strange, because Copland is an amplifier manufacturer that reaps great recognition where they exist, from dedicated distributors who can not fully praise Ole Møller's constructions.
Copland is, apart from some CD players, best known as an amplifier manufacturer, more often than not based on valves.
Valves, are of course, found in the CSA 150 as well, which is Copland's flagship among the integrated amplifiers. But the 145w powerful amplifier does not only use valves.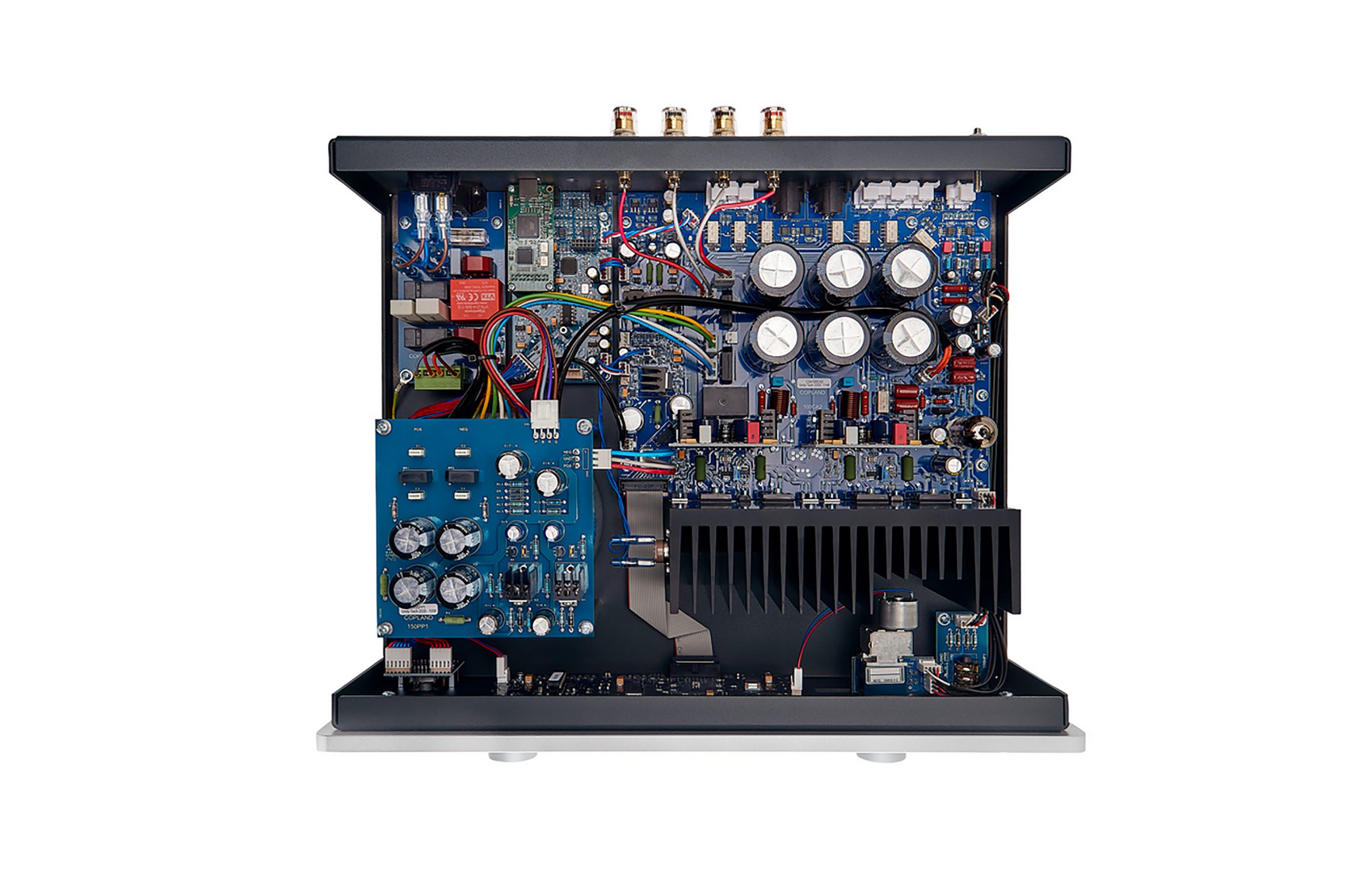 Hybrid with DAC
The brand new amplifier is built like a CSA 100, only more powerful. There is only one valve here, and it is a double triode tube – 6922 – that is used as a voltage amplifier, while the rest of the amplifier uses MOS-FET (transistors) that provide the power.
The amplifier is built on an anti-magnetic aluminum chassis, and has both a turntable input and digital inputs. The turntable input is adapted for MM pickups, while the internal 32-bit DAC (ESS9018) has two optical and one coaxial input, and the USB input at the back supports PCM 24/32-bit up to 384 kHz and DSD64 / 128 formats.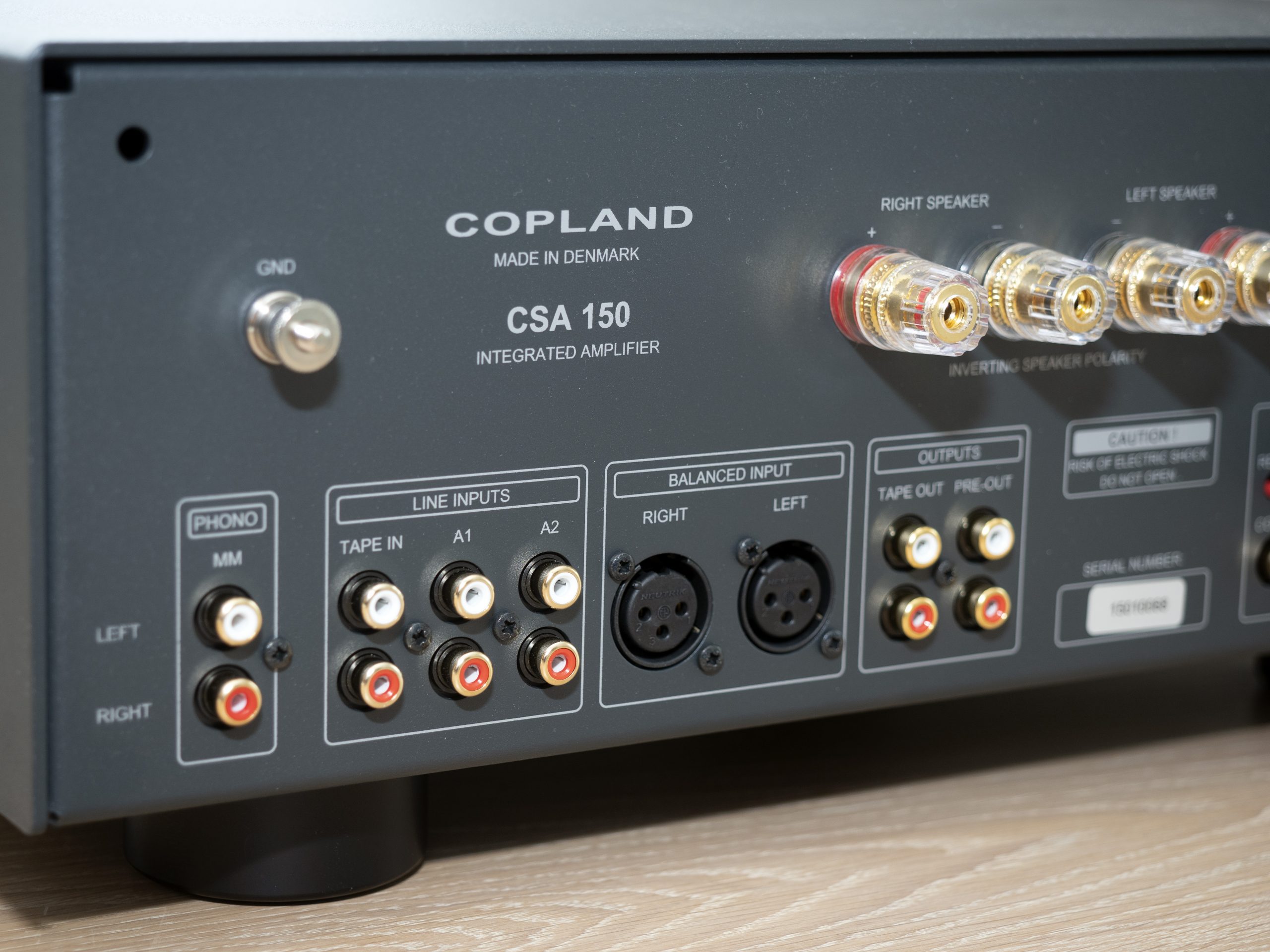 Bluetooth
It has no network connection, like Hegel H390 has. Instead, Copland has chosen Bluetooth with aptX HD – as an option, and which works great if you stream from Spotify's 320 kbps, but fall short on 16-bit PCM, or streaming from Tidal Hi-Fi, Qobuz or other streaming services with high-resolution audio files.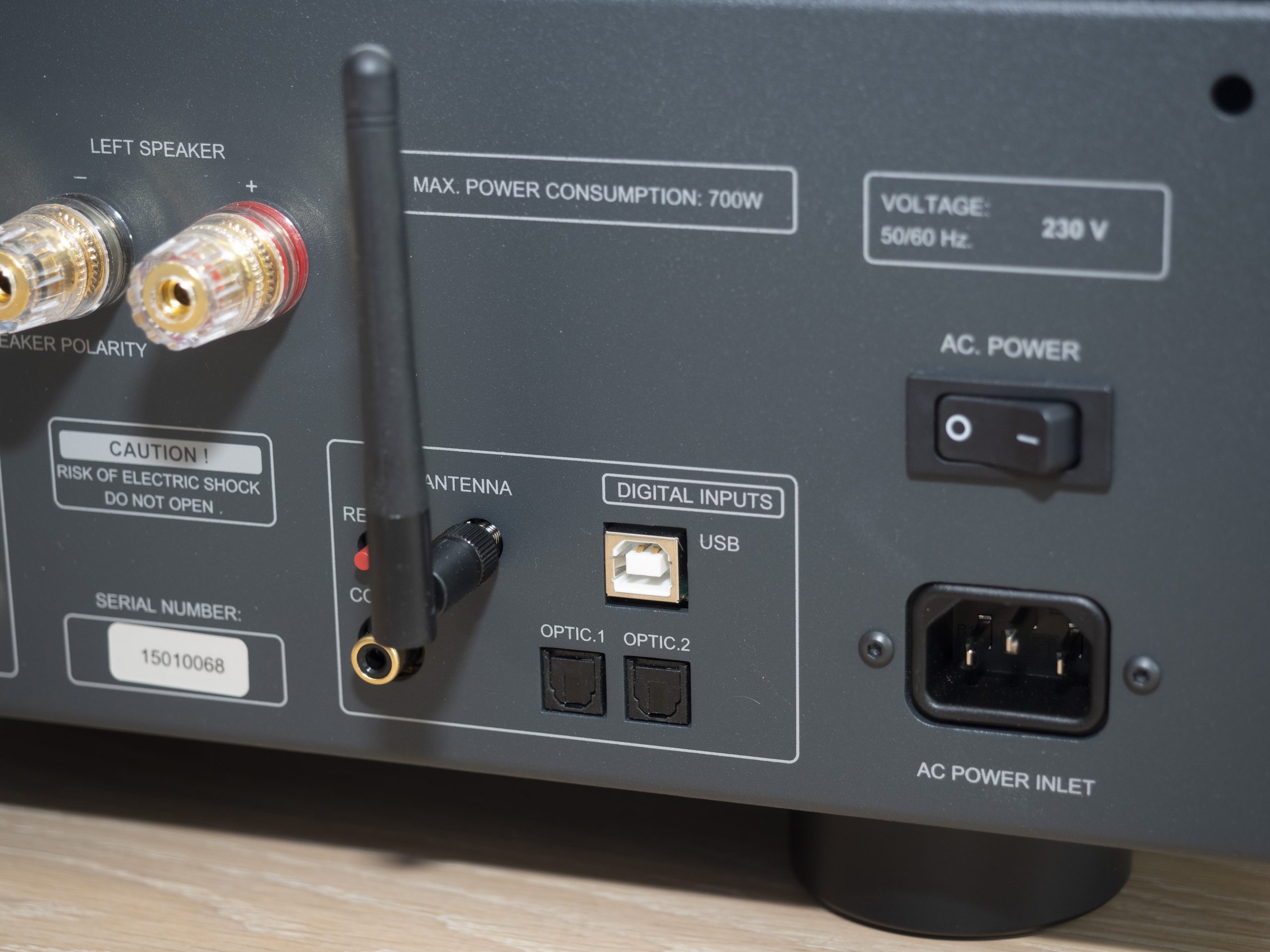 Then Copland believes that you are better served by using the USB input, and playing from a laptop for example, and you can always agree with that.
The amplifier's turntable input has no adjustments or adjustments, but can be used with almost all MM cartridges, and MC cartridges pickups with high output voltage. The four line inputs are divided into three unbalanced RCA connectors and a pair of balanced XLR connectors. It also has a fixed line output, and a variable to power dryer – or subwoofer.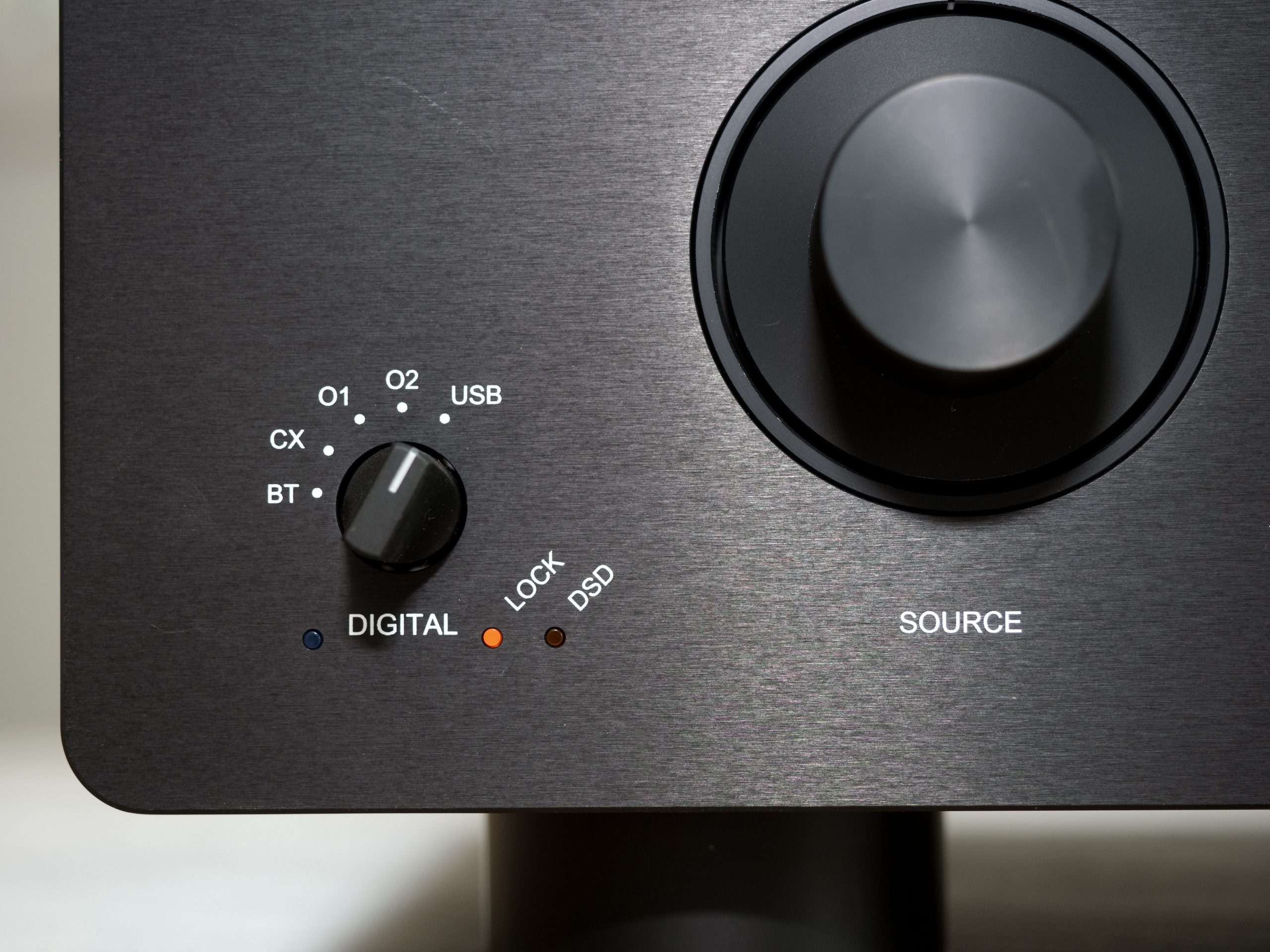 Full-bodied and warm sound
Since the amplifier shares the chassis and faceplate with other Copland amplifiers in the CTA series, it has a standard input selector – and an extra for the digital inputs. You can thus choose which of the analog inputs you want to use with the ordinary input selector, but if you want to use the digital inputs, the input selector must first be set to D, then choose which of the digital audio sources to use.
As if that's not complicated enough, there's a separate button for using the Tape input on the back. But that is a small price to pay for owning such a well-designed and well-sounding hybrid amplifier as the CSA 150.
It's easy to hear why many people prefer valve amps, when the Copland amplifier swings the baton.
Together with the floor-standing Sonus faber Olympica III, the amplifier created a great sound image, full of warmth and with fatter bass than I had dared to hope for. The opening with the snare drum and after a few beats, the big drum, on Kari Bremnes Mitt Hjerte Hamrer Og Hamrer, rumbled out into the room with a powerful force, under full control, and with a beautiful warmth in the vocal sound.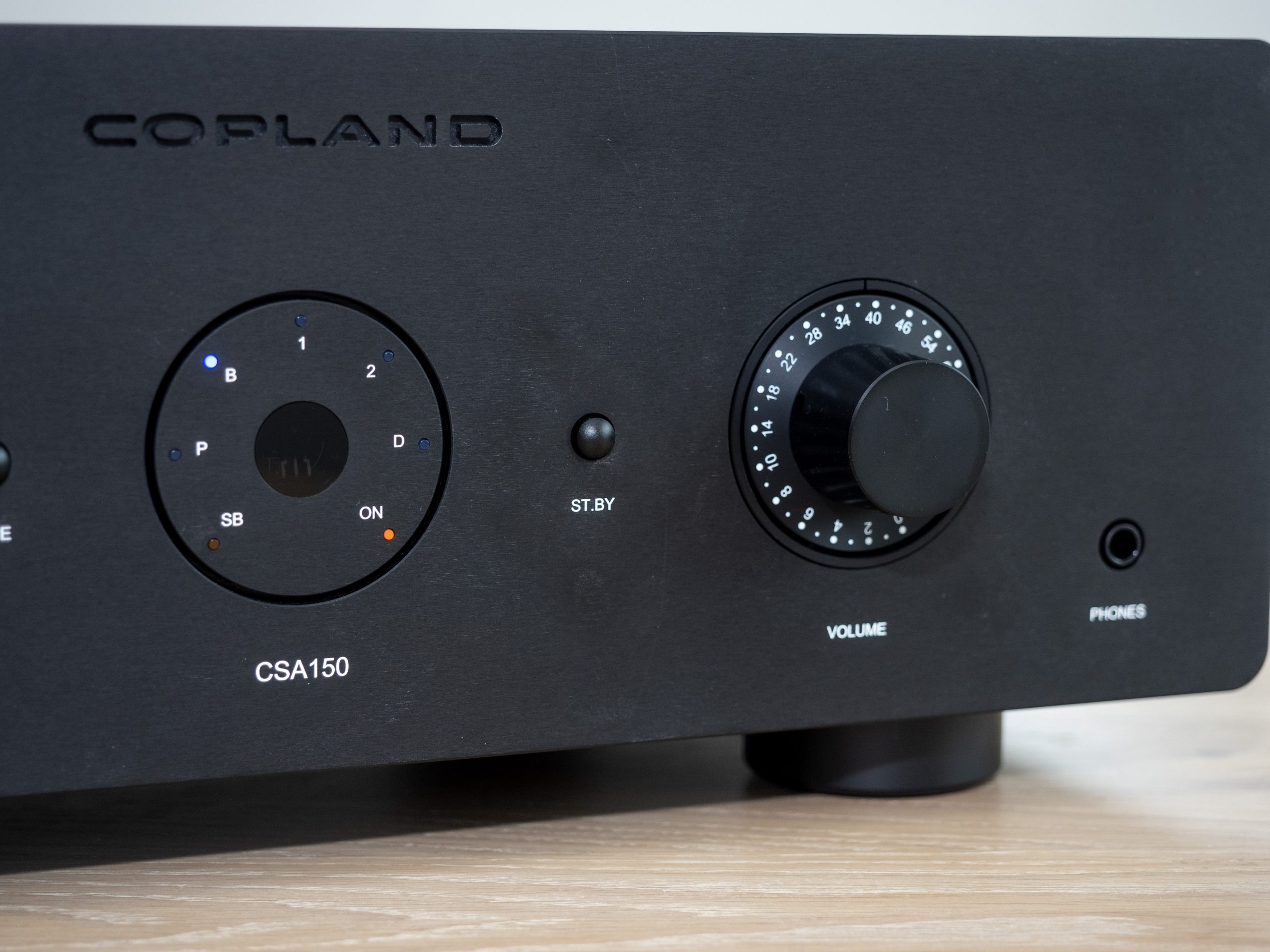 The bass is not quite as tightly directed as on a Hegel H390, but it is offset by the Copland amplifier's timbre, which makes a concert piano sound big, even on a small speaker like the Dynaudio Special Forty. At the other end, the treble is silky soft and well resolved, and there is overall satisfactory space and richness of detail on sound sources such as CD.
Alison Krauss' delicate vocals get a much-needed warmth and the guitar sound gets more depth when I switch from Hegel to Copland, and compared to the Yamaha A-S2200, I find that the piano sound at Keith Jarret's Köln Concert sounds warmer and fuller, but the Yamaha amplifier offers a little more insight and greater richness of detail.
The sound image becomes flatter and not quite as dynamic when I switch from 16-bit PCM to Bluetooth, but for all practical purposes such as soundtrack in a company, or just to have some mood-creating music in the background, the sound over Bluetooth is more than acceptable.
If you plug a pair of headphones into the amplifier, the sound of the speakers is muted. Then you can enjoy the same warm and rich sound right in your ears, and together with the Sennheiser HD 660S, the piano sound sounded extremely engaging and captivating. A pure bonus, really, is that the headphone output does not put a damper on the experience.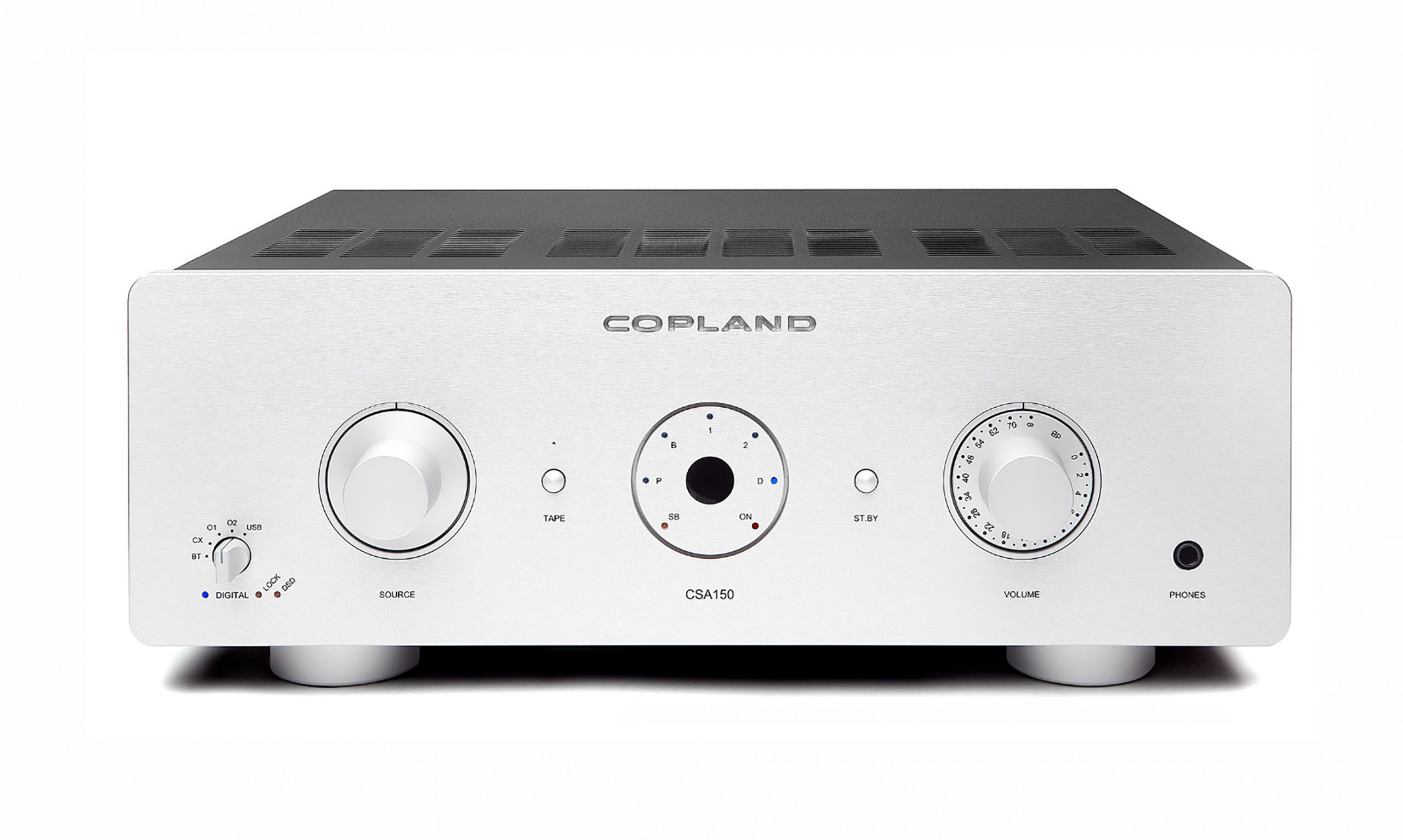 Conclusion
The integrated amplifier shows that Copland deserves a larger audience. Although it has some operational disadvantages, and can not be used with ordinary MC pickups, it sounds damn engaging. It adds a tonality to the music that is lacking in many other amplifiers, and the flexibility of both digital and analog inputs makes it very useful for even more people. Bluetooth streaming may not be audiophile enough in someone's book, and we would have preferred network connectivity with streaming over WiFi when truth be told. But it does not take away from us the joy that the Copland CSA 150 is a very well-playing amplifier with some qualities that are not so easy to find in this class.