Lasse Svendsen
Published

2023-03-02 - 6:00 am
Nice warm and pleasant sound. CD and network player with preamp and DAC inputs. Extensive support for high-resolution audio from streaming, plays both SACD and CD.
Just a bit lacking on dynamic contrast. Too little power in the headphone output. App control could be better.
Specifications
Type: SACD/CD streamer
DAC: ESS Sabre ES9026PRO 32-bit PCM/DSD
Outputs: Balanced/unbalanced, optical/coaxial
Inputs: Optical/coaxial, Ethernet, USB-B
Headphone output: Yes, Class AA
Wireless: Wi-Fi, Bluetooth, Airplay 2, Chromecast Audio
Streaming Services: Spotify Connect, Tidal Connect, Qobuz, Roon Ready
File formats: WAV, PCM, AIFF, FLAC, ALAC, MP3, AAC, MQA, DSD
Other: Remote control
Color: Silver grey or black
Dimensions and weight: 43 x 40 x 9.8 cm / 12.3 kg
Web: technics.com
Actually, there was nothing wrong with the player from Technics. When we tested it as recently as 2020, we concluded that there weren't many players like it on the market, certainly not with the qualities it possessed.
Technics may not have been satisfied after all. Because now they have upgraded the player to this version named SL-G700M2. Except for the USB-B connector on the back, it looks exactly like its predecessor.
But that's on the outside. Inside, there are big changes. The digital converter from AKM has been hard to come by in sufficient quantities and has been replaced with an ESS ES9026PRO. It has a balanced circuit with separate right and left channels, and a discrete filter which lowers the noise further, compared to its predecessor.
Upgraded for better sound
The power supply is also new, and it's based on the same switched mode power supply we know from the integrated Technics SU-R1000.
The frequency at which the power supply operates has been raised to 300 kHz, so that any potential noise is in a range that won't degrade the music signal. It also has active noise cancellation, which eliminates noise with a power signal where the phase is inverted.
In addition to CDs and SACDs, it also plays MQA files and MQA CDs, if you're so inclined. It also supports file formats such as WAV and AIFF up to 384 kHz / 32 bit, FLAC and ALAC up to 384 kHz / 24 bit and DSD up to 11.2 MHz. The USB-B input on the back is used to stream via USB cable, and it supports high-resolution audio from the laptop.
The player has built-in Google Chromecast and Apple AirPlay 2 , and it supports playback via Roon.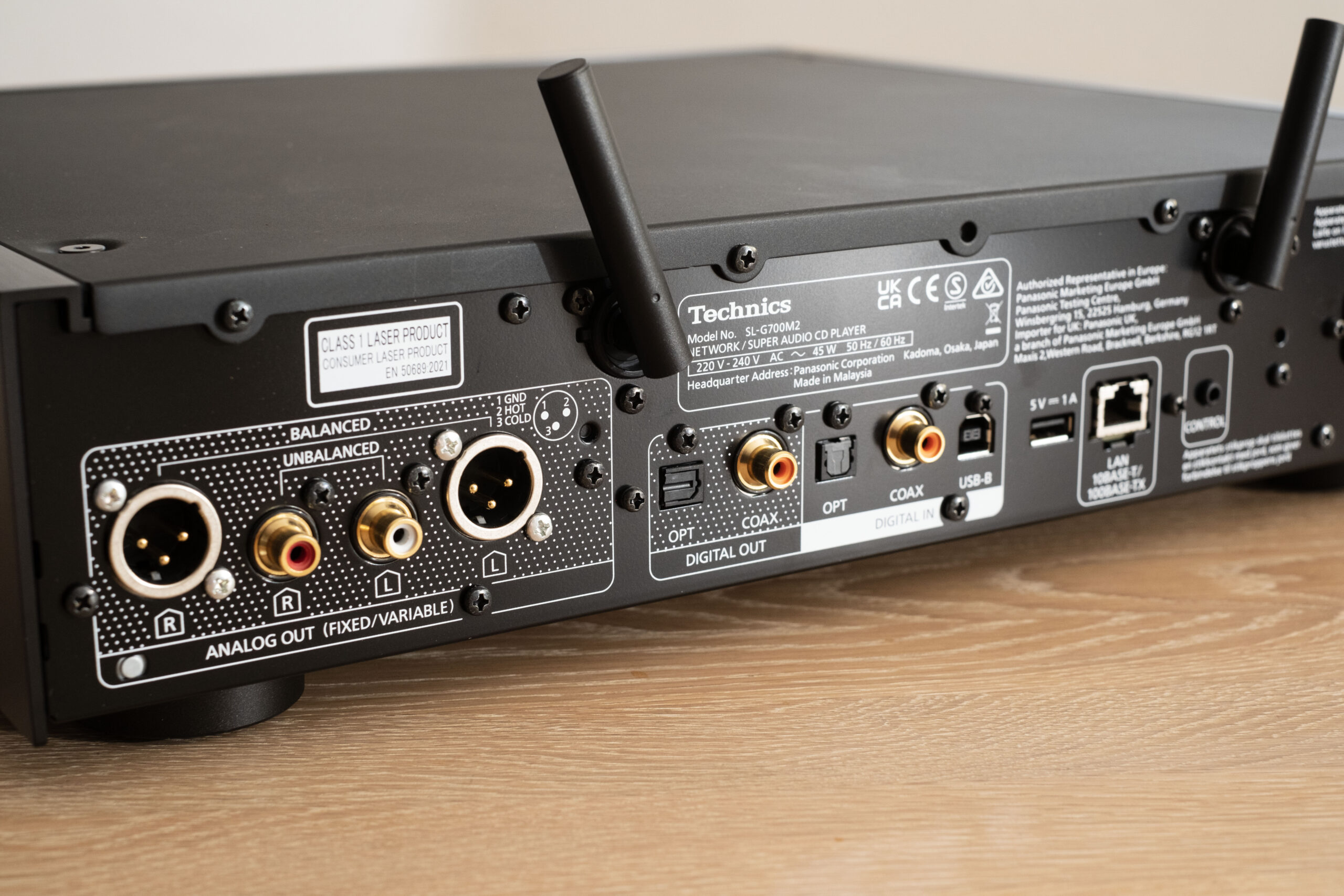 Sound quality
Three digital audio sources can be connected here, USB-B included, and you can of course select the audio source both from the front panel and from the remote control. Volume out of the balanced and unbalanced outputs at the back can be controlled with the pot on the front and with the remote control. This allows the player to be used as a preamplifier with a pair of active speakers or a power amplifier.
The volume function can also be switched off if you connect the player directly to an amplifier, as we did.
I'm not sure what Technics think they've achieved with the technical changes to the SL-G700M2. In practice, it sounds so similar to its predecessor that it's almost impossible to find any sonic improvement. Not that it matters, because it plays superbly both from CD and over the network. The sound has the same recognisable warmth and pleasant tone we liked so much on its predecessor.
It never sounds sharp or harsh. On Up For It with the Keith Jarrett Trio on CD, the piano gets plenty of sonic depth, and the weight behind the drums is clearly marked. Al Jarreau's version of Cold Duck, also on CD, is not as focused as from the Primare CD35 Prisma, which also turns out to have more authority in the bass than the Technics player.
Switching to network play and the Arild Andersen Group with Affirmation, Marius Neset's saxophone sound has plenty of depth. Again, the soundstage is more warm than neutral. It doesn't matter if I use Hegel, McIntosh, Dynaudio or Audio Physic in the further signal chain. The Technics player's strength lies in the natural sound image it creates, devoid of any mis-sounds or flaws to tamper with.
Compared to the Primare player, the Technics player doesn't bleed through with the same dynamic contrast in the bass. On Rohey's Tell Me, played over the network, the bass drum is clearly defined and hard to control, but it doesn't have the same weight and depth as the Primare.
The same goes for the headphone output, which, while sounding noticeably better than we're used to from network or CD players with headphone outputs, lacks the final touch of focus and dynamic contrast. Reference-quality headphones, like the Audeze MM-500, need more power and more control than you get here. A pair of Sennheiser HD660S is a better match, so the morale is that you need a separate headphone amp for the more demanding headphones in the higher price ranges.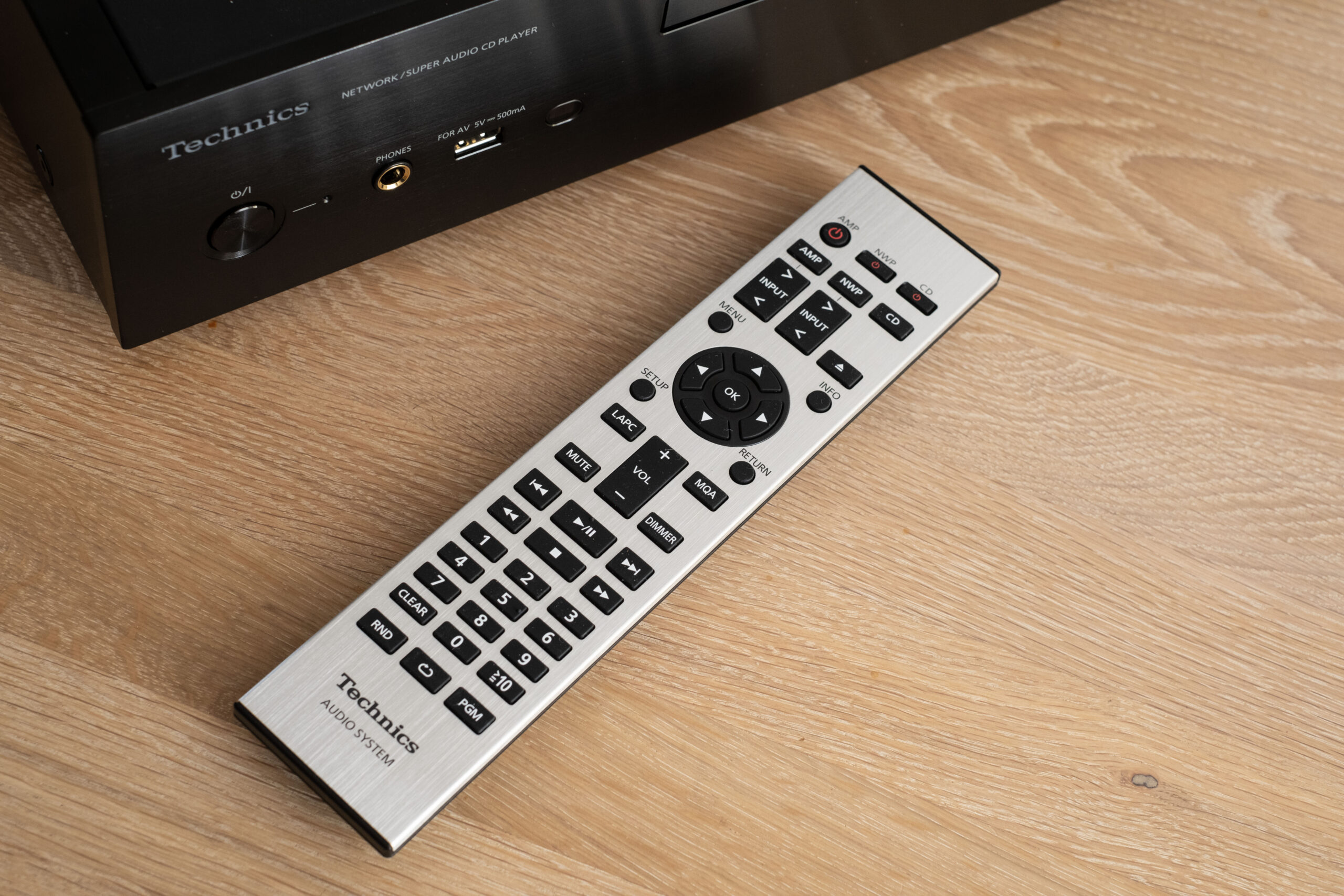 Conclusion
The Technics SL-G700M2 has many advantages you won't find elsewhere. It's both a complete network player and SACD/CD player, which with digital inputs, DAC and preamp with volume control can act as sound source and hub in a minimalist setup with a pair of active speakers. It's perfect for anyone who has been looking for a better CD player, but uses network playback much more often than CDs.
Also in this test
Primare CD35 PRISMA
Rock solid CD streamer
Primare CD35 Prisma is a CD player that happens to have superb streaming built in.
Superb sound and build quality in an exceptionally practical and useful CD and network player. Supports high-resolution audio from CD and streaming.
Does not support Tidal with MQA. Cannot be used as DAC.