Lasse Svendsen
Published

2023-03-01 - 2:00 am
Superb sound and build quality in an exceptionally practical and useful CD and network player. Supports high-resolution audio from CD and streaming.
Does not support Tidal with MQA. Cannot be used as DAC.
Specifications
Type: CD streamer
DAC: ESS Sabre ES9028PRO 32 bit PCM/DSD
Outputs: Balanced/unbalanced, optical/coaxial
Inputs: 2 x Ethernet, USB
Headphone output: No
Wireless: Wi-Fi, Bluetooth, Airplay 2, Chromecast Audio
Streaming Services: Spotify Connect, Roon Ready
File formats: WAV, LPCM, AIFF, FLAC, ALAC, MP3, MP4 (AAC), WMA, OGG, DSD
Other: Remote control
Color: Silver grey or black
Dimensions and weight: 43 x 38.5 x 10.6 cm / 10.8 kg
Web: primare.net
The Primare player is basically similar to the Technics SL700M2 and Marantz SACD 30n, except that it does not have audio input and support for SACD playback.
Like the other two, it's solidly and convincingly built, with a quiet CD mechanism (from TEAC), and it combines CD playback with high-resolution streaming of most formats. Except for MQA, which is pretty much only used by Tidal.
It's built like a CD player with Primare's Prisma streaming module integrated, and it has digital outputs for those who want to use a separate digital converter.
Similar to the Technics SL-G700M2, the DAC is sourced from ESS, here an 8-channel ESS Sabre ES9028PRO with 32-bit processing is used. It should be more dynamic with a dynamic range of 129 dB, and it is very quiet.
Discrete output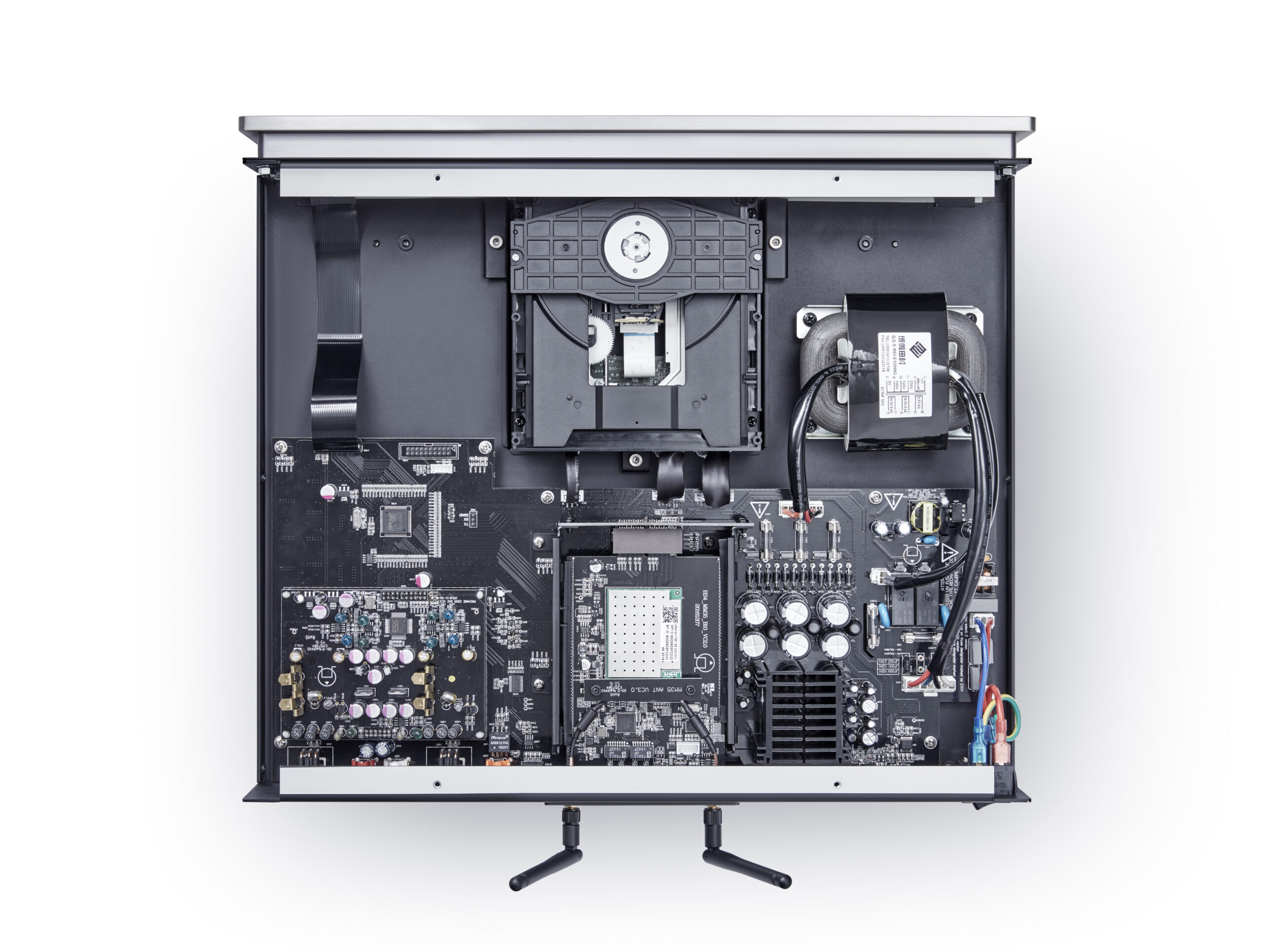 Primare is justifiably proud of their engineering, and the CD35 Prisma is no exception. We are not just thinking of build quality here, with their choice of a TEAC drive unit and the construction of the output section with discrete components. Just like Technics has done in the analog part.
The circuit boards are predominantly built with surface mount components (SMD), and the player has both two and four layer circuit boards to keep the signal paths as short as possible.
The streaming module now supports Roon and streaming from Spotify Connect, but also via Google Chromecast and Apple Airplay, as well as streaming wirelessly from anywhere over UPnP/DLNA. For example, from Tidal. Interestingly, it also supports WiSA like many TVs – LG for example – and that means you can stream from the TV to the system via the Prisma streaming module in the CD35.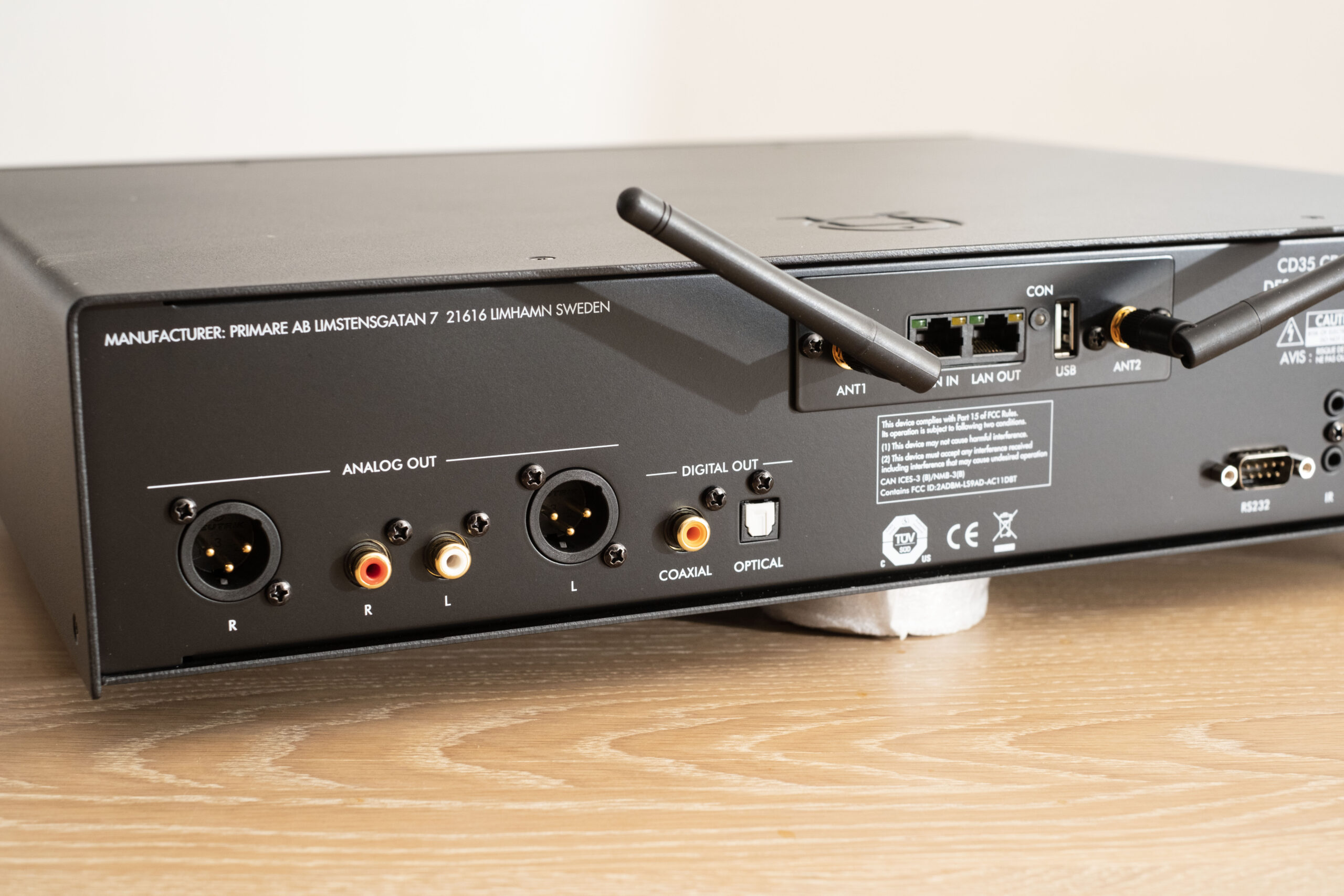 Sound quality
Although it has no inputs for separate audio sources, you can control the volume from the player's balanced and unbalanced outputs from the remote. The volume control can be switched off in the on-screen setup if you need to connect the player to an amplifier. The USB-A input on the rear panel supports up to 192 kHz / 24 bit audio as well as DSD 128 / 5.6 MHz.
That's all very well, but in the end it's the sound quality that counts. And that's a discipline the Primare player masters to perfection. Even on the tiny Dynaudio Special Forty, powered by our trusty Hegel H190, the player delivered Rohey's Tell Me over the network with half an octave extra in the bass, compared to the Technics SL-G700M2. It also presents the music with greater dynamic contrast. Something that was very evident on Arild Andersen Group's Affirmation, played viaTidal HiFi over AirPlay. Here, the focus was tightened and the contrast of the percussion with the double bass, piano and saxophone was clearer.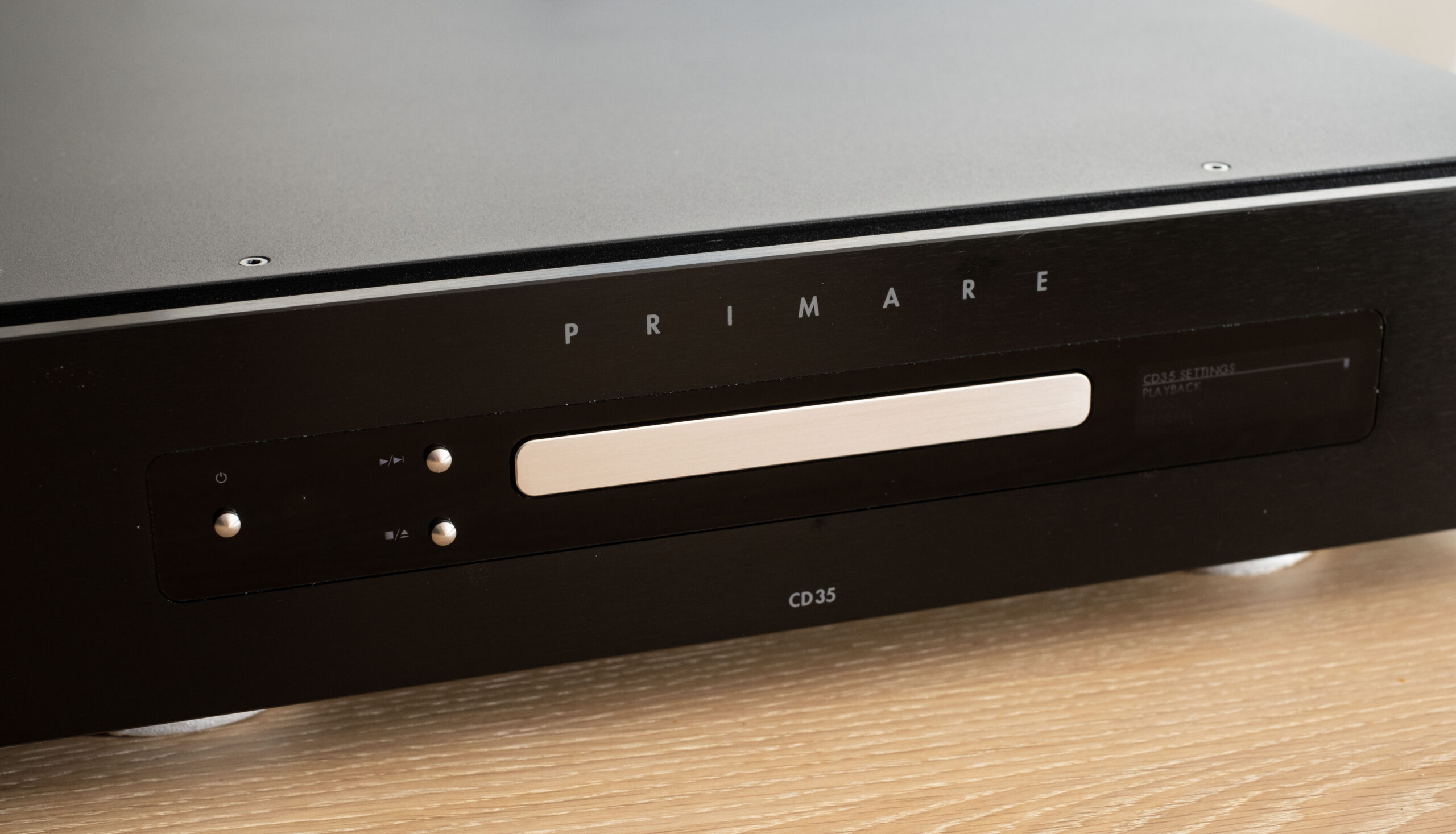 The music flows nicely with more detail, and you feel rather than sense that Primare has done a lot of work on the analogue output stage of the CD35 Prisma.
But it's with a CD in the drawer that the sonic differences between Primare and Technics are most apparent. The percussion and double bass on Butch and Butch from the Up For It CD with the Keith Jarrett Trio are reproduced with both more depth and power. The piano may not sound as warm and rich as on the Technics, but it is better focused and resonates more in the room.
A switch to Al Jarreau's Cold Duck on CD just cements the impression of a player that has full control over the dynamics and scale of the soundscape. Nothing is done by halves here and there is more sparkle in the guitar solo on Cold Duck. The soundstage is bigger, there's more depth when playing CDs, and the Primare player is similar to some more expensive players we've tested in the way it reproduces music with authority.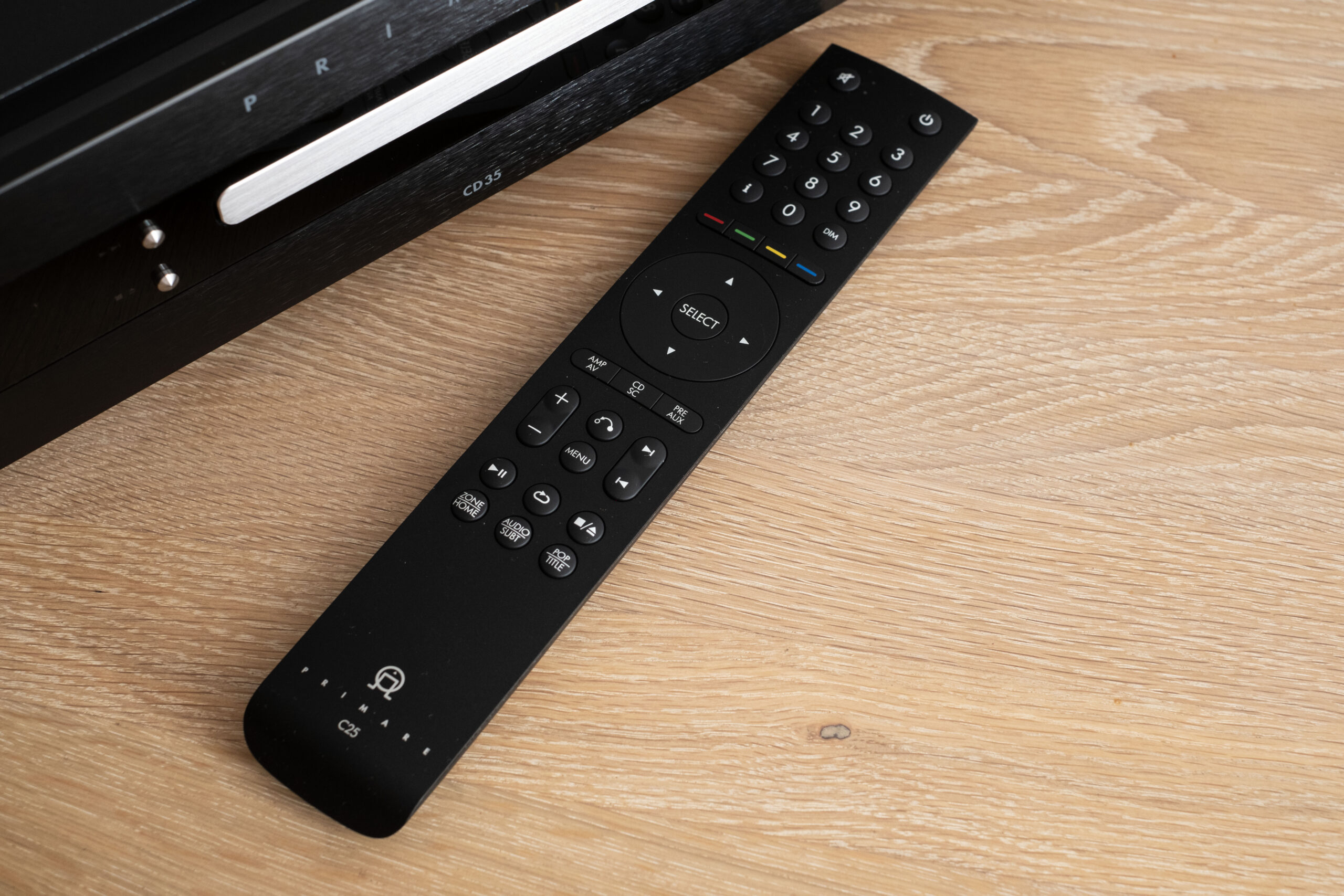 Conclusion
If you care most about how your CD collection sounds, the Primare CD350 Prisma is the CD streamer to get. At least as long as the absence of inputs doesn't make a difference to you. The sonic differences between the Technics and the Primare aren't that great when playing the music wirelessly. But on CDs, the Primare player wins out with better bass response, greater dynamic contrast, sharper focus, and finer detail reproduction.
Also in this test
Technics SL-G700M2
Better than ever before
Technics' upgraded SL-G700M2 is a well-performing combination CD player and network player.
Nice warm and pleasant sound. CD and network player with preamp and DAC inputs. Extensive support for high-resolution audio from streaming, plays both SACD and CD.
Just a bit lacking on dynamic contrast. Too little power in the headphone output. App control could be better.