Geir Nordby
Published

2023-02-06 - 8:00 am
Functional display on the case. EQ provides great sound, and through listening test, earbuds can be adjusted to the user's hearing. Better sound with LE codec. Good noise reduction and ambient sound. Nice speech quality, and good battery life.
Slightly too muted midrange straight out of the case for the journalist's taste. No aptX support (but that may eventually become redundant).
Specifications
Type: Fully wireless earbuds
Bluetooth: 5.3
Multipoint: Yes
Protection: IPX5
Active noise cancelling: Yes
Codecs: AAC, LC3, LC3+ ( upcoming), SBC
Battery life: 10 hours + 30 hours from case (u. ANC)
Weight: 2 x 6.5 g + 73 g (case)
Charging: USB-C
Web: jbl.com
When I tested the Tour Pro+, I was very excited, especially about the EQ settings. It was possible to adjust the frequency curve just enough to achieve the desired sound.
The ease of use, on the other hand, is so similar on most good earplugs that it was difficult to distinguish the Tour Pro+ from other earplugs on the market. You plugged in and pressed the earbuds to manoeuvre through playlists, answer calls, activate noise cancelling and audio replay, and summon the voice assistant. Nothing new there, in other words.
JBL has thought further with Tour Pro 2
The new Tour Pro 2, on the other hand, takes the user experience to new heights. Often, only minor upgrades are made when a new heir is introduced. A slightly better battery, maybe marginally better sound, and sometimes – but certainly not always – a smaller size of the earbuds themselves.
But JBL has gone a step further with the Tour Pro 2. In addition to longer battery life (up to 10 hours in the earplugs themselves) and also smaller size, JBL has done something completely new. This is the first time I've seen a screen on the charging case itself. And even a touch screen.
The touch screen on the case has a function
The screen turns out to be anything but a gimmick. It lets you adjust volume, scroll through music lists in a much more user-friendly way than tapping the little earplugs, and there are more options. You can turn EQ on and off and scroll through several different sound settings. Or turn on 360 audio for movies or games for a more immersive audio experience.
The best thing about the display is that you can access EQ functions even when you don't have the app within reach. Like when the plugs are connected to a PC or TV.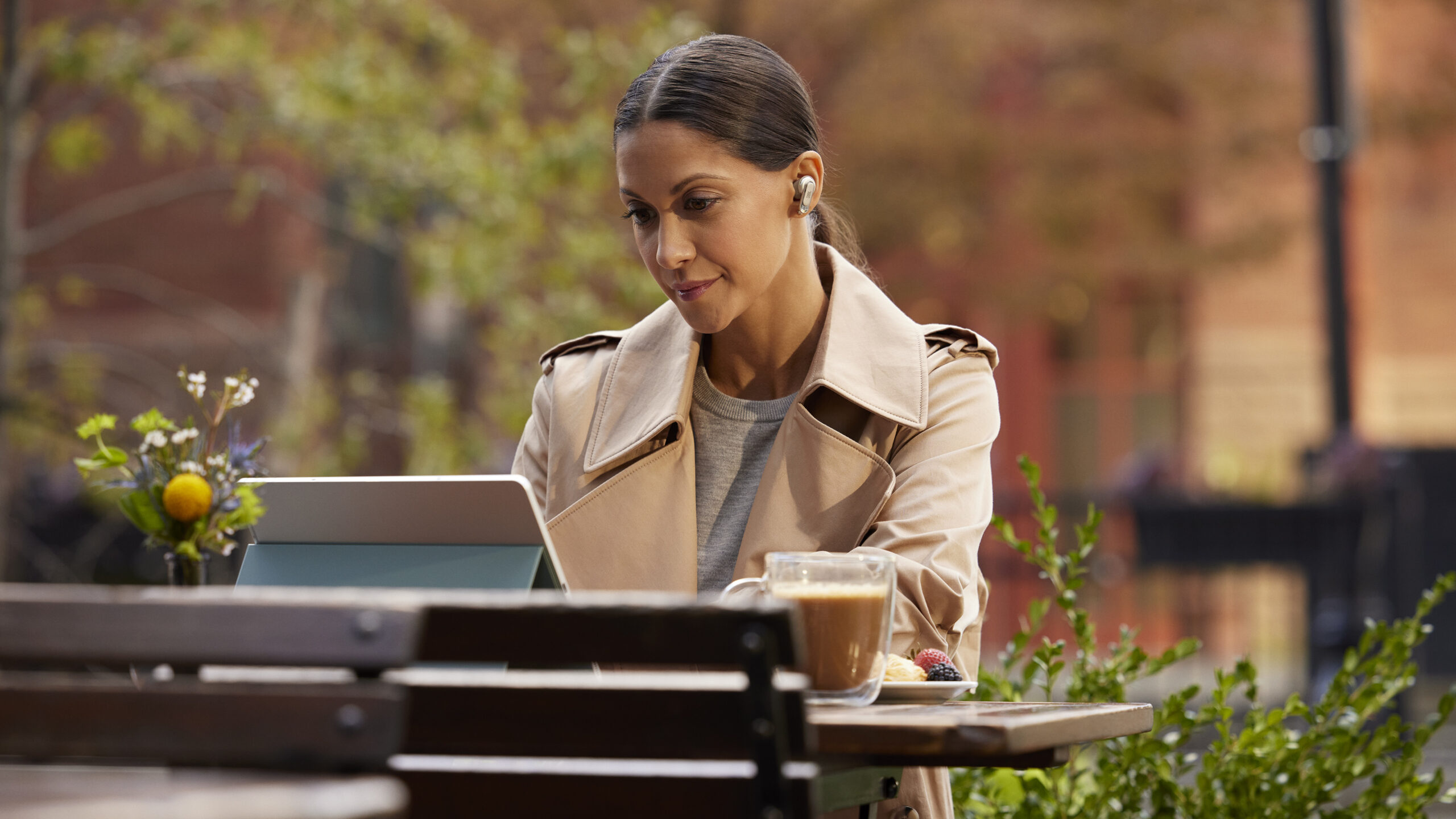 Multipoint and better audio codec
Tour Pro 2 can connect two devices simultaneously, thanks to Bluetooth with multipoint. This means, for example, that you can be connected to both your phone and PC at the same time and listen to music from one source while answering a Zoom call on the other.
In addition, the earbuds support the new audio codec LC3 (also known as LE), which arrived with Android 13. This will eventually take over from the much inferior SBC codec, and once the standard is more established, the idea is that proprietary codecs like aptX and LDAC will become redundant.
But we're still in the early stages, and although the JBL apps have been made ready for LC3 and LC3+, the codec wasn't yet opened up during testing. But JBL promises it's on the way, and then you'll be able to get even better Bluetooth audio. For now, I've had to test with the AAC codec, which is a good deal better than SBC. If you have an iPhone, you'll have to rely on the AAC codec anyway.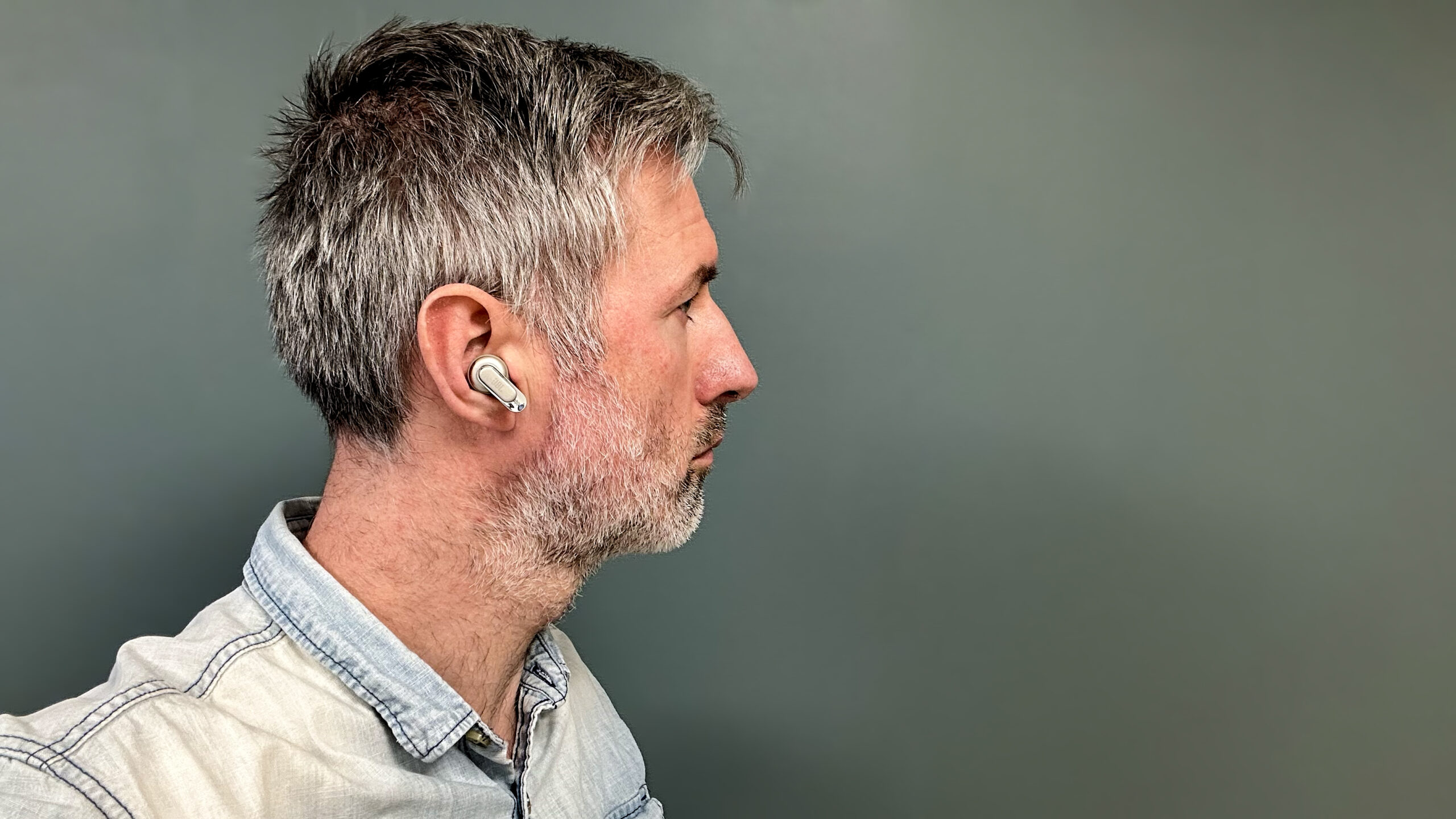 Personal listening test
In the app, JBL also has a personal listening test that maps your hearing and then adjusts the sound from the earbuds. I have to admit that I never got it to work because I got an error message that the left hearing plug wasn't sealed well enough. I tried swapping tips, and checked again and again.
I didn't experience any leakage myself because the sound and bass response felt the same between the left and right ears both when listening to music and when ambient sound was let into the plugs. In the end, I had to give up on the calibration, but at least here you have an option to get better sound tailored to your own hearing.
Noise reduction and sound leakage
The noise reduction now has the option to set the level, and if you select Adaptive ANC, the earbuds will automatically select the strength. They can also compensate for sound leakage in case of poor sealing in the ear. It works well, especially indoors on a train or plane, while wind noise is a challenge as with most others.
The SilentNow feature, by the way, lets you use noise cancellation for as long as you want without music playing.
There are two types of ambient sound: Ambient Aware takes in as much of your surroundings as possible, with a wide frequency range. TalkThru, on the other hand, lets through more midrange and less bass to emphasize human voices in a conversation. This feature works well in most situations, and I personally use it most when I want to hear my surroundings.
The JBL Tour Pro+ supports the Google Assistant and Amazon Alexa voice assistants, and in the app you can choose whether to press the right or left earbud to activate the assistant.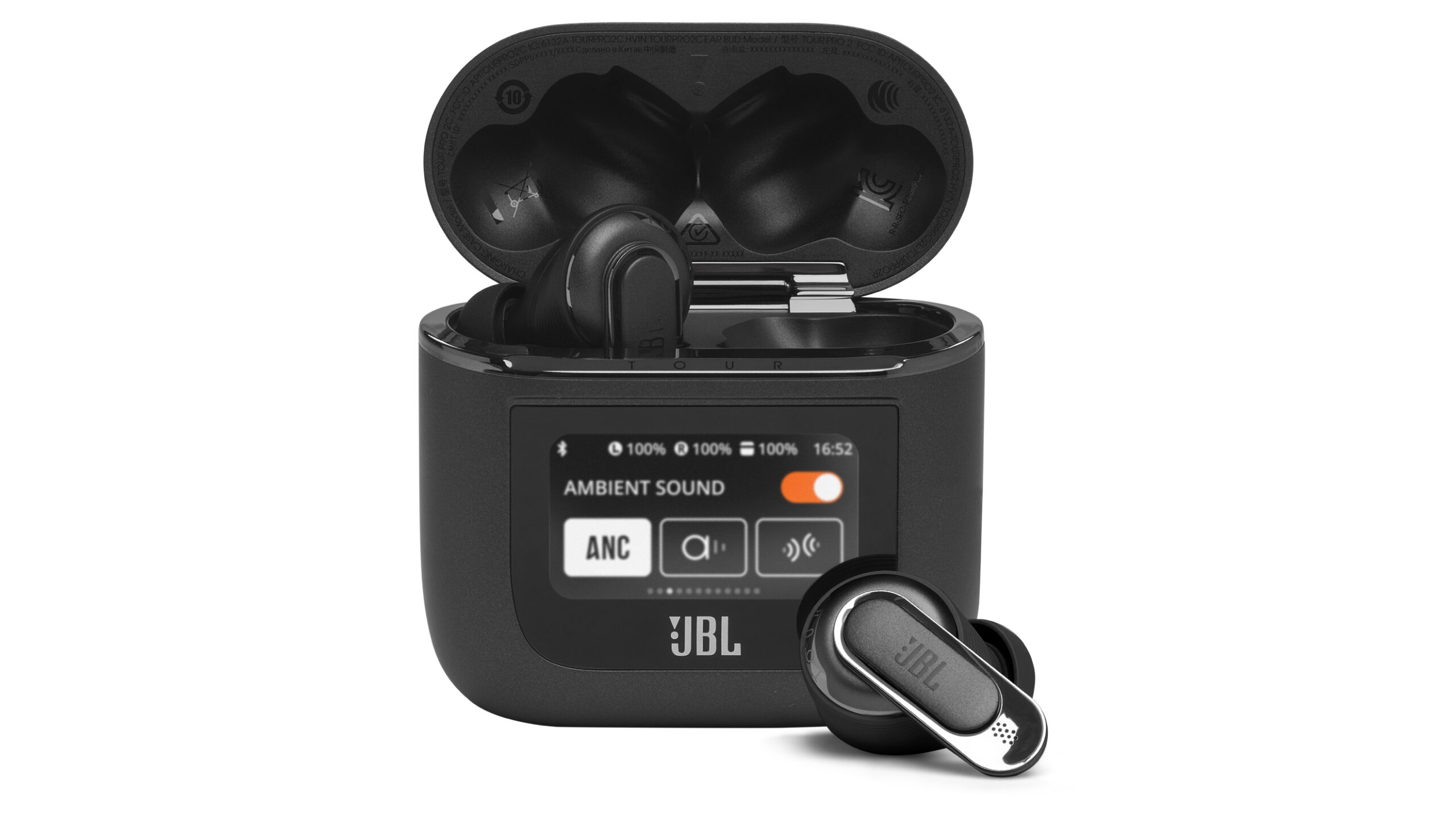 Engaging sound
Right out of the box, JBL Tour Pro 2 delivers an engaging audio experience. The bass in particular is both big and physical, just as I would expect from JBL. If at all costs you want the sound as linear as possible, the bass is probably a bit overdone, although it's more balanced and tuned than the more bass-oriented earbuds in JBL's Live range.
The midrange is a bit restrained, meaning the bass drowns out the vocal midrange a bit. Yes, it's popular, and it works. But for acoustic gigs, I need a little tweaking. There are preset EQs, but I'm not crazy about any of them.
Better sound with EQ
Fortunately, the EQ has really good adjustability. I pull the midrange up a bit with a soft filter curve that covers a pretty wide frequency range. Then I lower it a bit at 5 kHz, where it can otherwise get a bit sharp. It's a setting that I find works very well on many JBL props from JBL. The same is true on the Tour Pro 2. There are also good fine-tuning options here.
Vocals open up more, the different timbral textures of an acoustic guitar can now be better distinguished from each other, and that without compromising the engagement of electropop and hiphop. Whether it's Ed Sheeran's melodious F65 (you have to force yourself through his tame attempts at rapping) or the dramatic piano ballad Love You in a Dream by Elsie Bay, the music comes through in the best possible way.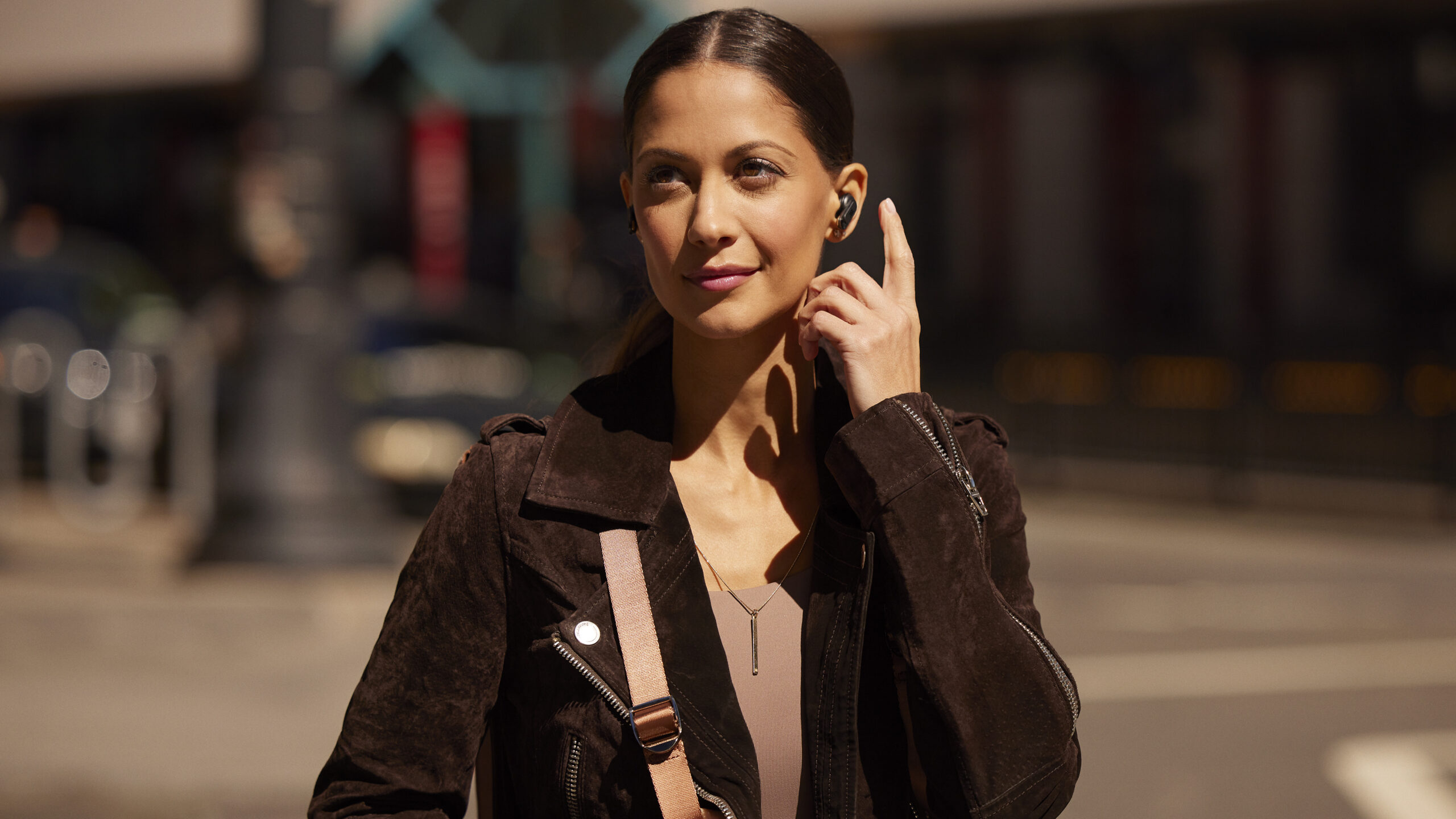 Call quality
The earbuds work well for phone calls and video conferences, the receiver hears me just fine. It's not easy to get good dialogue sound through a pair of small earbuds, which need microphones with good beamforming for the sound from your mouth to be picked up by microphones placed in your ears. Without picking up all sorts of other noises.
The JBLs do a good job, it doesn't sound quite as good as through some good headphones, but it's certainly among the best I've heard from a pair of earbuds.
Conclusion
Every time I test JBL earbuds or headphones, I'm reminded of how far ahead of the competition they are when it comes to sound settings in the app. And with the all-new touch screen on the charging case, you no longer have to deal with the app on a daily basis. Simply choose from different EQ filters, set audio levels, and move around playlists right on the case. It's especially handy when you're connected to a PC or phone where the app isn't downloaded.
Noise reduction is particularly good, as is call quality. With all the features, the excellent sound, and considering the price, I would dare to call the Tour Pro 2 outstanding.