Jonas Ekelund
Published

2019-09-04 - 2:15 pm
Engaging sound with heavy bass. Surprisingly good battery life. Several types of earpads and practical reflective strips for training in the dark.
No tips in large size. No pouch for transport.
Specifications
Facts
Bluetooth: Yes
Battery life: 8 hours
Stand by: Not lit
Weight: Not lit
Water resistance: IPX4
These are also available in a wired version, but in this case, it is the wireless that is applicable. As the name suggests, they have a reflex strip on the wire so you are visible when running in the dark. They feel practical more than luxurious, but the quality of the make seems good. Moreover, they are sweat-proof, and can be rinsed after a training session. The colour choices are black, blue, red, and green. A case for transport is not included. However, it does include both wings (which sit better when exercising) and silicone earbuds in both small and medium sizes.
This is an advantage compared to last year's JBL Synchros Reflect BT, where one got wings that did not always fit. Now you have an additional choice, but we do not understand why they only exist in the sizes small and medium. As long as you don't have big ears, it's possible to get a good seal, and then you're rewarded with a powerful bass rendition that nevertheless does not dominate too much, making it it a very engaging sound. Just what you need, when you start losing your spark during your training session.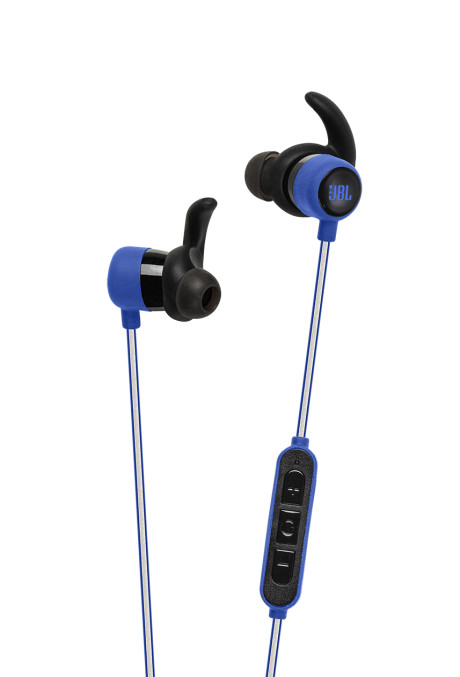 Conclusion
Compared to the model we tested last year, the Reflect Mini BT is both smaller and has a better battery life. Impressive! They also retained the rhythm fixed sound that makes the training so much more enjoyable. The bass is powerful but does not take over the music in any way. There are also several types of earpads, but we wonder why they don't come in a large size. For those who run in the dark, the reflective strip that makes one visible is a great feature. At this price, we absolutely recommend a purchase.
https://www.youtube.com/watch?v=VEpKGp-Xcrk&feature=youtu.be