Jonas Ekelund
Published

2020-09-04 - 12:45 pm
Good build quality and convenience. Easy handling. Feature-rich app. Excellent sound and noise reduction.
Well dominant bass if you do not adjust down EQ.
Specifications
Type: over-ear, closed, wireless, active noise reduction
Connection: 3.5 mm, BT 4.2, AAC, aptX HD, LDAC
Microphone: yes
Element: 40 mm
Frequency range: 20 Hz – 20 kHz
Battery life: up to 32 hours
Weight: 254 grams
Web: sony.com
It's no secret that our and many others' references in noise reduction headphones are Sony WH-1000XM3. With that in mind, one might suspect that the Sony WH-XB900N is a little brother. You get a bag for storage and not a case. The audio cable is the same, but you do not get an aircraft adapter. On the other hand, they have the same modern USB-C charging cable.
Construction and comfort
The XB900N not only resembles the 1000XM3, they could have been molded into the same shape. They are available in the same black color, but the alternative is blue instead of silver. The bells can be both folded flat and angled together. Thus, you can choose which joint they fit best in the luggage. The feeling of quality is excellent, and since Sony has borrowed the construction from the luxury model, we feel confident in the durability. The padding is also recognizable, even if the pads do not have the same memory foam. They are therefore comfortable even with prolonged listening.
Features and handling
The headphones are charged with the same USB-C cable as the mobile phone, and can be quickly charged for 10 minutes for one hour of listening. Sony is known for going all-in with features, and the XB900N is no exception. They are mainly controlled with touch controls, which for once work well. All features are controlled from the excellent app, such as automatic noise reduction level, surround sound, 360 sound, sound enhancements, programming of the buttons and an EQ setting.
Sound quality and noise reduction
The latter is the rescue as XB in the name stands for Xtra Bas, and it is no exaggeration. If you love pumping bass, it is an advantage, but for the rest of us you should turn it down. Then you get a completely excellent sound quality. Even the noise reduction is better than expected in the class. Of course, it does not reach the same levels as its big brother, but the XB900N has clearly borrowed technology and experience. The noise reduction also does not affect the sound quality to a greater extent.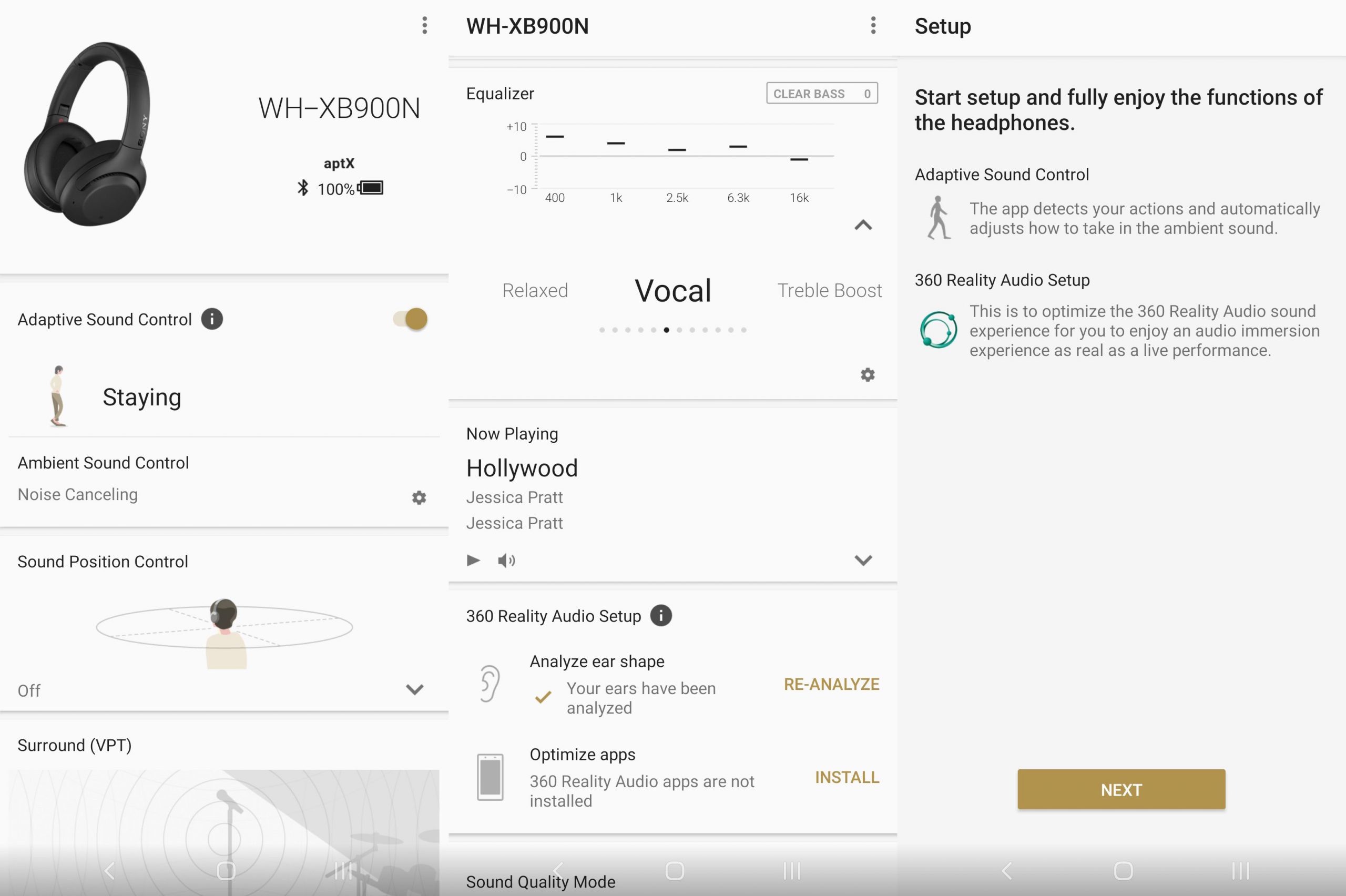 Conclusion
While Sony's luxury model is the king of noise reduction, the WH-XB900N is the rebellious prince. Thanks to the same shape, they sit comfortably even for longer periods of time, the battery life is excellent and the handling is surprisingly good despite touch controls. The app contains more features than you knew you needed, but above all you can adjust the bass. It is the only thing we have to notice when it comes to sound. Even the noise reduction is clearly better than average.
Also in this test
Supra Nitro-X BT
Superb sound quality
Supra Nitro-X BT passes competitor after competitor, but unfortunately stumbles on the finish line.
Brilliant sound quality. Very fast charging. Comfortable comfort with ventilating pillows.
Moderate noise reduction. Micro-USB charging. No mobile app.
Philips PH805
Philips is back with affordable headphones
Philips PH805 sounds good for the price even if they didn't have noise reduction.
Very fast charging despite micro-USB. Good sound quality. Comfortable on the head.
Feels like plastic. Micro-USB charging. No app. Sensitive touch controls.
Jays q-Seven Wireless
Best budget choice
Jays q-Seven Wireless: It is impressive that you can get both good sound and ok noise reduction at this price.
Comfortable thanks to generous upholstery. Clear buttons. Captivating sound.
Takes up space as they cannot be folded. Micro-USB charging. No app.
JBL Live 650BTNC
Headphones full of contradictions
With as many disadvantages as advantages, it is difficult to recommend JBL Live 650BTNC.
Sound settings app. Fast charging. Tough design that stands out.
Not good enough padding in the hoop. Mediocre noise reduction and sound quality. Micro-USB connector.
Pioneer SE-S6BN
More for commuting than long flights
Pioneer headphones Pioneer SE-S6BN works well on the street, but are not the most effective at reducing noise.
Neat size makes them easy to carry. USB-C fast charging. Nice colors.
The on-ear design is not good for flights. Moderate noise reduction.
Sennheiser HD 450BT
Reliable Sennheiser headphones
Sennheiser's most affordable NC headphones Sennheiser HD 450BT is a safe purchase.
Nice feeling of quality. Good sound and ok noise reduction. AAC and aptX support. USB-C charging.
Cannot be folded. A little uncomfortable. Too many confusing buttons.