Geir Nordby
Published

2021-12-26 - 8:00 am
Good and user-friendly app, okay noise reduction and the possibility of acheiving really good sound on music.
The noise reduction has digital artifacts in the noise floor. The fit is not as tight as with certain others. Mediocre call quality.
Specifications
Type: Fully wireless earbuds
Bluetooth: 5.2
Active Noise Reduction (ANC): Yes
Resistance: IPX4
Codecs: AAC, SBC
Battery life: 10 hours + 6 hours from case (w. ANC) / 24 hours + 15 hours from case (without ANC)
Weight: 10.4 g + 39 g case
Charging: USB-C
Web: lg.com
Tone Free FP8W has a fixed case that cleans the earplugs with UV rays after use – and kills 99.9 percent of all bacteria, if we are to believe the manufacturer.
Battery life is stated at an impressive 24 hours from the earplugs themselves and an extra 15 hours from the case if the active noise reduction is turned off. When turned on, the battery life drops to ten and six hours, respectively, which is still more than respectable.
In the app, you can select two-step noise reduction or ambient sound, or you can turn it off entirely. Ambient sound mode gives – quite surprisingly – lower sound leven on the music. The very best sound, with firm and fine dynamics, you get if both are turned off.
Noise attenuation at the highest level provides slightly ugly digital artifacts around the noise floor, which are thankfully less audible when playing music. But set the noise reduction to Low if you want to hear as little of it as possible.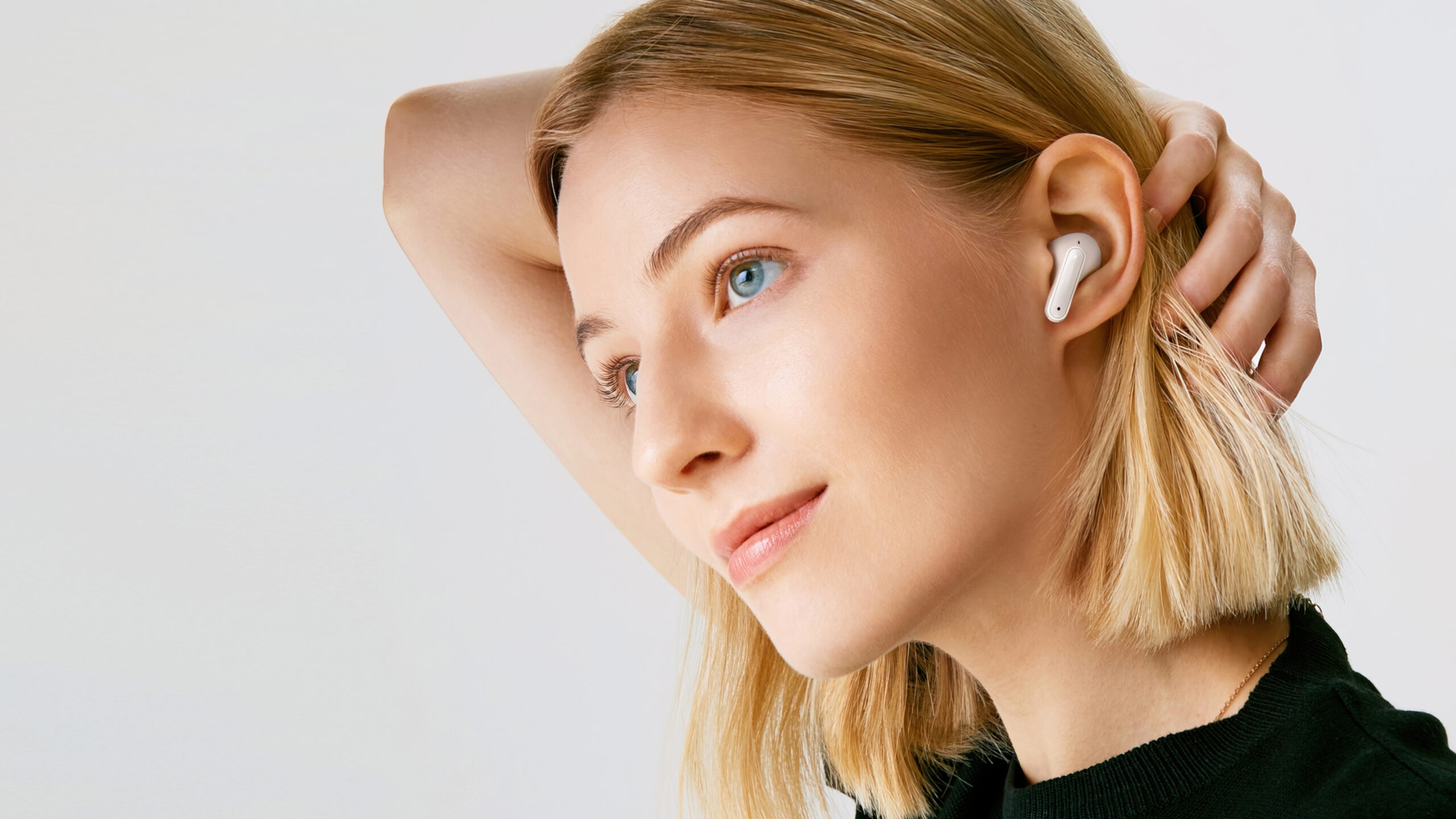 The sound of LG Tone Free FP8W
Without tone controls turned off, the LG earbuds sound perfectly okay. Nice treble on female vocals that do not get sharp, and an energetic bass that is unfortunately a bit dull and disconnected. As a slightly ill-tuned subwoofer.
There are some preset audio options, signed by Meridian. They both sound louder and give much larger stereo sound. Especially 3D Sound Stage, which unfortunately otherwise sounds quite poor. But Bass Boost provides much of the same great soundscape and is significantly better balanced. Here, the guitars on Billie Eilish's "Your Power" float around her head, while Billie's voice is clearly and naturally in the center.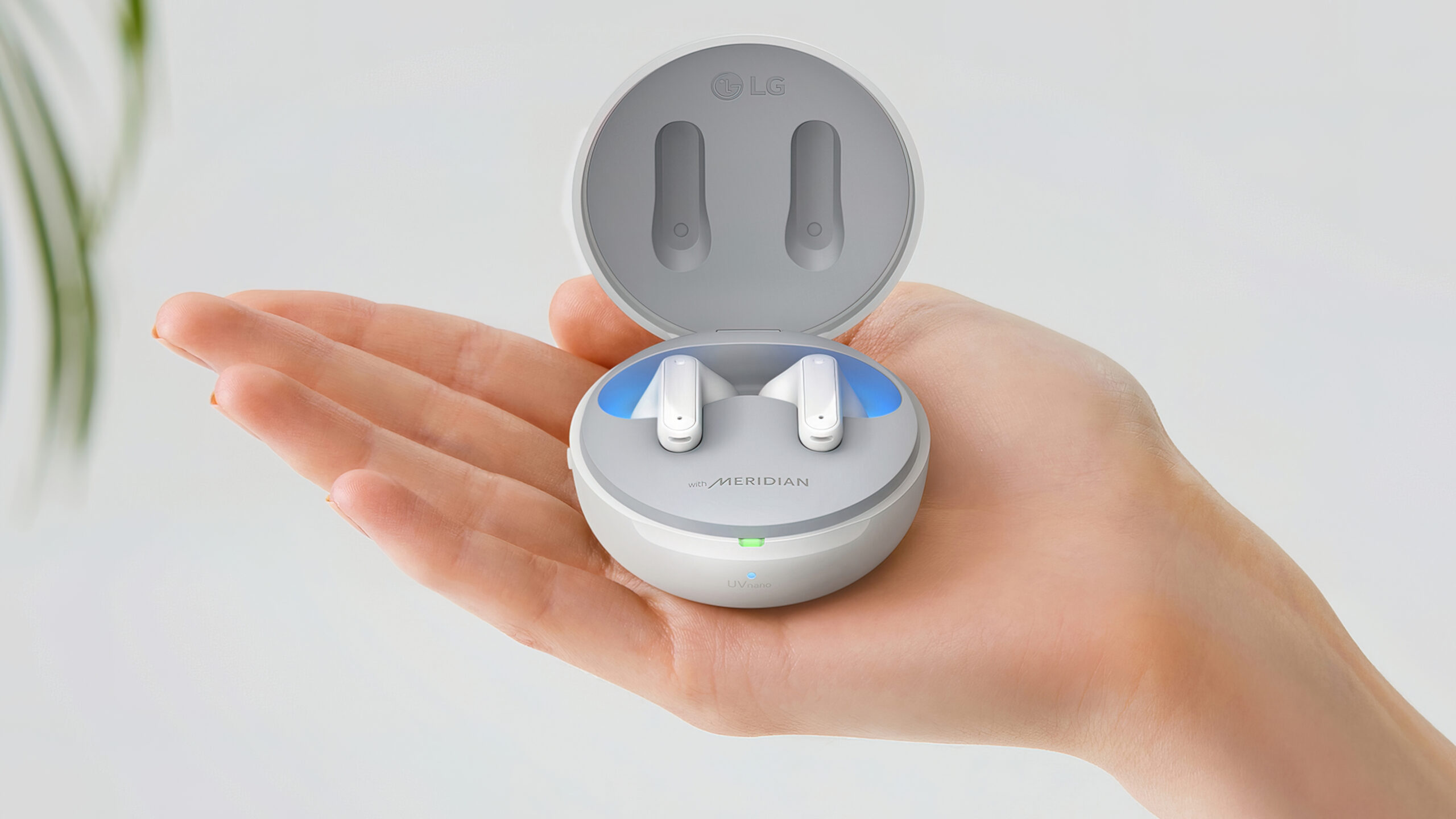 I think the best sound is acheived by setting the EQ manually, but unfortunately it is at the expense of the big sound image that you only get if you choose one of the Meridian settings.
In the good eight-band EQ in the app, I turn down the upper bass a bit, where the coloring is. I raise the midrange and treble, and to get everything loudn enough, I finally raise all the frequencies a notch.
Now the sound is cleat with a big, solid bass and a really good reproduction of both male and female voices.
The voice quality on telephone calls  is a bit reminiscent of telephone voices from the 90s, with a sharp midrange and a bit of treble. Nothing to brag about, but it works.
Also in this test
Technics EAH-AZ60
Fabulous Technics
Technics demonstrates tremendous confidence with the EAH-AZ60.
Really good sound and noise reduction. Also supports the excellent LDAC codec for even better sound.
The sound should be adjusted in the app.
Sennheiser CX Plus True Wireless
Almost perfect from Sennheiser
Sennheiser has taken a pair of good earbuds and made them better with noise reduction.
Excellent sound quality and excellent noise reduction. Sidetone allows you to hear yourself during conversations.
Not the closest fit.
Jabra Elite 7 Pro
Advanced and good
The Jabra Elite 7 Pro are great with many neat features in an advanced app.
Advanced, yet simple setup in the app. Here you get both a hearing test and the option to set the optimal noise reduction. The sound is also good.
We would like some more airyness at the top.
Belkin SoundForm Freedom
You should expect more
Belkin SoundForm Freedom is kind of okay, but costs too much.
Long battery life, stable connection and okay voice quality. iPhone users can find missing earbuds with the Find app.
The sound is mediocre, and without noise reduction or app, there is not much to justify the price.