John Hvidlykke
Published

2022-03-03 - 9:00 am
Comfortable to sit in. Resists wear, spills and sharp edges. Good adjustability. The price is perfectly reasonable.
The seat inclination cannot be adjusted. Requires a lot of space. Not for people with short legs.
Specifications
Type: Gaming chair
Height adjustment: 45.5-53.5 cm seat height
Inclination: 0-150°
Tilt: 15°
Seat size: 52 x 87 x 57 cm
Max. seat height: 57 cm x 57 cm Max. load: 150 kg
Cover: Repeltek dirt- and scratch-repellent fabric
Colours: Grey
Dimensions and weight: 60 x 140 x 70 cm / 21.9 kg
Web: msi.com
When it comes to building your gaming setup, the usual mindset is to find the right processor, graphics card and monitor. And next, mice, keyboards and audio. The fact that you might also need to set aside money for a special gaming chair is often overlooked, and you end up sitting on that rickety inherited office chair instead.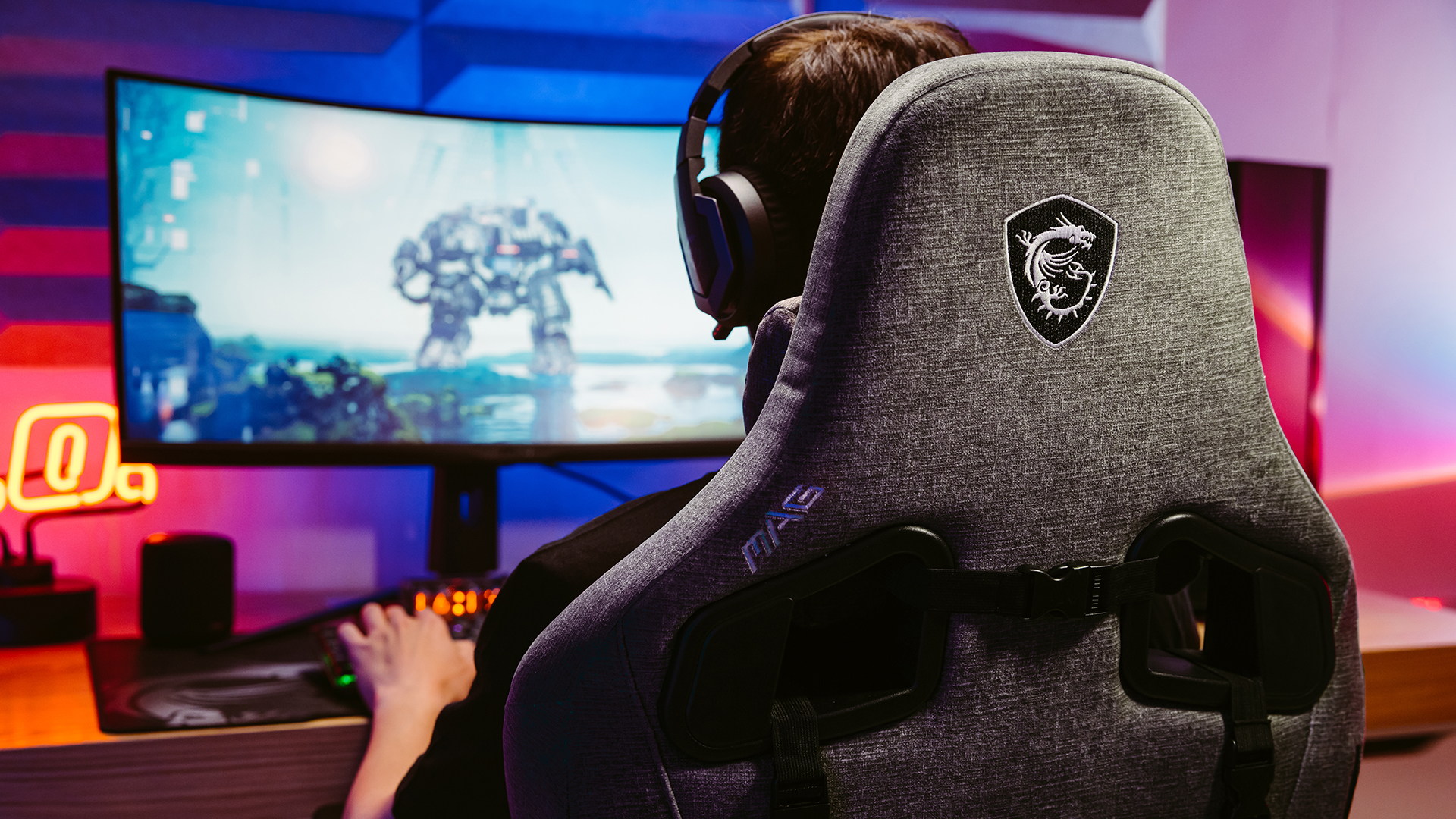 MSI, who we know primarily for their computers, also makes office chairs, and we've got a brand new model in. The designation MSI MAG CH130 could be anything, but the new model has the addition "Repeltek Fabric", revealing that it's not a monitor or a mouse, but a chair. And that the special feature of the model is that it is made of dirt-repellent fabric.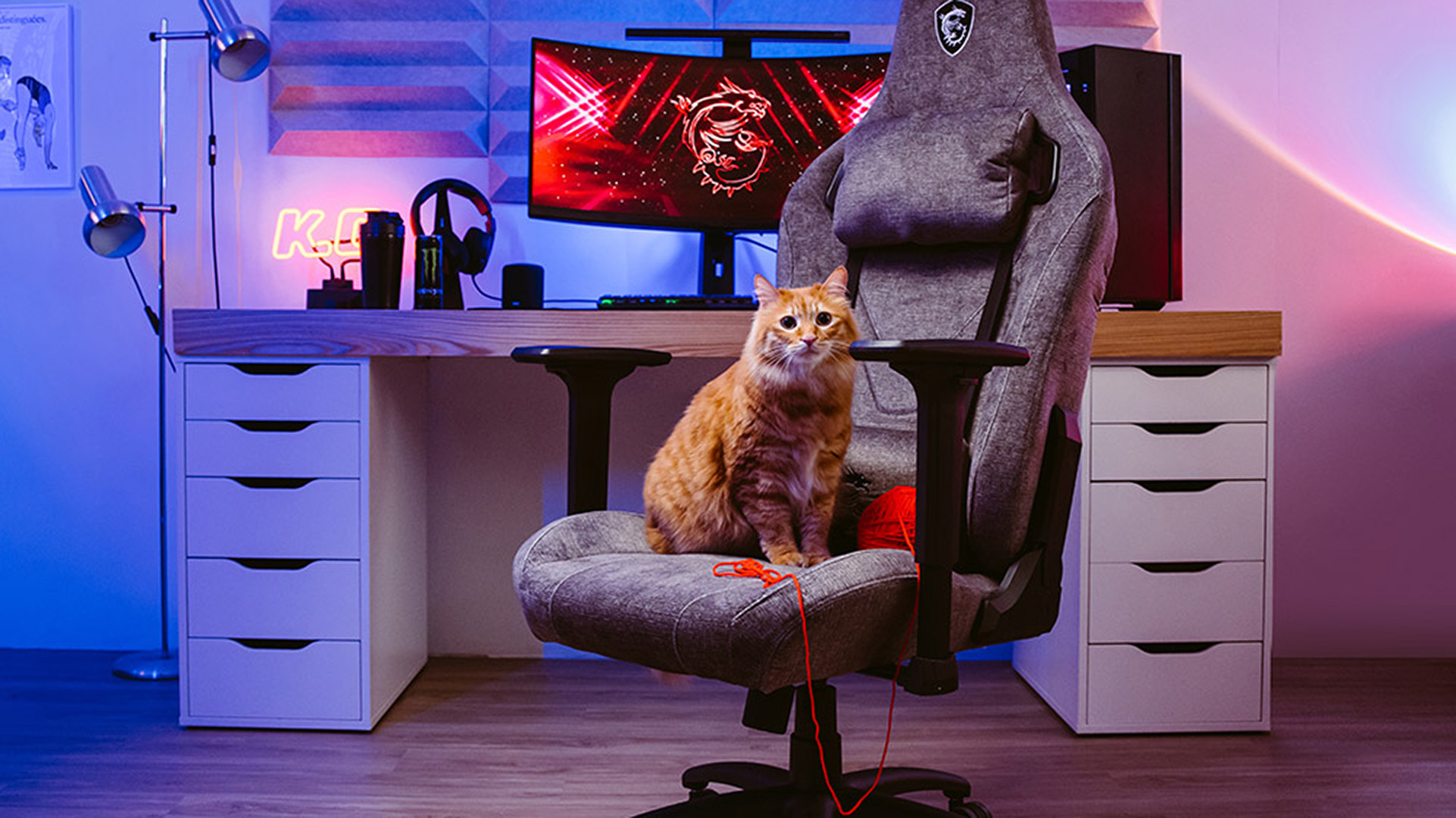 The MSI MAG CH130 makes different demands on setup than we're used to. The installation is pleasantly free of software considerations (there are absolutely no electronics in the chair), but the many parts in the 25 kg (!) heavy package have to be assembled and strapped in the right order. If you've been trained through years of assembling IKEA furniture, it takes a little over an hour before you can settle into the seat.
For big – and tall – players
And there you sit comfortably. The seat is roomy and deep, providing good support for the thighs, bottom and back. The backrest is at full height, so you also get support for your neck. Two loose cushions are designed to support the lumbar region and the neck respectively. With a width of 57 cm and a maximum weight of 150 kg, the chair is also designed for large players. However, the maximum height is 185 cm.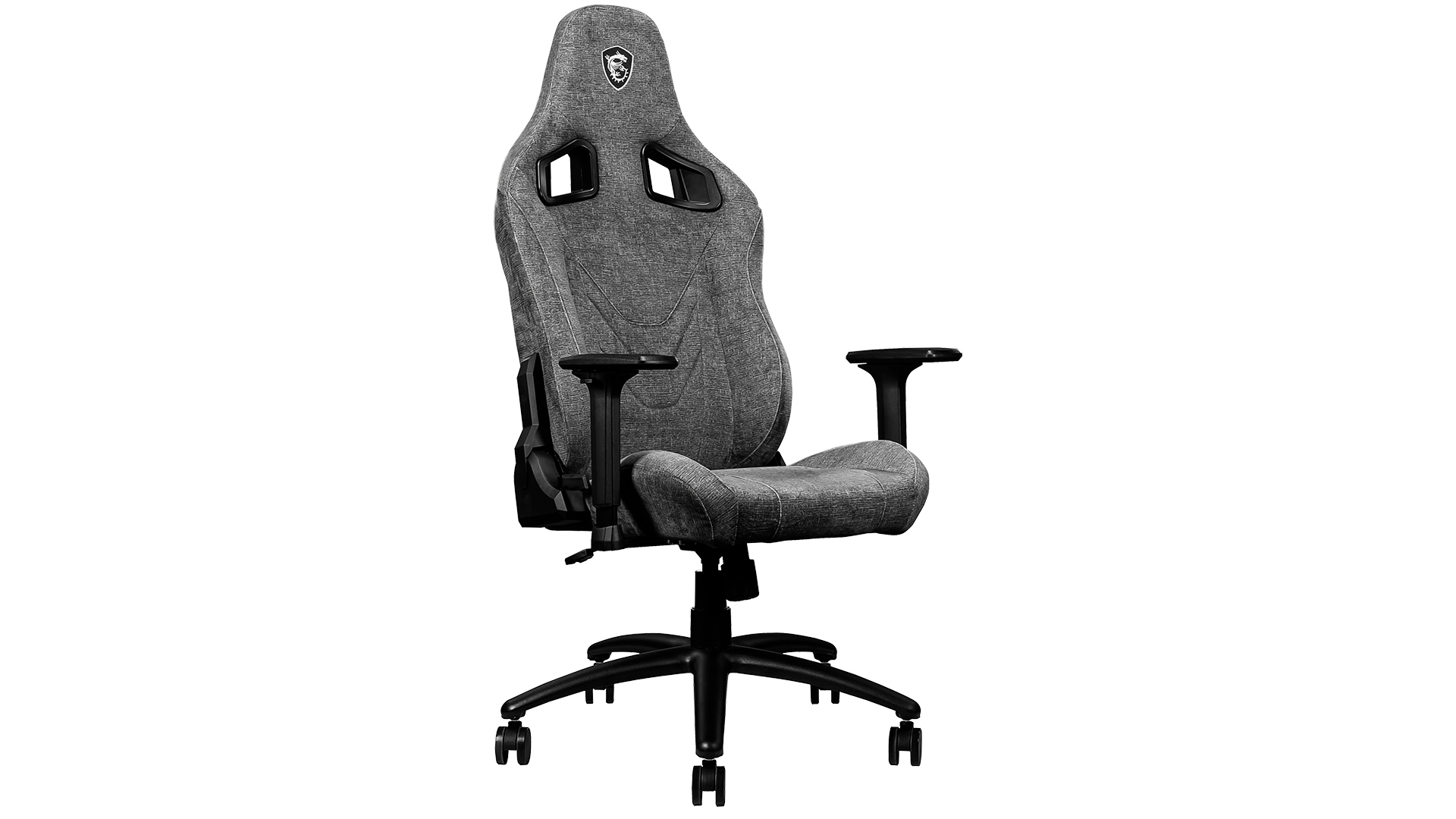 The material in the seat is called "high-density foam," and it's considerably stiffer and less compressible than the foam rubber found in cheaper office chairs. The foam is rated at 45-48 kg per cubic metre (car seats, by comparison, are 30-35 kg/m3), which should guarantee long durability even if you sit in the chair for many hours a day.
The seat height can of course be adjusted, as can the backrest angle. In fact, the backrest can be tilted back 150 degrees – and locked in position! Unfortunately, you cannot adjust the inclination of the seat itself, nor the horizontal position of the backrest – and thus the seat depth. This means that the chair does not fit everyone equally well.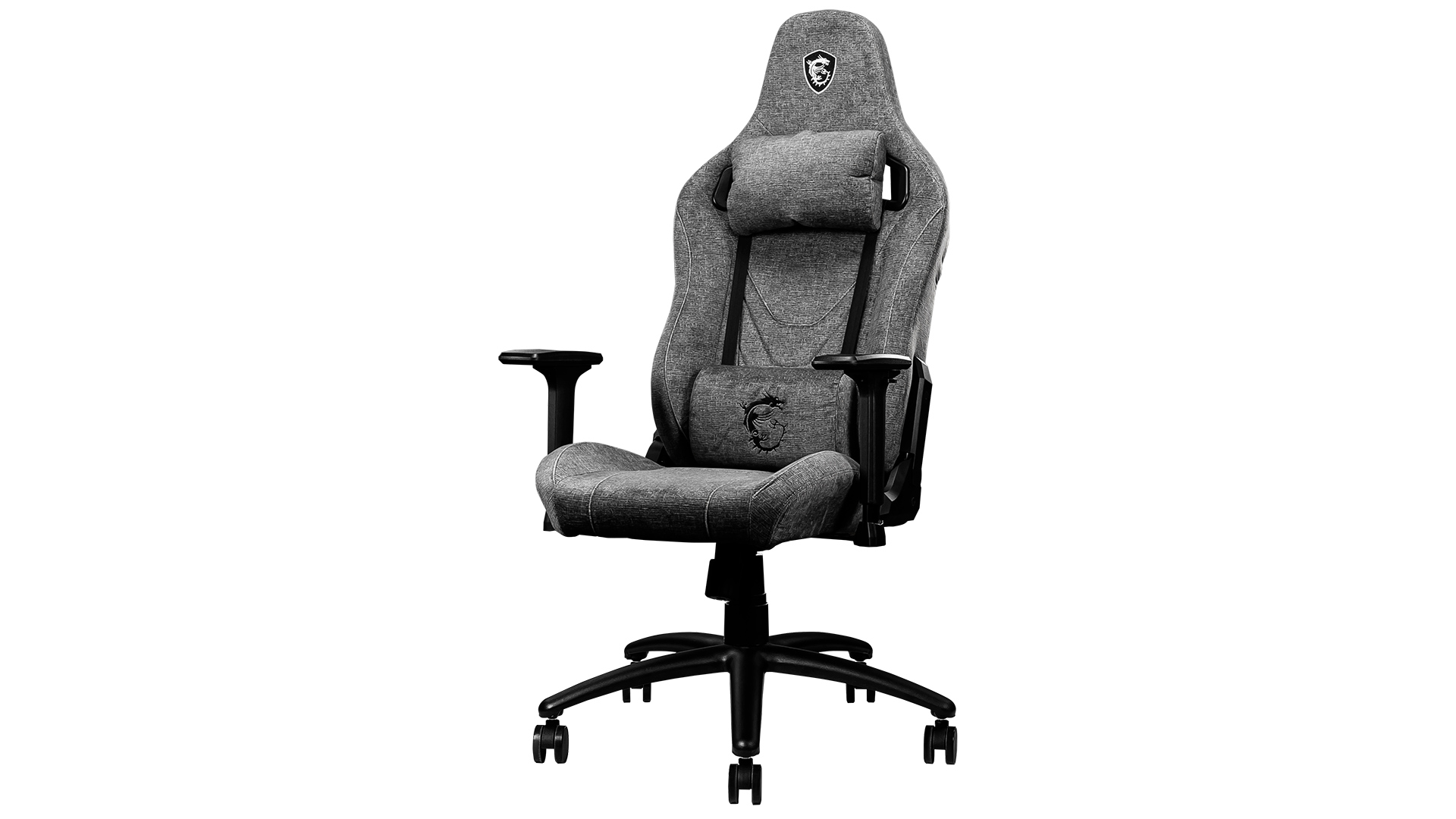 I have long legs and am 185 cm tall, and for me the size was perfect. But if you're significantly shorter, the seat will probably feel too deep. In other words, I don't think the chair is made for MSI's Taiwanese domestic market!
Total rejection
The fabric, dubbed "Repeltek Fabric", has a velvety surface similar to microfibre, but is said to be particularly repellent to dirt, liquids and rough handling. A dropped pizza slice or a glass of Coke will bounce off the fabric and wipe clean. And keys and belt buckles are less likely to scratch the fabric, as well as supposedly avoiding unevenness and nicks over time. The last part we couldn't test in a short time for good reason.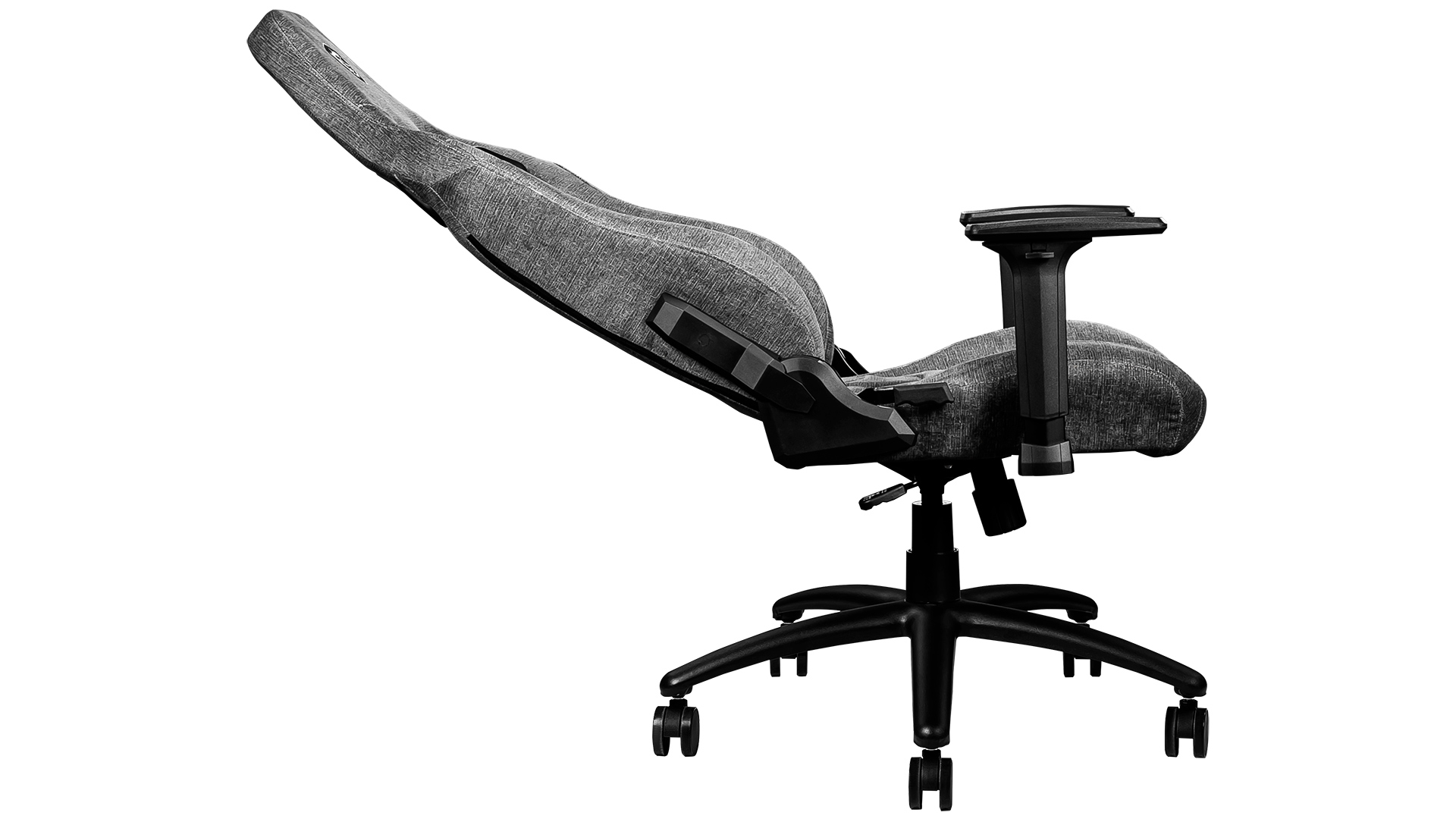 Conclusion
A good chair with good ergonomics is probably one of the best investments you can make in computer accessories. Whether it's for gaming or less entertainment-oriented use. The MSI MAG CH130 is an excellent example of this. The chair is comfortable and provides good support. And there are plenty of adjustment options.
The tested chair has the added feature that the fabric should be more resistant to a harsh reality. Which will probably be a plus when the chair is used for many hours every day, year in and year out.
The MSI MAG CH130 is the most discreet gamer chair I've seen, which is an advantage when your computer space shares a room with your living room. A regular ergonomic office chair could do the same job. But here there is actually a price saving by choosing the gamer version over the civilian one.