In these electric car times, there is a lot of talk about range and charging anxiety, but far too little about the sound in our opinion. Without the usual noise from exploding cylinders, squealing differentials and fuel pumps, modern cars have become quiet. Many car manufacturers have also succeeded in reducing wheel and wind noise to a comfortable level. And what does that mean? The greater the opportunity to enjoy the sound inside!
Audi's first all-electric SUV is known for having one of the quietest compartments on the market. You can choose between e-tron 55 and the scaled-down version e-tron 50 with smaller engine and battery pack at a good price. The worst version e-tron S will also be coming soon!
Common to all e-tron models (including Sportback) is that they can be delivered with an upgraded sound system from Bang & Olufsen as an option: For the same price as a leather seat or towbar, you get an upgraded sound system with as many as 16 speaker elements, 705 watt amplifier power and advanced 3D sound!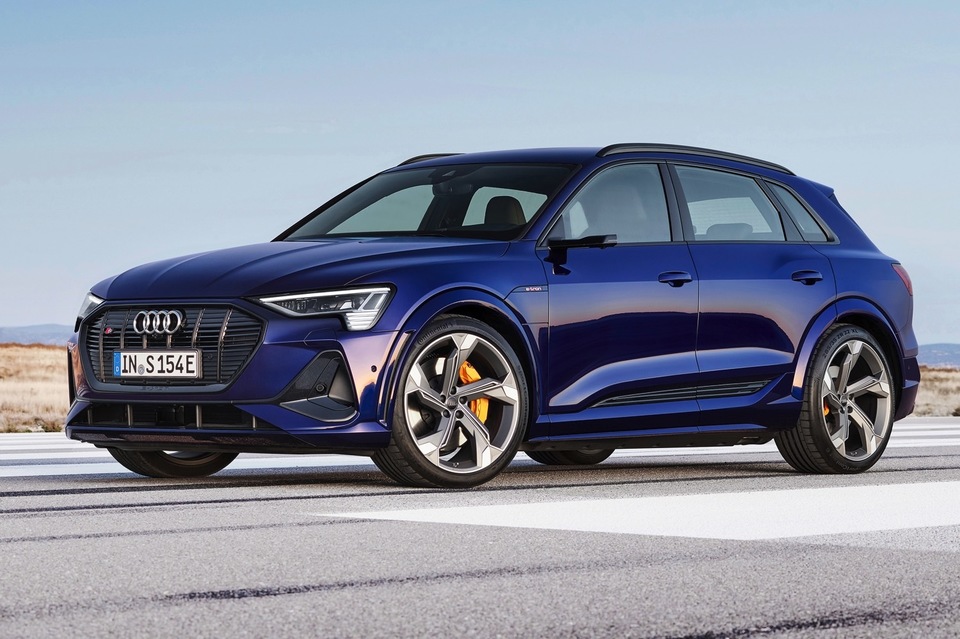 Bang & Olufsen Premium Sound System
Audi has for many years collaborated with Bang & Olufsen to be able to offer tailor-made sound packages for its car models. Therefore, it is no big surprise that e-tron can also be upgraded with a B&O system. Just put the right tick in the equipment list!
The premium system from B&O has been specially developed for e-tron, where the sound engineers have been involved in the design process early on to ensure that the sound experience is seamless and optimal. The system contains a total of 16 speakers, 705 watts with amplifier power and an advanced DSP unit (Fraunhofer) that controls the sound in the cabin.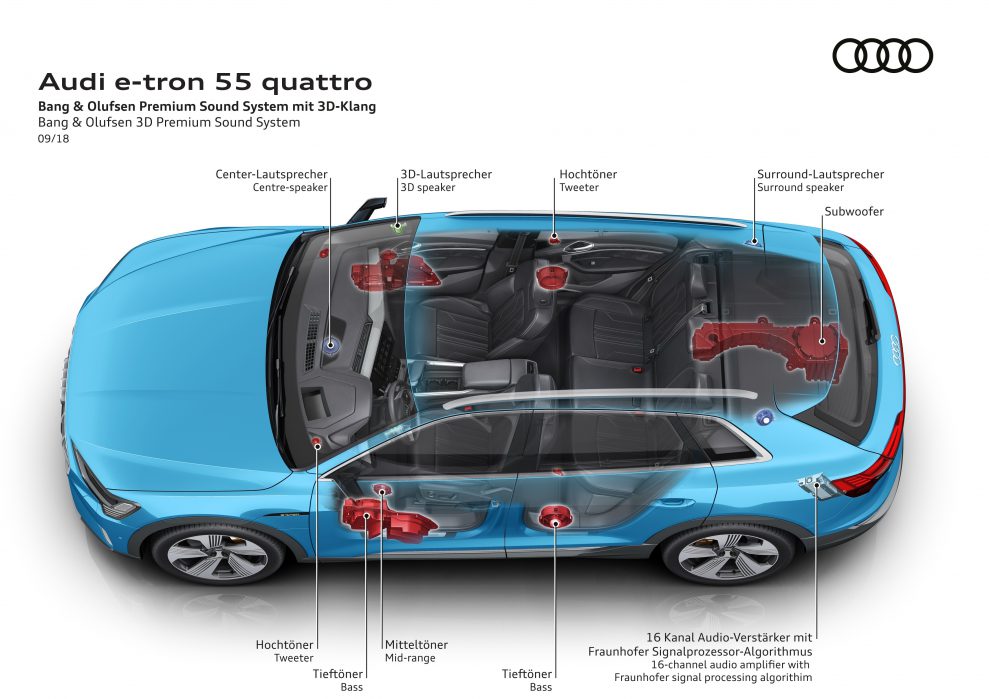 The many speaker elements are strategically placed in doors, dashboards and poles to ensure optimal listening conditions wherever you sit. The system also boasts "3D sound" with dedicated height speakers in the A-pillar, plus its own surround speakers in the D-pillars at the back – both with high-efficiency neodymium magnets.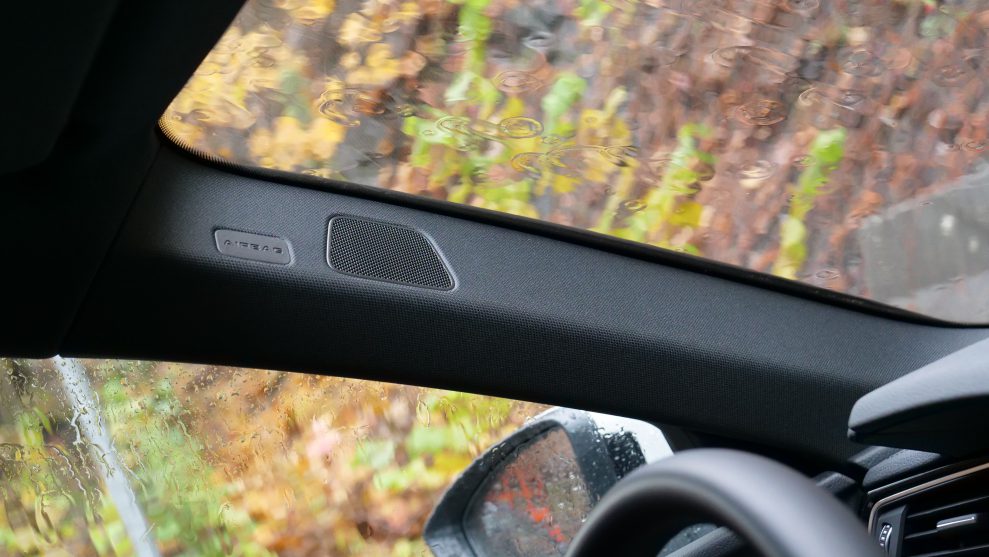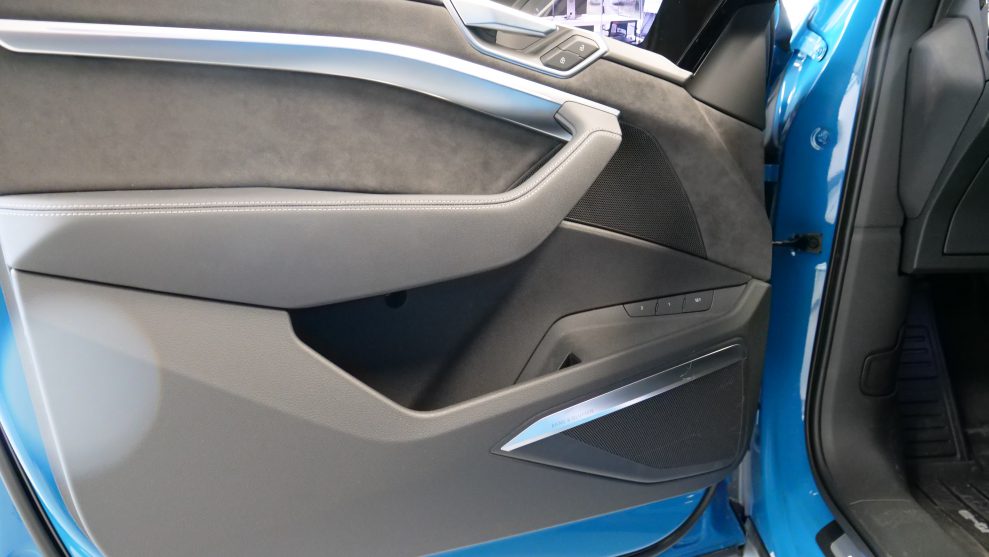 The B&O system in e-tron now costs approx. £ 1400 as an option. It is still quite modest in the Audi context, where a set of winter wheels can easily cost £ 5000 kroner.
Audi's multimedia main unit (MMI) has two touch screens of 10.1 "and 8.6" respectively. Of course, it supports Bluetooth, which makes it easy to connect your mobile phone as a music source. The 2020 models also come with support for Apple Carplay wireless. If you specify the so-called Audi Phone Box, the car is available with wireless charging, which also uses the car's antenna during calls. Furthermore, there is the Audi smart phone interface and music interface with USB sockets on the front and back.
The sound of silence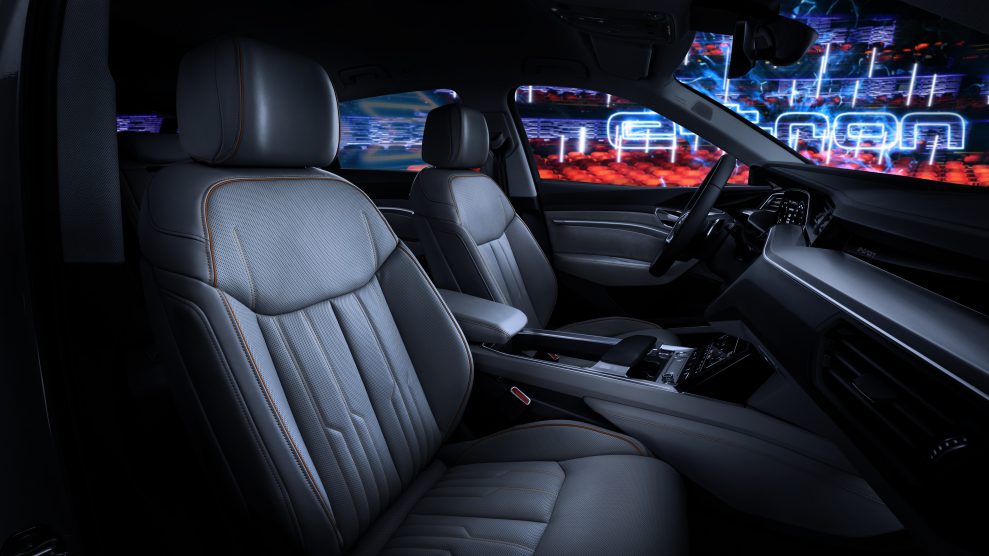 As we embark on the first test ride with e-tron, there are a few things that become clear.
The first thing that strikes us is the absence of noise. Here, of course, there is no engine noise to speak of. The powerful electric motors of Audi certainly make a squeaking sound that is quite clear at lower speeds. Out on the highway, however, it is barely noticeable.
The noise reduction in the Audi e-tron must be said to exceed expectations. Even with large 20-inch wheels and wide tire dimensions on our test model, there is very little rumbling from the road surface. There is hardly any hint of gust of wind either, even with panoramic glass roofs overhead. It is worth mentioning that our rental car came with double, acoustic damping glass in the side windows in front, which reduces wind noise at high speeds by up to 6 dB. On the other hand, it came without "virtual mirrors", which are claimed to lower air resistance and noise further.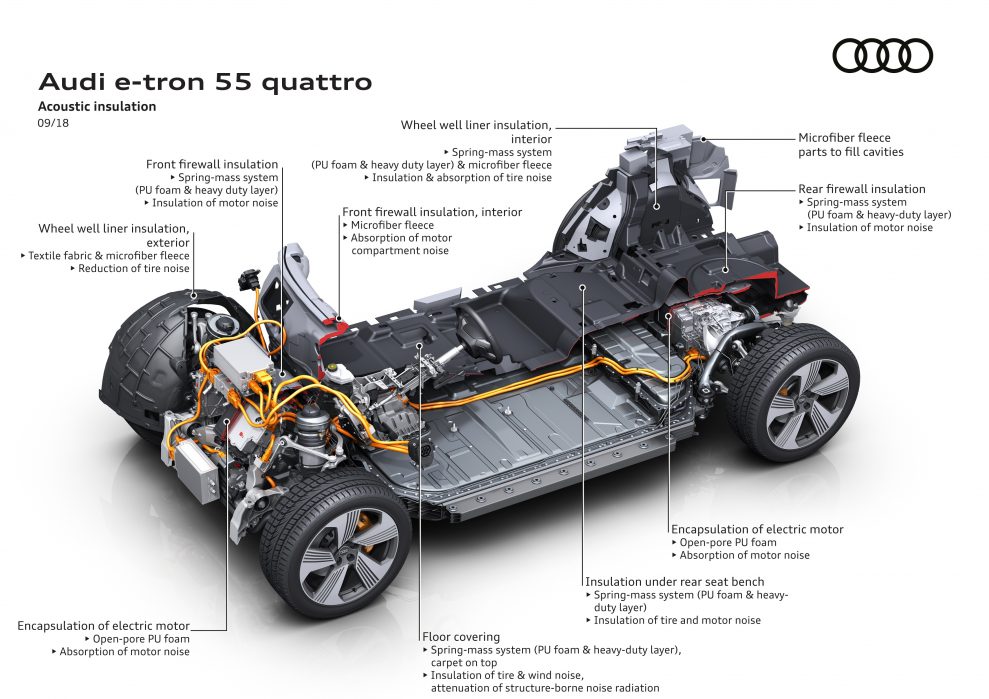 Sound quality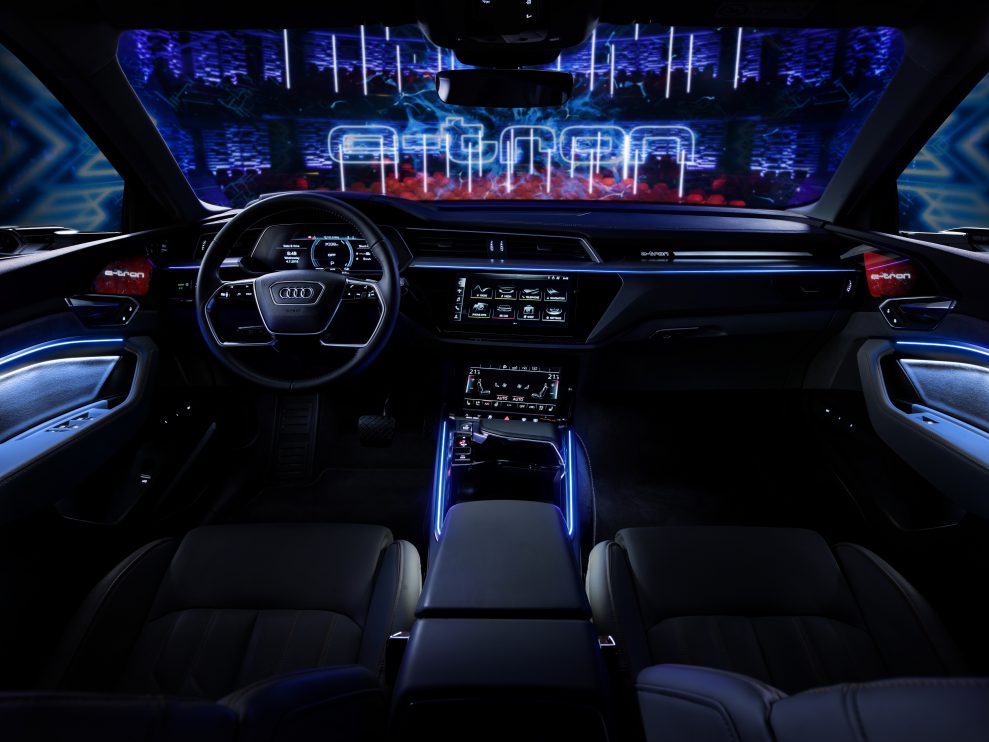 E-tron's quiet compartment is a favorable backdrop for musical pleasures: As we turn up the volume on the stereo, it becomes clear that the B&O system is more than capable of filling the entire car with potent sound! We play Swedish Robyn and her ballad Eclipse. A low-pitched and toned-down song like this would normally have been suffocated by engine and wind noise, but not here! A large and detailed soundscape unfolds between the A-pillars, while Robyn's voice thunders from the middle.
Over to something completely different: With the responsible publisher as passenger and self-proclaimed DJ, it is suddenly Bruce Springsteen's Swallowed Up that resounds through the speakers. The Boss himself stands out from the center channel, while our own boss nods appreciatively and grins. Talk about a rock-solid stereo perspective! At the same time, it is impressive to hear how the reverberation fills up in the rear of the cabin, while the bass drum hammers from the subwoofer in the spare wheel well. Here you can really talk about concert feeling!
Melodic ballads and acoustic folk singing are one thing, but what about some electronics? I play Kygo's Kem, I can call and make sure to increase the volume a little extra. The B&O system makes it swing here too, but we miss a little pressure in the bass. A tap on the Audi screen in the center console gives us access to the audio menu, where there is also individual adjustment of the bass channel. A few snaps up gives us the desired fullness. At the same time, we use the father and 3D buttons to move the sound image a little further back in the passenger compartment, which gives passengers the right feeling of being at a dance club. Rather, in this case, a rolling dance club…
Of course, I can not refrain from playing a little old school hip hop either. Heavy synth basses from UGK are popular in car stereo and dB-Drag competitions. It works well here too, but not enough to give us backwards. As good as the sound is, it becomes clear that B&O's subwoofer lacks a bit of rawness on the heaviest bass strokes. After all, you can not expect earthquake bass from a small 8 "in a compact cabinet. Therefore, if Audi or Bang & Olufsen should decide to release an e-throne with the right "worsting system", there is even more bass we want.
Audio Settings
The B&O system offers many adjustment options for the sound, and some e-tron owners have asked us which settings we landed on. There is no "conclusion" here but we can give some general tips, as a starting point before you make your own individual adjustments.
The first thing we did was reduce the level of the 3D and surround channels quite sharply. The small speakers in the A- and D-pillars tend to have a slightly sharp sound character if they are driven too hard. We adjusted these just a few tweaks up from the minimum, to contribute with a little extra reverberation.
The focus was on All or Behind, somewhat depending on the style of music. This gave the best utilization of all the speakers in the cabin, while the front gave a slightly too flat sound image in our ears.
Fader and Balance we left in the basic setting.
We also let Bass and Treble tone controls be the basic setting.
Subwoofer was adjusted up quite a bit (about 2/3 up depending on music style)
Significantly better than standard
In connection with the test, we also borrowed an e-tron with a standard sound system (Audi Sound System with 10 speakers and 180 watt amplifier). But we did not have to drive many meters to find that this provides a fairly flat and slim sound experience. Compared to the magnificent soundscape we got with Bang & Olufsen, the standard sound is significantly darker and less focused. The sound comes more from the front, from the bottom up, rather than lying at ear level. You miss the distinct clarity in treble and midrange, and the bass is almost absent, even despite the subwoofer. The sound system also does not have nearly as good adjustment options as B&O.
As far as we know, the B&O system does not take up more space in the passenger compartment than the standard speakers. Therefore, there are no space disadvantages when choosing an upgraded system, as it may be on smaller car models.
Conclusion
If you are the lucky buyer of an Audi e-tron, you have the choice between two sound systems: Standard and Premium. After testing Audi's all-electric SUV, we can safely recommend the more expensive variant to those who are concerned with sound quality, or even just love music. Here you get sound value for money, with a significantly more powerful and detailed sound experience than the ordinary system. Put another way: A car like the Audi e-tron deserves the best sound, and in our ears this is a "no brainer"!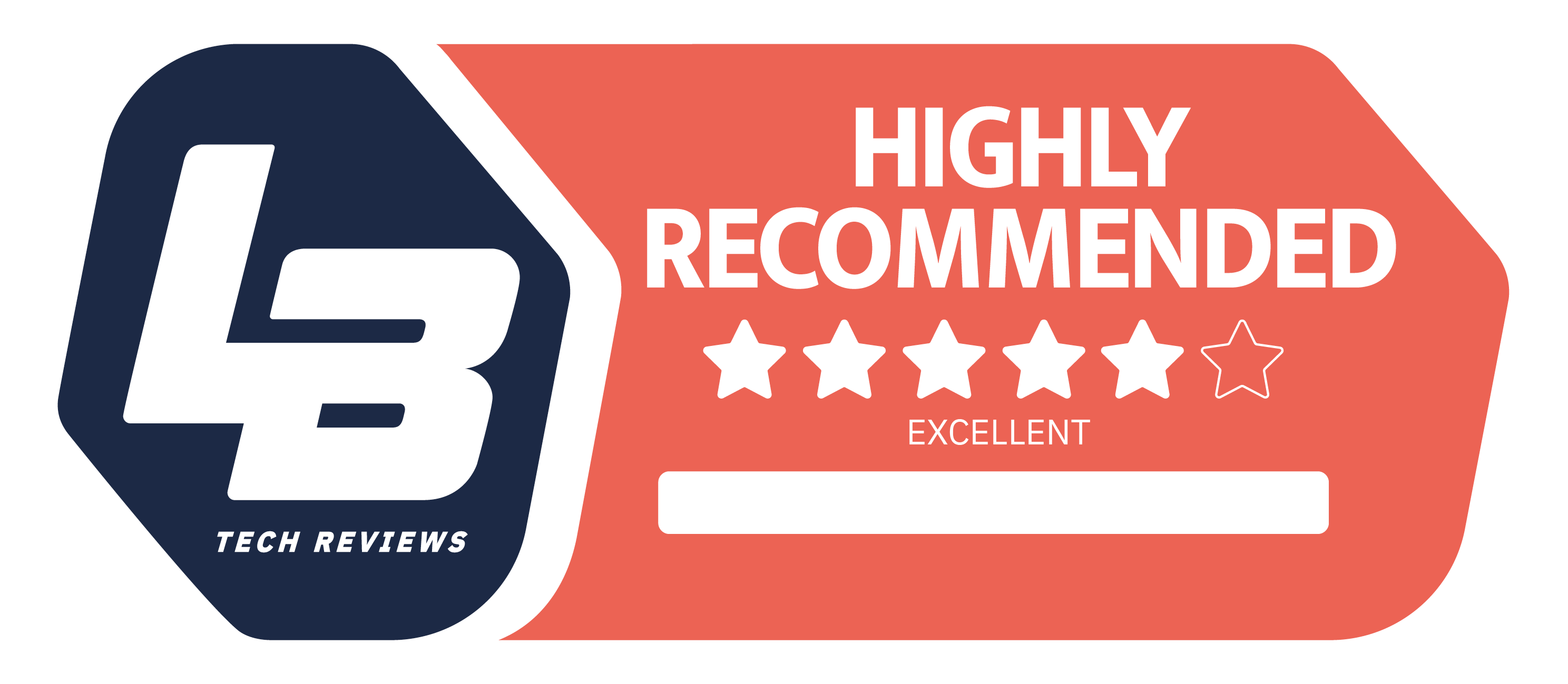 Audi e-tron with Bang & Olufsen Premium Sound System
Premium
We think
The quiet coupe in the Audi E-tron is perfect for a high-quality music experience. The advanced B&O system delivers a large, airy and powerful sound to both driver and passengers.
As good as the sound is, we miss even louder bass! You have to buy an Audi e-tron to get the sound system.